A homemade Italian lupini beans recipe. A healthy snack that's high in protein, high in fiber, low in fat, and although usually served around Christmastime—at least in my family—it's a great healthy low carb year-round munch.
They are also a healthy addition to add to charcuterie or cheese boards or any appetizer table. Or use them to make hummus or low carb and gluten-free bread—two bonus recipes I share below as well.
Jump to What are Lupini beans | What do they taste like | How to Prepare them | Storing Lupini Beans | How to eat them | Bonus Lupini Beans Recipes | Other helpful info about Lupini Beans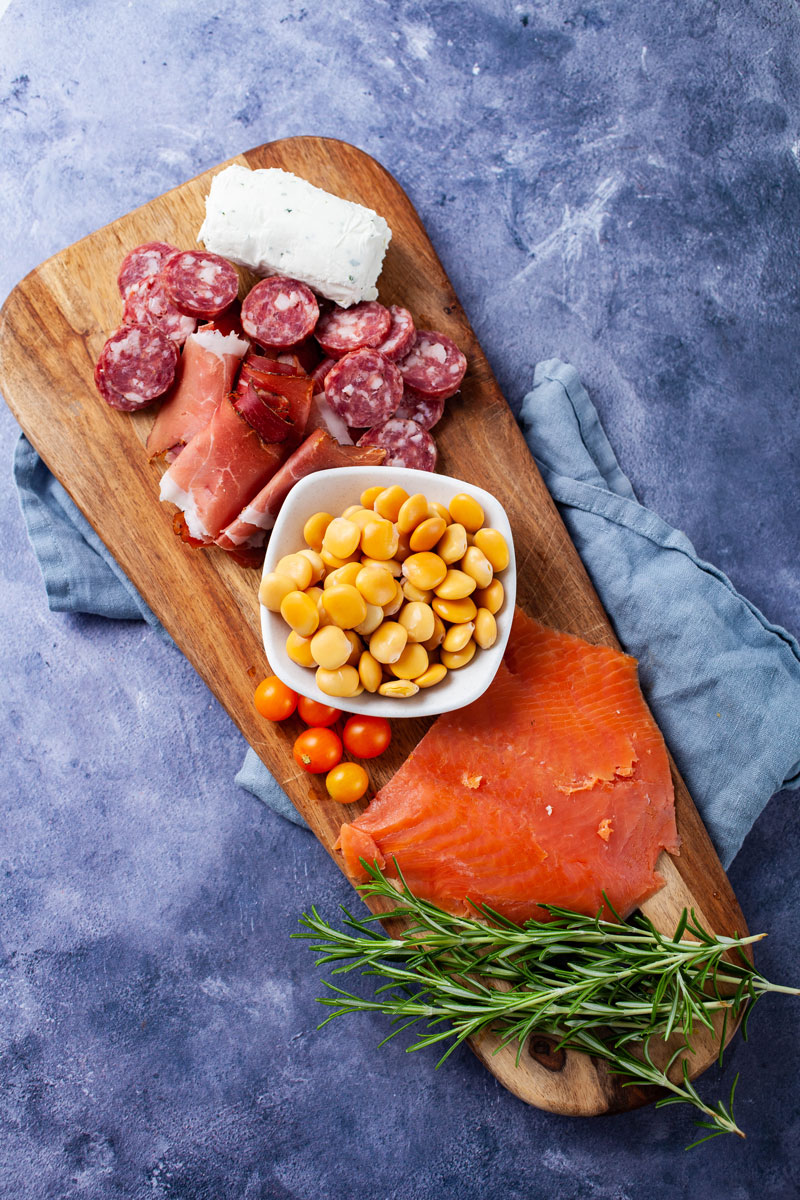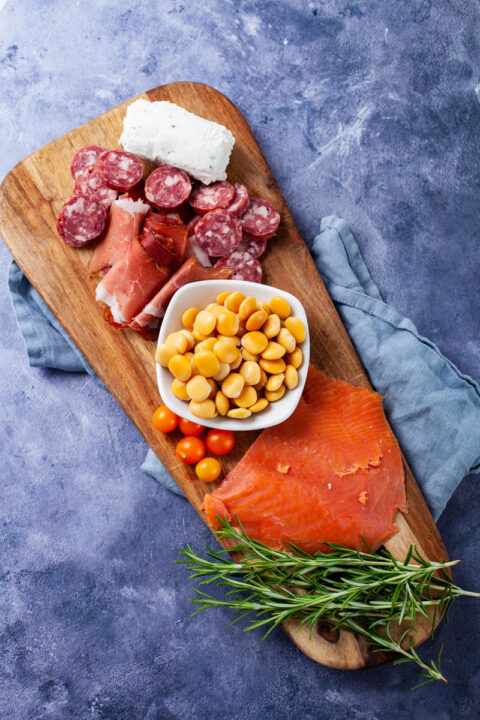 What are Lupini beans? If you've never heard of them, they're legumes, more commonly known as Lupins and very popular throughout the Mediterranean. Many different possible recipes use lupini beans, but they are more commonly enjoyed as a seasoned or pickled snack. And they happen to be also a great protein-rich and low-carb plant-based source.
Growing up in a partly Italian household, lupini beans were a Holiday treat. My grandmother would serve them, amongst other delectable things, to keep the family entertained at the Christmas dinner table long after dessert.
We also often would put them out with mixed nuts or olives for guests to enjoy on special occasions.
It feels like this once artisanal food has become now a snacking favorite in the North American market, with Brami selling them as packaged snacks.
And because they are another plant-based source of protein and fiber, but also low in carbohydrates, they also have become a popular ingredient to make hummus, cookies, or even lupin flour for those on a plant-based, gluten-free, or even a Keto diet.
I'm not particularly eager to hail any ingredient as a superfood per se. You know by now, it's all about balance in my kitchen. And, of course, as a kid, you don't think about fibers, carbs, and proteins. So I just liked munching on these prepared beans because, once you place them in front of me, I find these oddly addictive.
This lupini beans recipe will hopefully convince you that it's worth making at home and that preparing them properly is not a complicated process—after all, it's just water, salt, and beans.
But I think they're worth your time because you can make a huge batch for much cheaper, and you get to play around with the flavors.
All you need is a bit of patience because it takes about 5-7 days to transform these lupini beans into an edible snack, but the actual work involved is simple and easy.
Let's make this lupini beans recipe, and I also share a homemade hummus and lupini bread recipe below.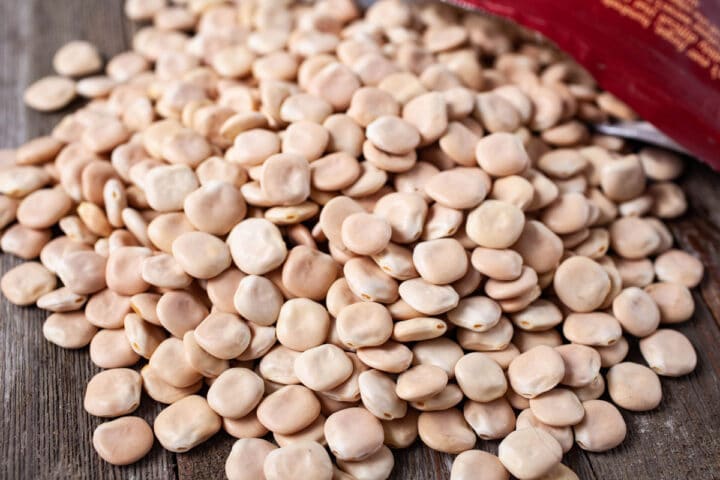 What do Lupini Beans taste like
They're well...some would say neutral in taste once you've removed all the bitterness. But when adding the right amount of salt to the brine, they're deliciously buttery, slightly salty with a little crunch.
Some like to add vinegar, or spices like garlic, etc. But my family's traditional lupini beans recipe adds just salt to enjoy them, sort of like a lightly salted nut.
What I find even more important is their texture. Even when cooked and prepared, lupini beans should have a certain firmness to them, almost 'al dente.' So tender, yet firm, taking on whatever flavors you give them.
Let's have a look at how to prepare them properly.
Preparing Lupini Beans
Preparing lupini beans is not difficult, but it involves a few steps and a bit of patience to remove any bitterness from the beans and get the right texture and taste.
The short version of preparing lupini beans: rinse and soak the beans overnight. The next day, drain and rinse. Place them in a large pot, covered with water, simmer for 2 ½ hours on the stove. Drain and rinse. Place them in a clean vessel of choice and fill them with cold water and salt. For another 4 to 7 days, drain and replace with fresh cold water twice a day—takes a few minutes—until the beans are no longer bitter. Then, store in mason jars with cold, slightly salted, or seasoned water in the fridge.
I like to do the initial steps during the weekend or on days that I know I'll be working from home. Then, the additional soaking and rinsing need to happen only twice a day for about 4 to 7 days and can be done in the mornings and before going to bed.
It might seem all a bit cumbersome, but, I promise, the actual work involved is simple.
Pre-soaking and sorting
Before cooking them, I like to pre-soak the dried beans overnight in cold water and sort out any funny-looking ones. Usually, when I make lupini beans, I make a big batch, so I prefer to use a big stockpot with a lid and then store it in a dry, cool place.
But depending on the quantity, I've also used a large bowl covered with a clean kitchen towel. Either way will work.
Ensure that the beans are submerged with water. Then soak them overnight or until ready to attend to them the next day.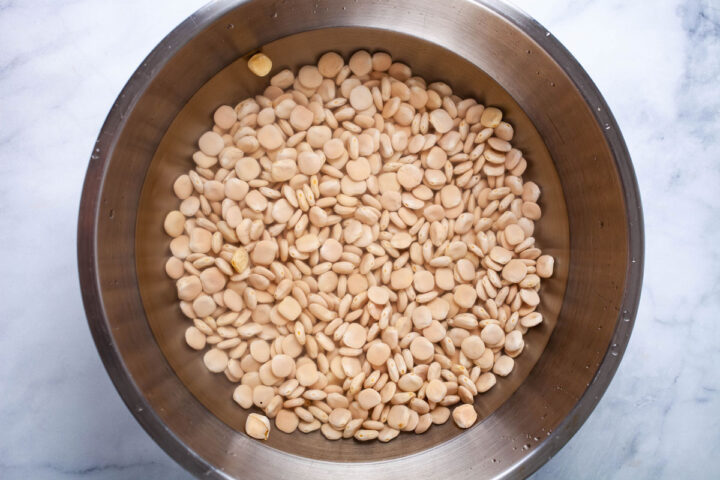 Cooking
After the overnight soaking, drain and rinse the beans with cold water and return them to a cleaned stockpot large enough to hold the beans and cover them again with enough water.
Ensure that the beans are at least submerged with about 3 to 4 inches of water because they will swell when cooking them.
This is the point where I like to add some salt to the water (anywhere from one to 5 tablespoons, depending on the quantity). It's more so to help rid them of any bitterness.
Once the water reaches a good 'rolling boil' on high heat, lower it to maintain a gentle simmer for about 2 ½ hours.
There is really nothing to it. I keep them on the stove while I'm doing other things around the house, checking from time to time whether the beans are still covered with enough water—add more if too much has cooked away—or the simmer hasn't become too vigorous.
After the simmer, the beans will have changed in more yellowish color and look plumper but still a bit shriveled.
Next, drain the beans ready them for the soaking process.
Soaking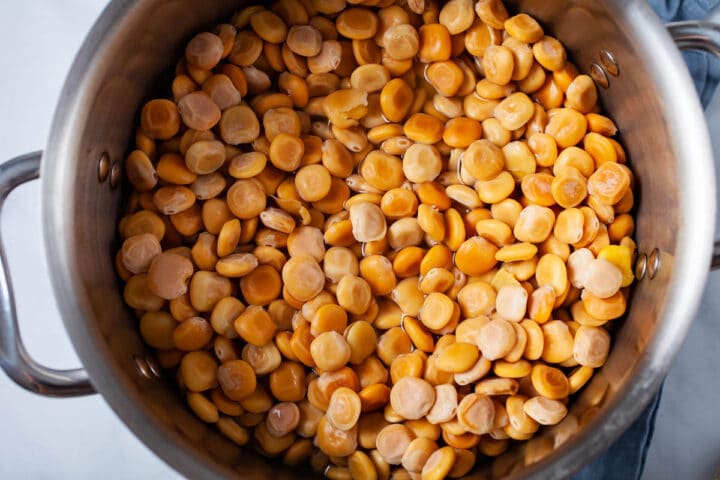 You can use the same stockpot, rinsed and cleaned, for the soaking process or even a deep bowl. Whatever you have on hand that can hold the beans and enough water to cover them.
The beans should now be soaked and generously covered in slightly salted water for 4 to about 7 days—or longer depending on the type of lupini beans, more on that later—with water being replaced twice daily.
Changing the water will only take a few minutes of your time, and you can use a colander to drain the beans, cheesecloth, whatever is easiest for you.
Every time you change the water, you will notice some murky residue around the pot's interior. I recommend rinsing it off and cleaning the pot before adding the beans back in and submerge them with fresh salted water again.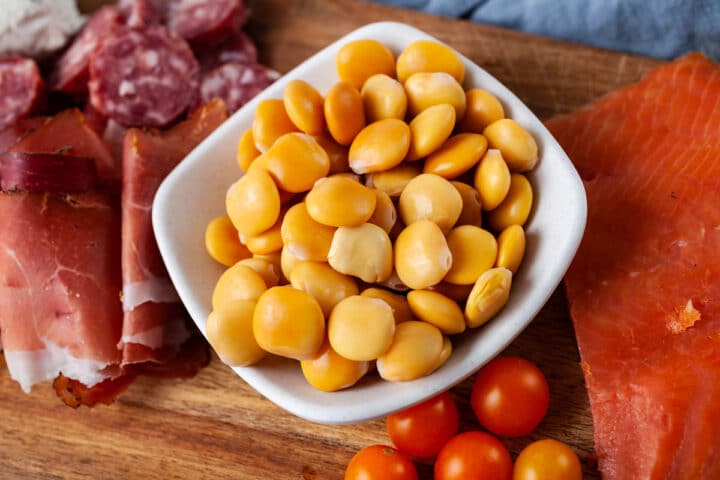 Ready to consume
Lupini beans will look beautifully plump and golden yellowish in color when ready to enjoy.
When they look ready after about 4 to 5 days, you can taste test a bean without swallowing it to see if any bitterness remains.
If the bean is still bitter, continue the rinsing, soaking, and salting process for a few more days before taste testing again.
Important, there should be ABSOLUTELY NO bitterness.
How to store Lupini Beans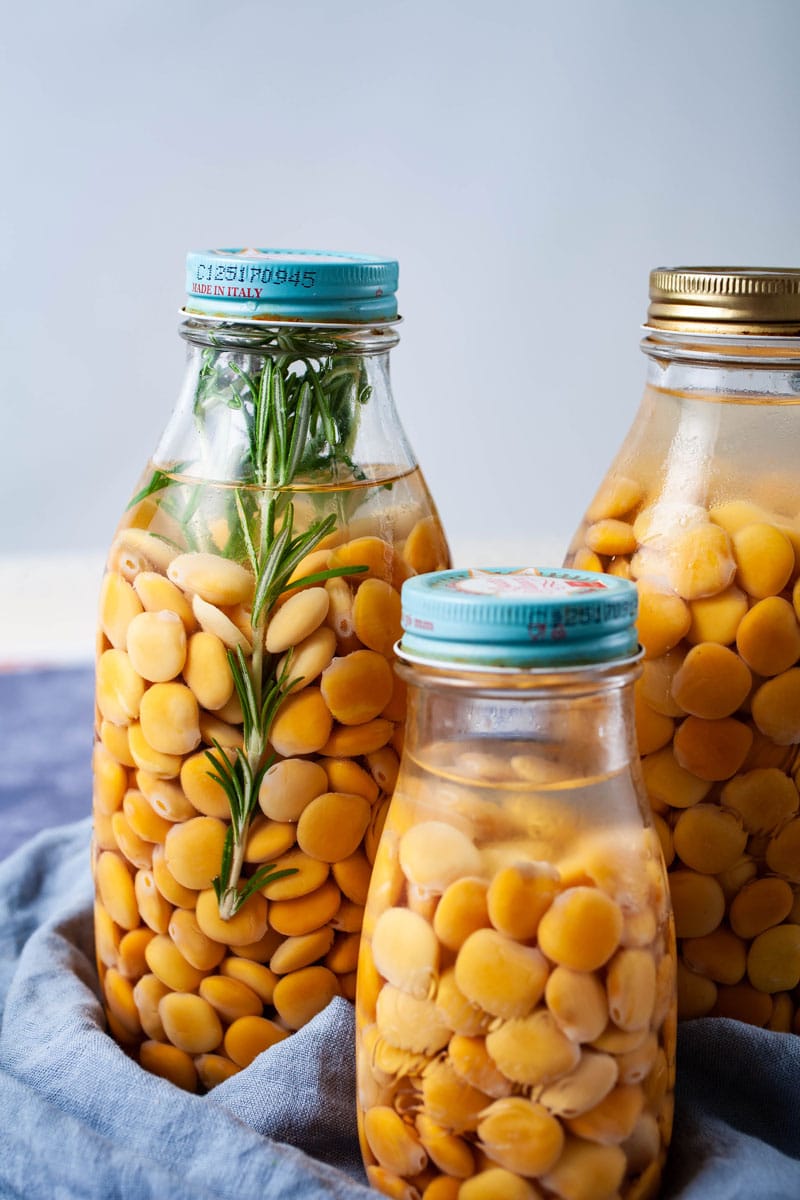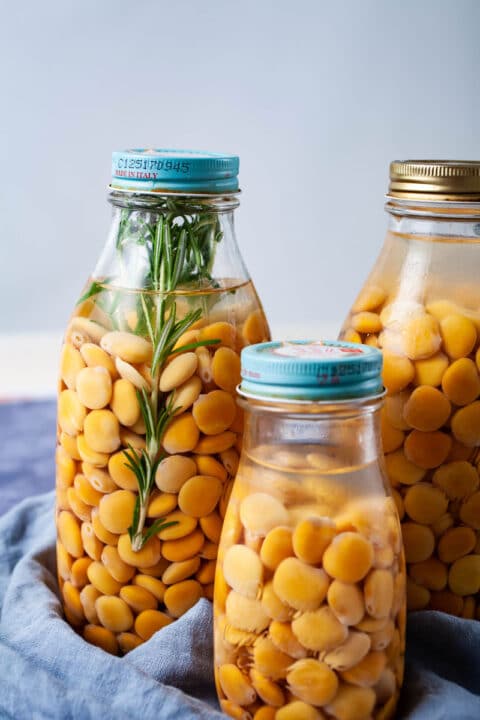 You can place the lupini beans in large glass mason jars or covered containers, leaving some room to submerge the beans with cold tap water.
I always add some salt—about one tablespoon per quart or liter of water; maybe add some Rosemary leaves to add some taste to these ready-to-eat lupini beans, but it's optional.
Then refrigerate for up to two weeks.
Drain the brined beans before serving. For a longer shelf-life, it is recommended to vacuum seal them.
How to eat Lupini Beans
This part always reminds me somewhat of eating my grandmother's prepared sunflower seeds. I know it's going to sound tedious. But I promise you, once you get the gist of it, it'll become second nature, and they'll pop in your mouth fast.
Take one, and bite into the edge of the bean to make a small tear in its skin.
Then pop the inner bean out into your mouth with your thumb and index finger and discard the skin.
That's it!
At home, I always serve an extra empty bowl to trash the casings.
Can you eat lupini beans skin? The skin is absolutely edible. But when I enjoy them like a salted nut, I prefer to peel them and pop the lupini bean out of its casing. I use the whole bean with its skin for other lupini beans recipes where it just becomes one of the ingredients like lupin hummus or low-carb lupin bread.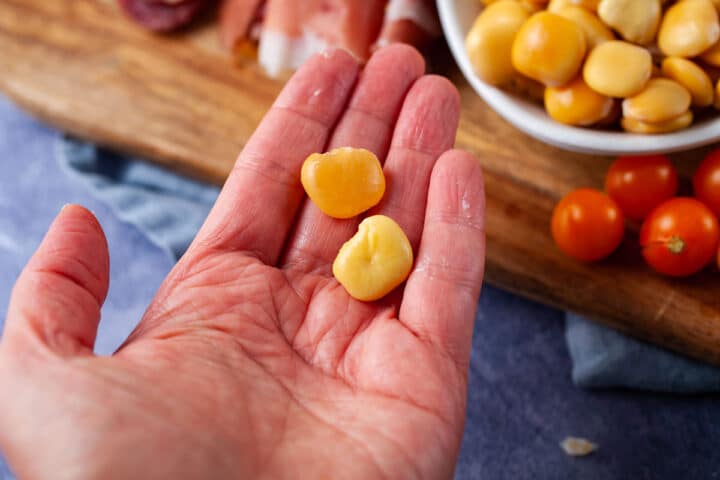 Lupini Beans snack & serving ideas
These prepared beans are delicious on their own, served as a snack and paired with a glass of cold beer, red wine;
Enjoy as a popcorn substitute during movie night.
But they also are a lovely addition to charcuterie and cheese boards or a larger appetizer table served in conjunction with thick-crust pizza squares, fennel and cucumber bites, or savory veggie cakes—to give you a few ideas.
Try adding you favorite herb and spices, like a tad of salt, lemon juice, and chopped parsley to add some zing or try adding olive oil, garlic, and rosemary.
Prepared Lupini beans can also be used as an ingredient to make other recipes like hummus, lupini bread, or cookies—I even heard of ice cream but never tried it myself.
Or toss some peeled beans on to a salad.
Bonus Lupini Beans Recipes
Lupini Bean Hummus
---
This low-carb, vegan lupini hummus quickly comes together with simple spices, extra virgin olive oil, and dairy-free sour cream. Store in fridge in a closed container for up to 5 days.
It's just delicious for dipping your favorite veggies, crackers;
Top on salads, sandwiches, or roasted veggies (cauliflower in particular);
Enjoy with hard boiled eggs.
These are just a few ideas.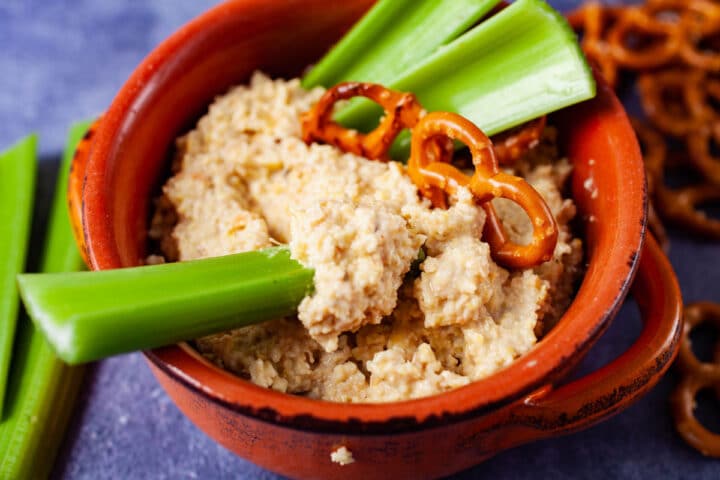 Ingredients you'll need for (2-4 servings):
1 cup prepared and unpeeled lupini beans (165 grams)
½ teaspoon garlic powder
¼ teaspoon salt
2 tablespoons extra virgin olive oil
¼ cup dairy-free sour cream (65 grams)
A pinch of paprika pepper
½ lemon, juiced
¼ teaspoon dried oregano
Place all the ingredients in a small blender or food processor. Blend until you get a pale yellowish paste. The texture will be a little coarser than traditional hummus—almost like a mild tapenade.
Garnish with extra paprika powder (optional).
Savory Almond Flour & Lupin Bread
---
This savory seasoned low-carb bread serves well with a large salad, soup, bone broth, or add it as something comforting to your meaty dinner or vegetarian meals. But it's equally delicious on a brunch table paired with a sweet compote or jam.
I like to cut this into smaller squared pieces and serve them in a basket for everyone to grab on the table.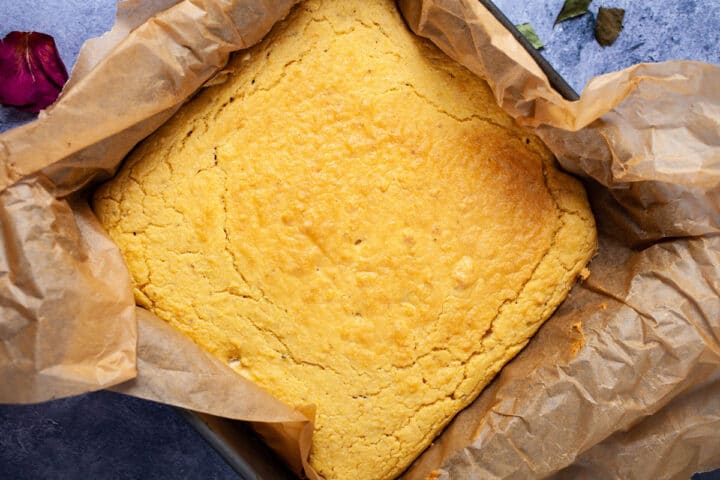 Ingredients you'll need for (9 servings):
1 cup almond flour
¼ teaspoon salt (use less or none if Lupini beans are already lightly salted)
¼ teaspoon dried oregano oil
1 tablespoon baking powder
1 cup prepared and unpeeled lupini beans (165 grams)
3 eggs
About ½ cup dairy-free sour cream (130 grams)
Pre-heat oven to 375°F/ 190 °C. Line a 9-inch squared baking pan with parchment paper. In a bowl, combine almond flour, herbs, and baking powder, set aside.
Place lupini beans, eggs, and sour cream in a small blender or food processor. Blend until well combined, and the beans are pulverized.
Stir the liquid mixture into the reserved almond flour mixture until well combined. Divide everything equally into the prepared baking pan.
Bake for 25 to 30 minutes or until the top is solid and golden. Remove from oven and let cool down before serving.
Helpful info about Lupini Beans
WHERE TO BUY DRIED LUPINI BEANS

Dried lupini beans are hard, flat, circular, and rather pale in color. They'll have to be properly cooked and soaked to remove their alkaloids and get them to their buttery, plump, and golden yellow deliciousness.

Unfortunately, I haven't found dried lupini beans in my local supermarkets. But they are easily bought online.

Depending on where you live, you might find them in Italian specialty stores as well.

Usually, I only buy a bag of dried lupini beans when I'm ready to make them in the next few weeks. But I imagine you can store them like any other dried bean, preferably in a cool, dry place.
WHERE TO BUY LUPINI BEANS PREPARED & READY TO EAT

These snackable beans have become more widely available over the years, even in most big chain grocery stores.

Usually, you will find them in a jar, pickled in salty brine, or vacuum-packed and ready-to-eat.

But since you now know how to prepare this easy snack yourself, with a bit of patience, you can make them at home as a low-carb, vegan, gluten-free, low in calories, protein, and fiber-dense snackable treat—wow, that's a mouthful.
THERE ARE TWO KINDS OF DRIED LUPINI BEANS

You have the large dry lupini beans. They are very bitter and require more soaking time—anywhere from 5 up to two weeks.

And then you have the smaller kind of lupini bean—sometimes called the "sweet" lupini bean, but there is nothing sweet about them. They just contain fewer alkaloids and require less soaking.

There is no wrong or the right kind. I prefer the large ones, as they taste more buttery to me once prepared. But it's a personal preference.

Preparing them is the same; only one bean requires less soaking time and is therefore ready in less time.
Other healthy snacks you might like
Thinking about serving something crunchy for movie night? Try my coconut and kale chips. There is only one problem; you can never make enough of them.
Other addictive bites here at home are the chewy energy bites with a nougat-like texture and the coconut & chocolate-covered bites. They are deliciously filled with roasted peanuts.
Want to try this dish later? Then PIN IT on your healthy snack board! Then, come and find me on Pinterest for more great recipes! And don't forget to subscribe to my monthly newsletter!
📖 Recipe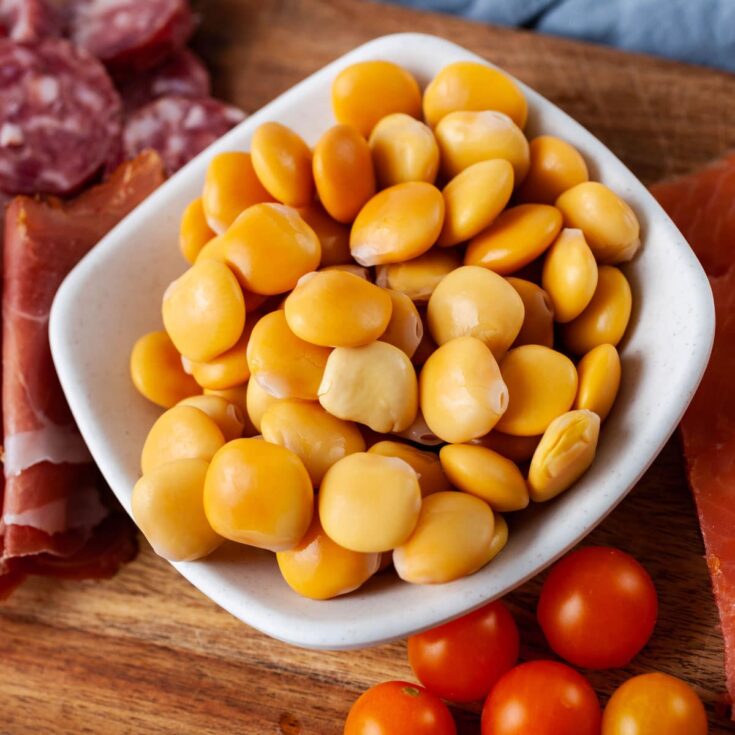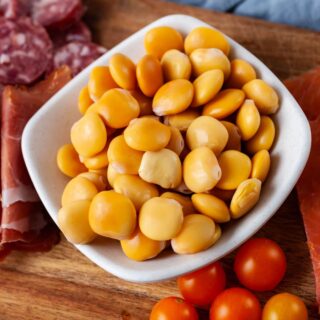 Lupini Beans
Mariska Ramondino
A homemade Italian lupini beans recipe. They're high in protein, high in fiber, low in fat, and although usually served around Christmastime, it's a great healthy low carb your round snack. It's also a healthy addition to add to charcuterie or cheese boards or an appetizer table.
Ingredients
2

pounds

extra large dried lupini beans

about 1 kilo

Water

Salt
Instructions
In a large pot or bowl, submerge the beans completely with water (at least 2 to 3 inches covered). Cover the bowl with a clean kitchen towel or the pot with its lid, then soak overnight or until ready to attend to them the next day.

When ready to cook, rinse the beans, and remove any brown-colored ones.

Place the lupini beans in a large pot and cover them again with enough water.

Add 4 to 5 tablespoons of salt.

Cover the pot and place it on high heat to bring the water to a boil.

Then immediately lower the heat to maintain a very gentle, almost bare simmer for 2 ½ hours. The beans will be softer and brighter in color but still have a firmness to them.

Drain the beans and rinse under cold running water.

Place the beans in a clean pot and submerge again with water, enough to cover them completely. Add salt (optional)—one tablespoon per quart/liter of water.

Cover the pot and soak the beans for 4 to 7 days, stored in a cool dark place.

During those days, drain and rinse the beans twice a day, each time placing them in a clean pot, covering the beans again with new water, and adding salt.

After 4 to 5 days, taste a lupini bean without swallowing. If still bitter, continue the rinsing-salting process until the bitterness is gone.

Store the beans in a jar covered with lightly salted water in the refrigerator for up to two weeks..

Vacuum seal the beans for a longer shelf-life.
Notes
How to eat lupini beans as a snack: make a small tear in the bean's skin with your teeth. Use your fingers for popping out the seed directly into your mouth. Discard the skin. Salting: You can lower the amount of salt during the cooking and soaking process according to taste or diet requirements. I recommend using about 1 tablespoon per quart or liter of water. Once the beans are ready, you can taste-test the brine by stirring the salt in the water and then taste a drop on the tip of your tongue. The water should taste slightly salty. Type of lupini beans: depending on the variety of lupini beans you're using, the soaking process might take more or fewer days. Note that larger lupin beans are more bitter than small lupini beans and require longer soaking. Lupin beans used in this recipe represent the more bitter kind. Serving suggestions: Serve as an after-dinner treat (Italian way), a high protein snack, part of an antipasto spread, on a charcuterie or cheese board, or enjoy them with a glass of cold beer or rich red wine. Storage: Use big mason jars or covered containers filled to store ready-to-eat lupini beans, leaving enough room to cover the beans with lightly salted water (brine). Drain the beans before serving. For a longer shelf-life, it is recommended to vacuum seal them. Have a peanut allergy? Lupin belongs to the same plant family as peanuts. So, consult with your doctor before consuming lupini beans. Important: Never eat lupini beans that have not been properly cooked and soaked as they are high in alkaloids, hence the bitterness, and therefore can cause lupin poisoning. But don't let that deter you from making them. This lupini beans recipe will turn them into a nutritious and tasty snack.
Add your own private notes
Whenever you come back to this recipe, you'll be able to see your notes.
Nutrition (% Daily value)
Serving:
1
cup
Calories:
40
kcal
(2%)
Carbohydrates:
8
g
(3%)
Protein:
3
g
(6%)
Fat:
0.1
g
Saturated Fat:
0.02
g
Polyunsaturated Fat:
0.04
g
Monounsaturated Fat:
0.01
g
Sodium:
2
mg
Potassium:
205
mg
(6%)
Fiber:
2
g
(8%)
Sugar:
1
g
(1%)
Calcium:
10
mg
(1%)
Iron:
1
mg
(6%)
Disclaimer: This nutritional data is calculated using third party tools and is only intended as a reference.