You are going to enjoy this easy-to-make canned tuna appetizer. It's crunchy with a delicious creamy filling and a combo of salty and naturally sweet flavors. Fresh veggies like European cucumber and raw fennel add delicate sweet and anise-like flavors. At the same time, soft Brie cheese mixed into tuna, parsley, olive oil, and capers become a hearty Mediterranean topping.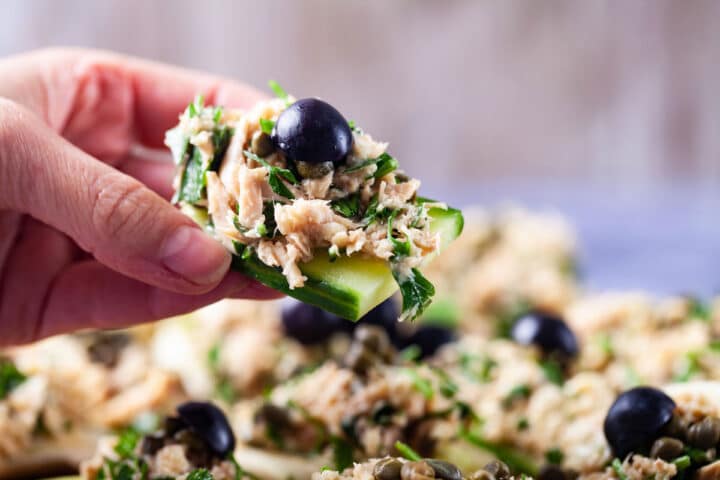 These one-bite cold tuna appetizers come together in 15 minutes and look sophisticated. Best of all, they are healthy, gluten-free, low-carb, and incredibly filling. Whether you plan to entertain guests, are looking for a healthy bite to serve on movie nights at home, or want a quick and easy light lunch, these fennel cucumber bites with creamy tuna are your go-to recipe.
Healthy appetizers like these are also a smart way of bringing the family together and just catching up on life. You don't need perse a party, Holiday, or big event to enjoy elegant finger food. All it takes is a lazy Sunday afternoon, a refreshing Piña Colada Mocktail, this healthy bite, and each other's company to make those happy moments count.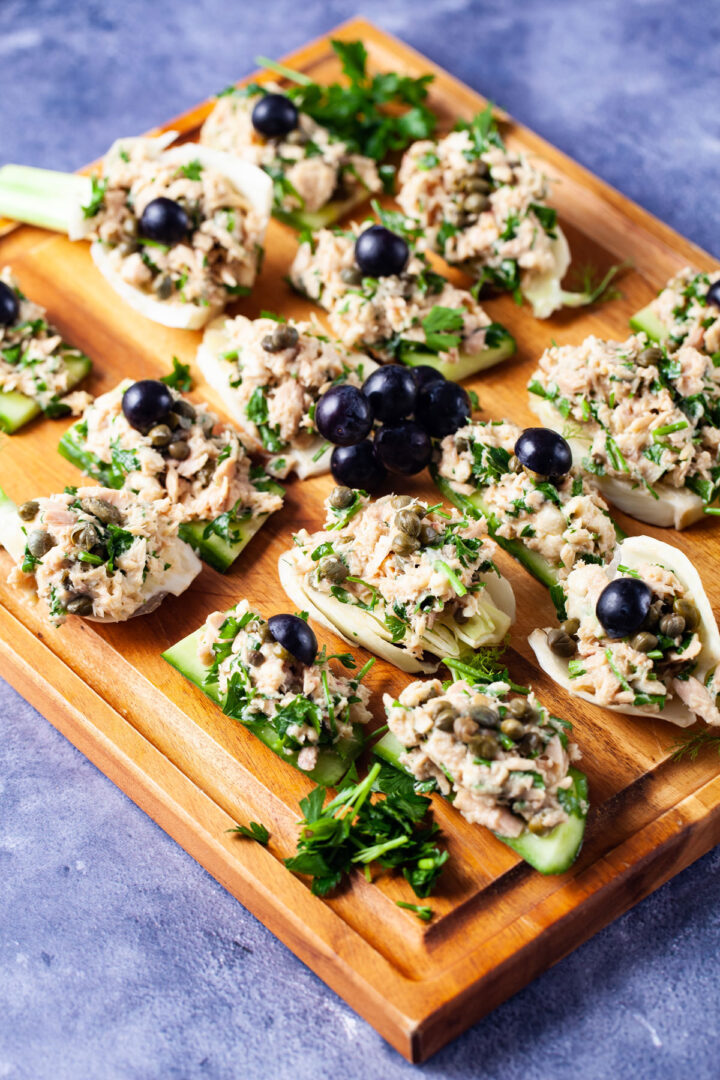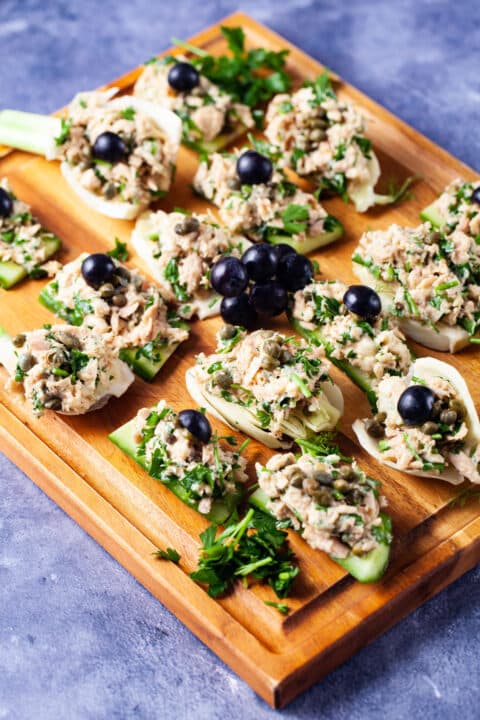 Ingredients
Crunchy veggies
Crunchy raw veggies like cucumber and fennel are a refreshing choice in contrast to the creamy tuna topping.
If possible, go for the longer and thinner European cucumber—or sometimes labeled as "seedless cucumber." Almost every grocery store sells them year-round in the produce section and often comes individually wrapped in plastic. They are a tad more expensive than regular cucumbers but so worth the price. Because they are sweeter, without any strong bitter undertones, and their much thinner skin does not need to be peeled.
You only need a portion of one cucumber. But feel free to use more and less of the fennel or cut thicker slices if preferred. The remaining half usually ends up chopped in my salad the next day.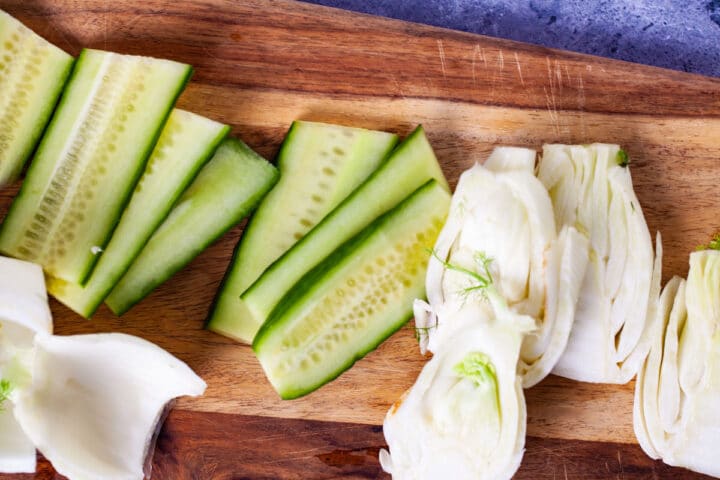 Fennel is one of the most underrated and underused vegetables, in my opinion. Many of my friends don't use it often in their home kitchen or don't know what to do with it. But it is such a versatile ingredient, and not only is the whole plant edible, but it is also so good for you. It's one of my favorite vegetables, either raw, oven-roasted, or quick-braised!
Note: My lovely Italian grandmother would serve us bits of a chopped up raw Fennel bulb after a hearty dinner to aid with healthy digestion and bloating issues.
Many will describe the taste of fresh Fennel as anise-like. And although true, the flavor is very mild with sweet, delicate undertones and a deliciously crispy texture. Instead of overpowering a dish, its tasty flavors always compliments, whether it is thinly sliced in salads or paired with this creamy tuna filling.
For this recipe, I am only using the white bulb and some parts of the stalks. You can use the rest of the stalks to flavor broths, and chop its leaves to toss into salads.
How to cut the Fennel for this recipe
Cutaway most of the stalks and leaves (bright green fronds)—reserve to flavor broths or vegetable soups, or use the leaves to toss in salads. Note that I leave parts of the stalks on the outer side of the bulb attached (see picture.)
Cut off the thick root end—don't remove the core. Discard the root.
Now you can slide off the outer layers of the Fennel bulb that still have some stalks attached to them. I use these "fennel cups" as-is and fill them up with the tuna mix.
Place the rest of the fennel bulb upright on its root and hold steady. Use a sharp knife to cut the bulb in half. Then further cut each half lengthwise into about ¼-inch slices.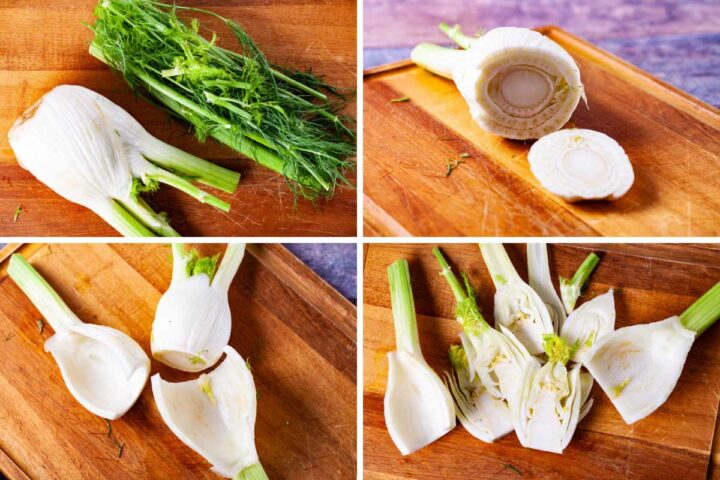 Canned tuna
Tuna shines in olive oil. It is rich, meaty, and full of flavor, instead of chewy—when water-packed—oil-packed tuna melts in your mouth. I always have a can or two in my pantry for a quick salad. Although flavorful enough to use on its own with some parsley in this healthy appetizer, I highly recommend adding creamy brie for that extra buttery taste.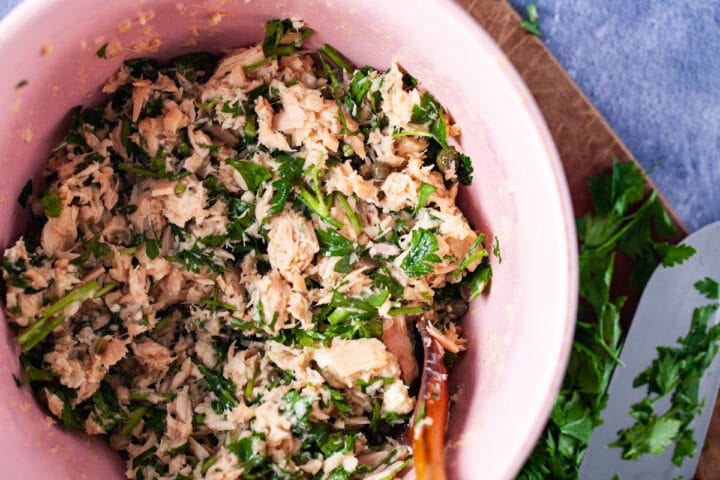 Note: Love recipes with canned tuna? Then also try this nutritious Ricotta Salad.
Brie cheese
Brie cheese is going to add that extra touch of sophistication to this low carb healthy snack without much extra effort.
It is best to leave the required amount of Brie unwrapped out of the fridge for about 30 minutes. The cheese will soften at room temperature and obtain a creamy almost "oozy" semi-solid texture. That is when the rich flavors of the cheese come through and it also will be much easier to mix it in with the canned tuna.
Don't waste the rind—my dad's advice still echoes in my head whenever I serve this cheese. It is edible and best when mixed with the softer interior. Don't like it, then wait till the Brie obtained room temperature, and then scoop out the soft center with a spoon.
Parsley
Whenever you see the word Mediterranean, then Parsley is almost usually there as well. It is more than a simple garnish here. Combined with olive-packed tuna and buttery Brie, Italian Parsley adds a refreshing balancing touch and an earthy freshness—just enough to enhance the other flavors.
Capers
Maybe you don't use them very often in your kitchen, but they are a great topping on salads, pizza, or appetizer platters. They are salty and add a subtle vinegary punch to a dish.
I am not using much here, but just enough to add a tangy lemon-like flavor to the oily tuna mix. No need to rinse the capers, just drain and discard the liquid they are stored in before tossing them into the tuna mixture.
Extra Virgin Olive oil and Salt
A extra teaspoon of olive oil and a few pinches of salt add richness. Taste test and add more salt if preferred.
Fruits to garnish
When in season, use velvety, fresh apricots. They add a sweet, almost tart taste and work well as a topping on these healthy bites.
Another great option is small dark grapes cut in half. They are deliciously juicy with a lovely muscat flavor, sending you on a trip to Italy with each bite.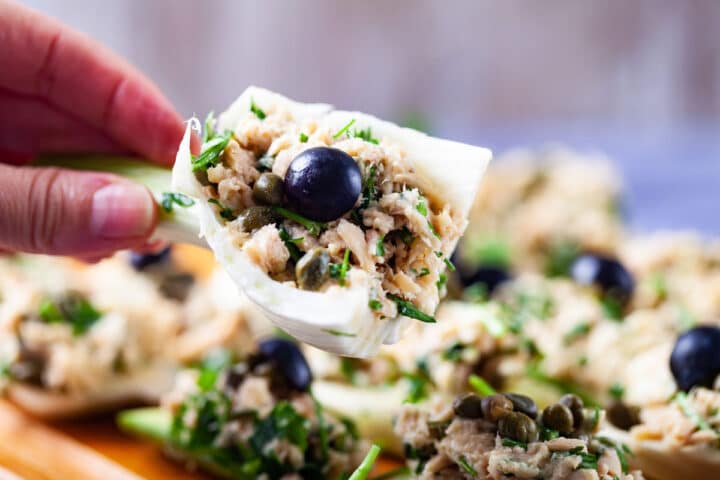 Enjoy your lovely "small bite" moments! It is time to share some quality time over a bit of food made with love!
More appetizer and snacks ideas
Looking for more savory appetizers or light bites to grace your table, then try these veggie fritters with a cilantro-lime sauce, or make something exceptional like this thick-crusted Sicilian-style pizza. There is nothing more comforting than sharing a piece of homemade pizza with family and friends on a relaxing day!
Want to try this Mediterranean appetizer with tuna and Brie? Then PIN IT to your Healthy appetizer board to save for later! Come and find me on Pinterest for more great recipes! And don't forget to subscribe to my monthly newsletter!
📖 Recipe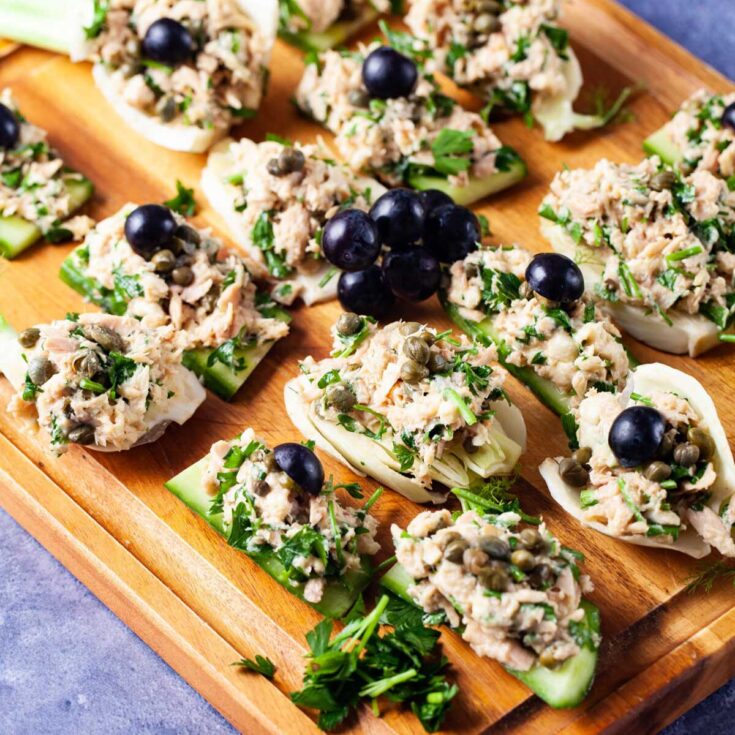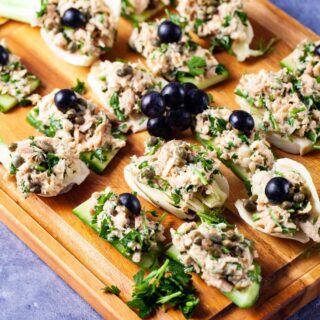 Fennel-Cucumber Bites with Creamy Tuna
Mariska Ramondino
This crunchy, low carb snack or appetizer is made with creamy Brie, tuna, and parsley topped on fresh cucumber and fennel slices and garnished with salty and sweet fruits. These are healthy, tasty bites perfect for parties, entertaining guests, or movie nights at home! Or just enjoy them for lunch as a light meal!
Ingredients
2

cans

tuna in extra virgin olive oil

5 ounces/142 grams each

½

cup

chopped creamy Brie cheese

with rind

2

tablespoons

small capers

drained

1

cup

packed chopped parsley

1

teaspoon

extra virgin olive oil

½

European cucumber a.k.a. English Cucumber

thoroughly rinsed

1

large fennel bulb

thoroughly rinsed

½

apricot to garnish

cut into matchsticks or a handful of dark grapes cut in half

2

pinches

of salt to taste
Instructions
In a small bowl, break up the tuna and the olive oil juices out of the can with a fork. Add the soft Brie Cheese and mash it until thoroughly combined with the fish. Stir in capers, parsley, and the extra teaspoon of olive oil until well combined; set aside.

Cut about 3 to 4 inches of the cucumber, and continue to cut lengthwise into about ¼-inch thick slices, set aside.

Take the fennel and only cut off the very end of the stalks (leaving some stalks attached.) Continue to cut away the thick root at the end of the fennel. It will allow you to pull the first outer layers away from the vegetable. Fill these "fennel cups" up later with the tuna mixture.

Proceed with cutting the bulb in half, and then lengthwise into ¼-inch thick slices.

Fill each fennel cup with a good tablespoon of tuna mix. Spread a tablespoon of the mixture also on each slice of vegetables until all is used up. Immediately arrange on a wooden board or large serving plate.

Garnish with any extra capers, apricots sticks, or grapes.

Serve as a cold appetizer, healthy snack, or small bite.
Notes
Use leftover fennel stalks in (vegetable) broths to add a fresh anise flavor. Toss chopped fronds into green salads.
Add your own private notes
Whenever you come back to this recipe, you'll be able to see your notes.
Nutrition (% Daily value)
Calories:
178
kcal
(9%)
Carbohydrates:
5
g
(2%)
Protein:
19
g
(38%)
Fat:
9
g
(14%)
Saturated Fat:
3
g
(19%)
Polyunsaturated Fat:
2
g
Monounsaturated Fat:
3
g
Cholesterol:
30
mg
(10%)
Sodium:
540
mg
(23%)
Potassium:
478
mg
(14%)
Fiber:
2
g
(8%)
Sugar:
2
g
(2%)
Vitamin A:
1061
IU
(21%)
Vitamin C:
19
mg
(23%)
Calcium:
63
mg
(6%)
Iron:
1
mg
(6%)
Disclaimer: This nutritional data is calculated using third party tools and is only intended as a reference.