This healthy egg salad recipe is a different take on the classic. Prepared Mediterranean-style, the soft eggs compliment the crunchy vegetables and adds a deliciously creamy texture when combined with olive oil—no mayo required. It's filling, deliciously refreshing, hearty, and comforting with a touch of natural sweetness—a perfect lunch or light dinner idea. Plus, it is gluten-free and low-carb.
Make sure to read through for some tips and ways on how to make and serve this super easy and healthy egg salad!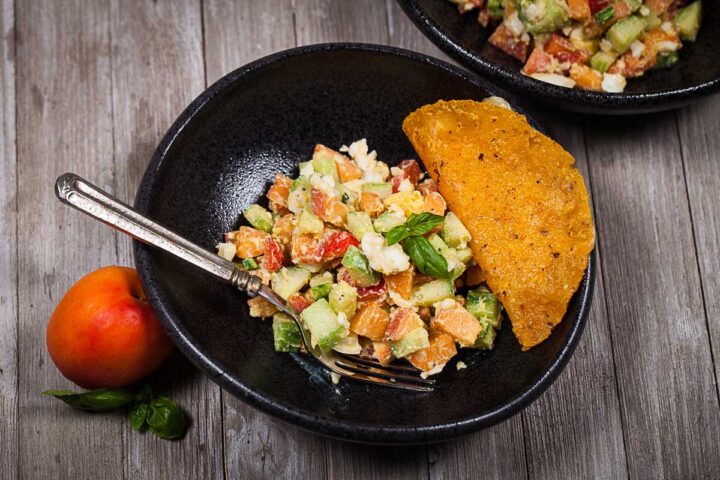 I love this salad. It has excellent texture, it's chunky, and it tastes incredible with the extra virgin olive oil blended in with the eggs. I am also adding sweet-and-tarty apricots that add a refreshing bite complementing the boiled eggs!
But I'll give alternative options in the recipe notes.
What's in this egg salad
It's a super easy-to-make recipe, and I am only using simple and fresh ingredients. Plus, nothing is complicated, even removing the shell from the boiled eggs because they don't have to look perfect.
My egg salad recipe is a simple mix of:
Hard-Boiled Eggs
European cucumber
A red Bell pepper
Fresh apricots
Fresh Basil leaves
Garlic scapes
Extra virgin olive oil
Salt and pepper
The cucumber and bell pepper add a refreshing crunchy texture. And fresh apricots, garlic scapes, and fresh basil leaves add sweet peppery and aromatic undertones that beautifully come together in this salad.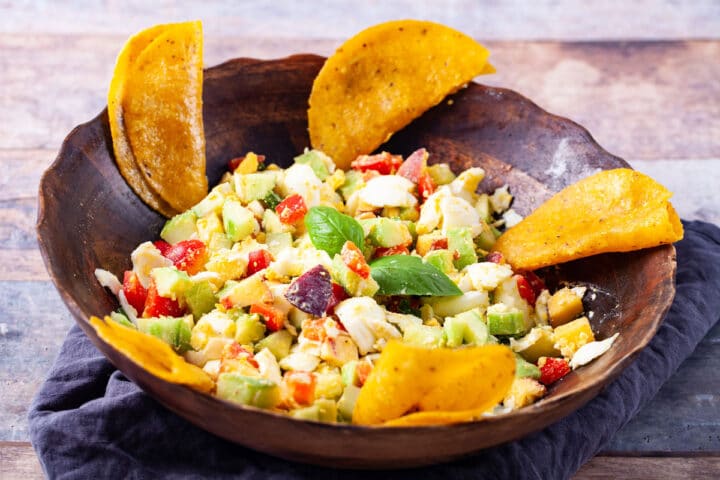 When it comes to apricots
Look for the light orange to almost pink colored ones. Ideally, they should smell slightly sweet and feel soft. But stay away from the fruits if they are too soft or mushy. Dry and overripe apricots have absolutely no taste and will make this salad fall flat in flavor.
Can't find any fresh apricots? Try peaches or nectarines instead.
Growing up, I was always told that apricots are good for your skin—they are a good source of vitamins A and C and a natural source of antioxidants. But I also love the high amount of fiber in this fruit. It not only supports healthy digestion but makes any salad deliciously filling.
When it come to garlic scapes
This curly green vegetable has such a unique, fresh, and crunchy texture—almost like green beans. Its taste is distinctively garlicky but so much milder than garlic with a hint of sweetness, like scallions or chives.
They are going to give this salad a bit of a bite—just a tad.
Because we are adding them raw in this salad, you want to chop them crosswise into tiny bite-sized pieces. So that it mixes well with the rest of the ingredients, and their taste doesn't overpower each bite.
Make sure to snip off and discard any shriveled ends and bulbs.
Hard-boiled eggs
Its an egg salad, so in the end, it is all about good hard-boiled eggs.
You want the yolk cooked through but not dry.
And the whites firm but tender and not rubbery.
To achieve all that I keep my method simple.
Place the eggs in a small saucepan and cover with cold water.
Bring water to a full rolling boil over high heat.
At this point, take the eggs immediately off the heat.
Cover the pan and let the eggs sit for 15 minutes. Anywhere from 12 to 15 is fine.
When the time is up, drain the eggs and submerge them in cold water to cool.
And voila, you have beautiful hard-boiled eggs that are evenly cooked through.
The best way to get the eggs out of the shell
These eggs don't have to look perfect, like with deviled eggs. It's the opposite. In this salad, you want them chopped and have the egg yolk mingle with the olive oil—creating that creamy consistency.
Plus this suppose to be a quick dish and ready in less than 30 minutes.
So, when the eggs are somewhat cooled, simply take a sharp knife and cut through the center of the unpeeled egg. Then, spoon out the cooked egg yolk and whites from the shell. That's it. Now toss them in the salad.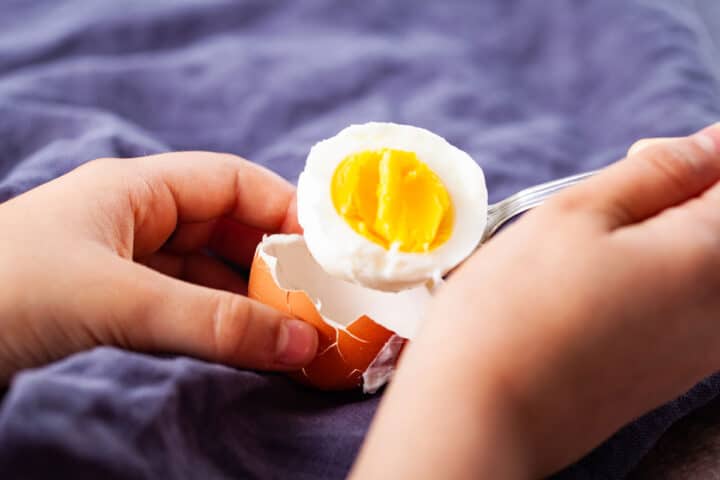 Let it all come together
Toss the eggs with the rest of the ingredients. You can coarsely chop them or mash them into smaller pieces with a spoon while mixing them in the salad.
The olive oil is going to blend with the egg yolk creating a heavenly creamy consistency. Give it all a good stir to coat the chunky parts.
This beautiful salad only requires a little salt, but be generous with the black pepper. It adds that perfect kick at the end of each bite.
Garnish with some extra basil leaves.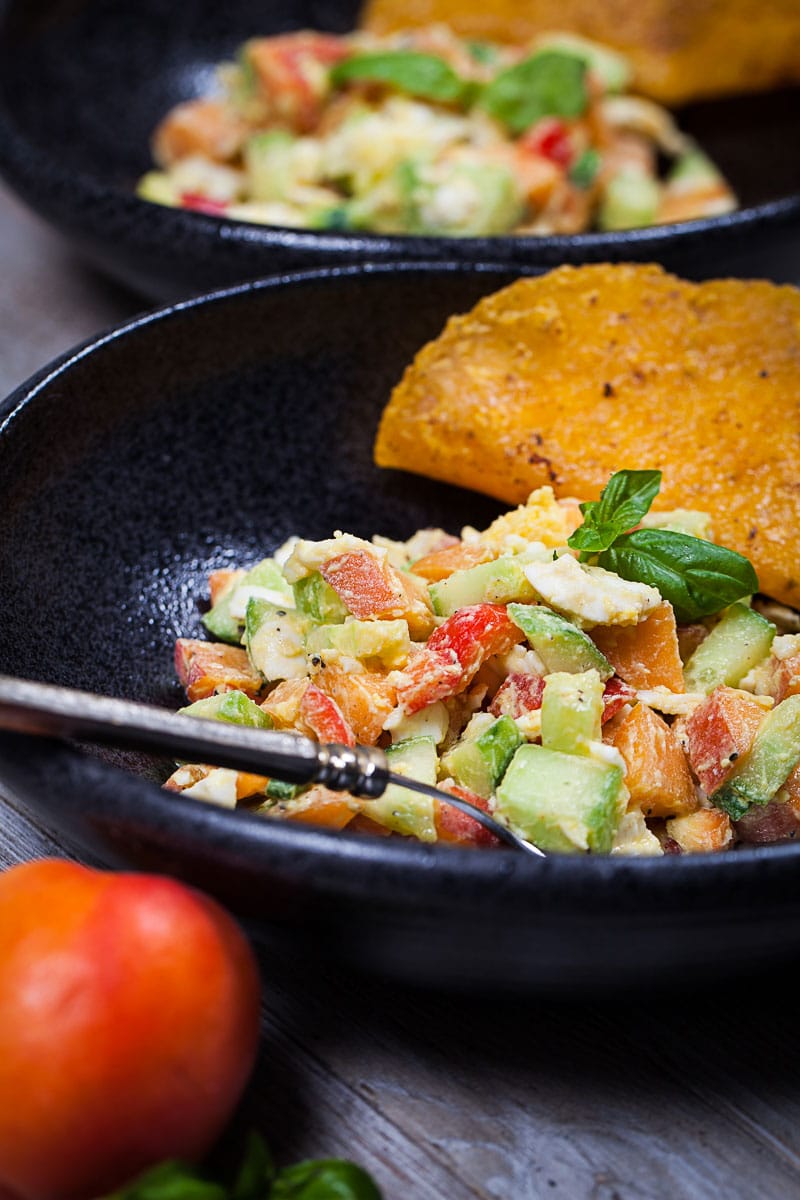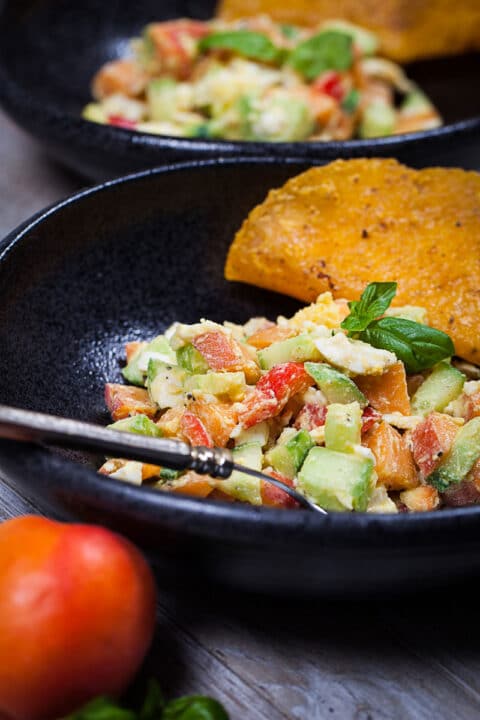 My favorite way to serve this salad
This quick Mediterranean-style egg salad recipe is always a favorite as a light lunch, picnic idea, or an excellent side dish for a garden party or barbecue.
Eat it straight out of a bowl with a fork.
Or serve with gluten-free bread on the side or (sprouted) corn tortillas (I love the ones from Food For Life, wheat-free and organic). I sauté them for a couple of minutes in coconut oil over medium heat.
This salad serves four people as a main dish or six as a side dish.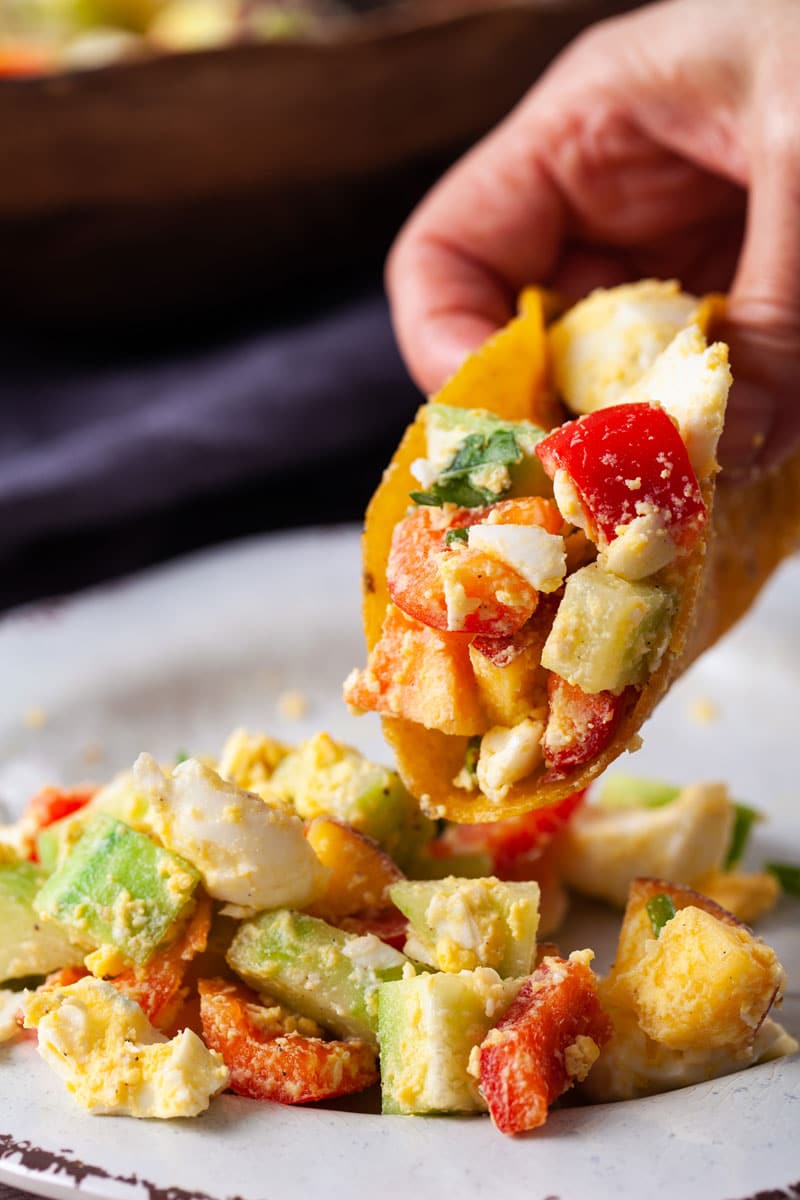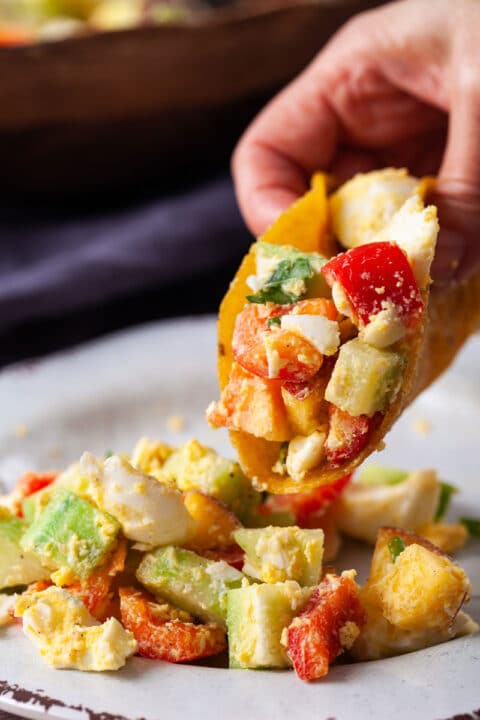 Enjoy!
Sharing is caring, so don't forget to PIN IT! Always love to hear if you tried out this recipe and if it worked for you. Don't forget to subscribe to my Monthly Newsletter!
More light dishes you might like
📖 Recipe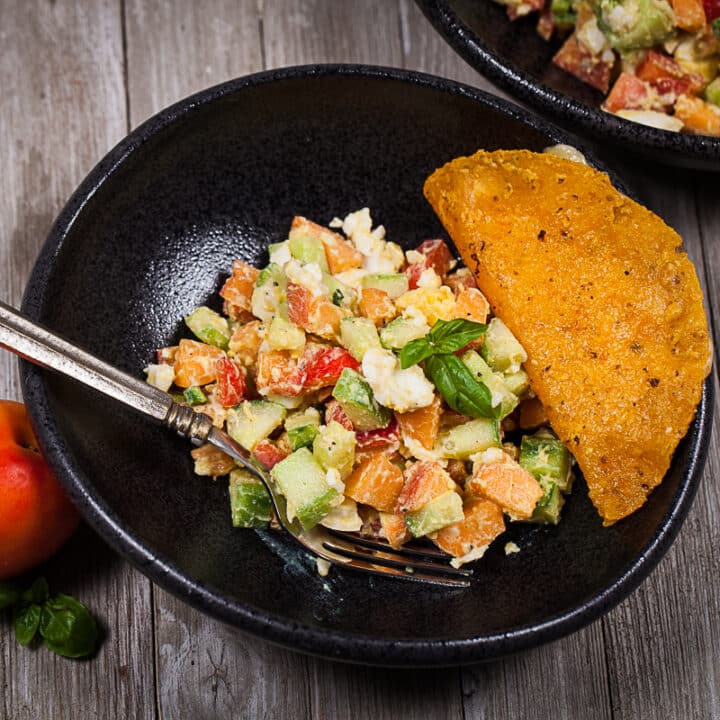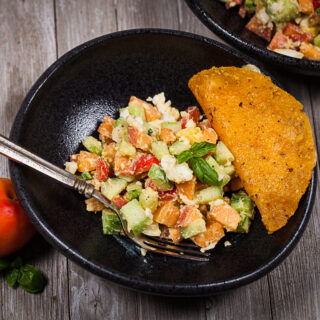 Easy Egg Salad with Fresh Sweet Apricots
Mariska Ramondino
Meals don't come easier than this. This delicious quick dish is refreshing, crunchy, creamy and incredibly filling. Make this light egg salad for lunch or light dinner and enjoy with your favorite corn tortillas.
Ingredients
6 - 8

hard-boiled eggs

1

medium-sized European cucumber

peeled and chopped

1

red bell pepper

chopped

3 - 4

fresh apricots

pitted and chopped.

5

large fresh basil leaves

shredded

2

garlic scape

chopped

2

tablespoons

extra virgin olive oil

Salt and pepper
Instructions
To boil the eggs, place them in a small saucepan and cover with cold water. Bring water to a full rolling boil over high heat. Turn off the heat and remove the pan from the stove. Cover the pan and let the eggs sit for 15 minutes. When the time is up, drain the eggs and submerge them in cold water to cool.

With a sharp kitchen knife (or a serrated kitchen knife), cut the eggs in half through the shell. Spoon out the cooked egg yolk and whites.

Place the eggs in a large bowl. Toss in the cucumber, bell pepper, apricots, basil, and garlic scape. While tossing, mash the eggs into smaller pieces with a wooden spoon.

Pour over the olive oil—season to taste with salt, and black pepper. Stir until everything is well coated with the seasonings and the olive oil.

Best served immediately, but you can refrigerate the egg salad up to two days in an airtight container. When ready to serve, stir the mixture a couple of times and spice it up with some more pepper.
Notes
Can't find apricots? Replace them with one large peach or nectarine.
Can't find garlic scapes? Replace them with chives or green scallions.
Add your own private notes
Whenever you come back to this recipe, you'll be able to see your notes.
Nutrition (% Daily value)
Calories:
147
kcal
(7%)
Carbohydrates:
7
g
(2%)
Protein:
7
g
(14%)
Fat:
10
g
(15%)
Saturated Fat:
2
g
(13%)
Polyunsaturated Fat:
1
g
Monounsaturated Fat:
5
g
Cholesterol:
187
mg
(62%)
Sodium:
65
mg
(3%)
Potassium:
225
mg
(6%)
Fiber:
1
g
(4%)
Sugar:
4
g
(4%)
Vitamin A:
1288
IU
(26%)
Vitamin C:
30
mg
(36%)
Calcium:
46
mg
(5%)
Iron:
1
mg
(6%)
Disclaimer: This nutritional data is calculated using third party tools and is only intended as a reference.