It's pizza time! And this time, I am making it with another healthy alternative pizza crust—polenta or corn grits. Add your favorite toppings to this hearty base infused with oregano, or follow my complete recipe below. It's savory and incredibly satisfying! A must-make polenta recipe!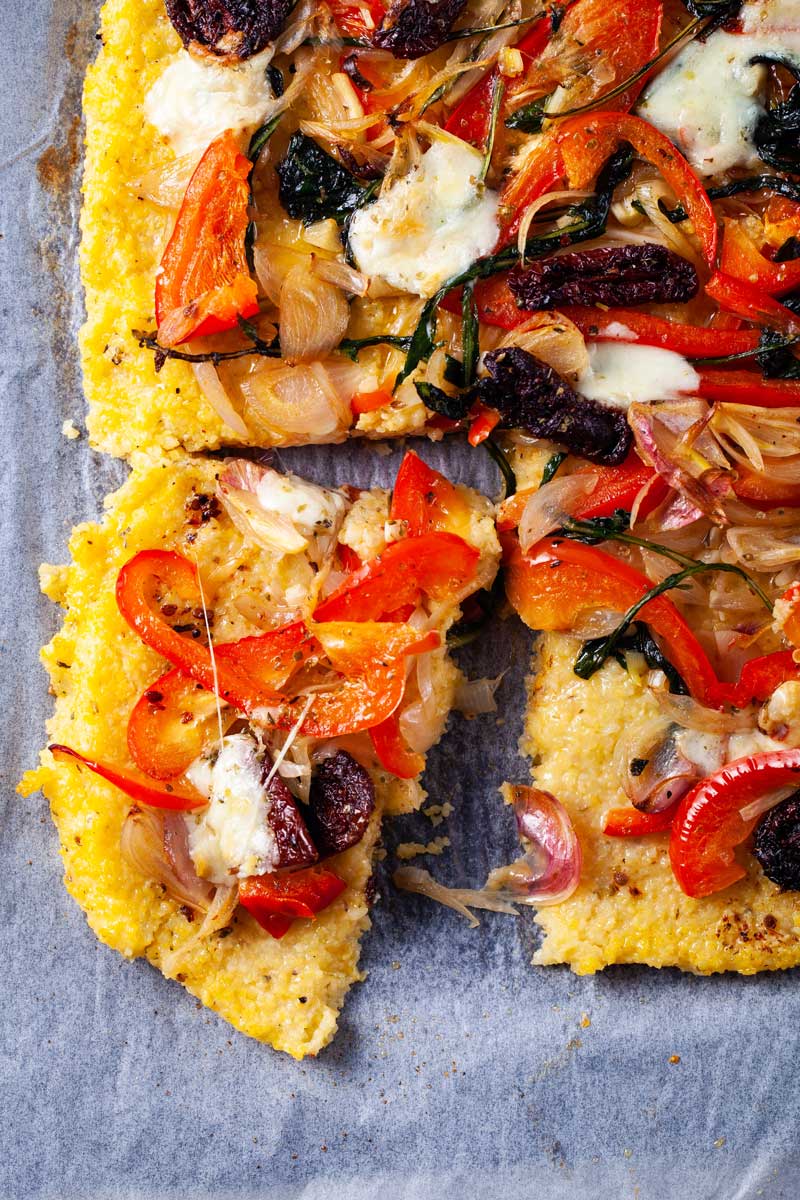 In case you don't know—what is polenta
This Northern Italian dish's name refers to boiled coarsely ground cornmeal, very similar to hot porridge. In most cases, polenta is cooked and served creamy or cheesy—think of Southern grits. But some cooks prefer to cool the cooked ancient grains and then bake, fry, or grill it.
I think you either love or hate this stuff. I couldn't get my dad to eat it on one of our trips to Italy, while some of the food trucks there offered some of the best polenta sandwiches.
The taste of the corn itself doesn't do much for me. But what I love is that polenta gladly takes over the flavors you give it and makes for one versatile ingredient. In this recipe, I use the aromatic Italian flavors of oregano, garlic, and grab a page from the Southern Italian cuisine with sautéed veggies, sun-dried tomatoes, and mozzarella cheese.
Let's make this easy pizza recipe!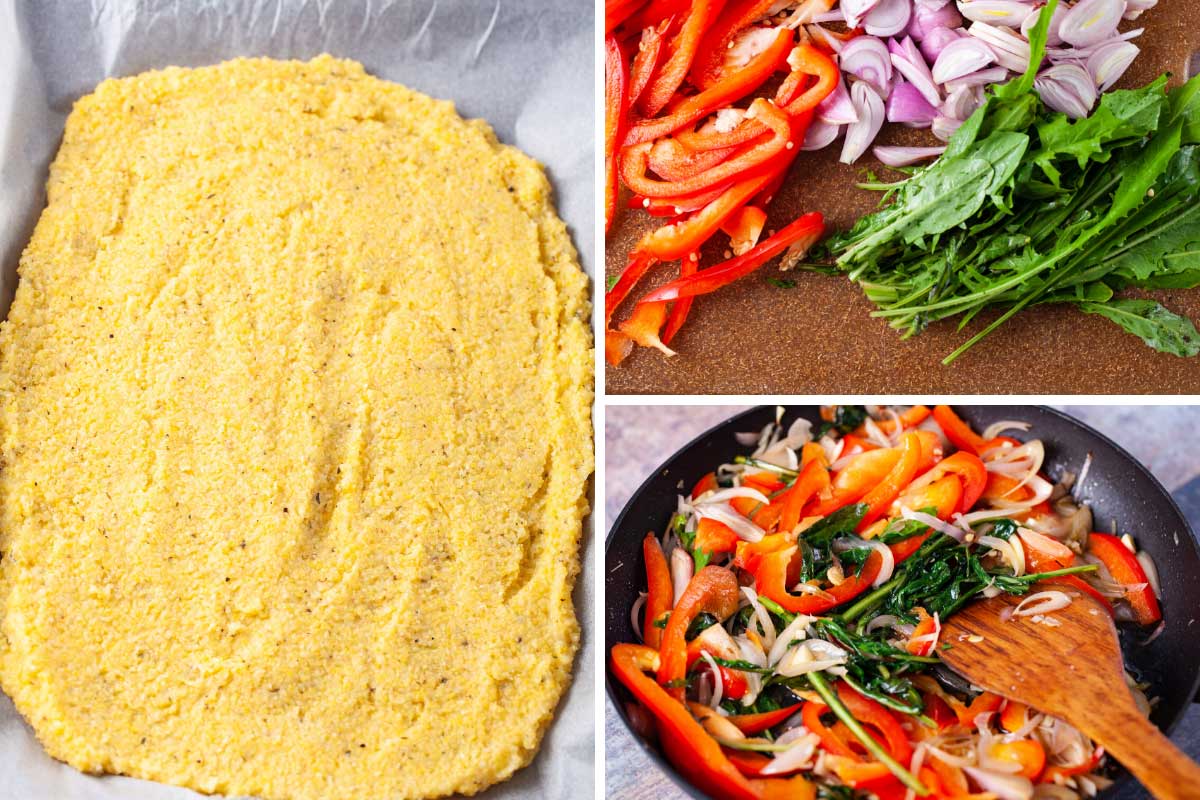 Gluten-free polenta pizza crust
Besides the fact that this is a healthy spin on your Friday night family pizza, there is delightful ease of preparing this crust. There is no need for kneading dough, incorporating rising or pre-baking time.
Granted, you won't have that firm crust like a traditional homemade pizza, and you'll have to eat it with a fork, but the texture is nonetheless incredibly satisfying, as are the flavors. The ends are delightfully chewy, while the inside stays soft.
First, I cook the grains for five minutes in water and some salt—necessary.

After that, I suggest stirring in flavors you love most to give the polenta extra aroma and savor.

I ended up

adding dried oregano, but additional crushed garlic or garlic powder, a mix of Italian herbs, or even some heat like crushed chili peppers are great options.

You can make the pizza base a bit thinner, but I spread out the polenta on the prepared baking sheet into a ten by 13 sized square (see picture above.)

Try to divide the cooked grains as evenly as possible so everything browns at the same time.
You want the crust a little firmer? Pre-bake it first for five minutes, then add the toppings and bake again for another 20 minutes, or until the cheese is melted.
Healthy pizza toppings—a few notes
Sun-dried tomatoes
If possible, use oil-packed tomatoes (in extra virgin olive oil);

Then remove the tomatoes capturing the oil;

Use the vegetables as a topping (minimum 20) and serve the leftovers separately in a bowl when pizza is ready

;

Use the oil to saute the veggies or drizzle on top of the pizza at the end instead of regular olive oil. You can also use a combination of both

;

It adds excellent flavor.
Shallots
Sauteed, shallots become incredibly mild and sweet;

And they add tons of flavor as a topping.

If you can't find them, then replace them with one medium yellow onion.

I think they are the best substitute for shallots.
Dandelion greens
Once wilted, they add an earthy and contrasting element to the sweet onions and bell pepper.

But other great options are arugula leaves or baby spinach leaves.
Mozzarella
You can replace this with a vegan-friendly cheese like a Daiya Mozzarella Style Shreds (Vegan.)

Don't go too crazy with this topping. I use a handful (about a cup), just enough to bring all the flavors of the ingredients together and get that melted gooey when fully baked.
Adding the veggies
When you transfer the sautéed veggies to the prepared polenta crust, omit any liquids in the pan.

It might make the polenta base too mushy, especially in the middle.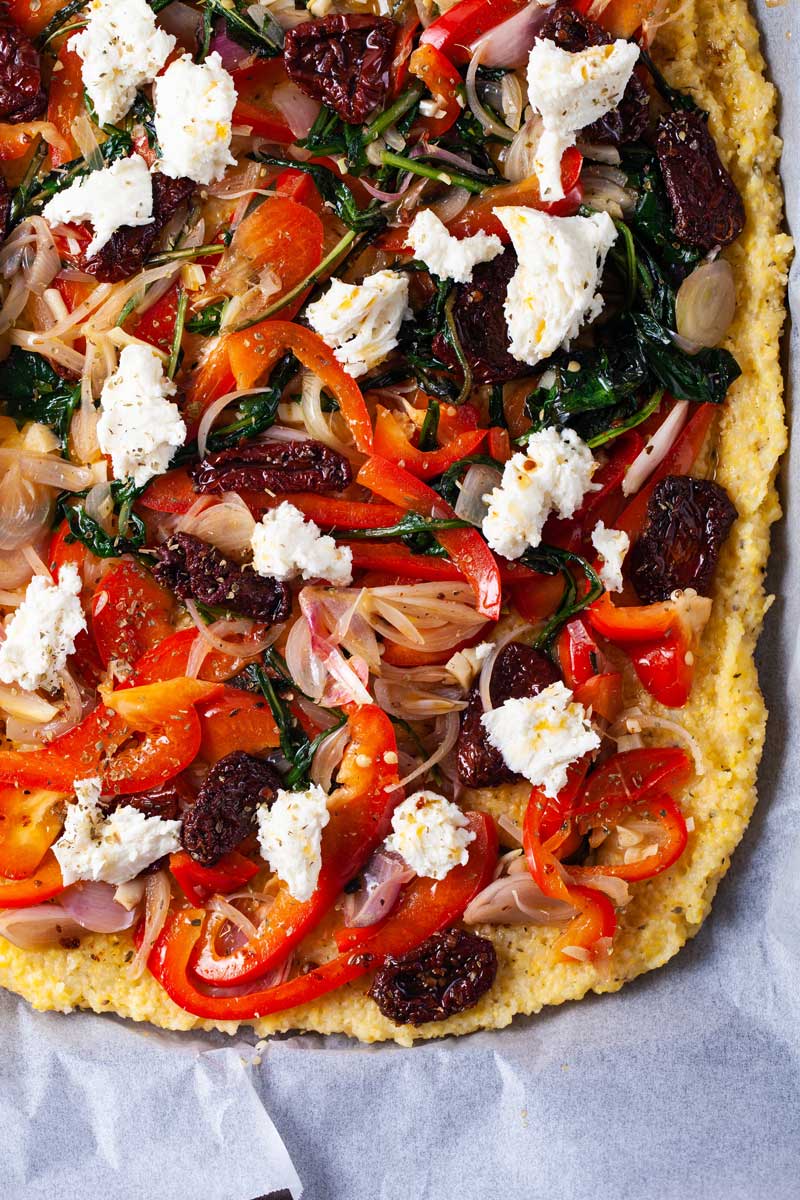 Pizza time
I hope you'll make this delicious alternative pizza at home! Or make my authentic homemade Southern Italian Pizza, perfect for family gatherings, Holidays, and dinner parties! Plus, you can freeze this pizza or any leftovers and easily reheat in the oven.
Now go ahead and PIN this on your healthy meals or favorite pizza board so you'll have this recipe on hand. And don't forget to follow me on Pinterest. If you have questions, leave it in the comments. Always love to hear from you!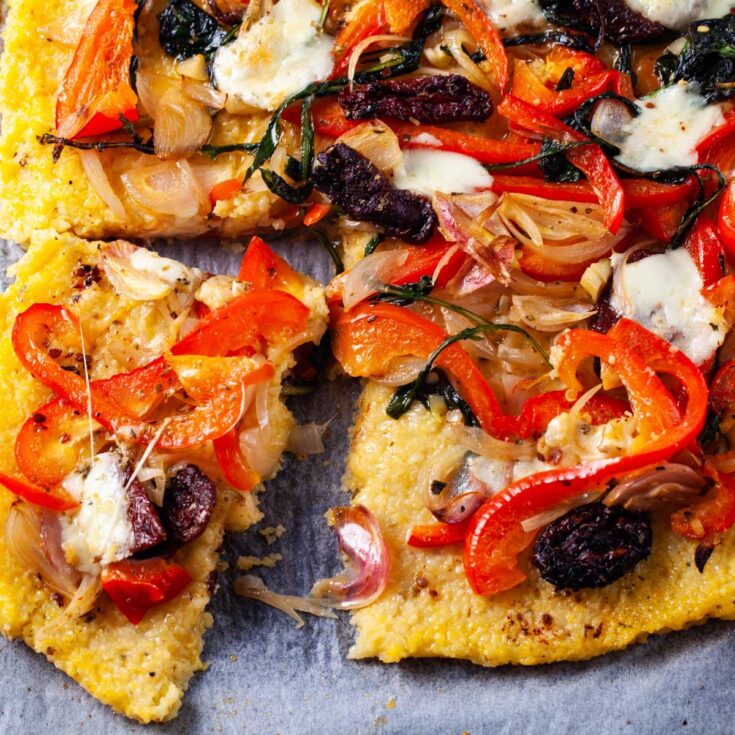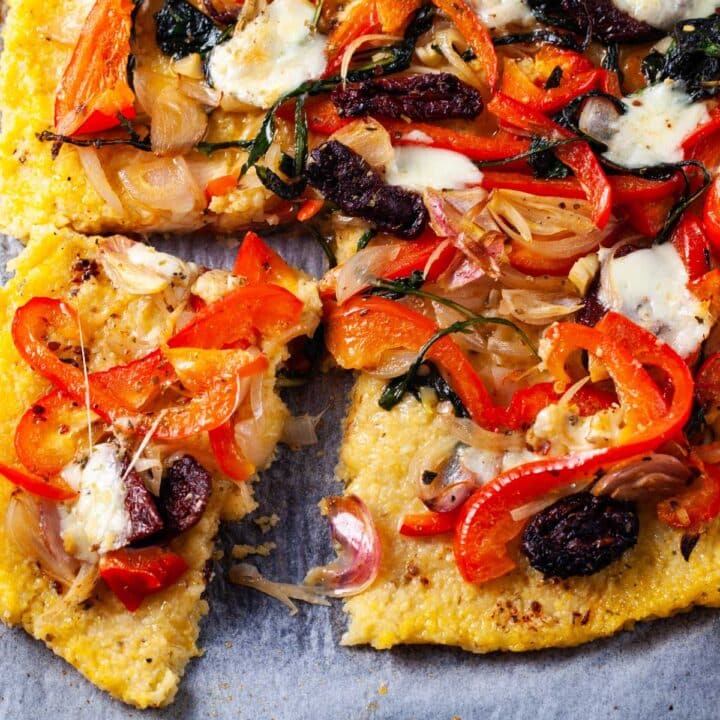 POLENTA PIZZA ITALIAN STYLE
This Italian style gluten-free pizza has a healthy alternative pizza crust made from polenta. It's topped with simple ingredients like sauteed garlic, scallion, sweet bell peppers, dandelion greens, and sun-dried tomatoes—finger-licking good!
Ingredients
3 cups gluten-free corn grits or polenta
Salt and black pepper
Dried oregano
5 tbsp olive oil, divided
5 garlic cloves, finely chopped
2 large shallots, peeled and thinly sliced
1 large red bell pepper, thinly sliced into match sticks
1 handful dandelion greens
1 (8.5 oz or 241 grams) can of sun-dried tomatoes in extra virgin olive oil
Mozzerella cheese as an extra topping or Daiya Mozzarella Style Shreds (to keep it vegan-friendly)
Instructions
Preheat the oven to 400°F/ 205 °C and line a large rimmed baking pan with parchment paper.
Bring about 9 cups of water and 2 or 3 tablespoons of salt to a boil in a medium pot. Add the polenta and reduce the heat. Cook slowly for 5 minutes, stirring occasionally. Remove from heat and stir in 1 tbsp of dried oregano and black pepper to taste. Cover and let sit for about a minute or two.
Transfer the cooked polenta to the prepared pan while still warm. Spread out evenly into a large oval or square form (about ten by 13-inch in size), reserve.
Heat 3 tablespoons of olive oil in a medium skillet over medium heat. Add garlic, onions, bell pepper, and dandelion greens. Cook and stir for 2 to 3 minutes, and until the greens are wilted.
Transfer the vegetables on top of the polenta dough (omit any water released by the veggies in the skillet), and evenly spread them out to all four corners of the dough. Fill in any gaps with sun-dried tomatoes—I usually use about 20, and a handful of tore or cut mozzarella cheese. Drizzle evenly two tablespoons of olive oil over the veggies and a pinch or two of dried oregano.
Place the pizza in the oven for 20 to 25 minutes, or until the cheese has melted, and the polenta dough is bubbling and golden brown.
Take out of the oven and serve—taste delicious warm or slightly cooled.
Store any leftovers in the fridge in an airtight container for up to 3 days. Reheat in the oven until warm, or for a few minutes in the microwave or in a pan over medium heat.
Notes
Equipment: minimum 15 or 17-inch rimmed baking pan
If using oil-packed sun-dried tomatoes, use up first the oil in the can instead of regular olive oil. It adds extra flavor.
Nutrition Information:
Yield:

6
Serving Size:

1
Amount Per Serving:
Calories:

282
Total Fat:

18g
Saturated Fat:

4g
Unsaturated Fat:

13g
Cholesterol:

12mg
Sodium:

292mg
Carbohydrates:

26g
Fiber:

2g
Sugar:

2g
Protein:

5g
Disclaimer: This nutritional data is calculated using third party tools and is only intended as a reference.