This sausage pasta recipe is hearty with rich and subtly spicy sausage meat, sweet peas, and tempered-down broccoli rabe (a.k.a fresh rapini)—no blanching required.
It's one of those easy pasta dishes ready in 35 minutes and comes with a twist.
Starchy chopped potatoes are added to the mix creating a delicate carb coupling in extra-virgin olive oil—comfort food at its best!
For a meatless easy pasta dish, check out my garlicky spinach pasta with peas.
Jump to:
Why you'll love this rapini pasta
This broccoli rabe recipe has all the lovely characteristic flavors of a classic Italian pasta dish.
Although a meaty dish, broccoli rabe is the star.
I'm softening the bitter flavors of this green vegetable, but I'm not eliminating it completely. Trust me, you don't want to.
Soften chunks of Russet potatoes create a lovely creamy texture, and add a beautiful comfy twist, making cooked pasta tastes even better.
The pasta sauce is extra virgin olive oil infused with garlic and onions, which makes this dish dairy-free.
It's hearty, cozy, the ultimate comfort food like my thick-crust pizza, yet such an easy meal!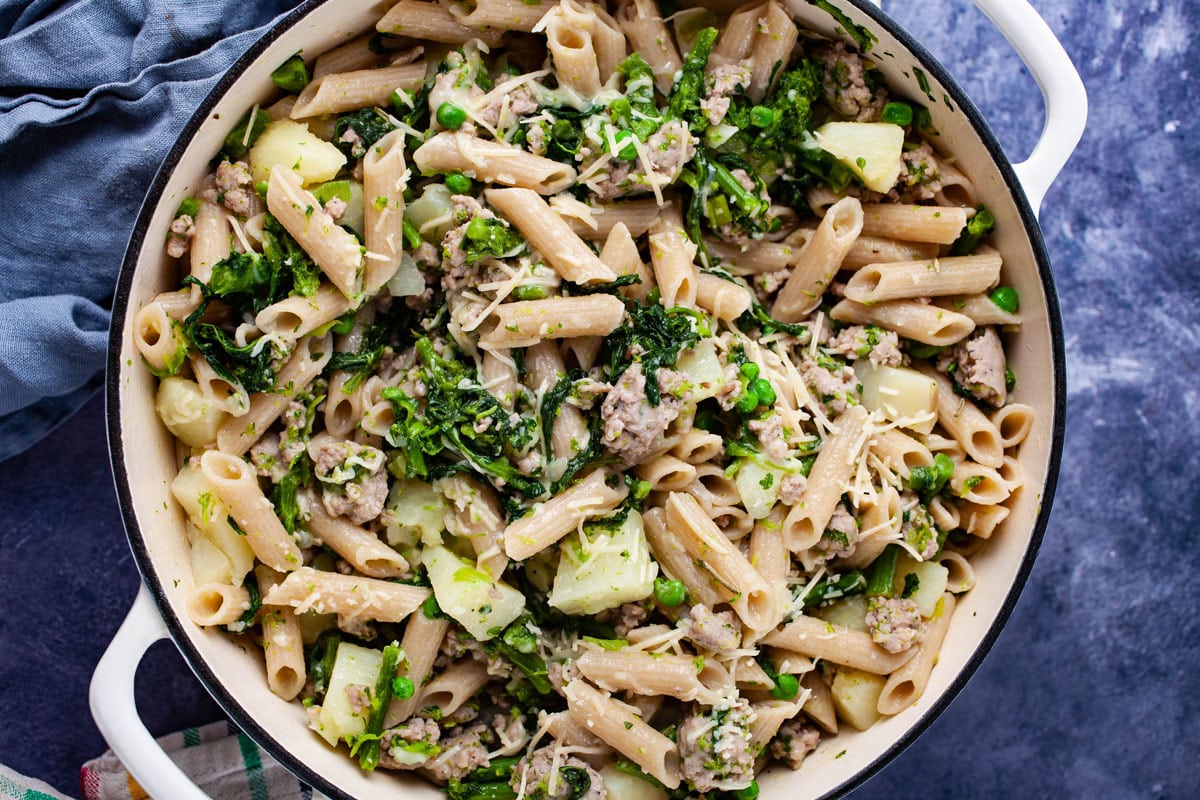 Ingredients, notes & substitutions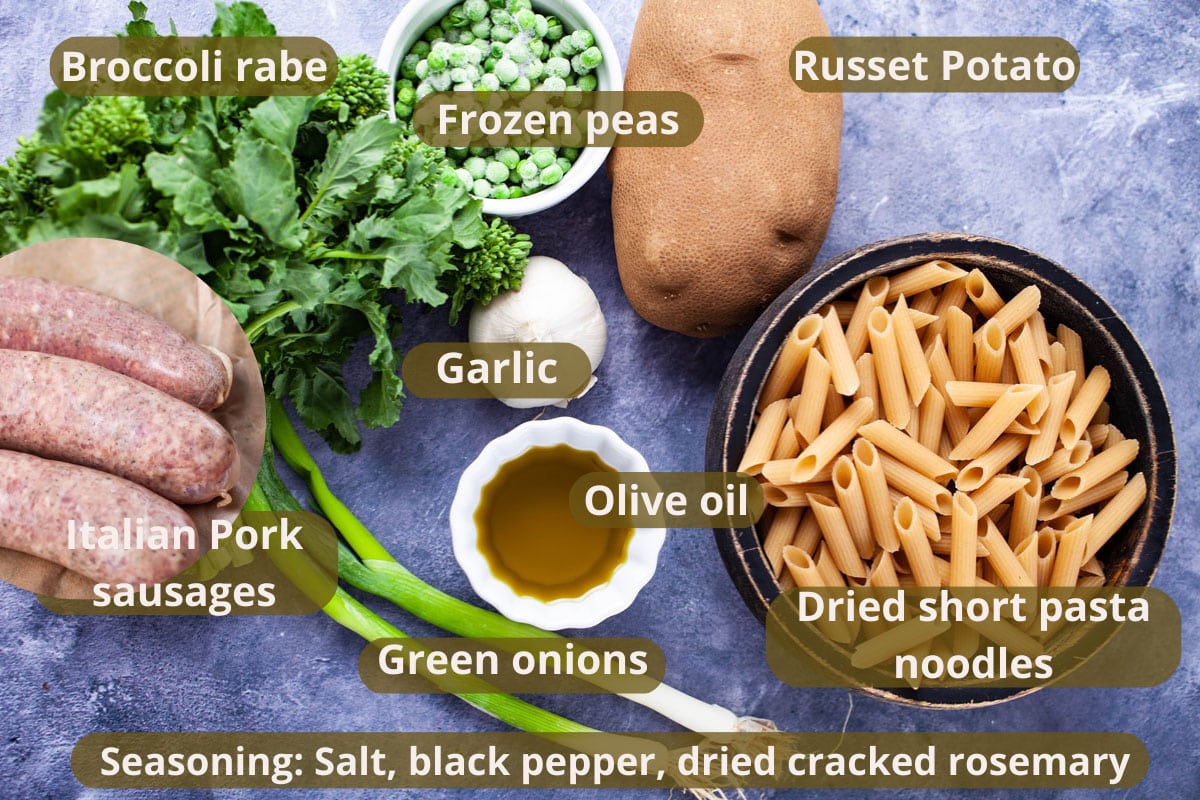 Seasoning: I'm keeping it simple with sea salt, black pepper, and cracked dried rosemary, which enhances the flavors of the meat.
Note: I season in layers as each ingredient slowly adds an additional flavor to the dish. Want a spicier touch, top it off with chili or red pepper flakes (optional).
Broccoli rabe: You only need one bushel of this leafy green. Rapini is known for its very distinctive bitter taste, but it's mellowed down in the easiest way—more on that below—and deliciously balances the sweet and starchy components.
Russet potato: It adds a creamy touch. Starchy pasta and potatoes are the perfect carb coupling. They are cooked together in the same large pot of water.
Green onions & garlic: add a lovely aromatic base to the whole dish. Feel free to add more garlic if preferred or replace green onions with shallots.
Frozen peas: You don't even need to defrost them. They add a sweetness that works well with tempered bitter broccoli rabe.
Olive oil: It's a must. Olive oil makes pasta, and in this case, potatoes taste better. It creates that rich, savory flavor that you crave when eating this sausage broccoli rabe pasta dish.
Dried short pasta noodles will cook for about 10 to 12 minutes or around the same time the potato pieces need to soften.
Note: Due to allergies in my family, I often use gluten-free pasta and always return to Jovial. Penne, orecchiette pasta or farfalle are my favorites here.
Parmesan cheese or pecorino romano: Use it for garnish to make all the flavors of this rapini pasta bolder and even creamier.
Spicy Italian sausages: You'll find sweet, mild, or hot Italian sausages at your butcher or local grocery store (well, I'm talking American Italian).
Go for thick mild Italian pork sausages. They're not spicy but still have a punchy flavor.
Note: In North America, the name "Italian sausage" refers to pork sausages that are usually seasoned with fennel, anise, coriander, pepper, and other spices. They usually have three versions: hot (the spiciest), mild (less spicy but still has a punch), or sweet (not spicy at all and often contains Basil).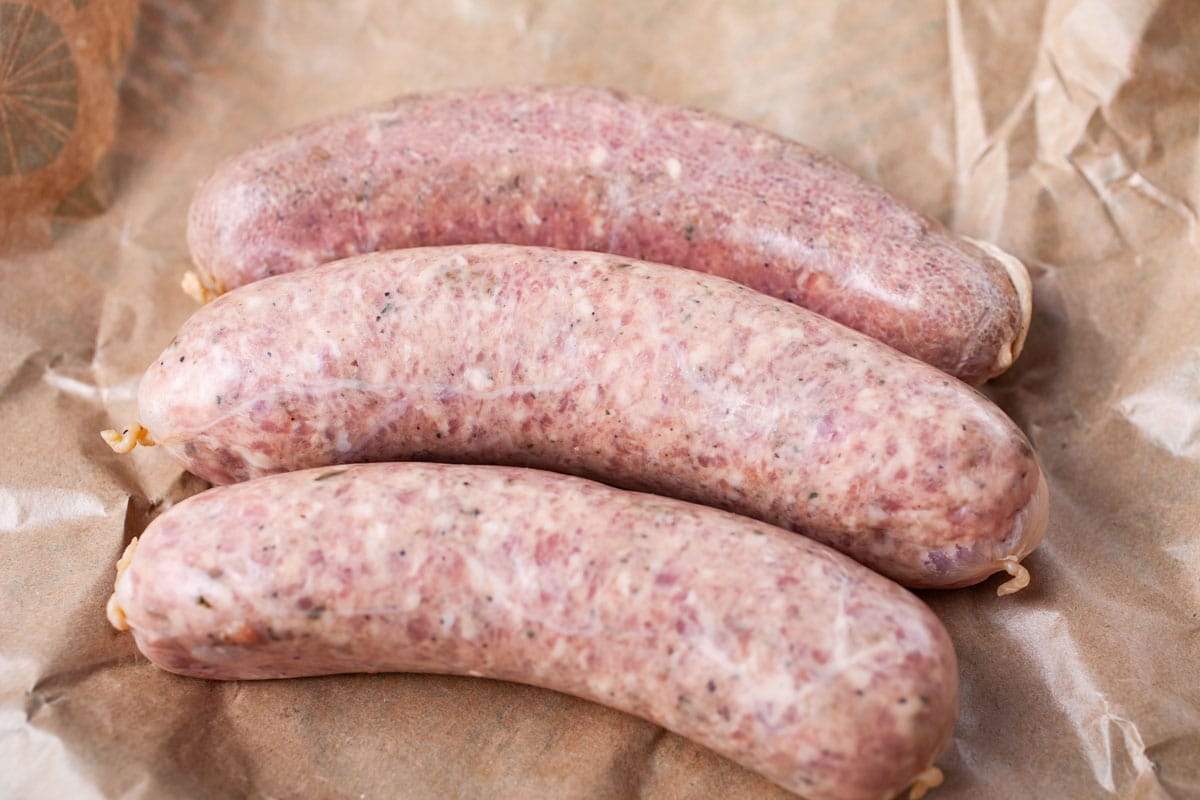 How to clean fresh broccoli rabe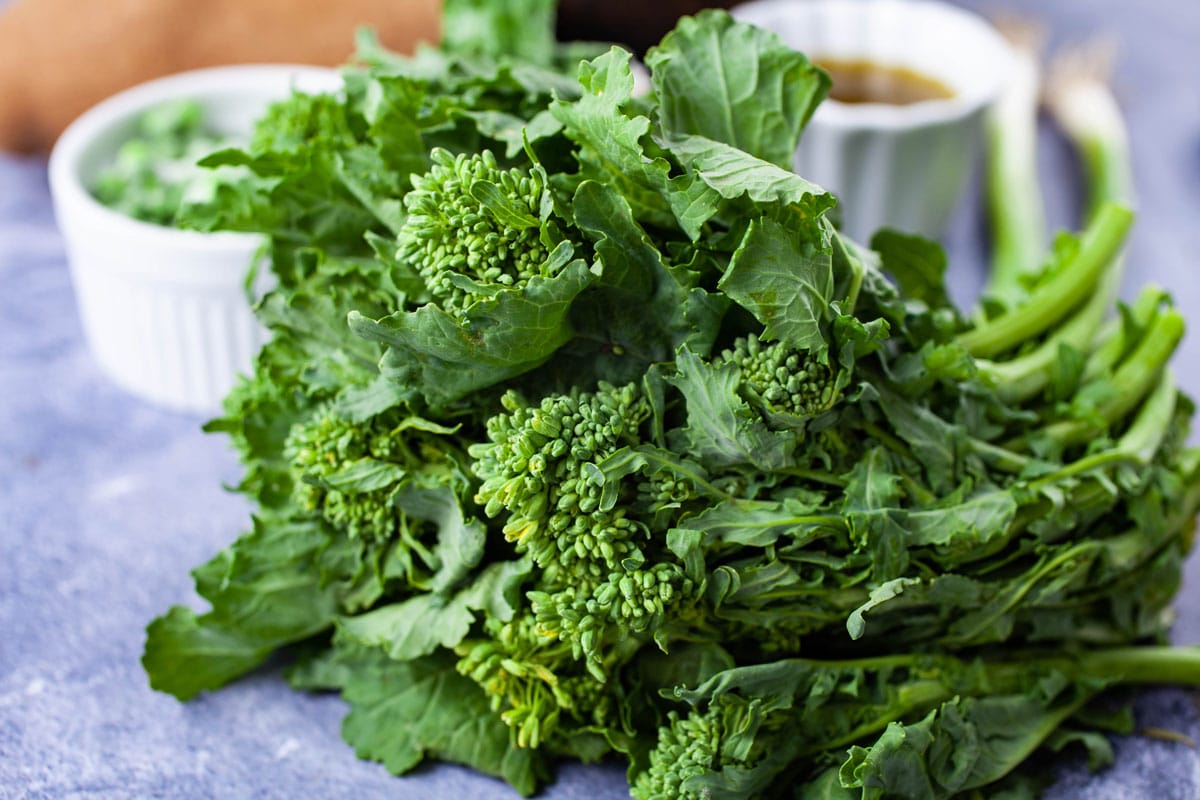 First, soak the broccoli rabe in cold water.
Move it around and separate any tangled leaves, shaking out any dirt.
Let the vegetable rest for a few minutes so that the dirt can sink to the bottom and the leaves can float to the surface.
Rinse them again. If you got the vegetable from the farmers' market, you might have to repeat this one to two times more to remove all dirt.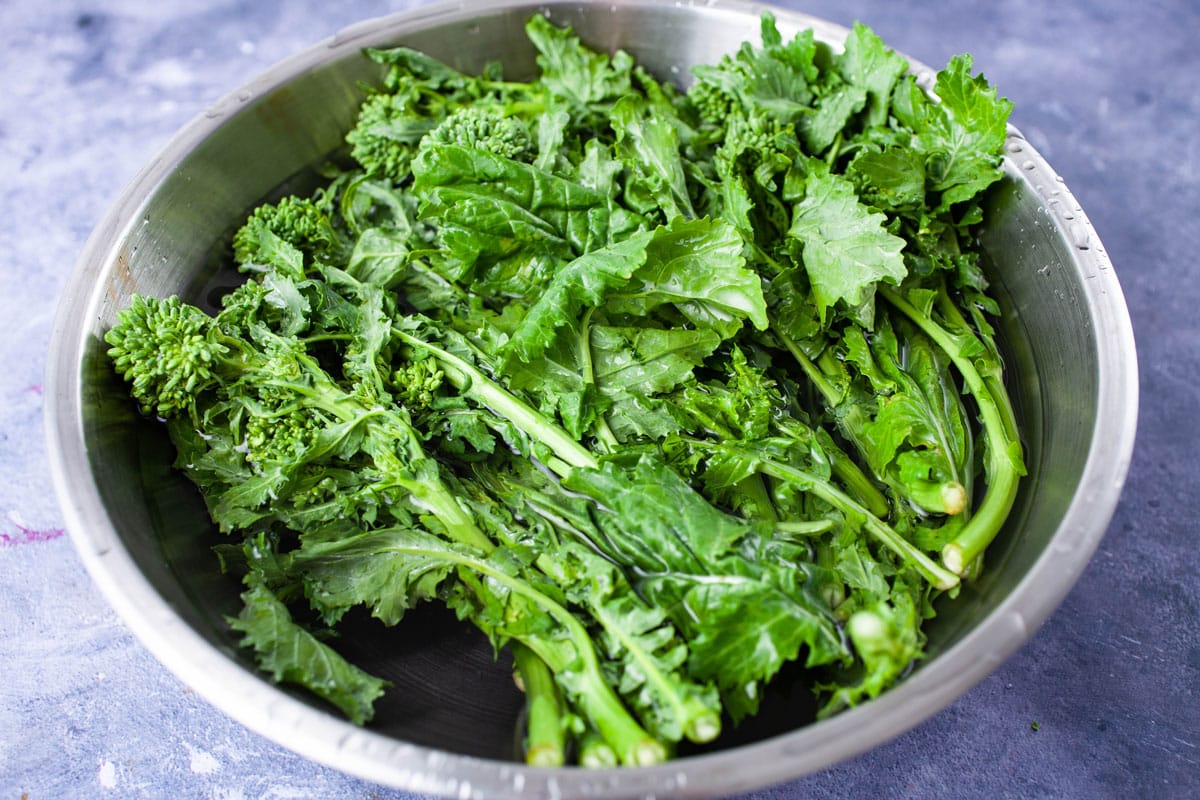 Gently pat dry with a paper towel.
Cut ends off the broccoli rabe or anything that might have turned brown.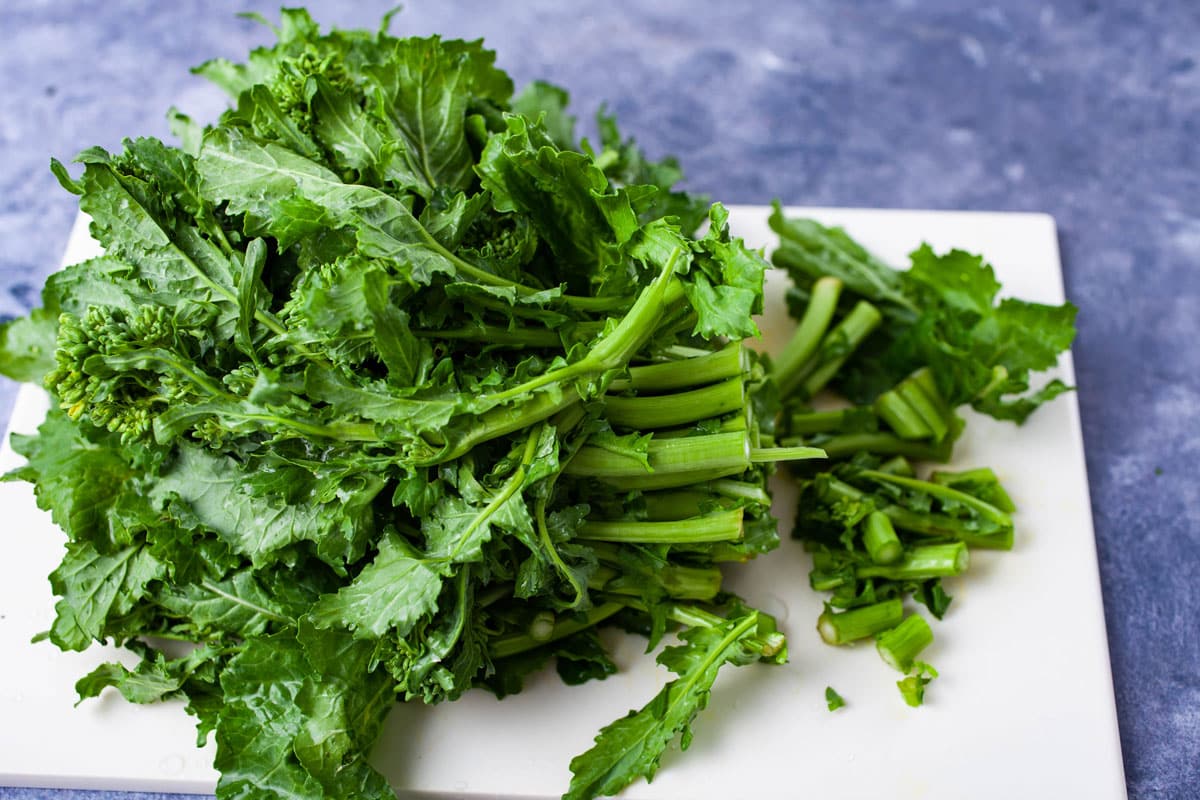 How to reduce broccoli rabe's bitterness—no blanching required
Instead of using the typical blanching approach, the greeny leaves are cooked twice, but everything flows easily with the making of this recipe, and no extra water is used.
First, simmer it in hot water for 7 minutes, the same water is used for cooking the pasta right after.
Then cut and toss with the garlic and onions in olive oil to further sauté for a few minutes.
Note: Leaving the leafy parts and florets of the vegetable intact when simmering in water milds down the rabe's bitterness more.
How to cut rapini for pasta
Once simmered for 7 minutes in hot water, remove the vegetable leaving the hot water in the pot to cook the starches (best using a kitchen tongue), and roughly chop the vegetable into smaller pieces.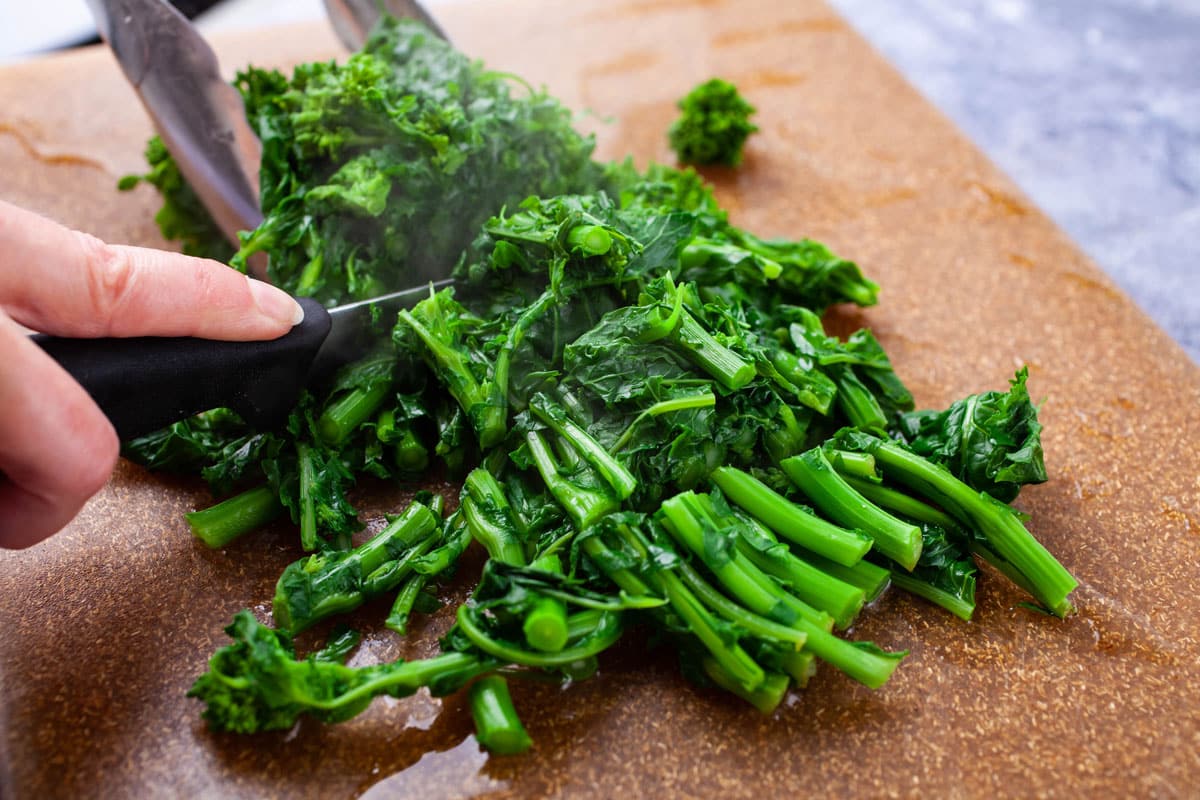 Now, add the broccoli rabe to the sautéed onions and garlic in olive oil, and its bitter flavors will soften even more with a brief sauté.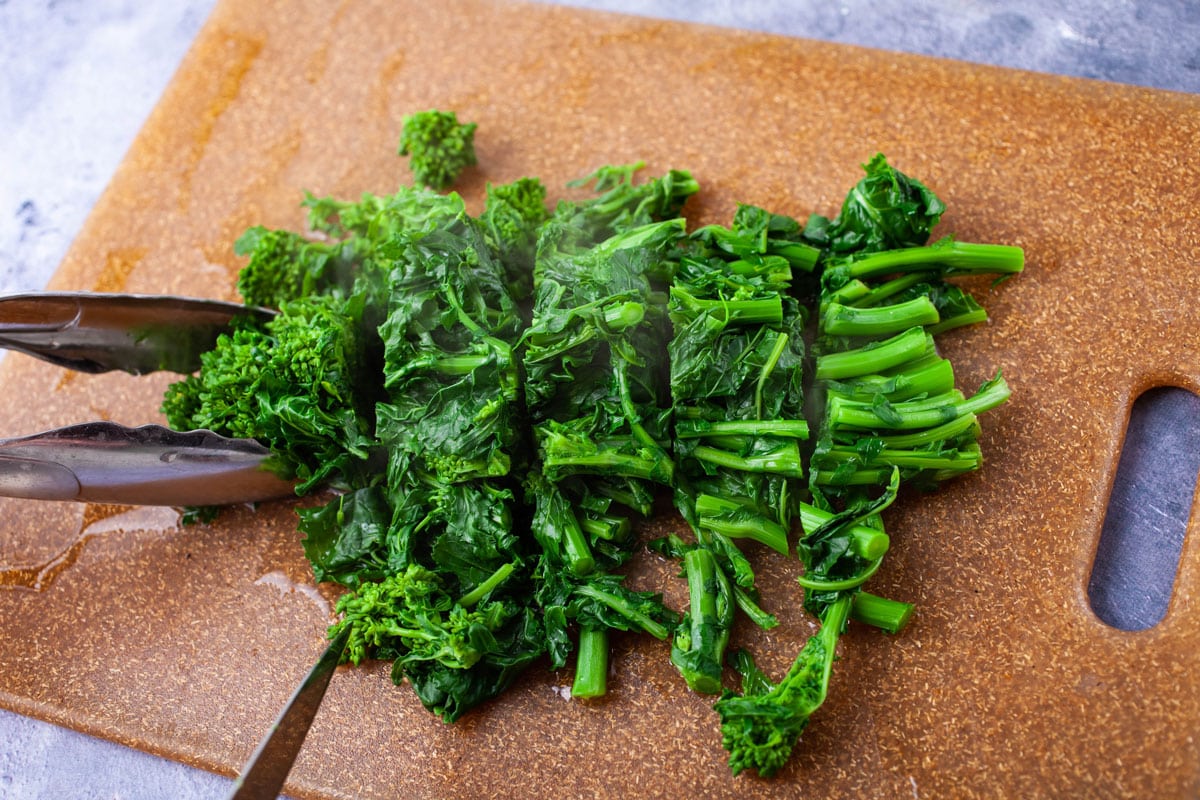 How to remove the sausage casing
It's super simple.
Keep the sausages in the fridge until they are ready to be skinned—It will be easier to peel off the skin when the meat is still fairly firm.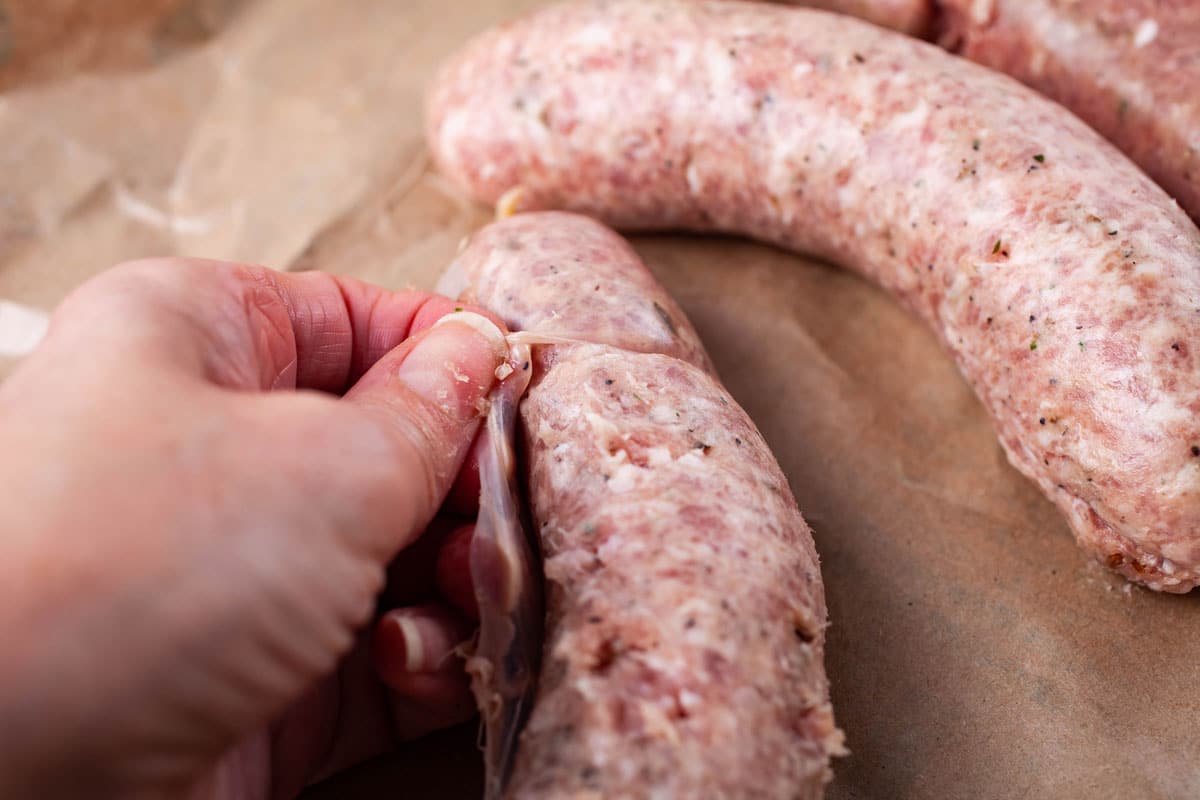 Make a small incision with a sharp knife or kitchen scissors.
Then start peeling off the skin in one swooping motion.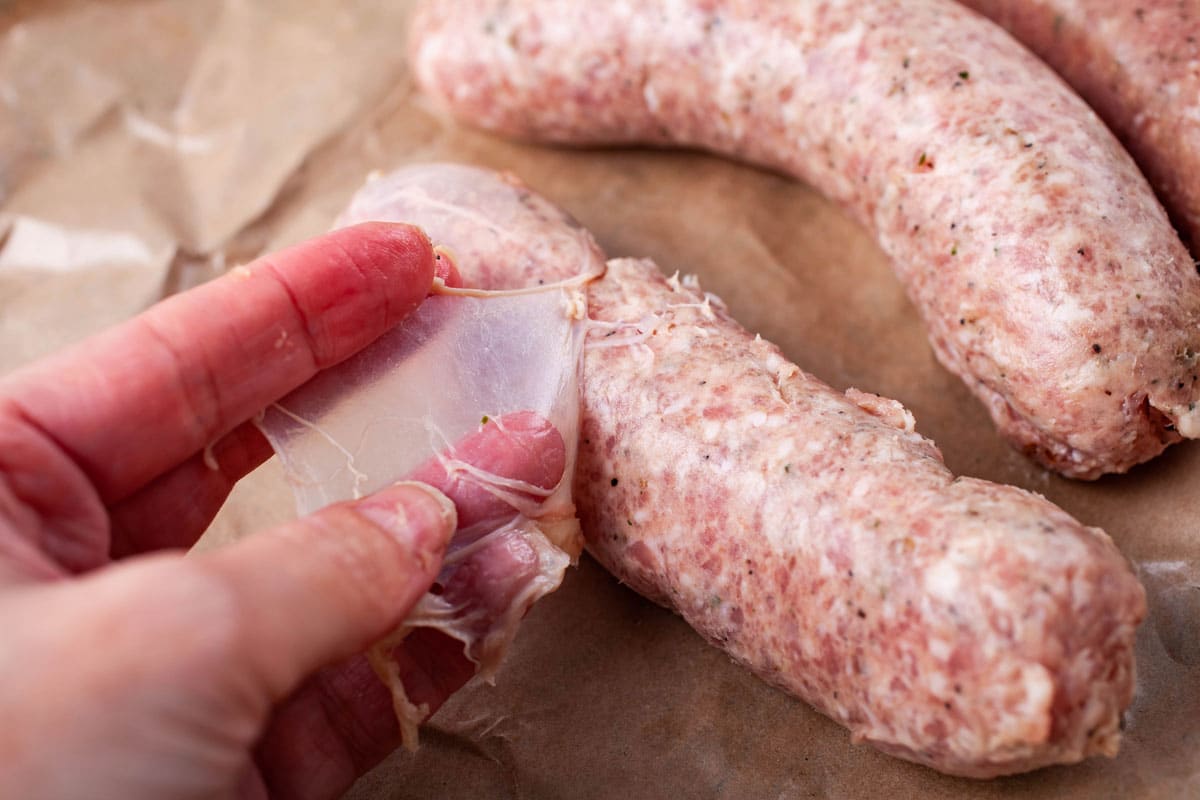 For this recipe, I break them apart into fairly large pieces.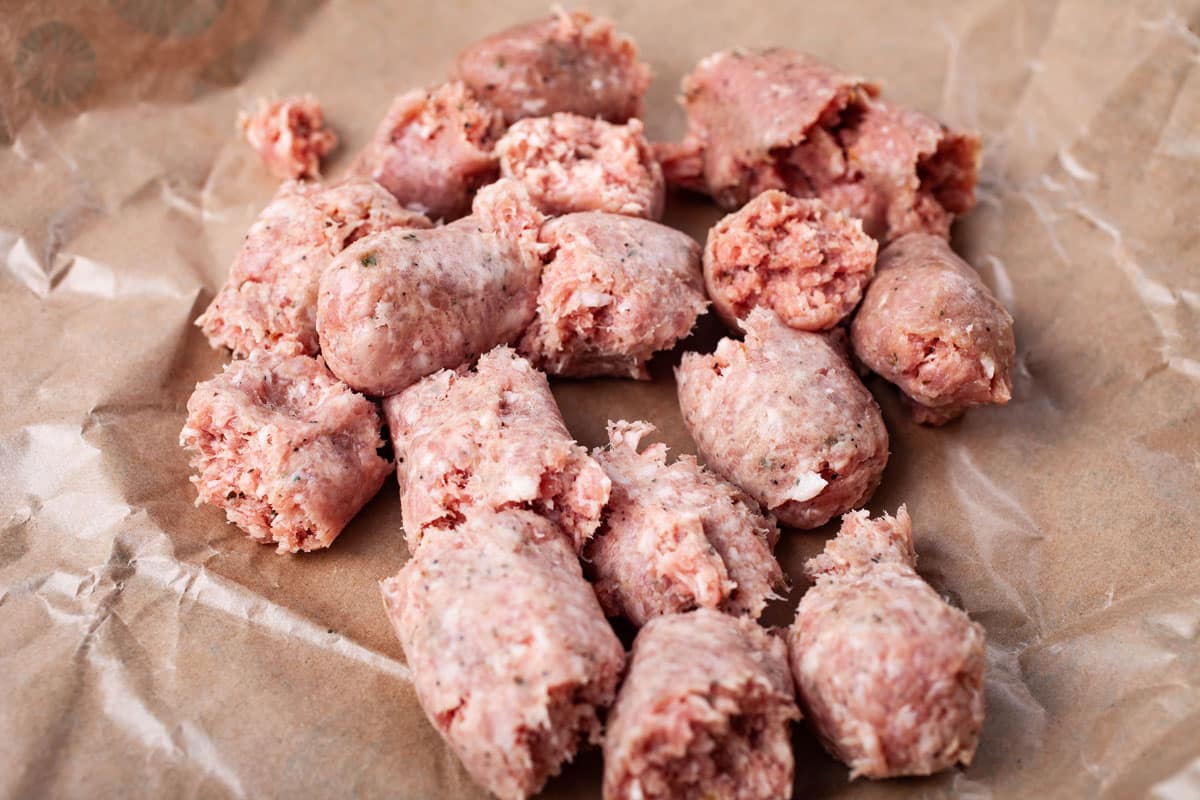 How to make sausage broccoli rabe pasta—tips for best results
Here are a few tips to have this dish come together in no time for dinner.
It will take a bit for a medium pot of salted water to come to a boil.
Use that time to prep the vegetables: peel and chop the potatoes and green onions, and finely chop the garlic. Wash the broccoli rabe.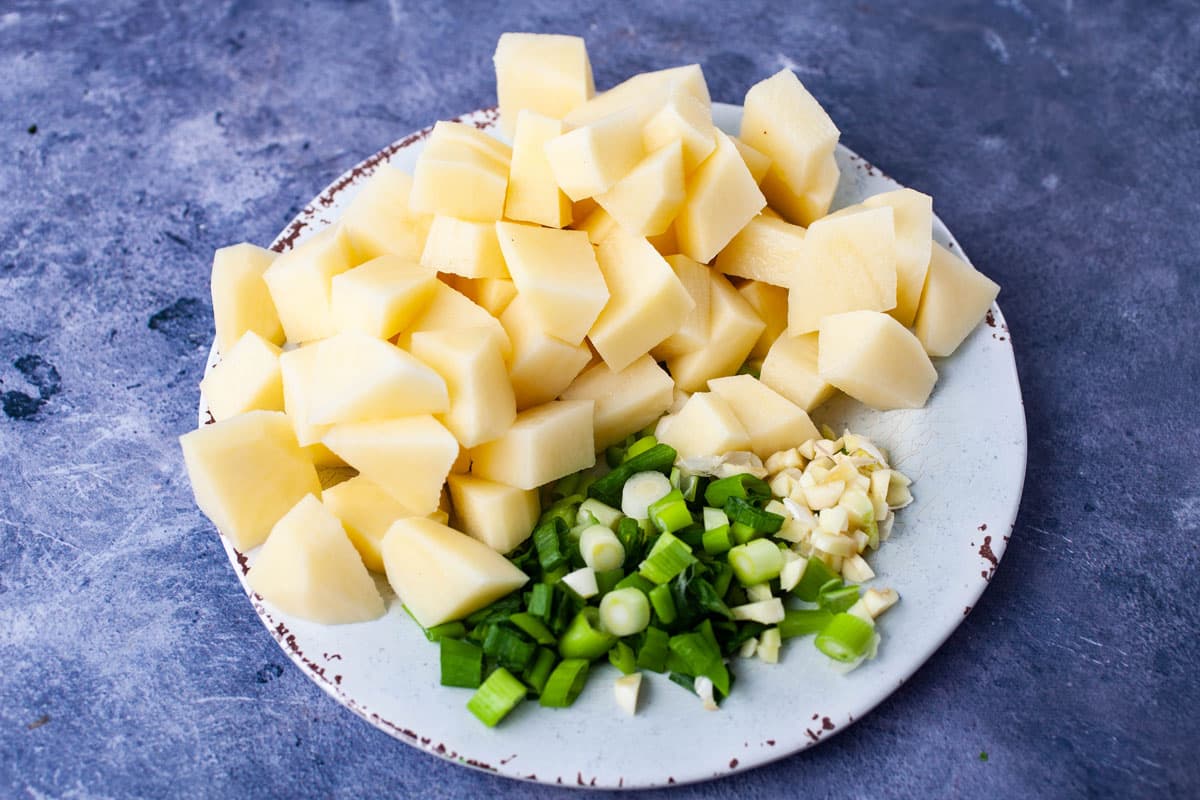 Skin the sausages while the broccoli rabe is simmering in the water. It needs about 7 minutes—enough time to remove the sausage casings and break into pieces, then set aside until ready to add to the dish.
While the pasta and potatoes are boiling (about 12 minutes), use that time to prepare the rest.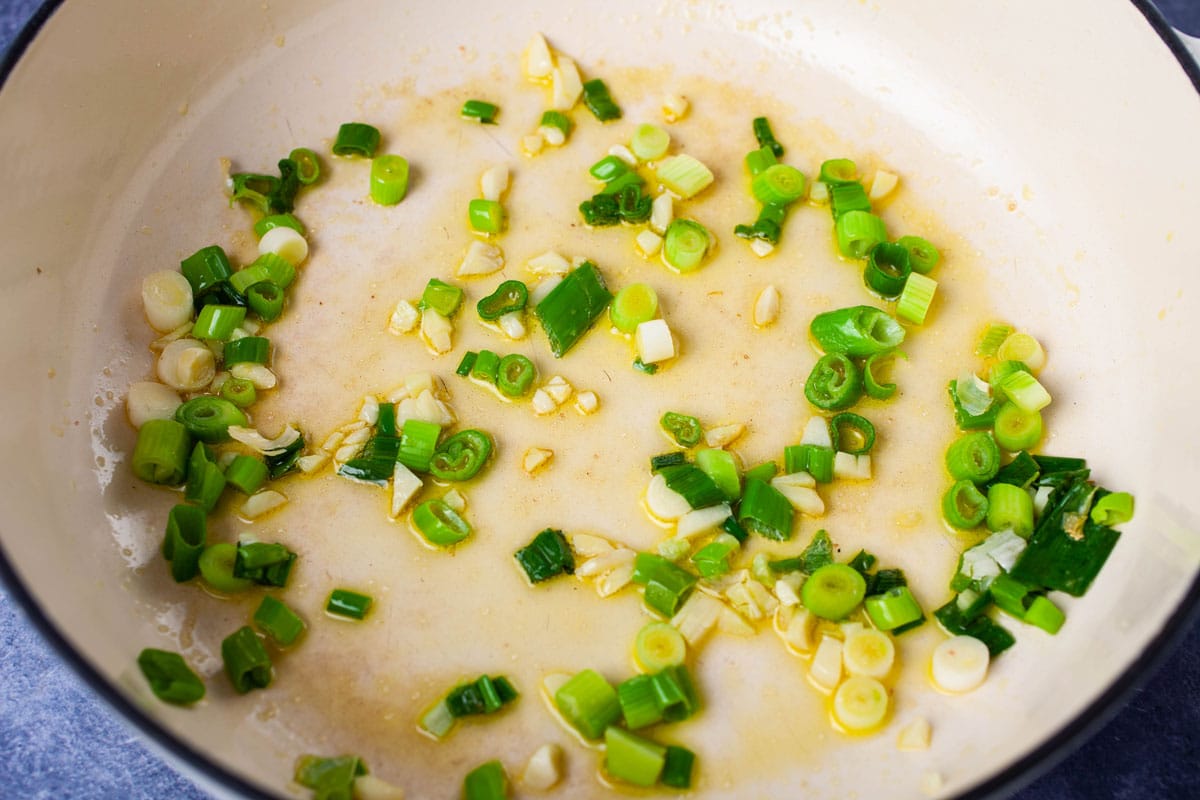 Heat up olive oil in a large skillet or Dutch pan and cook and stir the onions and garlic until fragrant.
Then add the chopped broccoli rabe—cook and stir for 4-5 minutes.
Followed by the skinned sausages—cook and stir for another 5 to 7 minutes.
Keep an eye on the pasta and potatoes, but they should be ready around the same time the sausages are fragrant and cooked through.
Now the starchy components can join the dish.
Seasonings are added in layers, with a last taste test at the end and before Parmesan or pecorino cheese rounds off all the flavors.
Time to eat and buon appetite!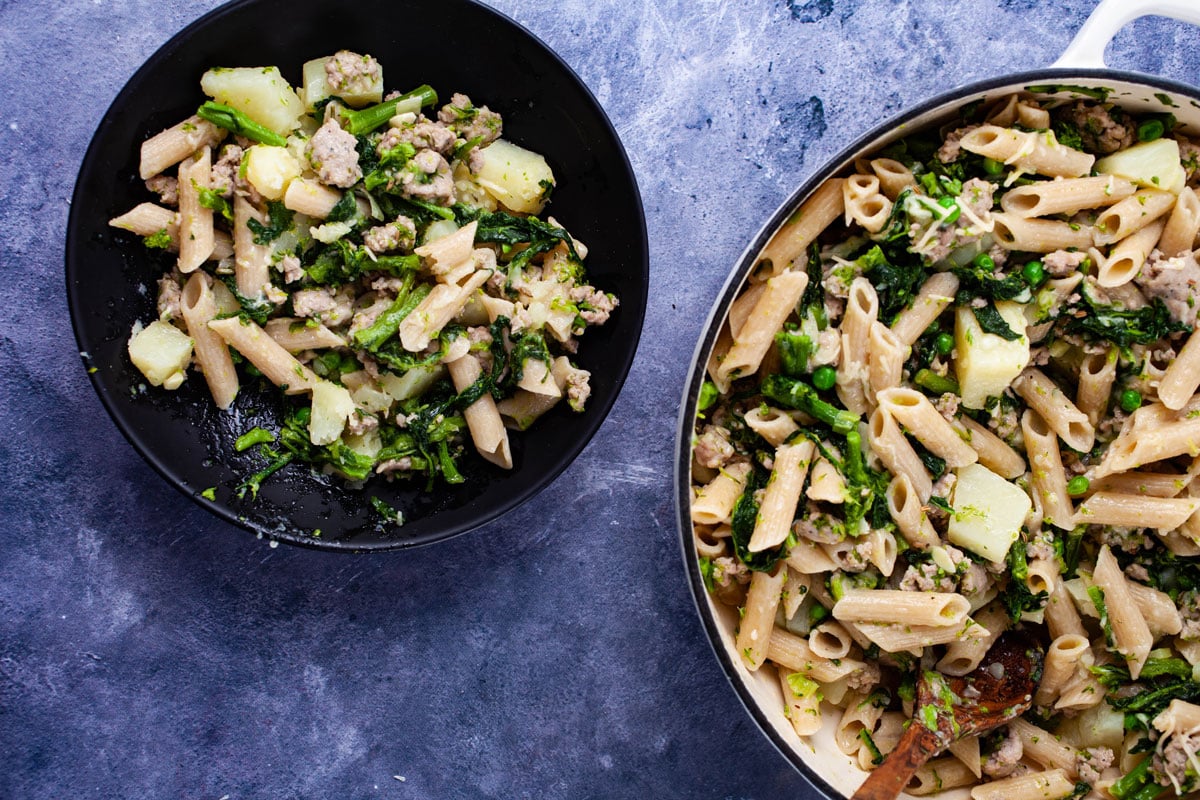 This Italian sausage pasta combines simple ingredients with mild spicy sausages, balanced by sweet peas, starchy components, and subdued characteristic flavors of broccoli rabe (a.k.a rapini). Oh, It's good!
More Must-try Italian recipes
📖 Recipe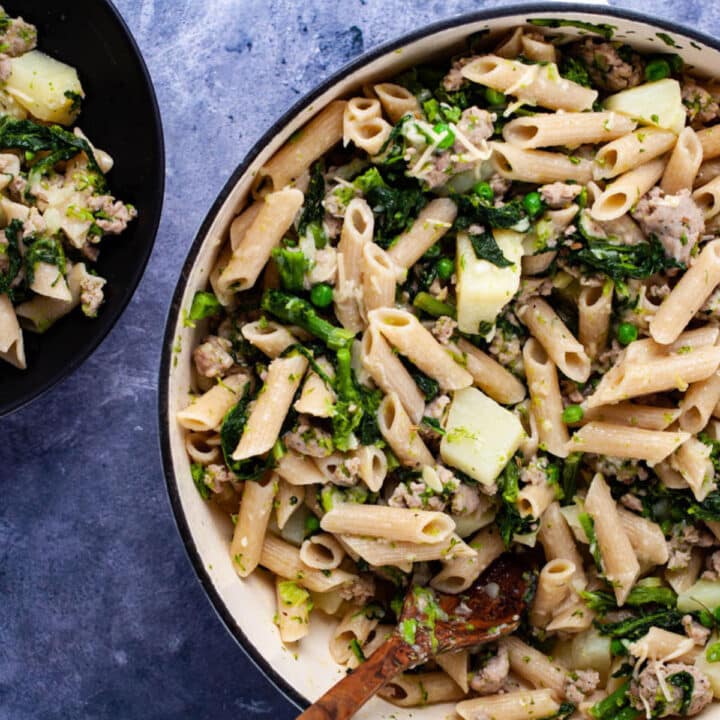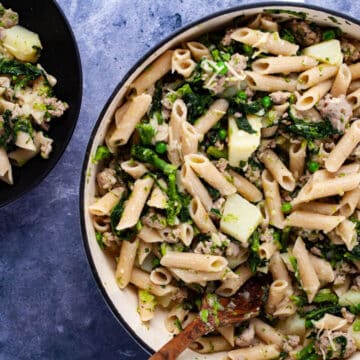 Sausage Broccoli Rabe Pasta with Potatoes
Mariska Ramondino
Sausage Broccoli Rabe pasta that's hearty, subtly spicy, with rich sausages, sweet peas,mingled perfectly with tempered-down broccoli rabe and creamy chopped potatoes.
Ingredients
1

bushel

broccoli rabe

70 grams

1

box

gluten-free penne

12 ounces or 340 grams

1

large Russet potato

anywhere from 110 to 240 grams, peeled and chopped

6

tablespoons

olive oil

divided

2

green onions

chopped (or one small shallot)

3

garlic cloves

finely chopped

1

pound

thick mild Italian sausages, skinned (about 3 thick sausages)

454 grams

⅓

cup

frozen peas

100 grams

¼

cup

grated Parmesan or pecorino cheese

23 grams

Salt and black pepper

1

teaspoon

cracked dried Rosemary needles
Instructions
Bring a large pot of salted water to a rolling boil.

Meanwhile, wash the broccoli rabe.

Cut off the ends.

Once water has come to a boil, use

a kitchen tongue

to dunk the broccoli rabe into the water. Let it simmer for about 7 minutes.

Then with a kitchen tongue, take out the cooked broccoli rabe or scoop it out—leaving the water intact.

Transfer to a colander to drain—place on a cutting board and chop into smaller pieces, reserve.

Return the same water to a boil.

Add pasta and potato pieces to boiling water and cook for 10-12 minutes or until the potatoes are fork-tender and pasta is al dente (tender but firm to the bite).

Meanwhile, cover a large Dutch pan or skillet with 2 tablespoons of olive oil and heat over medium heat.

When shimmering, stir in the onions and garlic.

Cook for about 1 minute until fragrant.

Add cooked and chopped rabe, and season with a few pinches of salt—Cook and stir for about 5 minutes.

Stir in again 2 tablespoons of olive oil and add the sausage.

Cook and stir for 5 to 7 minutes or until cooked through—season with a few pinches of salt and Rosemary.

Stir in the peas and cook with the rest for about 1 minute.

When pasta and potatoes are done, drain, reserving ¼ cup of pasta water. I prefer to transfer the noodles and potatoes with

a large slotted spoon

to the sausage and broccoli rabe dish.

Add two tablespoons of olive oil, and stir to combine. Usually not necessary, but add the reserved starchy pasta water a few tablespoons at a time as needed to moisten.

Season to taste with salt and pepper.

Stir in the parmesan cheese.

Serve immediately hot with extra cheese on the side (optional).
Notes
While water is coming to a boil, I usually prep the vegetables to save time: peel and chop the potatoes and green onions, and finely chop the garlic. Wash the broccoli rabe.
Most dried, shorter, thicker pasta shapes cook for around 10 to 12 minutes. If your pasta cooks according to package directions in less time, throw the potatoes in first. Peeled and chopped russet potatoes should cook for 10 to 12 minutes and can be perfectly cooked together with shorter dried pasta like penne.
This pasta dish tastes so much better when paired with starchy Russet potatoes. I usually ad one large one (110 grams), but feel free to add more (up to 240 grams)—it should be enough to get that creamy comfy bite without overpowering the rest of the ingredients.
Remove the sausage casing: It tastes so much better, and then chop the meat into smaller pieces. See my post on how to do this quickly.
Broccoli rabe: to reduce its bitterness, the greeny leaves are cooked twice, first in the same water used to cook the pasta and potato afterward. Then it's tossed in the skillet with olive oil, garlic, and onions for a few minutes. It omits the need for blanching or any extra equipment. 
Add your own private notes
Whenever you come back to this recipe, you'll be able to see your notes.
Nutrition (% Daily value)
Calories:
641
kcal
(32%)
Carbohydrates:
54
g
(18%)
Protein:
17
g
(34%)
Fat:
40
g
(62%)
Saturated Fat:
12
g
(75%)
Polyunsaturated Fat:
5
g
Monounsaturated Fat:
21
g
Cholesterol:
61
mg
(20%)
Sodium:
645
mg
(28%)
Potassium:
380
mg
(11%)
Fiber:
5
g
(21%)
Sugar:
1
g
(1%)
Vitamin A:
820
IU
(16%)
Vitamin C:
6
mg
(7%)
Calcium:
63
mg
(6%)
Iron:
1
mg
(6%)
Disclaimer: This nutritional data is calculated using third party tools and is only intended as a reference.