This earthy plant-based pumpkin pasta sauce is a quick and savory stovetop recipe featuring veggies such as onion, spinach and infused with dried sage, marjoram, and garlic.
It's perfect for a hearty and quick weeknight dinner, yet it's luxurious enough to serve when you have friends over or as a Thanksgiving pasta dish!
Enjoy as-is or with a large salad on the side!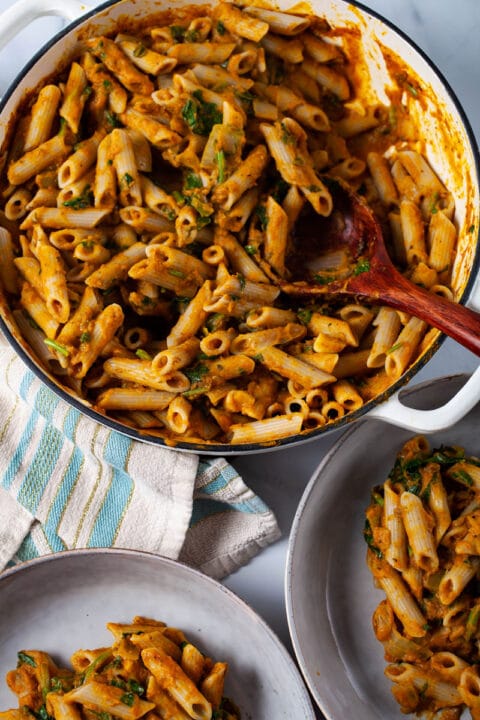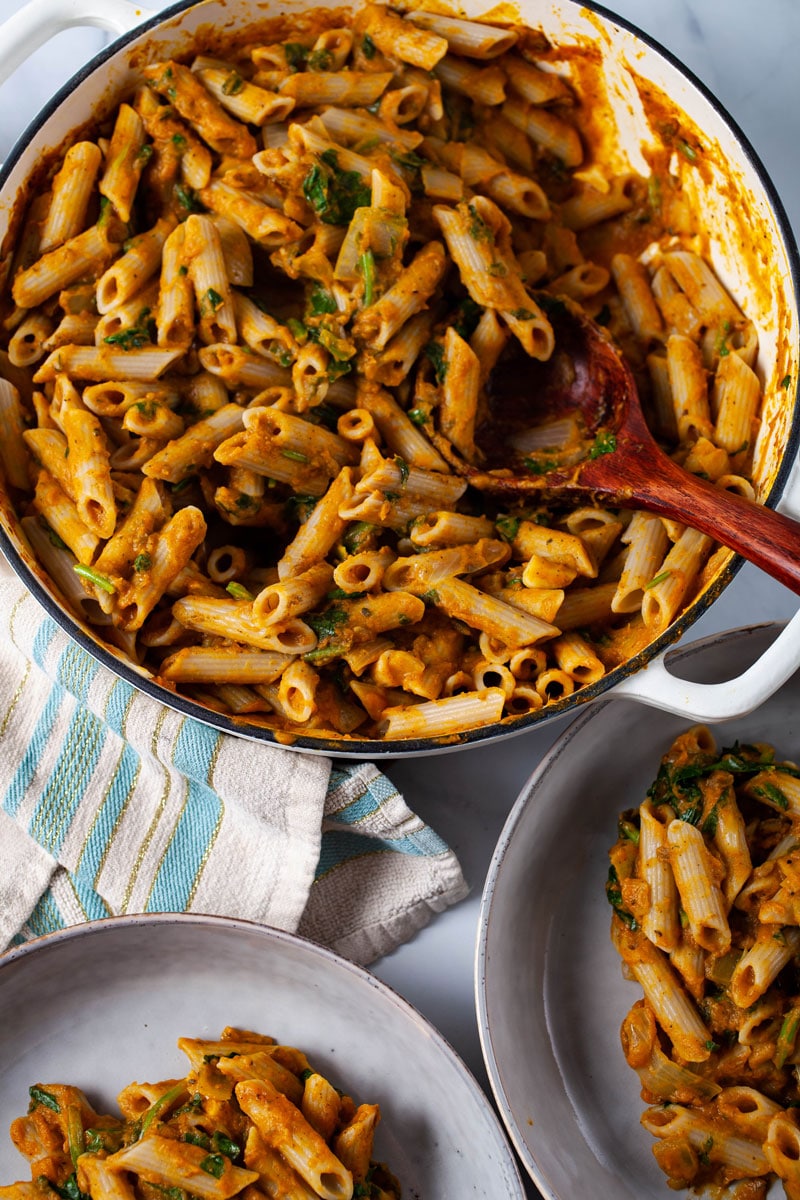 Yes, it's pumpkin season. And although you can enjoy this squash year-round, it always has a special place in my kitchen coming fall.
This pumpkin pasta sauce makes good use of canned pumpkin puree—a typical fall pantry staple in my house. The sauce is ready in 20 minutes flat, and the flavors don't disappoint.
It's creamy, savory, filled with tender sweet pieces of onions, packed with quickly wilted spinach, and nicely balanced with dried sage and marjoram.
It's not a one-pot pasta dish. You're still going to cook the noodles separately, but it's because you want that al dente bite that'll contrast the silky texture of this sauce—It'll be worth it.
How to make this pumpkin pasta sauce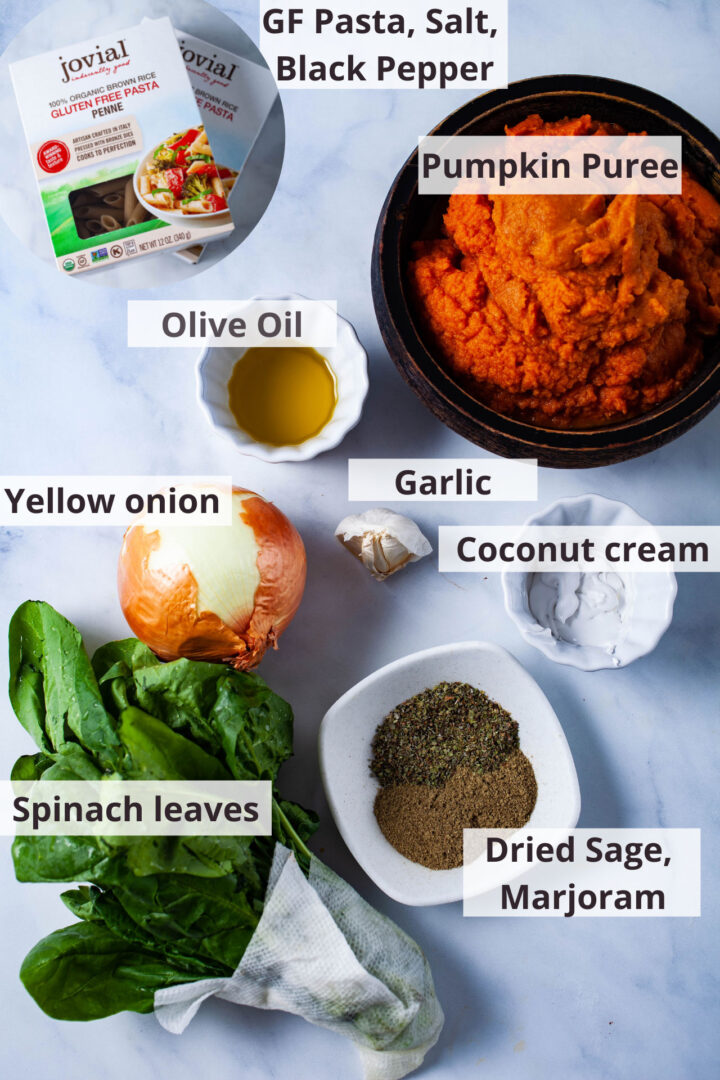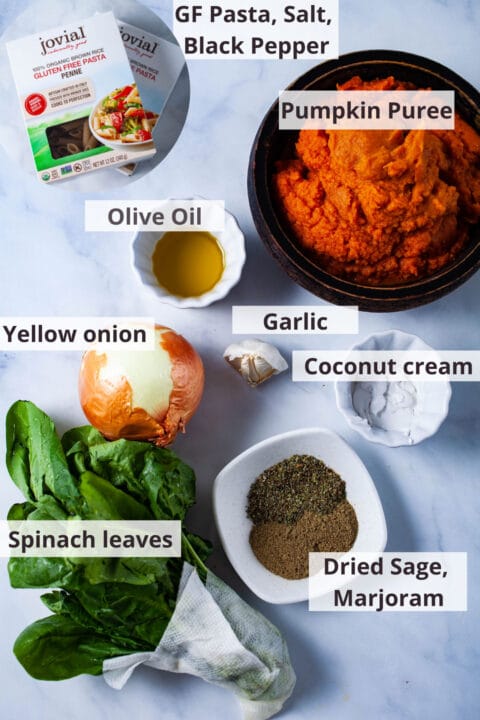 It's a straightforward recipe, so I only have a few notes:
Pasta selection: although pretty much any pasta shape will work, I'm going to suggest sticking to a shorter noodle, like penne, so that you have the right proportion of cooking liquid to pasta.
To make it gluten-free, go for gluten-free pasta. I love the organic brown rice noodles from Jovial because their texture holds well during cooking. Don't overcook the noodles; You want an 'al dente' texture—chewy but still firm. Know that gluten-free varieties probably cook faster so factor in some extra cooking time if you opt for regular pasta.
The herbs: one tablespoon of dried sage and marjoram might seem a lot, but we're seasoning two cans of pumpkin puree. These herbs' assertive flavors will also bring out the pumpkin's softer nature and reveal a more meaty and earthy squash that works so well in this sauce.
Coconut cream/milk: the recipe calls for one tablespoon of coconut cream. But the sauce needs more liquid to smooth out the flavors, and you can get it from leftover pasta water. But I highly suggest adding about 5 to 7 tablespoons of coconut milk for a more luxurious pumpkin pasta sauce.
Extra seasoning: add salt to taste, a tad of garlic powder at the end, and be royal with fresh black pepper.
Pasta for Thanksgiving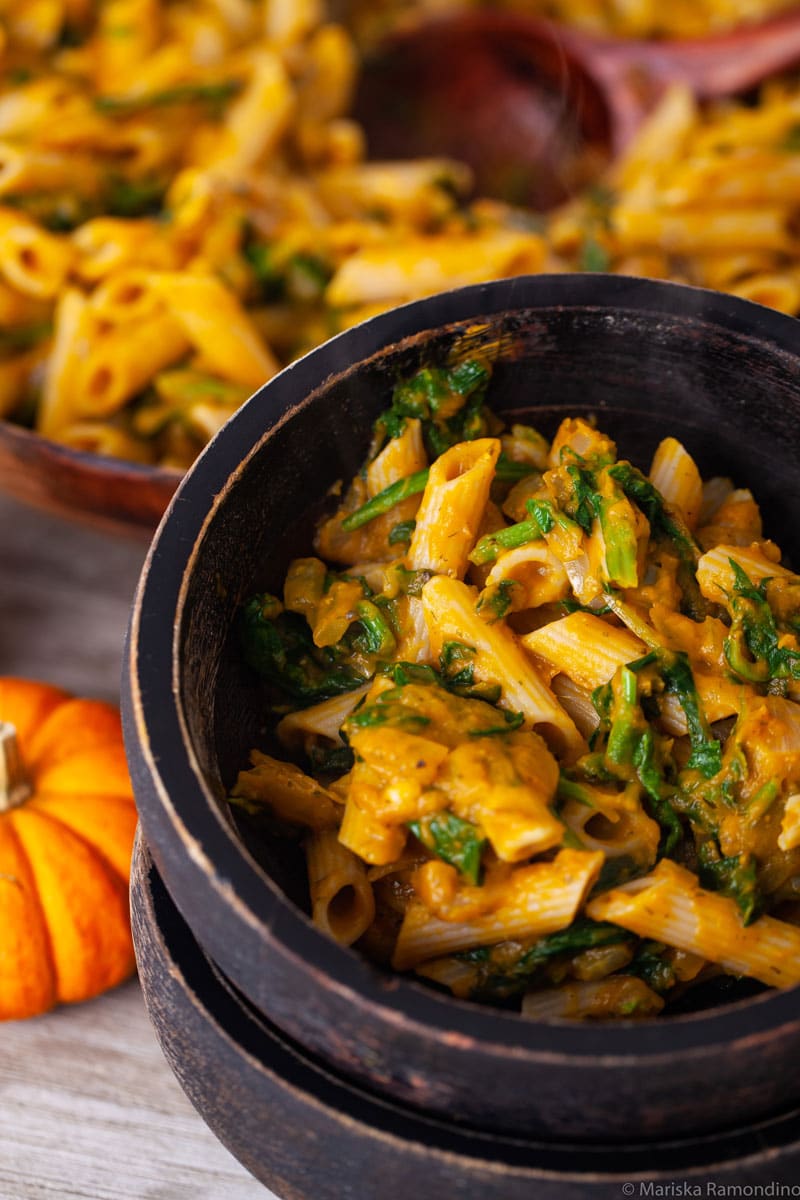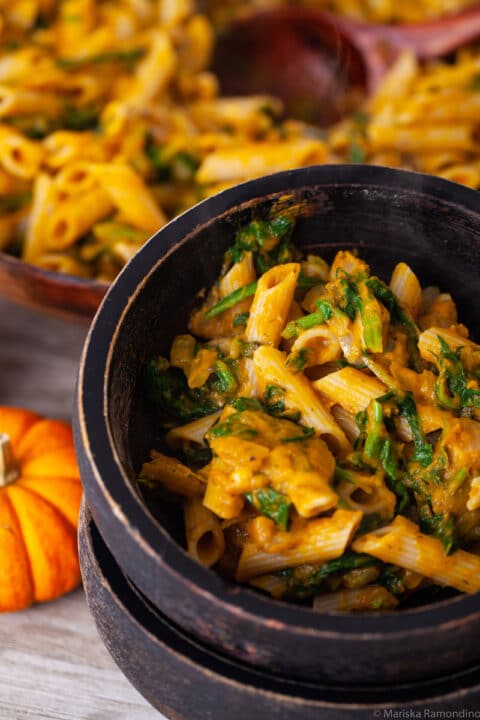 Yes, you can eat pasta on Thanksgiving. I think it's one of those comfort dishes that's suitable to serve for pretty much every occasion, and the Holiday season is no exception.
It can be your main dish or a pasta side dish. A sage pumpkin pasta that still has all the traditional fall flavors but is ready in 20 minutes—talk about a stress-free menu.
Serve with extra (vegan) Parmesan cheese on the side!
What goes well with pumpkin pasta
To keep it on the lighter side:
Make a smaller portion—dinner for two
This dish serves a more prominent family or group of people. But just in case you want to make dinner for two or yourself (with some leftovers), then all you need to do is make a few adjustments.
Cook one 12-ounce pack of pasta instead of two and use only 3-quarts of water for boiling;
Use only one 16-ounce package of pumpkin puree—unless you like the extra sauce;
Decide for yourself how much spinach you want in this dish. I would lower it to 2 or 3 cups packed.
Taste test when adding the dried herbs. Start with ½ tablespoon of sage and ½ tablespoon of dried marjoram.
Keep the rest of the ingredients the same;
The coconut milk is optional. But just adding a few tablespoons makes the sauce super silky.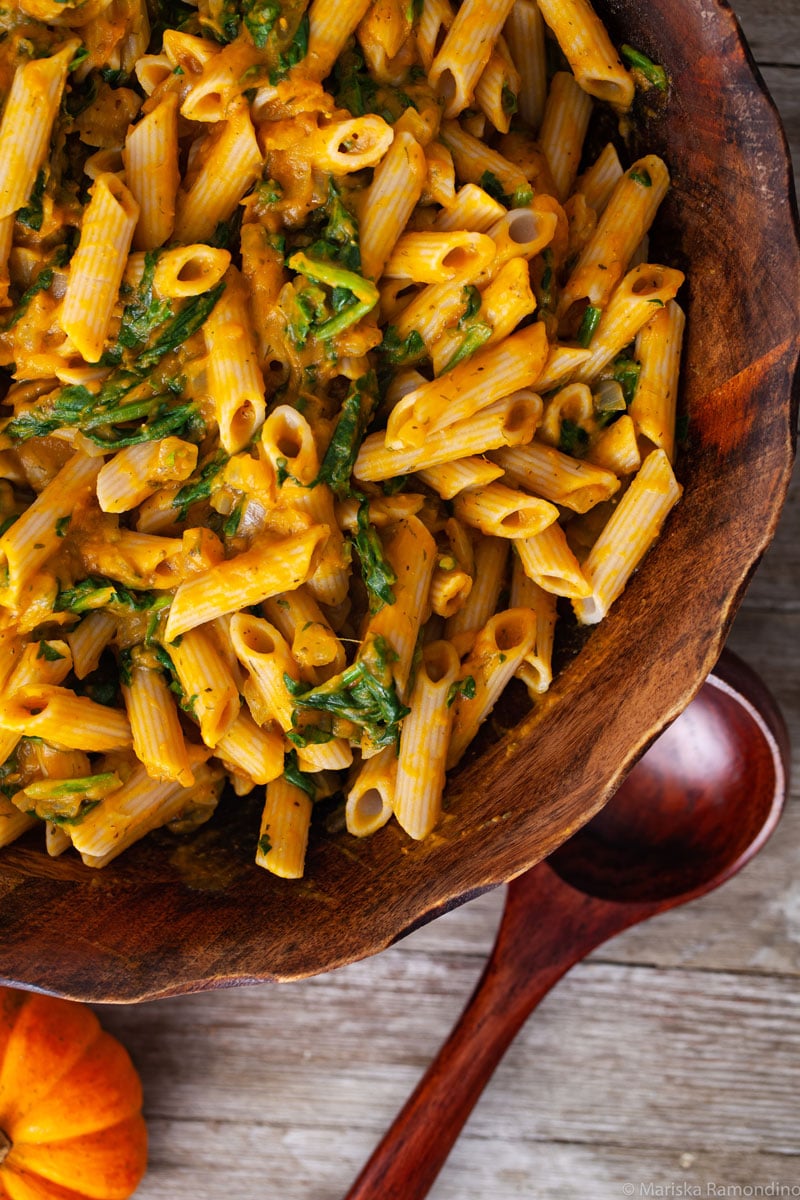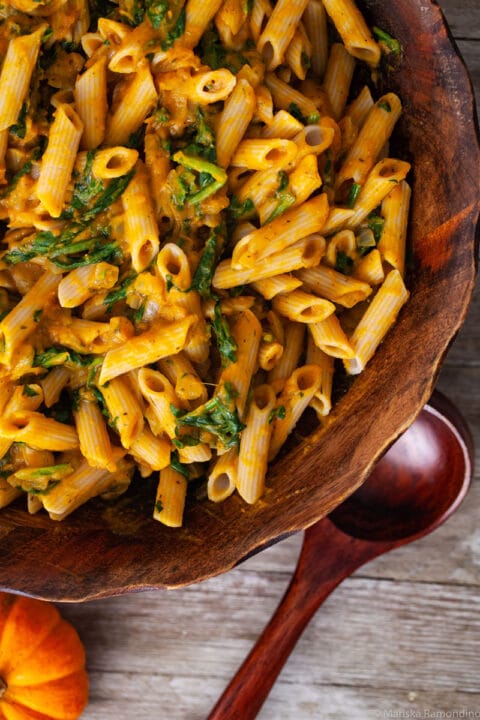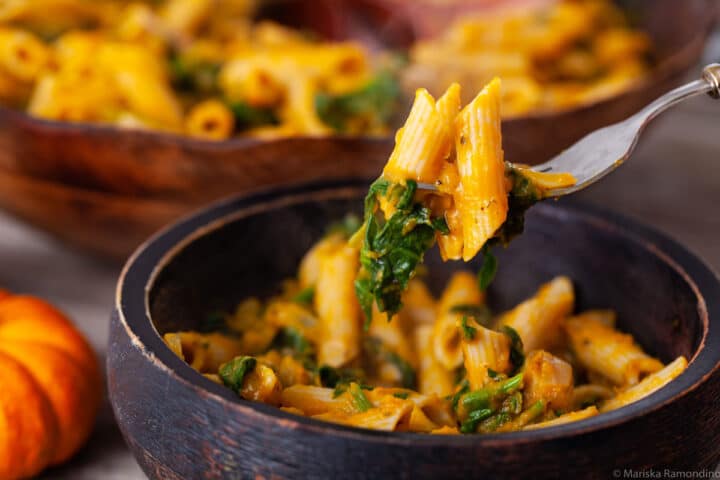 Leftovers and Storage
This pasta is best served immediately when hot, but if you have any leftovers, store everything in an airtight container in the fridge for up to two days. Then, briefly reheat over the stove.
More pasta or squash dishes you might like
Want to make it later? PIN IT to your recipe board on Pinterest. Don't forget to SHARE and SUBSCRIBE to my monthly newsletter to stay in touch! Enjoy!
📖 Recipe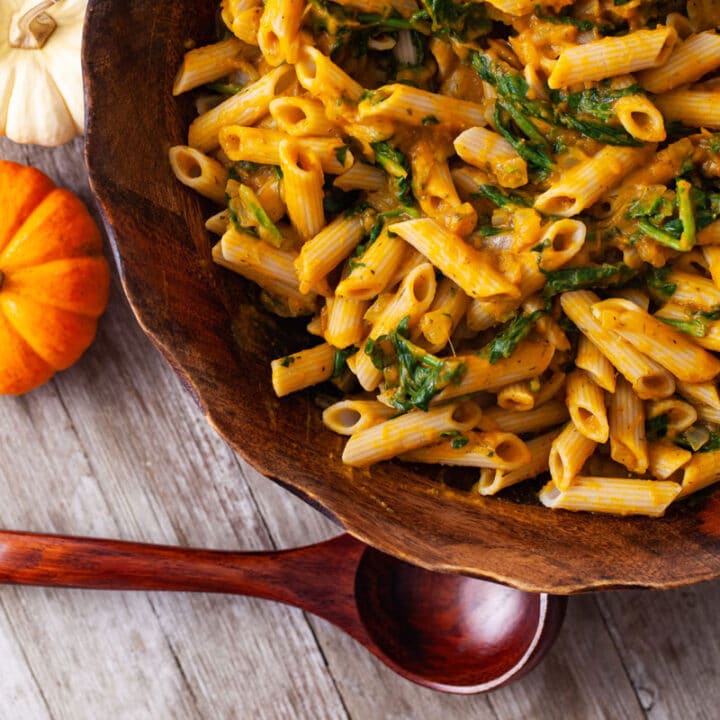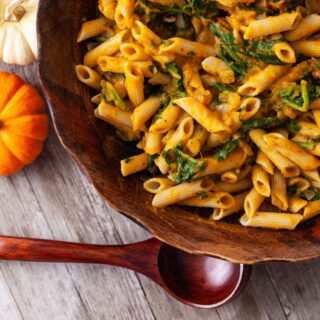 Vegan Pumpkin Pasta
Mariska Ramondino
An easy pumpkin pasta recipe made with a creamy and herb-infused pumpkin pasta sauce and veggies—perfect for weeknight dinners (family size) or a vegan Holiday main dish!
Ingredients
2

boxes

brown rice pasta

12 ounces/340 grams each

2

tablespoons

olive oil

Salt and freshly ground black pepper

3

garlic cloves

chopped

1

large yellow onion

chopped (305 grams)

2

cans

organic pumpkin puree (I used canned)

16 ounces/454 grams each

4 - 5

cups

packed chopped spinach

80 grams

1

tablespoon

coconut cream

20 grams, plus ½ cup extra coconut milk, based on preference and optional

1

tablespoon

dried sage

1

tablespoon

dried marjoram

1

teaspoon

garlic powder
Instructions
Fill a large pot with 4 to 5 quarts of water and bring to a rolling boil (to cook the pasta). Add salt to taste. When water is boiling, add the pasta noodles and cook until al dente.

Meanwhile, in a large skillet, heat the oil over medium heat. Add the garlic and onion. Cook and stir for 5 minutes and until the onion is translucent, not browned.

Add the spinach. Cook and stir for one minute or until wilted. Season with one teaspoon salt.

Change the heat to medium-low. Then stir in the pumpkin puree and coconut cream—season with sage, marjoram, and garlic powder.

At this point, the pasta should be boiling in the water and almost ready. Transfer some of the pasta water (about ½ cup) into the pumpkin puree sauce.

Cook and stir for a few minutes until the sauce is sufficiently warm.

Optional: spoon in additional coconut milk for a more luxurious sauce (about 5 to 7 tablespoons).

Season to taste with salt and royally with black pepper.

Drain the pasta when ready and transfer to a large serving bowl.

Pour the pumpkin puree pasta sauce over the hot pasta noodles.

Stir until everything is well combined. Serve immediately while still hot!
Notes
Cooking tip: If your pumpkin puree sauce is ready before the pasta, keep it on the lowest heat setting and occasionally stir to keep it warm. Storage: This pasta is best when served hot immediately, but if you have any leftovers, store everything in an airtight container in the fridge for up to two days. Briefly reheat over the stove. Seasoning: Season the pumpkin puree sauce royally with freshly ground black pepper and additional salt to taste before serving. Add-ons: Stir in ¼ cup salted roasted sunflower seeds (optional). Serve with (vegan) Parmesan cheese on the side. Make it gluten-free: The sauce is already gluten-free. Just serve over gluten-free pasta.
Add your own private notes
Whenever you come back to this recipe, you'll be able to see your notes.
Nutrition (% Daily value)
Calories:
488
kcal
(24%)
Carbohydrates:
101
g
(34%)
Protein:
11
g
(22%)
Fat:
6
g
(9%)
Saturated Fat:
2
g
(13%)
Polyunsaturated Fat:
0.5
g
Monounsaturated Fat:
3
g
Sodium:
53
mg
(2%)
Potassium:
443
mg
(13%)
Fiber:
12
g
(50%)
Sugar:
6
g
(7%)
Vitamin A:
19736
IU
(395%)
Vitamin C:
16
mg
(19%)
Calcium:
76
mg
(8%)
Iron:
3
mg
(17%)
Disclaimer: This nutritional data is calculated using third party tools and is only intended as a reference.
This post was originally published in November 20119 and has been updated with an updated recipe, new pictures, and new information.