What better way to ring in the new year with an elegant mocktail that contains pomegranates, a royalty amongst fresh fruit—ancient Greek Mythology regarded the fruit a symbol of life. This beautiful colored drink will surely impress on New Year's Eve, or anytime you want to make a toast on new beginnings. You won't even miss the alcohol, and it is perfect when kids or pregnant friends wish to join in the cheering.
This time of the year, you will find full, ripe pomegranates and juicy clementines in your local grocery stores. And what better way to use both of these naturally sweet fruits to make a gorgeous non-alcoholic cocktail. This drink does not only taste delicious but also has a beautiful red, orange color that looks festive and elegant. I am also adding fresh mint leaves to nicely balance out the sweetness of the fruits and add a touch of sophistication. This little liquid is beautiful, colorful, flavorful, and full of health benefits! Let's make it.
MAKE YOUR NEW YEAR'S DRINK FESTIVE
You can make this mocktail as festive-looking as you like and make adjustments based on the occasion. Here are a few modest suggestions:
Rim coconut sugar on the glasses (see recipe below.) It gives a beautiful golden and fancy look and tastes delicious too.
Add a couple of pomegranates seeds in the drink. It is a cute little surprise with that last sip.
Decorate with a slice of orange to make it extra stylish.
But feel free to explore and add your ideas or creations. Maybe serve with stainless steel and crystal stir sticks. If you have good quality ones, they will last forever and can be used for multiple events.
Use elegant glasses.
I have a fondness for festive glasses, and use them often, whether it is to celebrate special occasions or merely cheering to being grateful or expressing the joy of being together with my family before Sunday dinner. After all, life should not only be celebrated during special events, and nothing better gets the juices flowing before a lovely meal than a "Bon Appetit" toast and a sip from a delicious mocktail out of an elegant glass!
DRINK OUT OF ELEGANT GLASSES—SUGGESTIONS
I own a lovely selection of champagne, wine, and cocktail glasses, but I have moved away from using high-end glasses with a thin rim. I lost many of them over the years while hosting a dinner party at my house. But I don't like drinking out of plastic glasses either—I only make an exception for outdoor summer parties. I have come to rely on festive glasses that have an elegant design but are very durable and more kid-friendly when used at a dinner table—most drinkware designed for commercial or restaurant use fits that description.
You can't have a great mocktail or cocktail without beautiful glasses. So here are a couple of my suggestions in case you want to spice your Sunday dinners, dinner parties, celebrate special occasions or want to make those perfect New Year wishes:
Now all that is left is to pick your favorite glasses, decorations, and plan to make this drink!!!
MORE HEALTHY DRINKS YOU MIGHT LIKE
If you make this, make sure to tag your photos with #mychefsapron on Instagram so that I can see! Or PIN IT for later and follow me on Pinterest to see what other fun things I share. Don't forget to subscribe to my monthly newsletter! Enjoy!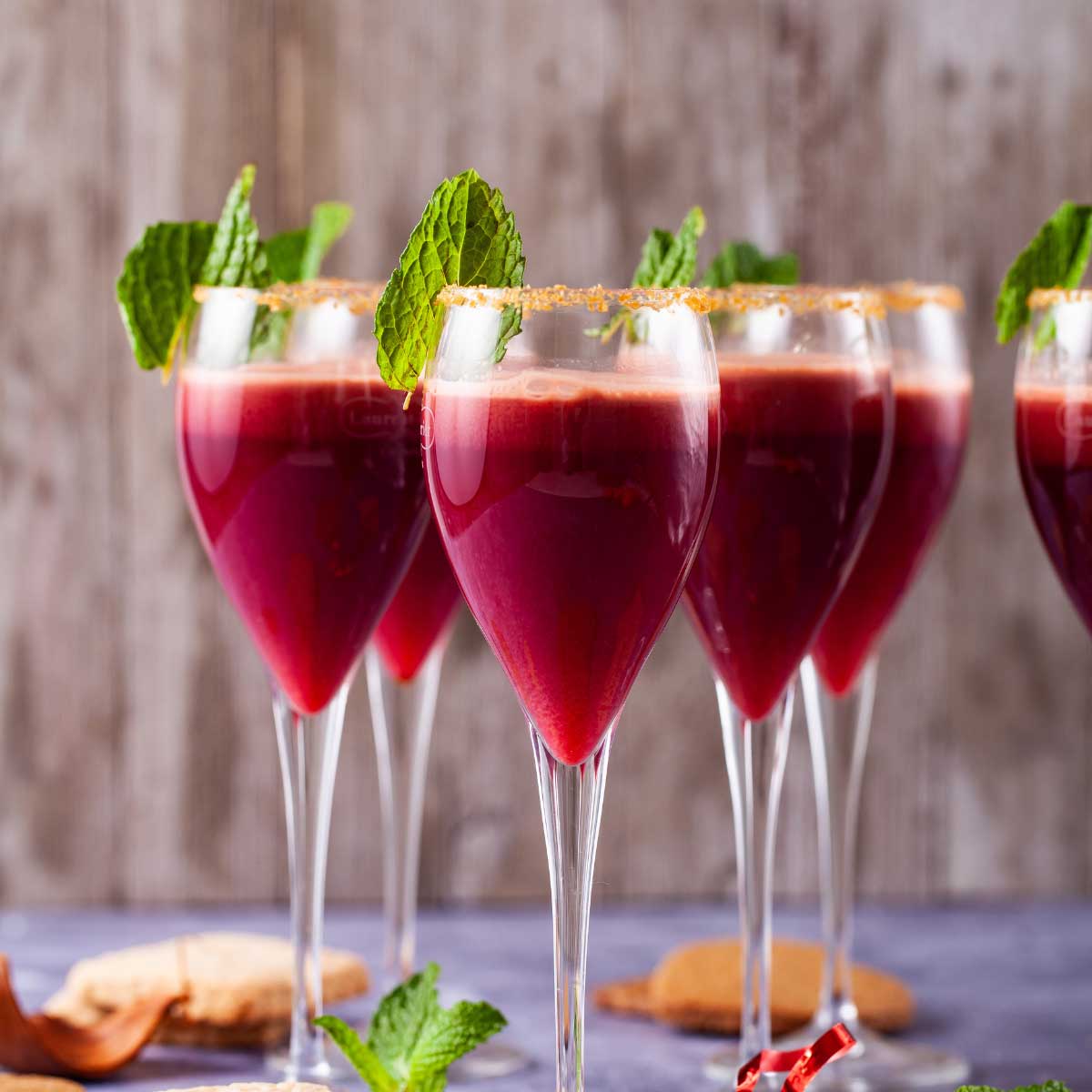 Yield:

7 servings to 9, about 4 ½ cups
AN ELEGANT NON-ALCOHOLIC DRINK
Additional Time:
5 minutes
A beautiful and delicious non-alcoholic cocktail (mocktail) to ring in the New Year, serve at parties, or celebrate a special event. This drink is fun, refreshing, and healthy—perfect for when you are pregnant, have kids who want to join in on the toast, or simply want to avoid alcohol!
Ingredients
4 to 5 large ripe pomegranates
5 to 6 clementines
A handful of fresh mint leaves, plus more to garnish
½ orange, cut crosswise (for wetting the lip of the glasses and for decoration)
1 teaspoon coconut sugar (or enough to coat the rims of the glasses)
Instructions
Make the pomegranate drink
Use a paring knife to cut out the pomegranate's crown (cut a circle while angling in_see pics above).
Then further peel the red part of the pomegranate's skin with the knife.
Place the fruit on a flat surface, crown up, and use your fingers to open it gently. If the fruit is very ripe, this should be easy to do; otherwise, use the tip of your knife to gently bore deeper into the white part of the crown until the fruit begins to crack.
Continue to open the sections with your fingers to expose the seeds.
Over a bowl, use your fingers to separate the seeds from large membranes and substantial parts of the white. We are juicing the fruits, so don't be concerned with deseeding them completely. It is entirely okay to have small parts of the white membranes still present. Repeat for each pomegranate.
Then peel the clementines; set the peeled fruits aside.
Juice all the fruits and the mint leaves. Keep a couple of pomegranate seeds aside for decorations (about 12 to 18 seeds). See note about juicing.
With a slotted spoon, gently skim off the foam on top of the juice, leaving only a little to simulate the bubbles of real champagne; set aside.
Prep the glasses
Slice crosswise through the orange and cut out a thick round slice. Place the slice on a flat surface or cutting board. Place the coconut sugar on a small plate next to the slice of orange.
Take small champagne glasses (I count about ½ cup of juice per glass).
Turn each glass upside down, gently dip the top of each glass into the orange slice first, and then immediately into the sugar, coating each rim lightly.
Turn the glass back right-side up. Gently pour in about ½ cup of juice in each glass. Be careful with filling your glasses, and don't let the liquid splash the rim.
Cut the remaining orange into round slices and split the slices in three. Decorate each glass with ⅓ of the orange slice (see picture.) Drop 2 to three seeds of the reserved pomegranate seeds into each glass.
Alternatively, take extra fresh mint leaves with a scissor cut a tiny opening at the bottom of a leaf. Then rest the cut side on the rim of a glass. Repeat for the other glasses.
Serve immediately or chilled to ring in the New Year or make your ritual toast. Enjoy!
Notes
You can either use a juicer or a blender with a nut milk bag to squeeze out the juice or a strainer. In that case,
HERE IS WHAT TO DO:
Blend everything until you get a beautiful red juice smoothie;
Then pour the liquid through a strainer or nut milk bag into a large pitcher;
Discard the pulp;
Continue to make the drinks.

For a larger crowd or extra servings, double the ingredients and let chill in the fridge.
Nutrition Information:
Yield:
9
Serving Size:
1
Amount Per Serving:
Calories:

162
Total Fat:

2g
Sodium:

7mg
Carbohydrates:

37g
Fiber:

8g
Sugar:

27g
Protein:

3g
Disclaimer: This nutritional data is calculated using third party tools and is only intended as a reference.
(Note: this post was initially published in December 2016. This post has been updated to include new info and photos)