What better way to ring in the new year or celebrate this holiday season than with an elegant non-alcoholic beverage containing pomegranates?
A royalty amongst fresh fruit—ancient Greek Mythology regarded pomegranates as a symbol of life and good fortune.
This pomegranate mocktail recipe has a gorgeous color and is the perfect drink to impress everyone on New Year's Eve or anytime you want to make a toast on new beginnings.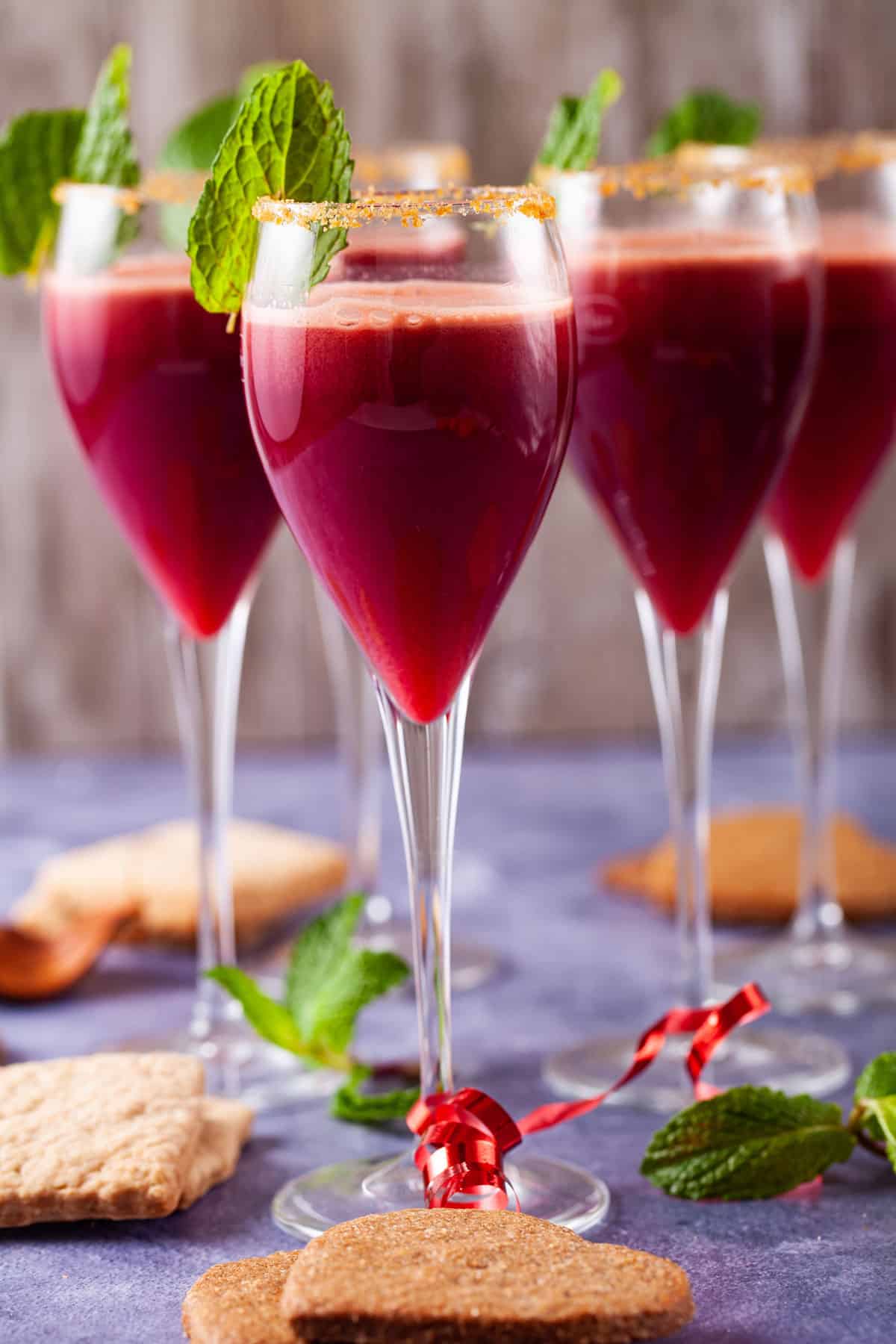 It's that time of year again to make a special drink, and we religiously make our beautiful pomegranate mocktail every year—our favorite.
Everyone always loves this fun drink, and it is also a great option if kids or pregnant friends wish to join in the cheering.
Don't let the simplicity of this recipe fool you. This drink tastes DELICIOUS and has a beautiful red color that looks festive and elegant.
Jump to:
Why you'll love this delicious drink
Simple ingredients quickly turn into a flavorful mocktail.
Fresh mint leaves nicely balance the sweetness of the fruit juice and add a touch of sophistication.
This little liquid is beautiful, colorful, flavorful, and full of health benefits!
It's a festive and elegant pomegranate mocktail.
Serve the virgin drinks in fun individual glasses or make a punch bowl.
The ingredients
Pomegranate juice: go for unsweetened 100% pomegranate juice, not a blend.
If you plan to juice the fruit yourself, you'll need about 4 to 5 large whole pomegranates or the equivalent amount of arils.
Note: It's definitely the season when these mouthwatering fruits are at their best, and you can find more easily whole, ripe pomegranates in your local grocery store or fresh pomegranate arils. The prep work of juicing them at home might be a little messier, but so worth it. You'll appreciate the drink's freshness and infinitely better flavors.
Fresh mint leaves: Don't forego this herb. It adds a deliciously bright flavor and a wonderful scent to this non-alcoholic mocktail.
You can find fresh leaves all year round; you only need a good handful if you stick to the recipe.
Mint wonderfully cools down the sweetness of this citrus pomegranate mocktail, and they are also the best-looking leaves for garnish.
Note: Store fresh mint in the fridge for up to one week or longer. Then when ready to make this pomegranate drink, rinse the leaves and gently pat them dry.
Clementine or orange juice: You only need ¾ cup of juice, equivalent to juicing two or three large fresh oranges.
Sparkling water (optional): it adds a fun fizz. Sparkling white grape juice with no added sugar is another option but will make the healthy mocktails a bit sweeter.
Coconut sugar: This is to coat the rim of the glasses. You can also use light brown sugar, but I find the taste of coconut sugar nearly as sweet with still that hint of caramel.
Try to go for an unrefined golden coconut sugar that has finer crystals.
Note: If your sugar has larger individual granules, I recommend first blending or grinding it into smaller pieces.
Optional garnishes: extra pomegranate arils from one whole pomegranate, fresh orange slices, lime slices, lemon slices, frozen or fresh cranberries, extra mint leaves, and fresh rosemary leaves.
All great options to make it festive for a special occasion.
How to make this easy mocktail recipe
Place the pomegranate juice, orange juice, and mint leaves in a blender.
Blend until well combined. The mixture will be covered with fruity foam. That is normal.
The drink's color and foam heavily depend on the type of juice you use.
Above, you have a whiter foam with store-bought pomegranate juice. Below is a more pinkish-colored foam with the use of homemade juiced fruits.
Take a sieve and scoop off most of that foam. Stir the rest back in.
Then place the sieve over a serving bowl or pitcher and pour out the juice to sift out any small mint pieces (optional and if you have any).
Stir in the sparkling water, then serve with or without garnishes.
Note: After blending, I like to skim off most of the foam but stir a bit back in to simulate the bubbles of real champagne (optional).
How to create a sugar rim
You can make this non-alcoholic cocktail as festive-looking as you like and adjust it based on the occasion.
Rim coconut sugar on the glasses (see picture below.) It gives a beautiful golden and fancy look and tastes delicious too.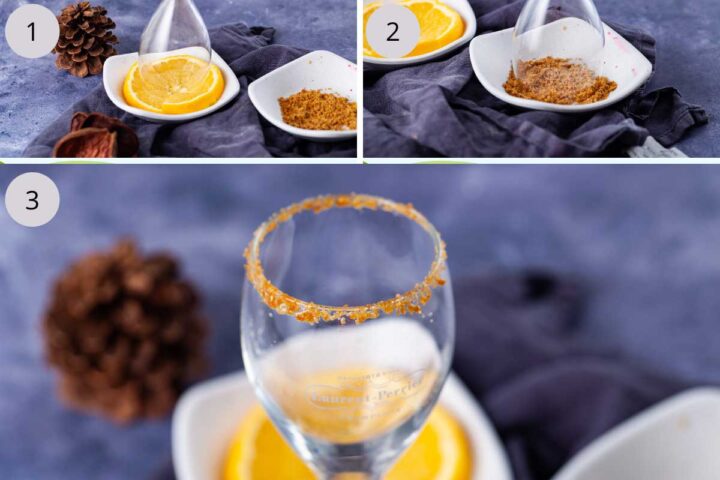 Wet the glasses' rims by using a thick lemon, orange, or lime slice. I recommend orange for its naturally sweet taste (see image 1).
Dab each rim lightly into the sugar while slowly turning the glass around to cover all the outer edges (see image 2).
Shake off any excess coconut sugar (see image 3).
How to make these non-alcoholic drinks extra festive
Add a couple of pomegranate seeds to the bottom of the glasses. It is a cute little surprise with that last sip.
Decorate the rims with a slice of CITRUS fruits or extra fresh mint leaves.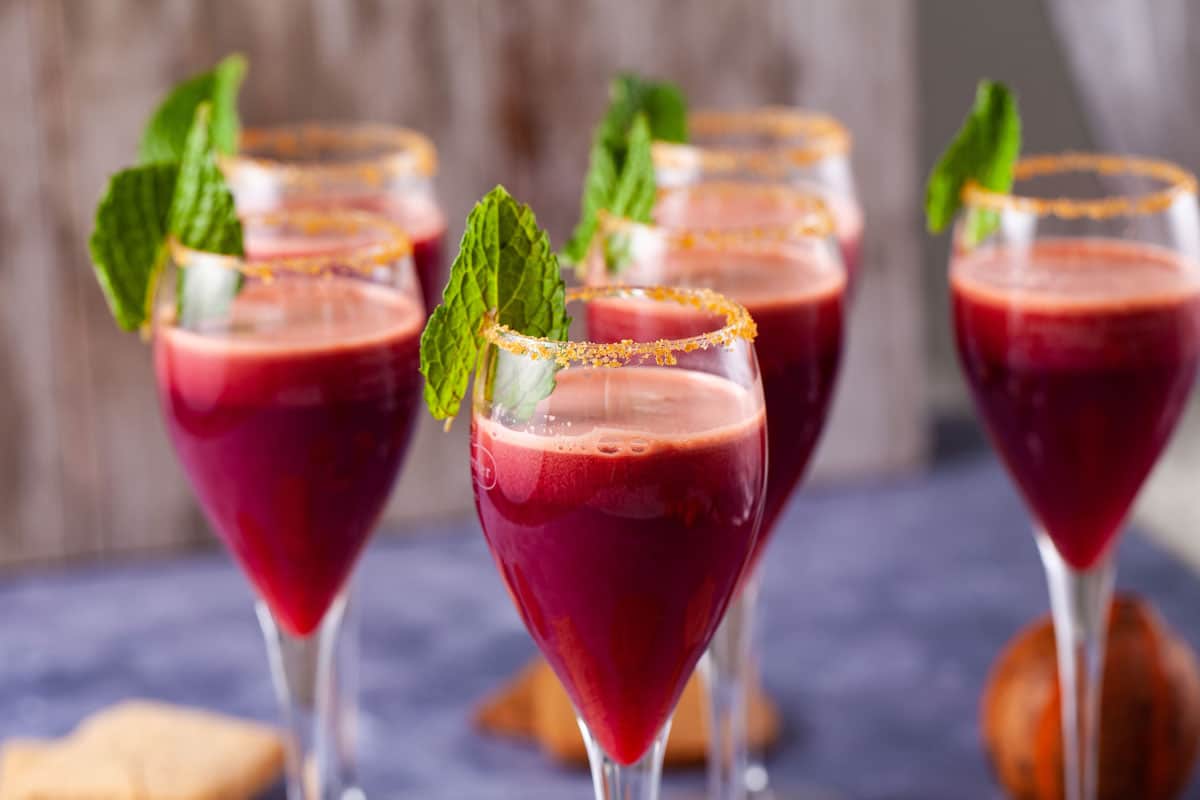 Add garnishes like citrus fruit slices, cranberries, mint leaves, or rosemary leaves for decoration.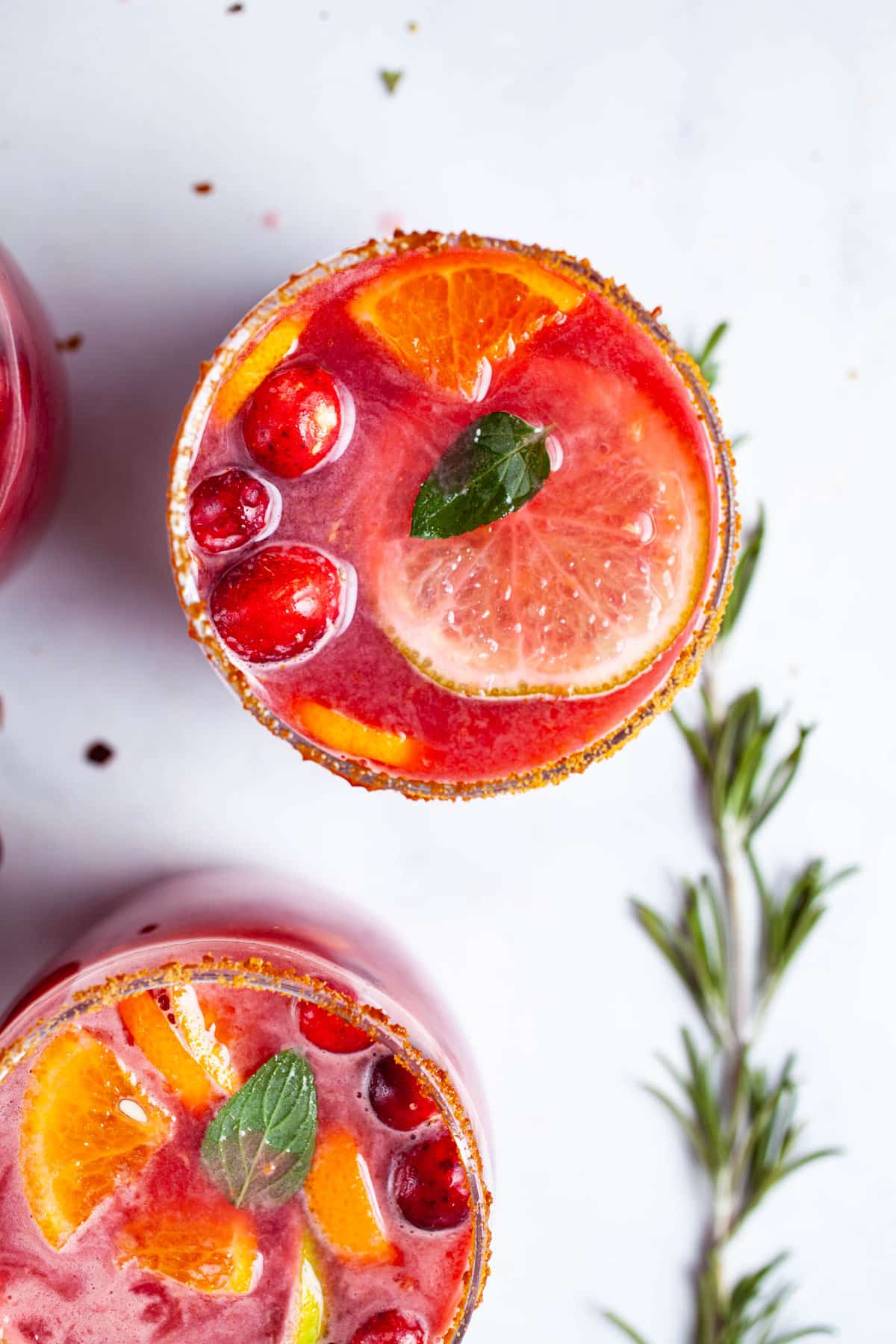 Feel free to explore and add your ideas or creations. Maybe serve with stainless steel and crystal stir sticks. If you have good quality ones, they will last forever and can be used for multiple events.
Drink out of elegant glasses.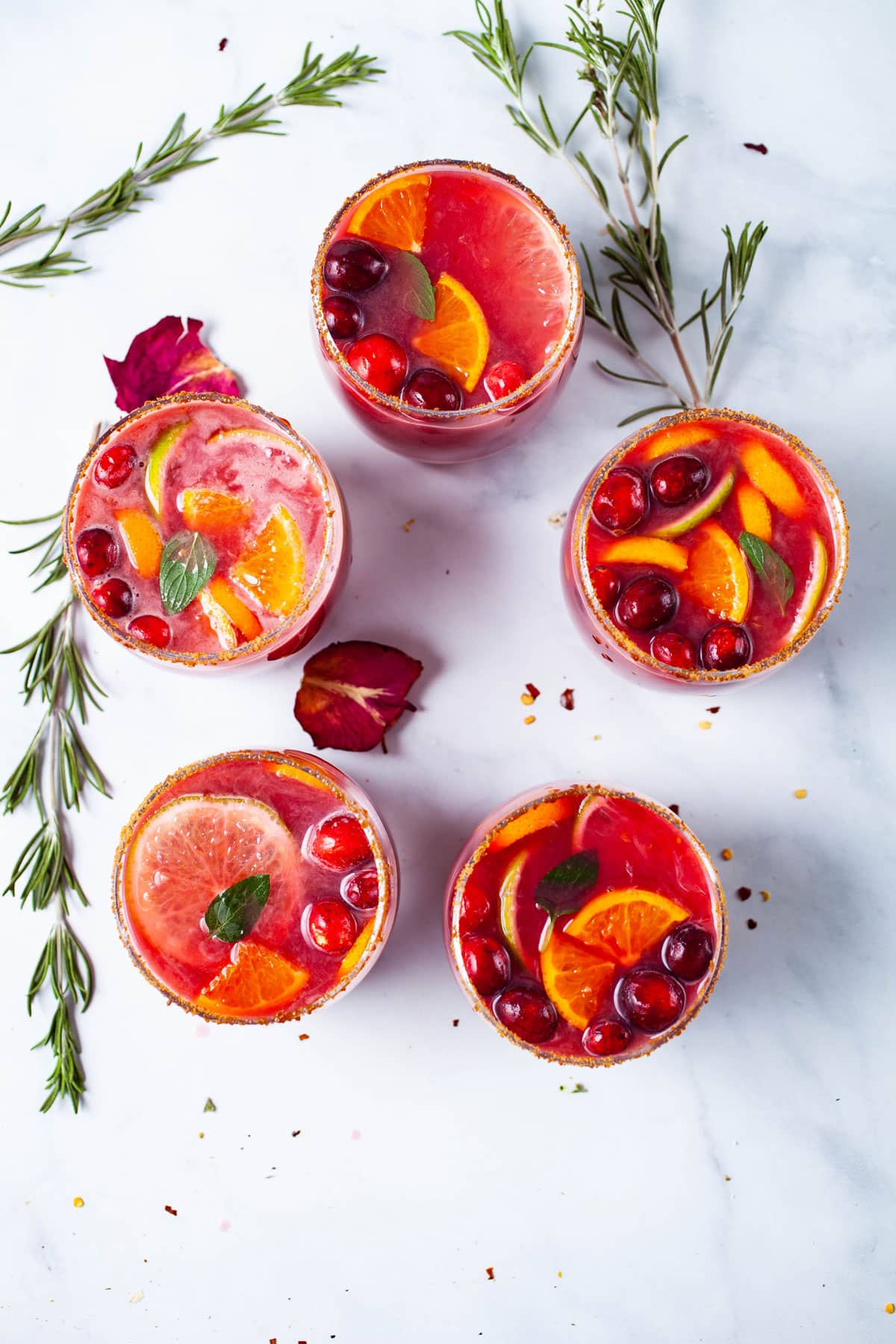 Note: Have a larger crowd and want to make a non-alcoholic punch bowl, or count for extra refills, double the recipe.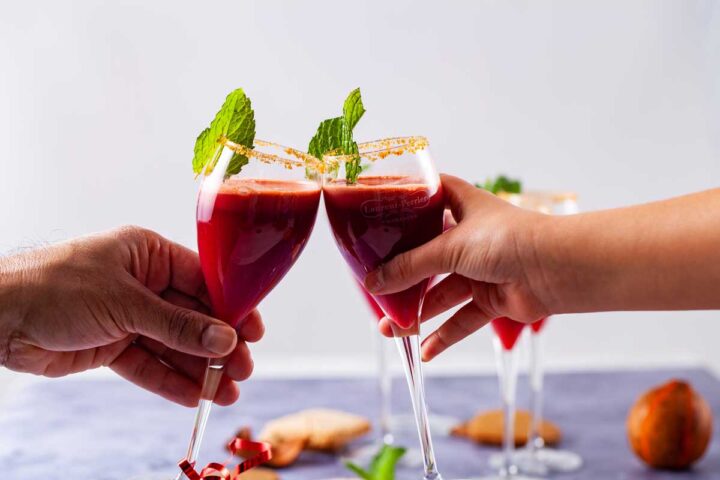 Now all that is left is to pick your favorite glasses and decorations and plan to make this drink!!! Cheers
Note: This festive pomegranate mocktail is very much loved by adults and kids alike. My daughter loves to help prep the glasses. It's a fun activity to include your kids in the joy of creating a festive drink. It's also a thoughtful drink for pregnant guests.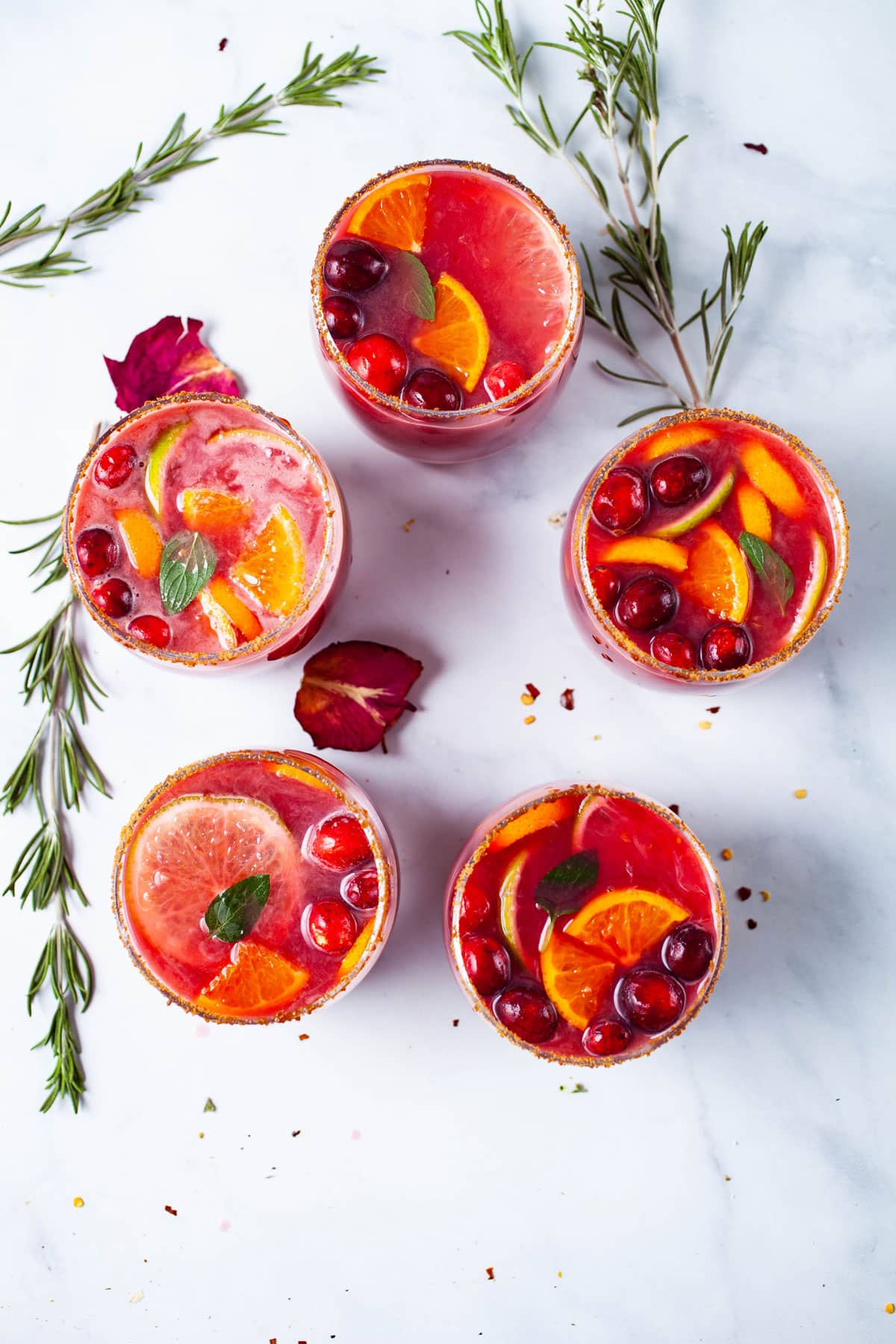 FAQ and tips
Add sparkling water last.
Blend and strain the juices and mint leaves before adding sparkling water. Otherwise, your sparkling water will be less fizzy or bubbly.
Can I make this drink without the fizz?
Yes, you can. However, I prefer this pomegranate mocktail with a little bubble. Don't stir in the sparkling water, and serve over ice cubes.
Can I make this pomegranate mocktail in advance?
You can make the juice blend of pomegranate, orange, and mint leaves in advance. Store the juice covered in the fridge. Then stir in the sparkling water before serving.
Fresh versus store-bought juice?
The color of this drink may vary if you use store-bought juice versus freshly blended and strained fruits at home.

Even if you buy 100% unsweetened pomegranate juice, I always recommend using at least freshly squeezed orange juice for this recipe. This virgin drink usually comes together in 10 minutes. It'll be 30 minutes if you also juice pomegranate arils at home.

It's a bit of extra work but well worth the effort because freshly made pomegranate juice at home is sweeter, less astringent, and has so much better flavor.

Count on ½ cup of juice per pomegranate.
How to peel whole pomegranates at home?

1. There is already a great step-by-step process for deseeding a pomegranate using water, courtesy of the Greatist, who have tested various techniques, and who claim to have mastered the art of extracting those juicy seeds. Feel free to give their method a try.

2. Although I do not own one myself, there are super affordable pomegranate DeSeerders out there that get rave reviews and are worth investing in if you regularly enjoy this healthy fruit.

3. However, if you are not intimidated by dissecting pomegranates, peel and cut them into smaller pieces and gently remove the arils with your fingers. You'll have these tiny red fruits out in no time.

Make sure you wear an apron or something you are not worried about staining!

Note: Once peeled, place the fruit on a flat surface, crown up, and use your fingers to open it gently. If the fruit is very ripe, this should be easy to do; otherwise, use the tip of your knife to gently bore deeper into the white part of the crown until the fruit begins to crack.

Break up into segments, removing any large white pith or membranes.

Take one segment, place it over a bowl, and pop and peel the seeds out by gently rolling your thumb over the red jewels away from the pith as you bend open the segment. Repeat.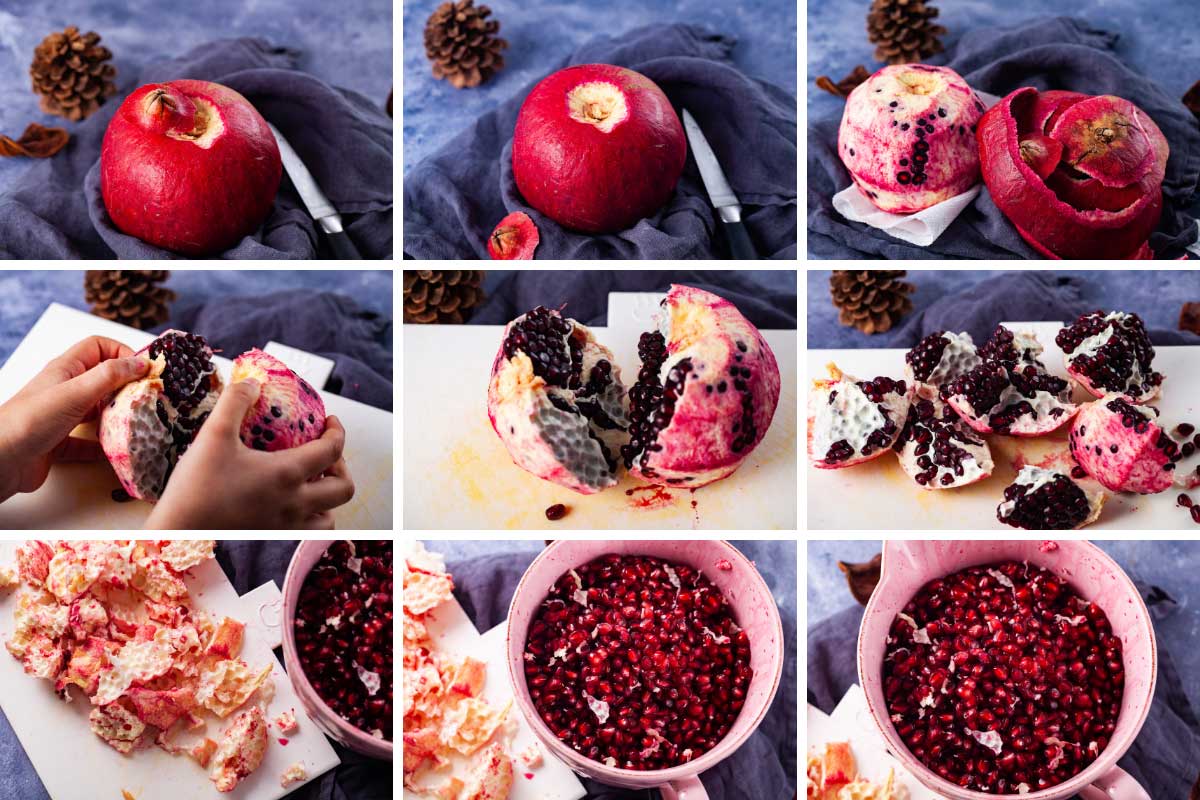 More ideas
Here are some healthy drinks for other occasions or recipes to use up citrus fruits, cranberries, or mint leaves.
---
Your shares and ratings are valuable to me and so much appreciated. It'll help me create more content you and others can enjoy!
Don't forget to subscribe to my Monthly Newsletter!
---
📖 Recipe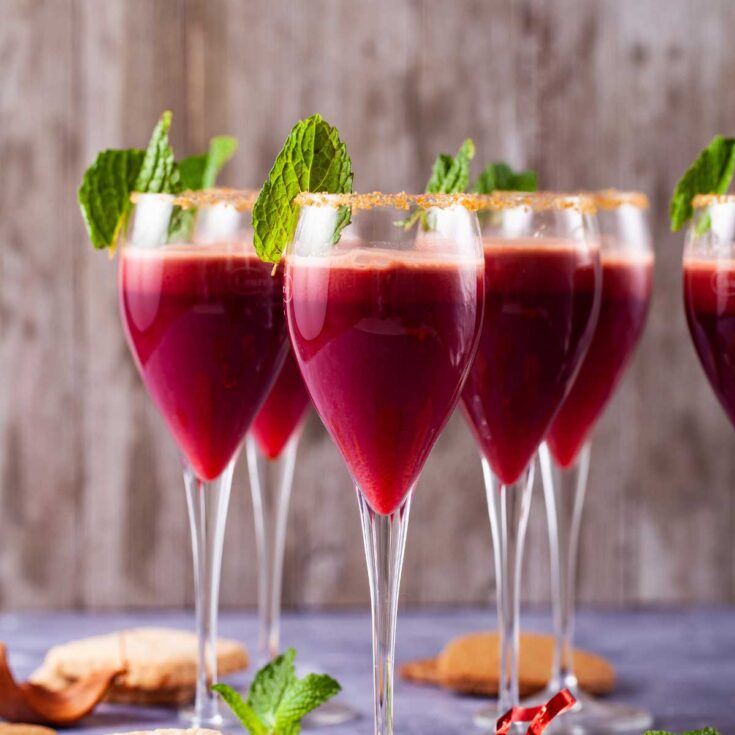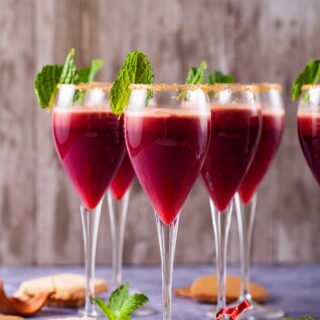 Non-Alcoholic Pomegranate New Year's Drink
Mariska Ramondino
A beautiful and delicious non-alcoholic pomegranate mocktail to ring in the New Year, serve at parties, or celebrate a special event. This drink is fun, refreshing, and healthy—perfect for when you are pregnant, have kids who want to join in on the toast, or simply want to avoid alcohol!
Ingredients
For the pomegranate mocktails
2 ½

cups

unsweetened 100% pomegranate juice

20 fl.ounces or 600 ml

¾

cup

unsweetened fresh orange juice

6 fl. ounces or 187 ml, the juice of about two to 3 large oranges

6 to 8

large fresh mint leaves

plus more to garnish

1

cup

sparkling water

8 fl. ounces or 236 ml

1

teaspoon

coconut sugar or light brown sugar

or enough to coat the rims of the glasses

orange slices

cut crosswise (for wetting the lip of the glasses and for decoration)
Garnishes (optional)
pomegranate arils, fresh orange lime and lemon slices, frozen or fresh cranberries, extra mint leaves, fresh Rosemary leaves.
Instructions
Make the pomegranate mocktail drink
Place the pomegranate juice, orange juice,and mint leaves in a blender.

Blend until everything is well combined and the mint leaves are shredded to bits.

With a slotted spoon, gently skim off most of the foam built up on top of the juice. Set aside some of the foam.

Pour the juice through a sieve into a large pitcher.

Stir in the sparkling water and a little reserved foam to simulate the bubbles of champagne (optional).

At this point, you can add the garnishes if you plan to serve the mocktail in a pitcher. Or proceed to garnish the individual glasses.
How to create a sugar rim
Slice crosswise through the orange and cut out a thick round slice—use the rest for garnish.

Place the orange slice on a flat surface or cutting board. Place the coconut sugar on a small plate next to the piece of orange.

Take small champagne glasses or serving glasses of choice.

Turn each glass upside down, gently dip the top of each glass into the orange slice first, and then immediately into the sugar, coating each rim lightly slowly turning the glass around to cover all sides of the outer edges.

Turn the glass back right-side up. Add any garnishes, gently fill up your glasses, and don't let the liquid splash the rim.
How to prep the glasses for a festive look (optional)
You can continue to decorate each glass with ⅓ of the orange slice (see picture in post). I always drop extra pomegranate arils into each glass. It's a fun surprise (optional).

Alternatively, take extra fresh mint leaves, and with a scissor, cut a tiny opening at the bottom of a leaf. Then rest the cut side on the rim of a glass. Repeat for the other drinks (optional).

Serve immediately or chilled to ring in the New Year or make your ritual toast. Enjoy!
Notes
Double the ingredients for a punch bowl, a larger crowd, or extra servings.
If you don't want to add any fizz: omit the sparkling water and serve the pomegranate drink over ice cubes or as-is. Count on the fact that you will have a bit less to serve around and might need to make a bit more of a non-fizz pomegranate drink.
Juicing fresh fruits versus using store-bought juice: you'll need about 5 large pomegranates or arils equivalent to 5 pomegranates if you plan to juice the fruits yourself. And about 2 to 3 large oranges. The color will also differ—a lighter red versus darker red. 
You can use a blender to blend the arils, oranges, and mint leaves. Then, squeeze out the juice with a nut milk bag or use a strainer before adding sparkling water and garnishes. It's a bit more work and messier, but it tastes incredible. Count on 30 minutes of total prep time instead of 10.
Steps for juicing at home:
Blend everything until you get a beautiful red juice smoothie;
Then pour the liquid through a strainer or nut milk bag into a large pitcher;
If you use a nut milk bag, squeeze out the juice until only a dry pulp is left.
Discard the pulp;
Continue to make the drinks as per the recipe above.
You can make or blend the fruit juices and mint leaves in advance and let the drink chill in the fridge. Stir in the sparkling water right before serving. Then add garnishes as desired.
Add your own private notes
Whenever you come back to this recipe, you'll be able to see your notes.
Nutrition (% Daily value)
Serving:
0.5
cup
Calories:
145
kcal
(7%)
Carbohydrates:
33
g
(11%)
Protein:
3
g
(6%)
Fat:
2
g
(3%)
Saturated Fat:
0.2
g
(1%)
Polyunsaturated Fat:
0.1
g
Monounsaturated Fat:
0.1
g
Sodium:
5
mg
Potassium:
430
mg
(12%)
Fiber:
7
g
(29%)
Sugar:
25
g
(28%)
Vitamin A:
18
IU
Vitamin C:
41
mg
(50%)
Calcium:
31
mg
(3%)
Iron:
0.5
mg
(3%)
Disclaimer: This nutritional data is calculated using third party tools and is only intended as a reference.
(Note: this post was initially published in December 2016. This post has been updated to include new info and photos)