You're going to love this beautiful fresh cranberry sauce recipe made with only a few ingredients. It is, of course, a perfect side dish or condiment for your traditional holiday dinners at Thanksgiving and Christmas.
But this sweet-tangy sauce can complement so many main dishes—it's good on everything.
And any leftovers taste fantastic as a cranberry spread for sandwiches or on toast, in chia seed pudding, yogurt, or on top of waffles for breakfast, or to complement savory bites like veggie cakes. Seriously, the options are endless.
Plus, I'm sharing substitutions for making a vegan or dairy-free cranberry sauce.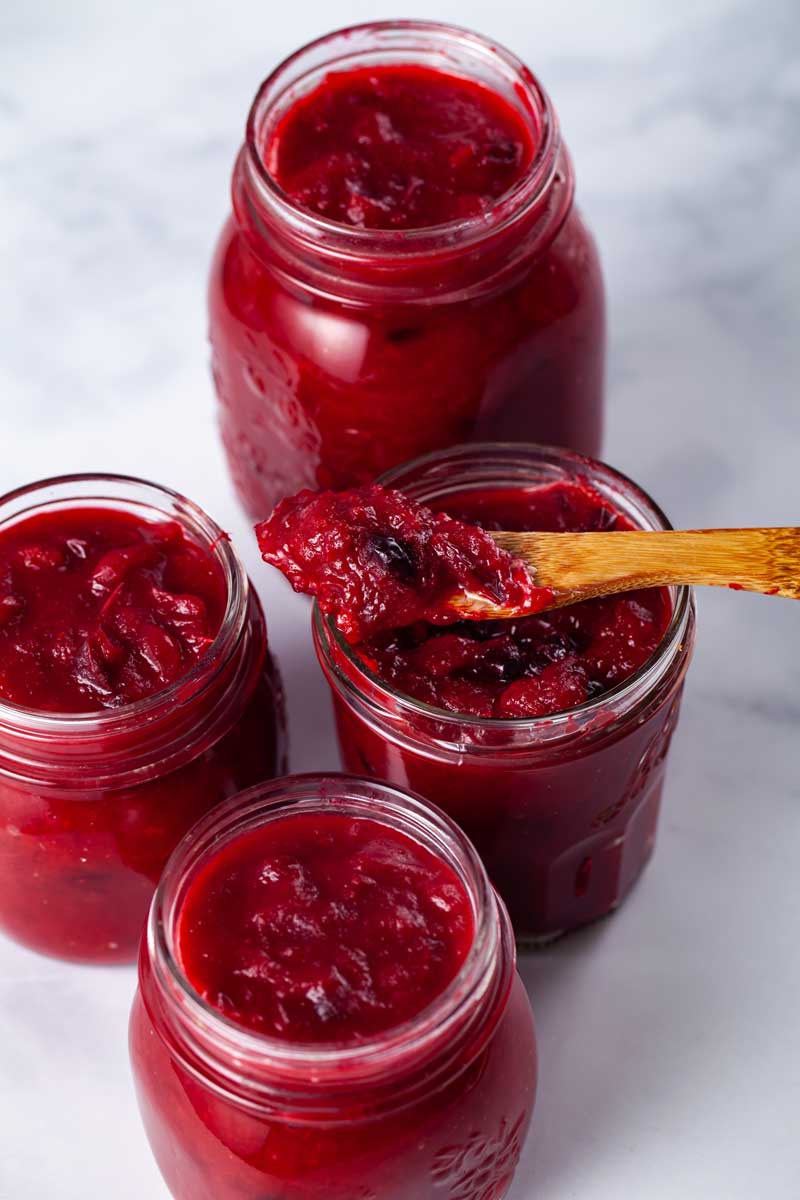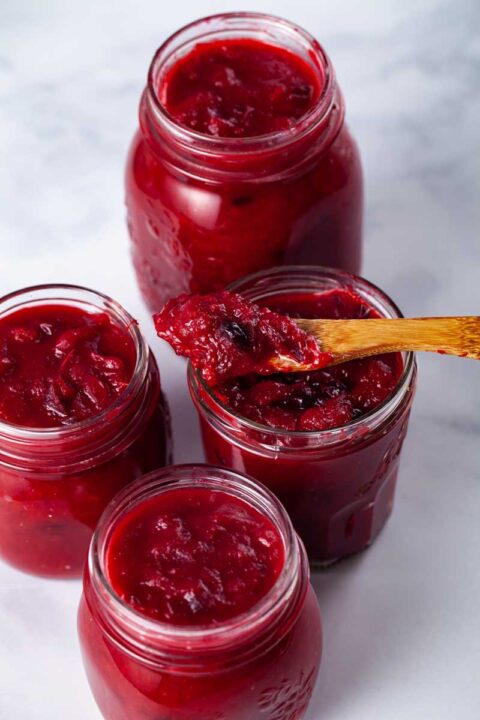 Usually, I make this beautiful ruby red sauce every year in the winter season when fresh bags of cranberries pop up everywhere in the store.
And it's not just something I prepare to fill up the Holiday table. If you have a soft spot like me for anything sweet and tart, I suggest keeping a jar or two of this jam-like simple cranberry sauce in the fridge for its many versatile uses.
Say yes to homemade cranberry sauce
Unless you are quite nostalgic about canned cranberry sauce, I'd say homemade is better. And this recipe is so easy to make.
Even if you can't find fresh local cranberries, they're always available frozen, which burst even better on the stove.
It's incredible how a few simple ingredients transform these powerful tangy berries into something delicious. So here's what to expect:
A lovely buttery consistency comes through in this fresh cranberry sauce recipe, and you can still get that same texture while keeping it dairy-free (if you want to).
The fresh orange or clementine juice adds natural sweetness while coconut sugar (or maple syrup) enhances those flavors;
Want to take it up a notch? Then you'll love a touch of alcohol in your food, like a nod of Brandy, cognac, or orange liqueur like Cointreau adds a bit of complexity, especially if you like this condiment to complement other meat dishes.
These punchy berries also leave so much room to experiment with their flavors.
So you can either keep it super simple or experiment with adding spices or substitutions.
Ingredients & substitutions
Let's look at the few ingredients you'll need to make this fresh and simple cranberry sauce recipe.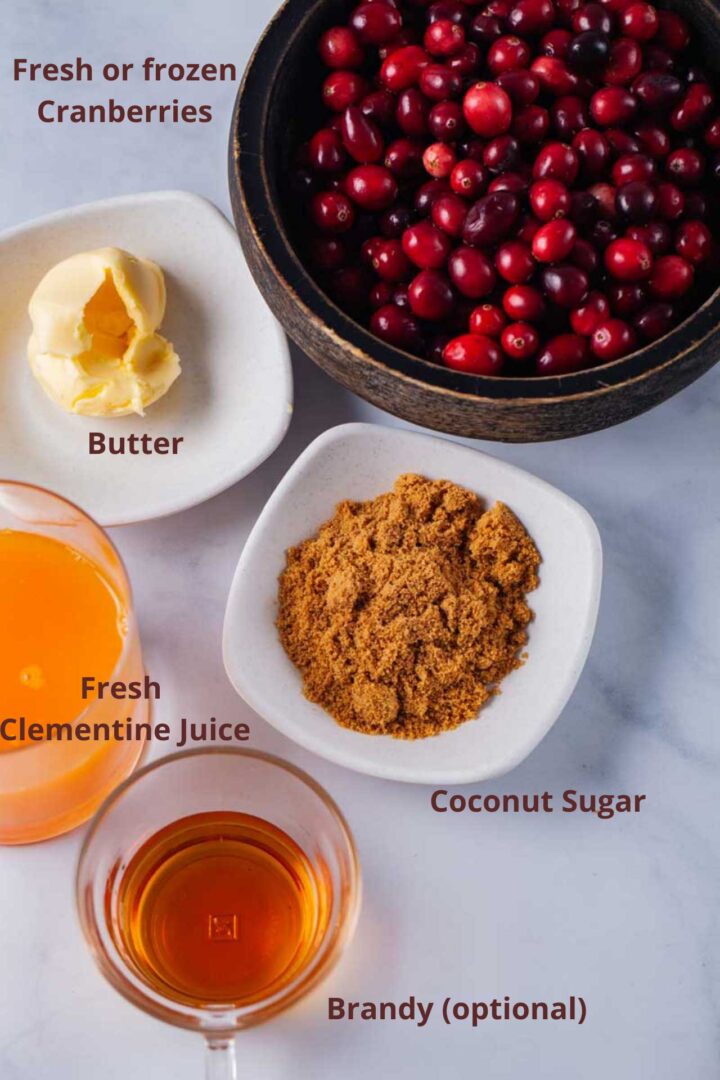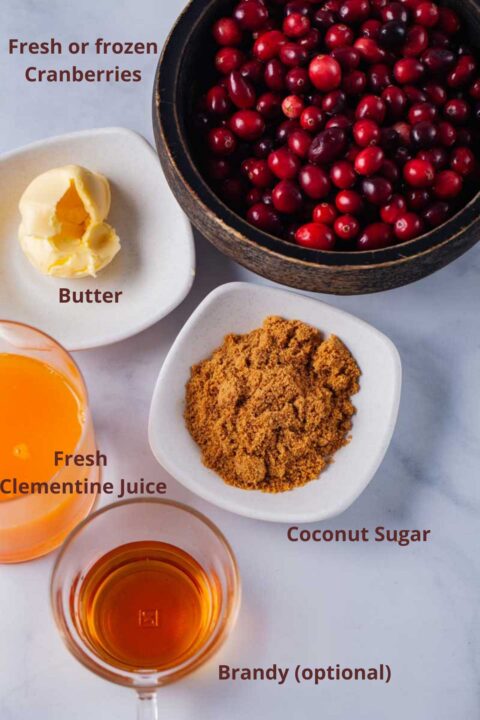 Fresh or frozen cranberries
Cranberry season is short—from October to January— and I try to buy them fresh during that time of the year.
You can also buy them in bulk by the end of the season when they are on sale and freeze them for later use.
Rinse frozen cranberries in cold water and use them like fresh cranberries directly in this recipe—no need to defrost.
Clementines or oranges
You can naturally sweeten cranberry sauce by adding either orange or clementine juice.
If you can, give clementines a go first because, as a hybrid of mandarin and sweet oranges, they are incredibly juicy and naturally sweeter than regular oranges.
Around the Holiday season, they're so easy to find in the produce section at your local grocery stores as a favorite winter citrus snack.
Either of these fruits will naturally balance cranberries' tartness, reduce their bitterness, and help burst open the cranberries over the stove.
Coconut sugar or maple syrup
I love that pucker-inducing tang, but the rest of my family likes cranberry sauce a tad sweeter, which I accomplish by adding some coconut sugar or maple syrup.
You can find coconut sugar at almost every grocery store (even at Walmart and Home Goods). Otherwise, get it online.
These sweeteners add a deep flavor and a mildly sweet taste to the cranberry sauce without overpowering it.
Note: Don't have any coconut sugar, or don't use it that often. Replace it with maple syrup or brown sugar.
Butter or dairy-free alternative
Want to know the real secret of this delicious fresh cranberry sauce recipe? It's butter.
Real butter, in the end, balances out the sweet and tart flavors and adds that irresistible creaminess to this spread.
It is just the magic in this recipe. Make sure to use unsalted butter, though.
Want to keep it vegan-friendly or dairy-free? Try a buttery-tasting coconut butter.
A tad of Brandy, cognac, or Cointreau (optional)
If you like to jazz up the flavor then a tad of Brandy will do the trick. Replace it with some cognac, Cointreau—French orange liqueur, or even port if that's what you have on hand instead.
The alcohol will evaporate but adds a fun complexity to the flavors overall and results in a delicious sauce that pairs well with all kinds of meat dishes.
If you plan to add a bit of Brandy, I suggest adding at least half a cup of any sweetener to even out the intensity in the sauce.
Storage & how long does cranberry sauce last
For storage, I prefer to use mason jars with an airtight lid or airtight containers. After cooking, I immediately transfer the sauce to the jars. Once slightly cooled, seal them and store them in the fridge for up to two weeks.
You can freeze it for up to 3 months. Then, when ready to use it, thaw overnight in the fridge.
How to use cranberry sauce in everyday healthy recipes
A fresh cranberry sauce or spread is so much more than a simple side dish on a fancy Holiday table. At home, I enjoy it in a variety of ways. I literally can't stay away once I have a jar or two in the fridge.
So, if you're wondering what goes with cranberry sauce or ways to use leftovers after Thanksgiving, then here are a few ideas.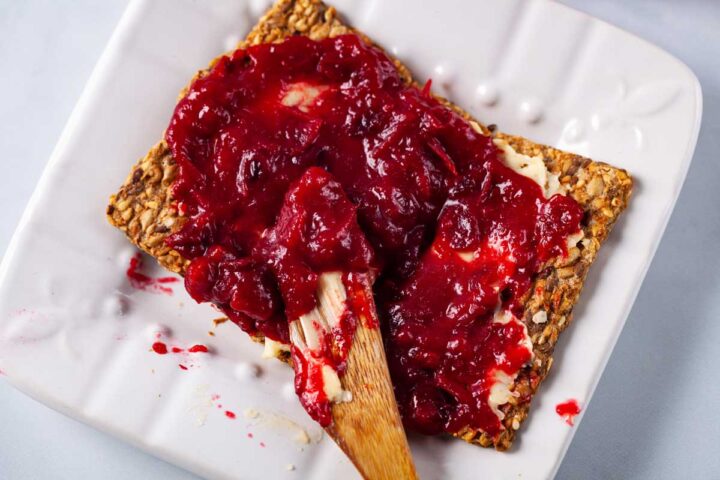 Cranberry sauce for breakfast
Serve this easy homemade cranberry sauce as a delicious buttery fruit spread. It tastes great on toasted farmer's bread, Crispbread ( I love the gluten-free one from Trader's Joe), French toast, bagels, muffins, or as a topping on your Sunday pancakes or waffles (try it out with my Gluten-Free Buckwheat Waffles with warm Cinnamon and Vanilla.)
It adds a delightful sweetness as a topping on yogurts mixed with some crunchy homemade granola.
Or add it to chia seed puddings, then top it off with pecans or any of your favorite seeds for a quick breakfast during the week.
And your oatmeal bowl could use a stir of this cranberry sauce to add some sweetness.
Desserts with cranberry sauce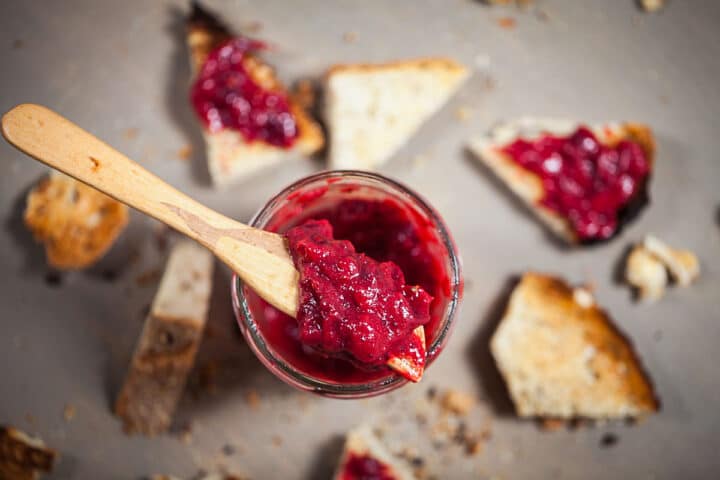 Cranberry spread for sandwiches, meat dishes, and more
These are just a few suggestions, but reasons enough to make this recipe more often than only around the Holiday season.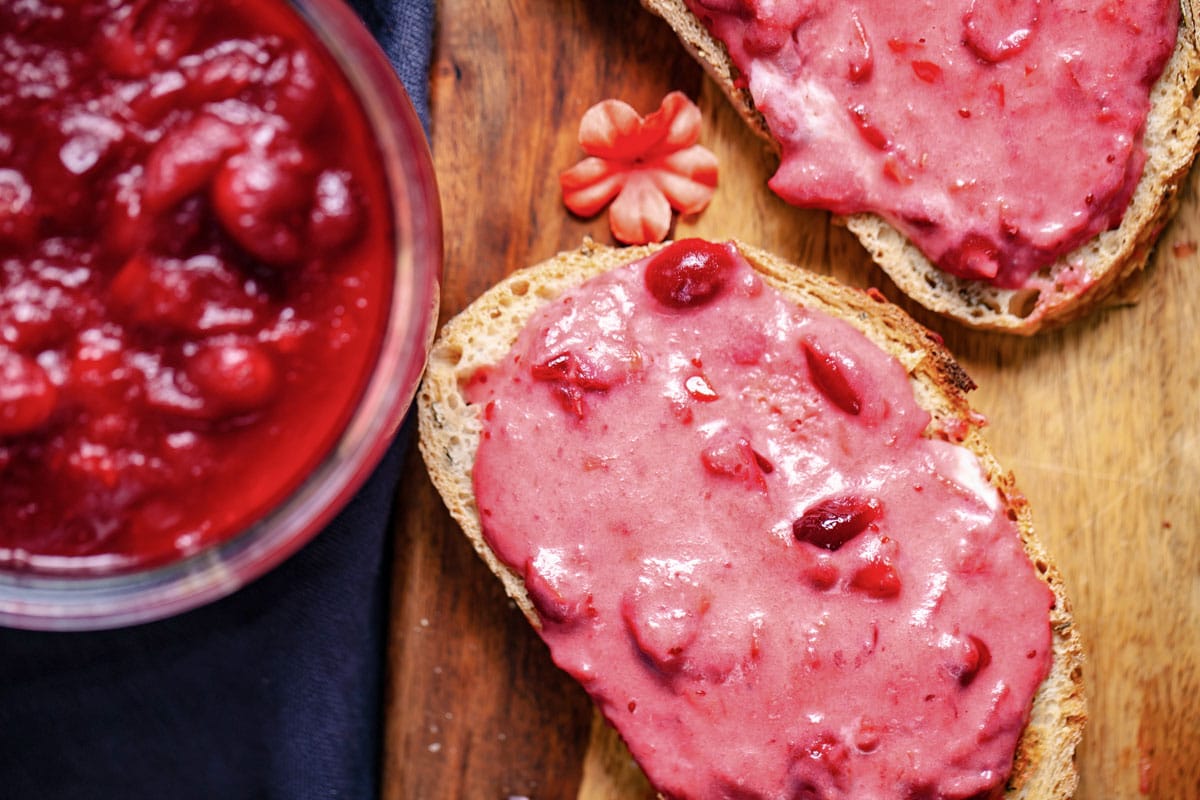 How to make this cranberry sauce
Check out our Video! My daughter loves helping out in the kitchen and pretends to feed her stuffed animal friends while cooking. As the cranberry-orange sauce is simmering on the stove, I watch it while playing our safari tour.
A few extra notes
The sauce naturally thickens as most of the liquid cooks off. Don't overcook and reduce the sauce too much on the stove because it will thicken further as it cools down.
Listen to your cranberries! Cranberries will start to pop on the stove and burst open (about 5 minutes in). At least most of them, but you may need to mash some of them with a wooden spoon while stirring to help some of them out unless you like a chunkier texture.
Enjoy!
Please share and PIN IT for later and follow me on Pinterest to see what other fun things I share. Don't forget to subscribe to my monthly newsletter! Enjoy!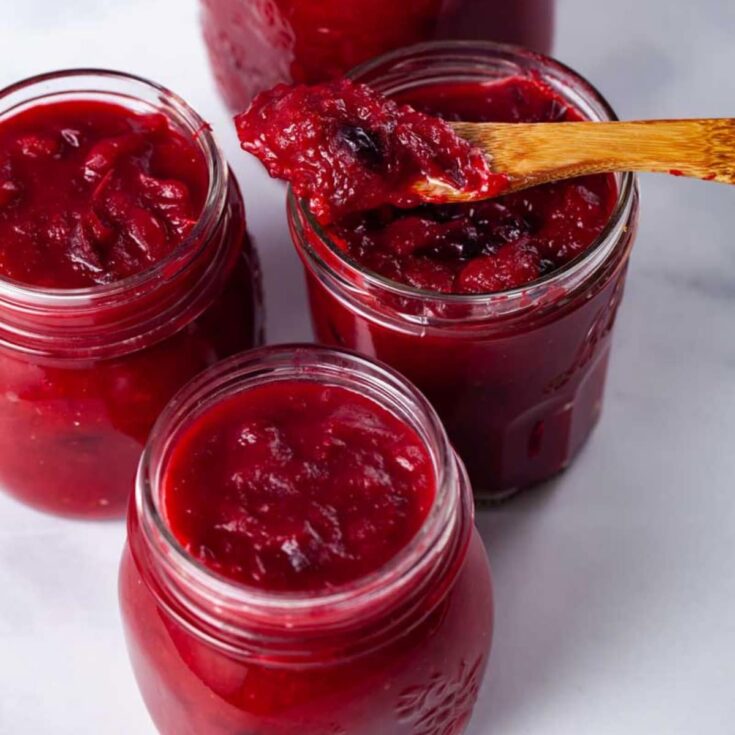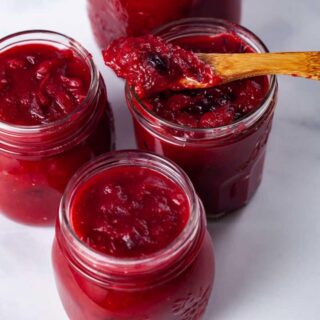 Cranberry Sauce/Spread
Mariska Ramondino
A delicious and easy cranberry sauce recipe for the Holiday season, or enjoy it as a cranberry sandwich spread, fruit spread on desserts, for breakfast, or a family brunch party.
Ingredients
2

tablespoons

organic butter or coconut butter

vegan-friendly

12

ounces

organic fresh or frozen cranberries

340 grams

1

cup

fresh clementine juice

about 6 clementines. You can also use fresh orange juice.

¼

cup

coconut crystals

or up to ½ cup if you prefer a sweeter sauce or spread. You can also use honey or maple syrup instead.

2

tablespoons

brandy

optional—up to ¼ cup based on preference. You can also use cognac, port, or cointreau.
Instructions
In a 2-quart saucepan, melt butter over medium heat.

Add the cranberries and stir to coat them with the melted butter.

Bring the mixture to a steady simmer. Cook for 5 minutes, frequently stirring, allowing the cranberries to pop open. Don't let it come to a boil.

After 5 minutes, or when most of the cranberries have popped open and started to become mushy, reduce the heat to low.

Stir in the clementine or orange juice and the coconut sugar. Optional: add Brandy.

Bring the mixture back to a gentle simmer. Simmer for 15 minutes or until berries have broken down and somewhat thickened, occasionally stirring. Crush any unpopped cranberries with a wooden spoon during stirring.

Taste test and add more sugar for a sweeter taste, if preferred.

Remove from stove and allow the spread to cool.

Enjoy immediately or transfer to glass jar containers.

Seal and store in the fridge for up to two weeks.
Notes
When using Brandy, you will need at least ½ cup of coconut sugar to add enough sweetness if you add Brandy.
Storage: Store any leftovers in mason jars with an airtight lid or airtight containers. After cooking, transfer the sauce to unclosed jars/containers if not enjoyed immediately. Once slightly cooled, seal them and store them in the fridge for up to two weeks.
Freezer: freeze up to 3 months. Thaw in the fridge overnight to use the next day.
Check out the video and extra notes in the post for how to make this simple cranberry sauce.
Add your own private notes
Whenever you come back to this recipe, you'll be able to see your notes.
Nutrition (% Daily value)
Serving:
0.25
cup
Calories:
82
kcal
(4%)
Carbohydrates:
13
g
(4%)
Protein:
0.4
g
(1%)
Fat:
3
g
(5%)
Saturated Fat:
2
g
(13%)
Polyunsaturated Fat:
0.1
g
Monounsaturated Fat:
1
g
Trans Fat:
0.1
g
Cholesterol:
7
mg
(2%)
Sodium:
21
mg
(1%)
Potassium:
88
mg
(3%)
Fiber:
1
g
(4%)
Sugar:
9
g
(10%)
Vitamin A:
156
IU
(3%)
Vitamin C:
19
mg
(23%)
Calcium:
7
mg
(1%)
Iron:
0.2
mg
(1%)
Disclaimer: This nutritional data is calculated using third party tools and is only intended as a reference.
(Note: this post was initially published in February 2017. This post has been updated to include new info and photos)