These easy-to-make cookies combine all the spices and warm flavors of a cozy winter Holiday treat! They taste buttery, soft, and have that light crumble, perfect for dipping in your favorite cup of hot beverage!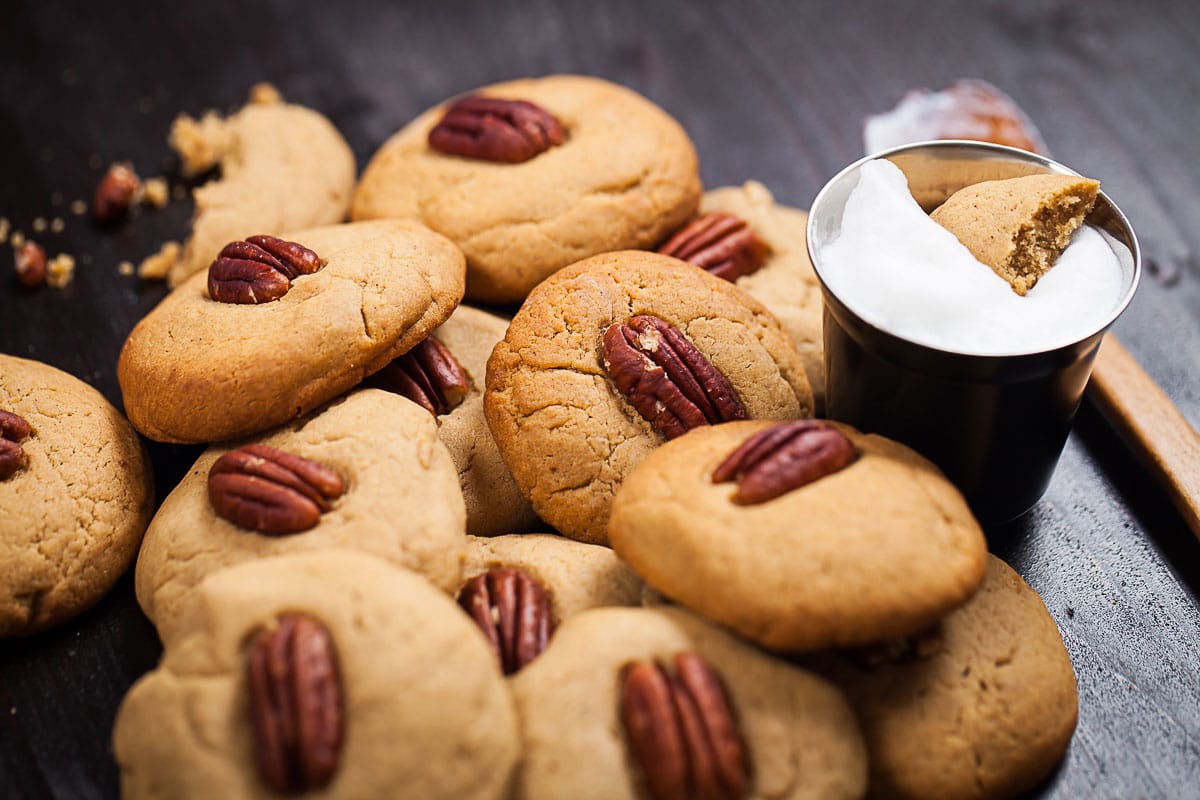 My Halloween Too Cute Mascarpone Bloody Ax Cookies were such a success that they disappeared in a heartbeat. This time I am using the same base ingredients but slightly altering some parts of the recipe by using warm spices that highlight their buttery texture. Now you have a perfect Fall or Holiday Cookie!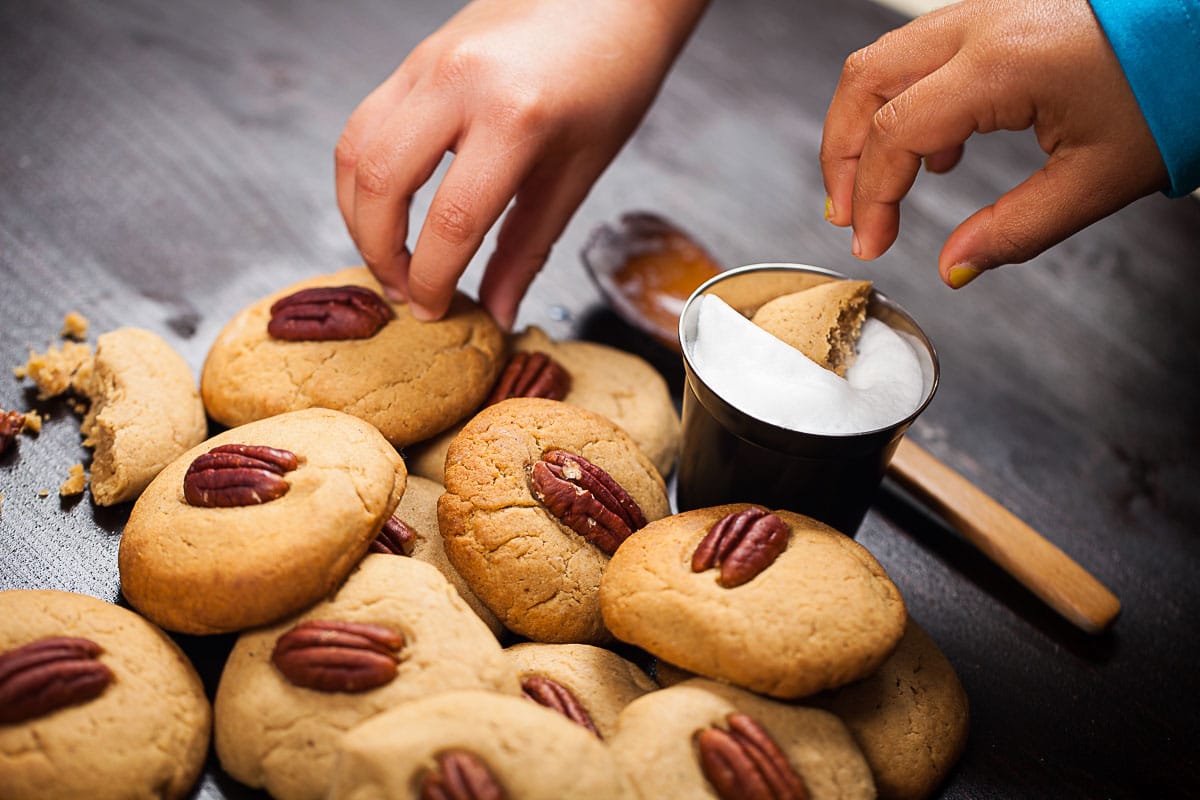 Well, these cookies did not last long, either. But because I don't decorate them like for Halloween, I can quickly make a fresh batch at home whenever I crave for one. Warm pumpkin pie and Speculaas spices are released when dipping the cookie in warm milk, coffee, or tea. I offer them as an afternoon snack, or they often complement our Sunday late brunch table. You probably also want to know that Santa loves these cookies too—not a crumb left on Christmas day. Wink, wink!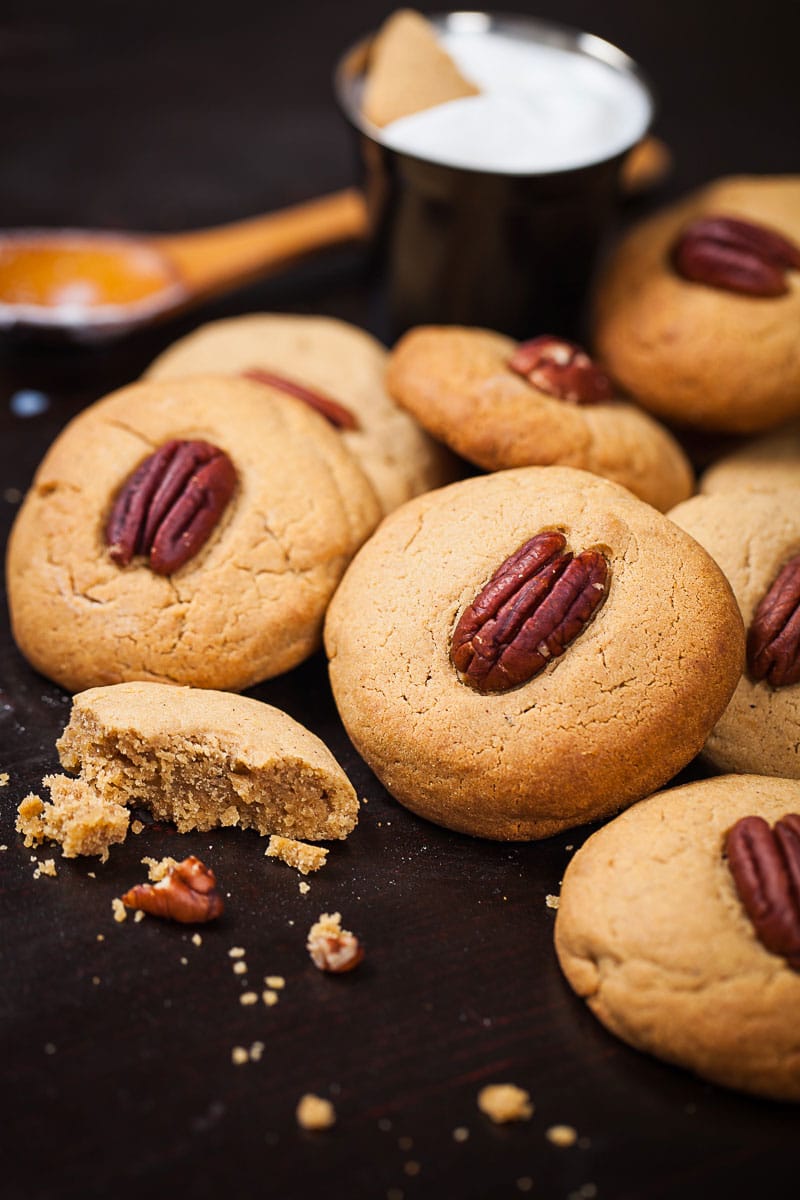 WARM SPICED AND BUTTERY HOLIDAY COOKIES—THE FLAVORS
What makes this recipe cookie so special is the combination of melted butter, warm spices, and using maple syrup as a sweetener.
Add pecans on top, and you get that pleasant crunchy sweet and nutty surprise when you take that first bite.
These cookies are not overly sweet, but you will savor the burst of warm flavors and appreciate how easy it is to make them.
They are the perfect treat that makes your kitchen smell as you want to during the Holiday season.
Don't have Speculaas spices

on hand, make a small batch of spice mix with some ground

cinnamon

, ground

nutmeg

, ground

anise

, ground

cloves

, ground

white pepper

and ground

coriander seed

(find the recipe

here

).

Although I highly recommend the Speculoos spice, I have also used only pumpkin pie spice before with just some extra cinnamon.
Enjoy!
MORE DELICIOUS AND HEALTHY TREATS YOU MIGHT LIKE
Want to make it later? PIN IT to your recipe board on Pinterest. Don't forget to SUBSCRIBE and stay in touch!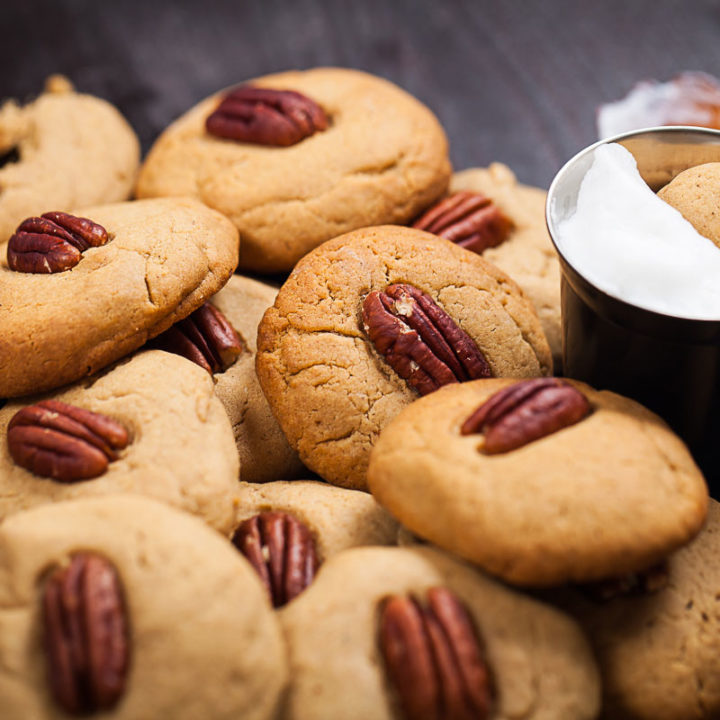 Yield:

ABOUT 15 COOKIES
WARM SPICED AND BUTTERY HOLIDAY COOKIES
These warm pumpkin and Speculoos spiced buttery cookies are so easy to make and lightly sweetened with maple syrup and coconut sugar. They are delicious and perfect for any celebration, Christmas, or Holiday table!
Ingredients
1 egg, beaten
1 cup or 2 sticks pure sea-salted butter, softened or melted
¾ cup coconut sugar
¼ cup maple sugar
½ teaspoon pumpkin spice
½ teaspoon Speculaas spice
2 ¼ cups all-purpose flour
Pecan halves for decoration
Instructions
Preheat the oven to 375 ℉/ 190 ℃.
Place the egg, butter, sugar and maple syrup in a large bowl and beat until fluffy (I often use a stand mixer).
Add the spices. Continue to mix until well combined.
Spoon in the flour. Mix until batter is light and fluffy.
Take a large baking sheet and cover with parchment paper. Slightly wet your hands and take about a tablespoon of dough. Roll into a small ball, then place on the prepared baking sheet. Flatten a little at the top. Repeat with the rest of the cookie dough. Ensure that the cookies are spaced well apart from one another. Lightly press half a pecan on top of each cookie.
Bake for 15-20 minutes, or until lightly colored. Let the cookies cool a little before serving.
Store in a brown bag or tin cookie box.