These mascarpone cookies will delight you with their buttery and crumbly exterior and creamy chocolate mascarpone cheese filling.
They are also incredibly easy to make, yet a perfect treat to amuse your weekend or make something special for those celebratory moments.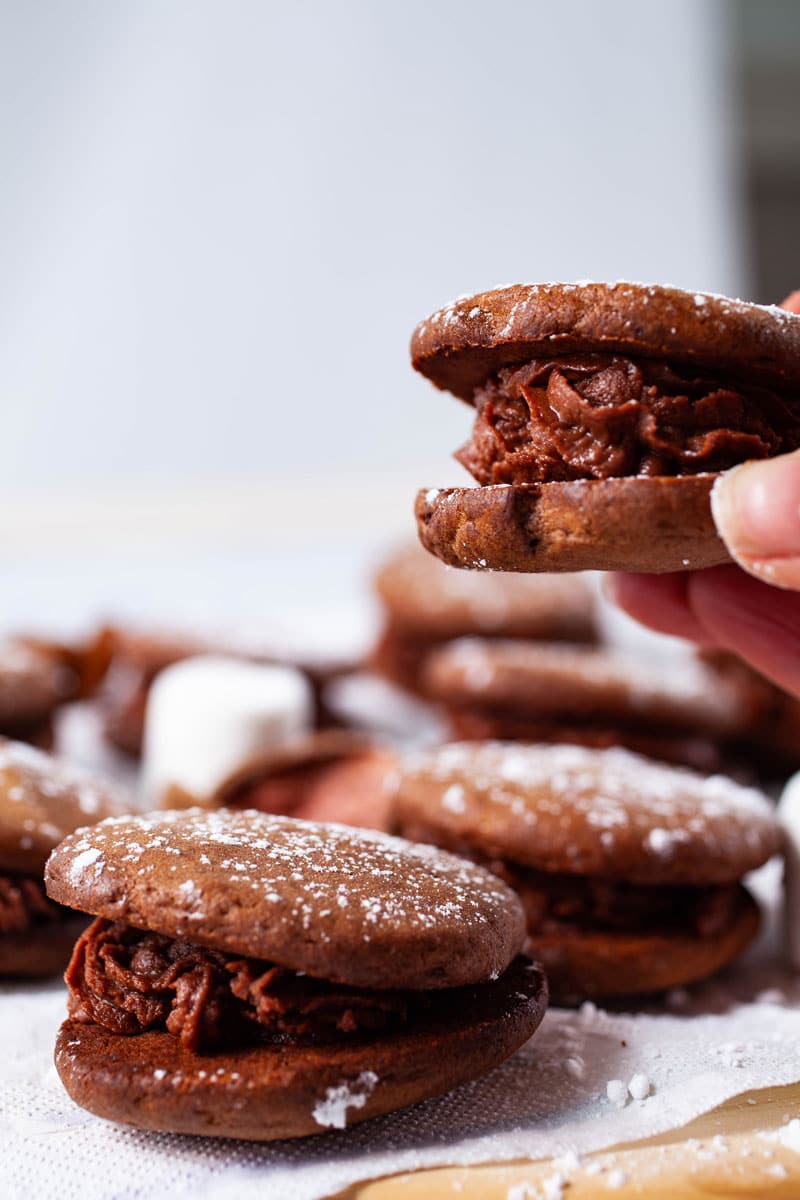 Jump to:
Special mascarpone cookies
Well, we've landed again at that time of the year when I don't mind standing next to a warm oven and baking fresh cookies.
I'm in a baking mood from mid-fall to the end of winter, and these mascarpone cookies show up on my table a few times or more—for Halloween, Thanksgiving, and Christmas.
They're slightly addictive.
Each bite has the right level of sweetness with a gentle, crumbly texture and a creamy, luxurious chocolate mascarpone filling.
Also, I'm taking advantage of the already delightfully rich texture of mascarpone cheese, so the filling comes together in less than 5 minutes.
The buttery cookies take only 15 minutes to bake.
So, let's make this special mascarpone dessert—a cookie everyone will love!
A mascarpone lover? Then you might also be interested in no-bake mascarpone cheesecake, a light mascarpone mousse (low-carb), and a low-carb flourless chocolate cake made with mascarpone.
Ingredients for the cookie dough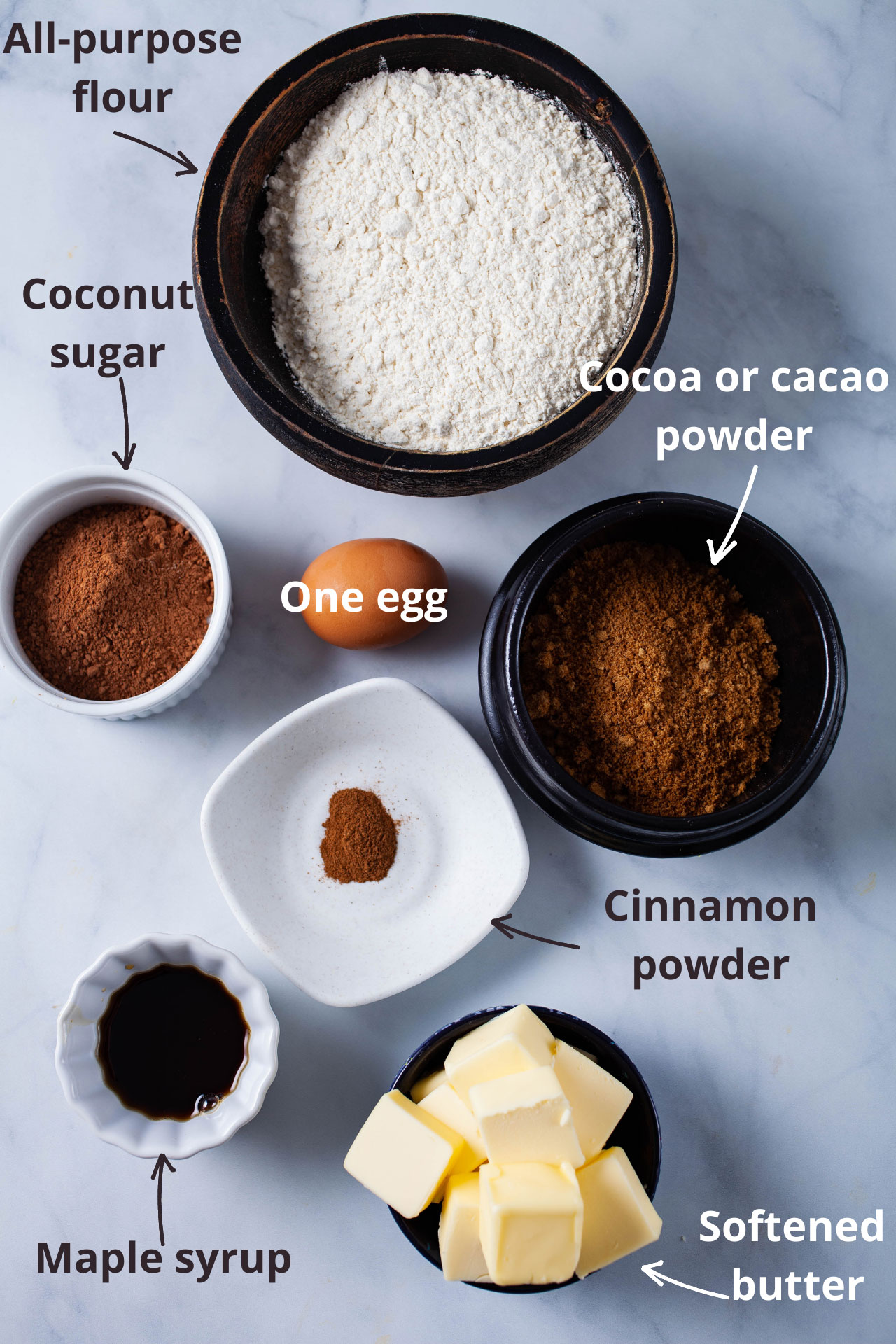 The cookie dough calls for simple ingredients that will result in slightly buttery, deliciously crumbly cookies that are big on chocolate flavor with the right amount of sweetness—nothing over the top so the filling can shine.
You'll get 22 cookies, which you can enjoy as-is, but nothing beats pairing them with a creamy mascarpone filling.
NOTES:
All-purpose flour: I always have a bag of unbleached King Arthur all-purpose flour on hand for those special baking projects. It's gentle enough for baking desserts and has never let me down with this cookie recipe.
Sweeteners: I highly suggest the use of coconut sugar. It's readily available in any grocery store, plus it comes with the same caramel notes as brown sugar but is less sweet.
I'm also using a tad of maple syrup as a sugar-like sweetener because you'll need some sweet liquid to add enough moisture.
Cocoa or cacao powder: You can use unsweetened cocoa powder or cacao powder. It not only adds a deep chocolate flavor to these mascarpone-filled cookies, but this powder also acts partly as flour in this recipe.
Ingredients for the mascarpone filling
Mascarpone cheese is already so rich that this cream needs little to transform into a smooth dessert filling. All I'm doing here is giving it a sweeter chocolate flavor by adding melted dark chocolate.
NOTES:
What does mascarpone taste like? This Italian cheese is incredibly creamy, super silky, and naturally sweet with an ever-so-slight acidity.
And although you could eat it on its own, with fruits or nuts swirled in, it requires a tad more sweetness for a dessert cookie.
I'm relying on nothing else than the sweetness of dark chocolate. No extra sugar is needed—trust me.
Can I use cream cheese? I know many people like regular cream cheese, but I urge you not to do this for this mascarpone cookie recipe. This Italian cream cheese's richness and velvet texture will make this cookie dessert unique and worth every bite.
Where to buy mascarpone cheese? Almost every grocery store carries it these days in the cheese section. And although there are different brands to choose from, I love the mascarpone cheese from BelGioioso.
What type of chocolate to use? If you love a deep chocolate flavor, go for one with 70 to 80 % cacao content. But if you want a tad sweeter and richer cookie, go for a dark chocolate bar with a hazelnut or almond butter filling.
How to make the cookie dough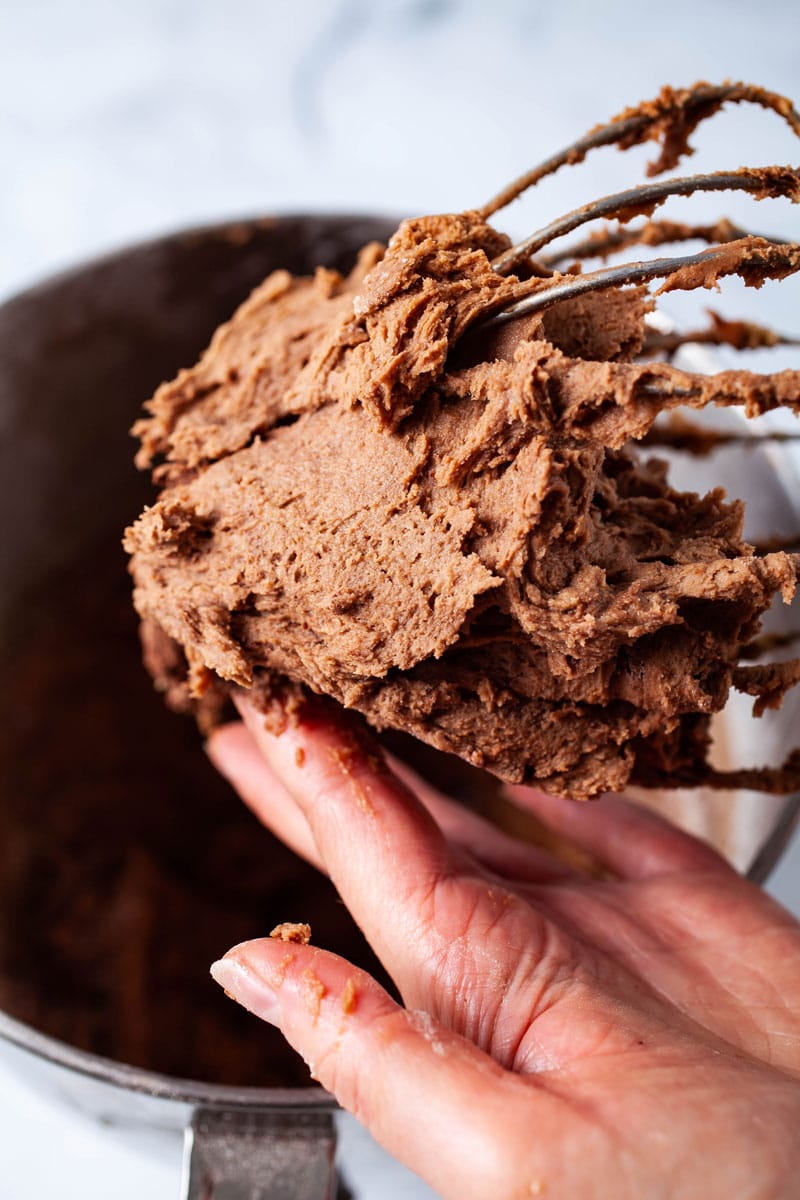 Mix the buttery cookie dough—It's a straightforward process. You beat the butter, sugar, and maple sugar first until fluffy. I like to use a stand mixer, but a hand mixer works just as well.
The egg and cinnamon powder also get mixed in until well incorporated.
Lastly, spoon in the flour and cocoa powder.
The dough will be light and fluffy but will feel sticky to the touch.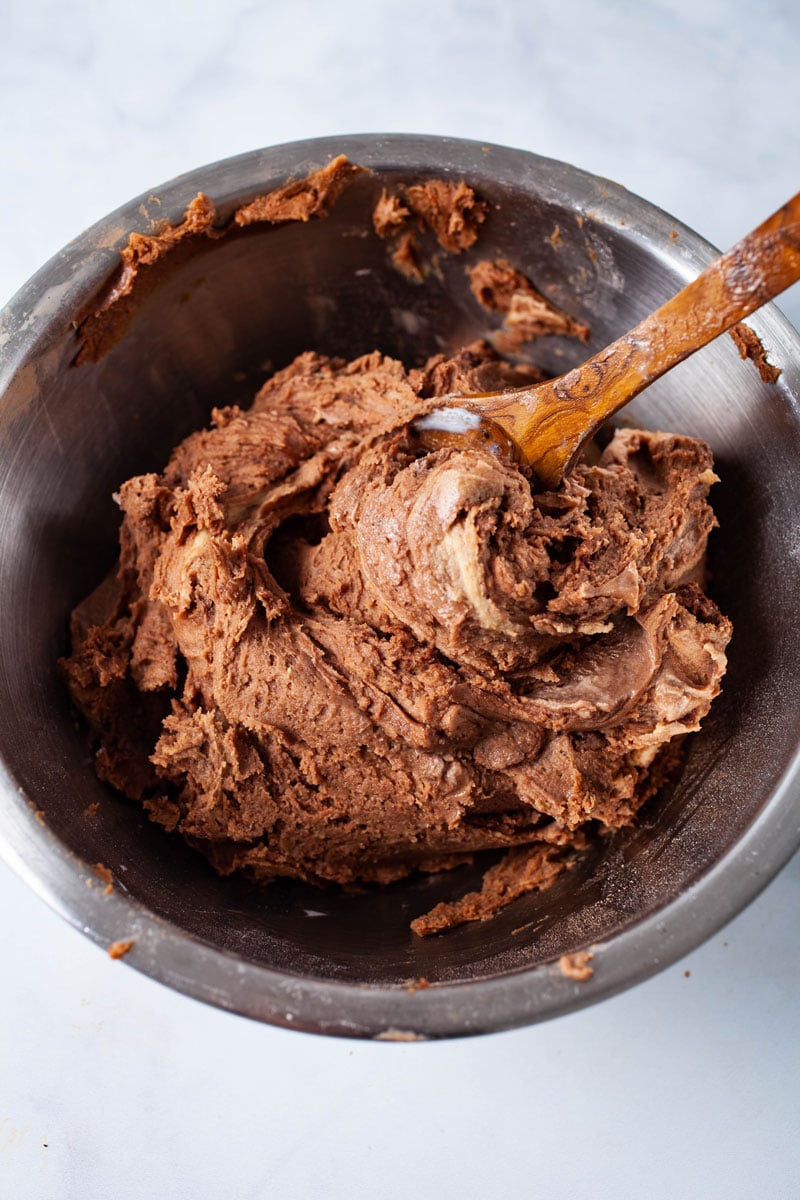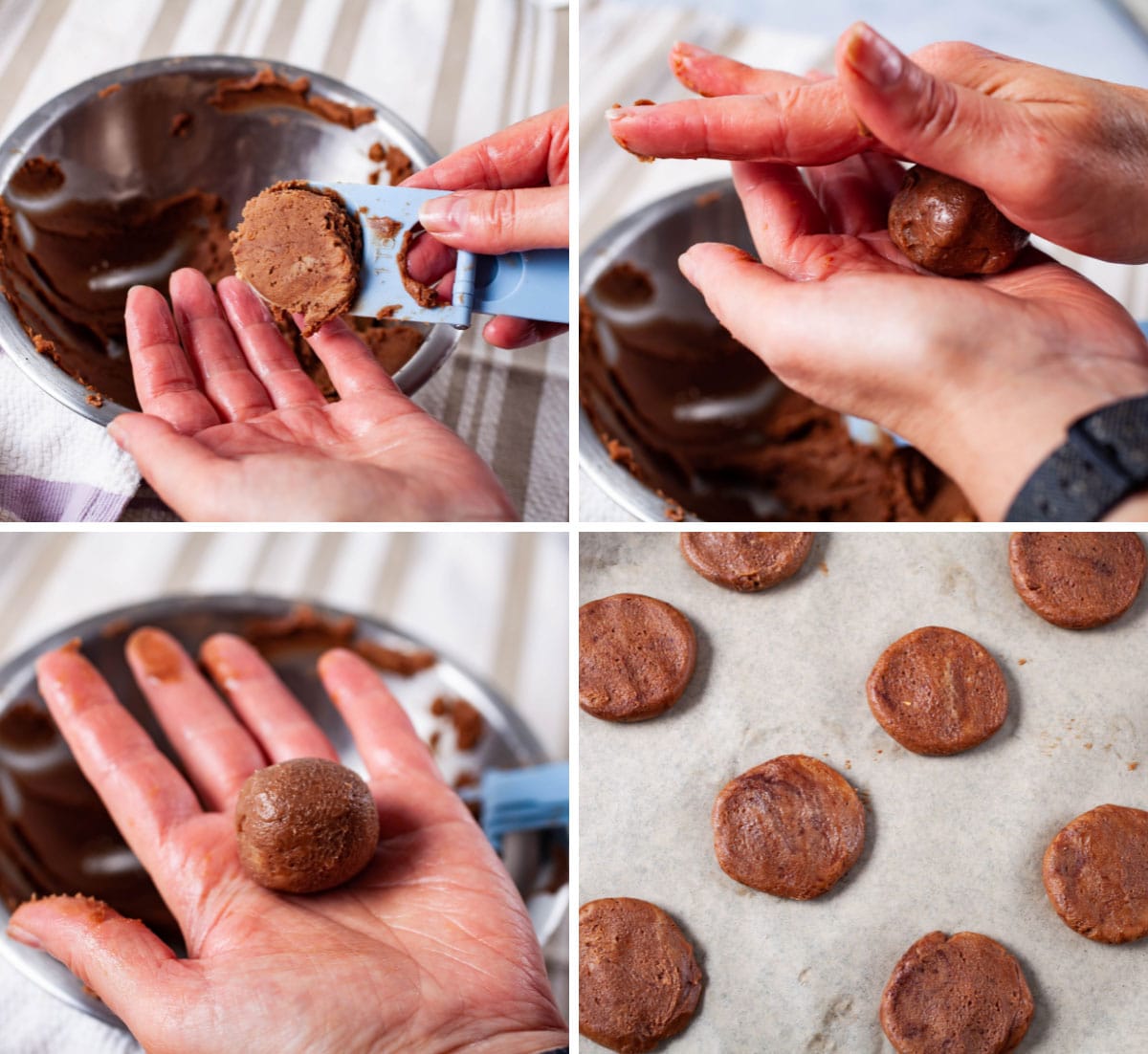 Scoop out the dough and shape them—Now, all that is left is rolling the dough into small balls by the spoonful and then shaping them into disks directly on a prepared baking sheet before they pop into the oven.
Tip: Slightly wet your hands with a few drops of water when shaping them so the dough won't stick to your hands.
Bake the cookies—they should come out of the oven after about 15 minutes, firm to the touch.
How to make the mascarpone filling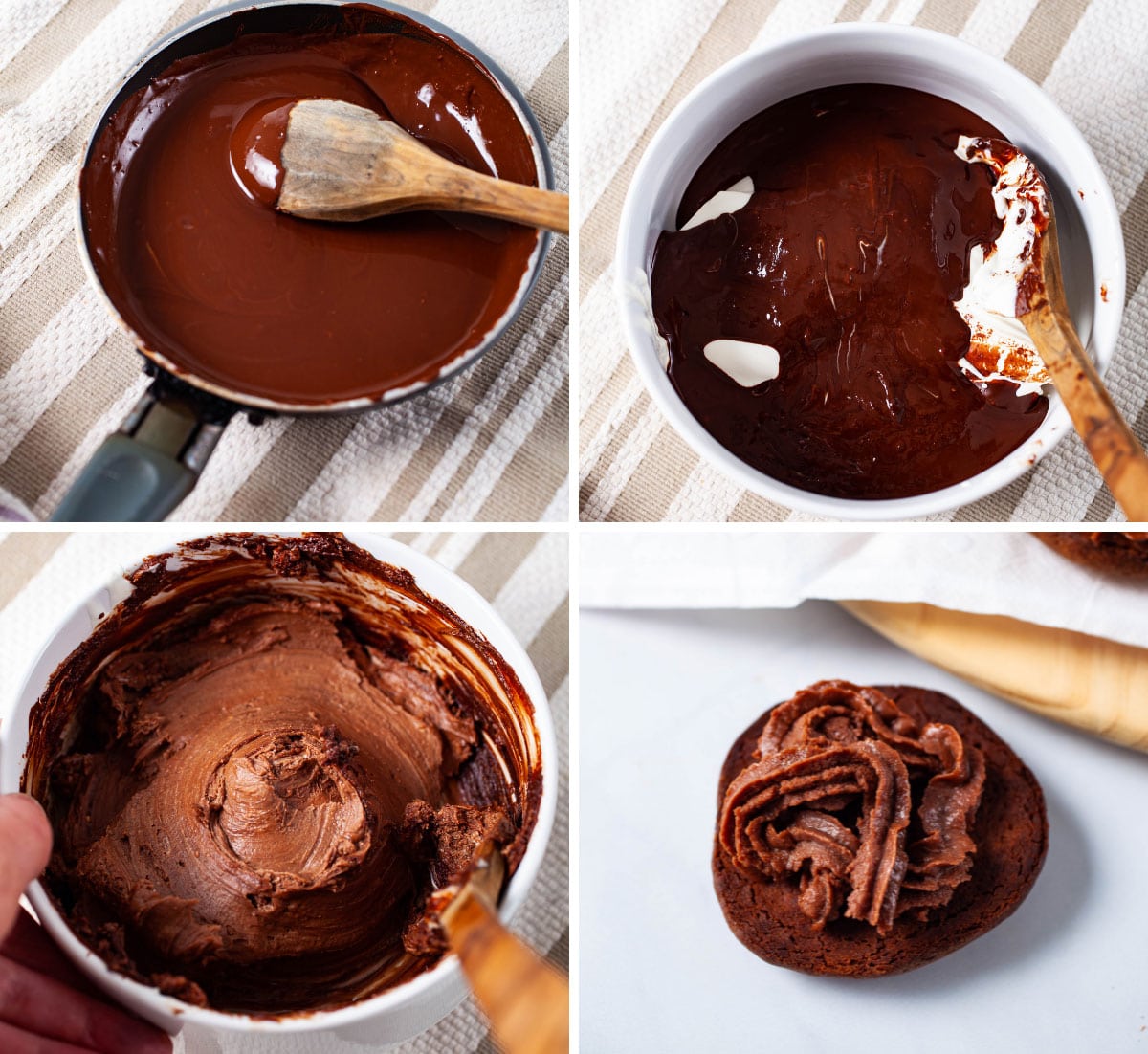 It takes less than 5 minutes to make the chocolate mascarpone filling, and you can do this while the cookies are baking in the oven.
Melt the chocolate—I like to use a small saucepan to melt the chocolate pieces slowly—this will only take a few minutes. But you got to stay with it, so it doesn't burn.
Keep moving the chocolate pieces around in the pan with a spoon until completely melted and are smooth.
As per the picture, it should look shiny with a quite liquid texture.
Make the mascarpone filling—Mix the melted chocolate with the mascarpone cheese into a small bowl until well combined, and you get a creamy sturdy filling.
Tip: take the mascarpone cheese out of the fridge before you start on the cookie dough so it gets acclimated to room temperature, and it will then be easier to combine with the melted chocolate.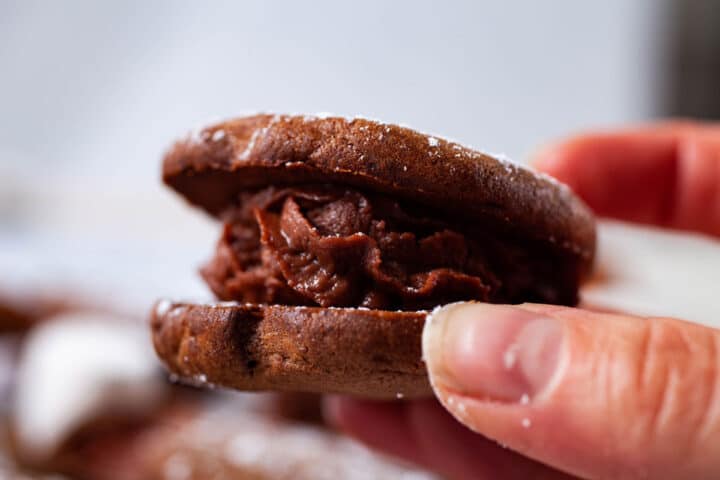 Fill the cookies—All left to do is place the mascarpone filling into a piping bag and then pipe it onto completely cooled cookies (well, half of them). The other half of the cookies are placed on top to form irresistible sandwich mascarpone cookies.
Double the filling? You can double the mascarpone filling recipe to stuff them up, but it is not necessary. The amount of suggested filling already gives you a creamy, luxurious experience that won't disappoint.
Chilling: Chill the cookies in the fridge for about thirty minutes to one hour once assembled, allowing the mascarpone filling to set.
You can take a bite right away, but that creamy filling might ooze out and make a mess—we've learned our lesson.
Make them Festive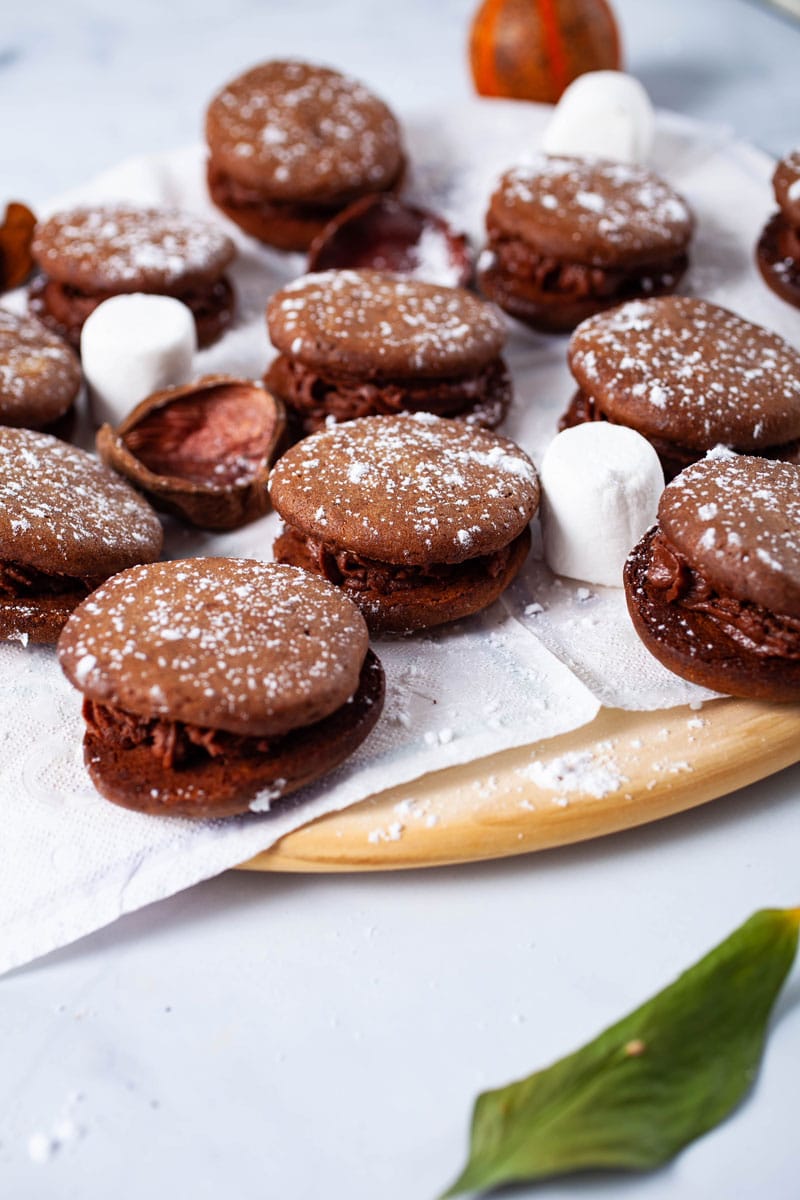 Do you want to make these chocolate sandwich mascarpone cookies for the Holidays? Then presentation is everything. Here is an idea:
Place the cookies on a large serving plate covered with a white and opened napkin.
Spread the cookies on the plate and garnish them with sugar powder for a snow-like effect.
Around the cookies, decorate the plate with white marshmallows and edible or decoration leaves—now you have the perfect homemade Christmas cookie!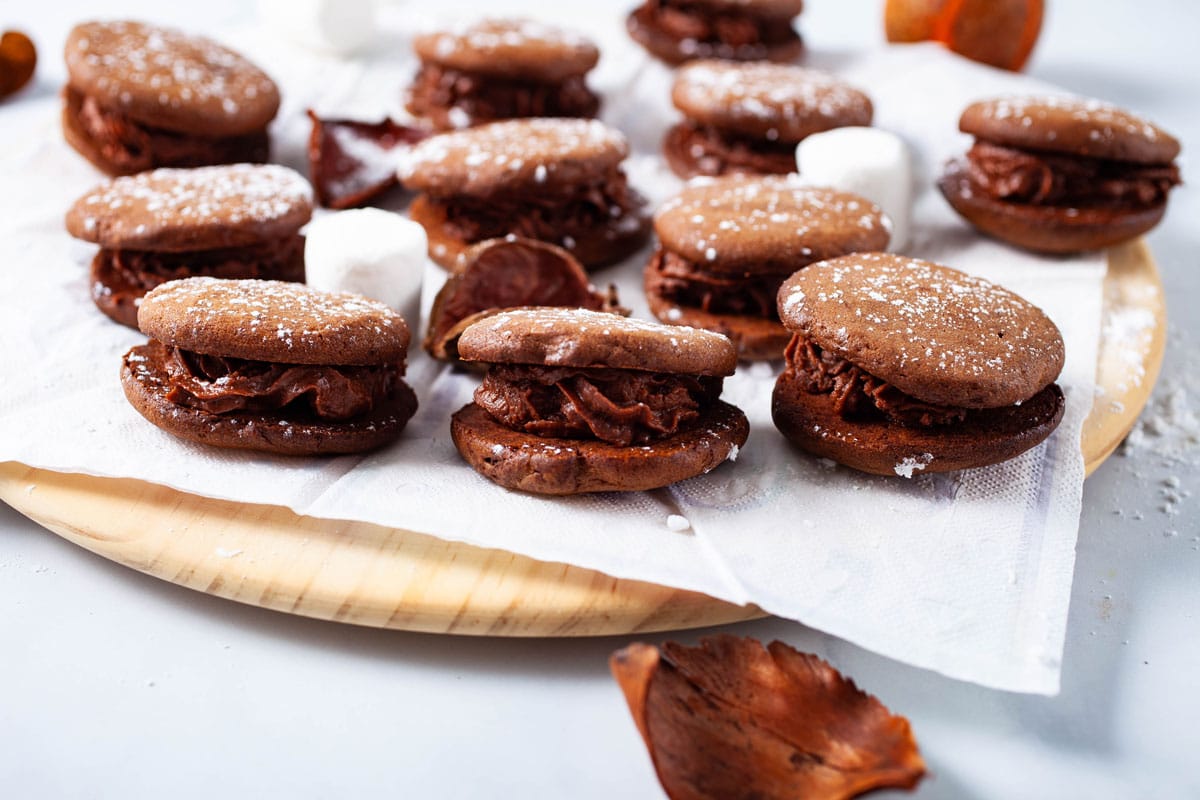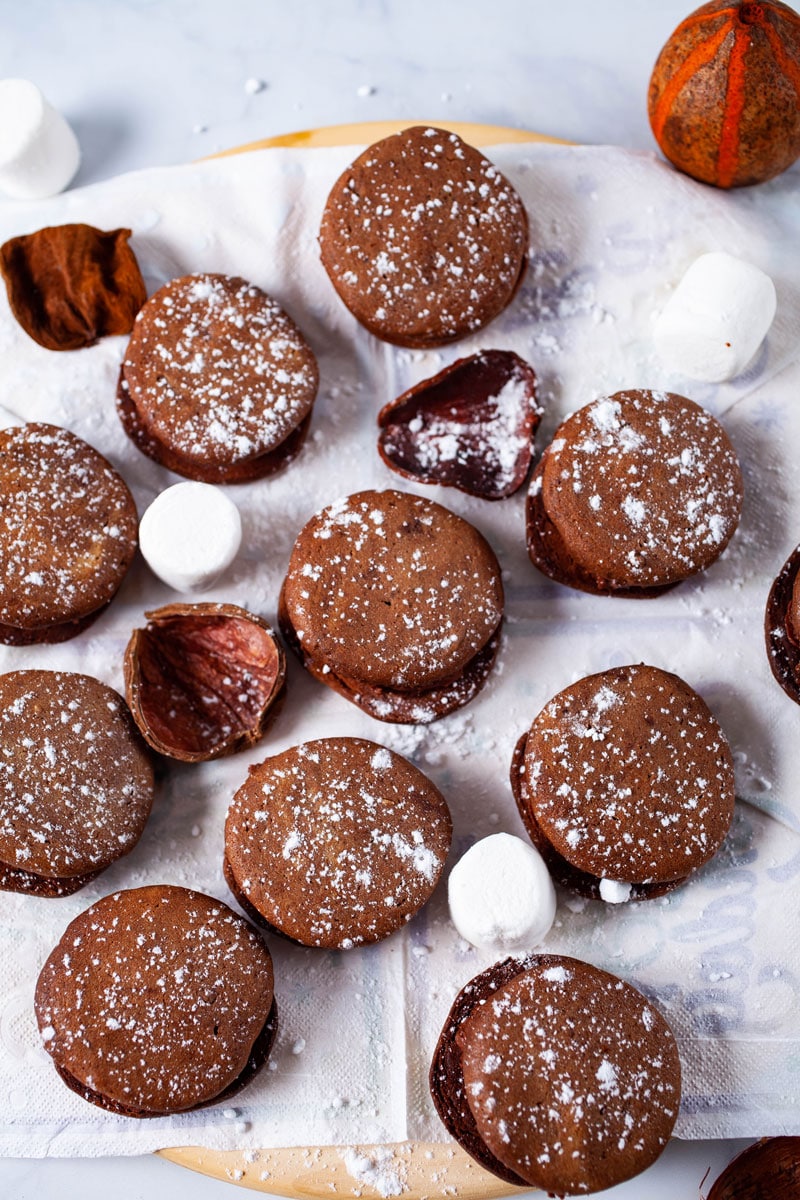 Decorate them for Halloween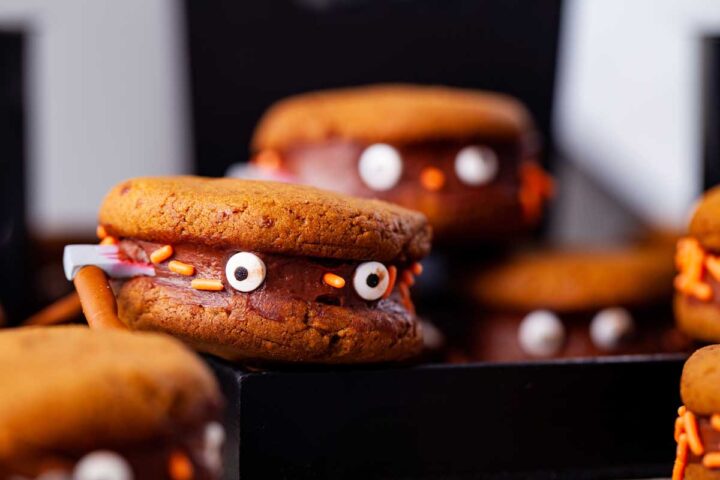 There are a few years where I have made them for Halloween. I honestly didn't think the neighborhood kids would like these.
Because let's be honest...Halloween is all about the candy.
But they were a hit!
No piping required—They require no piping if you are going to dress them up for Halloween. Instead, use a small spoon to place the filling between two cookies and smooth it out to create a more casual-looking sandwich cookie.
Decoration—I like to roll them through some edible orange sprinkles, give them some scary-looking eyeballs, and a bloody ax sunken into the creamy filling—It's fun to make with kids too.
Storage
Store the decorated cookies in an airtight container in the fridge for up to 6 days.
Make-ahead
You can also store or refrigerate the baked cookies in advance. Then all you need to do is prepare the chocolate mascarpone filling and sandwich them on the day you want to serve them.
Undecorated cookies will keep in an airtight container in the fridge for up to one week.
If you want to gift them to your neighbor or bring them to a party as a guest, they stand out when presented in a small treat box.
They will compliment your hot cocoa, a cup of coffee or latte, or that special herbal tea like no other cookie! Enjoy!
More easy homemade cookies or treats you might like
Homemade speculoos cookies—a Christmas cookie everyone will enjoy.
The Most Delicious Gluten-Free Speculoos Cookies—for those who want something lighter.
Buttery Buckwheat Chocolate chip cookies—Crispy-edged and soft-centered, they might maybe become your favorite healthy gluten-free cookies.
These fantastic homemade and healthy oatmeal raisin cookies are gluten-free, refined sugar-free, dairy-free (no butter), and can be made vegan-friendly.
Even these energy bites can be enjoyed as-is or presented in a festive way.
Honey Ricotta Tart—You will be in tart heaven!
Want to make it later? PIN IT to your recipe board on Pinterest. Don't forget to SHARE and SUBSCRIBE to my monthly newsletter to stay in touch! Enjoy!
📖 Recipe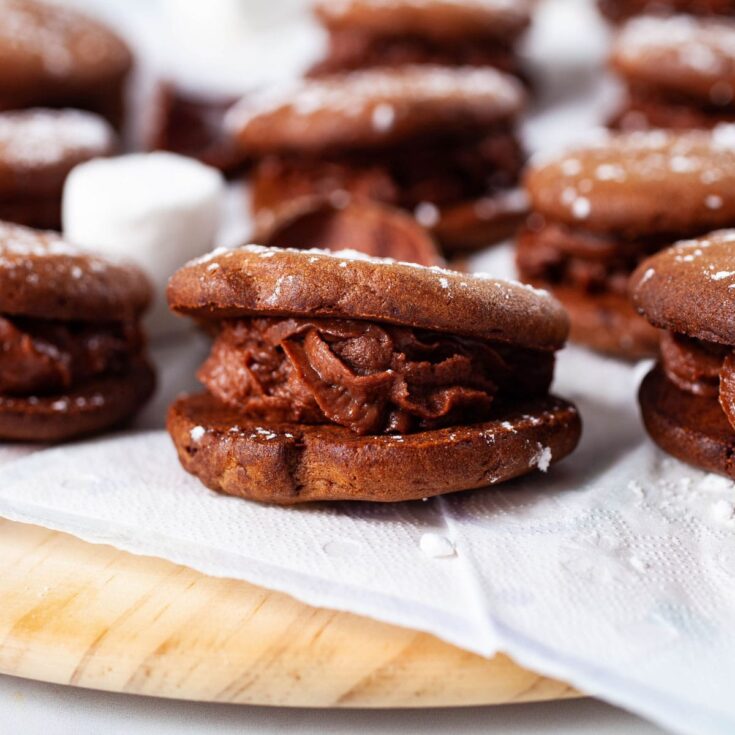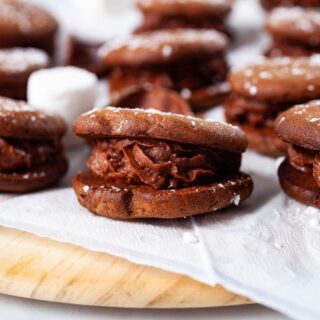 Chocolate Mascarpone Sandwich Cookies
Mariska Ramondino
This is a must-make mascarpone cookie recipe that the whole family will love. These crumbly biscuits are filled with a luxurious creamy chocolate filling—worth every bite.
Ingredients
For the cookies:
1

cup

pure butter

sea salted (two sticks/8 ounces/227 grams), softened or melted

¾

cup

coconut sugar

90 grams

¼

cup

maple syrup

70 ml

1

egg

lightly beaten

½

teaspoon

cinnamon powder

2 ¼

cups

all-purpose flour

295 grams

¼

cup

unsweetened cocoa powder or cacao powder

20 grams
For the mascarpone cream filling:
¾

cup

semi-sweet or 70% dark chocolate

110 grams—see note

8

ounces

mascarpone cheese

227 grams
For Christmas or festive look (optional):
For a Halloween look (optional):
Instructions
Make the cookies:
Line a large baking sheet with parchment paper or

Silpat

.

Place the butter, sugar, and maple syrup in a large stand mixer bowl and beat until fluffy (you can also use a

hand mixer

).

Add the egg and cinnamon. Continue to mix until well incorporated.

Spoon in the flour and cocoa powder. Mix until well combined, and the dough is light and fluffy (it will also be sticky to the touch).

Slightly wet your hands and scoop about a tablespoon of dough and then roll into a ball. Repeat with the rest.

Place on the prepared baking sheet and flatten them at the top into a disk shape. You can use your fingers slightly moistened or press carefully with the bottom of a glass.

Ensure that the cookies are spaced well apart from one another.

Preheat the oven to 375 degrees.

Bake for 15 minutes. Let the cookies completely cool before decorating them.
Make the filling:
In a small (sauce)pan, melt the chocolate over the lowest heat setting. Stay with it, and don't let the chocolate get hot. Use a spoon to move around the chocolate pieces over the bottom of the pan until completely melted and smooth.

Then pour the melted chocolate into a small bowl together with the mascarpone cheese. Mix until well combined.

You can make the filling while the cookies are in the oven. It'll take less than 5 minutes.

Fill a piping bag with the filling and let it rest in the refrigerator until the cookies are cooled and ready to be assembled—see note.
Assemble the cookies:
When the cookies are cooled, pipe the mascarpone filling onto the bottom part of one cookie (about one tablespoon of filling and evenly spread out).

Repeat this with half of the cookies and until all of the mascarpone filling is used up.

Then place another cookie on top to form sandwich cookies and press lightly together.

Chill the cookies for about 30 minutes to preferably one hour, allowing for the mascarpone filling to set.

When ready to serve, sprinkle with powdered sugar for a contrasting effect—optional.
Assemble the cookies for a Halloween decoration:
Don't use a piping bag.

Simply place about a tablespoon of the mascarpone filling on the bottom of one cookie.

Slightly press another cookie on top, and with a small spoon, smooth out the edges.

Then decorate with two edible

eyeballs

, and an edible decorative ax stuck to the filling or other Halloween icing decoration you see fit.

Make them as cute or scary as you like.
Notes
Chocolate: To make the chocolate filling even more luxurious, you can opt for dark chocolate with a hazelnut praline filling. I love Dr. Bronner's Magic all-one chocolate or Hu dark chocolate bars.
Piping the mascarpone filling: When stored in the fridge until cookies are completely cooled, the filling might have become a bit hard to pipe. Simply let it come to room temperature and then proceed to make the sandwich cookies.
Add your own private notes
Whenever you come back to this recipe, you'll be able to see your notes.
Nutrition (% Daily value)
Serving:
1
cookie
Calories:
478
kcal
(24%)
Carbohydrates:
44
g
(15%)
Protein:
6
g
(12%)
Fat:
32
g
(49%)
Saturated Fat:
19
g
(119%)
Polyunsaturated Fat:
1
g
Monounsaturated Fat:
6
g
Trans Fat:
1
g
Cholesterol:
81
mg
(27%)
Sodium:
152
mg
(7%)
Potassium:
131
mg
(4%)
Fiber:
4
g
(17%)
Sugar:
23
g
(26%)
Vitamin A:
832
IU
(17%)
Vitamin C:
0.004
mg
Calcium:
73
mg
(7%)
Iron:
2
mg
(11%)
Disclaimer: This nutritional data is calculated using third party tools and is only intended as a reference.
(Note: this post was initially published in October 2017. This post has been updated to include new info and photos)