Halloween is almost here, and I can't wait to surprise my daughter with these cute and little spooky cookies! They are incredibly easy to make, but more importantly, they taste scrumptious. Everyone loves a little edible art on the table this coming Halloween!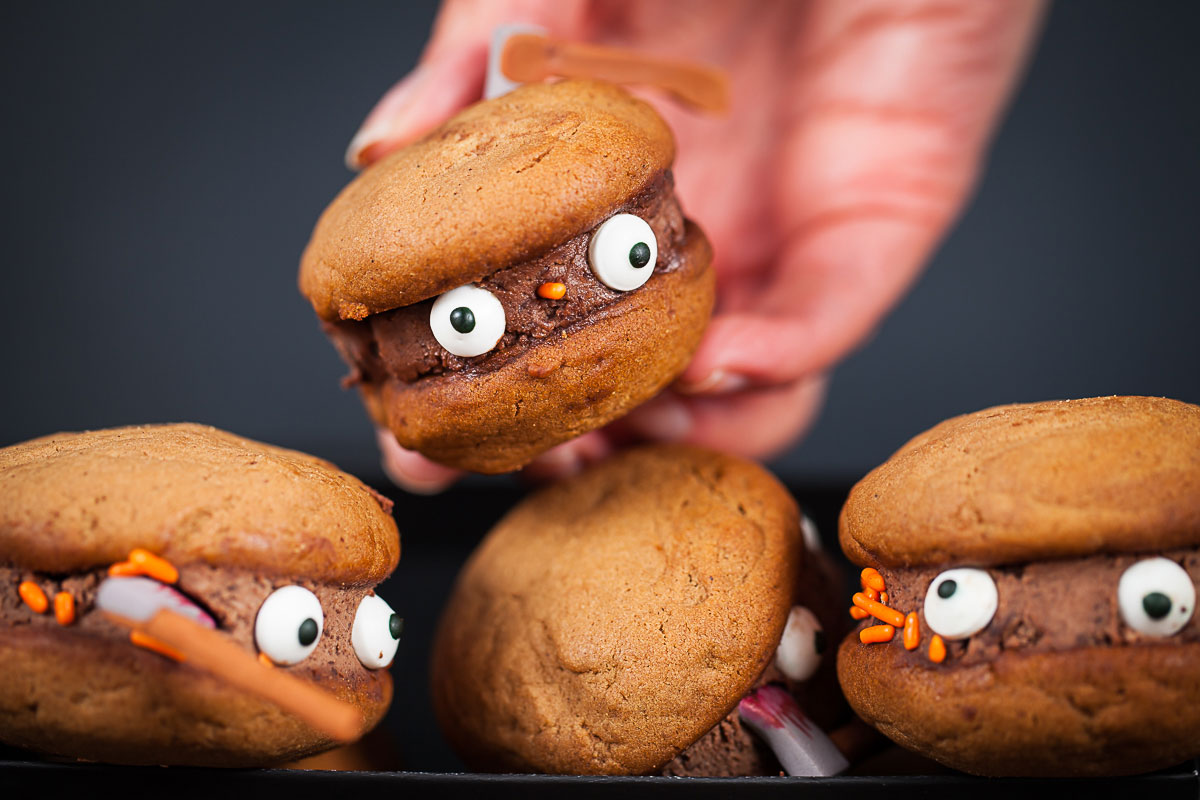 These cookies have the right amount of sweetness with a gentle, crumbly texture and a creamy chocolate filling. I love using mascarpone as the base for a cake or cookie filling. It is not only versatile to combine with multiple ingredients, but it is also a fast way to add a creamy and soft touch to any treat.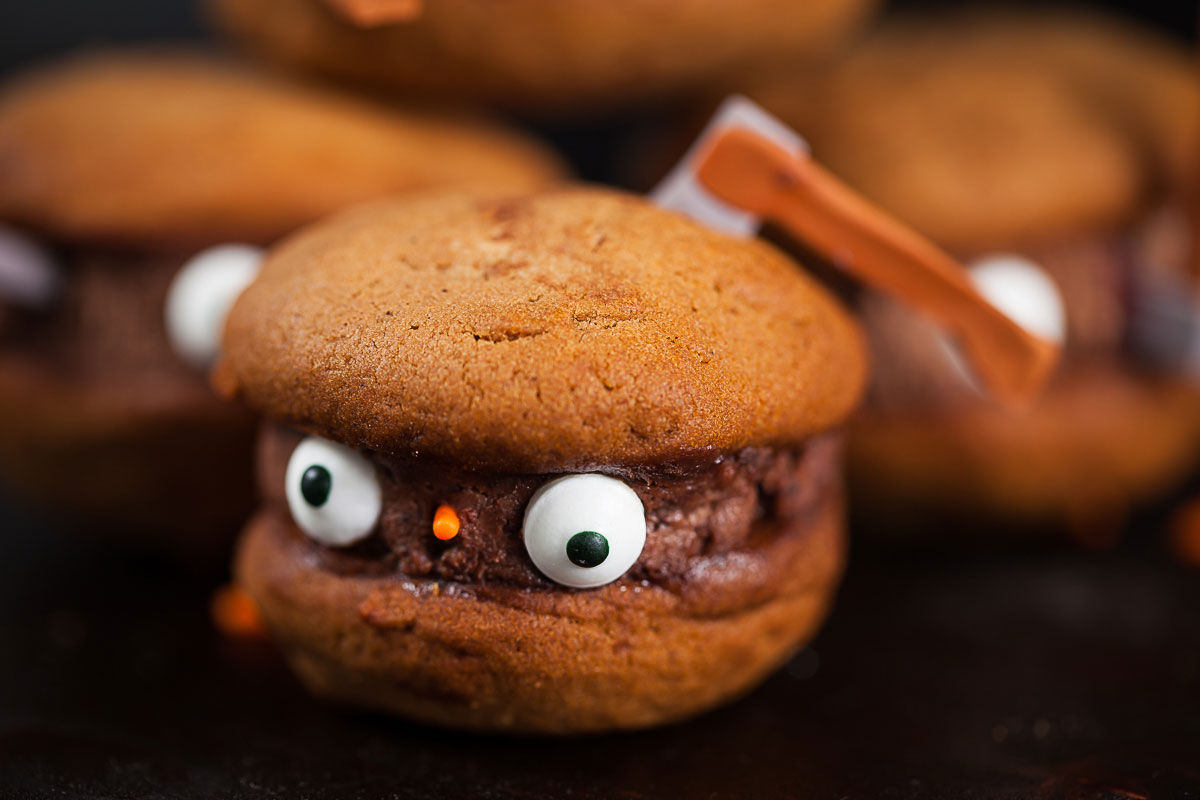 I store the decorated cookies in an airtight container in the fridge for up to three days. You can also bake the cookies first and make the chocolate mascarpone filling on the day you want to present them—like on your haunted house party. Undecorated cookies will keep in an airtight container for up to one week. But they are of course, best when freshly made. The recipe is incredibly simple, and the cookies are ready in 15 minutes, so there is a great benefit to offer these cute little monsters fresh on Halloween!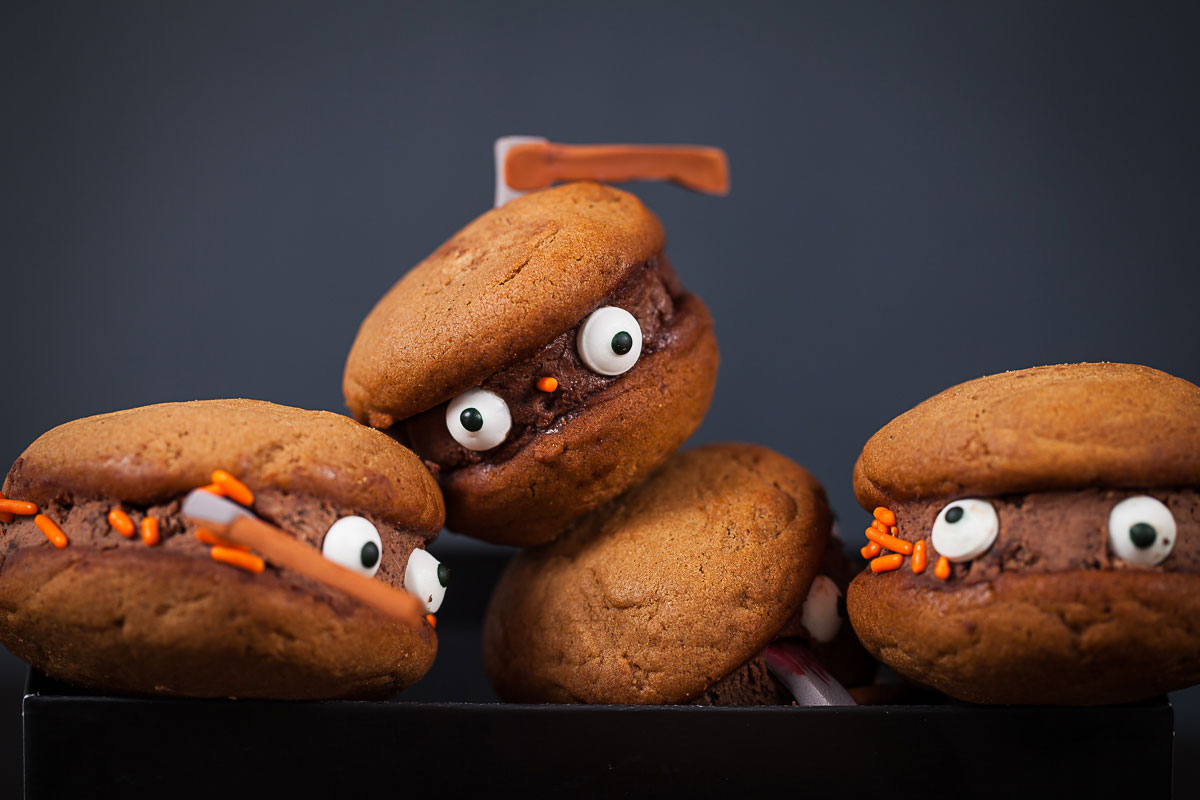 If you want to gift them to your neighbor or bring them as a party guest, they stand out when presented in a small black box (buy at a crafts store). They compliment your hot cocoa, coffee or even your homemade eggnog when waiting for the trick and treaters on your porch this Halloween! Enjoy!
MORE HOLIDAY COOKIES AND RECIPES YOU MIGHT LIKE
Have questions? Simply comment below or message me. Also, don't forget to stay connected either on Instagram, Facebook, and Pinterest to see what other fun things I share.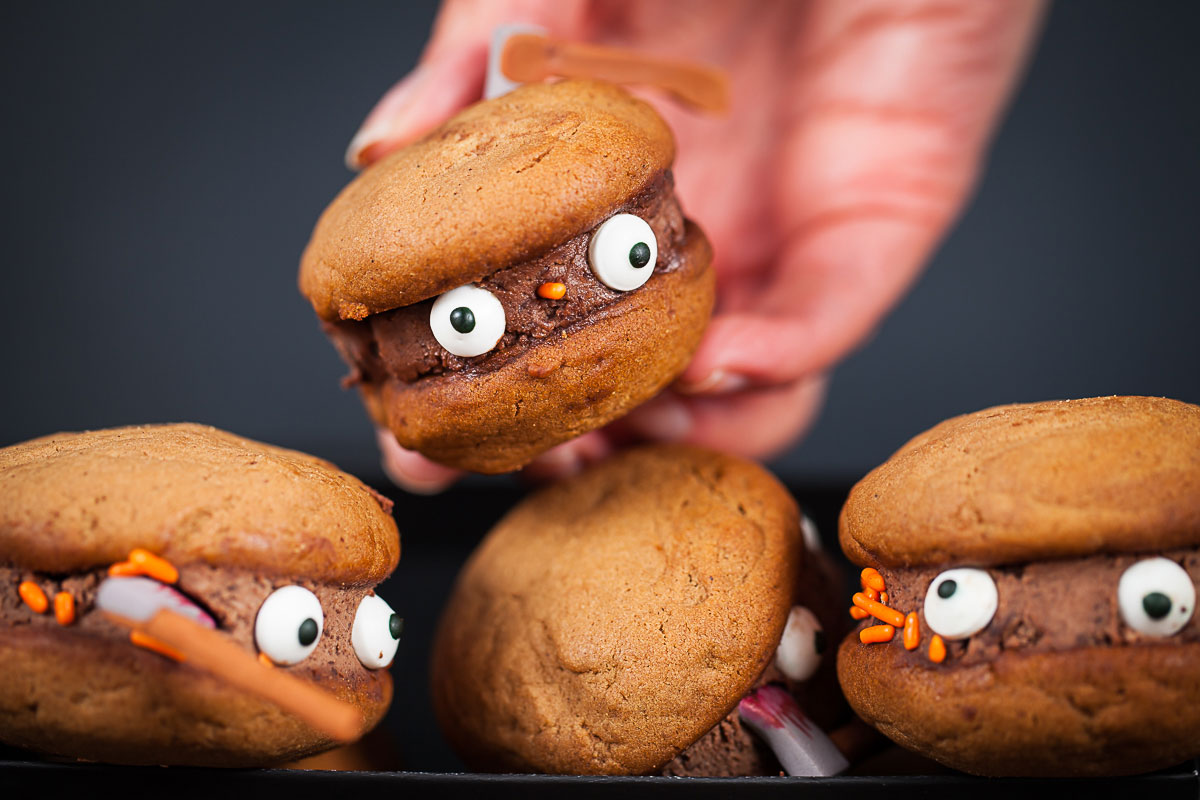 TOO CUTE BLOODY AX MASCARPONE COOKIES
A fun and delicious Halloween cookie recipe that the whole family will love—slightly crispy on the outside with a creamy filling and cute decorations.
Ingredients
TO MAKE THE COOKIES:
1 cup pure butter, sea salted (two sticks/8 ounces/227 grams), softened or melted
¾ cup coconut sugar
¼ cup maple syrup
1 egg, lightly beaten
½ teaspoon cinnamon
2 ¼ cups all-purpose flour
¼ cup cocoa powder, unsweetened
TO MAKE THE FILLING:
¾ cup dark chocolate (semi-sweet or 80%)
8 ounces mascarpone (227 grams)
TO DECORATE THE COOKIES:
Instructions
MAKE THE COOKIES:
Place the butter, sugar and maple syrup in a large bowl and beat until fluffy (I often use a stand mixer).
Add the egg and cinnamon. Continue to mix until well combined.
Spoon in the flour and cocoa powder. Mix until batter is light and fluffy.
Take a large baking sheet and cover with parchment paper. Slightly wet your hands and take about a tablespoon of batter. Roll into a small ball, then place on the prepared baking sheet. Flatten a little at the top. Ensure that the cookies are spaced well apart from one another.
Preheat the oven to 375 degrees and bake for 15 minutes. Let the cookies completely cool before decorating them.
MAKE THE FILLING:
Melt the chocolate over the lowest heat setting. Don't let the chocolate get hot. Pour into a small bowl together with the mascarpone. Mix until well combined. You can make the filling while the cookies are in the oven and let it rest in the refrigerator.
DECORATE THE COOKIES:
Place ½ to one tablespoon of filling on a cookie and evenly spread out. Place another cookie on top. Press lightly together. With your finger smooth out the edges. Decorate with two eyeballs, an ax, and the sprinkles. Repeat with the rest of the cookies. Make them as cute or as scary as you like.