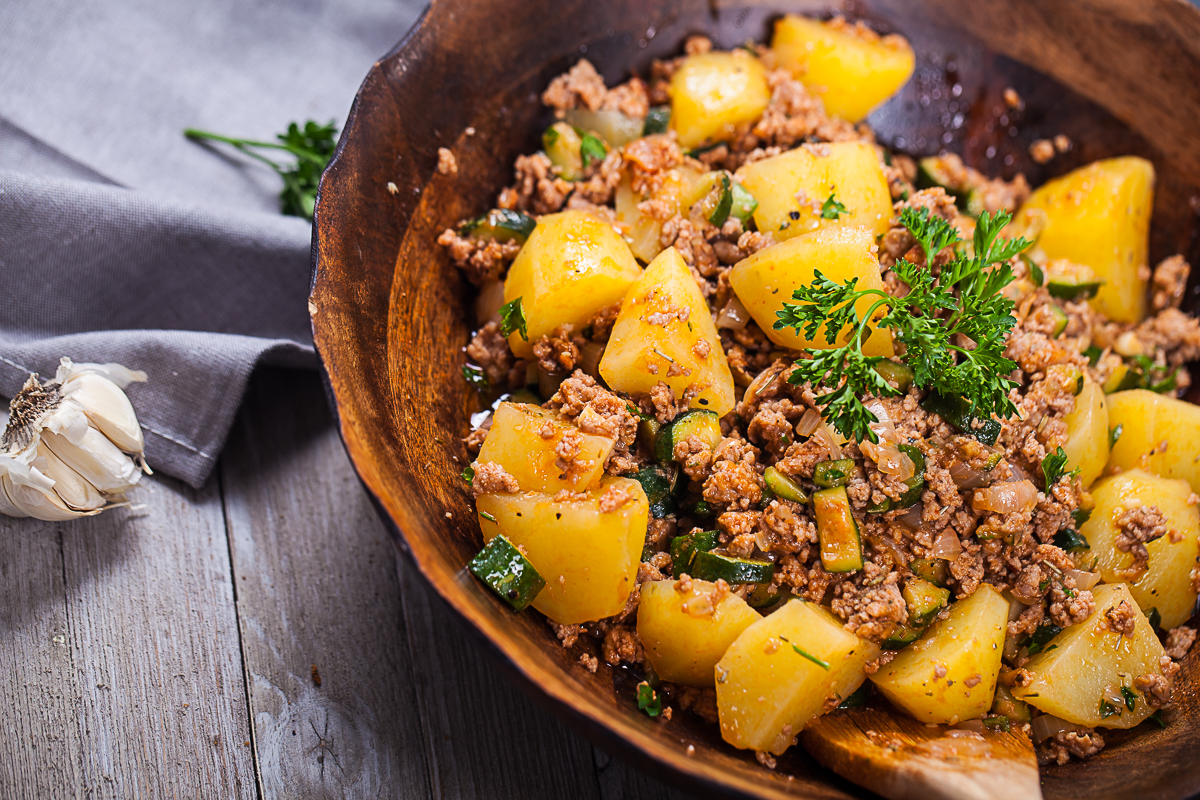 I love making large family dinner bowls, especially when leftovers taste as good or better the next day. Simple seasoning and ingredients such as rosemary, garlic, olive oil, and zucchini make this dish extra soft and rich in flavor. A yellow onion and a little tomato paste, although optional, adds a slight sweetness while a right amount of black pepper gives a special kick at the end of each bite.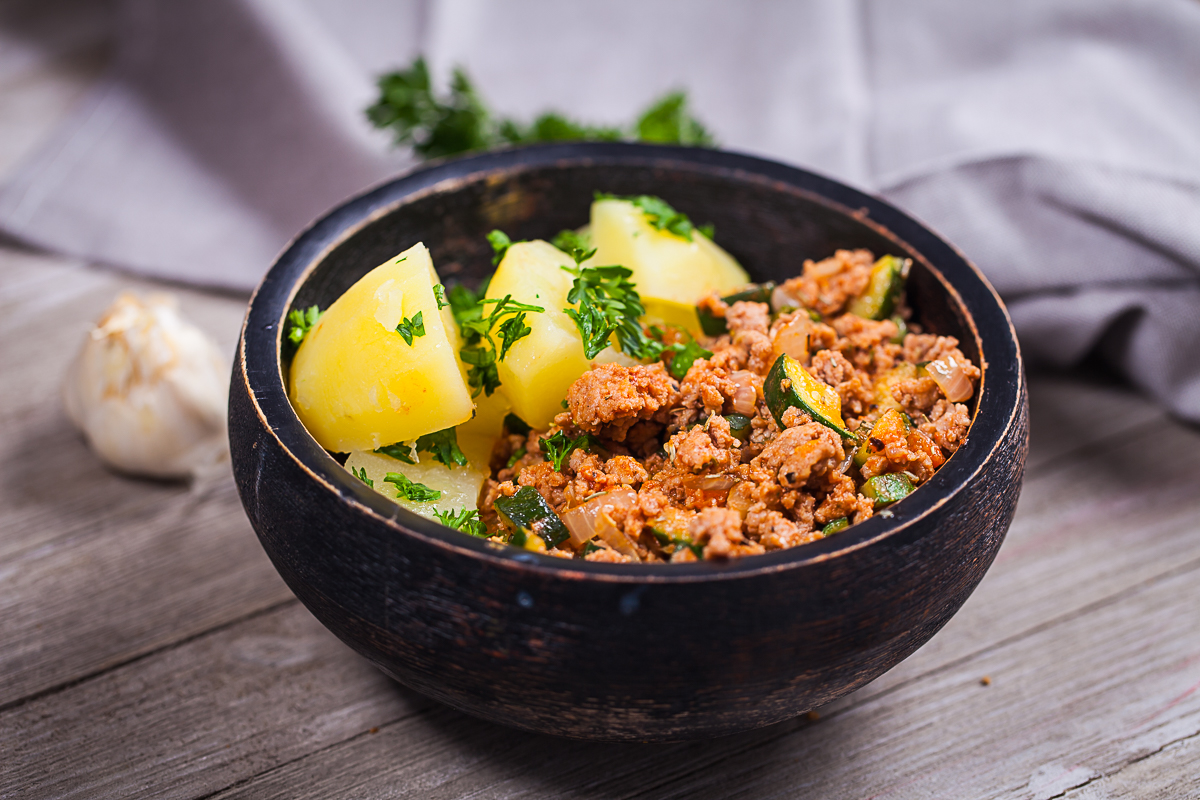 The vegetables are cooked and flavored first before we add the ground pork. I prefer to transfer the vegetables to a bowl and then cook the pork separate in the same skillet. When the pork is soft and tender, I add the veggies back in before adding the tomato paste and any additional seasoning. Preparing the meat separately, allows me to control better its seasoning and thus its flavors. But on days when I have little time, I just add the pork directly into the skillet with the vegetables—it will still taste delicious just a bit more challenging combining all the flavors in the first couple of minutes.
I don't brown the ground pork with this recipe. The flavors come better together with the zucchini when the meat is juicy, tender and just done. The soft juices of the vegetable-meat dish are then soaked in by the Yukon potatoes—cooked al dente to contrast the softness of the meat.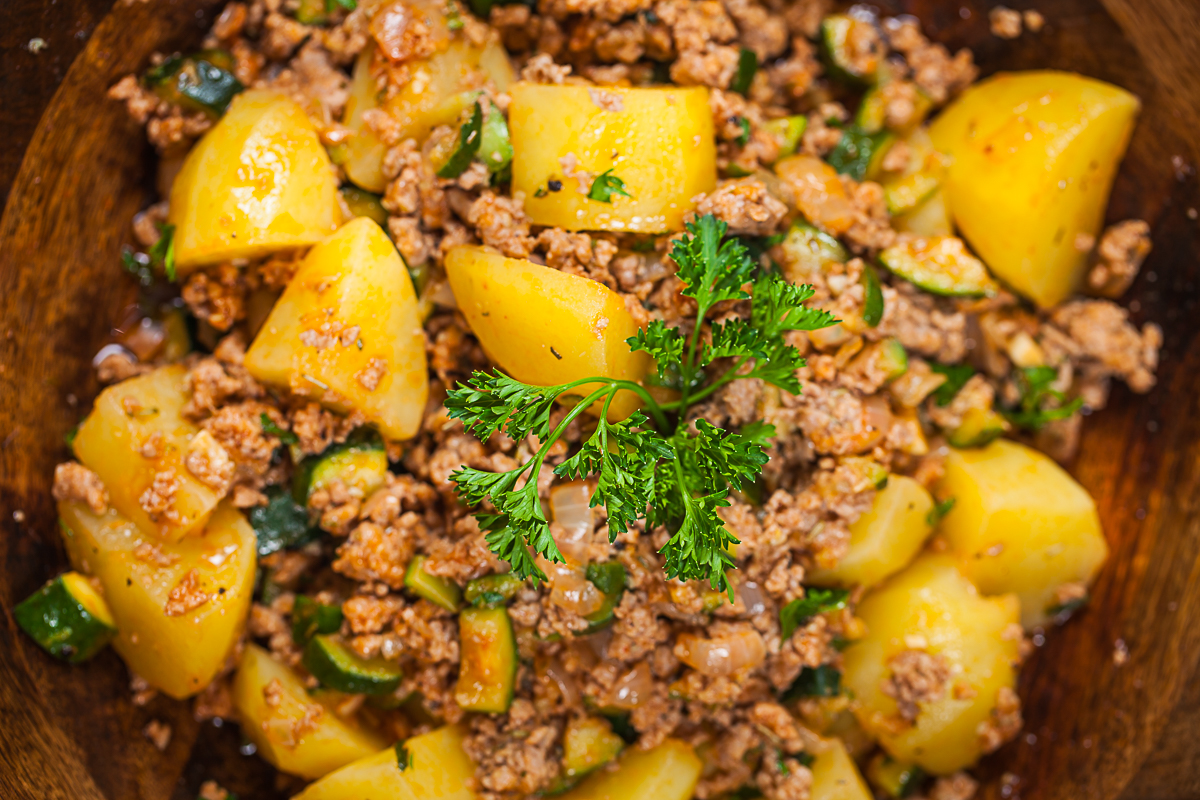 When done, I let the potatoes sit covered in their heat for a couple of minutes. I then season them with some olive oil, salt, and parsley. It gives them a creamy consistency and a hearty taste. You can opt to serve the potatoes separately or to combine them with the vegetable-meat dish immediately.
Any leftovers can be warmed up on the stove for a couple of minutes. The pure Italian flavors immediately return over a medium heat!
Enjoy!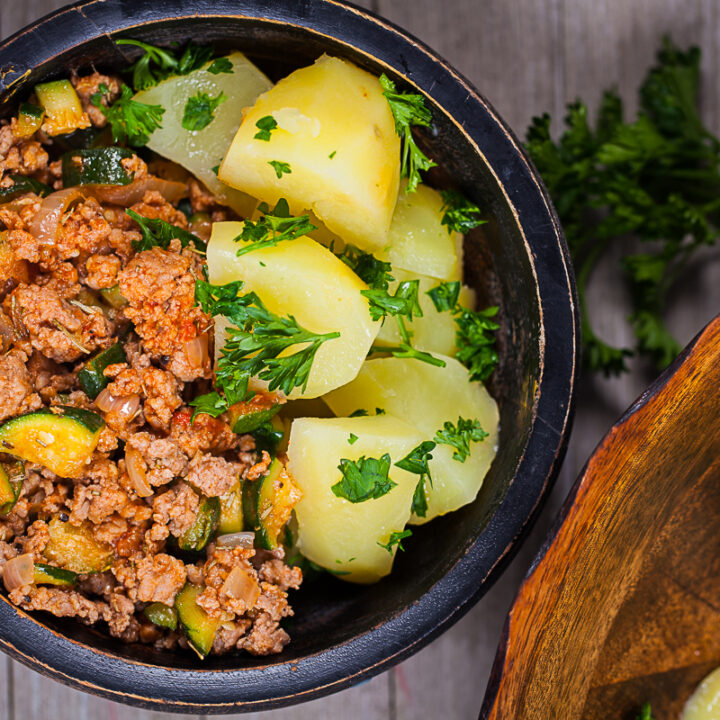 EASY ITALIAN SPICED ZUCCHINI-PORK AND POTATO BOWL
This simple Italian pork recipe is truly a comfort dish and it pairs perfectly with parsley and olive oil seasoned cooked potatoes—a perfect family dinner recipe!
Ingredients
8 to 9 medium-sized Yukon potatoes, peeled and quartered
4 tablespoons olive oil, divided
3 cloves garlic, chopped
1 large yellow onion, chopped
1 ½ pounds zucchini, chopped (about 4 to 5 medium-sized zucchini)
Salt and pepper
2 pounds ground pork
Dried Rosemary
4 tablespoons tomato paste (unseasoned), optional
1 handful fresh parsley, chopped
Instructions
Place the potatoes in a pot and add enough water to cover them barely. Cover the pot and bring to a boil over medium-high heat. Cook the potatoes until they are just tender (about 6-8 minutes). You don't want to overcook them. They should instead have an al dente quality (firm to the bite) and fully retain its shape. Drain and set aside, covered.
In the meantime, heat two tablespoons of olive oil over medium heat in a large skillet. Cook and stir the garlic for 10 seconds (to release its aroma). Toss in the onions. Cook and stir for one minute. Then add the zucchini—season everything with salt and pepper to taste. Continue to cook and frequently stir until the zucchini is soft (about 10 minutes).
Break the ground pork into small chunks and add to the skillet. Using a wooden spoon start breaking down the meat further into tiny pieces while stirring it in with the rest of the ingredients—season with salt and royally with pepper and dried rosemary. Cook and stir until thoroughly cooked but not browned (10 minutes).
Stir in the tomato paste add more seasonings to taste. Cook and stir for another minute, then remove from the stove. Transfer to a large serving plate or bowl.
Place the reserved potatoes separately in a large bowl. Cover with one to two tablespoons of olive oil. Season lightly with salt and combine with fresh parsley. Either serve separately with the zucchini-pork bowl or toss the seasoned potatoes into the meat mixture and serve as one large dish.