A skillet baked apple pancake, made with nutty buckwheat flour, golden apples, crispy bacon, warm cinnamon and raisins. It is beautifully baked in the oven until golden brown, sweetened with only healthy ingredients so you can have your favorite brunch without a side of guilt.
It's the ultimate weekend breakfast to share with family, friends—but don't let that stop you from just making it for yourself.
This "Apple Pancake" takes me back to my childhood years. And no, this time, it isn't about warm kitchen smells or memories of my mom baking behind her stove.
Instead, I remember those rare occasions on special Sunday mornings. We would have breakfast at Chateau De Litzberg in Belgium—a beautiful country house turned restaurant in the middle of an English garden and surrounded by a defining green forest.
We often ordered the giant Buckwheat pancake on the menu (reminiscent of a German pancake) filled with warm sweet flavors and crispy bacon.
It was also the place where I often worked and filled in as a waitress during my college years as a young law student. And I have fond memories of that incredible learning experience, as well as the delicious dishes I was privileged to taste and the people I got to meet.
I am not sure if the same chef still works there, probably not. But this apple pancake recipe with buckwheat flour is concocted based on the sheer memories of my time in that kitchen.
That I made (tested, retested) this pancake numerous times to get similar flavors is an understatement. But the result is the same pleasure conjured when eating "Boekweit Koek"—as we would call it—during those lovely Sunday mornings in the fall at De Litzberg.
This dish looks beautifully rustic on any table. The warm smell of caramelized apples will fill up your breakfast room, instantly making your morning cozy.
You can enjoy this as-is since raisins, dates and the apples already make this dish slightly sweet. In contrast, the bacon adds a lovely savory flavor, and the buckwheat a unique texture.
But feel free to add a drizzle of maple syrup or maybe some homemade jam to your piece of pancake pie.
A few notes on the ingredients
Apple: choose a sweet apple, like Golden Delicious, Jonagold, or Honeycrisp. You will have plenty of choices with fall around the corner. I love Golden Delicious because they have almost a buttery honey taste that works well in this recipe.
Molasses: I use organic Unsulfured Blackstrap Molasses as a sweetener. It is one of those ingredients that I always have around the house. Not that I use it often, but it has a long shelf life and comes in handy when I want to add a touch of nutritional sweetness to my recipes.
Don't have molasses? Use some maple syrup instead.
Note: molasses is a syrupy byproduct that stems from the refining process and the extraction of sugars from sugarcane and sugar beets. Sugar cane or sugar beet juices usually go through three cycles of boiling and crystallization to extract as much sugar as possible. The syrup left over after each boiling process is called molasses. Blackstrap molasses is a dark earthy-looking syrup that is left after the third boiling process. It is less sweet than light or dark molasses but contains more nutrients. It also has a touch of bitterness or smokiness to it, which I love and adds a beautiful dark color to the apples in this recipe.
Plant milk: Choose plant milk if you want to keep it dairy-free. I often make this pancake with either cashew milk or Pea milk, which is creamy and a good source of protein. But you can use any milk of your choice. Whether you use a plant or regular milk, avoid flavored ones or anything with added sugars.
Flour: gluten-free buckwheat flour makes this oven-baked apple pancake so beautifully rustic looking. Cinnamon and dates balance the more bitter flavors of buckwheat and allow for the more nutty undertones to come through.
Another great option is to replace one-fourth with sweet Teff flour, which is also gluten-free. If gluten is not a concern, and you don't like buckwheat, then I suggest Spelt flour—a non-wheat, whole grain flour with a higher amount of proteins.
Olive oil or butter: you can use either one, and I am sure the chef in Belgium used real butter. But there is something about apples and extra virgin olive oil that I find irresistible, plus it keeps this pancake recipe dairy-free.
Raisins: It's optional, but I highly recommend it. It compliments the apples and adds a natural sweetness to the buckwheat flour.
Bacon is optional: if you have guests over that happen to be vegan and vegetarian, then leave out the bacon, and it still will taste incredibly delicious.
For this recipe, you'll need a non-stick oven-proof pan or well-seasoned cast-iron skillet.
The Apple Bacon Baked Pancake is filling, healthy, delicious on its own, and perfect for sharing! Enjoy!
HERE ARE SOME OTHER HEALTHY BREAKFAST RECIPES YOU MIGHT LIKE
If you love baking with buckwheat flour and impressing your guests, then try my Sweet Buckwheat Waffles. They are also gluten and dairy-free.
Keeping it with pancakes, the Fluffy Oat Flour Pancakes (GF), and the grain-free and protein-rich plantain pancakes have never failed me.
Or try this Light Sweet Orange-Cloves Butter Bread. This is always a special treat for any get-together!
Sharing is caring, so don't forget to PIN IT to your brunch or breakfast board! Always love to hear if you tried out this recipe and if it worked for you. Don't forget to subscribe to my Monthly Newsletter!
📖 Recipe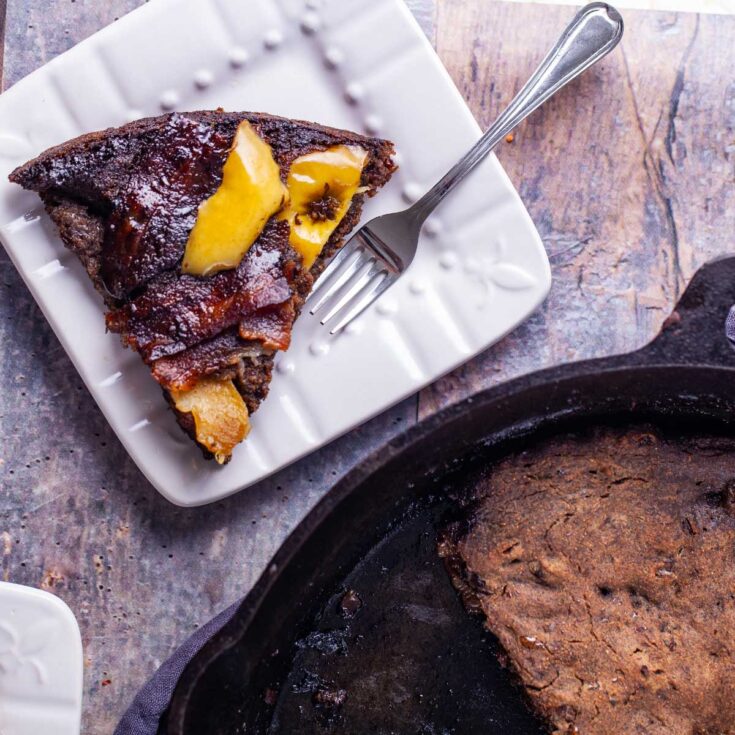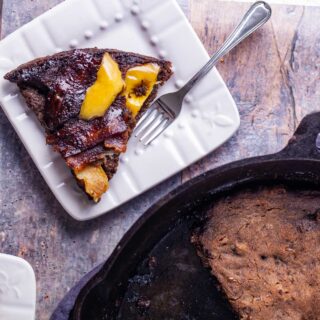 Apple Buckwheat Pancake with Bacon
Mariska Ramondino
This delicious gluten-free no-flip oven pancake is perfect for entertaining your family or guests during the weekend. It is packed with golden apples, raisins and made with Buckwheat flour—perfect for sharing. And you have the option to add bacon.
Ingredients
1

cup

plant milk

5

pitted dates

1

cup

Buckwheat Flour

see note

½

teaspoon

sea salt

½

teaspoon

cinnamon powder

1 ½

teaspoons

baking powder

1

cup

raisins

1

large egg

beaten

2

tablespoons

olive oil

1

golden apple

sliced crosswise

6

ounces

bacon

170 grams, optional

1

tablespoon

molasses
Instructions
Preheat the oven to 375 degrees with rack in the upper third.

Place the milk and the dates in a blender. Blend on high-speed setting until thoroughly blended, set aside.

In a bowl, add flour, salt, cinnamon powder, baking powder, and raisins. Combine the dry ingredients.

Add the reserved milk mixture and the egg to the dry ingredients. Stir well until you have a beautiful dark batter; set aside.

In a 10-inch (cast-iron or oven-safe) skillet, warm 1 tablespoon of olive oil over medium heat on the stove.

Divide the bacon over the surface of the skillet, then immediately arrange the apple slices on top. Pour the molasses evenly over the apple slices and the remaining one tablespoon of olive oil.

Cook for one minute, then turn the apple slices (not the bacon) around using a fork. And immediately pour the buckwheat batter evenly over the apples and bacon.

Cook until the edges of the batter have set a bit—for about 3 to 4 minutes. Not any longer, because it can cause the bacon to burn.

Remove carefully the pan from the stove and place it directly in the oven.

Bake the pancake for 20 minutes or until a toothpick inserted in the middle comes out clean.

Remove carefully from the oven and let it slightly cool.

Cut a piece out as you would with a large pie, turn it around revealing the beautifully browned apples and bacon. Serve on individual plates,

Once cooled, you can carefully turn the whole pancake around with a large spatula to reveal the browned apples.
Notes
Flour: Instead of Buckwheat flour (Paleo-friendly), you can also use ¾ cup Buckwheat flour and ¼ cup Teff Flour (still gluten-free.) The Teff flour adds a nuttier taste.
Equipment: a 10-inch cast-iron skillet or non-stick oven-proof pan. 
Make it vegan-friendly or meatless by omitting the bacon: in that case, arrange the apple slices directly in the oiled pan. Pour the molasses evenly over the apple slices and the remaining one tablespoon of olive oil. Let them cook for one minute. Turn them around and pour the batter over the apples. Follow the rest of the recipe as-is.
Add your own private notes
Whenever you come back to this recipe, you'll be able to see your notes.
Nutrition (% Daily value)
Calories:
349
kcal
(17%)
Carbohydrates:
43
g
(14%)
Protein:
8
g
(16%)
Fat:
18
g
(28%)
Saturated Fat:
5
g
(31%)
Polyunsaturated Fat:
3
g
Monounsaturated Fat:
9
g
Trans Fat:
0.04
g
Cholesterol:
46
mg
(15%)
Sodium:
557
mg
(24%)
Potassium:
310
mg
(9%)
Fiber:
4
g
(17%)
Sugar:
24
g
(27%)
Vitamin A:
67
IU
(1%)
Vitamin C:
0.1
mg
Calcium:
137
mg
(14%)
Iron:
2
mg
(11%)
Disclaimer: This nutritional data is calculated using third party tools and is only intended as a reference.