This deliciously satisfying mashed cauliflower recipe is not only healthy but also extremely easy to make. I also share three favorite ways my family enjoys this vegetable dish!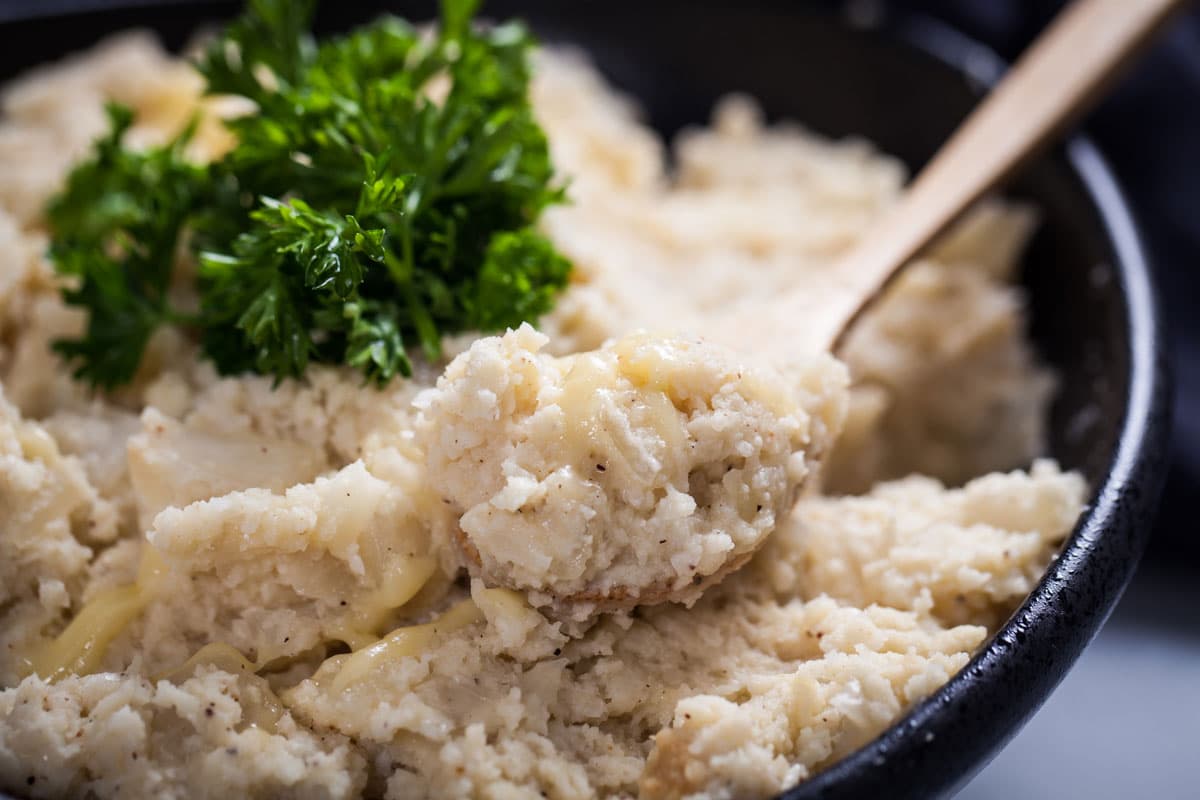 I grew up eating a lot of vegetables, and cauliflower showed up regularly on the table. We often enjoyed it raw in salads or cooked coated with some extra virgin olive oil and seasoned with salt. It was often also mashed into our boiled potatoes with other vegetables like kale or broccoli and served with codfish. It is such a versatile vegetable! But cauliflower can quickly turn into a beautiful mashed side dish without having to add potatoes, which is perfect if you are on a grain-free, low-carb or Keto diet. For this recipe, I also give you dairy-free and vegan-friendly options below.
What you are going to love most about this mashed cauliflower recipe
is that you do not need to first boil or steam cauliflower in water. I am merely processing it first in a food blender until fine and then sauté the ingredients in a pan to bring all the flavors together. Super easy to make and super flavorful!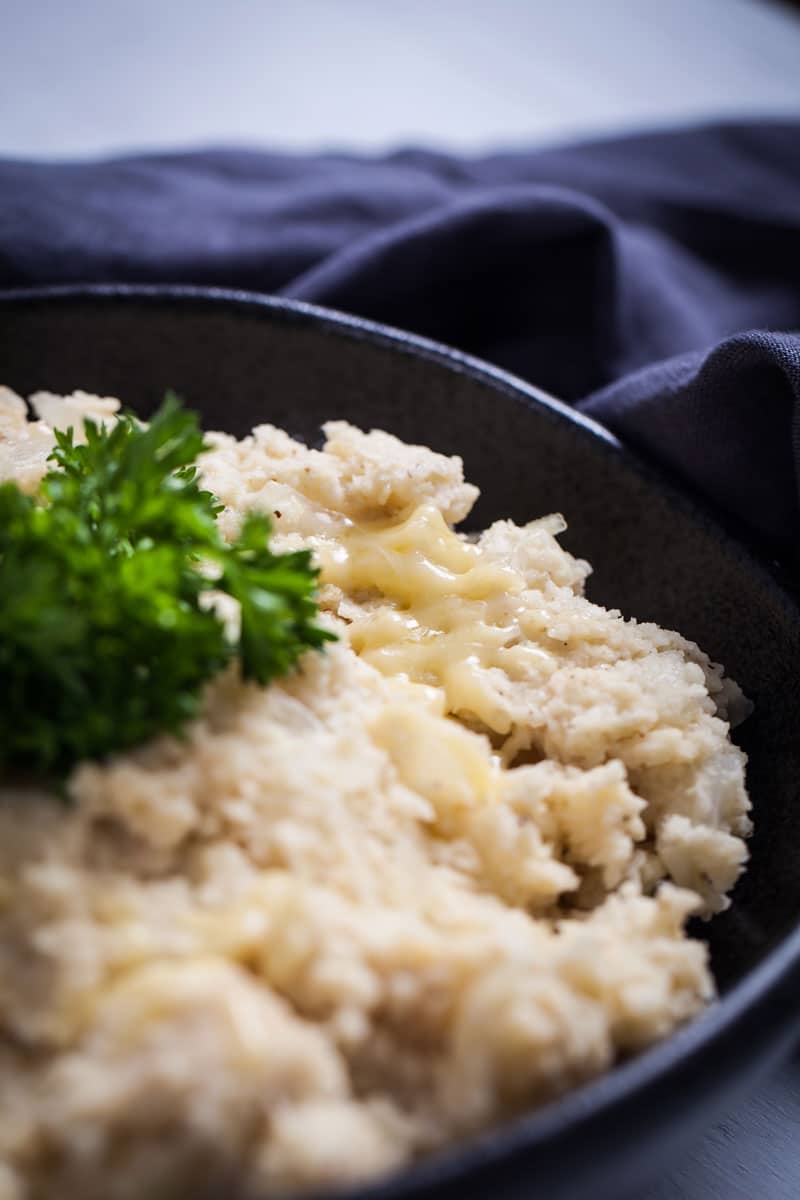 GARLIC AND ONION MASHED CAULIFLOWER
Because cauliflower has such a mild taste, it readily absorbs flavors of other pairing ingredients. Garlic and sweet onions are great options because they take any bitterness out of the cauliflower while sautéing. The onions also add a subtly sweet flavor. Cook and stir the vegetables for at least 10 minutes to allow everything to come together and the seasoning to release its aromas.
BEST WAY TO SEASON CAULIFLOWER
I use simple seasoning like salt and pepper. Go a little heavy on the pepper if you prefer a punchier side dish. But it is the nutmeg that gives this vegetable that warm spicy aroma. If you can, grate fresh nutmeg instead of using ground—it is even better.
THREE WAYS TO ENJOY THIS SIDE DISH
As a dinner side dish: I enjoy pairing it with oven-roasted crispy chicken wings, seasoned with heartier herbs like Thyme or Rosemary. Another great option is white fish like cod, sautéed in olive oil with garlic, salt, and pepper. By the way, kids love this with fish sticks! Here are some other main dinner ideas that go well with this cheesy cauliflower mash:
Make it a Vegan Dish: use coconut or plant milk instead of butter and add frozen peas and shelled edamame beans. Defrost them first for a couple of seconds in water. Then allow them to cook with the mashed cauliflower and onions for 10 minutes. Stir in vegan cheese until melted and serve with apple mouse on the side. Adding the apple mouse to this side dish is also extremely popular with kids.
Make a hearty breakfast: you can quickly reheat any leftovers the next day in a pan, coated with some olive oil. Add an egg (or two) and mash it in. It is a hearty and filling breakfast. I sometimes add crispy bacon.
Enjoy!
Have questions? Simply comment below or message me.
Also, don't forget to FOLLOW ME on Instagram, and Pinterest to see what other fun things I share.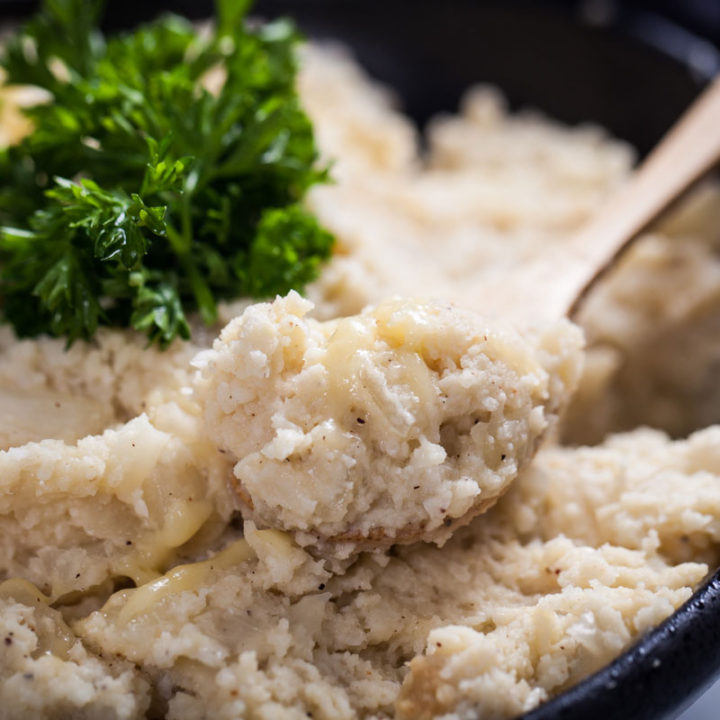 HOW TO MAKE THE CREAMIEST HEALTHY CAULIFLOWER MASHED POTATOES
You got to make this super easy mashed cauliflower recipe that is deliciously cheesy, creamy, and wonderfully seasoned!
Ingredients
1 large cauliflower, cored, washed and coarsely chopped
¼ cup coconut milk, pea milk, or melted butter
2 tablespoons olive oil plus ½ tsp to add flavor
2 cloves garlic, finely chopped
1 large yellow onion, peeled and coarsely chopped
Salt and pepper
2 teaspoons grounded nutmeg
1 cup grated hard cheese plus more to garnish
Fresh parsley leaves to garnish
Instructions
Place the cauliflower in a high-speed blender with the plant milk or butter. Blend on high speed until very fine (almost mashed); set aside.
Cover the bottom of a large skillet with two tablespoons of olive oil and heat over medium heat, then add the garlic. Cook and stir for 10 seconds to release its aroma, then add the onion. Cook and stir for 3 more minutes. Season with some salt and pepper.
Stir in the cauliflower mixture and season to taste with salt, pepper, and nutmeg. Cook and frequently stir for about 10 minutes. Stir in the grated cheese and drizzle ½ teaspoon of olive oil on top. Cook and stir until the cheese is melted.
Serve with fresh parsley leaves and garnish with extra grated cheese to taste (optional).
Notes
When reheating leftovers either in a pan or microwave, add a little olive oil to prevent from becoming too dry.