A non-alcoholic drink doesn't have to be boring. This sophisticated mocktail is refreshing, fruity, and tropical. Make it any time you want a delicious and healthy drink to sip on while relaxing with friends and family.
Yes, we are mocktail lovers here for many reasons. As a health nut, I often refrain from consuming alcohol, and my young daughter also wants to raise a glass when celebrating a happy moment. And although my husband enjoys a cocktail now and then, he equally loves these no-booze concoctions.
Friday evenings are our special family moments, and we often take that time to relax, sit back, and enjoy a special drink—like this non-alcoholic recipe—with homemade munchies. This virgin drink is no doubt fruity with a tropical touch and slightly creamy texture. But the difference between a natural fruit blend and this mocktail is in the presentation and edible garnishes—they both add to the flavors. In the end, you want your mocktail to be sip worthy and look just like the real thing. So, let's have a look at what's in it and how to make this drink!
WHAT MAKES A GOOD MOCKTAIL
Fresh ingredients
Making a mocktail is very much like cooking for me—it is all about playing around with the flavors, see what works, and using fresh ingredients as much as possible.
This recipe is relatively straightforward;

I am combining the natural sweetness with the acidity of pineapple,

And a touch of the green apple tartness;

You could even take it up a notch and maybe add some anise extract, or grapefruit juice for a more bitter element;

But you can only get that subtle complexity of flavors by using fresh ingredients. So try avoiding canned fruits or sugary juices whenever possible.
Beautiful glassware
Just as with a cocktail, presentation is everything. The size, shape, and style of a lovely glass all influence the enjoyment of a tasty mocktail. Go for some of the classic glassware that you probably already have in your kitchen. I love the champagne coupe or martini glasses for this drink, but choose your favorite and feel free to switch it up based on the occasion!
Spend some time on the presentation (see video below)
Even though I whip up this non-alcoholic beverage in no time, I spend more time in presenting it. All the garnishes eventually infuse with the mixed drink—like the drizzle of maple syrup and coconut shreds and the coconut sugar that touches your lips while sipping. It is all part of combining exciting minute flavors. So, you want a mocktail with a sense of sophistication? Then spend a bit of time on the presentation and don't skip on the details—it only takes 10 minutes but so worth it.
WHAT IS THIS MOCKTAIL DRINK MADE OF
Juices and purees
Apple and pineapple are a match made in heaven and share similar fruity notes. Puree the fruits in a blender along with some coconut milk to get a heavenly creamy texture. I am also mixing in some sugar-free apple juice to dilute the pureed mix and adding some more distinct apple notes.
A creamy touch
I am not going overboard here with the coconut cream. Just a bit is enough to balance the acidity of the pineapple and add a smoother consistency. Plus, you'll appreciate it's floral, nutty taste.
The mocktail garnish
Don't skip this step. Cocktail garnishes add to the appeal of this drink and complement the flavors. I mean, what's a mocktail without a fancy dress up?
I use a drizzle of maple syrup to incorporate a woodsy, natural sweetness,

fine coconut shreds to add a tropical element and a subtle crunchy bite

while a sugary coconut rim adds some caramel notes and a fun factor.

And don't forget the crushed ice or ice cubes. It dilutes the pureed fruits a bit while adding a small chilling factor. All good!
Feel free to switch it up or add more contrasting flavors. Lime garnishing, mint, or sage sprigs are some other options to explore.
TURN YOUR MOCKTAIL INTO A COCKTAIL TO PLEASE YOUR GUESTS
Have guests that want something stronger? Then mix a touch of rum with a glass of the mocktail blend in a cocktail shaker for one individual serving.
Enjoy!
TRY ALSO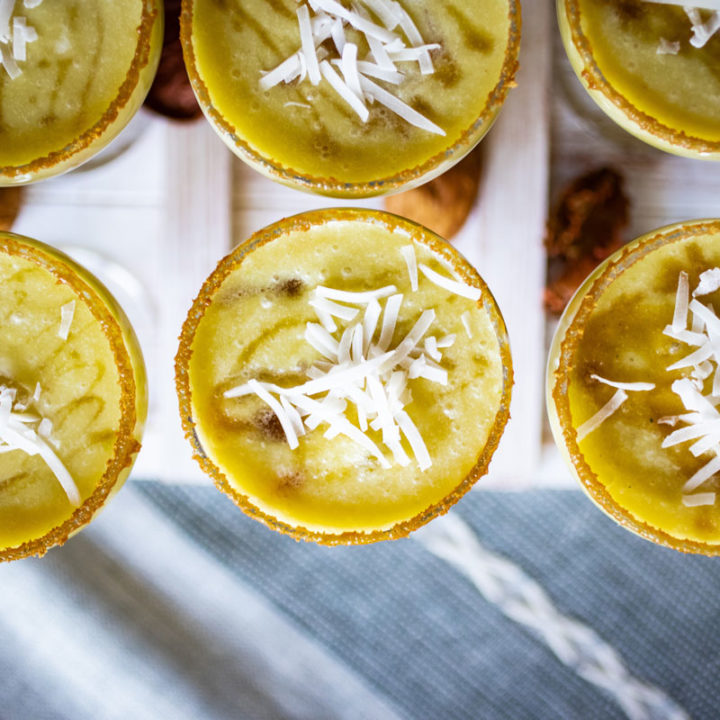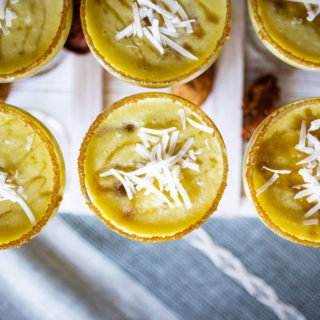 Pineapple-Apple Mocktail
Mariska Ramondino
A festive-looking and delicious non-alcoholic drink recipe (mocktail) that is fruity, sophisticated, and easy to make at home. Add a splash of your favorite rum for those guests who prefer something stronger!
Ingredients
2

cups

freshly chopped pineapple

1

medium Granny Smith apple

chopped

2

tablespoons

coconut milk

¾

cup

sugar-free apple juice

1

tablespoon

coconut sugar for the rim

1

tablespoon

maple syrup for garnish

1

tablespoon

coconut shreds for garnish

Ice cubes or crushed ice

Rum of choice if you want to turn it into a cocktail for some guests
Instructions
Place the fruits, coconut milk, and the juice in a blender and blend until smooth; set aside.

Place the coconut sugar, maple syrup, and coconut shreds separately on small individual plates in preparation for dressing up the glasses.

Take six small cocktail glasses and dip the rim first in the maple syrup and then immediately in the coconut sugar. Give it a couple of turns so, the lip of each glass is well coated by the sugar.

Add some crushed ice into each glass and pour the blended liquid equally into the cocktail glasses over the ice. Use the remaining maple syrup to drizzle some on top of each mocktail and finish it off with some coconut shreds.
Notes
Note: the additional 10 minutes is to dress up the glasses and make this mocktail festive looking, Don't skip this step, because this mocktail is all about how you serve it! And the maple drizzle, sugared rim, and coconut shreds all contribute to a better fruity mocktail recipe! Enjoy!
Add your own private notes
Whenever you come back to this recipe, you'll be able to see your notes.
Nutrition (% Daily value)
Calories:
87
kcal
(4%)
Carbohydrates:
19
g
(6%)
Protein:
1
g
(2%)
Fat:
2
g
(3%)
Saturated Fat:
1
g
(6%)
Polyunsaturated Fat:
0.1
g
Monounsaturated Fat:
0.1
g
Sodium:
3
mg
Potassium:
146
mg
(4%)
Fiber:
2
g
(8%)
Sugar:
16
g
(18%)
Vitamin A:
49
IU
(1%)
Vitamin C:
28
mg
(34%)
Calcium:
16
mg
(2%)
Iron:
0.4
mg
(2%)
Disclaimer: This nutritional data is calculated using third party tools and is only intended as a reference.