Here is an easy recipe for a DIY ice cube facial (& mask) that will give you glowing and more hydrated skin in minutes. I have shared this beauty recipe so many times, and everyone loves this facial remedy no matter their skin type. It is one of the most straightforward natural beauty preparations—only three natural ingredients wrapped up in an ice cube—to combat specific skin issues and to supplement your skincare routine.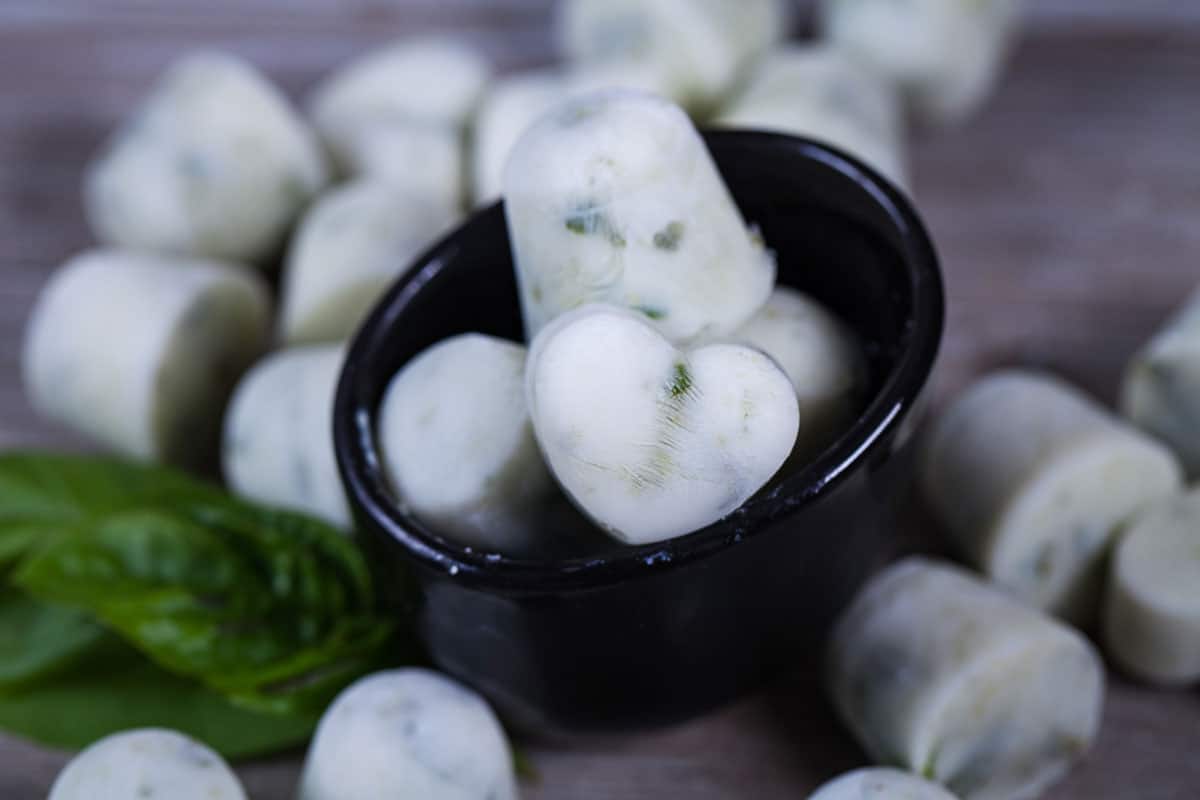 It is not always easy to find the right beauty regimen for your skin type. In the end, it is a very personal thing, and your needs can differ at different stages of your life. My sensitive skin has gone through its fair share of changes throughout the years—from slightly oily or acne-prone to delicate and somewhat dry. So when I have a simple beauty routine that is packed with so many benefits and has worked on multiple skin types, I have to share.
Admittingly, I can sometimes geek out about skincare brands, emerging trends, researching product ingredients, and trying out new beauty counters. What girl doesn't? But more often, I experiment with pure ingredients in my kitchen, and this homemade formula is a keeper. I love these infused facial ice cubes because:
They address a couple of skin symptoms all at once;

Plus it's a straightforward 3-ingredient recipe;

They have a lovely smell and double-duty as a face mask;

And they quickly change your skin to a soft, peach-like complexion;
So let's see why this nourishing DIY go-to skincare is worth making.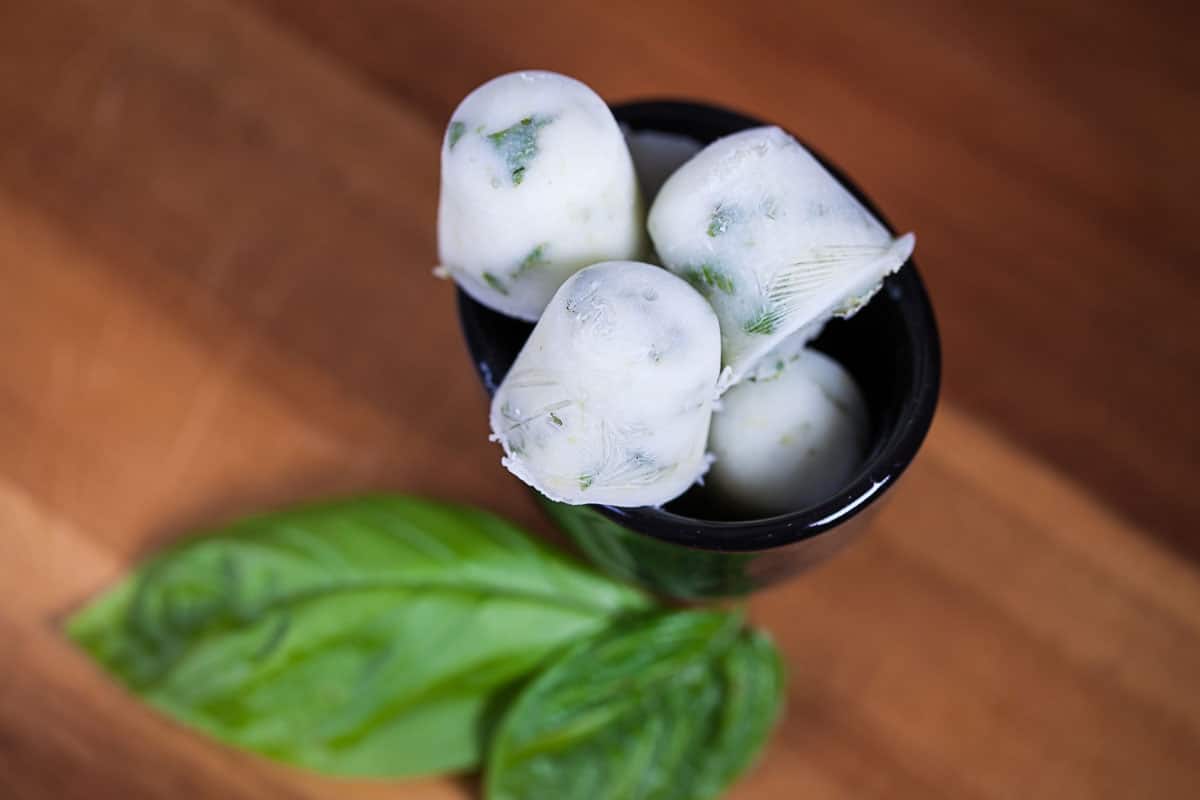 Ice Facial
Rubbing my clean face with an ice cube always has been my go-to ritual after an intense workout—I sometimes look like a walking tomato. But that doesn't mean that I want to have that more-than-normal-red complexion for the rest of the day. So, my trick is an ice-cold water wash or an ice cube facial. I do the same when I look unusually tired—especially after long hours of traveling or when it is that time of the month.
It just immediately calms my skin;
soothes;
reduces any redness;
and instantly wakes it up.
But it can do so much more when you infuse it with probiotic yogurt, just a tad of olive oil, and basil. These are three simple ingredients I often employ separately to either cleanse or tackle a particular skin problem. But combined, they can get you maximum skin benefits. And if you have the time to leave the creamy white consistency on for longer and apply it as a facial mask, it also hydrates your face, makes it incredibly soft, shrinks pores, and firms or sculpts over time.
So let's look at the ingredients!
Yogurt for skin
I always have Probiotic Yogurt in my fridge because it is one of my go-to kitchen ingredients for several things:
It soothes sunburned skin, and it is particularly calming when immediately applied straight out of the fridge.

I love it as a homemade exfoliation mask—the lactic acid bacteria in

probiotic yogurt

gently remove dead skin cells for an immediate glow afterward.

And when mixed with a little olive oil, raw honey, or coconut oil, it becomes an astonishing instant moisturizer.

Sometimes I even use it as a natural spot treatment to reduce discoloration overtime or tackle a small breakout before it gets any worse.
So, mix that into an ice facial, and you get face sculpting plus a natural DYI mask that exfoliates and hydrates. What's not to love?
Which yogurt is best? Choose a plain, unflavored Bulgarian or Greek yogurt without any additives. I'll leave a link below to my favorite brand.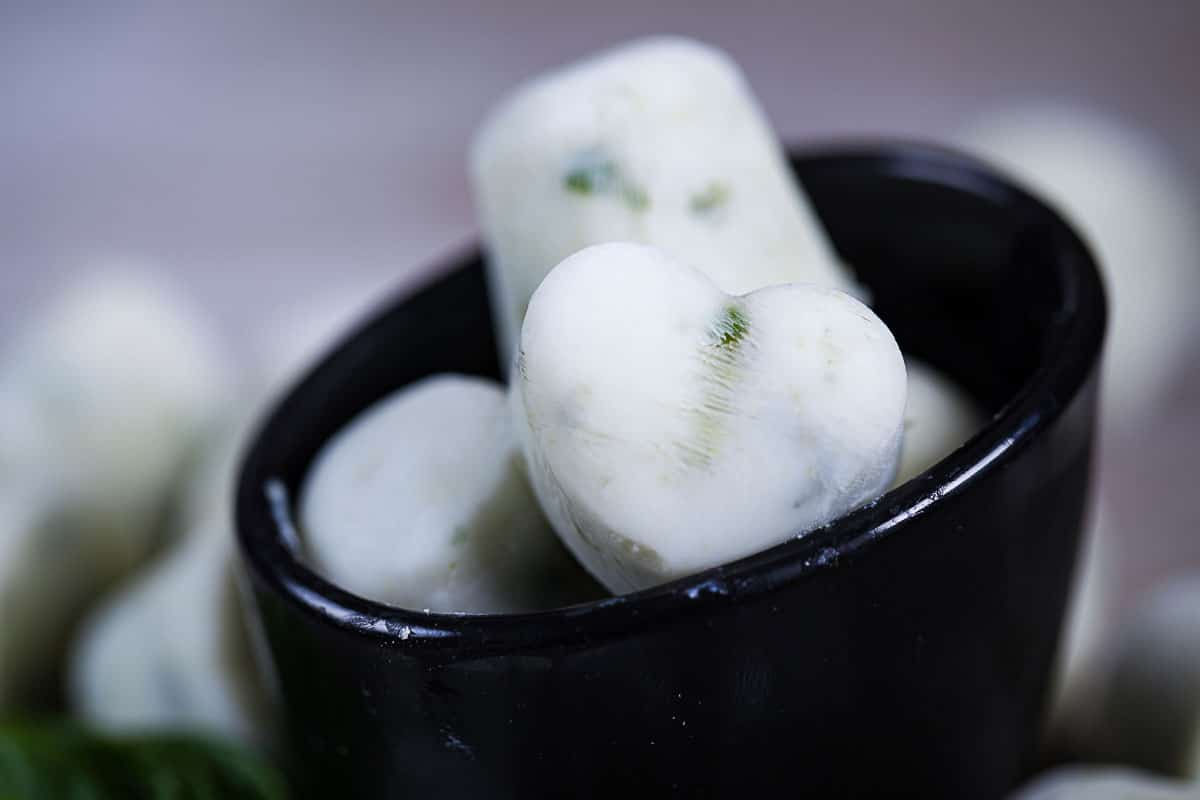 Basil skin benefits
Fresh basil is no doubt one of my favorite herbs to use in and outside the kitchen—as an anti-inflammatory and antibacterial herb.
I make Basil tea when I have an upset stomach;

Or add fresh shredded leaves with Epsom or magnesium salt in my bathtub—the scent is incredible. It helps with sore muscles after a workout or energizes me when tired.

But it also soothes red skin irritations or even skin breakouts.

And this herb gives these mini-facials a pleasant aromatic smell.
I use a handful of fresh leaves in this nourishing DYI recipe, but feel free to use more.
A tad of olive oil to improve skin complexion
Olive oil is a great natural moisturizer. I use it interchangeably with coconut oil on myself and my daughter's skin (even when she was a baby.) But be cautious using too much. Less is more here; otherwise, it can clog pores.
Test what works best for you, but I have found that a few drops are enough to reap the benefits of this oil. For me, it reduces roughness, wrinkling, and sun damage when used consistently and adequately in this concoction. Always go for a certified cold-pressed organic extra virgin olive oil, non-GMO with no additives or preservatives—research it the same way as you would do for beauty products.
How do you use yogurt and basil ice cube facials on your face
Gently rub one ice cube onto a clean face until completely melted. The warmth of your skin will dissolve the ice cube and create a creamy white mask that you then wash off after a few minutes or leave on for about 30 minutes—to soothe and moisturize the skin.
So carve out some time one afternoon to make this DIY ice cube facial-face mask and discover what a few fresh and simple ingredients can do for your skin.
You might also like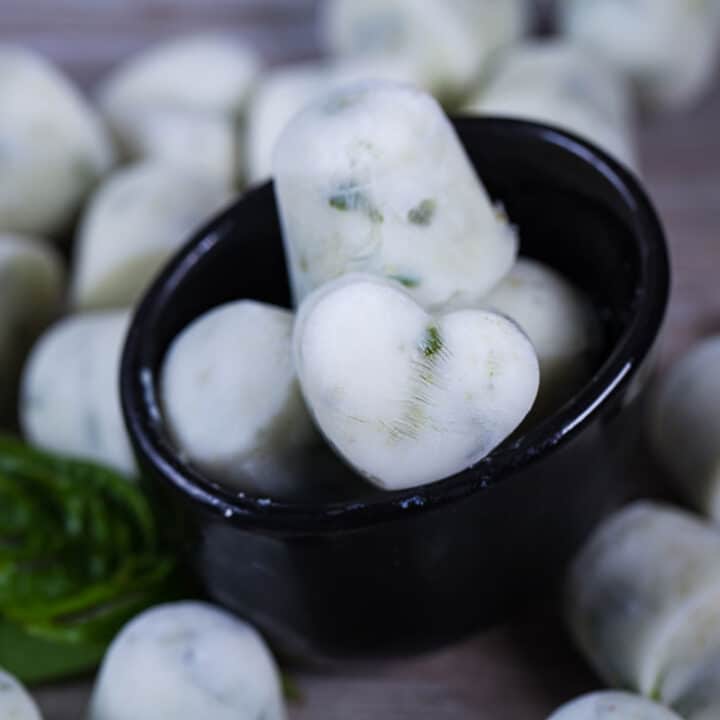 ICE CUBE FACIAL WITH PROBIOTIC YOGURT AND BASIL LEAVES
Yield:
About 25 single-use face masks
Total Time:
3 hours
5 minutes
Here is an easy recipe for a DIY ice facial (& mask) that will give you glowing and more hydrated skin in minutes.
Materials
One loose cup fresh basil leaves
One teaspoon extra virgin olive oil or coconut oil
Tools
Instructions
How to make the facial ice cubes
Place the oil and the basil leaves in a blender, and loosely blend to shred the basil and release their oil.
Transfer to a bowl and combine everything well with the yogurt. Place in small ice cube trays and freeze for a couple of hours and your ice cubes are ready.
How to apply an ice cube facial
Cleanse your face thoroughly with a gentle and chemical-free face wash, then pat dry.
Take one ice cube (you can take it with a small cloth with one side left uncovered if too cold).
Start rubbing the uncovered side of the ice cube using small circular motions on cheeks and forehead. Very gently and with little pressure dab also the under-eye area (or try light sweeping strokes) starting from the outer corner inward. Then gently apply it on your neck with upward strokes. Do this until all is used up.
Let the face mask sit anywhere from 20 to 40 minutes. Note that in the beginning, you might want to lay down or have a towel protecting your clothes—the mask will eventually dry up.
Finally, wash it off with water, gently pat dry your face and moisturize.
Notes
Freeze for 2 to 3 hours, but best overnight!
(This post was originally published on Oct 21, 2017, and has been updated to include new information.)