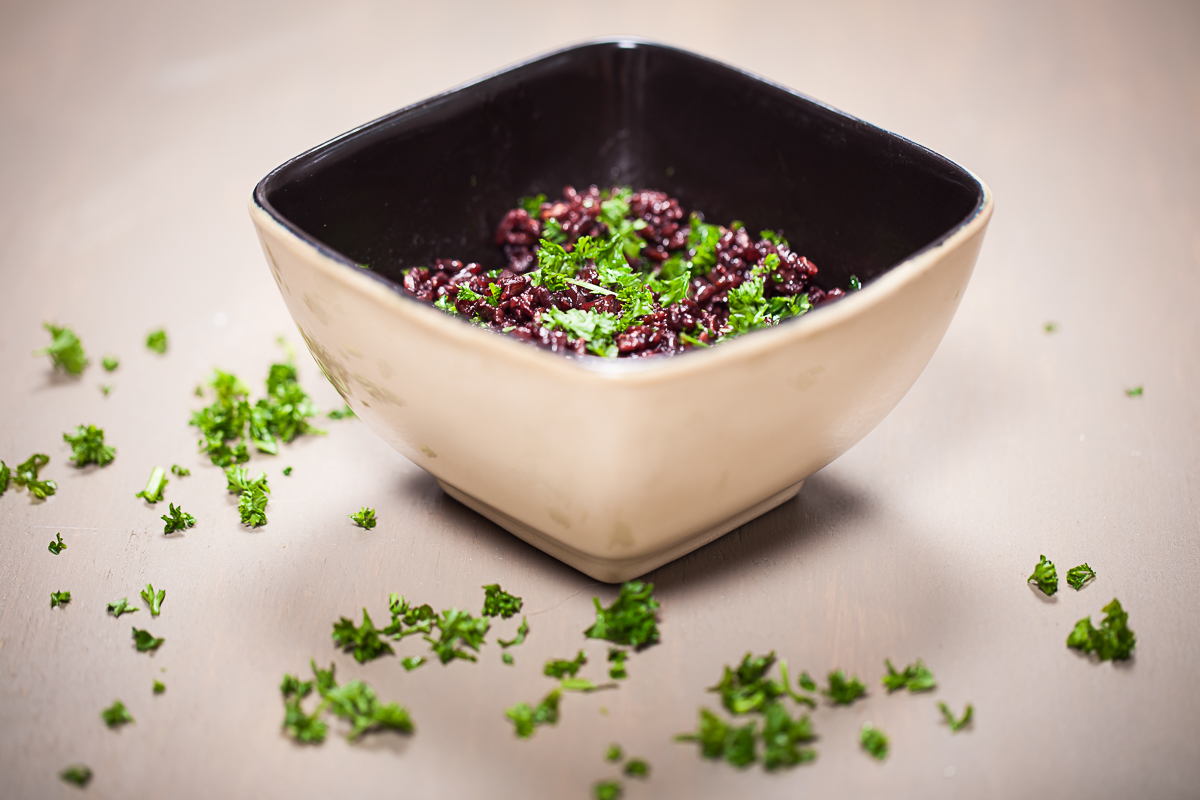 I used to travel a lot for work. The constant change in environment, the long working hours, and not always being in control of where I had dinner often caused my body to feel completely out of balance—sometimes even unwell. I should also admit that I was a serious foodie. Trying out new types of foods and iconic restaurants were on my to-do list at every new place I visited. But I did not understand back then that certain delicious foods could make me downright sick. I used to secretly admire friends that can eat anything without any impact on their health or looks—my husband is one of them. But today, I have come to appreciate the signals my body sent me all these years. It forced me to listen to it and therefore learned how to better take care of myself. Luckily, over the years, I have come to understand my body better and what can cause it to go off balance. I still love delicious food, but I want to feel at the same time satisfied and amazing after my meals. I love flavorful, fresh dishes that keep me physically energized throughout the day, and emotionally in balance. That does not mean that I get it always right, especially when traveling, but today I have some tricks up my sleeve that I know helps me cleanse and release faster.
Like most people, I can get bloated or feel unbalanced when I don't drink enough water, overeat, don't move enough on a given day, etc. But, I have also noticed—testing this over numerous years—that my body can feel out of whack when:
I combine the wrong type of foods for my body. I fare better when I do not combine certain starches with animal proteins
I eat certain raw vegetables without healthy fats, like avocados. There is maybe a reason, besides taste, that my Mediterranean family adds a little olive oil to their fresh green salads.
I drink coffee during my monthly menses—I should refrain from any caffeine during that time, or I become incredibly nauseous and bloated. I have also noticed that my body graves more healthy fats around that time of the month. I rely on smoothies and recipes made with hemp seeds, chia seeds, flax seeds, avocado, fatty fish like mackerel, olive oil, and coconut oil to keep me balanced and happy.
I know that the above situations are unique to how my body reacts to food or specific hormonal or environmental changes. I have male and female friends who either respond entirely different to foods or don't have any of these problems. One of my girlfriends drinks every day a cup of coffee in the morning and one in the late afternoon without any side effects on sleep or how her body reacts during that particular time of the month. It truly fascinates me how unique we are in our reactions to what we consume or any internal and external changes. But, at times, we can all feel bloated, constipated, nauseous, suffer from stomach cramps, or feel that something did not feel well with our digestive system after consuming food. Despite our differences, the tips below also seem to help my friends with their digestive tract when they need that little extra help.
Growing up mainly on Mediterranean cuisine, I always knew about the diuretic power of fresh parsley and extra virgin olive oil. They both stimulate metabolism and aid with digestion. But Parsley, in particular, can help ease bloating, stomach cramps, or nausea. Olive oil can help with constipation. I have often just nibbled on a handful of fresh parsley or made myself a small green salad, sprinkled with parsley, olive oil, and some lemon to help my body with digestive issues—I am a parsley lover as it has been part of my diet since I was little.
It was a spur-of-the-moment decision when I combined the above ingredients with a cup of leftover black rice—a naturally gluten-free grain—and consumed it as a simple evening meal. I felt a little out of balance but wanted something more comforting than my usual raw green salad on a cold winter day. The combination is nourishing and filling enough for dinner. It helped with regulating my bowel movements the next day and any bloating. After doing some more research on the health benefits of black rice, I learned that it not only contains a high level of antioxidants and fiber, but it can also contribute to cleansing the body and help with constipation, bloating and smooth bowel movements. It is worth noting that a bowl of black rice with parsley and olive oil is the only thing you should consume two hours before going to bed to get the best results. I should also mention that we don't eat rice very often in our household, but when we do, I always try to buy black rice and an organic non-GMO brand.
Please note that I don't believe that there is a single food out there that is a cure-in-all. Healthy living is about maintaining a healthy, balanced diet and an active lifestyle that is right for your body and individual needs. But for those few occasions when traveling or a drastic change of schedule made your body feel unbalanced, constipated, and bloated, this light dinner snack might be the aid for you. It even helps when I am on a journey of losing a couple of unwanted pounds!!!
For my friends who can not consume any grains, I got you covered with my homemade Parsley-Cantaloupe Tonic recipe.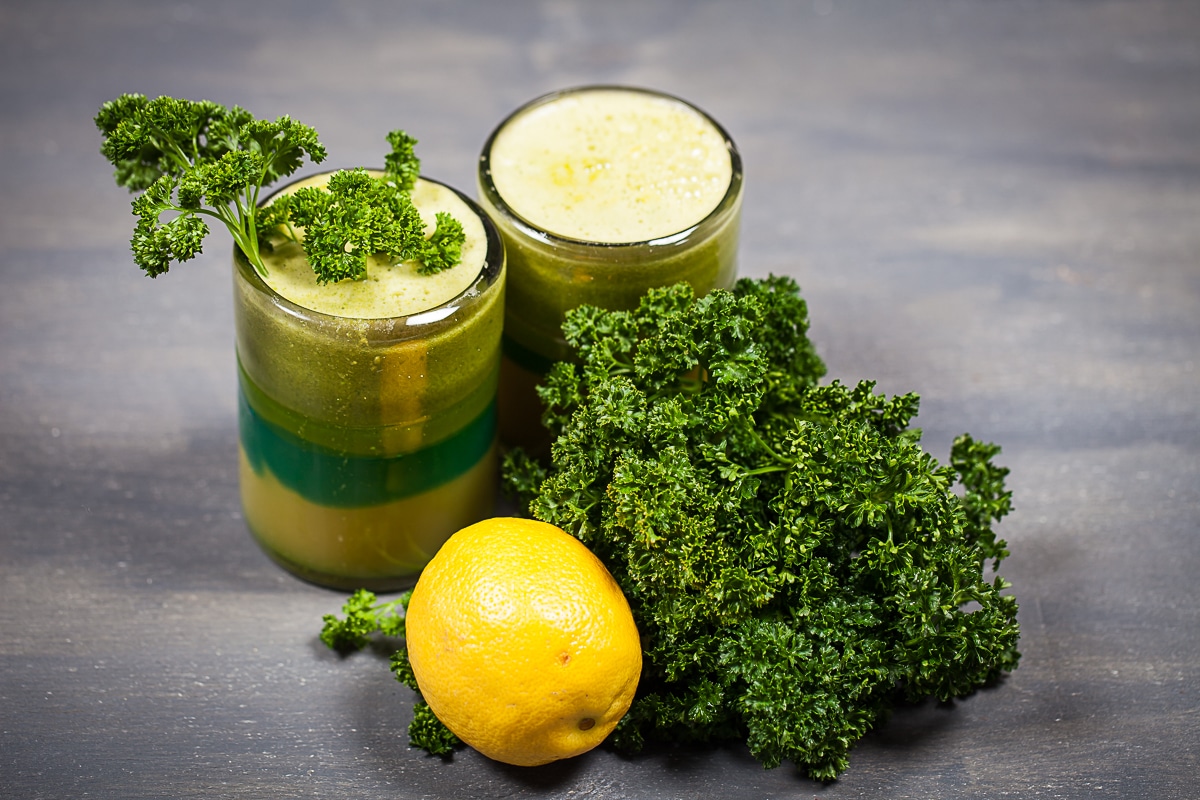 Although it contains more than three ingredients, it is still incredibly easy to make, refreshing, and cleansing. Both cucumber and cantaloupe are incredibly hydrating and can help with constipation and reduce bloating, while lemons are widely known to help with eliminating waste and create bowel movements. These ingredients don't only add great taste to the Parsley tonic but have helped me many times with cleansing my body and feeling lighter. A little bit of ginger adds a pleasant kick to the drink, but can also help when you have an upset stomach. For our female readers who often feel bloated, nauseous, or dehydrated during your menses, try out this juice tonic. It has helped me feel better during uncomfortable days. A little fair warning: this drink is probably for the hardcore cleansers or who don't mind tasting some veggies in their drink. But if my 5-year old can drink it—she loves vegetables though—so can you! You can always add more juice of a cantaloupe—see recipe—to make the tonic drink a little sweeter.
Remember, eating for healing is individual, always listen to your body when trying out something new! Still consume with balance, even good food!
A little note to my beautiful readers who are pregnant. Although I used Parsley as a garnish on my salad when I was expecting, I never consumed Parsley or any other herb for that matter in large quantities. There is a lot of information with regards to how Parsley can either cause contractions and other side effects while pregnant or be good for you with its high quantities of iron. You can get dizzy from all the different types of food rules out there. I never skipped a meal when it had some Parsley as a garnish, but I used common sense to maintain a balanced diet and not consume anything in bulk. Except for watermelon, it was one of my obsessive cravings. Try a cup of fresh lemon water to assist with any nausea during pregnancy and save the Parsley tonic or Parsley rice bowl for after your delivery!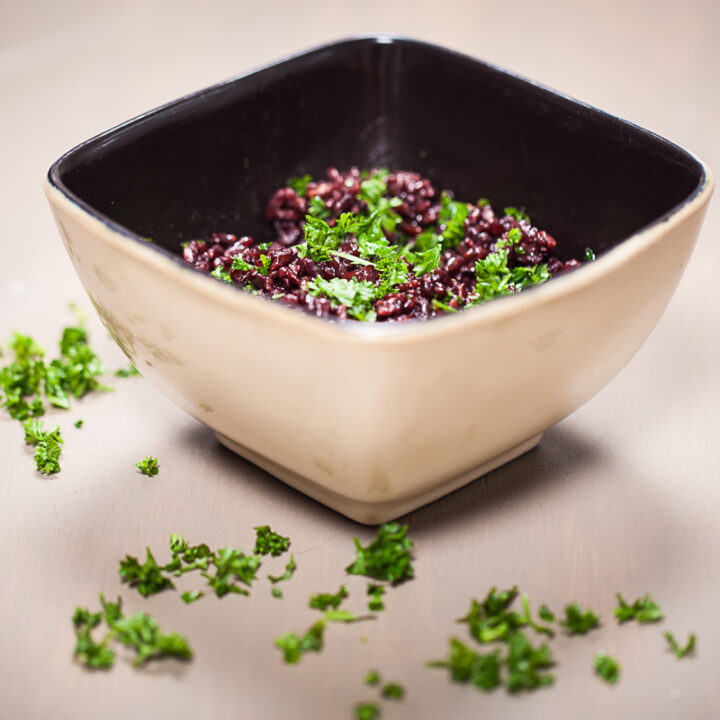 Recipes to Ease Bloating
Mariska Ramondino
Make these simple recipes and enjoy as a light dinner to detox or help ease bloating!
Ingredients
Black Rice, Parsley, and Olive Oil Bowl
1

cup

Forbidden black rice or a blend between black and Mahogany rice

like black Japonica rice

2

cups

of water

⅓

cup

chopped fresh parsley

2

tablespoons

extra-virgin olive oil
Parsley Cantaloupe Tonic (5 servings)
1

bunch

bunch parsley

about 2 ounces

1

8-inch organic unpeeled cucumber

1

large organic unpeeled lemon

½

thumb of fresh ginger

about 1-inch thick knob

1

ripe and sweet cantaloupe

peeled and cubed (if you prefer your drink on the sweeter side, add an extra ½ cantaloupe)
Instructions
Rice Bowl
In a medium saucepan, bring water and rice to a boil. Cover the pan and reduce heat to maintain a low simmer. Cook for 50 to 60 minutes. Frequently check at the end that water has not cooked completely away before the rice is ready. Otherwise, add one to two tablespoons of water and cook longer.

In a small bowl, combine the cooked rice with Parsley and olive oil. Stir well and enjoy it!
Tonic
Juice first the parsley, ginger, and cucumber then add the lemon and cantaloupe.

Place a fine sieve over a bowl and pour the juice through the strainer to catch any vegetable or fruit foam (optional).
Notes
Nutrition is for Rice Bowl.
Add your own private notes
Whenever you come back to this recipe, you'll be able to see your notes.
Nutrition (% Daily value)
Calories:
470
kcal
(24%)
Carbohydrates:
72
g
(24%)
Protein:
8
g
(16%)
Fat:
17
g
(26%)
Saturated Fat:
2
g
(13%)
Polyunsaturated Fat:
2
g
Monounsaturated Fat:
11
g
Sodium:
24
mg
(1%)
Potassium:
262
mg
(7%)
Fiber:
4
g
(17%)
Sugar:
1
g
(1%)
Vitamin A:
842
IU
(17%)
Vitamin C:
13
mg
(16%)
Calcium:
42
mg
(4%)
Iron:
2
mg
(11%)
Disclaimer: This nutritional data is calculated using third party tools and is only intended as a reference.