Honey ricotta pie is a delicious sweet dessert filled with honey orange-zest flavored creamy ricotta cheese and a sweet pie dough with a perfect hint of vanilla tasting notes.
Although traditionally served on easter Sunday, this creamy pie is so easy to make with its 5 minutes no-roll crust, so you can easily enjoy it year-round.
It's also gluten-free!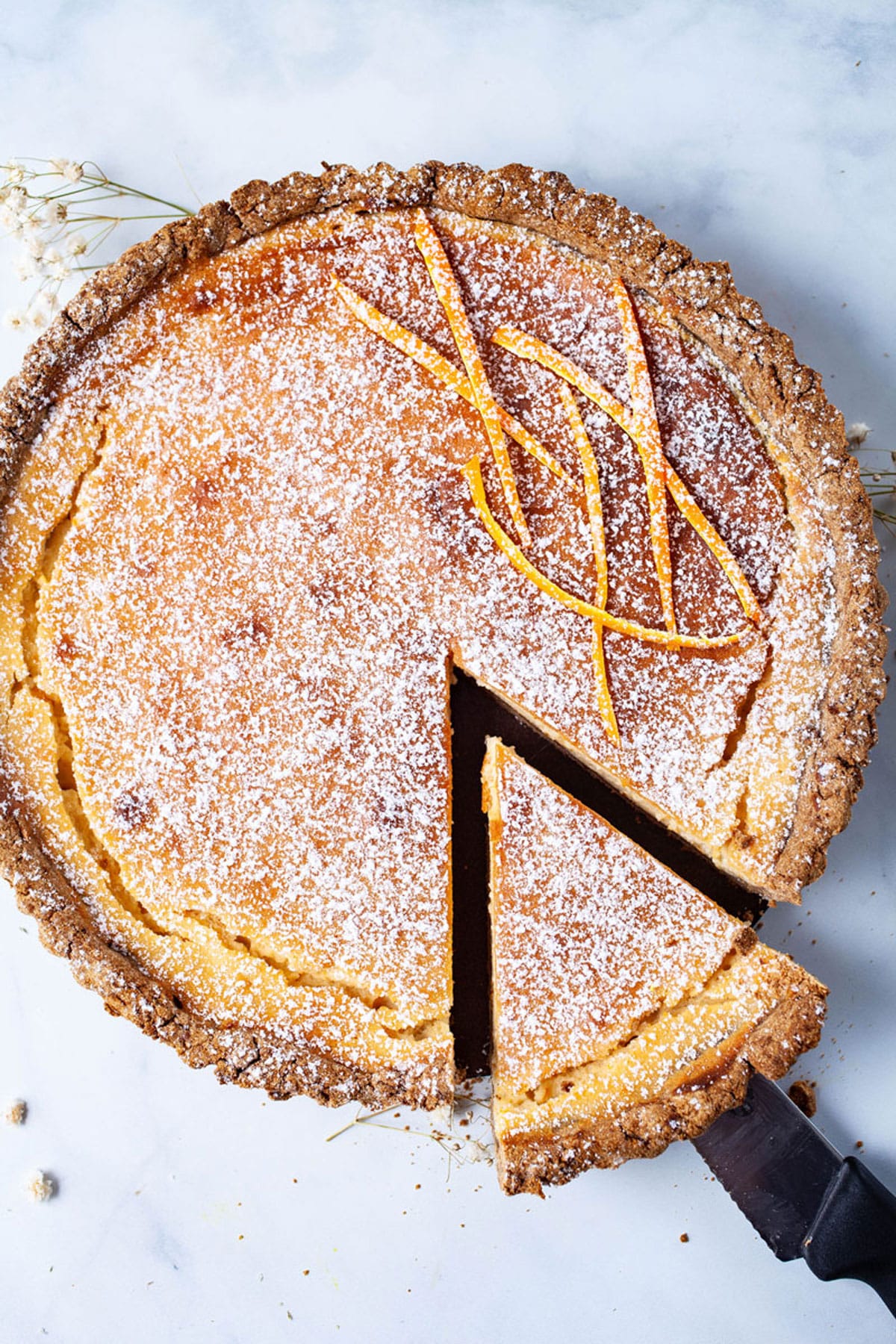 This lovely pie is a family recipe and is purely designed to keep everyone around the table for a little while longer as you catch up, relax and indulge in a slice.
I often make it as an Easter pie dessert, but it equally belongs on a cozy brunch table.
Whether you make it around easter time or to celebrate your weekend, a planned get-together, or a birthday, you can't go wrong with this honey ricotta pie.
Jump to:
Recipe feature
It's one of those pie recipes that's straightforward to make.
It looks so rustic and gorgeous once it comes out of the oven.
The flavors are amazing!
The creamy ricotta filling is sweetened with honey only and orange zest.
While the bottom is a no-roll gluten-free crust—no rolling pin required.
The sweetness of the entire pie is wonderfully balanced.
It's a delicious dessert that kids and adults alike get really excited about.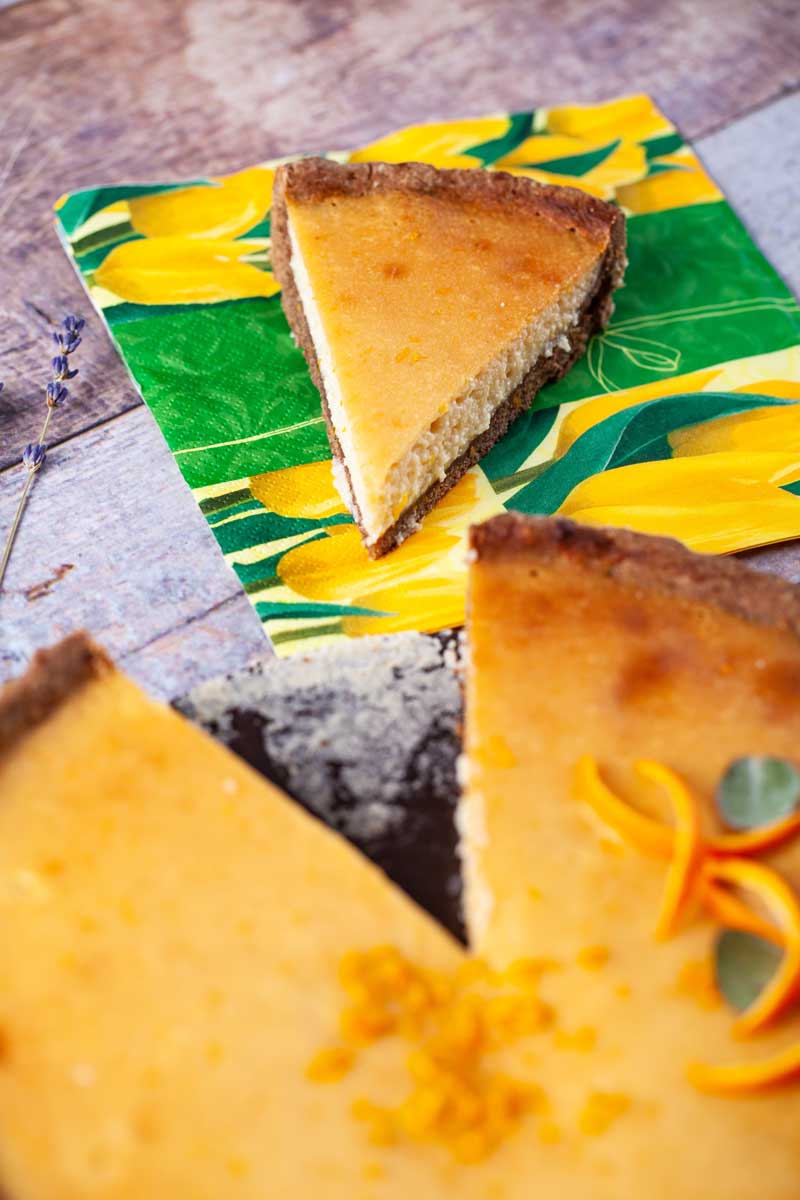 Filling ingredients & notes
Ricotta cheese: You can choose whole milk ricotta cheese or part-skim ricotta. I prefer whole milk because it's wonderfully rich but not too heavy and with a fuller flavor. But either one will work.
Note: Part-skim ricotta can sometimes contain excess liquid in the box. Therefore, always drain it to obtain a solid and creamy texture.
Flour: A little flour thickens the ricotta pie filling, adding a soft texture and the right amount of firmness once baked. I like to use either gluten-free all-purpose flour or cassava flour.
Egg whites: Beaten until firm, they will add structure and lightness to the filling.
Orange zest adds a citrusy, tangy flavor to this beautiful ricotta pie recipe.
Note: Use a Microplane or any grater to zest half to one orange—depending on its size—to get one tablespoon of orange zest. Only zest the colorful part of the peel and not the white part to avoid the more bitter flavors of the orange pith. You can use some of the orange peel to decorate the top of the pie, and I usually rework the peeled orange in a green smoothie.
Honey: If you can, go for liquid honey. For this recipe, I like all-natural wildflower or Orange blossom honey. They go well with the orange flavor and are always readily available at almost all stores or online.
Bottom crust ingredients & notes
It's a healthier version of a pie dough than normally used in an authentic Italian ricotta pie recipe and made with a combination of Teff flour—an ancient grain—and gluten-free all-purpose flour.
Flour: I love to mix gluten-free all-purpose flour and Teff flour—which is also gluten-free.
Note: Teff flour adds a good amount of nutrition, a lovely natural sweetness to the crust, and a beautiful rustic red-brownish color—Bob's Red Mill sells a good stone-ground version.
Sweetener: Coconut sugar and vanilla extract add an extra hint of sweetness.
Note: I've never tried it before, but I imagine you could easily use brown sugar instead if you don't have any coconut sugar.
Butter: Instead of cold butter, the recipe calls for butter at room temperature (soft enough to easily combine it by hand with the rest of the ingredients).
Note: Go for unsalted butter if you can, but I've used salted butter before as well.
Eggs: I'm adding two large, beaten eggs to make the crust compact.
Note: It's best to take the eggs out 30 minutes before making the pie dough to have them at room temperature.
Brandy or rum: Adds nutty and vanilla flavoring notes. You can choose either, but I'll go for Brandy if I have both available. Don't skip this ingredient.
Note: Brandy is made with wine or fermented fruit juices, while rum is made using molasses or sugarcane juices. There is NO BOOZY taste, and the tiny amount of alcohol will cook away. Rather, it adds moisture, creates a crumblier texture, and a richer flavor that goes well with the orange-flavored ricotta cheese.
How to make ricotta pie
We're making the ricotta filling first. It is super easy to make, and you want to refrigerate the creamy mixture while preparing the crust to firm up a little.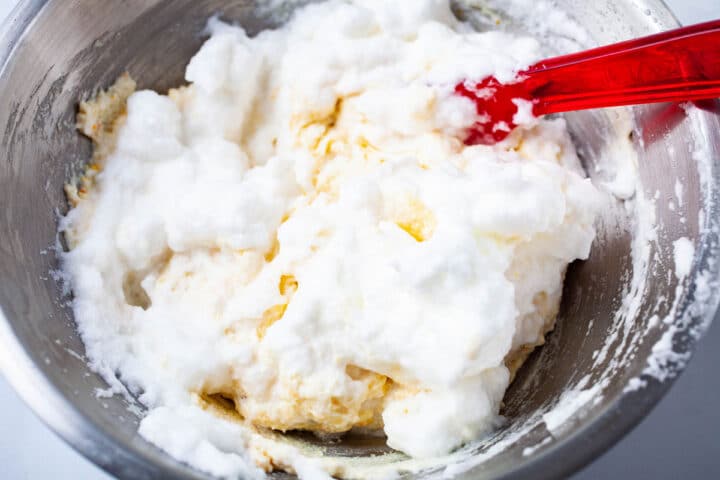 Easy pie topping design ideas
This tart doesn't need any garnish. It looks incredible once baked with its golden colors.
But if you want to take it a step further, keep it simple with orange rind matchsticks.
Cut the peel of the other half of the orange (or a second small orange) into large segments.
Remove any thick white parts from the inside of the peel.
Flatten the segments out on the cutting board with the palm of your hand.
And then, with a sharp knife, cut from end to end into thin sticks.
Give each orange stick a light squeeze to bend them a bit and arrange them crisscrossed on one side of the tart—see picture.
You can add some edible flowers, sprinkle extra orange zest, sift on top some powdered sugar, or use some dried or fake eucalyptus leaves—these are just a few suggestions.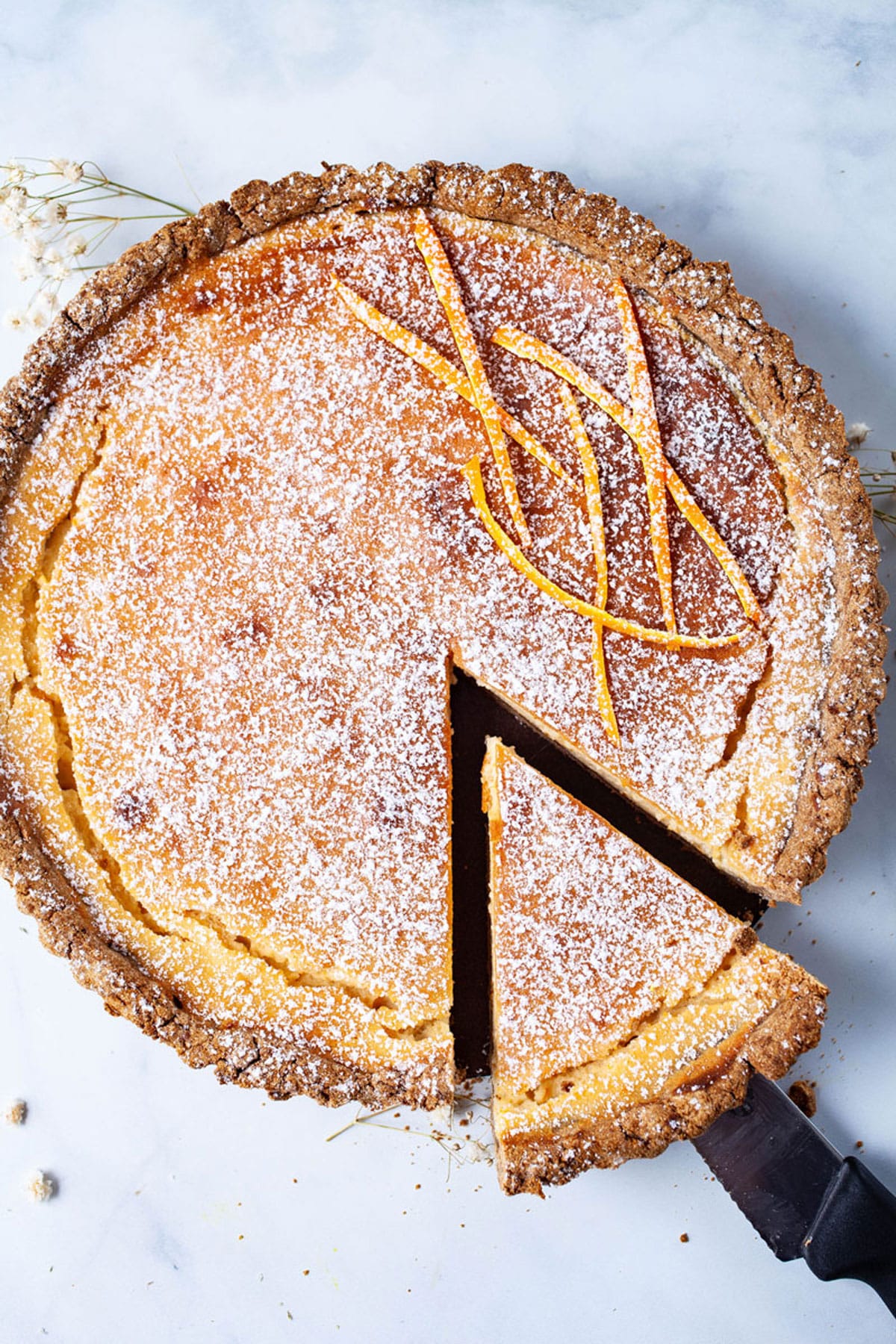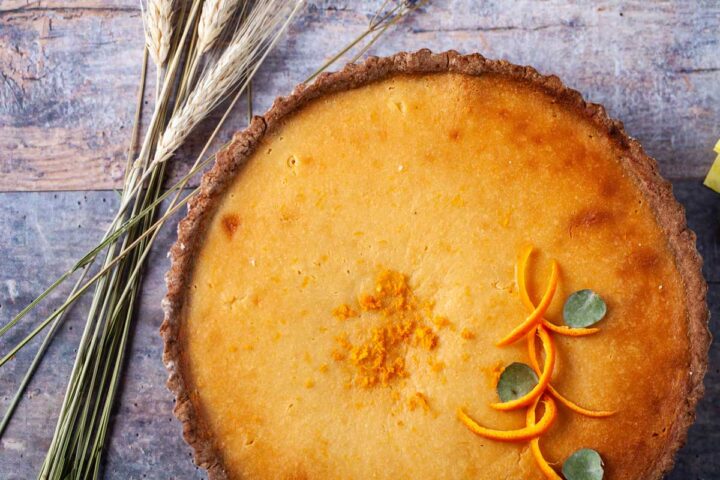 Equipment
This is one of the easiest ricotta bakes you'll ever make. Since most of it is made by hand, you don't need a lot of special equipment.
I do recommend a 9-inch tart pan with a removable bottom.
And if you have a stand mixer to whip the egg whites, perfect, if not, a hand mixer can work too.
Other than that, I recommend a whisk and a spatula, as they are handy for combining the cheese filling and evenly dividing it into the pie crust.
Storage
Any leftovers store easily in the fridge for up to one week—best stored in an airtight container or at least covered.
You can make the pie crust in advance and store it well-wrapped for a few days in the fridge before planning to bake this ricotta pie.
More reasons to make this Italian dessert
It is beautifully rustic looking;
Deliciously creamy, slightly sweet, and wonderfully soft in the middle.
It has that buttery, almost cookie-like crust that everyone will love;
And sophisticated flavors due to the orange zest and a tad of Brandy or rum.
Around the Holidays, this tart is always a family favorite.
But it equally belongs on a cozy weekend brunch table—think delicious homemade egg dishes, Basil lemonade, mocktails, or coffee drinks, and the colorful display of nut butterspreads, jams, waffles, or sweet bread next to your favorite dips, cheeses, charcuterie, and the rustic look of this Ricotta cheese pie to add a delicious sweet treat. 
FAQ
What is Ricotta cheese?

Ricotta cheese is a deliciously creamy and soft fluffy cheese made from either cow's, goat, sheep, or even buffalo milk.

For this recipe, though I always use cheese made from cow's milk which is also readily available in grocery stores or online.

At home, I always have some in my fridge because we love it as a spread on toasted bread with a drizzle of honey or maple syrup on top—just delicious—or as a creamy dollop for fruit salads, Italian doughnuts, waffles, or pancakes.

Is teff flour gluten-free?

Teff flour is a wonderful whole-grain product that is also gluten-free and naturally has a slightly sweet flavor.

For this ricotta pie recipe, I use a mix of this ancient grain with gluten-free all-purpose flour to create the perfect blend for a tasty bite-worthy pie crust.
Baking with rum

Rum or Brandy can give off beautiful nutty and vanilla-tasting notes that work well with this ricotta pie filling.

Since the recipe calls for only 4 tablespoons, the alcohol will cook off but adds a subtle delicious flavor like vanilla extract.

Note that the quality of your alcohol can affect your final bake.
Can I replace the gluten-free all-purpose flour with cassava flour?

Yes, you can combine Teff flour with cassava flour (also gluten-free) for this recipe.

But note that the crust, although still good, will be a little bit more on the drier side once baked.

I believe that a mix of teff flour and gluten-free all-purpose flour will get you the best result.


Recommended
---
Don't forget to subscribe to my Monthly Newsletter!
Your shares and ratings are valuable to me and so much appreciated. It'll help me create more content you and others can enjoy!
---
📖 Recipe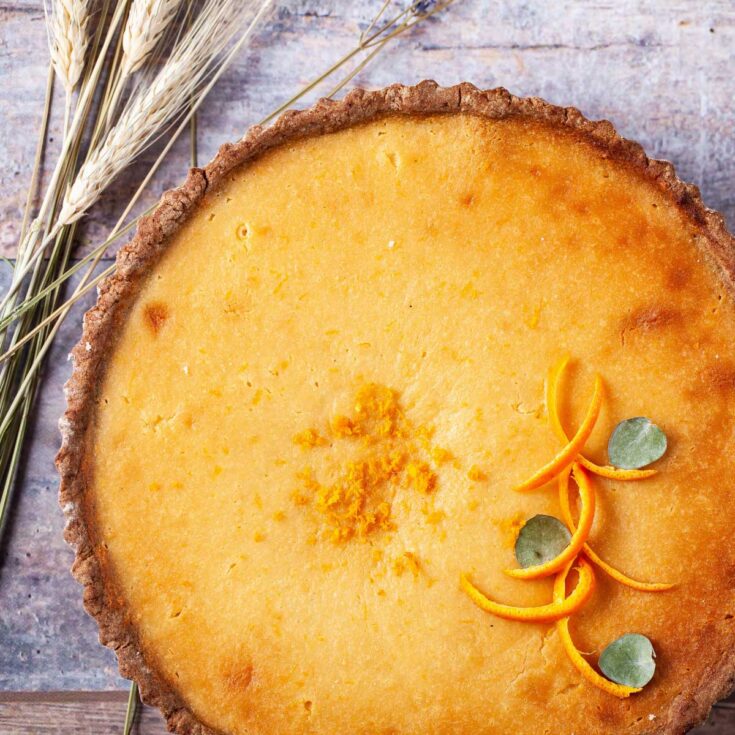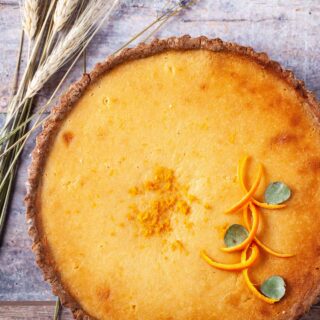 Honey Ricotta Pie
Mariska Ramondino
A delicious Italian Ricotta Pie recipe with a subtly sweet gluten-free crust and beautifully filled with creamy honey and orange-zest ricotta cheese filling! You will be in tart heaven!
Equipment
1 9-inch tart pan with a removable bottom
Ingredients
Ricotta Cheese Filling
2

large egg whites

from 2 eggs at room temperature

15

ounces

fresh whole milk ricotta cheese

425 grams

⅓

cup

local honey

100 grams

Grated zest of an orange

1 tablespoon, reserve the rest of the peel for garnish

4

tablespoons

gluten-free all-purpose flour

35 grams
Instructions

Pre-heat oven to 350 degrees Fahrenheit or 180 degrees Celsius
Make the ricotta cheese filling:
Separate the egg whites from the yolks. Place the egg whites in a clean mixing bowl and mix on medium speed until firm—use a hand or stand mixer. See the note below on what to do with the yolks.

In a medium bowl, combine ricotta cheese with the honey, grated orange zest, and flour—best to use a whisk.

Fold the firm egg whites into the honey ricotta mixture—best to use a spatula.

Cover and store in the fridge while you are preparing the crust.
Make the pie dough (crust):
Combine the all-purpose flour with Teff flour and coconut sugar in a large bowl. Whisk, making quick swishing motions to mix the dry ingredients and fluff it.

Then add the butter, vanilla extract, eggs, and Brandy.

Combine the ingredients in the bowl. The dough will first be crumbly.

Then use your hands to combine everything until you get a rough ball. If the mixture is too dry to form a rough ball, add one extra tablespoon of Brandy or honey.

Transfer the dough to the center of the tart or pie pan. I usually lightly butter the bottom of the pan a little (optional).

Press firmly into the bottom and up the sides, ensuring all corners are equally covered. You want to get the dough at an even thickness throughout. 

Then use the tines of a fork to prick holes all over.
Assemble the pie:
Transfer the reserved ricotta mixture onto the pie crust in the pie pan and, with a spatula, divide it equally over its surface.

Bake for 40 to 50 minutes or until filling in the middle is set (some spots might become golden brown, and that's okay).

Cool completely.

Before serving, garnish tart with curled orange peels and some sugar powder (optional)

Cut into wedges and serve at room temperature or refrigerate until serving.
Orange Peels for Garnish (Optional)
Use a vegetable peeler to peel off the orange skin of a small orange.

Start from the top and peel in one swoop to the bottom of the orange.

Slice the thick peel into thin matchsticks

Bend them slightly and arrange them crisis cross onto one side of the tart (see picture.)

You can sprinkle over some extra orange zest and decorate further with lavender leaves, edible flowers, or crushed hazelnuts (these are just a few suggestions).

Notes
Store the unused egg yolks in an airtight container and use either the same or the next day to make an omelet or egg muffins, or throw them in with other eggs to make a scrambled egg dish. You can also use boxed egg whites, but egg whites from fresh eggs separated from their yolk always seem to firm up better.
Ricotta cheese: always drain off any liquid that can sit at the bottom of a cheese box to obtain a solid and creamy texture in this dessert.
Storage: Cover and store up to one week in the fridge in an airtight container.
Add your own private notes
Whenever you come back to this recipe, you'll be able to see your notes.
Nutrition (% Daily value)
Calories:
428
kcal
(21%)
Carbohydrates:
53
g
(18%)
Protein:
13
g
(26%)
Fat:
18
g
(28%)
Saturated Fat:
10
g
(63%)
Polyunsaturated Fat:
1
g
Monounsaturated Fat:
5
g
Trans Fat:
0.3
g
Cholesterol:
91
mg
(30%)
Sodium:
144
mg
(6%)
Potassium:
98
mg
(3%)
Fiber:
4
g
(17%)
Sugar:
25
g
(28%)
Vitamin A:
558
IU
(11%)
Vitamin C:
0.1
mg
Calcium:
160
mg
(16%)
Iron:
2
mg
(11%)
Disclaimer: This nutritional data is calculated using third party tools and is only intended as a reference.
This post was originally published in April 2017 and has since been updated with new pictures and new information.