These beautiful mini frittatas are great for entertaining a brunch or Sunday breakfast. The Italian flavors of parsley, anchovy and garlic perfectly harmonize with soft pumpkin puree. What you get is a savory, lightly sweet taste with a super silky texture that makes these frittatas extra delicious. The whole family loves them—yes, even kids—and these individual egg dishes will brighten your table. The ideal fluffy and delightful egg dish!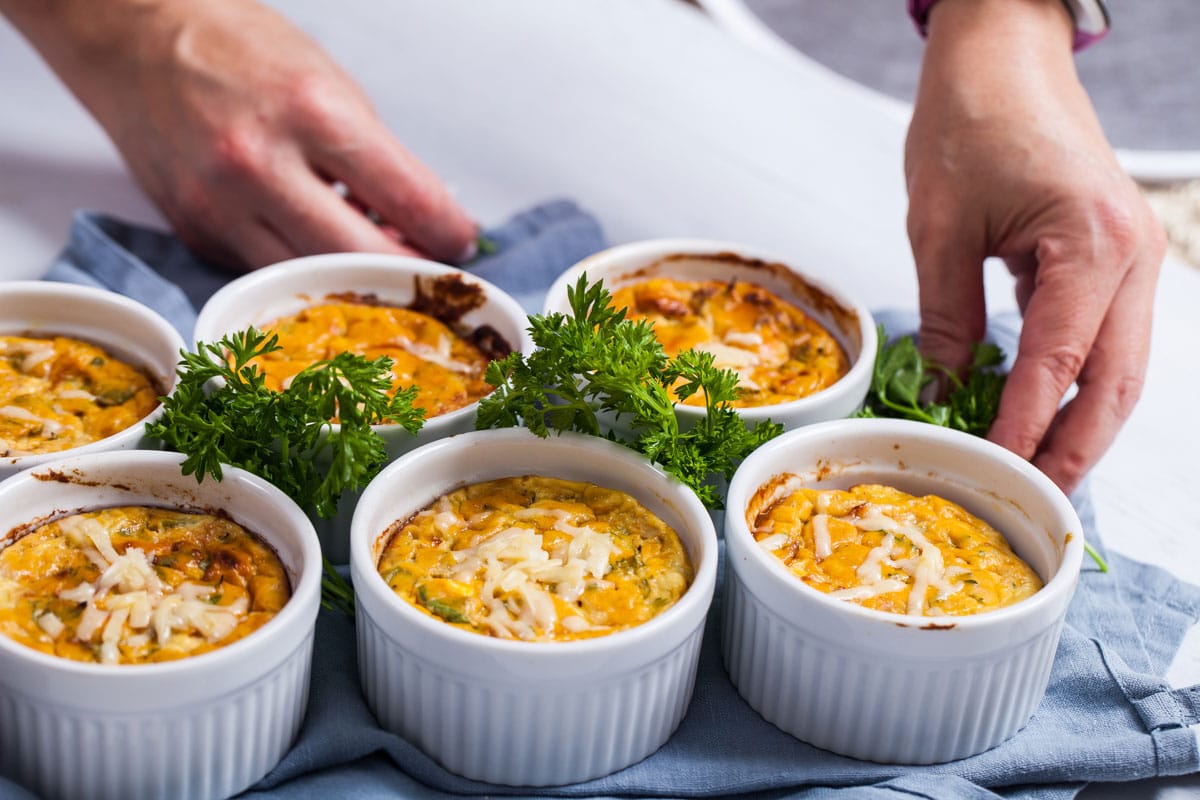 My late grandmother's love for anchovy and parsley was the inspiration for these fancy breakfast bites. With only 9 simple ingredients, they are ready in no time, incredibly satisfying, and look beautiful on any breakfast or brunch table!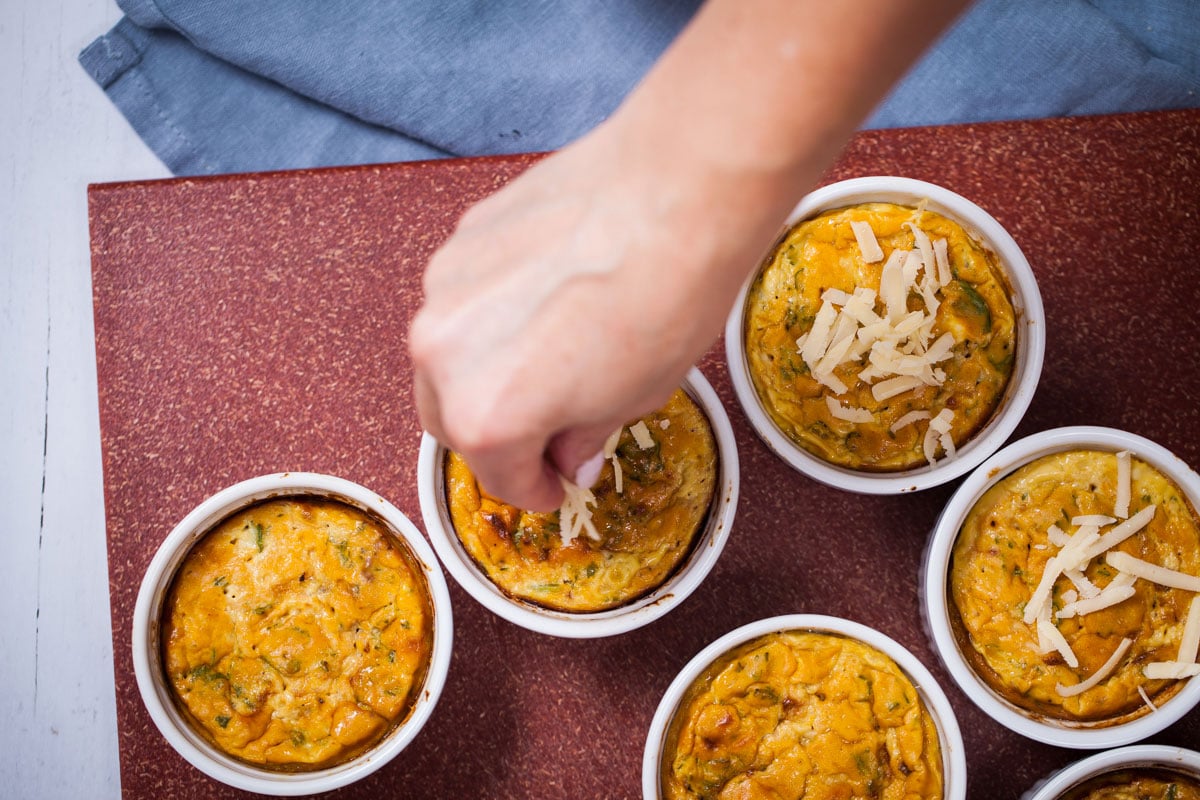 A FEW NOTES ON MAKING THESE MINI FRITTATAS
Choose curly parsley. I know, everyone loves flat leaves parsley these days. But this flat-leave sibling, who is a bit less pungent in flavors has a purpose here. As a seasoning, it adds freshness and enough character to neutralize the taste of the anchovy a bit.
Add some personality by choosing your favorite hard cheese. Parmesan is a great choice, but any other aged cheese will do to add a natural hint of sweetness. I'll leave a link here for the cheese I often use for this recipe.

Don't forget the

Pumpkin puree.

Maybe a bit of an odd choice, but it makes these egg dishes incredibly filling and super silky in texture—a more sophisticated taste than your typical egg bites.

I love some anchovy, and it doesn't overpower this dish. Instead, it gives a rich, savory depth to the egg mixture that only a few other ingredients can do in baking—Parmesan cheese and truffles come to mind.
Divide the egg-based liquid into a 12 cupcake muffin pan

, coated with olive oil or beautiful

souffle ramekins

. Simple ramekins make any brunch or breakfast suddenly a whole lot more special without any extra work. Don't you think?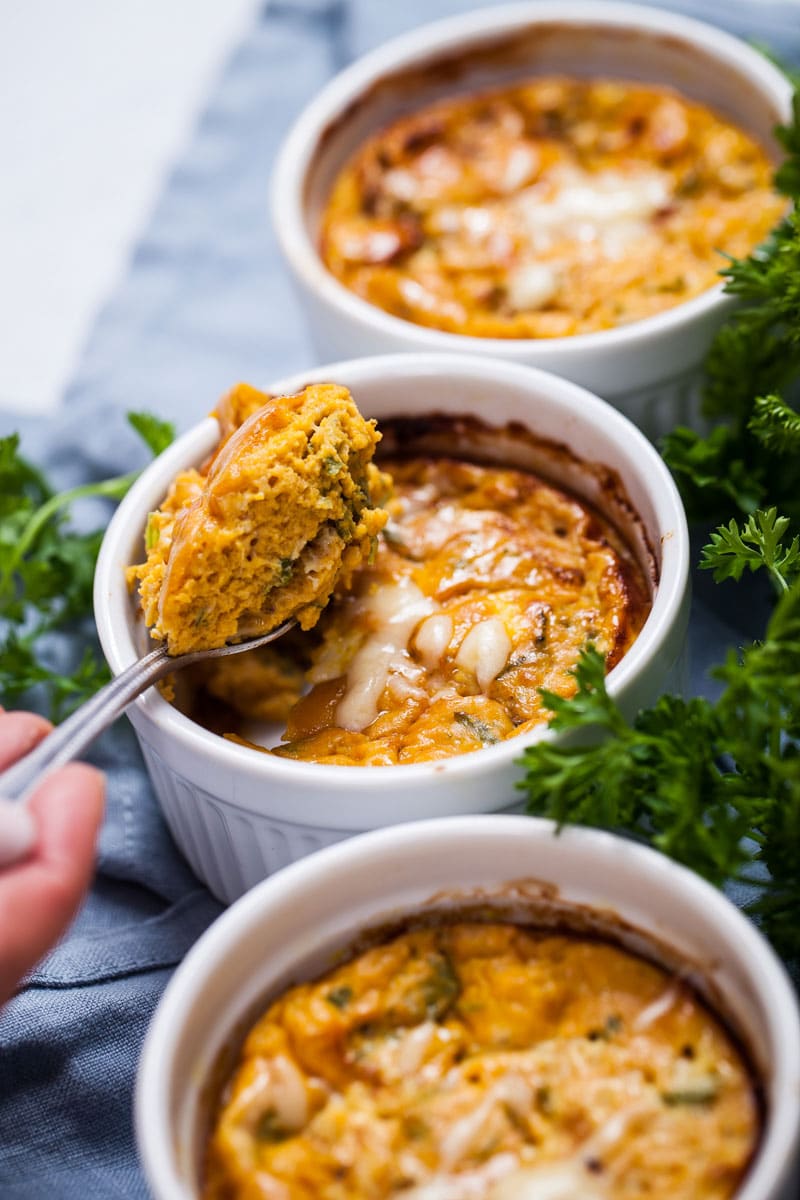 All I have left to say is, make them!
Here are a few other breakfast or brunch recipes and posts you definitely should check out, and they are great for sharing.
A Perfect Sharing Baked Pancake
A Light Sweet Orange-Clove Butter Bread
A Crunchy and Gluten-Free Apple Crumble
Enjoy!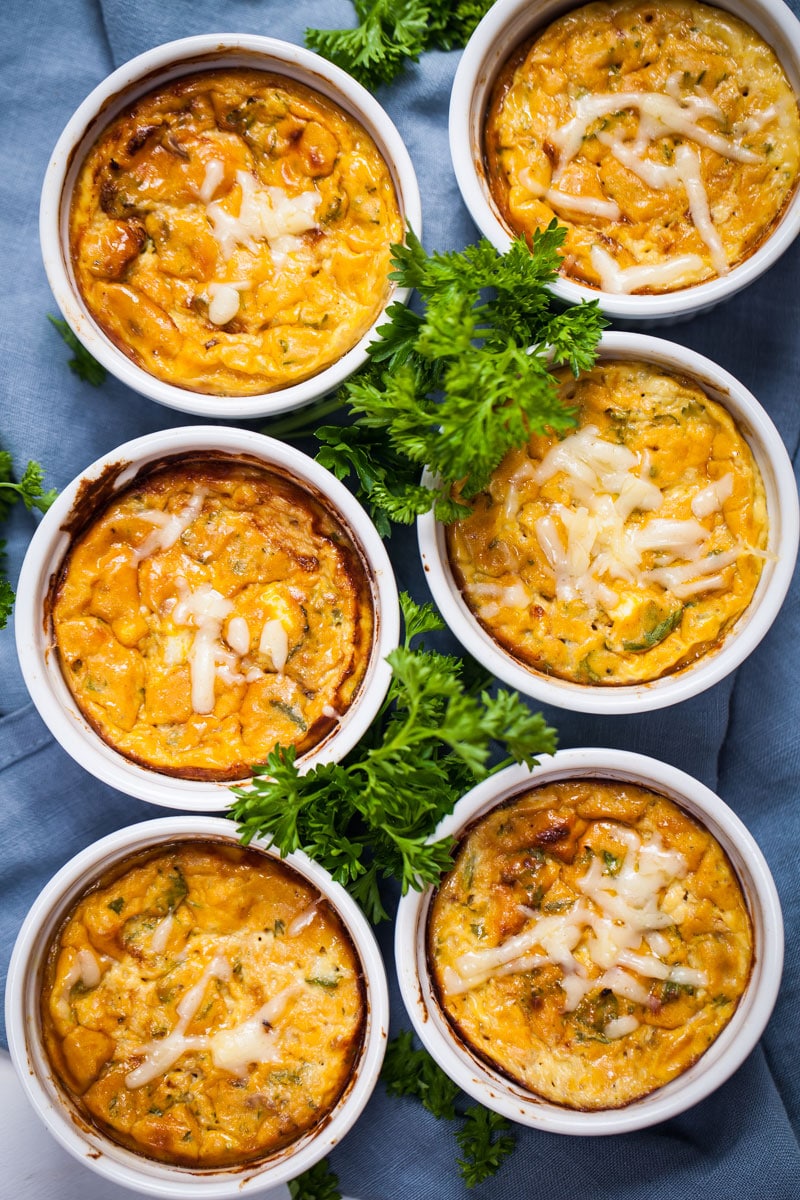 THE PERFECT PARSLEY AND ANCHOVY MINI FRITTATAS
These beautiful mini frittatas with Italian flavors of parsley, anchovy, and garlic perfectly harmonize with soft pumpkin puree. What you get are savory, lightly sweet mini egg dishes with a super silky texture. YUM!
Ingredients
6 eggs, beaten
½ cup grated hard cheese, plus extra for garnish
1 garlic clove
1 cup chopped fresh parsley
1 (2 ounces) can anchovy in olive oil
1 tablespoon olive oil
1 (15 ounces) can pumpkin puree
1 tablespoon of sea salt
Black pepper as desired
Instructions
Preheat oven to 350 degrees.
In a bowl, combine eggs with the cheese, set aside.
In a high-speed blender (like a Vitamix), add garlic, parsley, anchovy plus the oil in the can and one tablespoon of olive oil. Blend on high speed until you get a beautiful green paste.
Transfer the green anchovy paste to the bowl containing the eggs. Add the pumpkin puree and salt. Stir until well combined. Season with some black pepper.
Divide the egg mixture evenly into six mini ramekin bowls (I use 6 oz mini bowls). They should be about ⅔ full.
Place in the center of the oven and bake for 25 to 30 minutes or until firm to the touch. Take the mini frittatas immediately out of the oven. Top off with some extra grated cheese while they are still hot so the cheese can melt. Serve immediately or store in the fridge for up to 2 days.
Recipe originally posted July 2018 but updated to include new information.