These beautiful mini frittatas are great for entertaining a brunch or for tomorrow's breakfast.
They are my favorite healthy egg muffins with a rich umami flavor and super silky texture—I'll sometimes even enjoy them for dinner.
Make them in ramekins for an easy bake or a more festive occasion. Or turn them into simple breakfast egg muffins for meal prep.
They also happen to be low carb, Keto, and Paleo-friendly—Mediterranean mini frittatas at their best.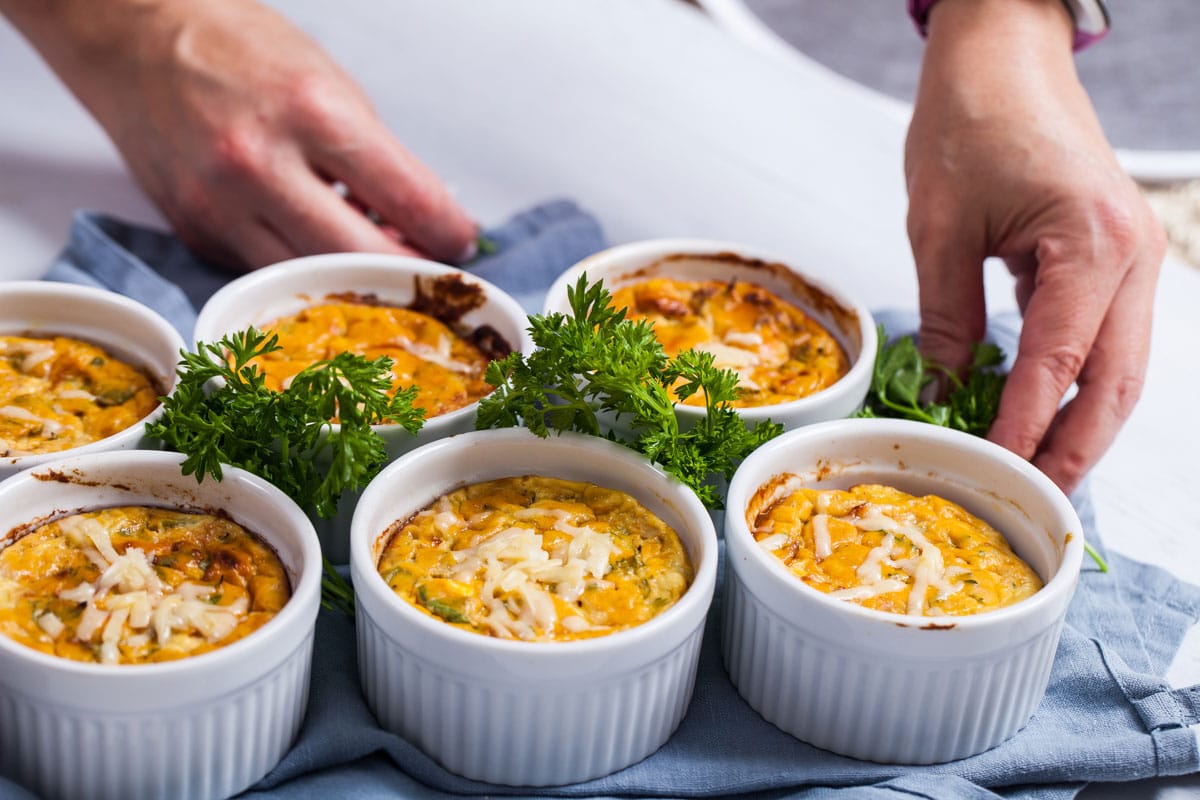 Ever wonder what to do with a tin of anchovies? Create an incredibly delicious umami flavor that turns these easy-to-make mini frittatas into rich, savory bites.
Wait, just wait a minute! To the anchovy naysayers, please, don't immediately dismiss this recipe. I promise you, no fishy or over-the-top salty tastes.
You won't even notice they're there. These little canned fish will disappear but leave a boost of rich deliciousness that you can't get unless you use anchovies as your secret ingredient.
Just like adding a bouillon cube to enhance the flavors of a good soup or stew, a tin of salty anchovies in over-the-top soaked olive oil can do the same by adding a beautiful depth of savory undertones.
That is if you know how to incorporate them into a dish.
Like my late grandmother, who used this humble fish often to start the base of a good pasta sauce, I'm using them in these baked egg muffins to turn its sharp, overwhelming flavors into a smooth yet indescribable richness.
The oily anchovies are pulverized with fresh parsley leaves and garlic—must have Italian flavors— into a green paste.
See, the anchovies are almost gone now.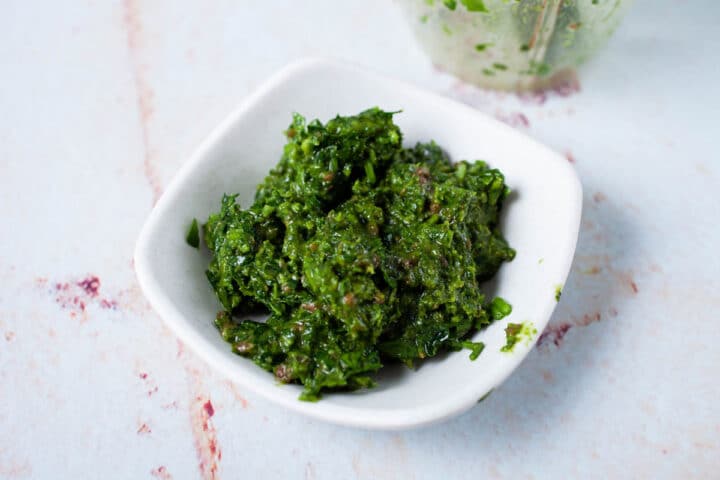 Then everything gets perfectly harmonized with soft pumpkin puree and a cheesy egg mixture.
The result? Egg muffins with a super silky texture and incredible rich Italian flavors.
And the anchovies? They totally melted away into the fatty cheese and eggs.
The whole family loves them here—yes, even kids—and these individual egg dishes will brighten your table and fill you up to start the morning—fluffy and delightful.
Let's make them!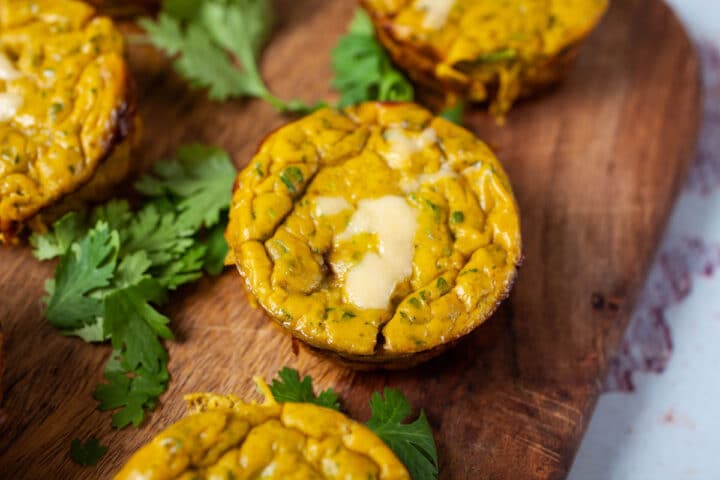 Ingredients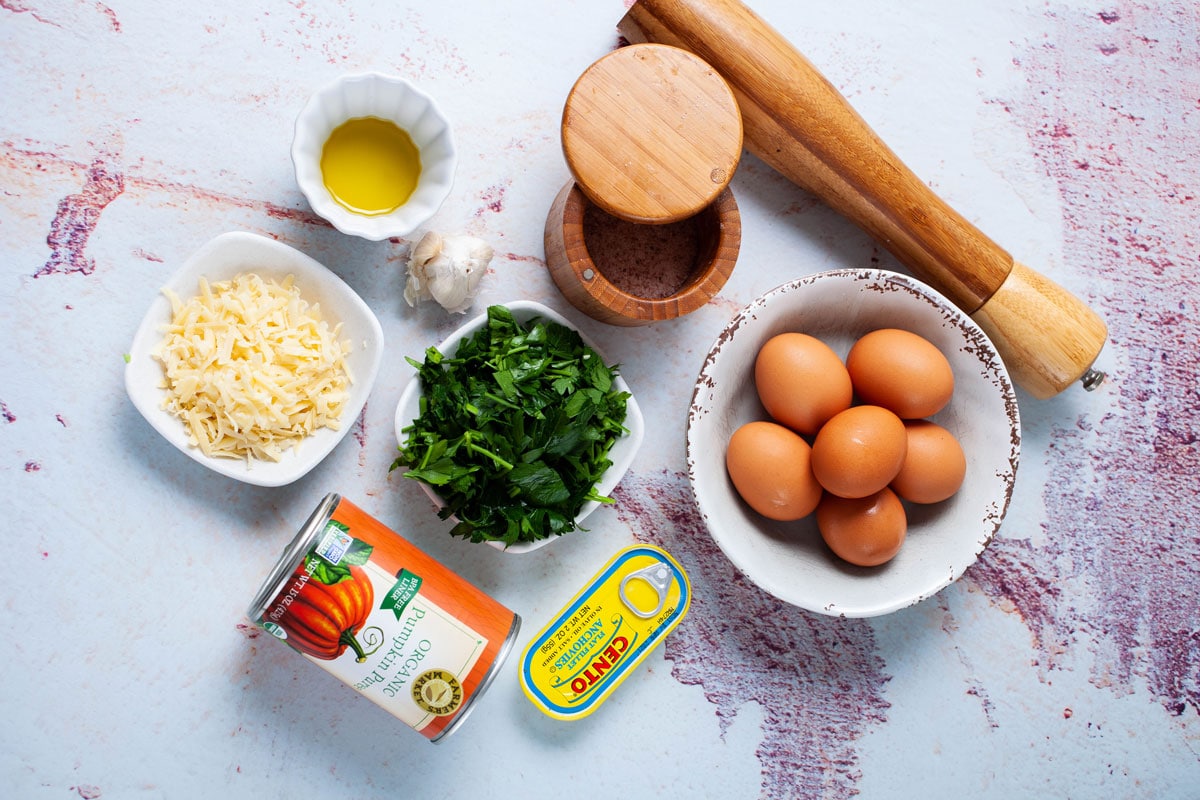 Eggs
Simply whisk together 6 large eggs.
Hard cheese
Add some personality by choosing your favorite hard cheese. Parmesan is a great choice, but any other aged cheese will do to add a natural hint of sweetness.
Garlic
I suggest using two garlic cloves—but one is usually sufficient to add that undercurrent of umpf.
Don't use garlic powder—it's just not the same.
Fresh Parsley
Try to go for flat parsley, if you can. It has a purpose here.
As a seasoning, it adds freshness and enough character to neutralize the taste of the anchovies.
A small tin of anchovies
Of course, I love anchovies, but, I promise, it doesn't overpower this dish—no taste of the sea here.
Instead, it gives a rich, savory depth to the egg mixture that only a few other ingredients can do in baking—Parmesan cheese and truffles come to mind in Italian cuisine.
Olive oil
I'm adding a tablespoon of extra virgin olive oil and the olive oil from the anchovies to smoothly blend the parsley leaves with the rest of the ingredients.
It also adds an extra herb and fruity-like element.
Pumpkin puree
Don't forget the Pumpkin puree. Maybe a bit of an odd choice, but the density of this vegetable's fibrous flesh works well with potent salty ingredients.
It also gives these healthy egg muffins a super silky texture and a more sophisticated taste than your typical mini frittatas.
Seasoning
I'm only adding ¼ teaspoon of extra sea salt and black pepper (about 15 turns with the pepper mill)—remember, the cheese and the anchovies will already add plenty of saltiness.
By keeping it simple, I'm letting the flavors of the other ingredients shine.
How to make umami flavored frittatas
Let's go over it step by step.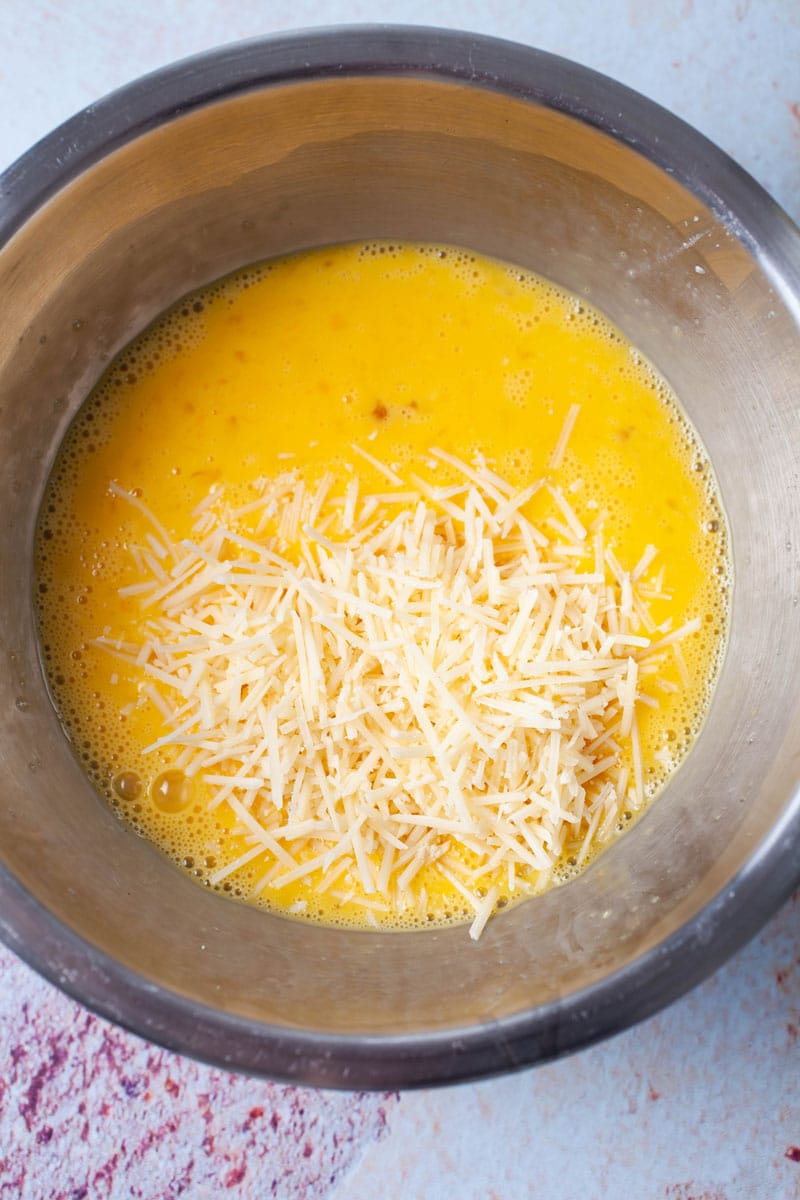 Briefly beat the eggs with a whisk in a bowl, then add the cheese and combine.
Gather the fresh parsley leaves, garlic cloves, olive oil, and anchovies in a can.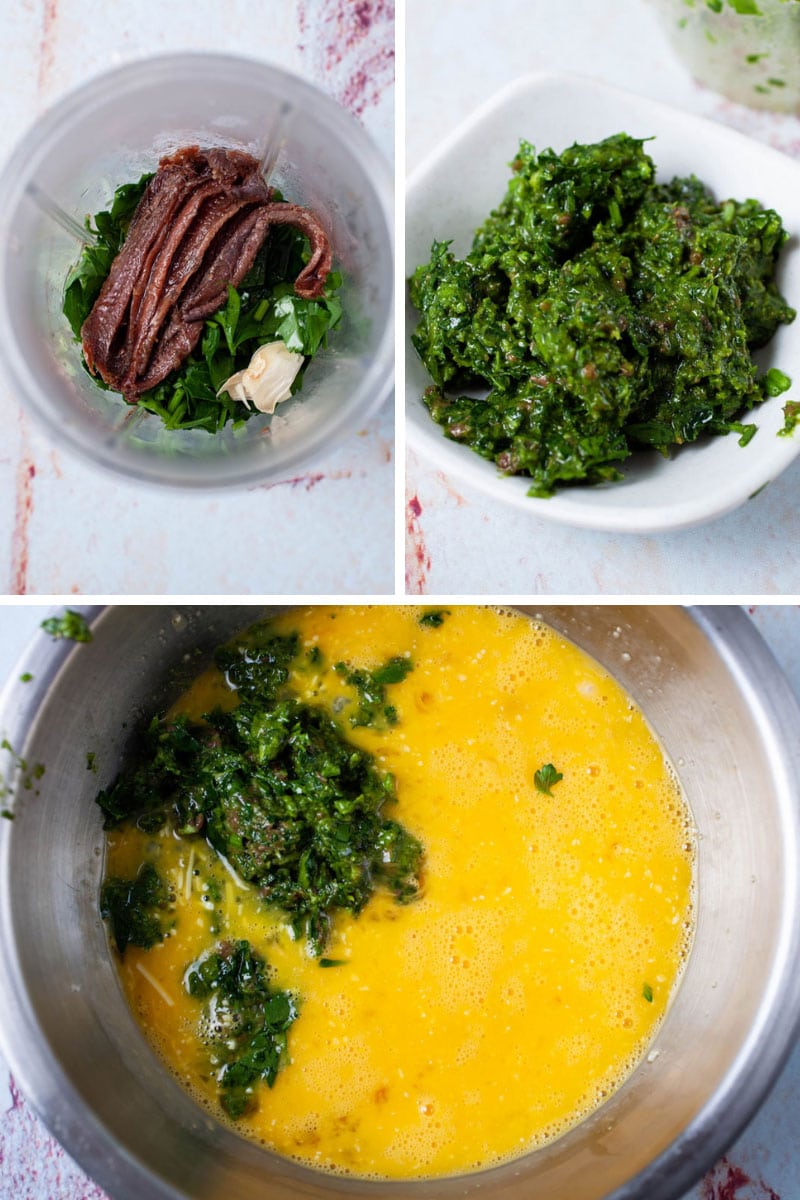 Place the ingredients in a blender or food processor and blend until you get a beautiful green paste—it will smell AMAZING.
Add the parsley-anchovies paste to the egg and cheese mixture.
Next, whisk the green paste into the egg mixture until thoroughly blended in.
I whisk in the extra sea salt and black pepper at this point.
Then I spoon in the pumpkin puree.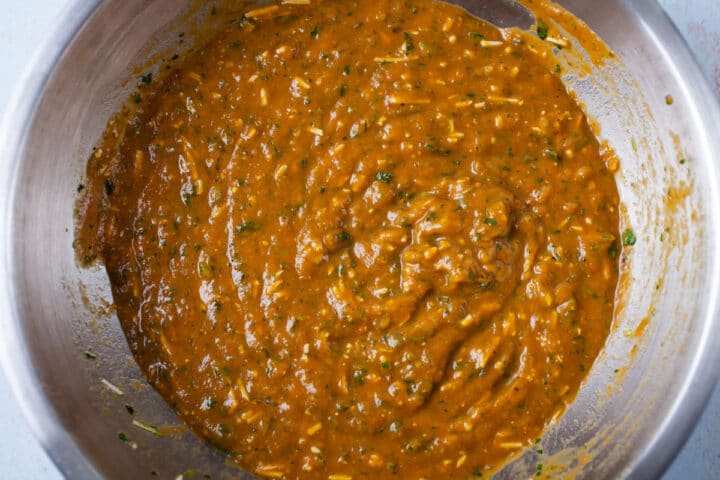 Briefly whisk until the pumpkin puree is completely absorbed and your egg mixture now suddenly has a beautiful dark reddish color.
Let's prep for baking.
Frittatas in ramekins or a tin muffin pan
You can make these mini frittatas either in ramekins—excellent for a more festive occasion—or in a tin muffin pan if you plan to meal prep your weekly breakfast choices.
I've made them so many times. So, here are my findings for using ramekins versus a muffin pan.
Use ramekins for ease or a more festive brunch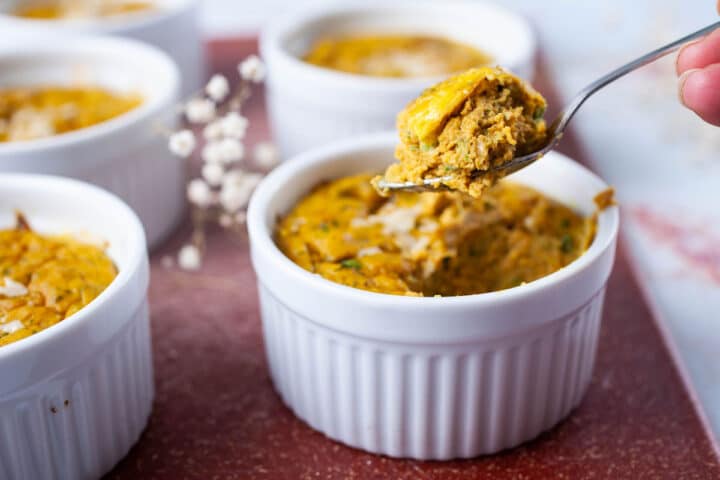 There is no doubt that making these frittatas in ramekins is so much easier. They come beautifully out of the oven, and you can immediately serve them warm and eat straight out of them with a spoon.
The egg mixture for making these baked egg muffins nicely and equally divides into 6 ( 6-ounce) ramekins, lightly coated with some olive oil—optional.
It's festive looking, and I often make them this way for more special occasions or Sunday brunch with family or friends.
Use a tin muffin for meal prepping these egg bites
Oh boy, from its looks, maybe it's time to buy a new muffin pan.
You can also divide the egg-based liquid into a 12-cupcake muffin pan.
Even with a generous coat of olive oil, or no matter how much you grease your muffin pan, it's always a bit tricky to get the baked egg muffins out.
Most of the time, I have great success with removing them after they've cooled a bit and run a knife around the edges first.
But if you don't want to deal with all that, your best bet is to bake them using reusable silicone muffin liners or try a silicone muffin pan.
For now, I'm still sticking to my old beat-up cupcake pan, and it still works fine with the help of a baking brush, some olive oil, and greasing those individual pans profusely.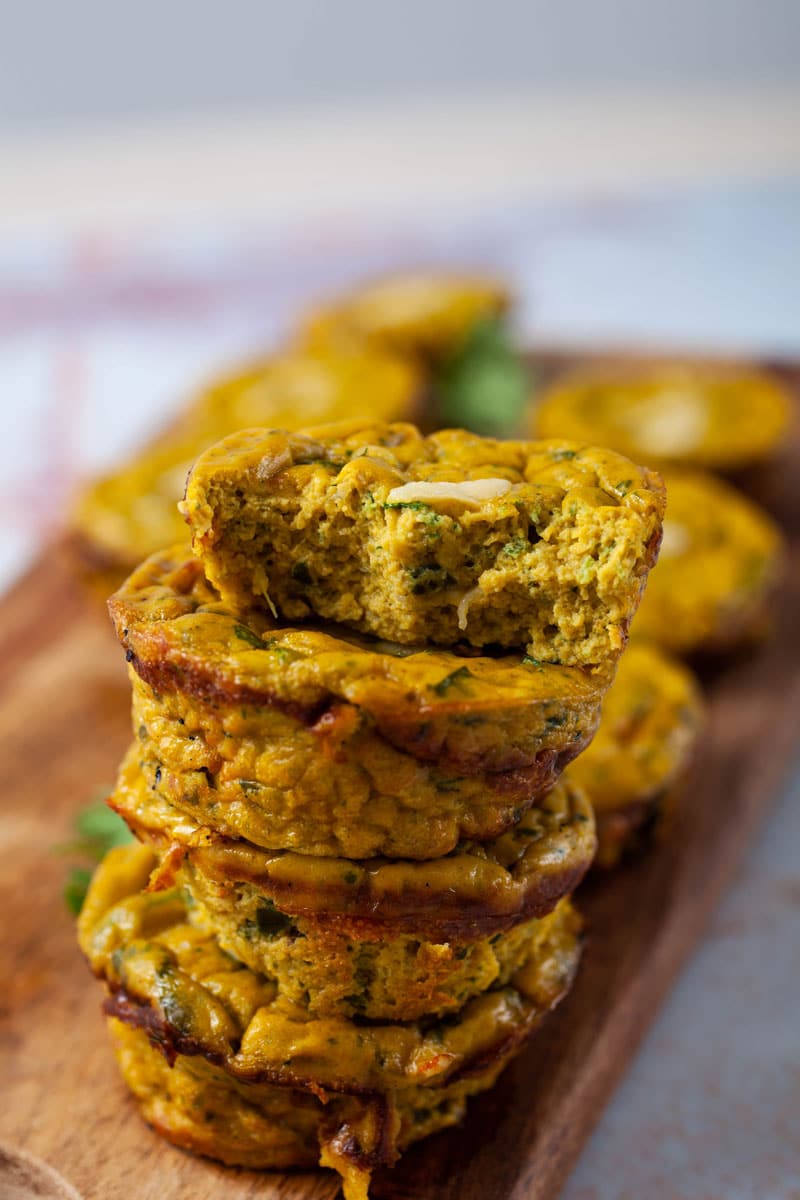 How to store these mini frittatas
Refrigerator: The egg muffins can be stored in an airtight container for up to 5 days in the fridge.
If you have used single-serving ramekins, simply cover them with cling film if they don't come with a lid already, or place them in a large enough airtight container to store in the fridge.
I'll admit that these egg muffins never make it to the freezer in my household.
If they are part of your breakfast meal prep, I suggest making just enough to plan for the week ahead because they taste so much better fresh or consumed after refrigerating versus after freezing.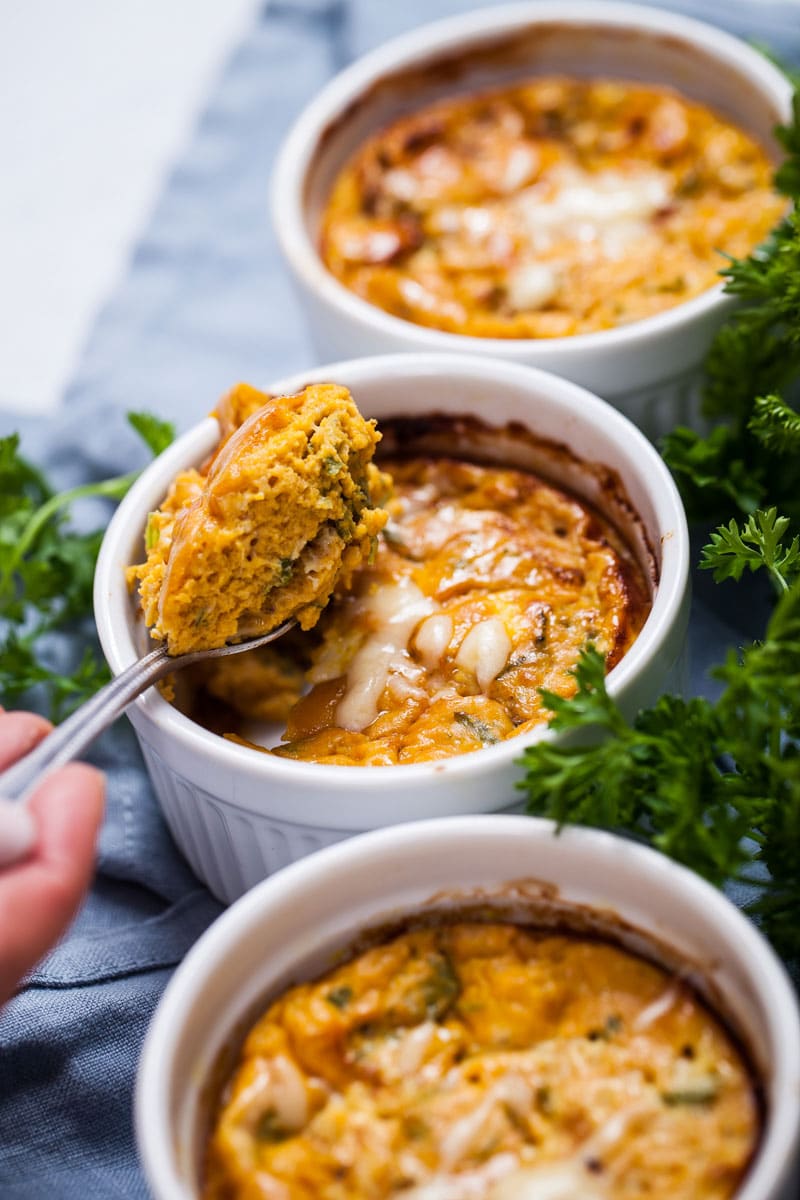 The texture is soft, silky, yet meaty enough with a super flavorful bite.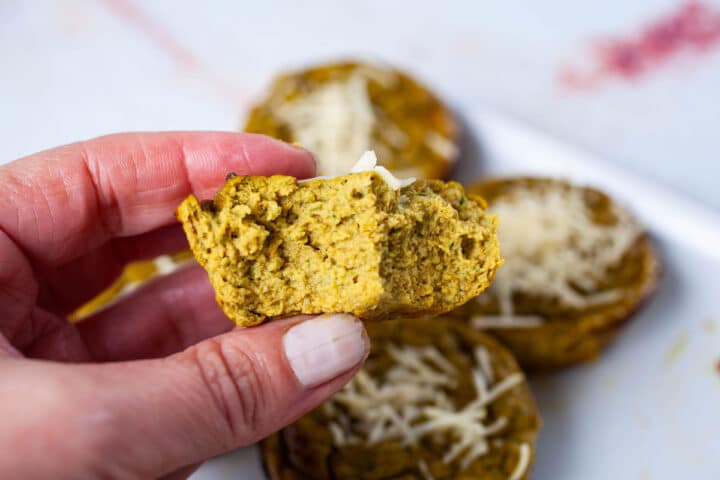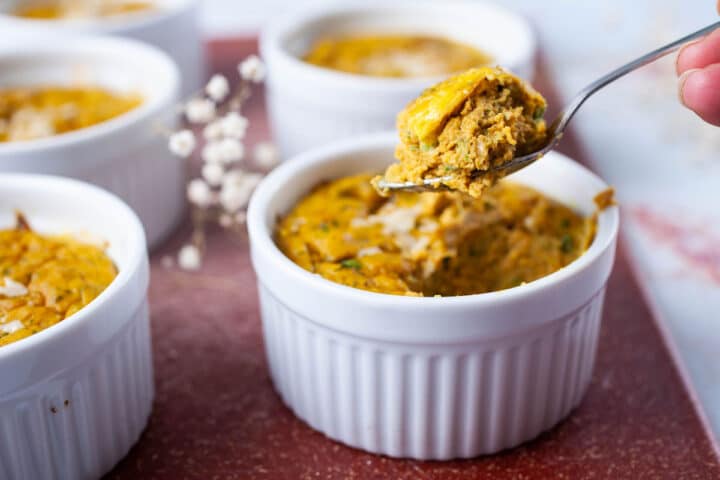 How to serve these delicious low carb egg muffins
Enjoy them warm or cold;
Alone for breakfast or as a healthy protein-rich snack,
I love them after lifting weights to fuel my muscles.
Serve them as part of a larger breakfast or brunch table, including this homemade dairy-free iced latte, waffle board (which also has low-carb, keto, and gluten-free options), and these delicious low carb nut butters;
Make them part of a healthy lunch with a large kale salad, slices of avocado to keep it low carb, or this healthy mango salad for a more refreshing bite.
Yes, you can even enjoy them as a light dinner with a cup of bone broth or toss them in almond flour tortillas (low carb) or gluten-free drop biscuits for a sandwich-like experience.
All I have left to say is, make them!
Here are a few other breakfast or brunch recipes and posts you definitely should check out, and they are great for sharing.
Sharing is caring, so don't forget to PIN IT! I always love to hear if you tried out this recipe and if it worked for you. Also, don't forget to subscribe to my Monthly Newsletter!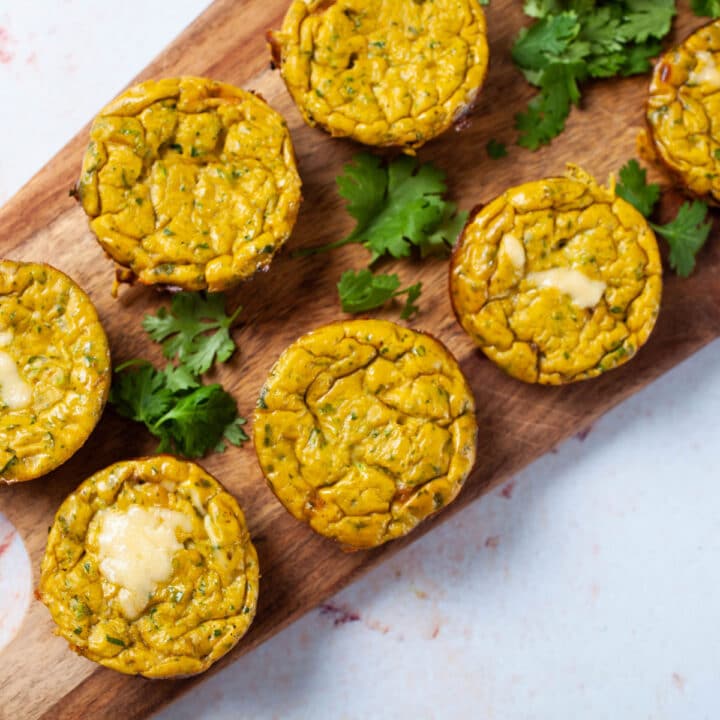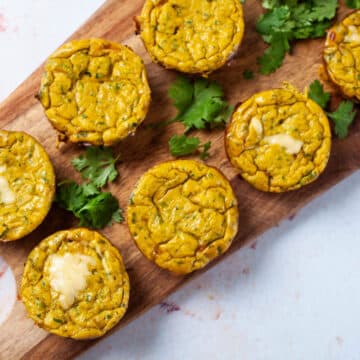 Parsley and Anchovy Mini Frittatas
Mariska Ramondino
These beautiful mini frittatas with Italian flavors of parsley, anchovy, and garlic perfectly harmonize with soft pumpkin puree. What you get are savory, lightly sweet mini egg dishes with a super silky texture. YUM!
Ingredients
6

eggs

beaten

½

cup

grated hard cheese, plus extra for garnish

40 grams

2

garlic cloves

1

cup

packed chopped fresh parsley

55 grams

1

can

anchovy in olive oil

2 ounces/55 grams

1

tablespoon

olive oil

1

can

pumpkin puree

15 ounces/425 grams

¼

teaspoon

sea salt

the cheese and the anchovy will already add plenty of a salty taste

Black pepper as desired

about 15 turns with the black peppermill
Instructions
Preheat the oven to 350 degrees.

In a bowl, combine eggs with the cheese, and set aside.

In a blender or food processor, add garlic, parsley, anchovies plus the oil in the can, and one tablespoon of olive oil. Blend on medium to high speed until you get a beautiful green paste.

Transfer the green anchovy paste to the bowl containing the eggs and whisk it in until thoroughly combined.

Season with salt and black pepper.

Add the pumpkin puree. Stir or whisk until well combined.

Divide the egg mixture evenly into six mini ramekin bowls (I use 6 oz mini bowls).

Place in the center of the oven and bake for 25 minutes or until firm to the touch.

Turn the oven off and slowly open the oven door. It allows for the muffins to acclimate to the new temperature from outside.

With the oven door ajar or ⅔ open, leave them in the oven for an extra 5 minutes.

Remove from the oven and generously sprinkle them with extra grated cheese while they are still hot so the cheese can melt.

Serve immediately and enjoy!
Notes
Equipment: use 6 ( 6-ounce) ramekins if you are preparing them for a more festive breakfast or brunch. Or use a 12-cup non-stick muffin pan if you plan to make them for a quick breakfast during the week.
Storage: store egg muffins in an airtight container for up to 5 days in the fridge.
If you have used single-serving ramekins, simply cover them with cling film if they don't come with a lid already, or place them in a large enough airtight container to store in the fridge.
Add your own private notes
Whenever you come back to this recipe, you'll be able to see your notes.
Nutrition (% Daily value)
Serving:
1
frittata
Calories:
165
kcal
(8%)
Carbohydrates:
7
g
(2%)
Protein:
12
g
(24%)
Fat:
10
g
(15%)
Saturated Fat:
3
g
(19%)
Polyunsaturated Fat:
1
g
Monounsaturated Fat:
4
g
Trans Fat:
0.02
g
Cholesterol:
177
mg
(59%)
Sodium:
651
mg
(28%)
Potassium:
325
mg
(9%)
Fiber:
2
g
(8%)
Sugar:
3
g
(3%)
Vitamin A:
12173
IU
(243%)
Vitamin C:
17
mg
(21%)
Calcium:
179
mg
(18%)
Iron:
3
mg
(17%)
Disclaimer: This nutritional data is calculated using third party tools and is only intended as a reference.
Recipe originally posted July 2018 but updated to include new information.