With only four ingredients, whip up this rich and finger-licking chocolate avocado mousse with creamy peanut butter in no time.
Its smooth texture melts in your mouth, and fresh fruits such as peaches, pineapple, or berries complete this decadent treat.
An avocado chocolate pudding that is not only delicious but also nutritious!
An avocado dessert sans the avocado taste
This chocolatey avocado dessert is perfect for when you want something deliciously luxurious yet have little time to prepare (or don't want to spend much time in your kitchen).
Everything is ready, including the presentation, in less than 10 minutes.
It's an incredibly satisfying treat, and because it's fairly rich, you only need a little per serving to appease those chocolatey mousse cravings. I suggest about ¼ to ⅓ of a cup per person—even this healthy dessert is best enjoyed in moderation.
As long as you use a super ripe avocado, you won't taste this fruit in this dessert. Instead, it's used to add that lovely creamy and velvety texture when combined with the rest of the ingredients.
You'll need—Ingredients
There are only four simple ingredients in this treat, and the suggested amount of each in this recipe is just right to achieve that smooth balance between peanut butter and chocolate flavor. So what's in it?
Avocado: You only need one to create a smooth pudding-like texture. There is no knowing that this nutritious fruit is in this dessert unless, of course, you made it. Go for a ripe and ready-to-eat avocado—one that feels soft to the touch when applying gentle pressure but is not mushy or has dents.
Cocoa powder: there is no real chocolate in this avocado dessert; instead, the dark chocolate flavor comes from cocoa powder or cacao powder (see suggestion in the recipe).
Peanut Butter: this nut butter adds a super creamy and nutty texture that makes this mousse or pudding mouthwatering. Plus, peanut butter and chocolate flavors go hand in hand. So go for one that is salty if you love that play between sweet and salty flavors. And since everything goes into a blender or food processor, it does not matter whether you use one with a creamy or crunchy texture.
Plant milk or dairy-free yogurt: it makes everything a bit lighter. I suggest using a sugar-free coconut yogurt or plant milk to thin out this mousse's rich texture (see suggestion in the recipe).
Maple Syrup: you can substitute this with honey (non-vegan) if you prefer. And add a bit more if you like this treat on the sweeter side or a little less for a darker chocolatey taste. If you're using a non-liquid sweetener like Monkfruit sugar, you might need to add a few more tablespoons of the yogurt or plant milk to obtain that extra silky and creamy consistency.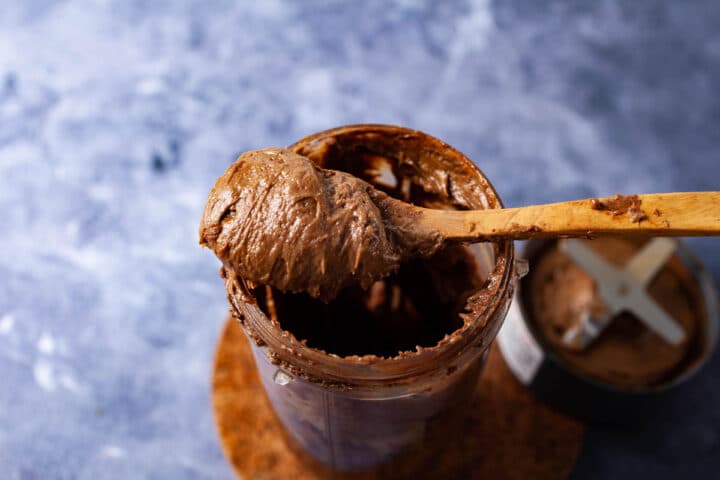 Serving suggestions
I am not going to tell you to refrain from topping it off with some coconut whipped cream. But, in my opinion, this pudding is already luxurious enough that it needs something refreshing to complement it — fresh fruits like raspberries, peaches, or pineapple will do the trick.
And if you layer them into the chocolate avocado mousse, you'll get that refreshing bite in between. Besides, a few fruit slices on top with some fresh (chocolate) mint leaves make for a beautiful garnish as well, and it smells heavenly.
This recipe is also an excellent base for creativity. So feel free to play around with some ingredients and make it your own.
Here are a few suggestions:
add vanilla extract or throw some chocolate mint leaves in the blender;
change up the fruits with frozen bananas or oranges;
garnish with coconut flakes;
or use the pudding as a fruit dip;
Or a mini tart or peanut butter chocolate pie filling;
Can you store this avocado dessert
This chocolate peanut butter avocado mousse is best enjoyed the same day. However, you can make it ahead and store it in a container in the fridge for up to 4 days.
Just know that texture-wise, it will certainly thicken in the fridge and will go from a mousse-like silkiness to more of heavier chocolate avocado pudding—still good but a bit different.
I would also recommend using a pastry bag to dish it into dessert glasses to keep that uniform look after being refrigerated.
Other desserts you might like
If you love the peanut butter chocolate combo, then try my No Flour Peanut Butter Cookies. You don't want to miss those.
And if you love a good chocolate flavor, then try these lovely treats:
Don't forget to share this recipe if you liked it and Subscribe to my monthly newsletter! Enjoy!
📖 Recipe
Peanut Butter Chocolate Avocado Mousse
Mariska Ramondino
A heavenly creamy chocolate avocado mousse infused with peanut butter and cacao or cocoa powder. A perfect vegan dessert when served with fresh fruits like pineapple, peaches, or berries.
Instructions
In a blender or food processor, place all ingredients, except for the fruits and the mint leaves.

Blend until smooth, and everything is combined into a creamy chocolatey mousse or pudding-like consistency.

In 6 small serving glasses, add some berries at the bottom. Cover the berries with one or two tablespoons of the chocolate avocado mousse. Then continue to layer based on preference with extra berries, peaches, or pineapple slices, followed by another layer of the avocado mousse until full.

Top off with extra fruit slices and mint to garnish.

Enjoy immediately.

Best when enjoyed the same day, but will keep in the fridge for up to a few days! When refrigerated, the consistency will be thicker and the mousse richer.
Notes
Equipment: use a pastry bag to layer the peanut butter chocolate avocado mousse for better presentation if serving guests. Additional topping: add coconut whip cream for an extra layer of creaminess. Serving suggestion: ¼ to ⅓ cup per serving is all you need because it's so rich and satisfying. The suggested fruits add a nice refreshing element to the mousse and are highly recommended. Sweetener: if using a non-liquid sweetener like Monkfruit sugar, you might need to add a few more tablespoons of the yogurt to obtain that extra silky and creamy consistency.
Add your own private notes
Whenever you come back to this recipe, you'll be able to see your notes.
Nutrition (% Daily value)
Serving:
0.25
cup
Calories:
286
kcal
(14%)
Carbohydrates:
19
g
(6%)
Protein:
9
g
(18%)
Fat:
22
g
(34%)
Saturated Fat:
4
g
(25%)
Polyunsaturated Fat:
5
g
Monounsaturated Fat:
12
g
Sodium:
165
mg
(7%)
Potassium:
476
mg
(14%)
Fiber:
6
g
(25%)
Sugar:
10
g
(11%)
Vitamin A:
300
IU
(6%)
Vitamin C:
7
mg
(8%)
Calcium:
39
mg
(4%)
Iron:
1
mg
(6%)
Disclaimer: This nutritional data is calculated using third party tools and is only intended as a reference.