With only five ingredients, a few garnishes, and in 5 minutes, you can whip up this rich and finger-licking chocolate vegan peanut butter mousse.
Its smooth texture melts in your mouth while simple toppings such as berries or fresh fruit of your choice complete this decadent treat.
It's the perfect dessert if you're a fan of peanut butter.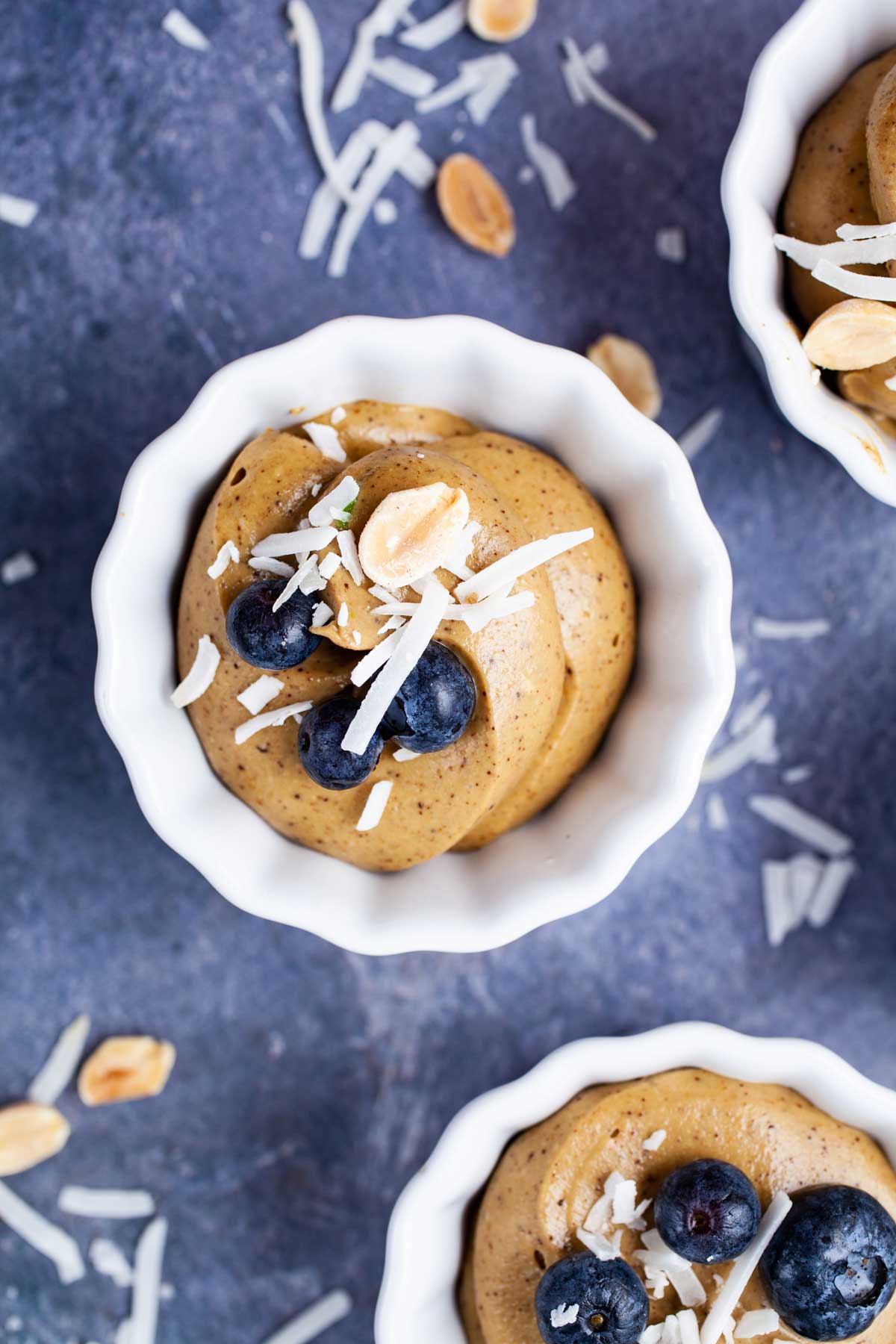 This chocolatey creamy peanut butter mousse is ideal for when you want something deliciously luxurious yet have little time to prepare (or don't want to spend much time in your kitchen).
It's an incredibly satisfying treat, especially if you love that peanut butter flavor with a hint of chocolate notes.
It's pretty rich, so you only need a little per serving to appease those sweet cravings. I suggest about ¼ of a cup per person—even this healthy dessert is best enjoyed in moderation.
Like our Low-Carb Healthy Cheesecakes In Cups, this is another one of our favorite recipes and easy low-carb desserts, but it's also vegan and thus dairy-free.
Jump to:
Why You'll Love This Sweet Treat
It's for the peanut butter lovers: Smooth peanut butter is the key ingredient of this no-bake dessert.
It's nutritious: I'm only using simple whole ingredients, and it is a sugar-free, low-carb mousse (keto-friendly).
Super easy: You'll get 6 to 8 beautiful mini peanut butter desserts in 5 minutes.
Decadently rich: Each bite is delightfully satisfying, and a little bit goes a long way.
Let's make this simple dessert!
Love a lighter, more traditional airy mousse, then try my 5-Ingredient Chocolate Coffee Mousse (made with egg whites).
Ingredients To Make This Recipe
See the recipe card for full information on ingredients and quantities.
To make this easy, low-carb vegan dessert, you will need the following simple ingredients: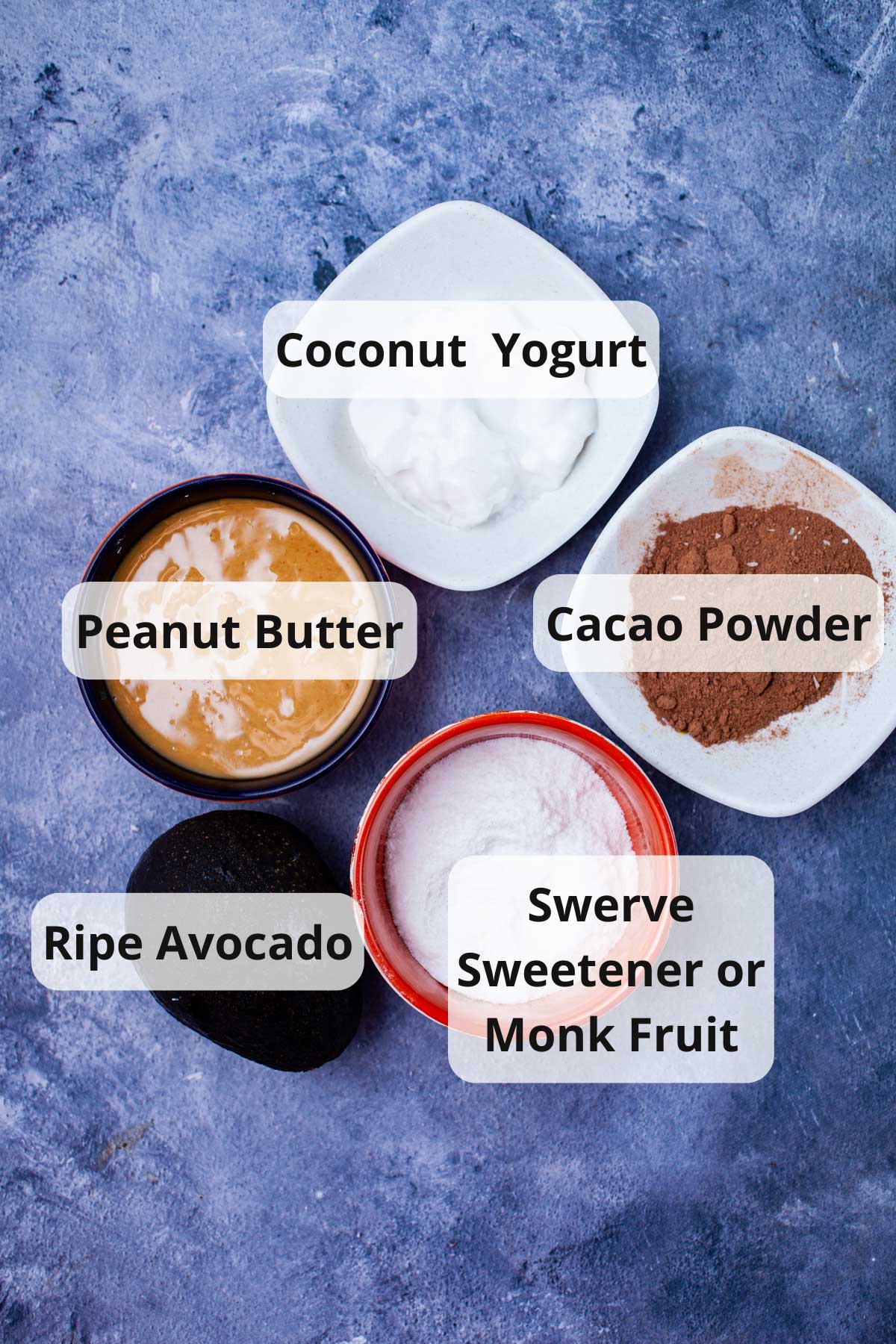 Avocado: It creates a creamy, velvety, and smooth pudding-like texture and replaces any heavy cream or (vegan) cream cheese.
Note: There is no knowing that this nutritious fruit is in this dessert unless, of course, you made it. Go for a ripe and ready-to-eat avocado that feels soft to the touch when applying gentle pressure but is not mushy or has dents.
Cacao powder: The dark chocolate flavor comes from cacao powder or cocoa powder.
Unsweetened natural peanut butter: This nut butter adds a super creamy and nutty texture making this vegan mousse or pudding mouthwatering. Plus, peanut butter and chocolate flavors go hand in hand.
Note: Since everything goes into a blender or food processor, it does not matter whether you use one with a creamy or crunchy texture. Best to go for an unsalted one.
Dairy-free yogurt: It makes everything a bit lighter. For best results, use sugar-free coconut yogurt to thin out this mousse's rich texture.
Sweetener: To keep it also low-carb and sugar-free, use an alternative powdered sugar like Swerve or Monk fruit sweetener or your favorite low-carb sweetener.
Step-By-Step-Instructions
See the full instructions with measurements in the recipe card.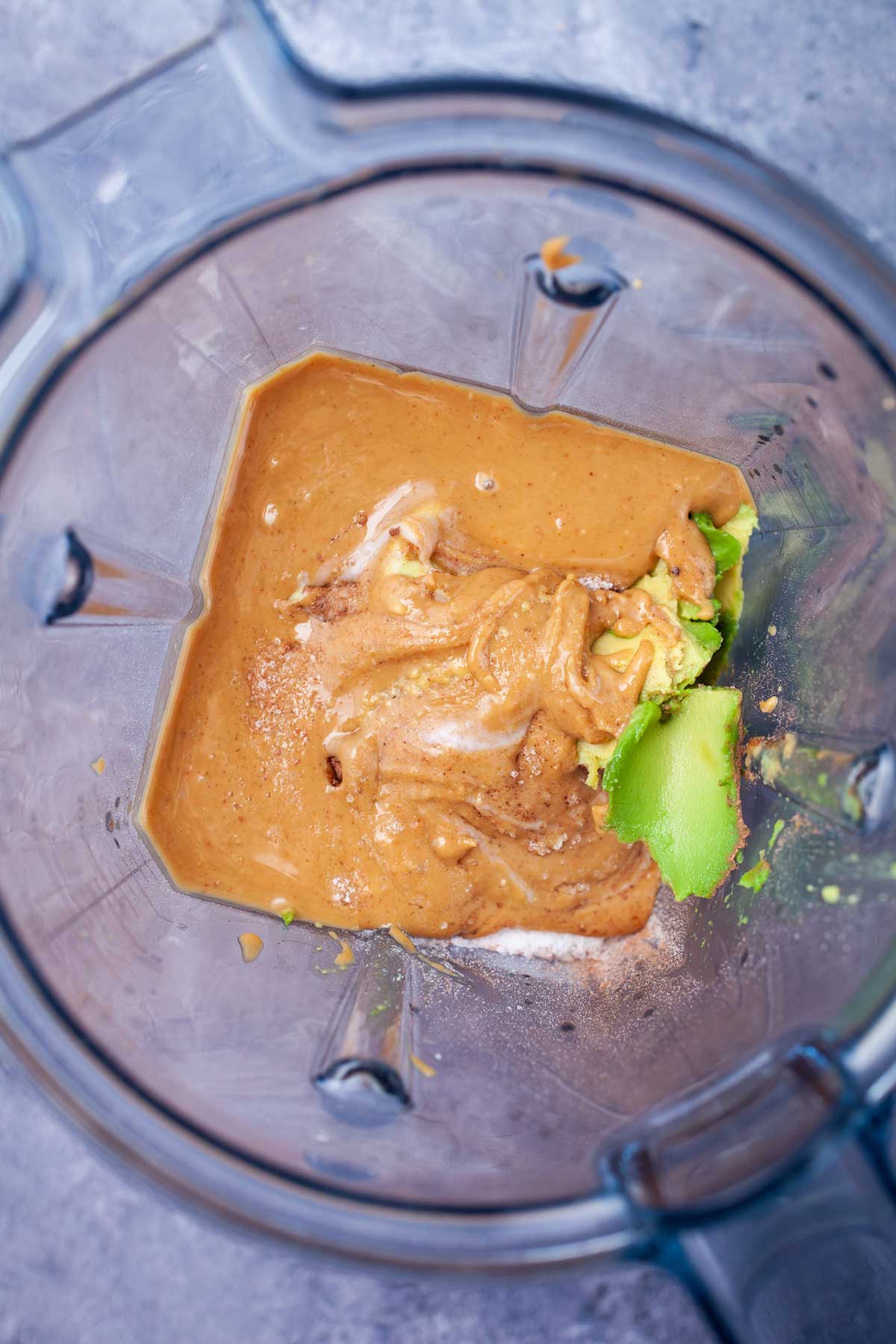 Step 1: Place all the ingredients in a blender.
Step 2: Blend until smooth and airy.
It's that easy.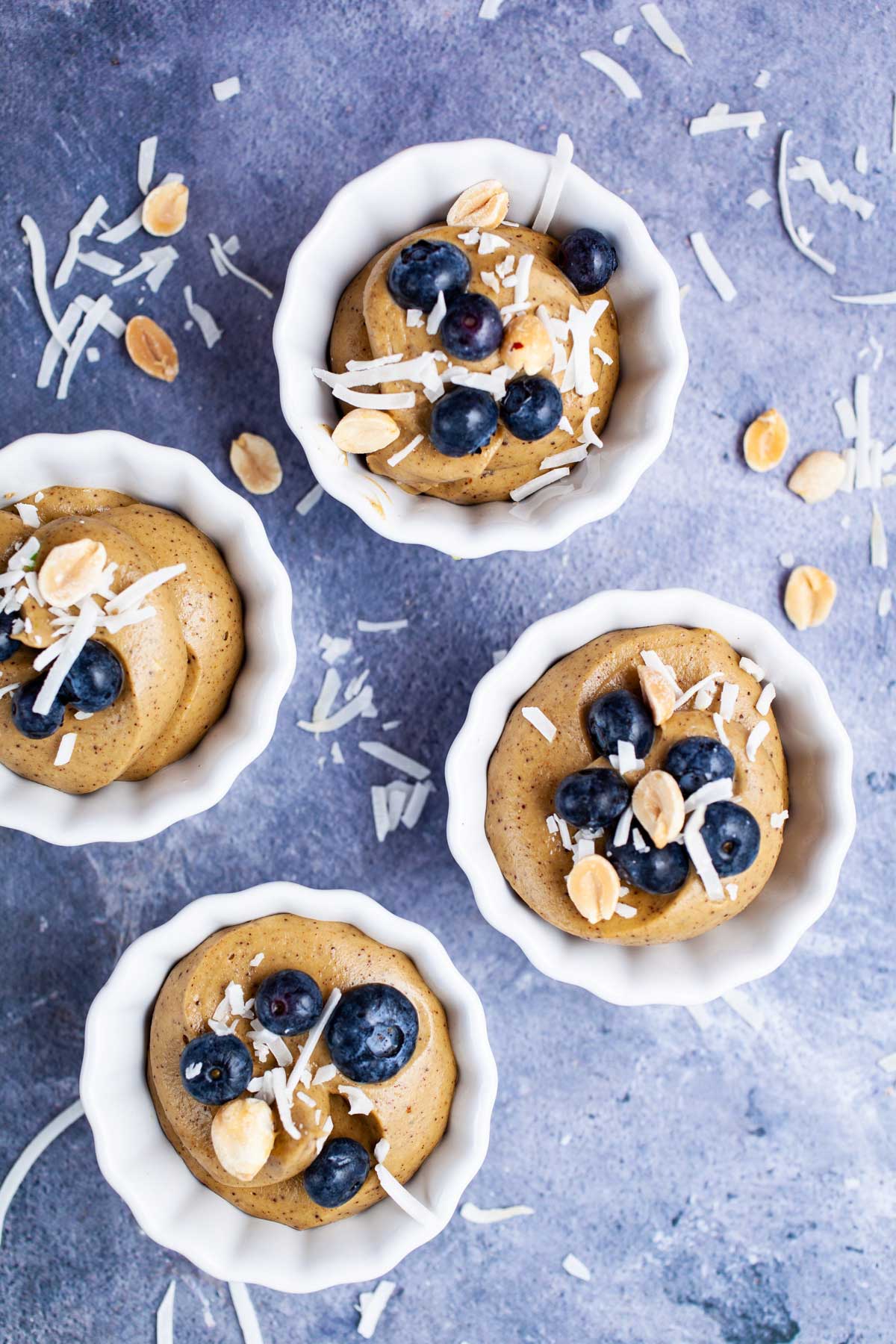 Divide this delicious peanut butter mousse equally into 6 or 8 small glasses.
Garnish the individual servings with fresh berries, nuts, or coconut shreds. Serve immediately at room temperature or chill in the fridge for one hour.
Note: A piping bag creates a beautiful peanut butter mousse layer.
Garnishes
Here are a few suggestions to garnish this decadent peanut butter mousse.
Use fresh fruits like berries, pineapple, or peaches to cut through the richness of the whipped peanut butter.
Coconut shreds or mint leaves are great options.
Add a tad of whipped cream for a more festive look.
Or top each peanut butter layer with peanuts, a few chocolate shavings, or chocolate chips.
Recipe FAQs
How to store this peanut butter mousse?
This chocolate vegan peanut butter mousse is best enjoyed on the same day. 

However, you can make it ahead and store it in an airtight container in the fridge for up to 4 days.

Just know that texture-wise, it will thicken in the fridge and go from a creamy mousse to a heavier chocolate peanut butter pudding—still good but a bit different.

I recommend using a pastry bag to dish it into dessert glasses to keep that uniform look after being refrigerated.
More Easy Dessert Recipes You Might Like
Here you have it, a fluffy peanut butter mousse that will tantalize your taste buds, especially for the chocolate peanut butter fans.
The best part is it's ready in 5 minutes.
---
Don't forget to subscribe to my Monthly Newsletter!
Your shares and ratings are valuable to me and so much appreciated. It'll help me create more content you and others can enjoy!
---
📖 Recipe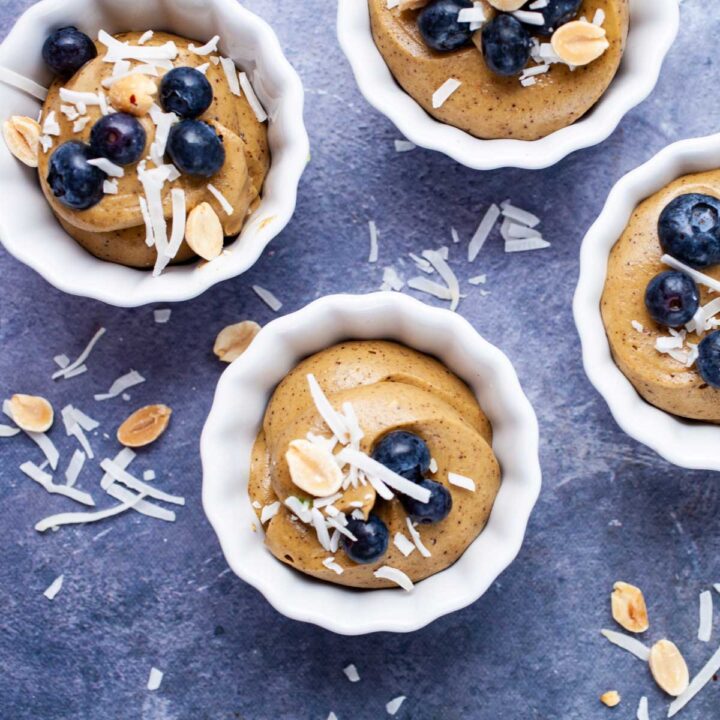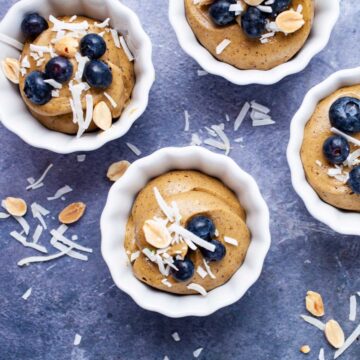 Chocolate Peanut Butter Mousse (Vegan & Low Carb)
Mariska Ramondino
A heavenly creamy vegan peanut butter mousse (mini dessert) infused with a hint of chocolate flavor. It's rich, creamy, healthy, and just the perfect bite to satisfy your sweet tooth.
Instructions
Place all ingredients except for the garnishes in a high-speed blender.

1 large ripe avocado,

2 tablespoons organic cocoa or cacao powder,

¾ cup unsalted creamy peanut butter,

¼ cup unsweetened coconut yogurt,

¼ cup powdered Monk fruit sweetener

Blend until smooth, and everything is combined into a creamy chocolatey peanut butter mousse or pudding-like consistency.

Fill up a piping bag. You can also use a ziplock bag—see note.

At this point, you can chill the mousse until ready to serve.

Or immediately fill up 6 to 8 mini glasses.

Garnish with fresh berries, crunchy peanuts, coconut shreds, or mint leaves as desired. Enjoy!

Best when enjoyed on the same day, but it will keep in the fridge for up to a few days! When refrigerated, the consistency will be thicker and the mousse richer.
Notes
Equipment: Instead of a pastry or piping bag, you can also use a ziplock bag and cut a small opening at one of the ends to layer the peanut butter chocolate avocado mousse for better presentation if serving guests.
Additional topping: Add coconut whip cream for an extra layer of creaminess (optional).
Serving suggestion: About ¼ cup max per serving is all you need because it's so rich and satisfying. It can easily create 6 to 8 mini desserts. Berries add a nice refreshing element to the mousse and are highly recommended. You can also use pineapple and peaches.
Sweetener: I use powdered Monkfruit sugar, which is immediately incorporated well into the peanut butter mixture upon blending. 
Storage: This chocolate vegan peanut butter mousse is best enjoyed on the same day. 
However, you can make it ahead and store it in an airtight container in the fridge for up to 4 days.
Just know that texture-wise, it will thicken in the fridge and go from creamy mousse to a heavier chocolate peanut butter pudding—still good but slightly different. Always stir before serving after storage.
Add your own private notes
Whenever you come back to this recipe, you'll be able to see your notes.
Nutrition (% Daily value)
Serving:
1
cup
Calories:
190
kcal
(10%)
Carbohydrates:
12
g
(4%)
Protein:
6
g
(12%)
Fat:
16
g
(25%)
Saturated Fat:
3
g
(19%)
Polyunsaturated Fat:
3
g
Monounsaturated Fat:
9
g
Sodium:
106
mg
(5%)
Potassium:
277
mg
(8%)
Fiber:
3
g
(13%)
Sugar:
3
g
(3%)
Vitamin A:
37
IU
(1%)
Vitamin C:
3
mg
(4%)
Calcium:
20
mg
(2%)
Iron:
1
mg
(6%)
Disclaimer: This nutritional data is calculated using third party tools and is only intended as a reference.