These morning wellness shot recipes are intensely flavored drinks that will give you energy throughout the day, are a good source of vitamin C, and are known to have health benefits.
Each variation of a lemon and ginger shot is incredibly easy to make. All you need is a powerful blender and a fine-mesh strainer (optional).
I frequently enjoy them as a home remedy—especially during winter months—to add extra antioxidants, help my immune system, or as part of a detox regimen. Let's dig in!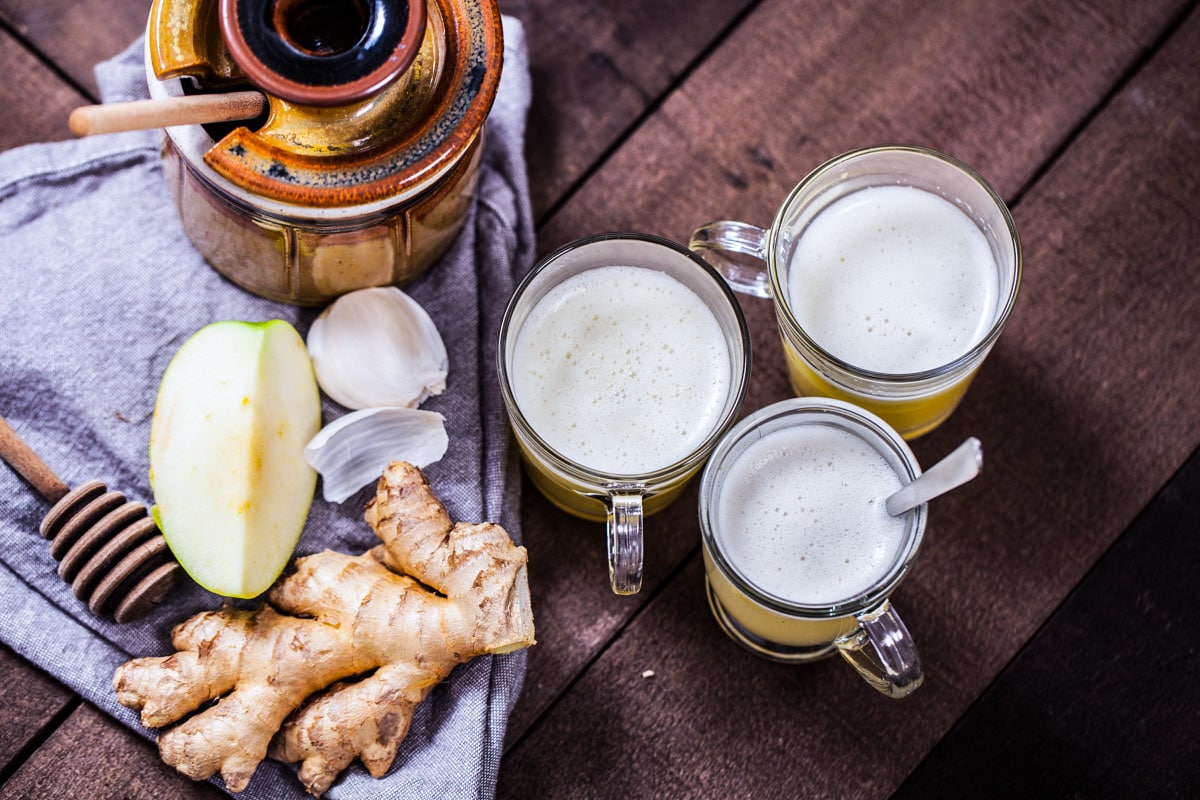 Lemon water vs. morning wellness shots
By now, I think it is well-known that enjoying fresh-squeezed lemon in your (warm) water first thing in the morning has many health benefits.
It helps you wake up and immediately gives you a boost of energy—I love it as a pre-workout drink;

Improves your immune system;

Is incredibly hydrating for the body;

And detoxifies your liver;

It helps with morning sickness.

I even have seen improvements in the appearance of my skin.
Haven't tried it yet? Start with one to two cups of water—or use warm water—and stir in the juice of half a small lemon. Sip and enjoy!
Then, there are wellness shot recipes also usually consumed first thing in the morning to start the day with a kick. They are a more powerful and concentrated version of a mix of ingredients known for their nutritional benefits and healthy properties.
There are so many different wellness shots, but I love mine with lemon juice as the base—hello vitamin C—and then mix in the benefits of either fresh ginger, garlic, raw honey, certain fruits, herbs, or oil of oregano.
Morning wellness tonics

—Benefits
Oh, I know, wellness shots and tonics are often marketed as an all-in-one cure. I am not going to hail them as miracle workers, but from my experience, these little mixes can support your body's immune system and greatly supplement a well-balanced diet.
I make them whenever I need a quick burst of energy or want to give my body a shot of concentrated nutrients throughout the year.
And when paired with a whole food diet, these wellness shot recipes have helped my family and me in the past with combating fatigue and staying healthy.
I take them consistently for a short period of time:
During the cold winter months and when a lot more people tend to be sick around me;

I even offer them to my daughter when I get messages from her school warning about flu season;

When I have to travel a lot,

and I haven't been able to eat enough dark leafy greens or cook healthy homemade meals;
Or when my digestive system can use a bit of help, especially after a Holiday season. If bloating is your issue, then also check out these three simple ingredients that can help!
I even enjoy them occasionally when I feel under-rested or whenever my body can use a pick-me-up.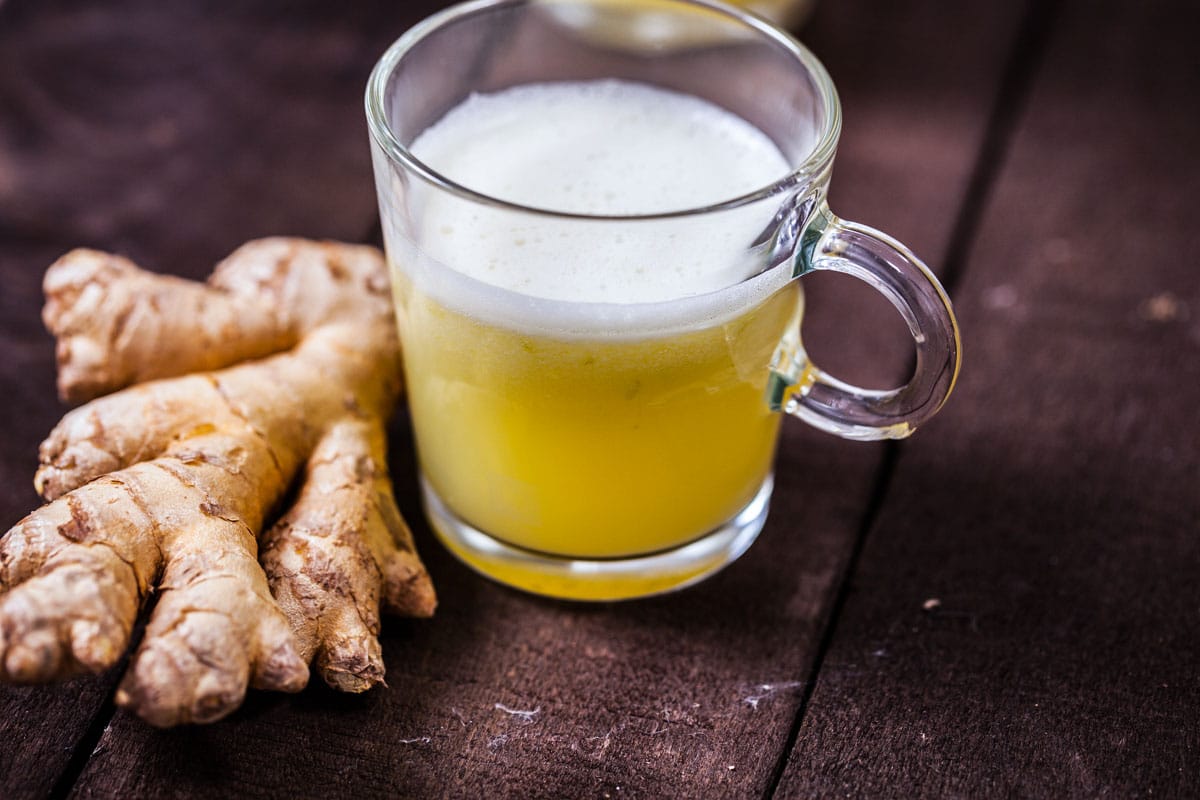 Note: when you first start enjoying homemade wellness shots, it might be intense for some on the digestive system. The key is to listen carefully to your body and start with only one or two simple ingredients and then gradually spice up your drink.
DIY: make your own and keep it simple
It is so easy to make wellness shots or tonics at home;

They are ready in 5 minutes with fresh ingredients;

They are also cheaper—wellness shots at juice bars or grocery stores tend to be expensive;

Plus, y

ou

also get to customize the ingredients to your taste.
These easy-to-make wellness shot recipes I share below are the ones I make for my family and me, depending on the season or our bodily needs.
Sometimes I add a few extra fresh ingredients to make it more nutrient-dense and for additional health benefits.

Note that I never strain the blended ingredients, and there is no need for it.
But if you like a thinner or tonic-like consistency or

want to remove any foam, then quickly strain the ingredients after blending.

Double the ingredients for an extra serving.
Ready to replenish your body with these homemade wellness tonics? Let's start with the simplest one.
A Simple Lemon Juice Shot
It is best to start with the juice of half a lemon, then work your way up to one or two;

You can also slightly dilute it with a couple of tablespoons of water, as I do;

I especially enjoy this quick and powerful shot when I get the chance to workout first thing in the morning;

It immediately wakes you up, gives you an

incredible vitamin C boost

, and renewed vitality.

You can still enjoy your cup of coffee or tea half an hour later or after your workout;

I manually juice one or two fresh lemons, pour it into a small shot glass, and add a couple of tablespoons of water;

Or throw the whole peeled lemons and everything else in a blender until you get a smooth liquid and enjoy as-is.

This drink in itself is an excellent immune booster, but let's take it up a notch.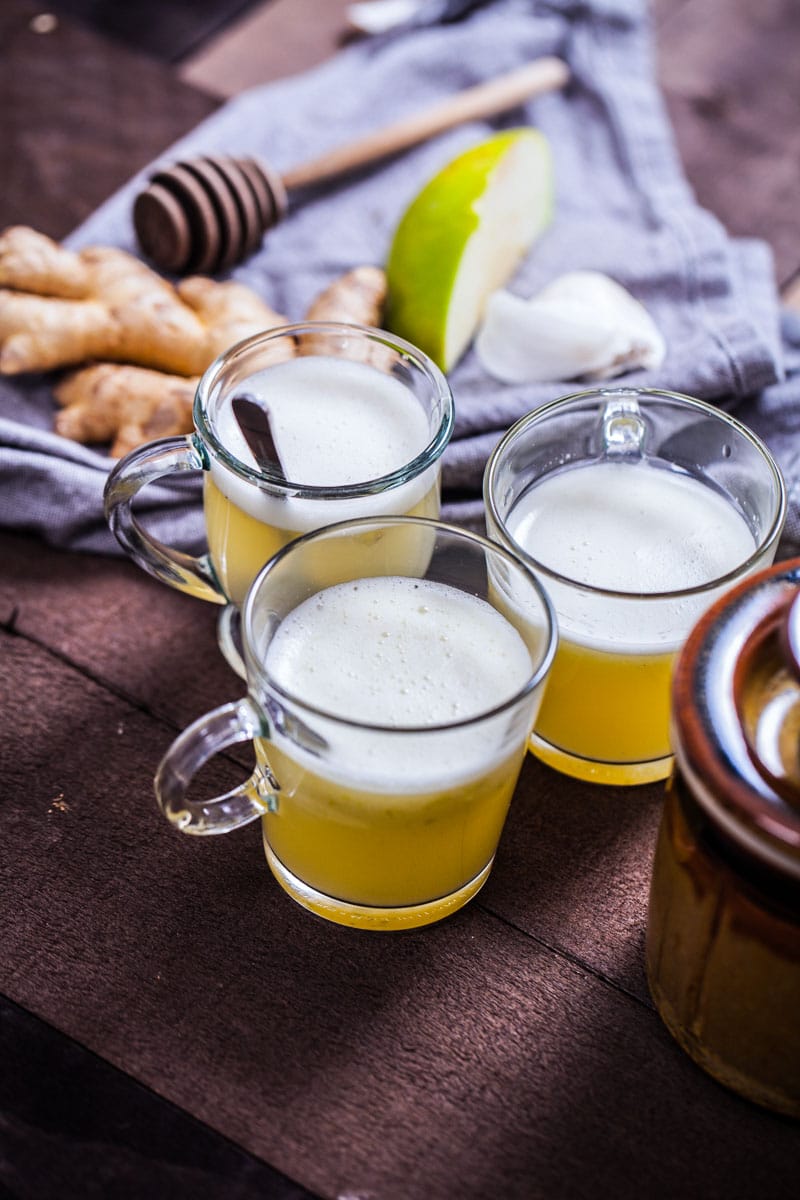 The lemon-ginger-garlic wellness shot
Try adding garlic and some ginger to your morning wellness drink.
During the flu or cold season;

For prevention when people around you are sick;

When you feel fatigued, or your throat starts to feel sore;

Need some help with feeling bloated, to relieve nausea or aid with digestion;

Or feel sore after a hard workout routine.
I have learned that boosting my immune system during the winter season is one of the best ways to protect my health.
Ginger is a natural herbal remedy that is highly effective in enhancing the immune function, while garlic helps fight many forms of viruses and infections. These ingredients contain a high quantity of antioxidants, natural immune boosters and help fight against common flu and cold cases.
Warning: the raw garlic can make some people nauseous when consumed in the morning, so leave it out if that is you. Depending on the desired intensity, you can adjust the amount of ginger or garlic. This drink is quite intense, so if you can't handle the initial thought of consuming this in the morning, try biting in a fresh slice of orange or a piece of pineapple afterward. Also, add raw honey for taste and extra support.
The lemon-ginger-fruit wellness shot—also for kids
Want to make your wellness shot more palatable? Add fruits.
A piece of apple with peel does the trick, and they are extremely rich in essential antioxidants—adjust the amount in the recipe based on preference.

You can also add the powerful antioxidants of a couple of berries, cherries, ¼ of an orange, or a few chopped (frozen) pineapple cubes.

My daughter enjoys this type of wellness tonic—especially with cherries.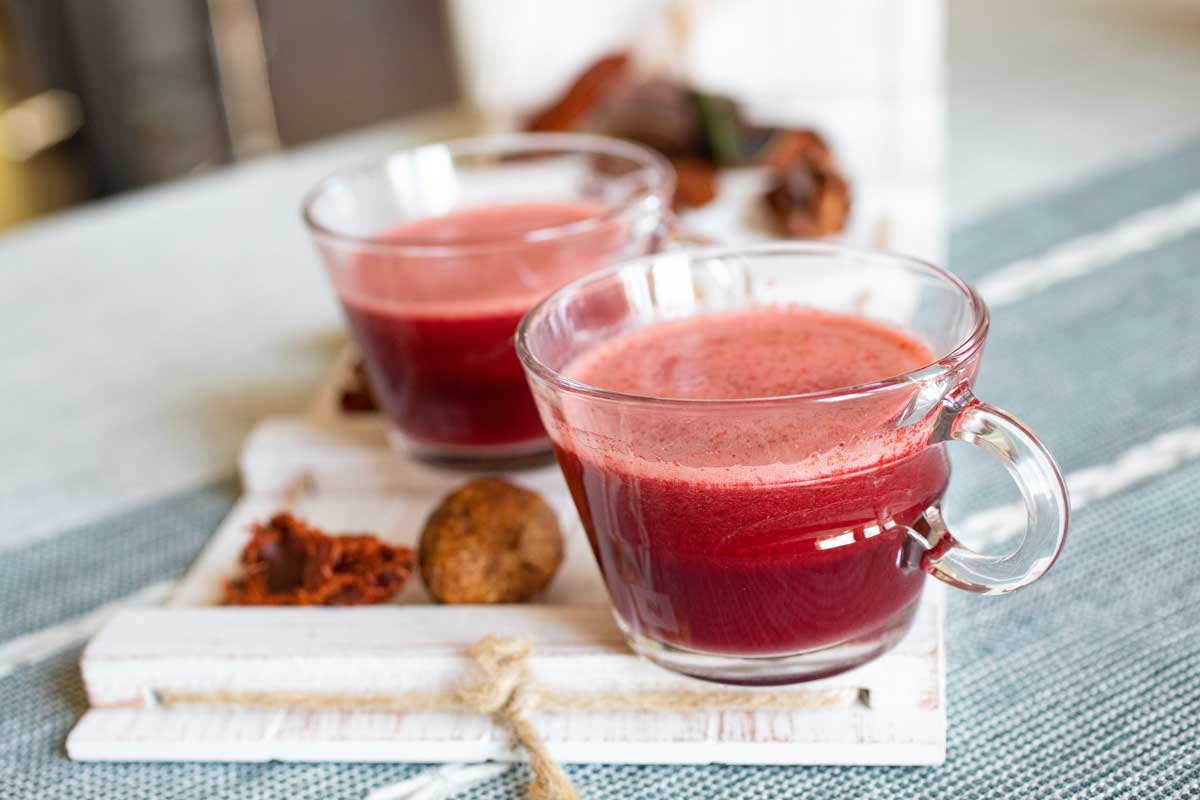 The Oil of Oregano wellness shot
Have you ever used Oil of Oregano (Oreganol)?
If you are not allergic to oregano oil, this Mediterranean herb is a potent source of

natural medicine;

It either prevents or reduces the severity of any viral or bacterial infections;

Use it at the first signs of having cold or flu symptoms;

I believe it helps me every year from staying healthy during flu season or recover extremely fast when coming down with something;

Because of the strength and the quality of the ingredients, I love the brand Oreganol;

It is a bit pricey, but, remember, a small bottle goes a very long way.
Oregano oil is highly efficient, but it can have an overpowering taste—well, it tastes horrible. Therefore, add a little raw honey to your drink (see recipe below) if it is the first time consuming it until you get used to the flavor.
I consider this oil a natural form of antibiotics, and I am, therefore, very conscious about the amount and the duration of consumption—a maximum of two weeks to treat any symptoms should be enough. In case of doubt, always get the guidance of a doctor or health expert.
So there you have it, four wellness tonics that are easy to make, and a great supplement to support your health.
Remember, nothing beats a good night's sleep,

drinking plenty of water,

eating healthy and wholesome foods,

getting your daily walks in,

and working out more often.

But these wellness shots will supplement your healthy lifestyle when needed!
More healthy drink recipes
PIN IT for later on your WELLNESS Board and follow me on Pinterest to see what other fun things I share. Don't forget to subscribe to my monthly newsletter! Enjoy!
📖 Recipe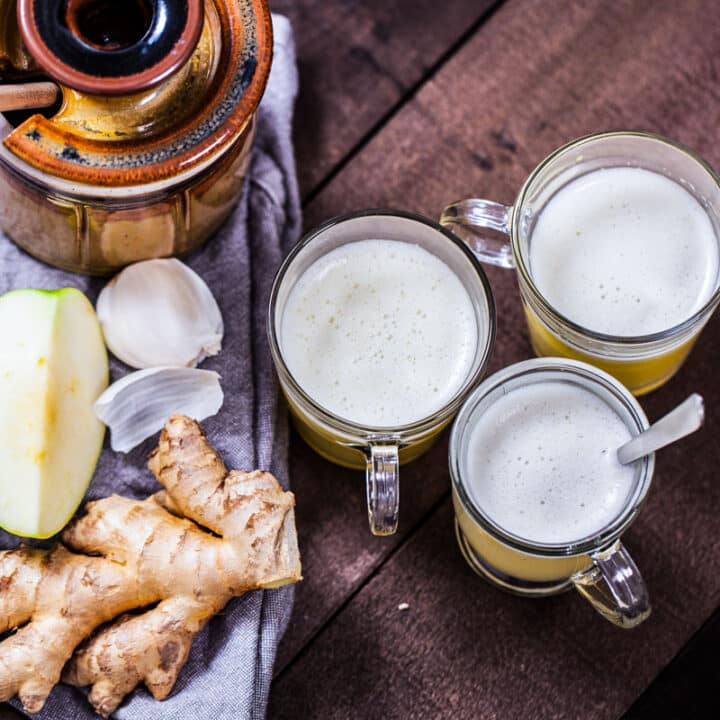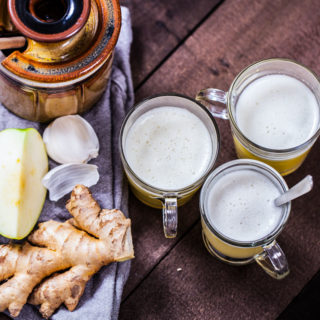 Morning Wellness Shots: Immune and Energy-Boosting
Mariska Ramondino
These homemade morning wellness shot recipes will boost your immune system and give you energy throughout the day. Make one of these health lemon and ginger drinks at home especially when you start to feel sick, as part of your detox, to add extra anti-oxidants, or simply to wake you up!
Ingredients
Simple Lemon Wellness Shot
The juice of one to two fresh lemons

or two whole peeled lemons

2

tablespoons

water

½

teaspoon

raw honey

optional
Lemon Ginger Garlic Shot
1

inch

piece of fresh ginger

⅓

of a small garlic clove

Juice of one fresh lemon

or one whole peeled lemon

2

tablespoons

water

½

teaspoon

raw honey

optional
Lemon Ginger Fruit Wellness Shot
Juice of one fresh lemon

or one whole peeled lemon

1

inch

piece of fresh ginger

any of the following fruits: ⅛ green apple with peel; ¼ peeled orange; ¼ cup fresh or frozen pineapple cubes; ¼ cup fresh or frozen berries/cherries.

2

tablespoons

water

½

teaspoon

raw honey
Oil of Oregano Wellness Shot
Juice of one fresh lemon

or one whole peeled lemon

2

drops

oil of Oreganol

or pure oil of oregano

½

teaspoon

raw honey

1

inch

piece of fresh ginger

2

tablespoons

water
Instructions
Choose the wellness shot you want to make. Place all ingredients in a blender (I use a small upright blender) and process until smooth. Serve in a shot glass.

Options: Top off the drink with cayenne pepper; add ingredients such as a pinch of turmeric and black pepper.
Notes
Nutrition is for Simple Lemon Wellness Shot
Add your own private notes
Whenever you come back to this recipe, you'll be able to see your notes.
Nutrition (% Daily value)
Calories:
73
kcal
(4%)
Carbohydrates:
23
g
(8%)
Protein:
2
g
(4%)
Fat:
1
g
(2%)
Saturated Fat:
0.1
g
(1%)
Polyunsaturated Fat:
0.2
g
Monounsaturated Fat:
0.02
g
Sodium:
6
mg
Potassium:
300
mg
(9%)
Fiber:
6
g
(25%)
Sugar:
8
g
(9%)
Vitamin A:
48
IU
(1%)
Vitamin C:
115
mg
(139%)
Calcium:
57
mg
(6%)
Iron:
1
mg
(6%)
Disclaimer: This nutritional data is calculated using third party tools and is only intended as a reference.
(Note: this post was initially published in February 2018. This post has been updated to include new info and photos)