A flavorful and nutritious kale salmon salad with fennel, parsley, mozzarella cheese, wild-caught (canned) salmon, tossed in an easy-to-make citrusy homemade dressing—a healthy lunch or light dinner salad! Plus, everything comes together in 20 minutes.
This easy kale salad is incredibly filling, and its flavors are refreshing with an orange dressing and simple seasonings. A great go-to dish for when you have little time to cook or want to keep it simple.
And because this easy kale salad keeps well in the fridge, it equally can serve as a nourishing pack-for-lunch option that you can prepare in advance (low-carb).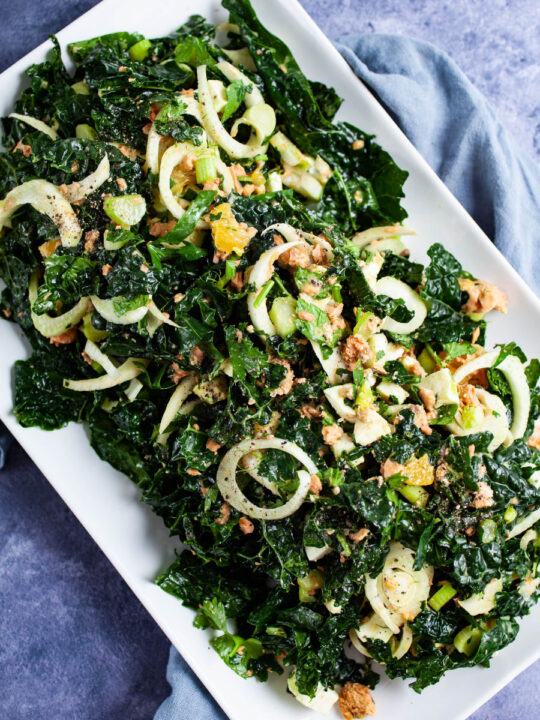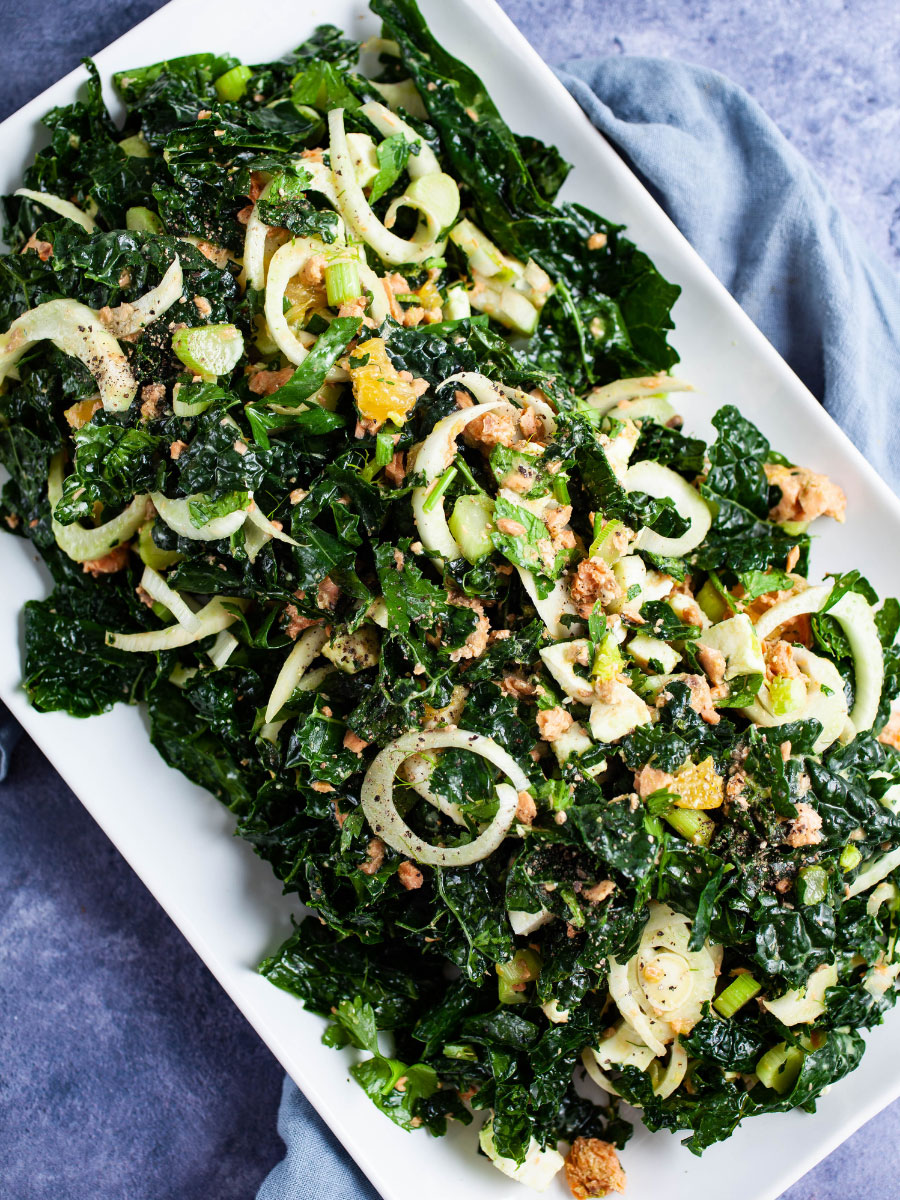 Kale. It's that vegetable that my mom used to throw into hot steaming potatoes together with Brussels Sprouts and butter to make Mash Pot or 'Stamppot' as we called it growing up in Belgium. And then she served with either sauerkraut, homemade apple sauce—for the little ones—and bits of crispy bacon.
It's still one of those dishes I can easily devour, but then again, I grew up with it as a staple. It's not that kind of recipe today.
But I love kale equally raw and massaged in a dressed-up salad
I hope to convince you to give this healthy salad a try. And for those who already love this green vegetable just as much as I do, this kale salmon with fennel and mozzarella combo is definitely for you.
Easy meal prep salad for the week
This is one of those healthy go-to meals for when you have a jam-packed schedule.
The salad and the dressing comes together in less than 20 minutes.
I often choose canned salmon, but it's a great way to use up any oven-baked salmon leftovers you cooked the day before or over the weekend.
It's filling and nourishing for lunch or light dinner.
Yet also a great grab-and-go lunch because the dressed kale salad keeps well in the refrigerator for a couple of days and packs easy in individual containers.
You can always make some extra dressing to take with you.
Pack it with a wedge of lemon or orange to add that extra citrusy punch.
Or keep some sea salt flakes in your lunch bag to perk up your salad.
Lastly, it's such an adaptable healthy dish. Toss in leftover shredded chicken or oven-roasted chicken instead of salmon. Or make it dairy-free by replacing the mozzarella cheese with slices of avocado.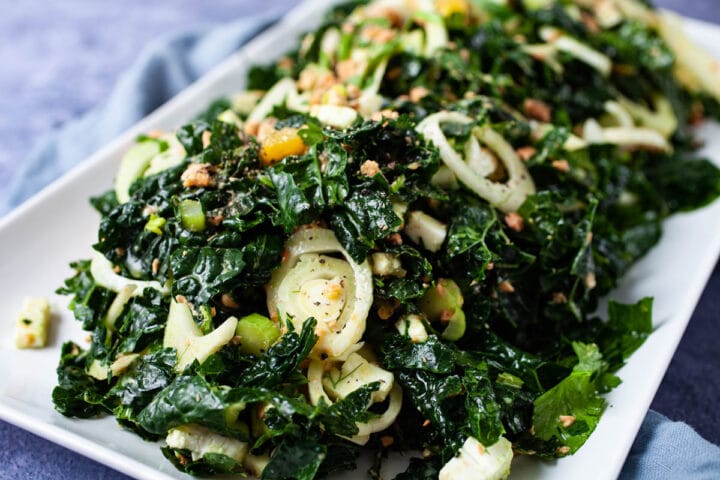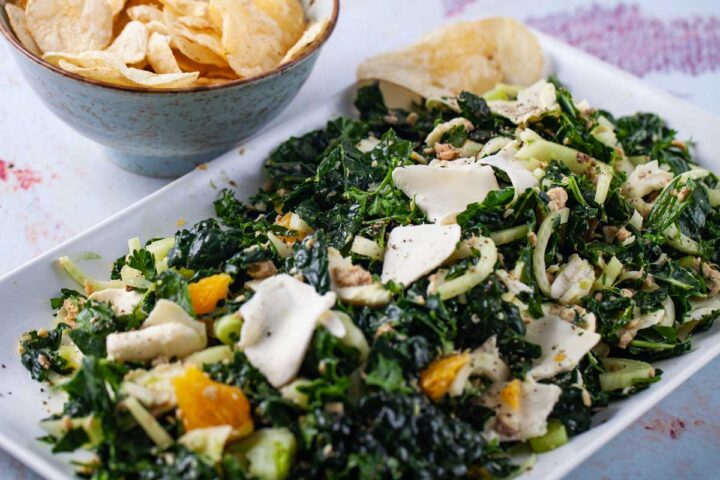 Ingredients, notes & substitutions
There is a key step to how you make this kale salmon salad great. Just chop, slice, or grate the ingredients into small pieces because it changes this salad's texture and makes it extra tasty.
And as you know, a salad's texture is equally important as the flavors.
I am also massaging the kale with a tad of olive oil before tossing it with the rest of the ingredients to make it tender and a lot more flavorsome. And it will ready the green leaves to take on the delicious flavors of the homemade dressing.
So, let's have a look at the ingredients and how to prep the kale.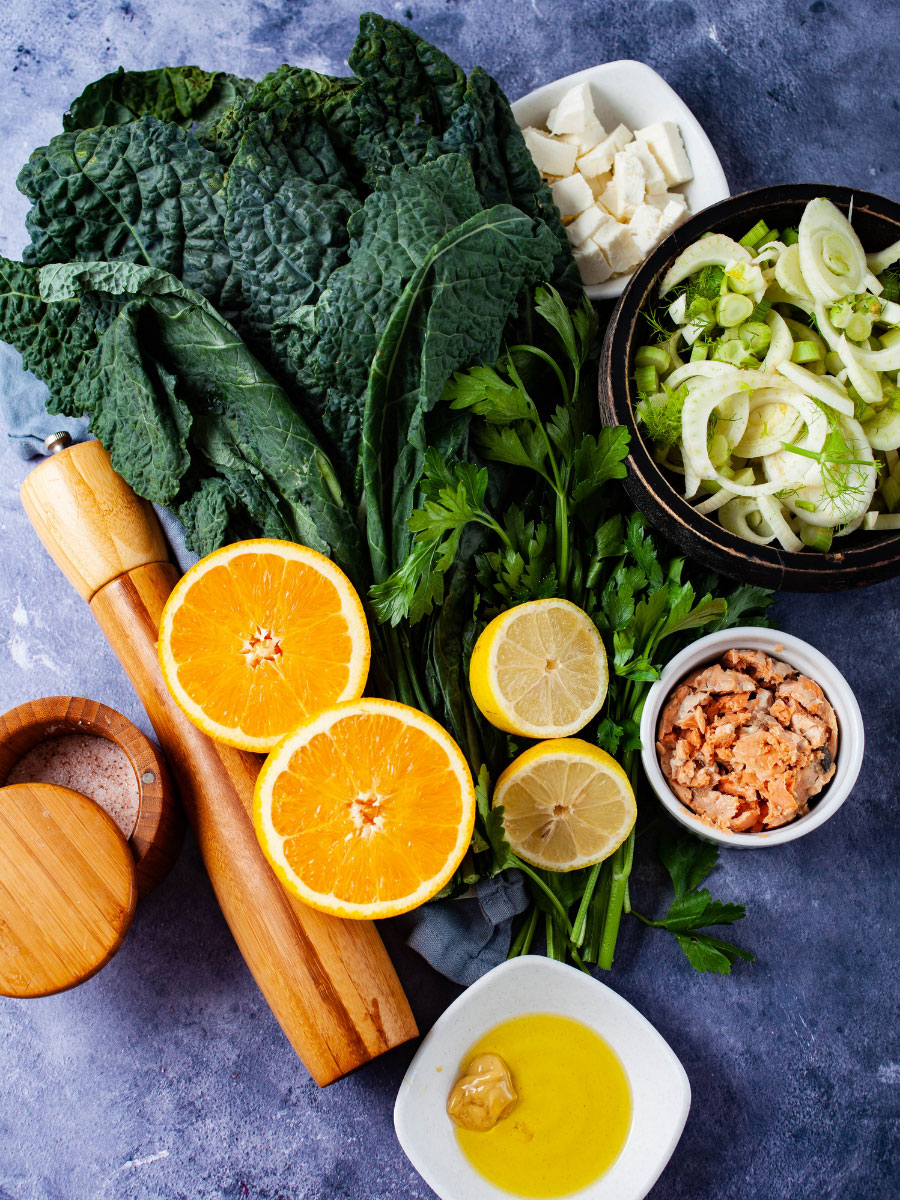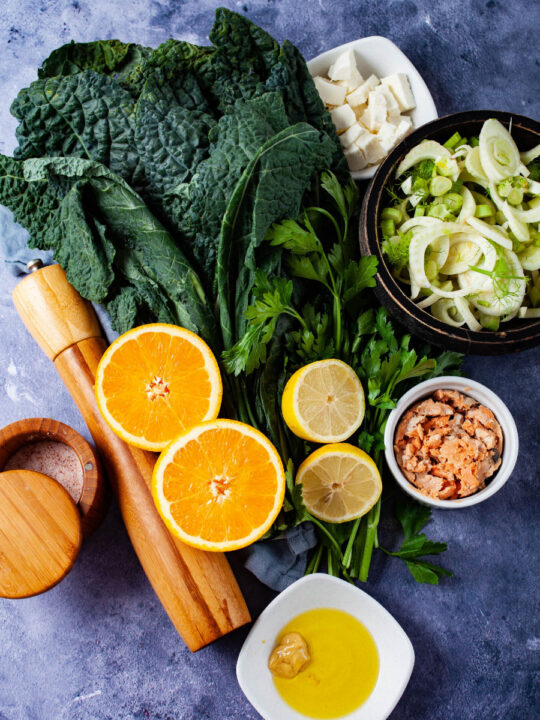 Kale
For this kale salmon salad recipe, I prefer Dinosaur 'Lacinato' kale. I find this kale variety to be richer with earthier flavors. But don't worry, regardless of which kale you choose or prefer, it'll work in this salad.
Fennel
The mild anise-flavored vegetable adds a subtle sweet crunch-like quality. It works so well combined with kale when either finely sliced or thinly shaved and adds that refreshing bite that pairs well with the citrus flavors.
Fennel, in my opinion, is such an underrated vegetable. It is high in nutrition, low in calories, and helps with digestion. This hydrating vegetable is crunchy, mildly sweet, and tastes fantastic with orange. Don't let the subtle anise-like flavor put you off from trying to incorporate raw fennel more in your salads—if you don't like licorice. Just don't use the stalks if that's you, but give the fennel bulb a try. Also, try my quick-braised fennel recipe; it's tender, deliciously soft, and sweet.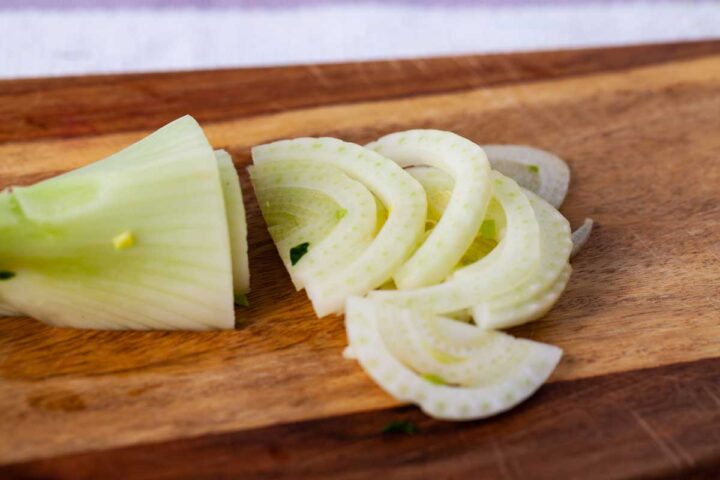 Mozzarella Cheese
This delicate milky flavored cheese marries best in this recipe when chopped into smaller pieces or shaved— I use the wide sides of a box grater. The subtle creaminess adds a nice texture to each bite.
Want more of a sharper and savory flavor? Use shaved parmesan cheese instead.
Parsley
Although you will hardly notice the taste of this herb, I suggest adding a bit of fresh parsley. It beautifully balances all the flavors.
Canned or leftover baked salmon
Have any leftovers from my Buttery Wild Salmon Recipe? Toss it in this salad to make a whole new dish.
But it's equally a perfect canned salmon recipe. I like the Wild Planet wild Sockeye salmon—skinless and boneless. It is conveniently ready to serve, and the firm texture of the pink fish pairs wonderfully with soft and moist fresh Mozzarella.
Just crumble or chop the fish into small pieces before tossing it in.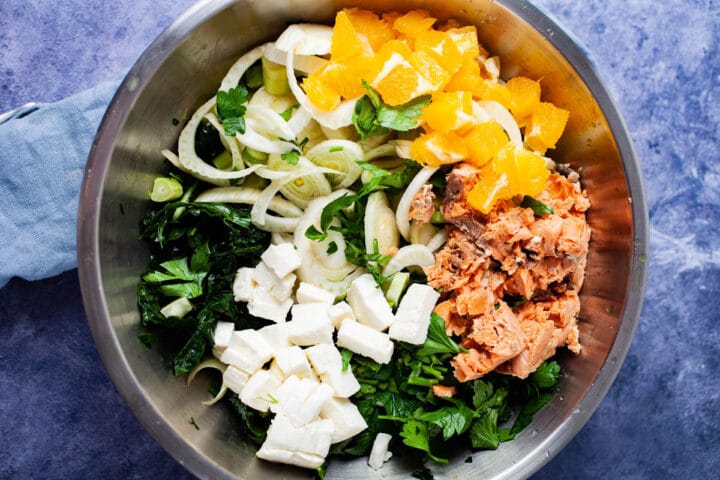 Prepare the kale for the salad
Never dabbled in making raw kale salads before? This is for you. It's easy but, please, don't skip this step because it turns this vegetable into tender sweet greens.
Toss out the tough and fibrous stems. You don't want them in this salad recipe.
Shred the leaves into small pieces or chop them into bits.
Then briefly massage the kale leaves until they turn more vibrant green and start to soften.
How to quickly remove stems from kale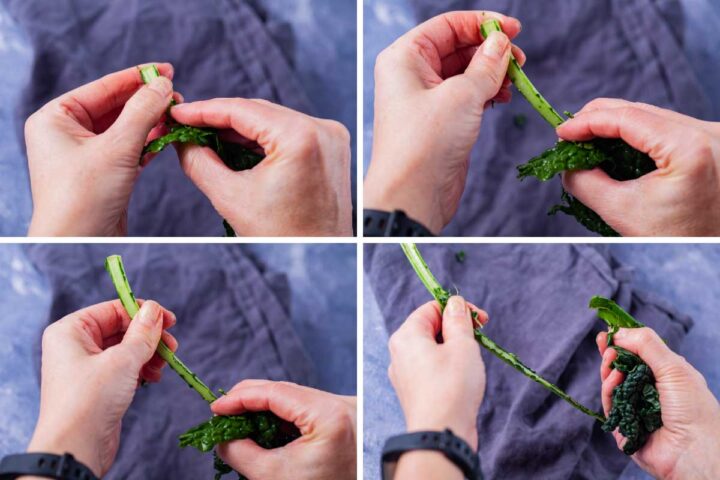 As shown in the pics, hold the top of the stem with one hand and, with the other, run your fingers along either side of the stem, ripping the leaves off in one swooping motion.
How to massage kale
Coat those teared-up leaves with a bit of olive oil, and then start crunching them with your hand. Please don't overdo it, though. About thirty seconds is more than enough until the leaves become dark green and have somewhat softened to make them worthy of this salad.
Quick note: if you are meal prepping this kale salmon salad and not planning on serving it immediately, massaging isn't necessary. The citrus juice of the fruits in the dressing will break down the kale's fibrous structure as massaging does.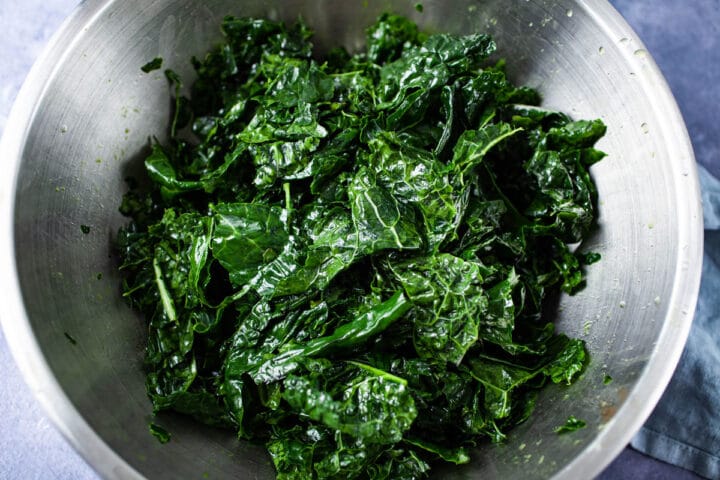 Kale salad dressing
The homemade dressing is simple and healthy yet bold in flavors. All you need is:
The juice of half an orange (or about 5 tablespoons);
The juice of one lemon (or about two tablespoons);
One teaspoon Dijon mustard—use a bit more if you like a zippier dressing;
One tablespoon of olive oil;
Stir the ingredients and pour over the salad for a fresh citrusy and punchy taste.
Then season the salad to taste with salt and royally with pepper.
What to serve with kale salmon fennel salad
This kale salmon salad recipe is filling enough as-is. But here are a few pairing ideas that we love at home: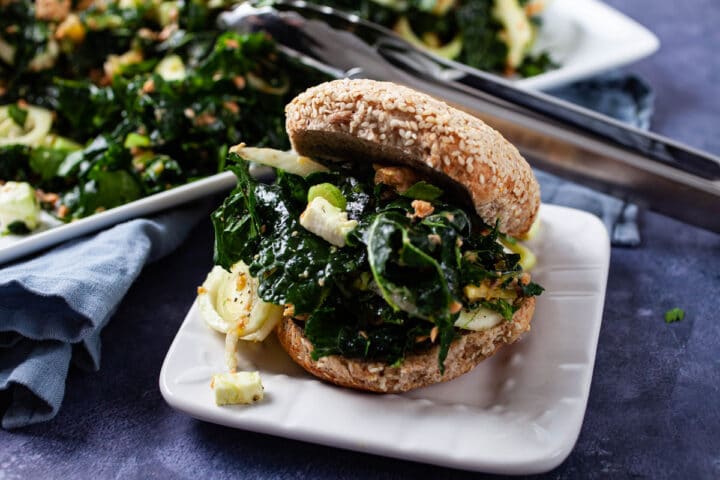 More Salads or kale recipes you might like
Try this beautiful sweet kale-apple salad with creamy avocado pesto. This is another massaged kale salad recipe that is so easy to prepare. It's nourishing, super healthy, and full of sweet and hearty flavors.
Looking for a cozy and healthy movie night snack? Then this coconut and kale chip recipe is for you. It is light, crispy, and very addictive with its sweet-salty seasonings.
And whether you are looking for a side salad or satisfying lunch, try my nourishing mango-avocado salad. You can enjoy it as-is or pair it with boiled eggs, canned tuna, salmon, sardines, or cooked beans you have on hand.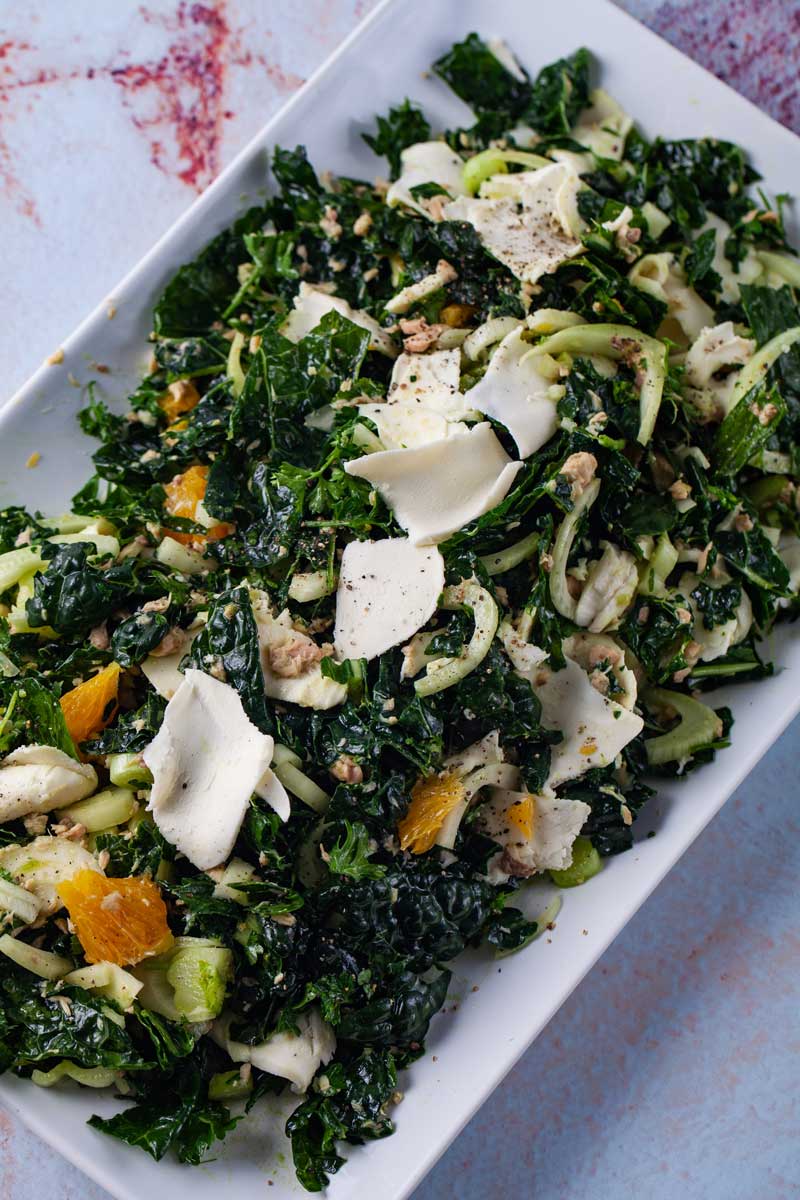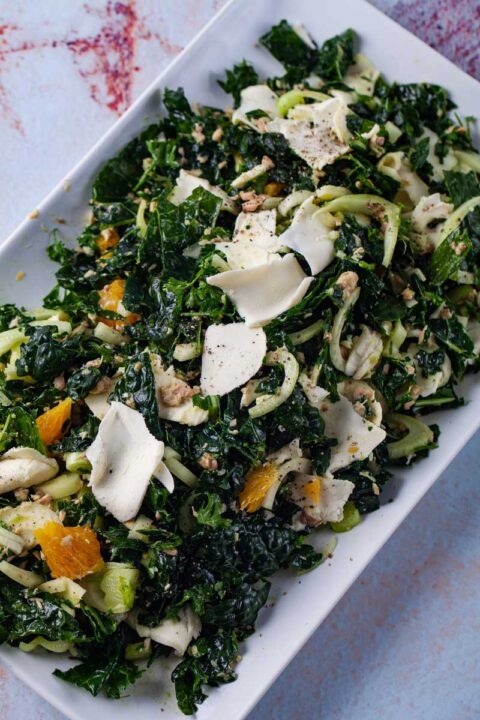 Please let me know how this recipe turns out for you in the comments! I love hearing from you.
Sharing is caring, so don't forget to PIN IT to your Salads or Side Dish Board to save for later! Also, don't forget to subscribe to my Monthly Newsletter!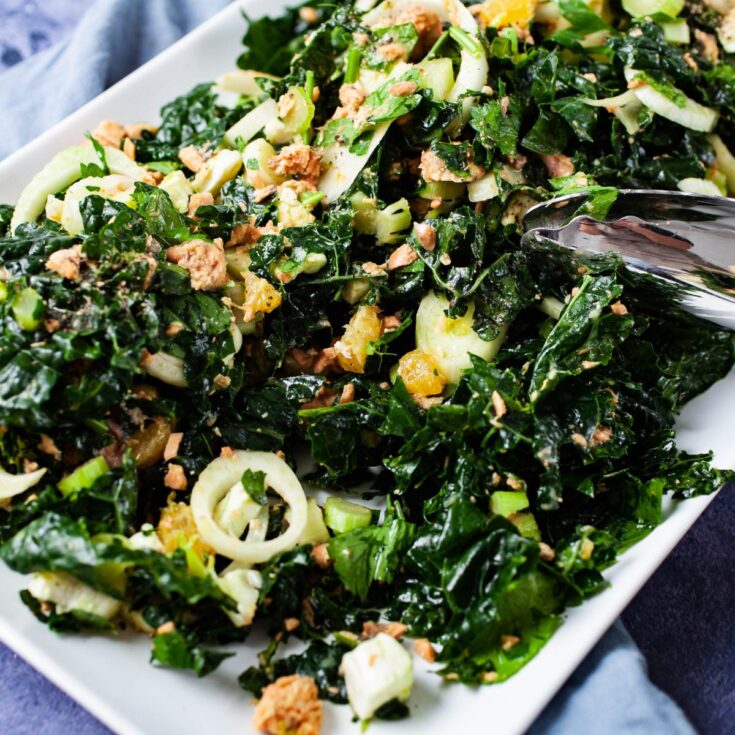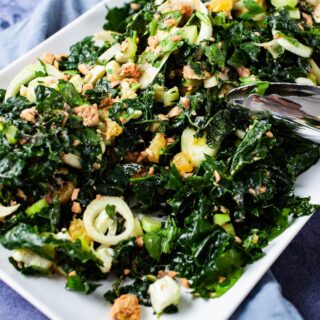 Citrusy Kale Salmon Salad
Mariska Ramondino
Flavorful and delicious kale salmon with fennel, parsley, mozzarella cheese, wild-caught (canned) salmon and tossed in a citrusy dressing—a delicious lunch or light dinner salad idea!
Ingredients
10

large dinosaur kale leaves

(or 1 small bunch of kale) thick stems removed and finely chopped or teared into small pieces.

2

tablespoons

olive oil

divided

3

cups

thinly sliced fennel

320 grams or about 1 medium-large fennel bulb

½

cup

loosely packed parsley

curly leaf, finely chopped

1

can

wild-caught canned salmon, finely chopped, or use one to 1 ½ cup of leftover baked salmon

6 ounces/170 grams

1

large orange

cut in half and divided

2

tablespoons

lemon juice or juice of 1 lemon

½

cup

finely chopped or shaved fresh Mozzarella cheese

100 grams

Salt and pepper to taste

1 to 2

teaspoons

Dijon Mustard
Instructions
Make the Salad
Remove thick stems from the kale leaves by holding the stem ends and tearing the leafy parts off in one swooping motion. Discard the stems.

Either finely chop or tear with your hands the leafy parts of the kale into small pieces.

Place the kale in a large bowl and coat with one tablespoon of olive oil.

Massage the kale until the leaves become deep green, tender, and soft (about 30 seconds to one minute.)

Toss in the fennel, parsley, chopped salmon, and mozzarella cheese. Reserve a few mozzarella pieces for garnish.

Take one-half of the orange. Remove the peel and cut away as much of the white pit as possible. Then chop the peeled orange and toss it into the kale salad.
Make the Dressing
Stir in the Dijon mustard and one tablespoon of olive oil
Assembly
Pour the citrusy dressing over the kale salmon salad.

Season to taste with sea salt and royally with freshly cracked black pepper.

Toss gently to combine.

Transfer the salad to a large serving plate or salad bowl.

Garnish with the reserved slices of mozzarella.

Serve and enjoy!
Notes
Dressing: The fresh hand-squeezed juices equate to about 5 tablespoons of orange juice and 2 tablespoons of lemon juice. Storage suggestions: This salad keeps well in the fridge for up to 5 days when stored covered in an airtight container. It's a nourishing pack for lunch option or dinner salad that you can easily prepare in advance. Make it dairy-free: replace the mozzarella cheese with avocado slices to add back some of the creaminess.
Add your own private notes
Whenever you come back to this recipe, you'll be able to see your notes.
Nutrition (% Daily value)
Calories:
127
kcal
(6%)
Carbohydrates:
8
g
(3%)
Protein:
11
g
(22%)
Fat:
7
g
(11%)
Saturated Fat:
1
g
(6%)
Polyunsaturated Fat:
1
g
Monounsaturated Fat:
4
g
Trans Fat:
0.01
g
Cholesterol:
25
mg
(8%)
Sodium:
222
mg
(10%)
Potassium:
422
mg
(12%)
Fiber:
3
g
(13%)
Sugar:
4
g
(4%)
Vitamin A:
2425
IU
(49%)
Vitamin C:
43
mg
(52%)
Calcium:
255
mg
(26%)
Iron:
1
mg
(6%)
Disclaimer: This nutritional data is calculated using third party tools and is only intended as a reference.