This power-packed banana turmeric smoothie with ginger, pineapple, and hazelnuts is loaded with healthy proteins, fiber, and tons of nutrients—a perfect breakfast or post-workout smoothie that is also incredibly delicious and satisfying. I also include an alternative recipe for how to make this smoothie with less fruit and a more intense flavor!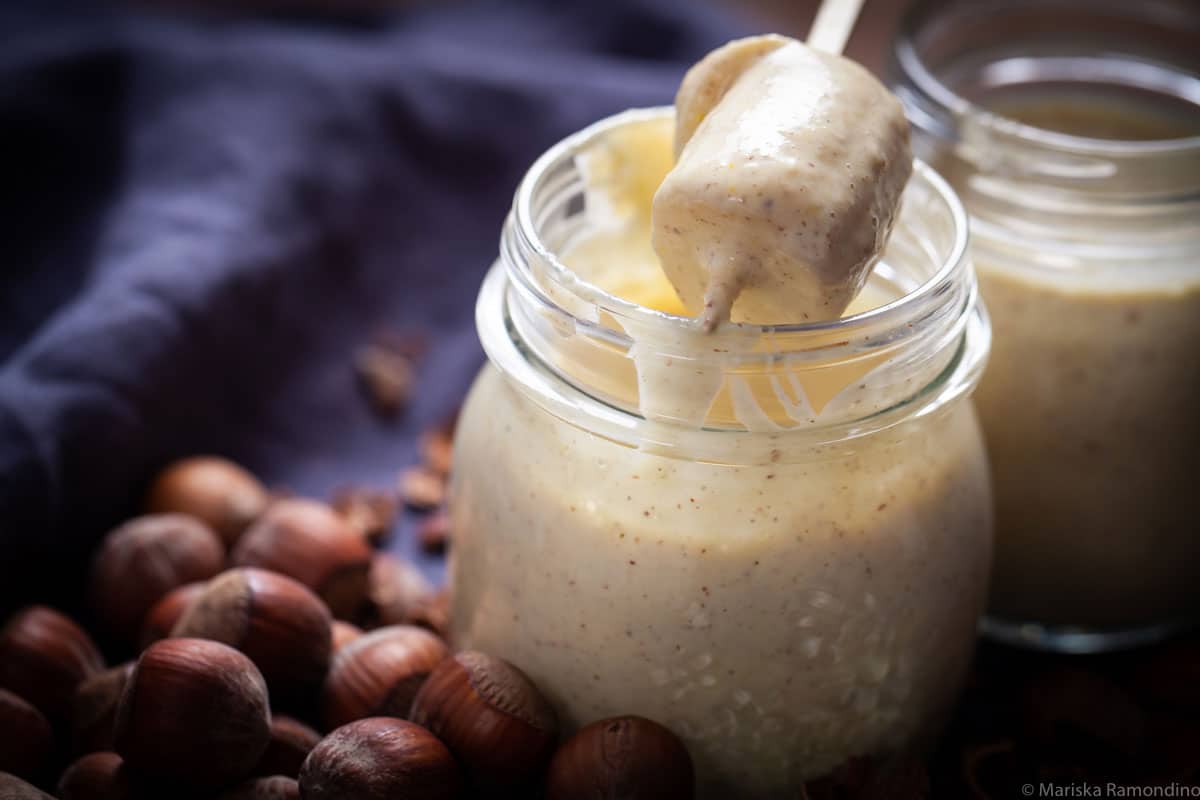 EASY BREAKFAST OR POST-WORKOUT SMOOTHIE
This smoothie recipe started with just a few ingredients, and I have been playing around with it until I got the right texture and that feel-good taste. At home, I enjoy it often as my post-workout drink. But I even make it from time to time for breakfast for the whole family. It is easy—I mean, everything goes into the blender—yet incredibly filling with lots of minerals and nutrients. Everyone loves this one here at home! It also is delightfully sweet with a refreshing spiciness due to the ginger, turmeric, and a hint of black pepper! So, let's see what's in it, why you should try ginger and turmeric in a smoothie from time to time, and how you can change it up!
SPICE UP YOUR SMOOTHIE
Adding ginger and turmeric to your smoothie creates a delicious hint of spicy flavor to naturally sweet, creamy drinks. So, if you love that sweet-tart and a hint of spiced flavor as much as I do, then drink it up. And from personal experience, this smoothie recipe gives me energy when combined with other nutrient-packed ingredients after a good workout or to start the day.
How much ginger and turmeric is totally up to you. If this is your first spiced drink, start with adding just a little and taste test. You can always add more afterward. But if you are used to the taste of these ancient spices, then feel free to incorporate more than suggested in the recipe.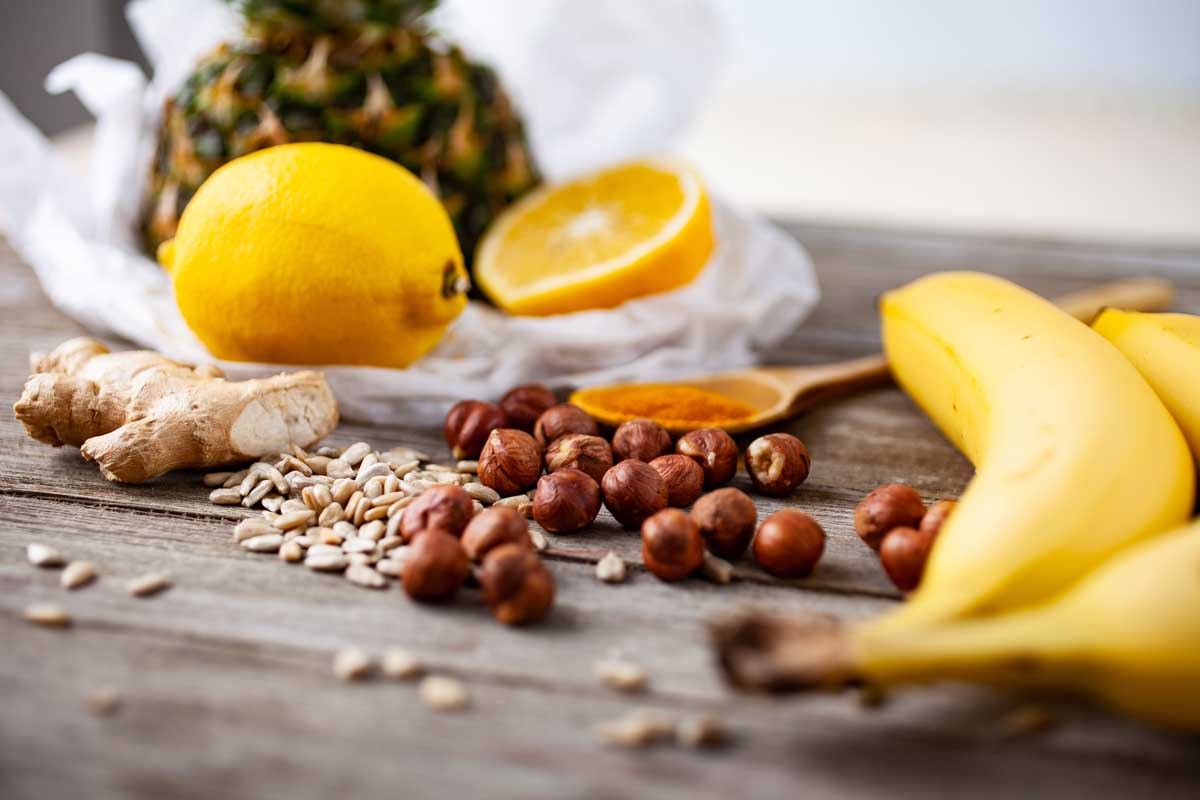 WHAT GOES INTO THIS BREAKFAST OR POST WORKOUT TURMERIC SHAKE AND HOW TO CHANGE IT UP
Banana:

half of a ripe banana is enough to add sweetness. I love cutting the rest of the fruit into small pieces and enjoy as a side snack. This fruit is potassium-packed, and its sweetness balances the spiciness of ginger and turmeric. It adds a thick creamy texture. Tip: throw in a frozen banana for a quick cold refreshing drink.
Pineapple either fresh or frozen. This fruit is incredibly juicy, a great source of fiber and vitamin C. But I also find pineapple to be beneficial in maintaining healthy digestion. Its lovely acidity pairs well with the creamy, sweet banana.

Lemons:

use half and work your way up to one whole fruit. They are not only a great source of vitamin C and fiber, but I love that hint of sour taste when combined with a creamy texture. It's like you added some homemade lemonade. Plus, they pair well with hazelnuts.

Fresh ginger and turmeric:

you got to play around with the amount of these fresh herbs. They add a lovely hint of spiciness without overpowering the rest. If you start with the suggested amount in the recipe and feel that it is too strong for your taste, then add more plant milk or banana. These are both anti-inflammatory medicinal herbs that are also rich in antioxidants. Perfect to start your day or recover after a good workout.

Plant milk:

I highly recommend flax milk—delicious thin milk that is rich in fibers and calcium. Go for unsweetened flax milk. Some brands, for some reason, heavenly sweeten their milk. I'll leave a link below to the one I use. Almond or oat milk are other great options.

Hemp Seeds:

I use shelled hemp seeds. They are protein-rich, a great source of omega 3 & 6, and make your smoothies extra creamy. What is not to love? Feel free to add more than two tablespoons, if preferred. I'll leave a link below to the brand I use the most.

Flaxseeds:

You could make this optional or use this instead of the hemp seeds. But I told you that this is a power-packed smoothie with tons of healthy ingredients. So, if you have it in the fridge, then throw it in. It adds extra healthy fats, proteins, fiber, and antioxidants. So why not!

Raw Hazelnuts or sunflower seeds:

They make this smoothie SUPER creamy—they are also high in magnesium, calcium, vitamin B, and E. Don't love them? Try Brazil nuts instead.

For those with a nut allergy, roasted or raw hulled sunflower seeds are a great alternative.

Dates:

this is optional, and only if you want to add a bit more sweetness. I only add two at most.

Black pepper:

adds a lovely subtle kick at the end.
WHEN TO ENJOY YOUR BANANA TURMERIC SMOOTHIE
I enjoy many green smoothies and juice variations, especially in the morning, but I particularly love this version as an energy drink:
30-minutes after a long workout;

When I have a long day ahead and little time to make breakfast. This smoothie is filling, incredibly creamy and you can adjust the ingredients to your taste buds;

I even make it sometimes as an after school snack for my daughter.

But this is also an excellent option for exam days. I am calling all the students out there! It's a quick recipe that comes together in no time and with tons of nutrients.

The recipe gets you about 2 cups, but because it is so filling, it can easily serve three people. Leftovers stay well refrigerated in a closed mason jar for up to one day.
So, I hope you'll find time to add this one to your smoothie repertoire! Enjoy.
Have questions? Simply comment below or message me. Also, don't forget to stay connected either on Instagram, Facebook, and Pinterest to see what other fun things I share.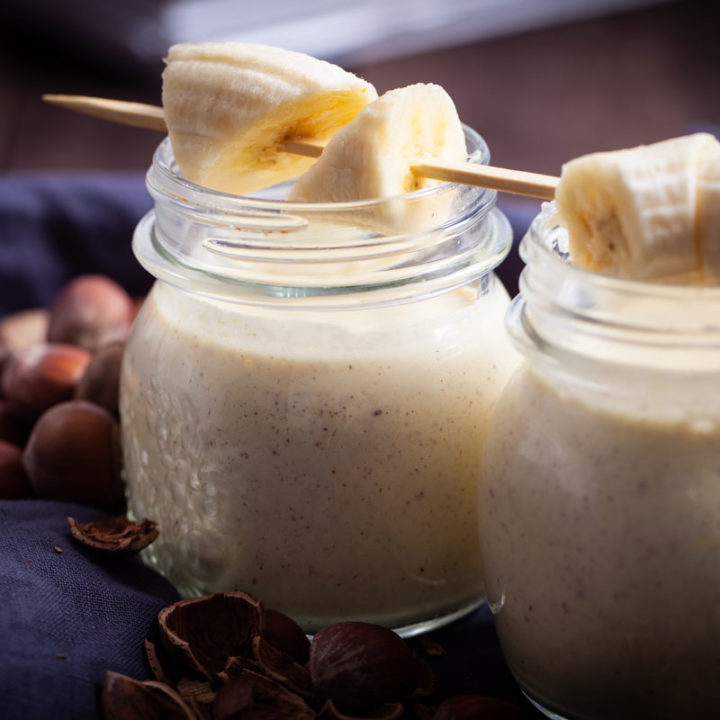 HEALTHY BANANA TURMERIC SMOOTHIE (DAIRY-FREE)
A healthy and vegan-friendly banana turmeric smoothie with ginger, pineapple, and hazelnuts that is protein-rich and perfect for breakfast or as a post-workout drink. Includes a less fruity version!
Ingredients
How to make the banana turmeric smoothie
½ of a banana, peeled
1 ½ cups chopped fresh or frozen diced pineapple
½ of a lemon, peeled
1-inch piece of fresh ginger (about an inch of a small root) or about 1 ½ teaspoon chopped
1 teaspoon powdered turmeric (or more as preferred.)
¼ cup raw hazelnuts or sunflower seeds (raw or roasted)
¼ cup cold water
2 pitted dates (optional)
2 grinds of black pepper (about ¼ teaspoon)
How to make this smoothie with less fruit
½ of a banana, peeled
One lemon, peeled
1-inch piece of fresh ginger (about an inch of a small root) or about 1 ½ teaspoon chopped
1 teaspoon powdered turmeric (or more as preferred.)
2 tbsp hemp seeds
½ tbsp flaxseeds
⅓ cup raw hazelnuts or sunflower seeds (raw or roasted)
1 cup flax milk (or other plant milk)
2 grinds of black pepper (about ¼ teaspoon)
⅓ cup cold water (optional)
Instructions
Place all ingredients in a blender and blend on high until you get a beautiful creamy smoothie.
Taste-test the smoothie. Add the rest of the banana if you prefer a sweeter taste.