If you are looking for a healthy and quick breakfast smoothie that is nutrient-dense and protein-rich, then I have a perfect recipe for you—and you don't need any protein powder.
This plant-based creamy on-the-go drink is full of vitamins, easily adaptable, and a great way to give you the energy you need to start your day! So let's dive right in!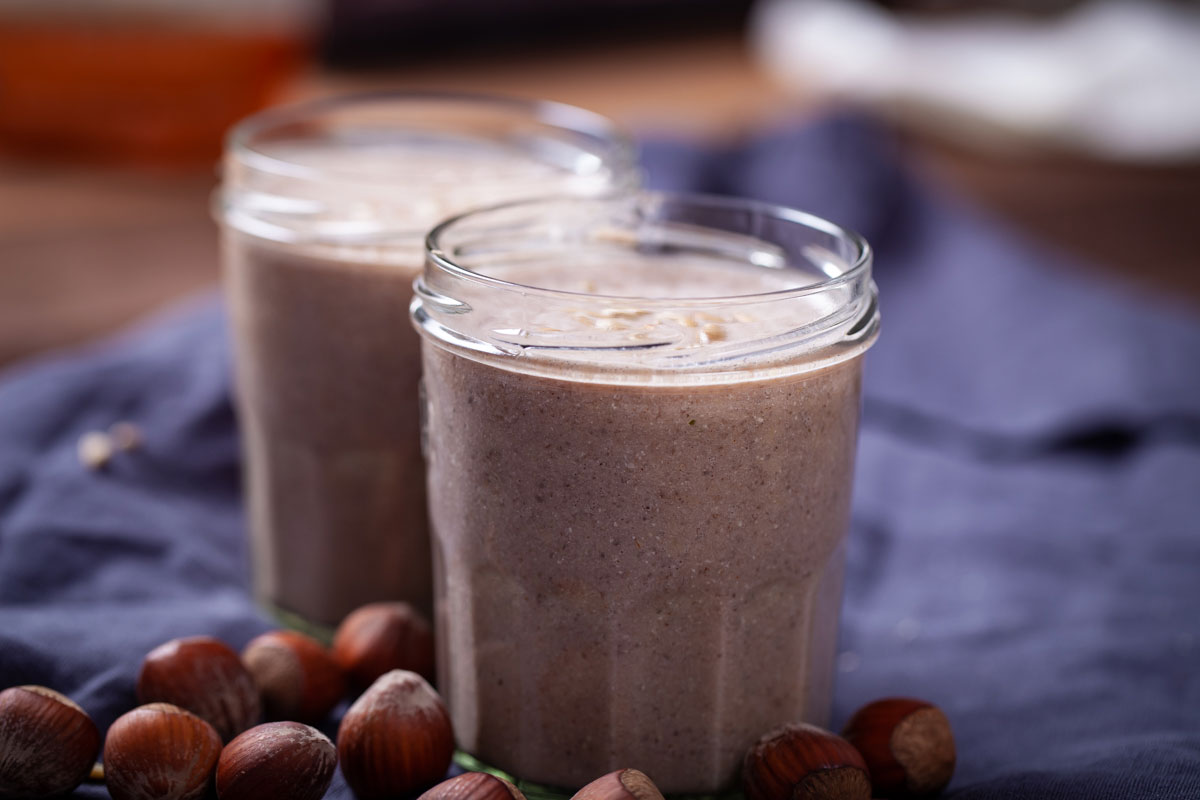 A great breakfast or post-workout smoothie
I usually don't make myself breakfast until around 10ish, when my hunger creeps in, but that sometimes changes depending on the type of workout in the mornings.
Some days I feel that I have to give my body some replenished energy, and besides a lot of water, I need to provide it with something extra to nourish it.
I like juices or smoothies that are easy to make yet packed with many antioxidants, vitamins, and minerals.
Because I don't have much time in the morning, I often prefer a quick smoothie that keeps me full yet doesn't make me feel bloated.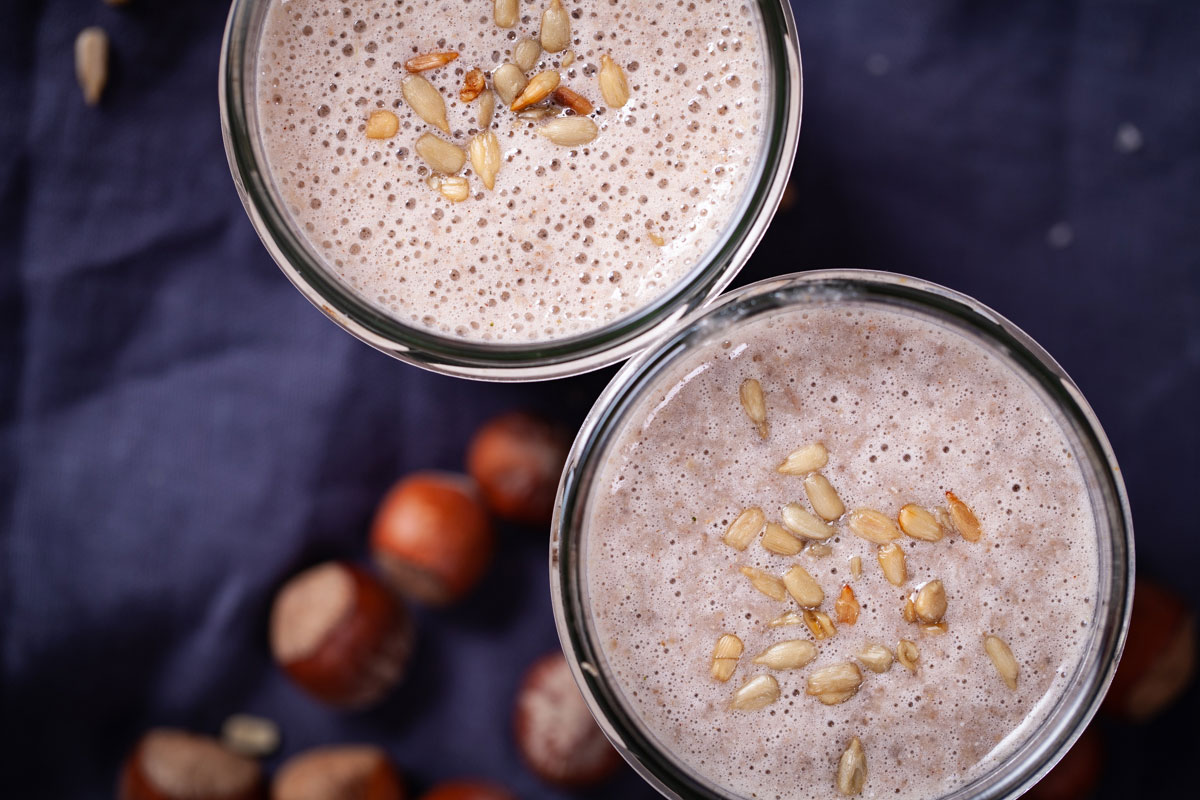 Healthy easy smoothie recipe
The recipe below is a perfect protein smoothie drink that you can change up by adding one or two more ingredients:
It is packed with nutrients my body craves after a good workout, giving me enough natural energy to kick off the day.
It also contains the necessary amount of fiber to keep me regular. Let's face it, folks; having one or two smooth bathroom breaks daily is essential.
I have noticed that I often feel bloated when I increase my protein intake without adding the necessary fibers.
With regular meals, I can quickly resolve that with a beautiful green salad, but with post-workout smoothies, I have to balance the ingredients more carefully. I rely on the following:
hemp seeds,
flaxseeds,
sunflower kernels, and
Chia seeds to opt for my protein intake give me plenty of fiber and an excellent balance of healthy fats, like omega-3 and 6.
These seeds not only contain:
a high amount of vitamins, minerals, and antioxidants,
but they give a sweet, nutty flavor to the smoothie.
I usually buy them in bulk and store the seeds in the fridge to maintain their freshness. They have become an essential in my kitchen not only for smoothies but also for making:
desserts,
yogurt parfaits
as a supplement to maintain healthy skin and hair.
The fruits used
Banana
The banana in this recipe gives it an extra smooth consistency. My body loves a banana as an energy snack or even for breakfast.
It contains a fair amount of fiber and potassium—this fruit is my secret weapon to help me maintain regular bowel movements.
Orange
One small orange adds extra vitamin C and gives this breakfast smoothie a smooth, sweet taste.
When peeling the orange, keep as much as possible of the white part between the fruit and the peel. It contains vitamin C and fiber and is rich in citrus flavonoids.
Change flavors
To change the flavors, you can opt to:
add a small amount of vanilla extract or
refresh it with some fresh lemon juice.
Another option is to replace the orange with a slice of fresh cantaloupe.
Play around with the consistency and add water if you prefer a thinner smoothie versus a thicker one.
Plant milk
My two favorite plant milk for this drink are unsweetened almond milk and protein-rich pea milk.
If you choose regular milk, leave out the coconut water—the flavors of these two ingredients do not go well together.
Nuts
If you love and have them on hand, try adding some raw hazelnuts (optional). They just make the drink super creamy! The taste is out of this world!
Enjoy this super simple breakfast recipe that is so easy to incorporate into your post-workout morning routine or to start your day healthy!
Don't forget also to check out some of my other protein-rich breakfast smoothies:
📖 Recipe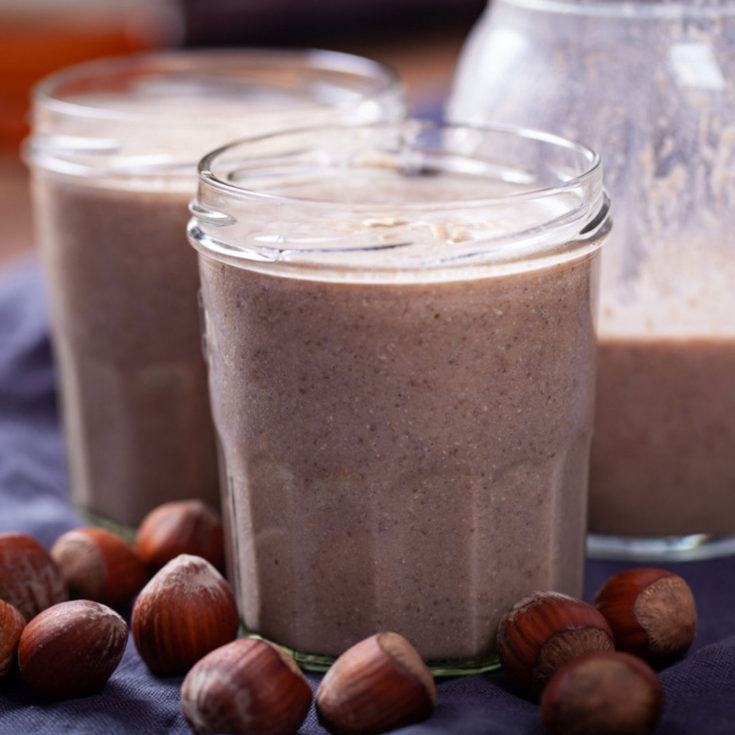 The Perfect Protein Smoothie to Boost Energy and Digestive Health
Mariska Ramondino
A healthy easy smoothie recipe that is creamy, full of vitamins, easily adaptable, and a great way to give you the energy you need to start your day!
Ingredients
1

tablespoon

raw shelled hemp seeds

1

tablespoon

ground premium flaxseed

or roasted unsalted sunflower kernels

1

tablespoon

black chia seeds

1

large banana

1

sweet orange

peeled

1

cup

unsweetened almond milk or other plant milk

cold

1

cup

unsweetened coconut water

¼

teaspoon

cinnamon powder

¼

cup

raw hazelnuts

optional
Instructions
Place all the ingredients in a high-speed blender (like a Vitamix). Start blending on speed one and immediately switch to the highest settings until you obtain a smooth light creamy drink.

Enjoy your morning breakfast drink.
Notes
Note: If you want to store half of your drink in the fridge for later, store the drink before adding the chia seeds—blend them in before consumption. The chia seeds will give the smoothie a much thicker consistency as they swell and become gelatinous.
Add your own private notes
Whenever you come back to this recipe, you'll be able to see your notes.
Nutrition (% Daily value)
Serving:
1
cup
Calories:
155
kcal
(8%)
Carbohydrates:
16
g
(5%)
Protein:
5
g
(10%)
Fat:
9
g
(14%)
Saturated Fat:
1
g
(6%)
Polyunsaturated Fat:
4
g
Monounsaturated Fat:
4
g
Trans Fat:
0.01
g
Sodium:
146
mg
(6%)
Potassium:
393
mg
(11%)
Fiber:
5
g
(21%)
Sugar:
9
g
(10%)
Vitamin A:
115
IU
(2%)
Vitamin C:
22
mg
(27%)
Calcium:
142
mg
(14%)
Iron:
2
mg
(11%)
Disclaimer: This nutritional data is calculated using third party tools and is only intended as a reference.