These beautifully baked gluten-free doughnuts are super soft and coated with warm cinnamon and coconut sugar. Enjoy them for breakfast or brunch with your favorite hot beverage, or as a guilt-free treat! Top them off with healthy-ish marshmallows, and you got yourself an exceptional kids' dessert!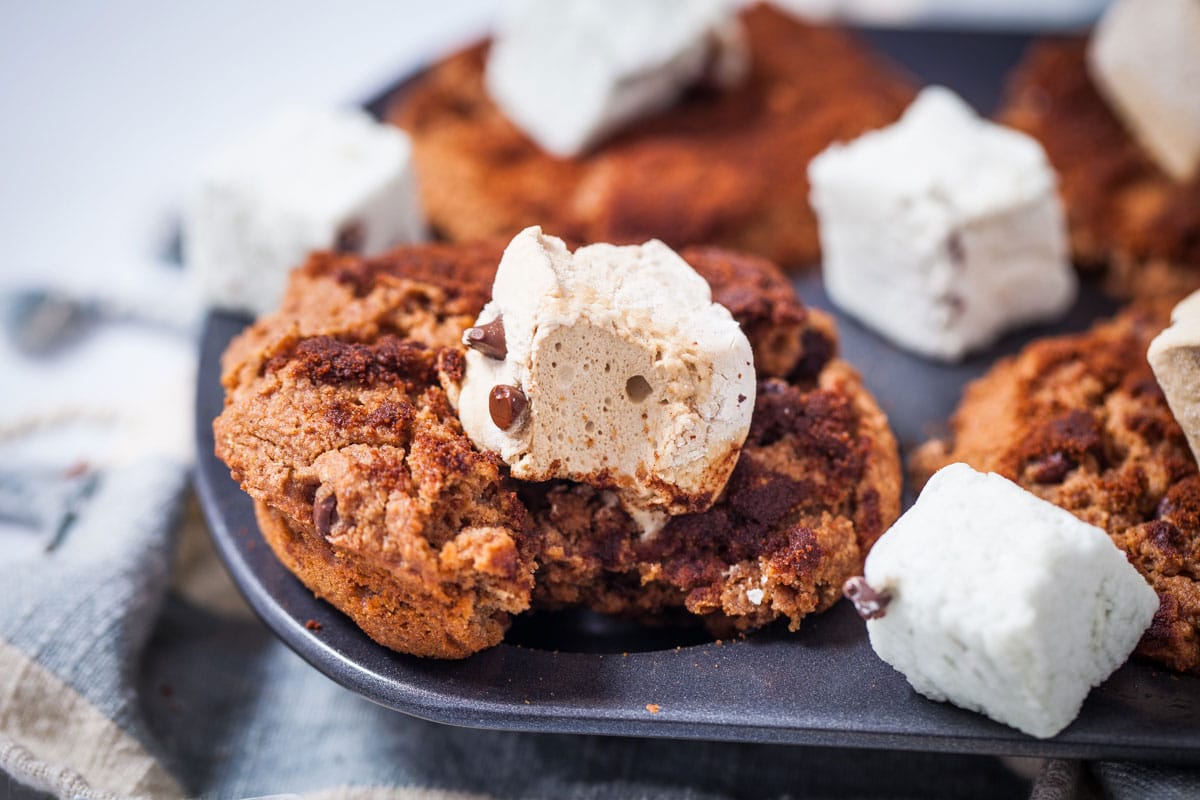 Perfect doughnuts for breakfast or brunch!
These doughnuts are easy to make—you have a freshly baked batch ready in 30 minutes—and they melt in your mouth with each bite. They are super soft and have the right amount of sweetness that is entirely guilt-free in my book.
I often make these baked doughnuts on the weekend part of Sunday brunch. And then leave the leftovers on the counter for anyone to grab as a snack later in the day.
When they come out of the oven, let them cool just a bit before topping them with cinnamon coconut sugar. However, don't wait too long because you want to enjoy them when still warm—simply irresistible.
My favorite way of eating these treats is with a hot cup of black coffee or green tea!
Doughnuts are a favorite in my household!
I had to come up with a healthier version of a doughnut. My family loves them, and they can get very excited when a warm batch comes out of the oven. I am all for occasionally indulging on the weekends, but a bunch of donuts from Krispy Kreme or Dunkin is something you will never see on my table. Instead, I prefer to make dessert-like recipes that I consider "better choices." Well, these baked doughnuts are
Unbelievably easy to make,
Smell incredible,
Are baked, gluten-free and refined sugar-free
And as a bonus, you can customize their level of sweetness or toppings depending on the occasion.
So let's take a look at some of the ingredients for this healthy doughnut recipe!
Ingredients
Greek or Bulgarian plain yogurt
It gives these doughnuts a super soft consistency.
You preferably want to use a brand with no added sugars, thickeners, or artificial sweeteners.
Buy it from a local farmer's market—if you are lucky enough to have a creamery farm in your neighborhood—or from a family-owned company that makes health-conscious products with few simple ingredients. I love the Bulgarian yogurt from White Mountain Foods that you can easily find in stores, depending on your location.
I have included the link to their website for more information and to find a store near you.
I use it for baking, making fruit desserts, adding it as a topping, or merely enjoying it as-is.
Although Greek yogurt will do just as well, the Bulgarian yogurt is more liquidy and has a much softer consistency.
Do you want to keep it dairy-free? Then try a coconut milk yogurt alternative.
Oat flour
I use either gluten-free steel-cut oats or gluten-free old-fashioned rolled oats and pulse the oat groats into a fine meal in an upright blender.
You can, of course, buy gluten-free oat flour. But if you are like me and already use steel-cut oats for breakfast, there is no need to purchase any extra flour.
Note that one cup of old-fashioned oats yields about one cup of flour, whereas you only need half a cup of steel-cut oats to produce about one cup of flour.
Gluten-free baking powder
Hain Pure Foods Featherweight carries a sodium-free, gluten-free baking powder, and that is the one I used in this recipe.

Customize it for birthday parties or special occasions
There is nothing more fun for kids than a dessert with marshmallow toppings. And when it comes to special occasions, I have no qualms dressing up these baked treats with flavored marshmallows.
I love the Smashmallow snackable marshmallows because they come in many different flavors, and they are soy and gluten-free. It is fun to place them in bowls at the table so kids can pick and choose their favorite! Ours is the Mint chocolate chip.
Another party favorite is to coat them with melted butter (or coconut oil) and let the kids add chocolate sprinkles on top!
Try to make them this weekend, because I know you will love these doughnuts! Don't also forget to check out some of my other mouthwatering gluten-free brunch ideas like the plantain pancakes or sweet buckwheat waffles to change it up.
Enjoy!
Want to try these doughnuts? Then PIN IT to your Healthy Treats Board to save for later! Come and find me on Pinterest for more great recipes! And when you make this recipe, please let me know! Leave a comment, or tag a photo with #mychefsapron on Instagram. I'd love to see your creations!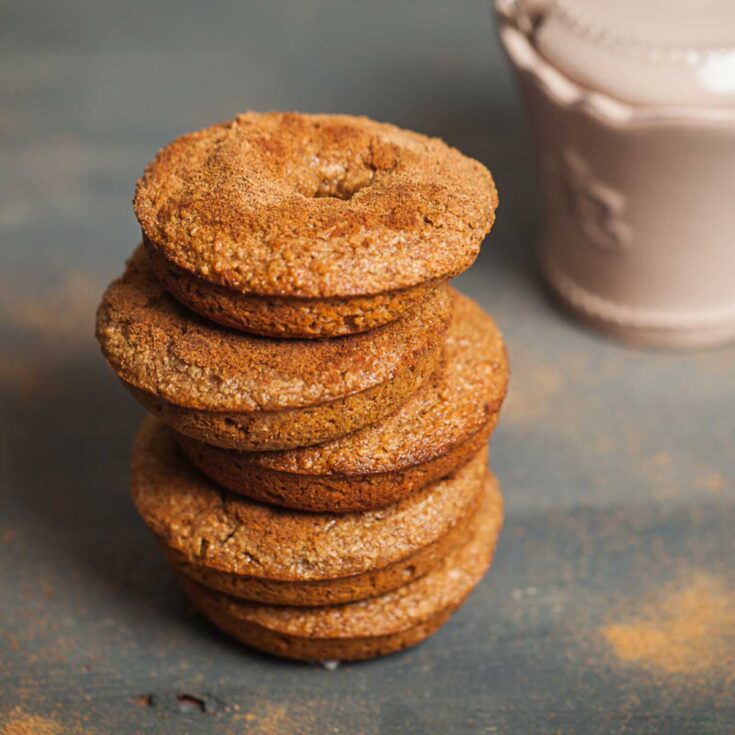 Yield:

9 doughnuts
GLUTEN-FREE BAKED CINNAMON DOUGHNUTS
Additional Time:
5 minutes
These healthy gluten-free baked cinnamon donuts are a family favorite treat. They are easy to bake and deliciously melt in your mouth with each bite!
Ingredients
MAKE THE DOUGHNUTS
1 large egg, beaten
¼ cup pure butter or coconut oil, melted (plus more to prepare the doughnut pan and coat doughnuts)
1 cup organic Greek or Bulgarian plain yogurt (I love organic Bulgarian yogurt from White Mountain) or coconut milk yogurt alternative
MAKE THE CINNAMON SUGAR
1 tablespoon ground cinnamon
2 tablespoons coconut sugar
Instructions
DOUGHNUTS
Preheat the oven to 350 ℉/ 180 ℃.
Place all dry ingredients in a large bowl and stir to combine. Add the egg, butter or coconut oil, and yogurt. Stir until all lumps have disappeared.
Coat a 9 cavity doughnut pan lightly with butter or coconut oil. Spoon and divide the batter equally into the pan. Bake for 15 minutes. Allow the doughnuts to cool a little.
CINNAMON SUGAR
Place the cinnamon and sugar in a small upright blender. Pulse or blend until it has the texture of fine powder. Transfer to a small bowl.
Coat the top of the cooled doughnuts lightly with some coconut oil or butter and dip into the cinnamon-sugar powder (two to three times for an extra coating). Serve the extra powder on the side.
Nutrition Information:
Yield:
9
Serving Size:
1
Amount Per Serving:
Calories:

212
Total Fat:

10g
Saturated Fat:

7g
Unsaturated Fat:

3g
Cholesterol:

34mg
Sodium:

120mg
Carbohydrates:

29g
Fiber:

2g
Sugar:

18g
Protein:

3g
Disclaimer: This nutritional data is calculated using third party tools and is only intended as a reference.
(Note: This post was published in January 2017 and has been updated to include new info and photos)