It's time for a treat of gluten-free baked doughnuts coated with a warm cinnamon-coconut sugar mix. Each bite is deliciously soft due to the oat flour, and they're baked just right to dunk into your favorite hot beverage.
What's best is that this recipe is a no-brainer. Seriously, it's so easy that it's perfect for making with kids or have warm baked doughnuts ready in a jiffy if you wanted to—that's the whole point of this recipe.
And if you're looking to make them in lieu of a birthday cake, then I highly suggest to top them with healthy-ish marshmallows—more on that later—which I've done before, and was a huge hit amongst kids and adults alike!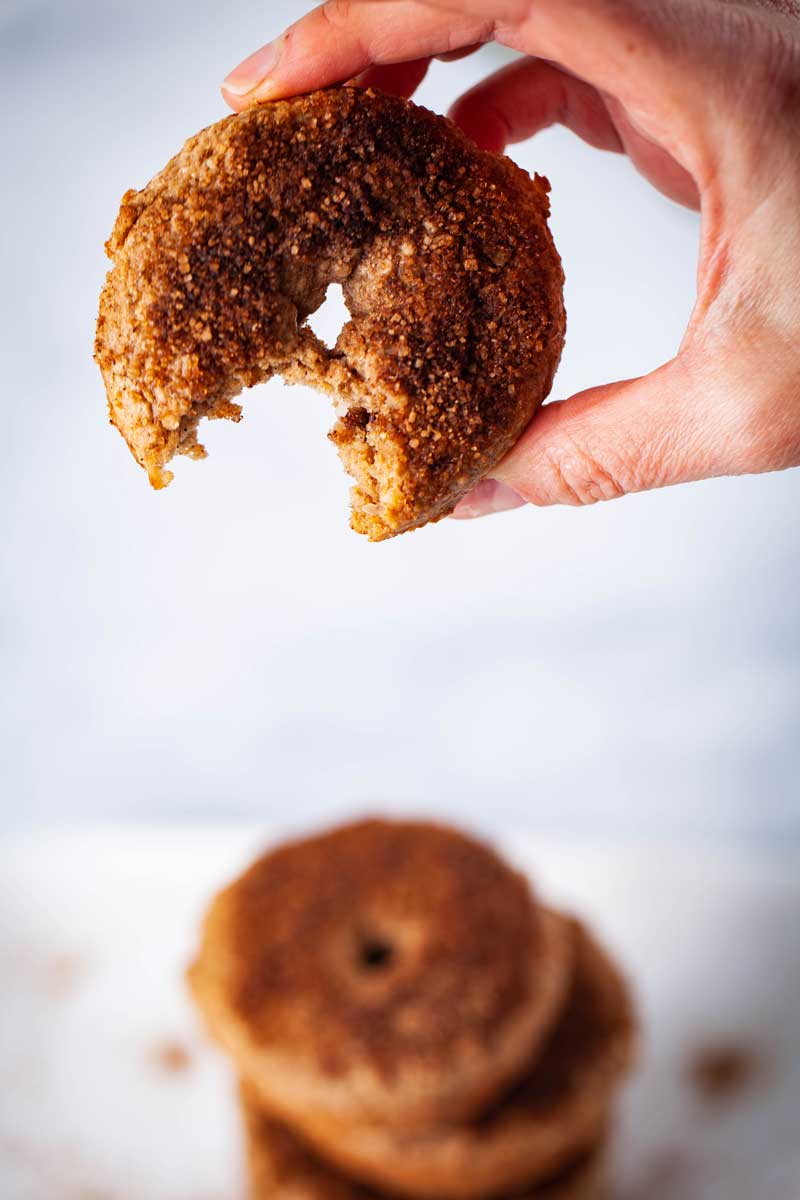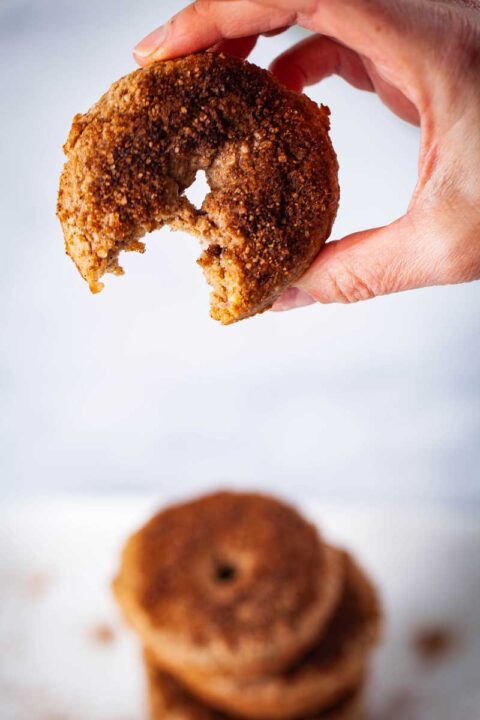 I don't recall exactly when, but this whole baking doughnuts endeavor started when my daughter asked me if we could make doughnuts together—she was still very little, that much I remember. Maybe it was an episode of Curious George, The Donut Delivery—a kids cartoon, in case you're not familiar with it, and one I loved watching with her—that prompted that question.
At first, I was happy to indulge, but then the word deep-frying seeped into my brain. It's not my forte and not something I wanted to do with a little one. After doing some research, I realized that there was no shortage of baked doughnuts recipes on the Web. Now that I was willing to tackle with a toddler.
I guess there isn't a hard and fast rule on making doughnuts. They come in a wonderful dizzying variety, either baked or fried, with or without a filling, and can just as easily be made with yeast dough or a cake batter.
Well, in my case, I kept thinking, as long as we bake something that looks like a doughnut, she'll be happy. You'll be pleased to know that I did put a bit more effort into it and despite that these are not hard to make, they're deliciously self-indulgent, as a doughnut should be.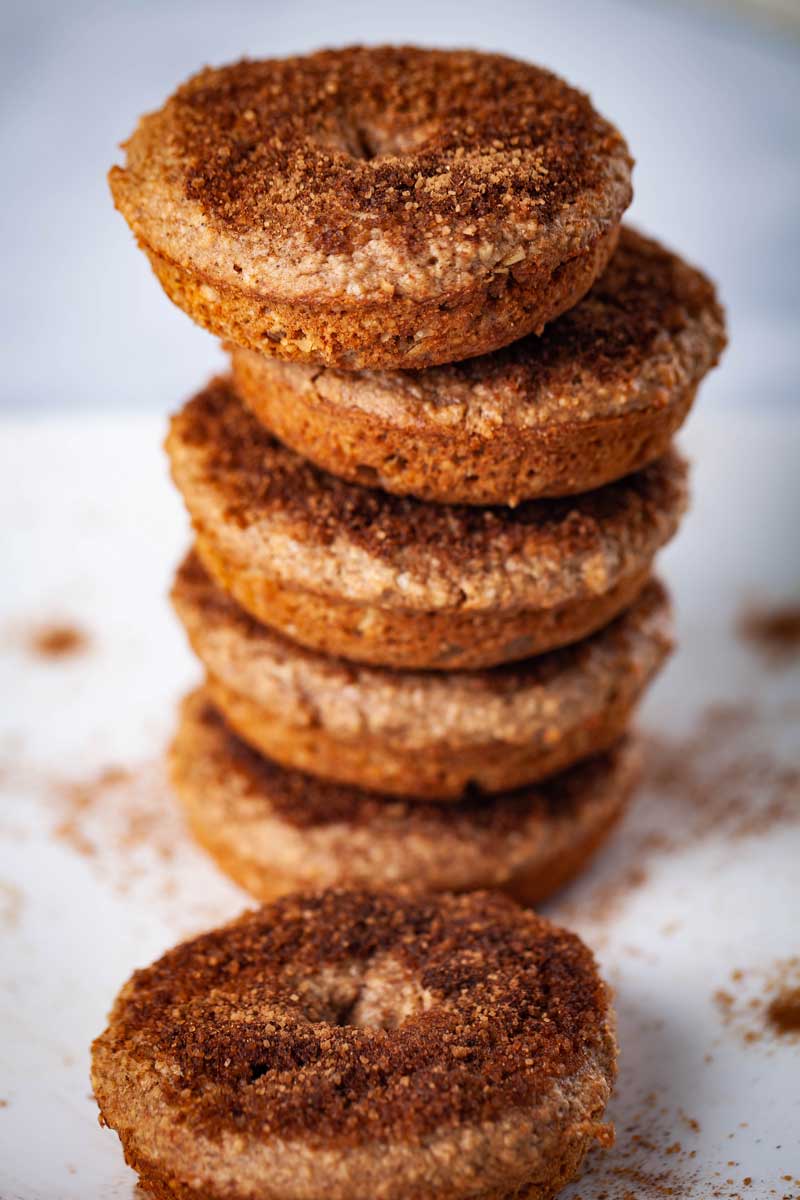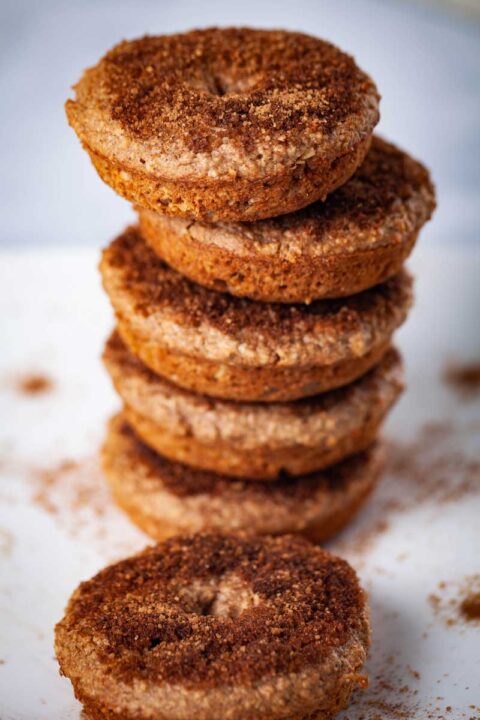 I experimented a while back with a yogurt and oat flour cake batter that created a very soft sort of melt-in-your-mouth consistency. The dough came together quickly, just what I needed, and after a few tries of turning it into a gluten-free baked doughnuts recipe, I think we finally have a winner with warm cinnamon flavors.
And when you bite into them...well, they're super soft with the right amount of sweetness and sort of buttery, dipped into a cinnamon-sugar mix that is so worth it.
Let's get to baking them, shall we?
Ingredients & a few notes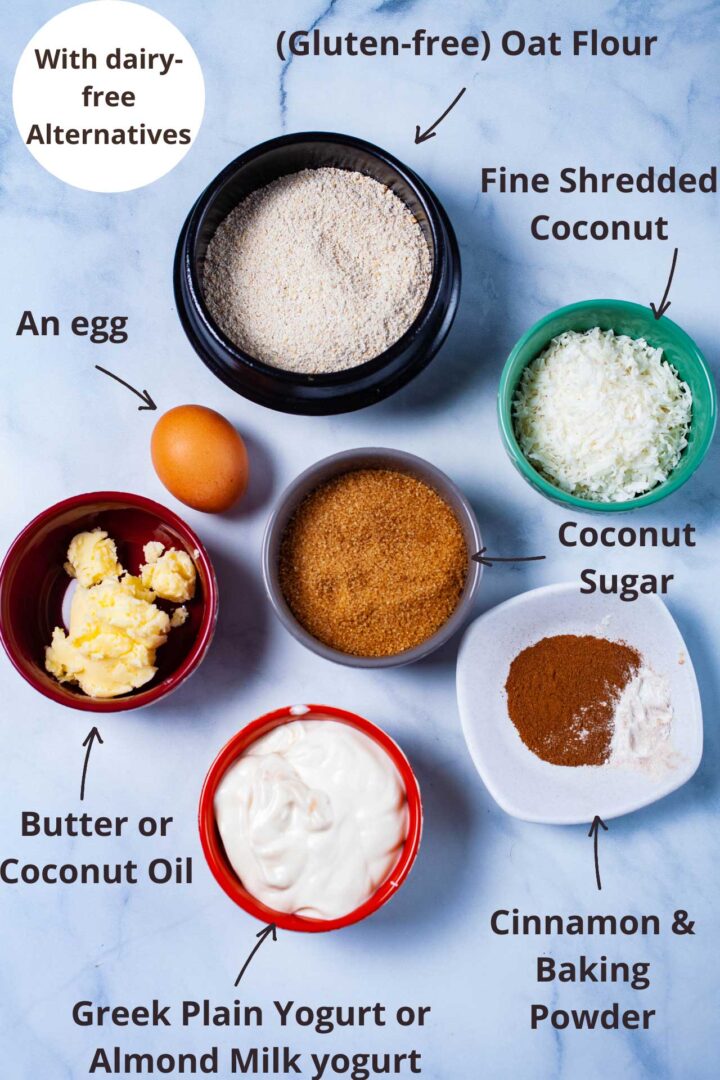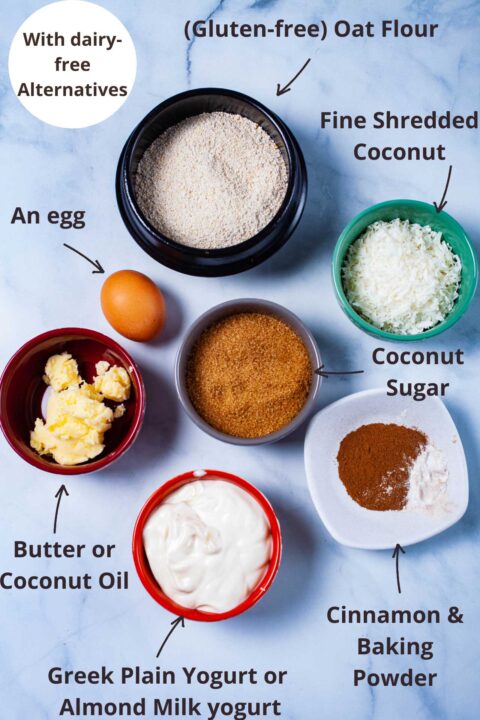 Greek or Bulgarian plain yogurt
It gives these doughnuts a super soft consistency.
You preferably want to use a brand with no added sugars, thickeners, or artificial sweeteners.
I love the Bulgarian yogurt from White Mountain Foods that you can easily find in stores, depending on your location.
I have included the link to their website for more information and to find a store near you.
Both plain Greek or Bulgarian yogurt will do well. But if you see clear liquid that sometimes sits on top of it and has separated, I suggest either stir it back into your yogurt or pour it off. I prefer to drain it off for this oat doughnut recipe because I want to end up with a slightly thicker yogurt consistency.
Oat flour
I use either gluten-free steel-cut oats or gluten-free old-fashioned rolled oats and pulse the oats into a fine meal in an upright blender.
You can, of course, buy gluten-free oat flour. But if you are like me and already use steel-cut oats for breakfast, there is no need to purchase any extra flour.  
You only have to ground the oats into a very fine meal, similar to regular flour, to bake up these doughnuts.
Note that one cup of old-fashioned oats yields about one cup of flour, whereas you only need half a cup of steel-cut oats to produce about one cup of flour.
Gluten-free baking powder
Although most baking powder brands you find in stores are typically gluten-free, not all are. Hain Pure Foods Featherweight carries a sodium-free, gluten-free baking powder, or a widespread one is Rumford Baking Powder.
Make it dairy-free
You only need to swap two ingredients to make these gluten-free baked cinnamon doughnuts also dairy-free.
I've made them plenty of times with either coconut butter or coconut oil instead. You will get a bit of a different flavor, but it works.
Instead of a milk-based yogurt, you can try a coconut milk yogurt alternative or, my favorite, plain almond milk yogurt.
A super easy recipe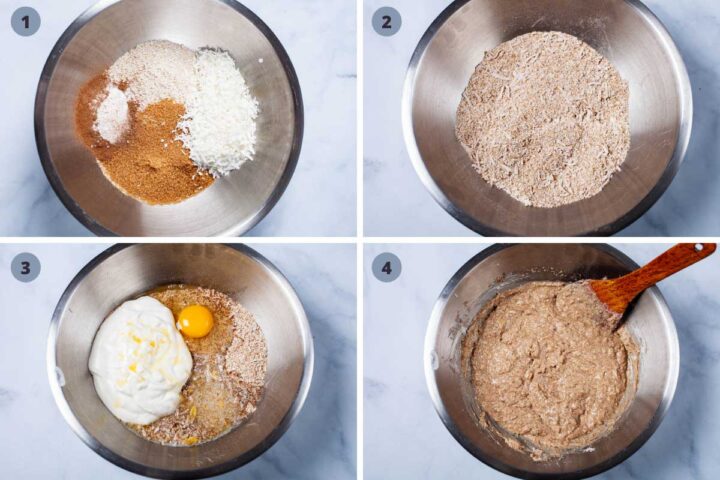 Well, they're cake doughnuts and baked, so these are not hard to make. I might have simplified the whole process even more to make it a perfect baking project for kids. Plus, they're gluten-free with a dairy-free option, a bonus if that's important to you.
The dough comes together quickly, mixing the dry ingredients first before adding the rest—child's play. Baking takes about 20 minutes, give or take.
They're ready by the time you head out of the driveway to buy you some doughnuts—all the more reason to make them at home.
Type of Doughnut Pan
I recommend a 9-cavity non-stick doughnut pan for making a standard batch. But, in the past, I've used a 6-cavity pan with the same amount of dough and filled the cavities all the way to the top to the point of almost bulging. It was out of necessity, really, because I had misplaced the bigger pan and couldn't find it.
The doughnuts turned out bigger, fuller, but it still worked—I sometimes prefer to make them this way now. You might have a slightly different baking time, maybe off with 5 to 10 minutes more or so, as I've noticed. But that's why I suggest the toothpick test.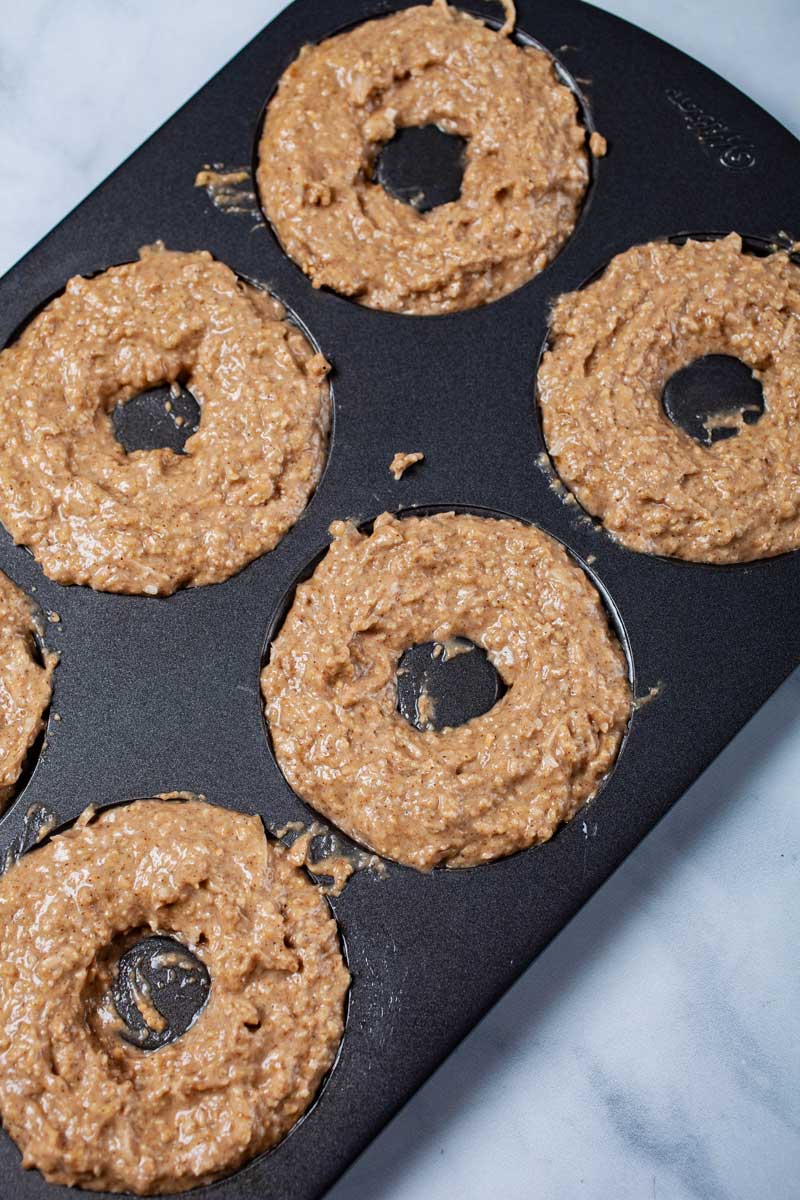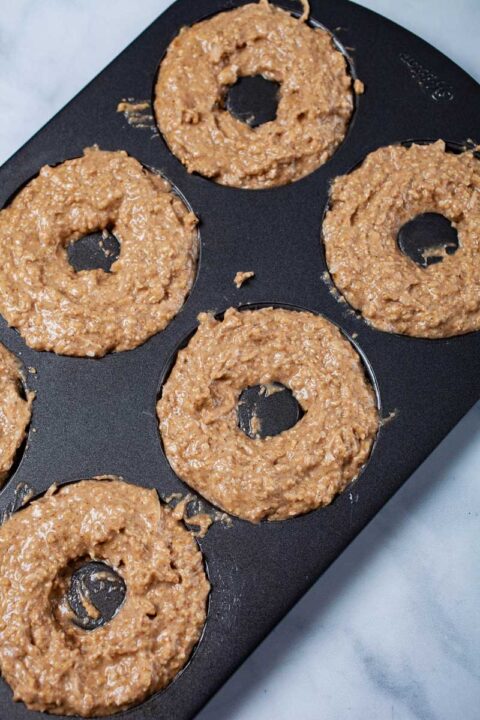 Best way to fill up the doughnut pan
If you want to make it super easy and more precise, then use a 16 in. decorating bag, cut about one inch off the tip of the bag, and then pipe the dough into each of the 9 cavities of the pan.
Ideally, you want the cavities to be about ⅔ to ¾ full for a standard size doughnut, and then baking will only take 15 minutes.
But, if I am in a hurry, I don't even trouble myself with that and either pour it straight from a mixing bowl with a spout or spoon it in.
And again, if you love those fuller mega cinnamon baked doughnuts as shown in the pics below, then use a 6-cavity pan and go over the top but bake for 10 minutes longer.
Customize it for birthday parties or special occasions

There is nothing more fun for kids than a dessert with marshmallow toppings. And when it comes to special occasions, I have no qualms dressing up these gluten-free baked doughnuts with flavored marshmallows.
I love the Smashmallow snackable marshmallows because they come in many different flavors. Plus, they are gluten-free. It is fun to place them in bowls at the table so everyone can pick and choose their favorite! Ours is the Mint chocolate chip.
Another party favorite is to coat them with melted butter (or coconut butter) and add chocolate sprinkles on top!
Cinnamon-coconut sugar topping
Personally, I don't think they need any toppings. So, if you are looking for a doughnut treat to pair with your cup of coffee or tea, then I think they are sweet enough as-is.
Here it is baked without any toppings.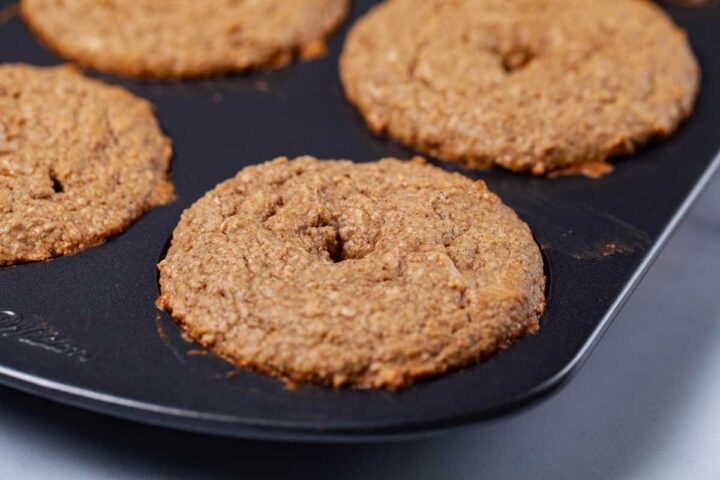 But sometimes, I go with a cinnamon-coconut sugar coating anyway and sprinkle some on each plate for extra dips.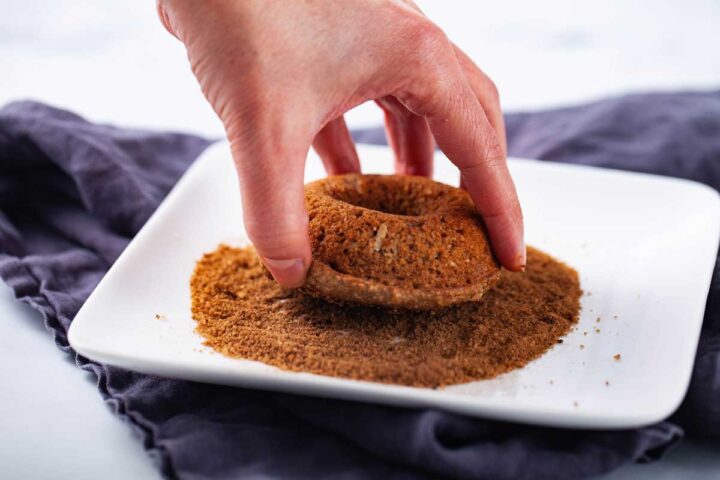 All you need to do is mix the cinnamon and coconut sugar in a small blender or coffee grinder until you have a fine powder. Then coat the doughnuts with some extra melted butter or coconut butter once cooled, and dip and turn them a few times into the sugary powder until the top is nicely coated.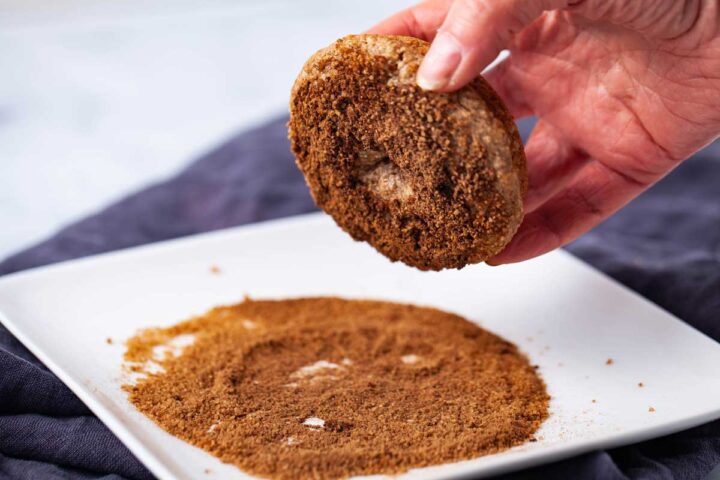 Storage
Store these gluten-free baked doughnuts in an airtight container at room temperature. You can also store them in the refrigerator.
Enjoy!
Try to make them this weekend, because I know you will love these (cough...) "healthy" baked doughnuts!
Hm, it just dawns on me. Does the spelling doughnut now seem old-fashioned versus donut? Well, no matter how you spell it, they taste the same.
Don't also forget to check out some of my other mouthwatering gluten-free brunch ideas like the plantain pancakes or sweet buckwheat waffles to change it up.
PIN IT for later! Don't forget to subscribe to my Monthly Newsletter!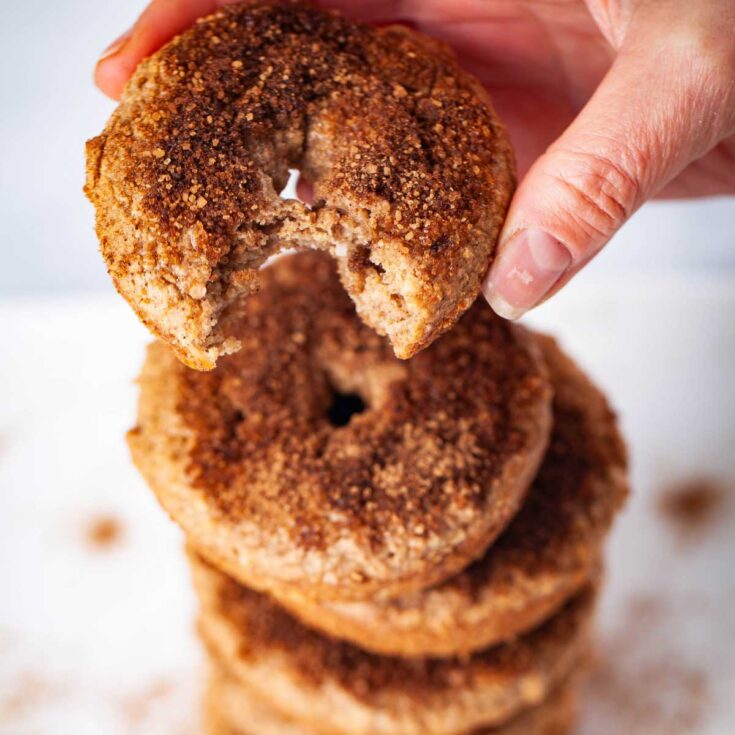 Gluten-free Baked Cinnamon Doughnuts
Additional Time:
5 minutes
Soft gluten-free baked donuts made with oat flour and topped with a cinnamon-sugar mix. Everything is super easy to make, and each bite deliciously melts in your mouth!
Ingredients
Make the doughnuts
1 large egg, beaten
¼ cup (50 grams)  pure butter or coconut butter, melted (plus more to prepare the doughnut pan and coat doughnuts)
1 cup (235 grams) organic Greek or Bulgarian plain yogurt (I love organic Bulgarian yogurt from White Mountain) or unsweetened almond milk yogurt to keep it dairy-free.
Make the topping
1 tablespoon (6 grams) ground cinnamon
2 tablespoons (33 grams) coconut sugar
Instructions
DOUGHNUTS
Preheat the oven to 350 ℉/ 180 ℃.
Place all dry ingredients in a large bowl and stir to combine.
Add the egg, butter or coconut butter, and yogurt.
Stir until all lumps have disappeared. The dough will be fairly wet.
Coat a 9 cavity doughnut pan lightly with butter or coconut butter (see note).
Spoon and divide the batter equally into the pan.
Bake for 15 to 20 minutes or until a toothpick comes out clean.
Allow the doughnuts to cool for 5 minutes before taking them gently out of the pan.
CINNAMON SUGAR
Place the cinnamon and sugar in a small upright blender.
Pulse or blend until it has the texture of a fine powder.
Transfer to a small bowl.
Coat the top of the cooled doughnuts lightly with some coconut butter or butter using your fingers or a basting brush.
Then dip into the cinnamon-sugar powder (two to three times for an extra coating).
Serve the extra cinnamon-sugar powder on the side.
Notes
Equipment: Use a 9-cavity doughnut pan for standard-sized donuts! If you want to make it super easy and more precise, then use a 16 in. decorating bag, cut about one inch off the tip of the bag, and then pipe the dough into each of the 9 cavities of the pan. Ideally, you want the cavities to be about ⅔ to ¾ full for a standard size donut, and then baking will only take 15 minutes.
For donuts that are thicker than your standard size, use a 6-cavity donut pan and fill it until all batter is used up and equally divided (fill the 6 cavities to the top with dough almost bulging). Baking will take 20 to 25 minutes with a 6-cavity donut pan.
Recommended Products
As an Amazon Associate and member of other affiliate programs, I earn from qualifying purchases.
Nutrition Information:
Yield:

9
Serving Size:

1
Amount Per Serving:
Calories:

212
Total Fat:

10g
Saturated Fat:

7g
Unsaturated Fat:

3g
Cholesterol:

34mg
Sodium:

120mg
Carbohydrates:

29g
Fiber:

2g
Sugar:

18g
Protein:

3g
Disclaimer: This nutritional data is calculated using third party tools and is only intended as a reference.
This post was originally published in April 2017 and has been updated with an updated recipe, new pictures, and new information.