Start your day with this refreshing cantaloupe-ginger smoothie that is wonderfully satisfying and contains tons of nourishment. This dairy-free recipe combines fruits such as cantaloupe, frozen peaches, lemon, and banana with ginger, and nut milk. It's a deliciously creamy breakfast smoothie that is ready in 5 minutes!
This recipe is one of my go-to breakfast smoothies when cantaloupes are in season. Anywhere from Summer through Fall—with their peak in August—their distinct, almost floral-like musky smell is so mouthwatering. And their smooth texture makes this dairy-free smoothie deliciously creamy. You'll appreciate the lemony and fresh ginger undertones, adding a refreshing and balancing touch. It is a healthy breakfast that keeps you energized and satisfied until lunch! The ingredients are simple without any supplements or dairy products. But you could easily add some (plant-based) protein powder and enjoy it as a post-workout drink.
Choose a ripe cantaloupe
And to do so, rely on the power of your smell, sound, and touch. This smoothie is not going to taste well with an unripe melon. Instead, you want one that is sweet and juicy. So here are a few things that you can check before buying a cantaloupe.
The fruits' scent should be heavenly sweet and slightly musky.
A ripe cantaloupe feels rather heavy for its size with a webbed texture on the outside. It will also be firm to the touch—not mushy or too hard—with a stem that yields a bit when pressed.
And when you tap it a few times, you should hear a low deep sound rather than hollow.
Also, look at the color of their rind. It should have a creamy or yellowish color. If it is still green-greyish ones, it needs more time to ripen.
If you can't find fully ripe ones in the store, let them further sit for a few days at room temperature. I usually store them in a brown paper bag in my pantry.
Wash the rind of the melon
Thanks to the advice of one of my friends a while back, I now always wash the rind of a ripe cantaloupe before storing it in the fridge. Their surfaces can easily collect unwanted dirt or bacteria that a knife can pick up when cutting through its flesh. It's super easy to clean and well worth the small effort.
Rinse the melon under running water. I usually use a vegetable brush to give it a good scrub and then rinse again.
Then I thoroughly dry it with paper towels before cutting.
Any leftover and opened cantaloupe, I immediately refrigerate for storage.
Cantaloupes are incredibly hydrating and an excellent source of vitamins A and C, they are high in fiber and promote regularity. They also contain an abundance of antioxidants and are insanely juicy, tender, and sweet.
This filling breakfast smoothie bursts with delicious flavors
Is naturally sweet, healthy and nutritious
And so easy to make
Let's have a look at what else is in it!
Other Ingredients
Nut milk: cashew milk is my favorite in this recipe, but you can also use almond or hazelnut milk. Make sure that you grab the unsweetened version. The fruits are already plenty sweet, and you don't want hidden sugars in this drink. It contains healthy fats and makes this smoothie almost velvety and incredibly filling.
Frozen peaches add a subtle sweet coolness without watering down this smoothie. But they do more than that, this fruit "bumps-up" the flavors of the melon—it's a lovely combo. Feel free to add a few more in the blender if you want their taste to be more dominant. I also like to drop one or two when serving as ice cubes.
The lemon nicely balances out the sweetness of the other fruits and adds extra vitamin C.
A small amount of Anti-inflammatory ginger adds a spicy bite and gives it a lovely freshness without overpowering the overall flavors. I use about two teaspoons of freshly chopped ginger, but feel free to add up to one tablespoon based on taste.
Banana is optional, but it adds some extra natural sweetness and gives you energy at the start of your day. It is also a great source of vitamin B6 and potassium amongst other nutrients.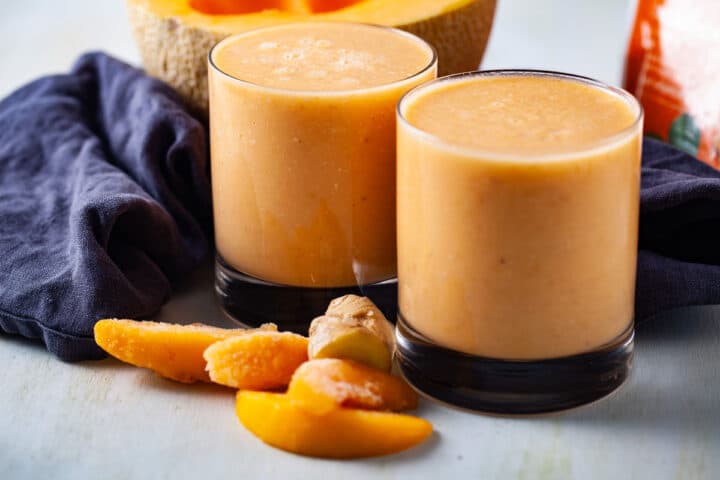 It can also be a great breakfast smoothie for kids
Kids generally love sweet melons, and mine gets particularly excited about this dairy-free smoothie. She loves it for breakfast or as a delicious snack. This easy smoothie recipe is already sweet as-is, but feel free to throw in a whole banana instead of half or add extra frozen peaches if preferred. You can even use frozen bananas to resemble frozen drinks—welcome on hot summer days.
Turn it up with by adding healthy fats or protein powder
I love to switch it up by adding some extra proteins and healthy fatty acids (omega 3&6) with a couple of tablespoons of shelled hemp seeds, which I recommend if you enjoy this vegan smoothie after a workout. Or switch it up with (plant-based) protein powder.
Make healthy smoothies part of your breakfast routine
Smoothies like this are easy to make and perfect for busy mornings.
They digest quickly and make one excellent light breakfast with plenty of nutrients.
Plus, they are ready in less than 5 minutes with simple and fresh ingredients.
They are also a great way to jumpstart a healthy journey for when you want to lose some weight or want to enjoy more whole foods consistently.
Other delicious recipes like this
For the coffee lovers
Now go ahead and PIN this on your healthy smoothie or breakfast board so you'll have this recipe on hand. If you have questions, leave it in the comments or DM me. Always love to hear from you! Don't forget to subscribe to my Monthly Newsletter!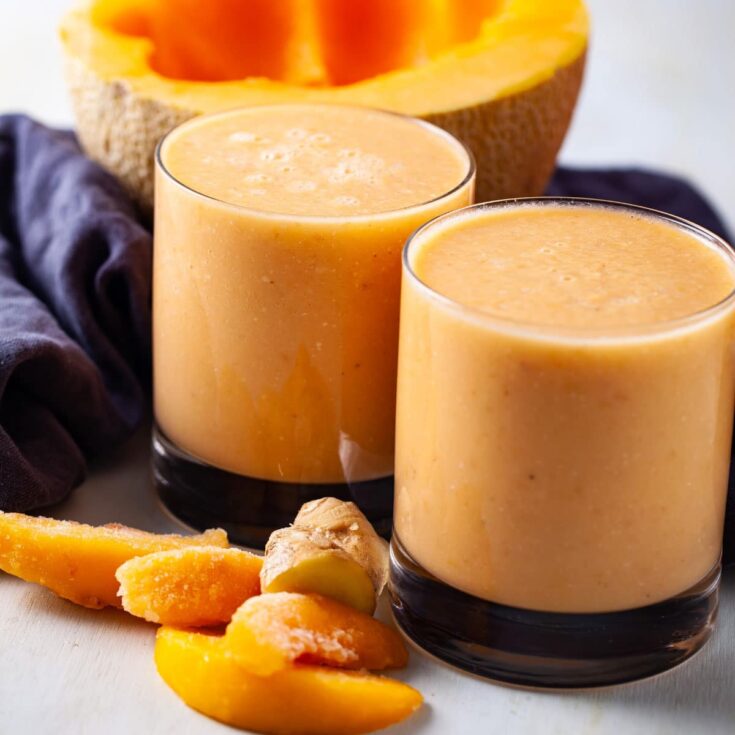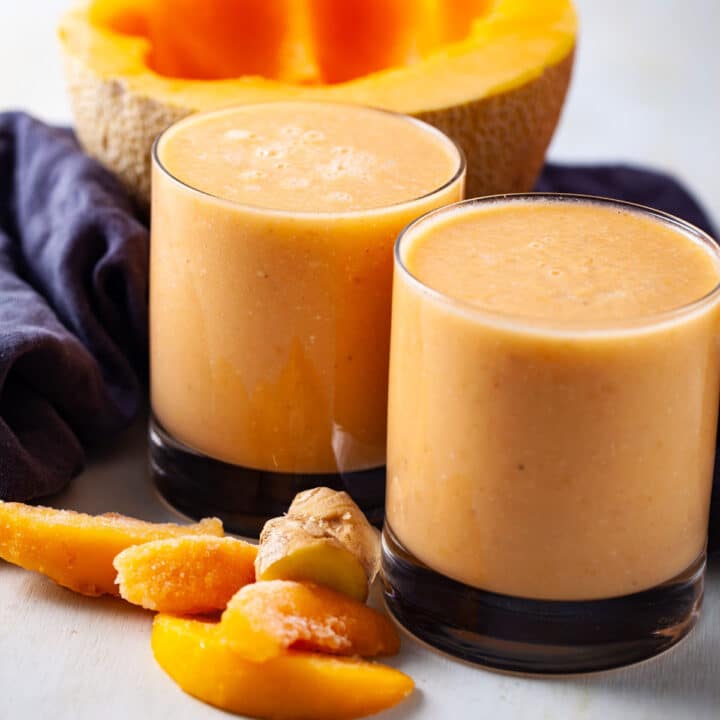 Cantaloupe-Ginger Smoothie
Try this refreshing and creamy cantaloupe-ginger smoothie that is dairy-free and full of healthy nutrients! Enjoy for breakfast, or as a pick-me-up snack!
Ingredients
3 packed cups peeled and chopped cantaloupe
½ lemon, peeled
2 teaspoon finely chopped fresh ginger
4 slices of frozen peaches
¾ cup almond, cashew or hazelnut milk
½ banana, peeled
Instructions
Place the cantaloupe in a blender. Add the lemon, ginger, frozen peaches, banana, and nut milk. Blend until everything is smooth.
Enjoy!
Notes
Optional: as a post-workout drink, add one to two scoops of collagen protein or plant-based protein powder.
(Note: This post was published in February 2018 and has been updated to include new info and photos)