A healthy garlic shrimp dinner idea is light on effort yet filling and rich in flavors. The leeks add a mildly sweet and onion-like flavor, and a mixture of spices adds subtle heat and a lemony touch.
Make it the centerpiece of your healthy easy weeknight dinner. You can keep it low carb with a large salad as a side or turn it into a hearty shrimp pasta dish.
Or dress 'em up with olive-oil-drizzled toasted bread and serve as a shrimp antipasto for casual appetizer parties.
Although you don't need bread, they are wonderfully tasty as-is.
Jump to Ingredients | Keep It Low Carb | Make it a Garlic Shrimp Pasta | Serve as a Hot Shrimp Appetizer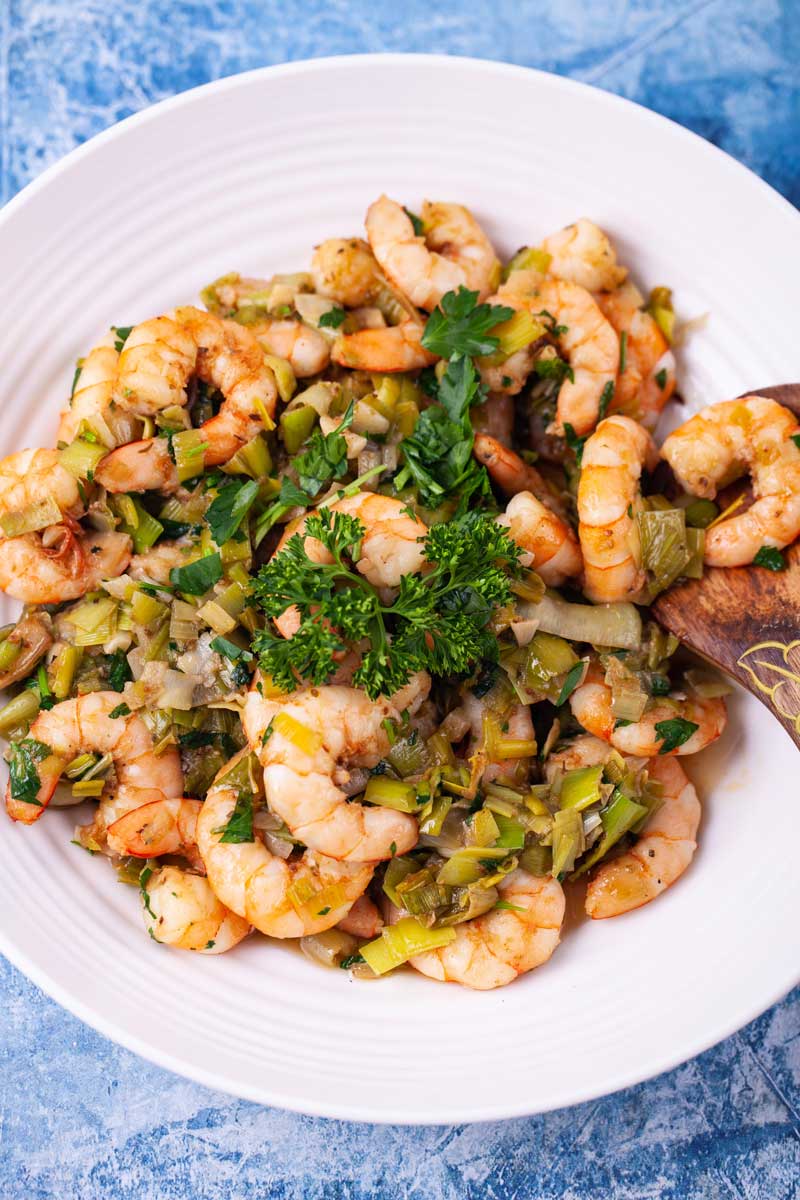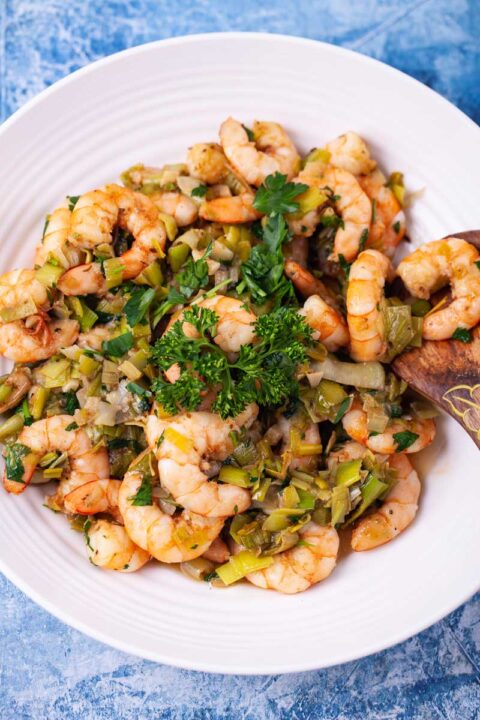 Now and then, I love a glass of wine with dinner. Lately, I always have a bottle of Amarone Della Valpolicella in the house, which Trader's Joe sells at a great price.
So, if you haven't tried this nicely balanced red wine yet, I hope you'll do – if you are into Italian wine, you'll thank me later.
And that's where this healthy garlic shrimp dish comes in. It takes about 25 minutes to make with prep—you can't beat that as a quick weeknight shrimp dinner with fresh ingredients, and if you can, please share.
But it's the kind of fast olive oil flavor-induced dish that you need to appreciate those red wine sips and relax away, even if it's just for a dinner moment.
And although I primarily serve it with a mixed green salad (to keep it low carb if you want it to), it goes well over pasta as well—I don't mind boiling water on the side to make everyone in the family happy, mostly my kid.
So, here is what you'll need.
Ingredients
Large shrimp
Ha, the days that certain fish was considered a poor man's food are over. Now that I live more inland (coastal cities have their perks), I appreciate a good seafood sale.
So, I often grab the large frozen and discounted shrimp bag ( or two) when I need it. For this recipe, I use the wild-caught gulf shrimp.
They are quite large, and I have to peel them. But it is so worth it. You can use small, large, extra-large, or even make this with or without peel (and let everyone do the peeling work at the table).
Just know that the cooking time might slightly differ based on the shrimp's size.
Extra virgin Olive oil
It's truly all about the olive oil flavors. Don't be skimpy here. The olive oil, especially when paired with the right spices, makes this dish.
But I'm still not using as much as in the more classical garlic oil shrimp dish. Go for more if you must pair it with crusted bread to soak up all the juices. There is no wrong way here.
Garlic
I am using four, but feel free to go wilder if you want to. Six of them is a good number too.
Leeks
They get a head start in the pan with a pinch of salt until softened and infused with the garlic's aroma.
They are mildly oniony, delicately sweet, and well...making this a happy, healthy garlic shrimp dish.
This vegetable does absorb quite some oil. That's why I always like to pour an extra drizzle of extra virgin olive oil onto my finished plate.
It's totally optional but highly recommended because it's what you and I deserve.
Parsley
It's fresh, peppery, and earthy, and when tossed together with the rest of the ingredients, it brightens the flavors.
Plus, don't forget to use some for garnish, because it looks pretty too.
Lemon Peel
I don't use this often in my recipes, but it adds a delicious lemony flavor.
Dried oregano
Oh, how I love this herb, and here it balances any naturally developed sweet flavors.
Cayenne pepper
Adjust this seasoning based on taste. I keep my shrimp lightly spicy—because otherwise, my daughter won't eat it—but it's absolutely fine to use a heavier amount and heat things up a little.
Salt and pepper
The amount is up to you, but I would go a bit heavy on the black pepper.
Note: If you use frozen shrimp, defrost by letting them sit for 20 to 30 minutes in a bowl covered with water. Add 5 to 7 minutes to the prep time if you have to peel the shrimp.
Keep it low carb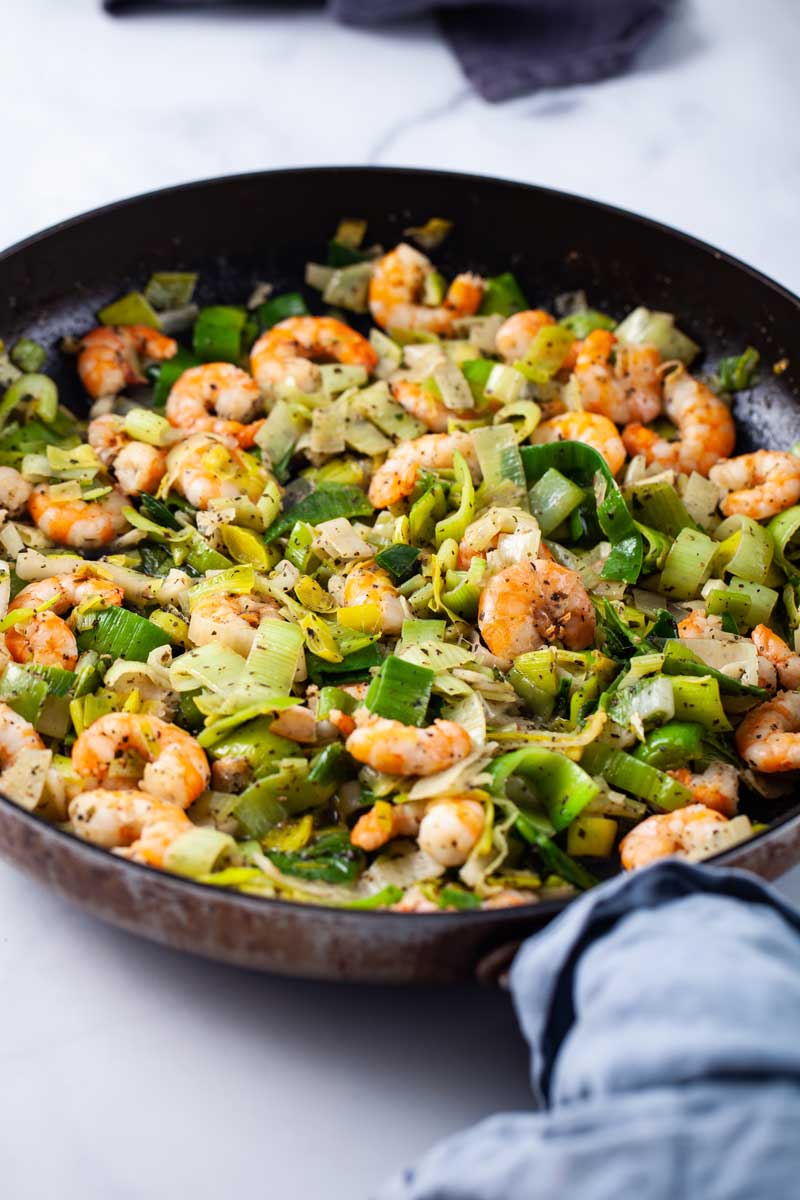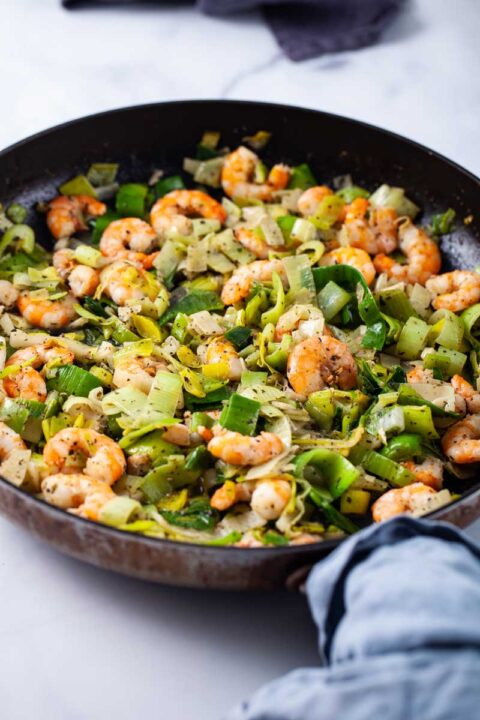 This one-pan dish is served straight from the stove to my dinner table. And I love this paired with a mixed green salad that quickly comes together while the shrimp are cooking (and keeping an eye on them, of course).
If you love a more substantial side dish, this kale-apple salad with creamy avocado pesto will fit that bill.
During the warmer months, I recommend a more refreshing mango-avocado salad.
And if you should have some leftovers of the Mashed Cauliflower, reheat it and top it off with these healthy garlic shrimp. It might sound like a strange dish to pair it with, but you can tell me later if you like it or not. I love it.
Make it a Garlic Shrimp Pasta Recipe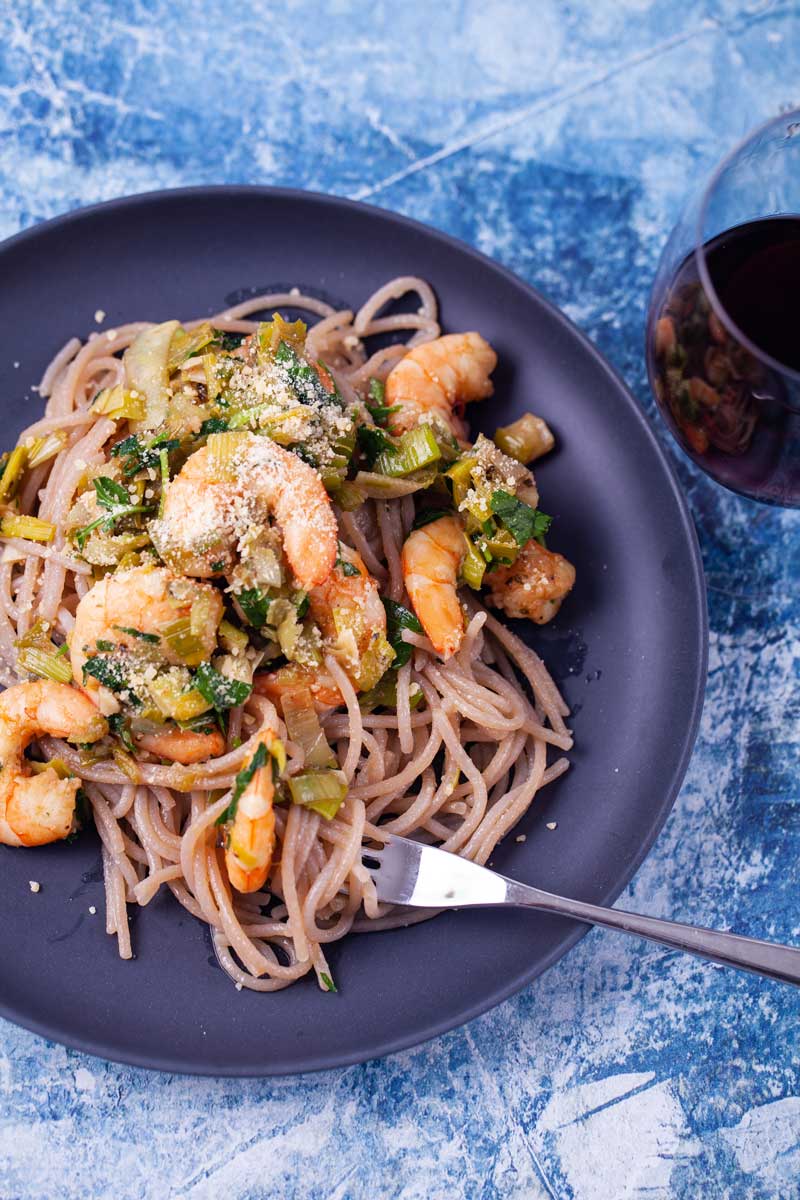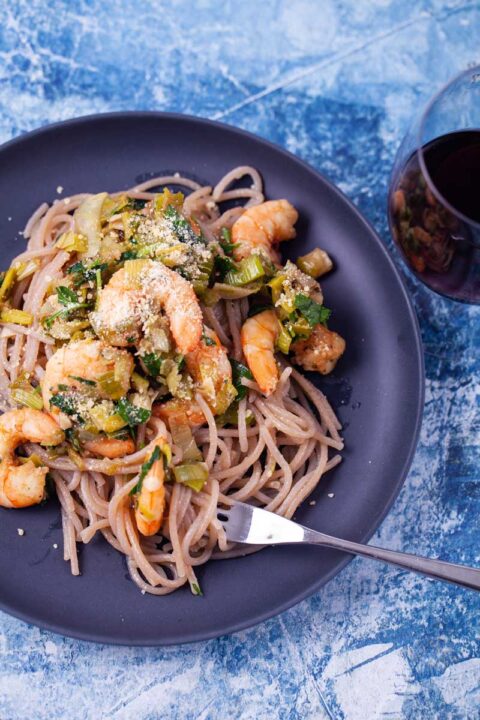 Is there a more comforting dish than garlic shrimp pasta...paired with a glass of wine? Maybe there is, but I think this one is high on the list. It's always heavy on flavor and satisfaction.
We are mostly a gluten-free family—except for my husband, blessed with a stomach that can withstand mud—forgive me if jealously creeps in here for a moment.
Any spaghetti will do here, but if you are looking for a good gluten-free brand, I recommend Jovial—their thin capellini pasta pairs well with a light olive-based sauce.
Lately, I've also been experimenting with grain-free Cassava flour pasta. It can get mushy quickly if you overcook these noodles even a little, so I always take it out a minute or two earlier with still quite a bite to it, and that works.
Note: Add some salt to the pasta water while cooking and reserve some of that pasta liquid to add to the shrimp when tossing in the cooked noodles or add an extra drizzle of olive oil.
And, oh, don't forget that parmesan cheese.
Serve as a hot shrimp appetizer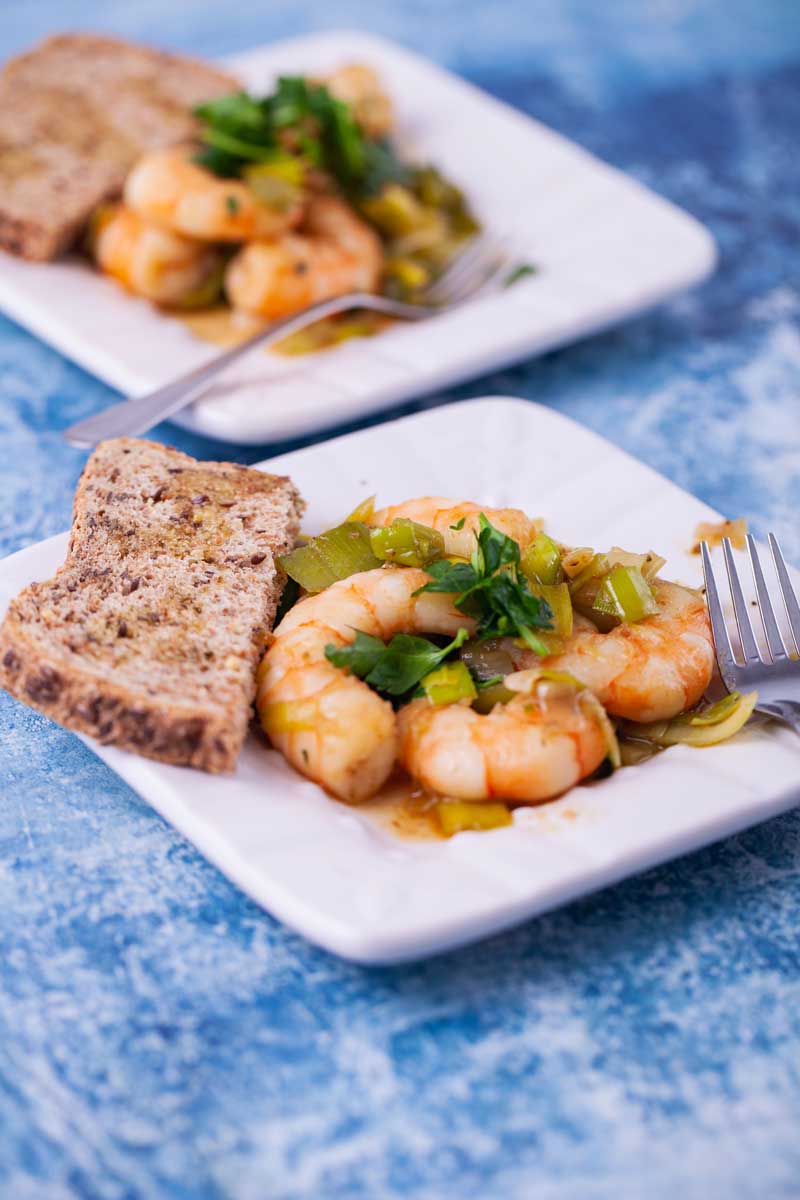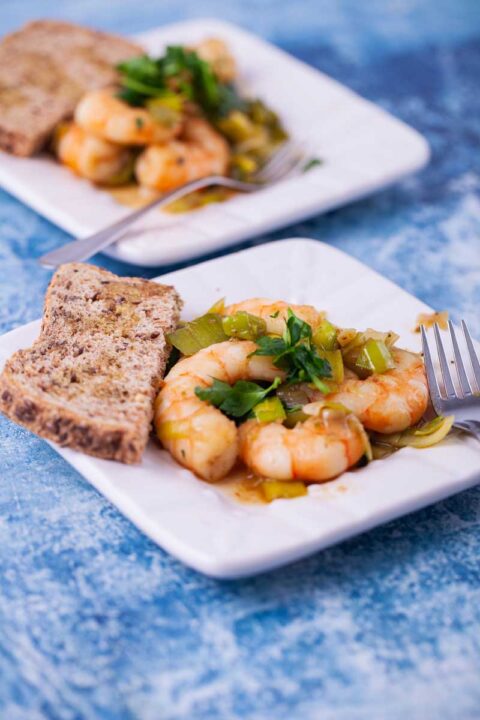 Garlic shrimp is a luxurious appetizer with the right presentation and, in my experience, makes most guests happy.
You'll need beautiful small plates—simple, square, round; it doesn't matter. But it needs to be the ones you have to wash afterward.
And I know nobody likes doing the dishes after a house party but eating shrimp from paper plates just does not taste the same. You know it.
Then, I recommend a generous loaf of crusty or toasted bread and four or five shrimps served per plate.
You can go all the way and offer olives, an aged cheese, veggie, and tuna bites on the side with that sip of red wine, of course. I'll come to your party.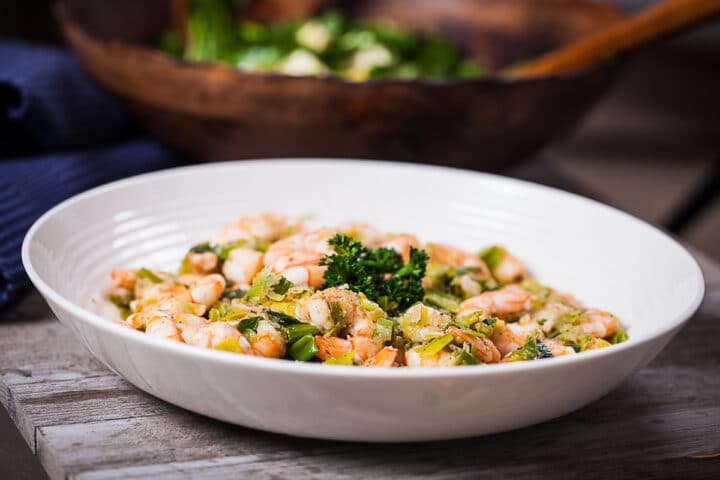 It's not your classic shrimp in garlic oil, but I promised a healthier garlic shrimp recipe, flavorful and versatile enough to serve it up in different ways. Enjoy!
📖 Recipe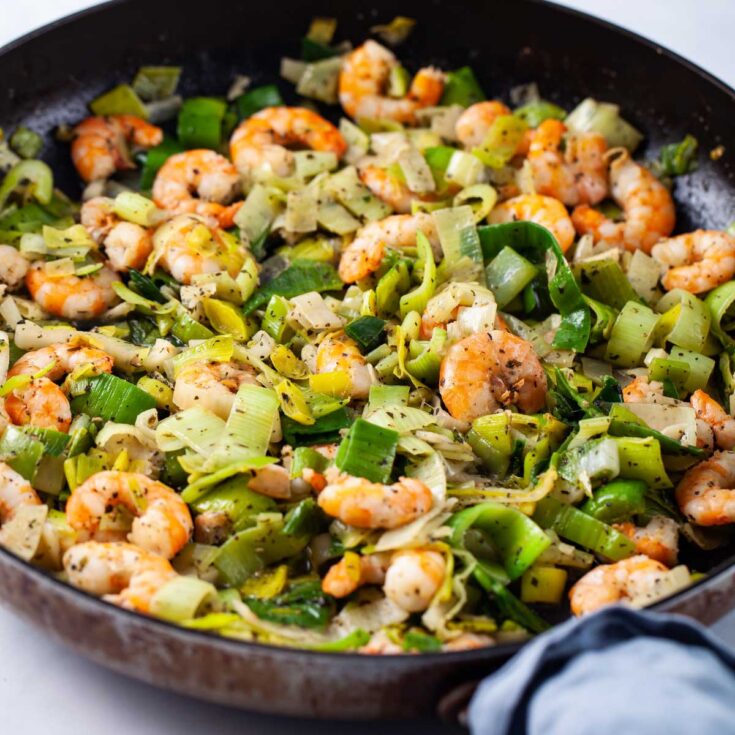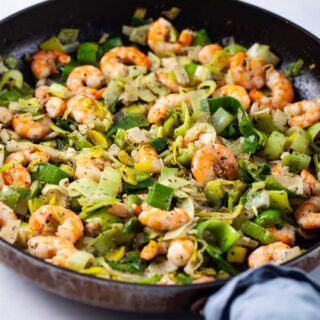 Healthy Garlic Shrimp with Leeks
Mariska Ramondino
A flavorful, easy and healthy garlic shrimp recipe, mildly spiced and infused with sweet leeks—pair it with your favorite salad for a low carb dinner, toss it into gluten-free pasta noodles, or serve with olive-oil-drizzled toasted bread as an appetizer!
Ingredients
4 to 5

tablespoons

olive oil

divided

4

cloves

garlic

chopped

2

medium-sized leeks

chopped

Salt and pepper to taste

2

pounds

wild-caught shrimp (about 16-20 large shrimp per pound)

1

teaspoon

lemon peel

½

teaspoon

cayenne pepper

1

teaspoon

dried oregano

1

handful

chopped parsley

for garnish
Instructions
In a large skillet, heat 4 tablespoons olive oil over medium heat.

Add garlic, cook, and stir for 10 seconds to release its aroma.

Stir in the chopped leeks. I like to sprinkle the vegetables with a few pinches of sea salt at this point (optional)

Cook and occasionally stir for 5 minutes, or until leeks are softened.

Add in the shrimp, then season everything with lemon peel, cayenne pepper, oregano, and salt and pepper to taste. I am pretty generous with black pepper in this dish. Let the shrimp cook for a few minutes and let one side becoming pinkish before combining it thoroughly with the leeks.

Cook and stir until the shrimp are pink on both sides, opaque and cooked through, and the flavors have come together (anywhere from 6 to 15 minutes depending on their size).

Optional: drizzle one tablespoon of olive oil over the entire dish and stir in half of the chopped parsley.

Serve with extra parsley for garnish.
Notes
Cooking time: Because the jumbo shrimp are mixed in with the vegetables, it might take a little longer to get them to the desired consistency. I usually cook and stir the shrimp with the leeks for about 6 to 15 minutes if they are large in size. But I like my shrimp well done. Check and taste test after 6 minutes.
Cleaning leeks: Cut away the ends and the tough green tops— I usually reserve these to help flavor my bone broth. Then cut the vegetables lengthwise in half, open up the leaves, and thoroughly wash any dirt or sand hidden between them under running water.
Add your own private notes
Whenever you come back to this recipe, you'll be able to see your notes.
Nutrition (% Daily value)
Calories:
351
kcal
(18%)
Carbohydrates:
8
g
(3%)
Protein:
47
g
(94%)
Fat:
15
g
(23%)
Saturated Fat:
2
g
(13%)
Polyunsaturated Fat:
2
g
Monounsaturated Fat:
10
g
Trans Fat:
0.01
g
Cholesterol:
365
mg
(122%)
Sodium:
280
mg
(12%)
Potassium:
709
mg
(20%)
Fiber:
1
g
(4%)
Sugar:
2
g
(2%)
Vitamin A:
939
IU
(19%)
Vitamin C:
8
mg
(10%)
Calcium:
187
mg
(19%)
Iron:
3
mg
(17%)
Disclaimer: This nutritional data is calculated using third party tools and is only intended as a reference.