This is a delicious berry-sweetened mascarpone mousse turned into cute frozen cupcakes! It is finger-licking good, gluten-free, refined sugar-free, and you can quickly adapt this recipe to make it a perfect Keto-friendly dessert!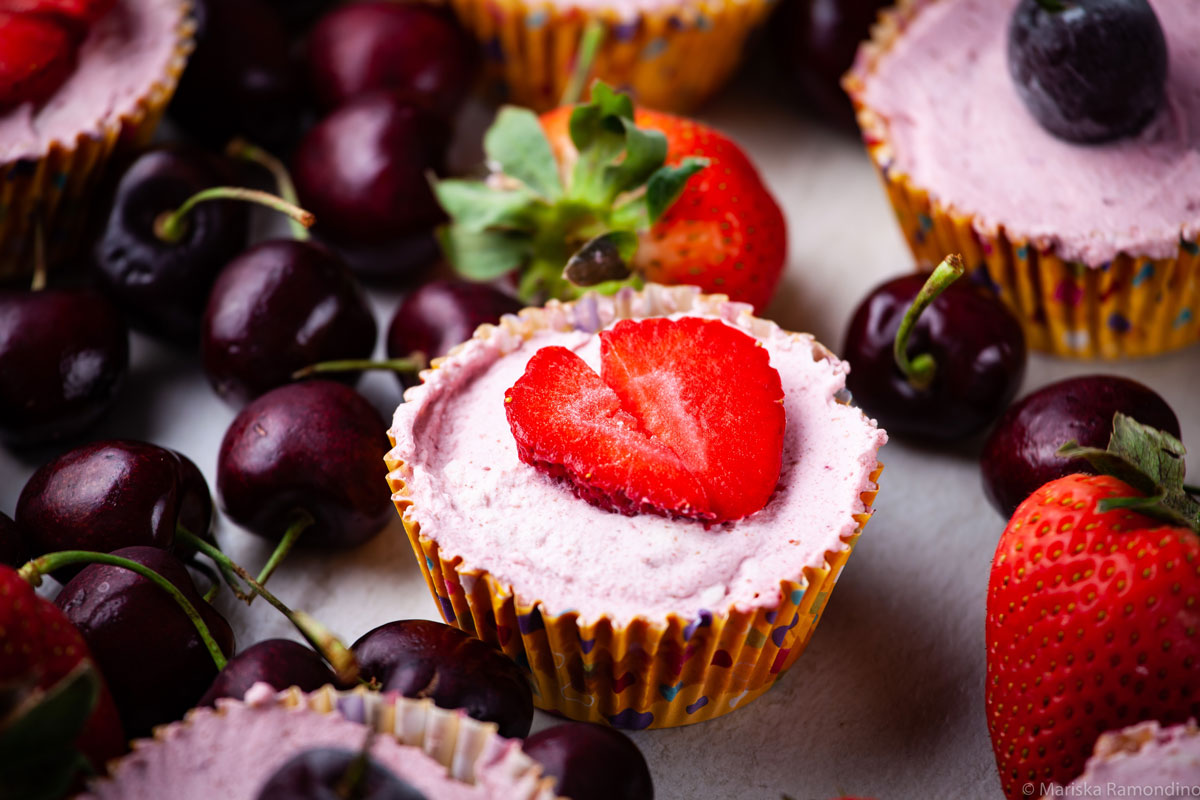 Sometimes I feel that my house is like one big playground during summer break. Toys are laying around everywhere; a play tent that hasn't been taking down for days is taking up too much room, and there is no end in the number of crayons, stuffed animals and Lego I can find in about every room of the house. And although the mess might drive me sometimes insane, the belly laughs, the imaginary worlds being built and the cute conversations I hear during my daughter's playdates are priceless. And I'll admit, for a bunch of 5 to 7-year-olds, they are pretty good in trying to help me and my husband clean up at the end of the day. Ahum, sort of!
For those playdates, I better have fruits or healthy snacks laying around. But the biggest request is frozen treats. These cute mascarpone cupcakes are luckily easy to make and heavenly creamy. The fresh strawberries and sweet cherries add a pleasing pink color and give this treat a fruity sweet taste. We only slightly make it sweeter with dates and some raw coconut sugar. However, you can quickly adapt this recipe, adding different flavors to the mix or make it a friendly low carb or Keto dessert. Let's have a look!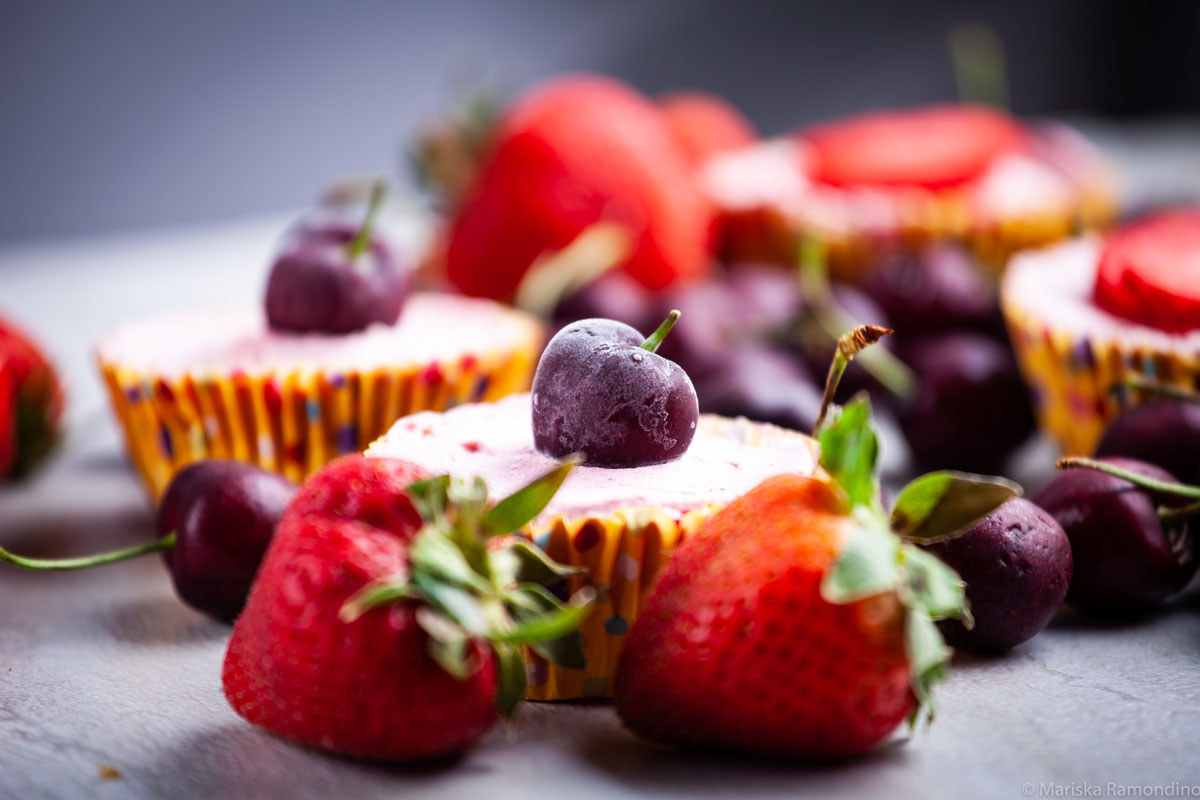 MAKE MASCARPONE CUPCAKES A KETO-FRIENDLY DESSERT (LOW CARB)
Use only strawberries: instead of using cherries which have higher sugar content, use 15 fresh strawberries. They are a better choice for people who are watching their carb intake. Sometimes I go for the berries because I don't even have to remove any cherry pits. Yep, I am sometimes lazy in the kitchen too!
Replace the dates and the coconut sugar with Stevia Powder: here I encourage you to taste test. I would start with ½ teaspoon and go up if you want a sweeter berry mixture. A lot of it also depends on how naturally sweet your berries are. You can always add more Stevia powder later to the mascarpone cheese and coconut cream while mixing it. Be patient here, because that mixture tastes so good that it might not get to the cupcake molds!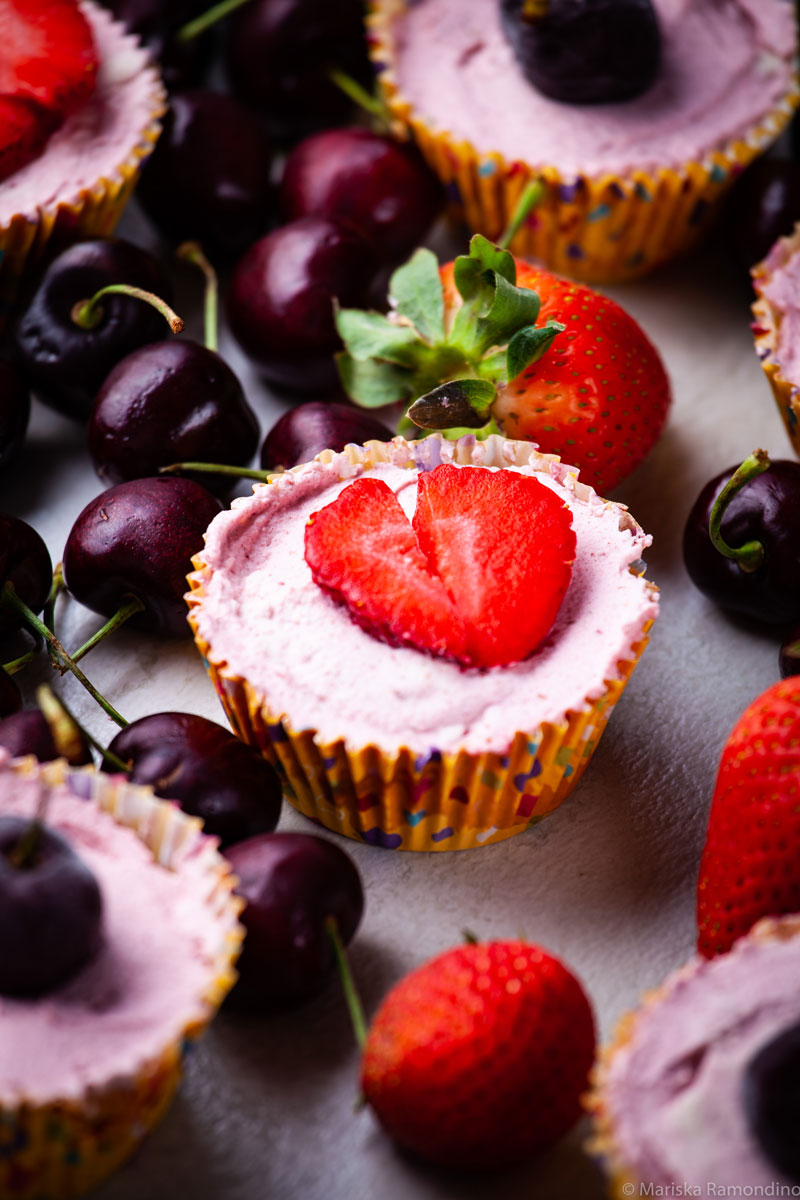 ADD SOME DARK CHOCOLATE AND OTHER THINGS
Feel free to garnish it with dark chocolate shavings or dark chocolate sprinkles. It adds an extra dimension of flavor and a bit of a crunch.
I sometimes add a little bit of blackstrap molasses to give it a distinctive taste and a light brown chocolate color.
Make it a mascarpone mousse: you can replace the cup of coconut cream with an extra cup of mascarpone cheese. So you mix 2 cups of mascarpone into a mousse, add in the berry mixture and then freeze them in the cupcake molds. Or instead of freezing, you can decide to serve the mousse chilled in beautiful glasses topped with extra berries and dark chocolate shavings!
These mascarpone treats are soft and creamy. They also are incredibly cute and simply divine! Serve as a snack, dessert, or treat with your afternoon tea.
Enjoy!
Other dessert recipes you might like:
Have questions? Simply comment below or message me. Also, don't forget to FOLLOW ME on Instagram, and Pinterest to see what other fun things I share.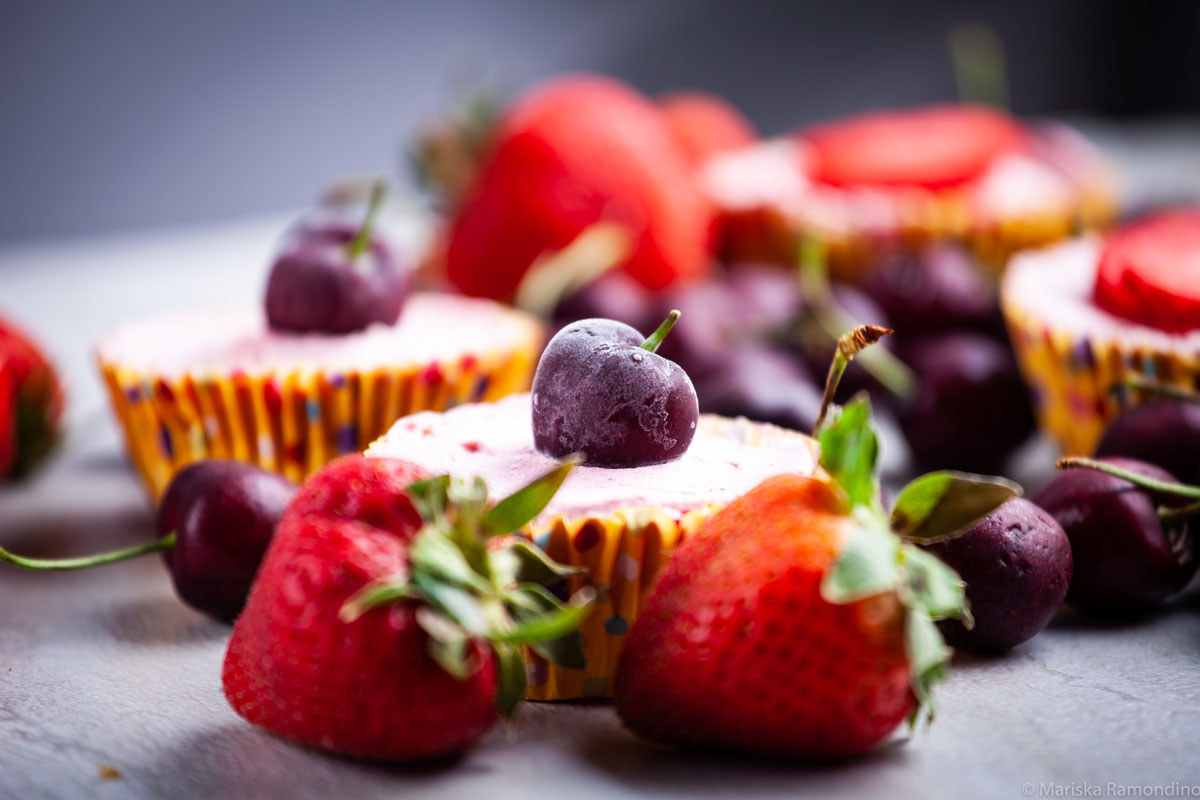 FROZEN MASCARPONE CUPCAKES (GLUTEN-FREE, NO EGGS)
These incredible creamy mascarpone ice cream cupcakes are super easy to make and will melt in your mouth. A simple indulgence healthy cupcake perfect for small celebrations (gluten-free, refined sugar-free!)
Ingredients
10 cherries, pitted (plus more to garnish)
5 large strawberries, stems removed (plus more to garnish)
3 tablespoons coconut sugar or replace with 5 pinches Stevia Powder
7 Medjool dates, pitted
1 cup fresh mascarpone cheese (about 8 ounces)
1 cup coconut cream (see note)
Dark Chocolate sprinkles or dark chocolate shavings to garnish (optional)
Instructions
In a high-speed blender (like a Vitamix), add the cherries, strawberries, dates, and coconut sugar or Stevia Powder. Blend on highest speed setting until completely liquefied. Use the temper to rotate the ingredients in the beginning if necessary; reserve thick liquid mixture.
In a bowl of a stand mixer (or use a hand mixer), add the mascarpone and the coconut cream. Start mixing the cheese and the cream on medium speed. Slowly pour in the reserved liquid mixture until thoroughly combined. Continue to mix for another minute to 2 minutes, or until the Mascarpone content is fluffy and somewhat thickened. It will have a beautiful light pink color.
Take a 12 well cupcake or muffin pan. Place a paper cupcake liner in each well. Divide the mascarpone mixture equally in each cupcake liner. Place in the freezer for at least 2 hours or until the mixture is solid (I usually leave it overnight.)
Garnish with extra strawberries or cherries on top.
Notes
Note on coconut cream: place a can of full-fat coconut milk overnight in the refrigerator. The next day, spoon out only the solidified coconut milk. Save the liquid part for smoothies. One (13.5-Fluid Ounce) can yield about 1 cup of coconut cream for this recipe.