You are going to love these Baked Stuffed Apples! They're deliciously packed with a crunchy oat filling containing buttery pecans, sweet raisins, and baked in Belgian Raspberry beer, which becomes wonderfully syrupy while adding an aromatic-fruity acidity.
Enjoy them as-is or with your favorite scoop of ice cream! This warm dessert is dairy-free and fancy enough to serve during the Holidays or to impress your guests.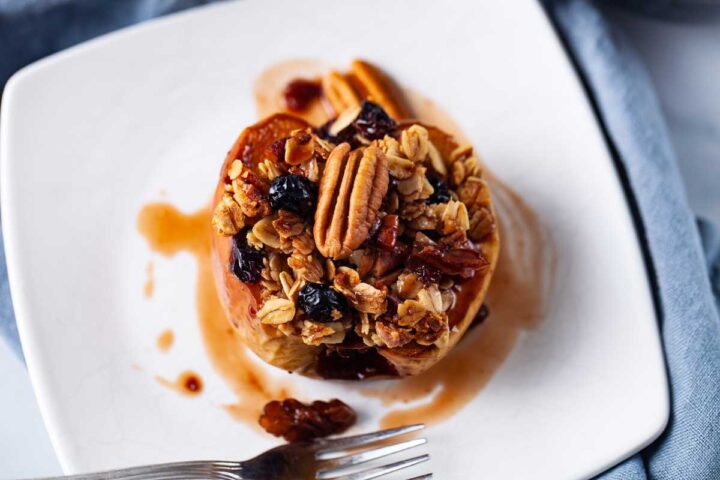 Baked stuffed apples with oat crumble, this recipe is an old one, recently dusted off from my recipe bookshelf—yes, I have one—and perfect to celebrate apple season now in full bloom. I had forgotten how good this apple-themed treat is.
This isn't your basic fall dessert. Instead, Belgian raspberry or cherry beer takes these baked apples to a whole new level. The sweet-tarty Framboise or Kriek (more on that later) becomes wonderfully syrupy in the oven and intensifies its delicious fruity acidity with raspberry or cherry undertones.
Drizzled on the softened stuffed apples, it adds a special sweetness and aromatic complexity while a deep reddish color creates a beautiful presentation. Best yet, everything is so effortless to make.
And although it's a baked dessert, it could easily fit on a brunch table as well. So if you are wondering what to make with those beautiful fall apples, I hope you'll give these mouthwatering individual apple desserts a try.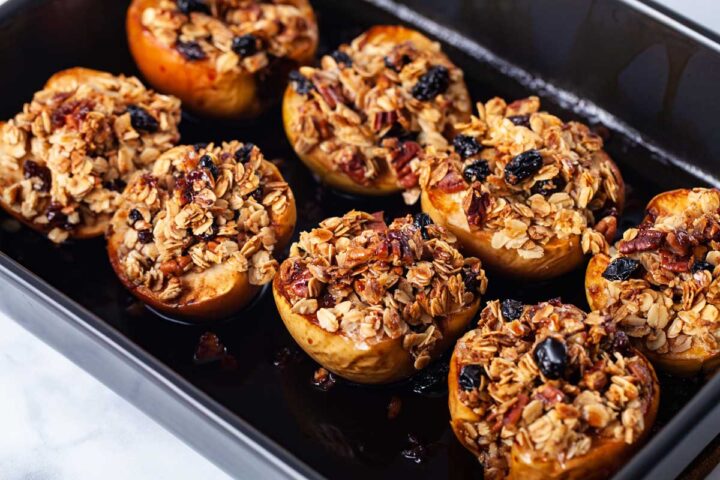 Here's what you'll need
Delicious apples, of course
Malt syrup, or Unsulphured Blackstrap Molasses or maple syrup (whatever you have on hand)
(Gluten-free) old-fashioned rolled oats
Olive oil
Pecans
Dark raisins
Belgian raspberry or cherry lambic beer (Lindemans Framboise or Kriek)
What are the best apples for baking
I like to choose an apple with a fairly crisp texture not to end up mushy once baked. Because, for this recipe, you want this delicious fruit to soften in the oven but still retain a solid firmness and keep its shape.
There are some great-looking apples out there that, in the end, have a mealiness quality to their texture—Red Delicious I am thinking about you. Avoid those.
Flavor-wise, choose an apple you already love when biting into its raw flesh, either sweet or sweet-tarty. You know, the one that makes your mouth water and doesn't disappoint in taste.
Luckily, the choices are plentiful, and I'll give you a few options amongst my favorite apples to pick from.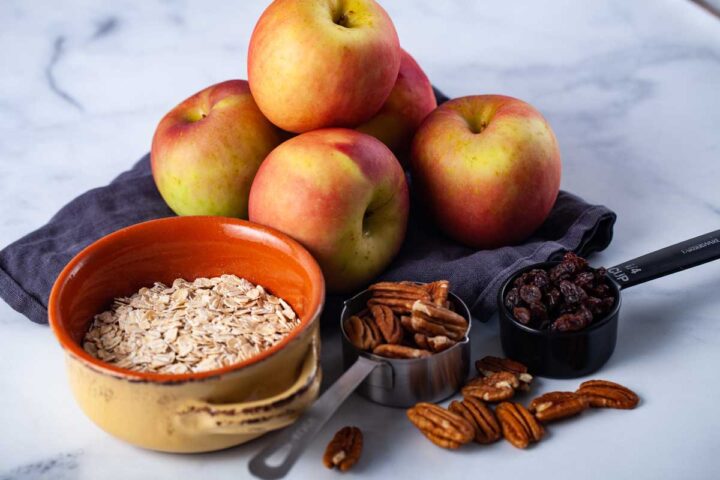 If you love that sweet-tart flavor as I do, then try:
Granny Smith apples, the go-to baking apple, of course;
Jonagold, still tarty, but it comes with a more honey-like sweetness;
Honeycrisp has a wonderful crispy texture and a delicate sweet-tart balance;
Braeburn apples also come with a sweet-tart flavor but mellows more when baked—still good;
Apples that result in a more natural sweeter taste:
Gala, they are juicy, mildly sweet with an almost vanilla-like fragrance. It is an excellent choice to pair with oats;
Golden Delicious, it's less tarty, mildly sweet, and holds up fairly well during baking;
Zestar apples are, to me, more on the sweet side but still a bit tangy. They are quite juicy and will keep its firm structure during baking.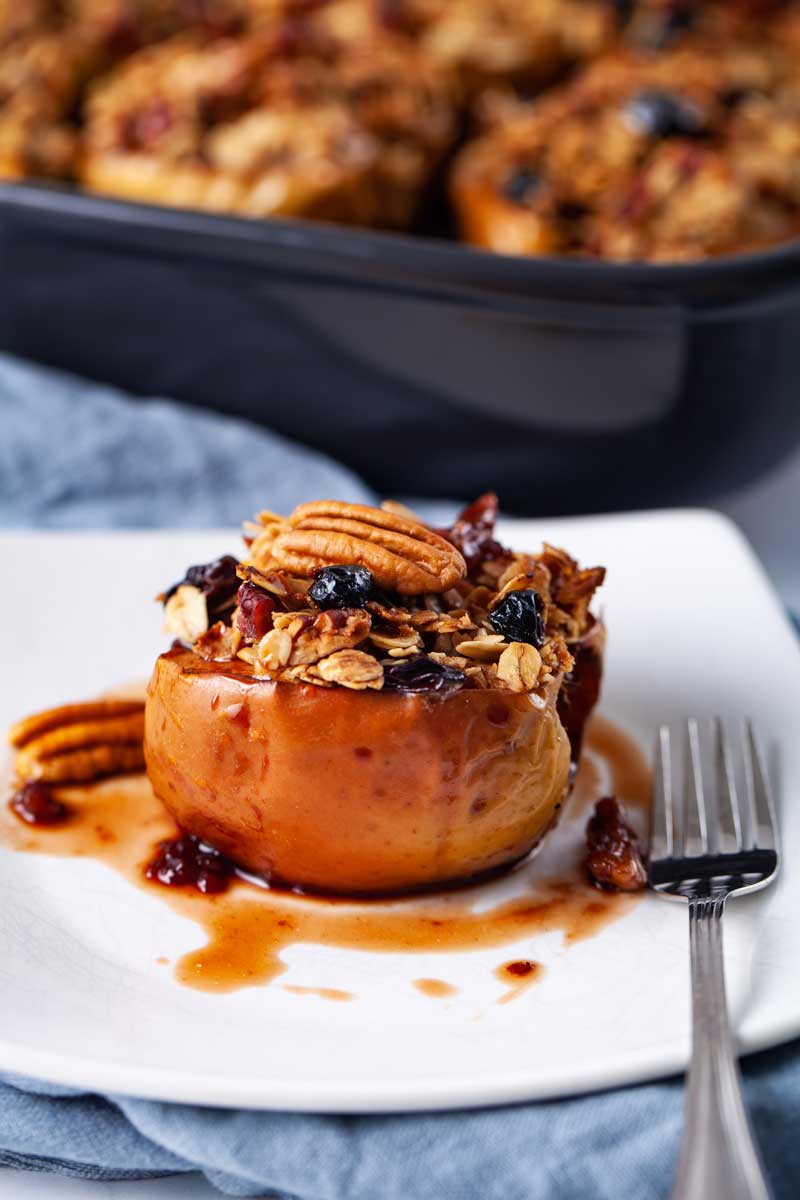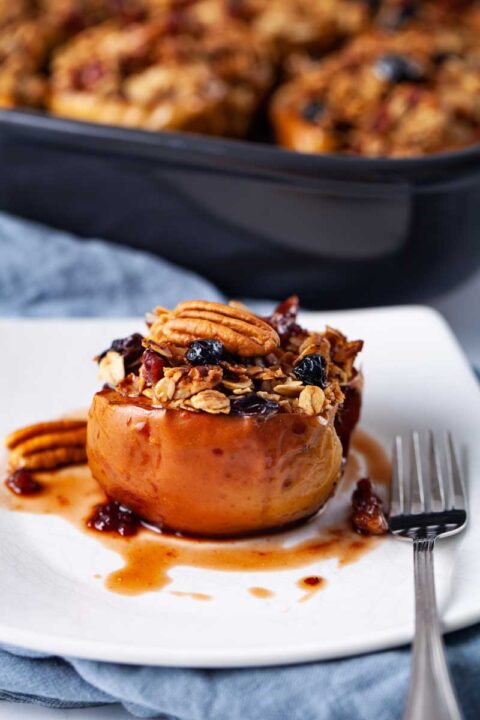 Framboise or Kriek beer
Growing up in Belgium's Flanders, I am no stranger to good beers—my parent's favorite is a good old "Oude Gueuze," served in a chilled glass, of course.
One of the first beers I enjoyed was Kriek—fruity and made with freshly harvested and fermented cherries. This alcoholic drink is sparkly with a lovely dry finish and even a lovely choice for an aperitif.
Framboise is another favorite of mine—made with fresh raspberries or their juices.
Luckily both of these lambic fruit beers are readily available online or in local grocery stores that sell a good beer selection.
Kriek or Framboise Lambic beer is a delightful ingredient in this baked apple pecan dessert and makes this an extra special treat. Their fruit flavors are intensified while their sparkly quality becomes wonderfully syrupy and tangy-sweet—a perfect accompaniment for softened sweet and baked apples with a crunchy and nutty oat filling.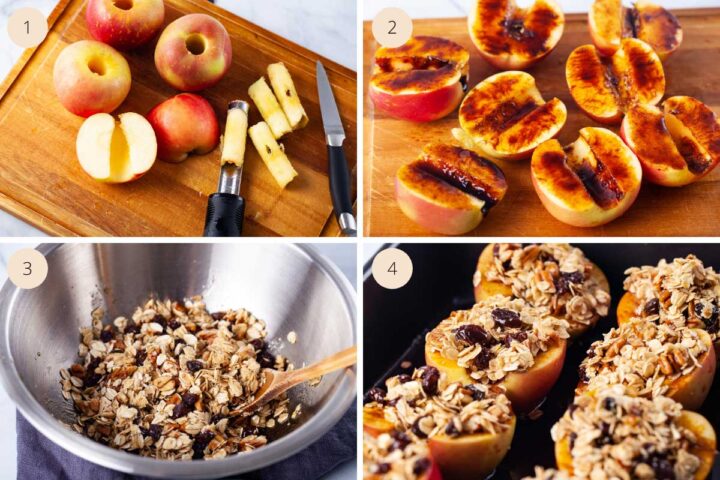 The sweeteners—you have some options
I like to rub the apple's cut side with a dark syrup to give them a beautiful rustic look and a tad of molasses-like sweetness that can sink into the apples during baking—it's a dessert, after all.
My preference is a Barley Malt syrup. It has a beautiful dark brown color and a lovely malty taste that pairs well with the lambic beer.
Don't have this in your pantry, or like it be a tad sweeter? You have other options that work such as well, and I have used each one of these at one point in time when making these baked stuffed apples:
Unsulphured Blackstrap Molasses: It's a thick, dark syrup with an acidic sweetness but won't overpower the other ingredients' flavors. I've written more about it in my Apple-Bacon pancake recipe with Buckwheat flour—check my notes on the ingredients if you like to know more about it.
Dark Maple syrup: the sweetest choice of all three but adds a lovely hint of caramel.
To sweeten the oat filling, use either Barley Malt Syrup or Maple Syrup.
I am adding enough to make the filling stick together;
And to create a malty or maple sweet flavor, depending on what you choose;
And these syrups will aid in creating a crunchy oat texture, with deeply flavored nuts and raisins.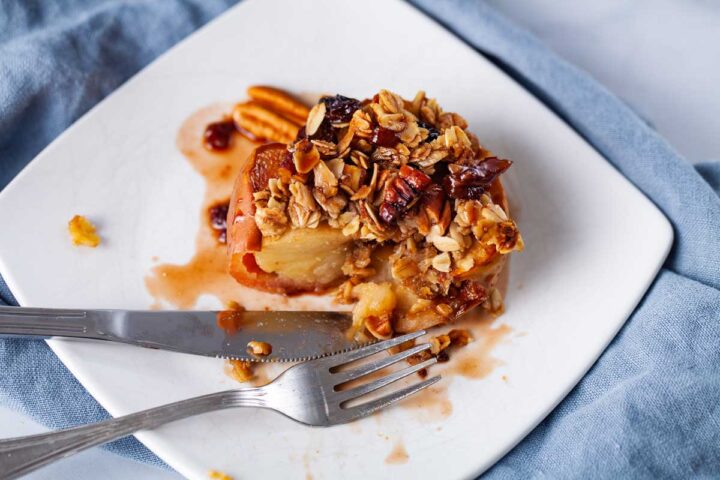 How to serve these fancy baked apples
With a small glass of cold Lambic beer on the side, of course. I like to serve them individually on small plates with an extra drizzle of the syrupy baked Framboise or Kriek beer.
After all, it's a not-your-classic unique treat, even if it is an easy-to-make dessert, which deserves a bit of a sophisticated presentation.
Storage
Leftovers—if there are any—keep well, covered in an airtight container in the refrigerator for up to 4 days. Enjoy cold, or reheat in the microwave for one minute.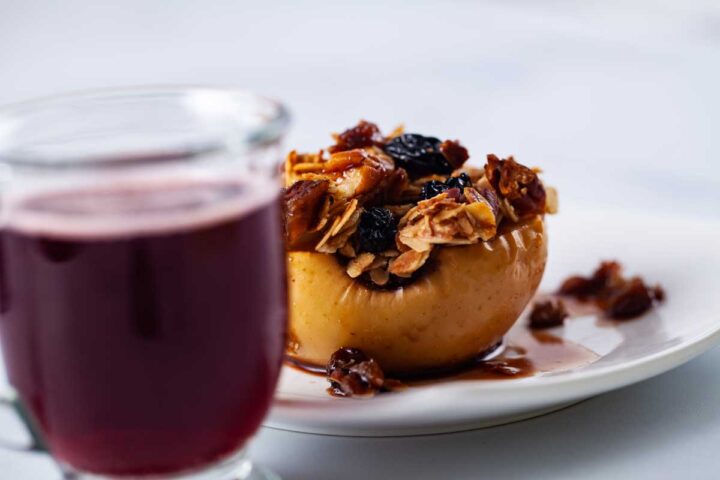 Other apple recipes you might like
If you don't know what to do with those mouthwatering autumn apples, here are some other lovely ideas.
Try my delicious rhubarb compote with apples. It's such a versatile recipe that can be used to complement your breakfast or spread table, or even desserts like chia seed pudding and yogurt parfaits. And it's a nice change from your classic apple sauce.
Throw some apples into my homemade crunchy granola recipe to add a natural fruity sweetness.
And definitely make this grain-free apple crisp, a breakfast that's worthy enough to serve as a dessert when paired with your favorite ice cream.
Enjoy!
Sharing is caring, so don't forget to PIN IT! I always love to hear if you tried out this recipe and if it worked for you. Also, don't forget to SUBSCRIBE to my Monthly Newsletter!
📖 Recipe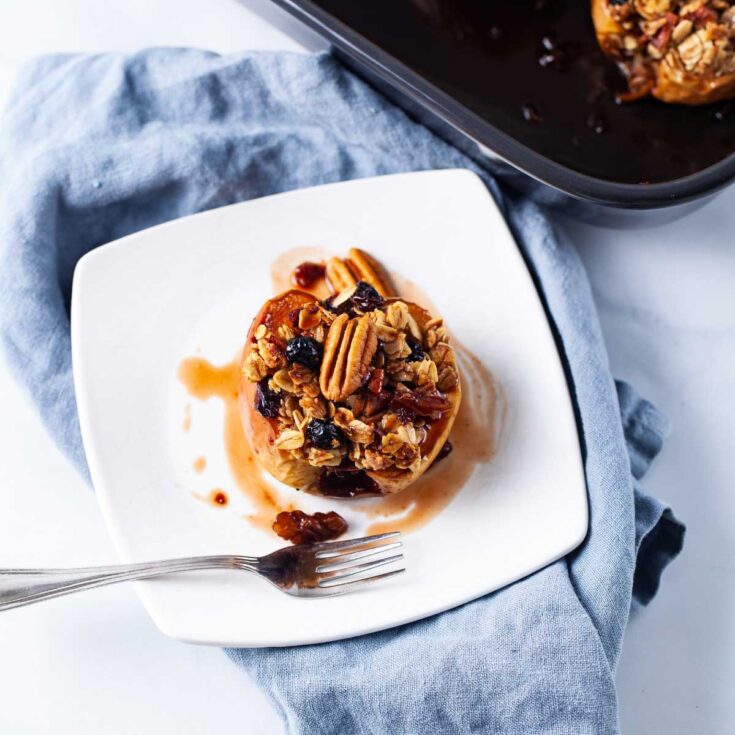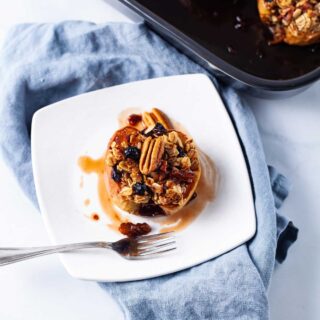 Baked Stuffed Apples with Belgian Raspberry Beer
Mariska Ramondino
These Baked Stuffed Apples come with deliciously crunchy oat filling containing pecans and raisins. Then they are topped with a wonderfully syrupy Belgian Raspberry or cherry beer that adds an aromatic and fruity acidity. Enjoy as-is or with your favorite scoop of ice cream! This dessert is dairy-free.
Ingredients
4

Gala or Golden Delicious apples

cored and cut lengthwise in half

1

tablespoon

barley malt syrup

or Unsulphured Blackstrap Molasses, or maple syrup (whatever you have on hand)

½

cup

maple syrup or barley malt syrup

2

tablespoons

olive oil

⅓

cup

chopped pecans

40 grams

¼

cup

dark raisins

about 40 grams

8

pecan halves to garnish
Instructions
Preheat the oven to 375 degrees F/190 degrees C.

Rub the apples' cut sides with the barley malt syrup (you can also use maple syrup or blackstrap molasses); reserve.

In a small bowl, combine the oats, maple syrup, olive oil, pecans, and raisins.

Spoon the oat filling evenly into the center and atop each apple half.

Arrange the filled apple halves in a baking dish and pour ¾ cup of the beer around, but not over the apples.

Then pour the remaining one tablespoon of the beer equally over the apples.

Bake for 40 minutes o until the apples are soft, and the oat filling is slightly crunchy.

Turn off the oven and let the apples sit for 10 minutes.

Take the apples out of the oven, serve on individual plates with an extra drizzle of the syrupy raspberry beer on top and around each apple. Garnish with pecan halves. Enjoy!
Notes
Storage: Leftovers keep well, covered in an airtight container in the refrigerator for up to 4 days. Recommended apples: see list in the post.
Add your own private notes
Whenever you come back to this recipe, you'll be able to see your notes.
Nutrition (% Daily value)
Calories:
242
kcal
(12%)
Carbohydrates:
40
g
(13%)
Protein:
2
g
(4%)
Fat:
9
g
(14%)
Saturated Fat:
1
g
(6%)
Polyunsaturated Fat:
2
g
Monounsaturated Fat:
5
g
Sodium:
7
mg
Potassium:
247
mg
(7%)
Fiber:
4
g
(17%)
Sugar:
23
g
(26%)
Vitamin A:
52
IU
(1%)
Vitamin C:
4
mg
(5%)
Calcium:
41
mg
(4%)
Iron:
1
mg
(6%)
Disclaimer: This nutritional data is calculated using third party tools and is only intended as a reference.