An easy-to-make creamy mushroom sauce that pairs well with steak, chicken, pork, lamb, white fish, rice, mashed potatoes, or your favorite pasta noodles. Well, pretty much everything!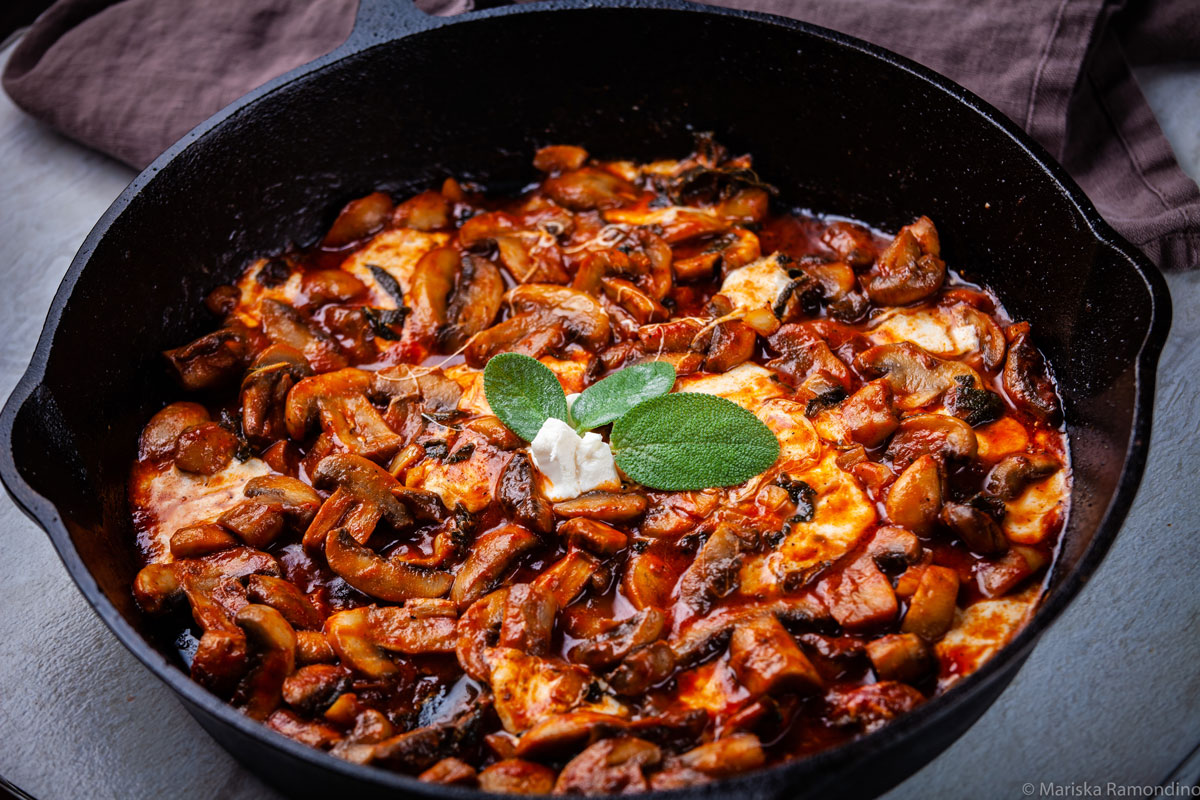 This is a deliciously creamy and sweet mushroom sauce or side dish topped with fresh Mozzarella. It has those hearty flavors that pair well with a lot of different things and makes a simple meal just extra special!
HOW TO MAKE THIS HEALTHY CREAMY MUSHROOM SAUCE - TIPS
This one-skillet mushroom sauce is straightforward to make. The flavors are build-up, but everything comes together rather quickly. Just a few things I would pay attention to as you make this side.
Start with garlic and sage. Sauteing the garlic and sage for a couple of minutes in the olive oil releases their pleasant aroma. You get a great base to build the flavors of the sauce further. Don't be too skimpy with sage. It creates a nice contrast to the sweet and acidic flavors of the tomato paste. Use more than ten leaves if you prefer a less sweet taste.
Choose your favorite mushroom. I suggest a white button or crimini; they always work great. But feel free to explore with maybe Portabello or Shiitake mushrooms.
Make it your own. You can make this side also with coconut cream instead of tomato paste. It is an excellent option for those who are following a very low carb or Keto diet. Feel free, adding more coconut cream as suggested until you get the desired consistency and omit the cheese if preferred.
Go wild with the pepper. I always use fresh black peppercorns in a grinder. Start with a little and then taste test before adding more. But I have noticed that this dish does well with some extra.
Choose a tomato paste without any added ingredients. You don't want any added salt, spices or hidden sugars that interfere with the rest of the ingredients, only the tomatoes. I love the hundred percent organic tomato paste from Bionaturae.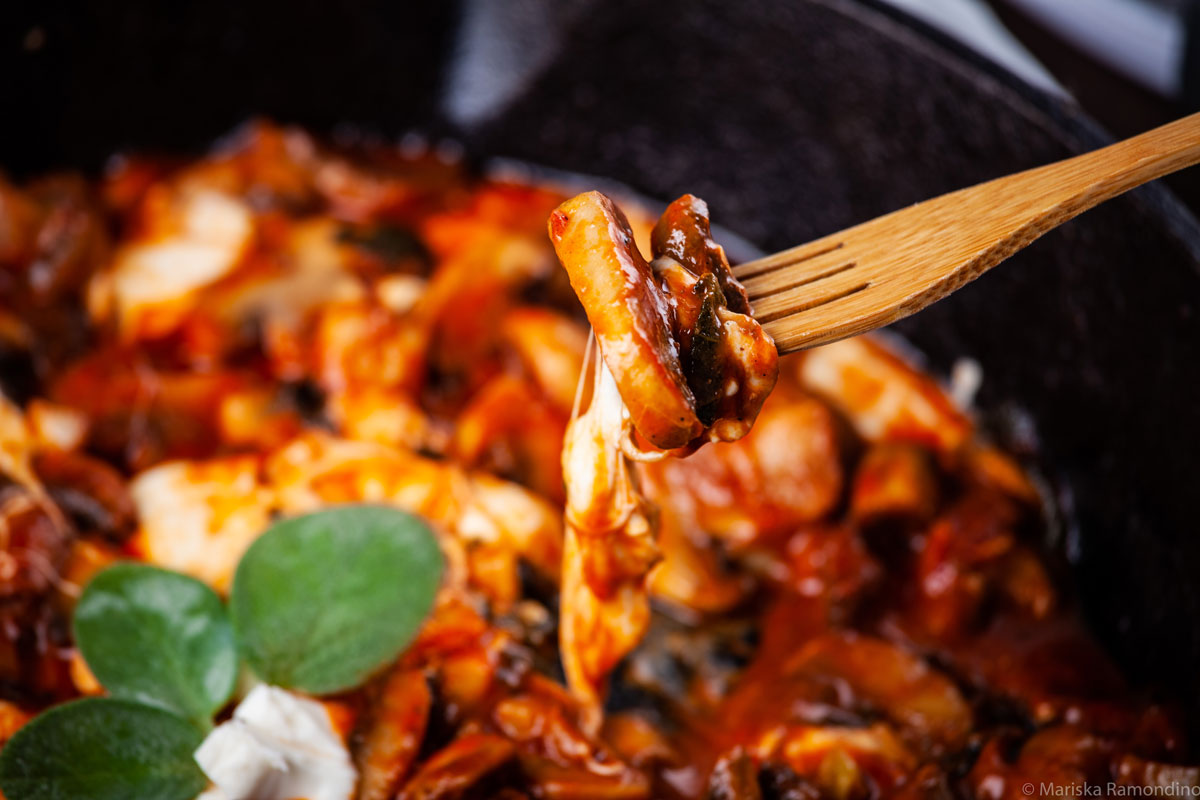 PAIR THIS VERSATILE MUSHROOM SAUCE WITH PRETTY MUCH EVERYTHING - SUGGESTIONS
Yes, this is a creamy dish, but in a totally healthy way. The sauce contains simple, fresh ingredients and leans towards Meditteranean flavors that you can pretty much pair with anything. Here are a couple of my favorite suggestions.
Stir in some pasta for a simple weeknight meal. For a high protein and gluten-free dinner, try Edamame, Chickpea, or Mung Beans pasta—delicious and easy!
Codfish is a lovely addition to this sauce, and you don't even have to take out another pan. Add some chopped cod together with the mushrooms and cook until soft before adding the paste. Make sure that your skillet is large enough not to overcrowd the pan. Otherwise, transfer the sauce into a bowl and use the same skillet to saute the fish in some extra olive oil seasoned with some salt and pepper—a quick and easy meal.
This mushroom side dish is especially good with simple cooked or grilled meat dishes such as lamb, steak, chicken or pork chops.
I don't have to tell you that this also goes well with potatoes, either mashed, baked, soft boiled. Even consider serving this as a side to cooked vegetables, such as broccoli, cauliflower, or zucchini.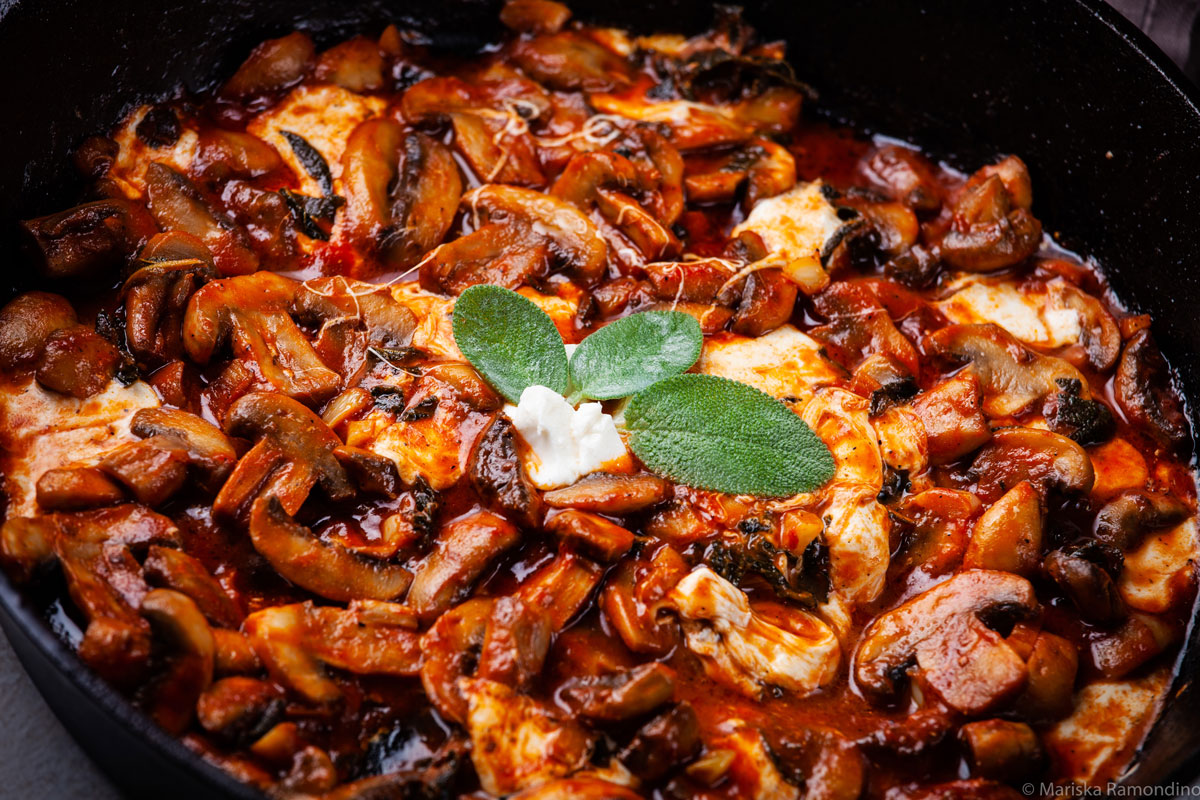 HERE ARE SOME OTHER VERSATILE SAUCE IDEAS
The Creamy Cannelinni Beans Sauce is an Italian classic that does so much more than make a tasty pasta dish. Use it on vegetable noodles, potatoes, eggs, and even on codfish!
Equally delicious is the Fresh Basic Tomato Sauce, especially when paired with tender meatballs.
From Kale salad and sandwich topping to a hearty Shirataki Noodle dish, this Homemade Creamy Avocado Pesto is a great basic for a myriad of dishes!
Enjoy!
Have questions? Simply comment below or message me. Also, don't forget to stay connected either on Instagram, Facebook, and Pinterest to see what other fun things I share.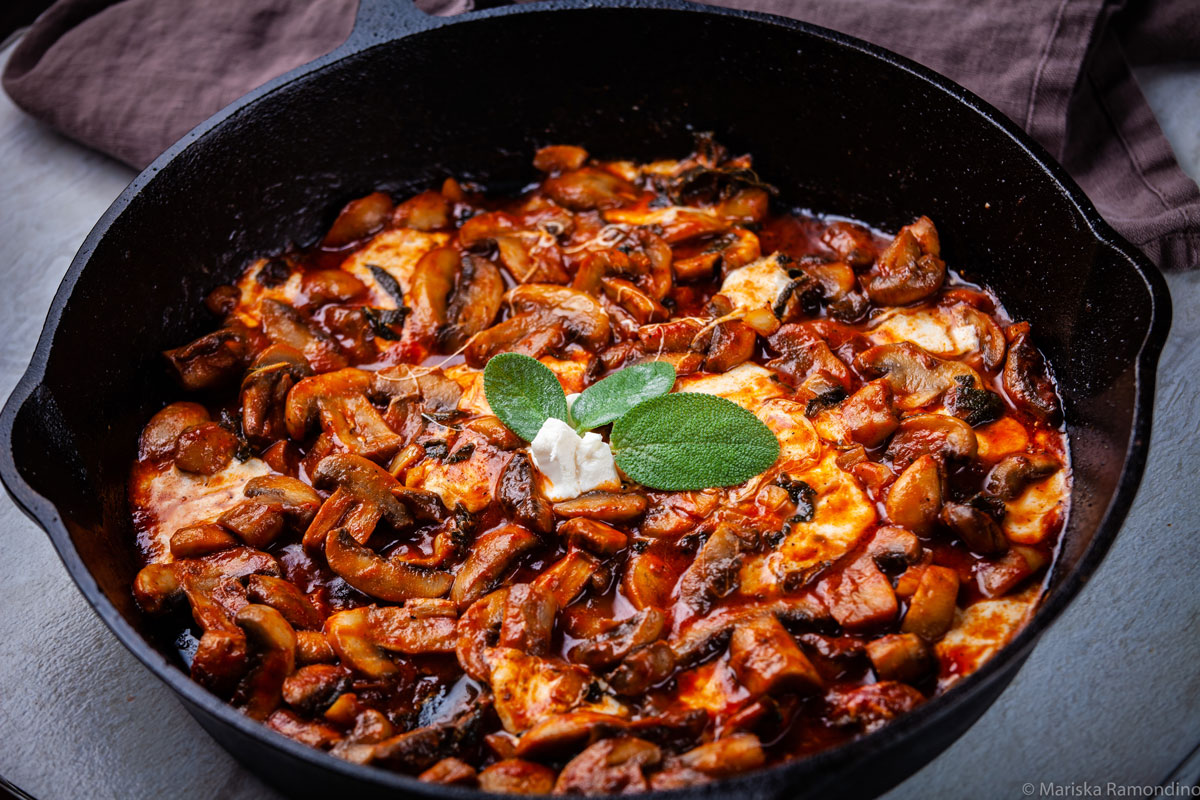 CREAMY MUSHROOM MOZZARELLA SAUCE
An easy-to-make creamy mushroom sauce that pairs well with steak, chicken, pork, white fish or your favorite pasta noodles.
Ingredients
3 tbsp olive oil, divided
5 garlic cloves, chopped
10 to 20 fresh sage leaves, chopped
5 to 6 cups, sliced mushrooms
5 tsp tomato paste or coconut cream (for those who are following a low carb diet)
1 cup chopped mozzarella cheese
Instructions
In a large skillet, heat 2 tbsp olive oil over medium heat. Add, garlic and sage. Cook and stir for about 1 to 2 minutes.
Divide in the mushrooms. Season to taste with salt, pepper, and coat with 1 tbsp olive oil. Cook and stir for 5 minutes.
Then add tomato paste and chopped cheese. Cook and stir for another minute or until the cheese have melted.