These sautéed Brussels Sprouts are on your dinner table in less than 30 minutes. A tad creamy and topped with roasted and crunchy sunflower kernels, this recipe might just become your new favorite plant-based side dish.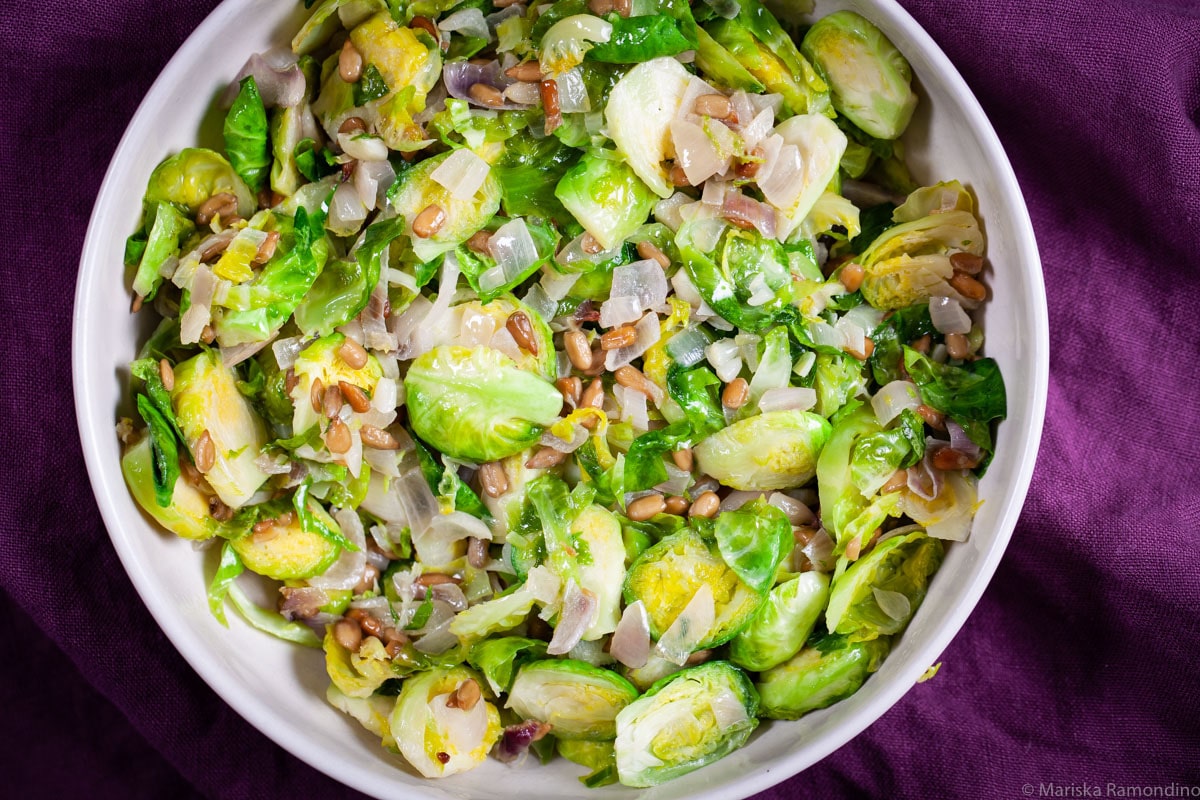 I know that I am biased when it comes to Brussels Sprouts because I love them in any way cooked. Brussels Sprouts were part of my regular diet growing up—you can't escape them growing up in Belgium. These little cabbages are quite versatile, and I could eat them every week. But not everybody at home feels that way. Both my husband and my daughter gladly avoid this vegetable. So if I want to serve Brussels Sprouts at the dinner table, I better make them extremely palatable.
I believe that most people don't like them because of their first experience with Brussels Sprouts—eating them boiled or microwaved without enhancing their naturally sweet flavors. But as with any vegetable, you should explore with them in the kitchen. Find simple ways to improve their flavors and your favorite way to cook them instead of throwing them out of your kitchen repertoire for good.
When roasted with the right seasoning, these veggies can taste wonderfully nutty, savory, and sometimes even slightly sweet. They taste delicious when topped with hard cheese or paired with starchy vegetables like potatoes or crunchy bacon. But for this recipe, I wanted to do something else and make a complete plant-based side dish that is creamy, a tad crunchy, and quickly on your dinner table.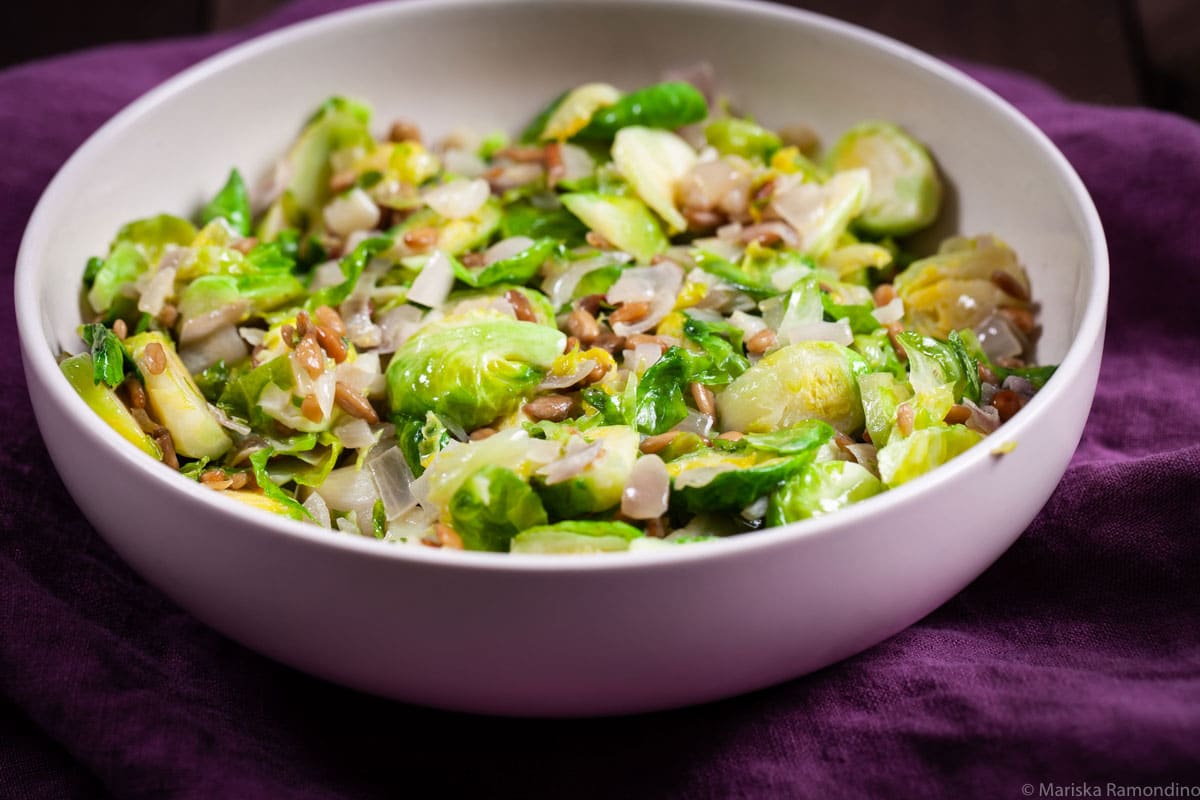 LET'S LOOK AT THE MAIN INGREDIENTS
Brussels Sprouts: I often buy them in a one-pound bag. Before cooking, I remove the stem and the outer layer of the cabbages. I rinse them in water, and in this case, I roughly julienne them. It is easier to cook them this way as they will be ready faster. Smaller Brussels sprouts are a little sweeter than bigger sprouts. But I have used both in this dish, and since we soften the vegetable and add sweet onions, it matters little in this recipe. No need to boil them. They go raw in the pan because you want a little bite of these veggies!
Shallots and garlic: shallots are my favorite onions, and they have a naturally sweet and softer taste once prepared. I don't recommend using regular onions, as it will overpower everything else in this vegetable dish. Instead, shallots combined with garlic complement the cabbages and give them a subtle sweet and savory touch that also brings out the sprouts' natural sweetness.
Butter or olive oil: if you are vegan, or want to avoid dairy altogether, then you want to, of course, opt for olive oil. The taste will be slightly different but no less delicious. You get a creamier version with butter, while olive oil will result in a milder and maybe nuttier taste.
Roasted unsalted sunflower kernels: Please add these! These roasted seeds already taste delicious on their own, but they add a beautiful nutty and crunchy texture. One that pairs well with the cabbages in this dish. Feel free to use more than the recommended amount in the recipe, if preferred.
Plant milk: I am not using a lot in this recipe, only one to two tablespoons. But it is enough to add a creamy texture and the flavors of the plant milk itself. Note that based on the type of milk you use, the taste might differ. I prefer creamy and nutty milk like pea or flax milk. Make sure not to use flavored milk (like vanilla); it doesn't add justice to this dish.
I often pair this side dish with white fish or oven-roasted salmon (make sure to check my super flavorful and easy buttery wild salmon recipe.) But they make an excellent side dish for any meal or main dish!
Have questions? Simply comment below or message me. Also, don't forget to FOLLOW ME on Instagram, Facebook, and Pinterest to see what other fun things I share.
Enjoy, friends!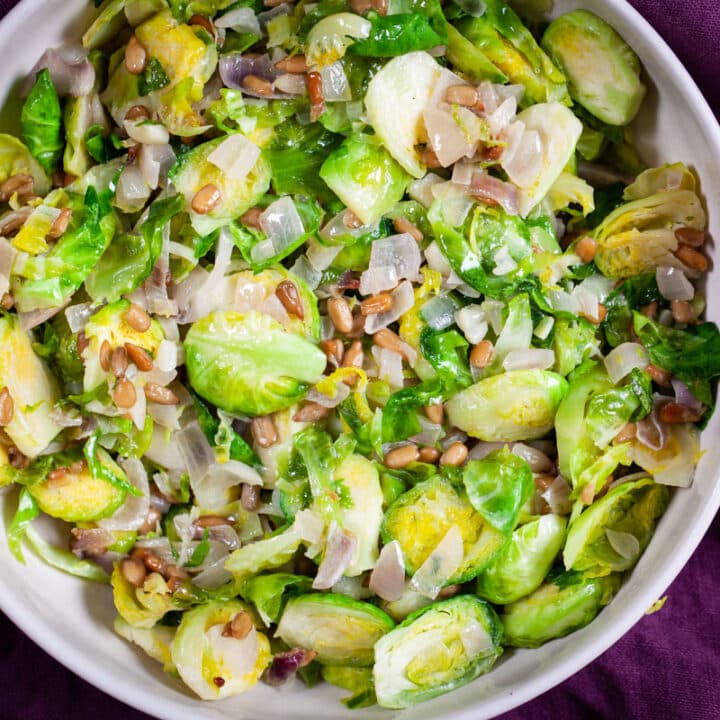 A Super Comforting and Healthy Brussels Sprouts Side Dish
Make these creamy sautéed Brussels Sprouts topped with roasted and crunchy sunflower kernels. A healthy and delicious vegetable side dish!
Ingredients
1 tablespoon butter or olive oil
2 cloves garlic, chopped
2 large scallions, chopped
1 pound Brussels Sprouts, julienned
¼ cup roasted and unsalted sunflower kernel seeds
2 tablespoons plant milk (preferable flaxseed or pea milk)
Salt to taste
Instructions
In a large skillet, heat butter over medium heat. Add garlic, scallions and Brussels Sprouts. Season to taste with salt. Cook and stir for 5 minutes.
Stir in the seeds and the plant milk. Cook and occasionally stir for 20 minutes or until the vegetables are soft, but still, have a bite to them.