I share three very different flavored and creamy gourmet popsicle recipes that you can quickly make at home. And they are also refined sugar-free, gluten-free, vegan, and paleo-friendly. Ingredients like raw almonds, dark chocolate, mint, and fresh basil give these ice pops—dare I say—a more sophisticated taste. But not to worry, adults and kids alike will love these whole fruit popsicles, making them a perfect healthy snack or dessert for the entire family!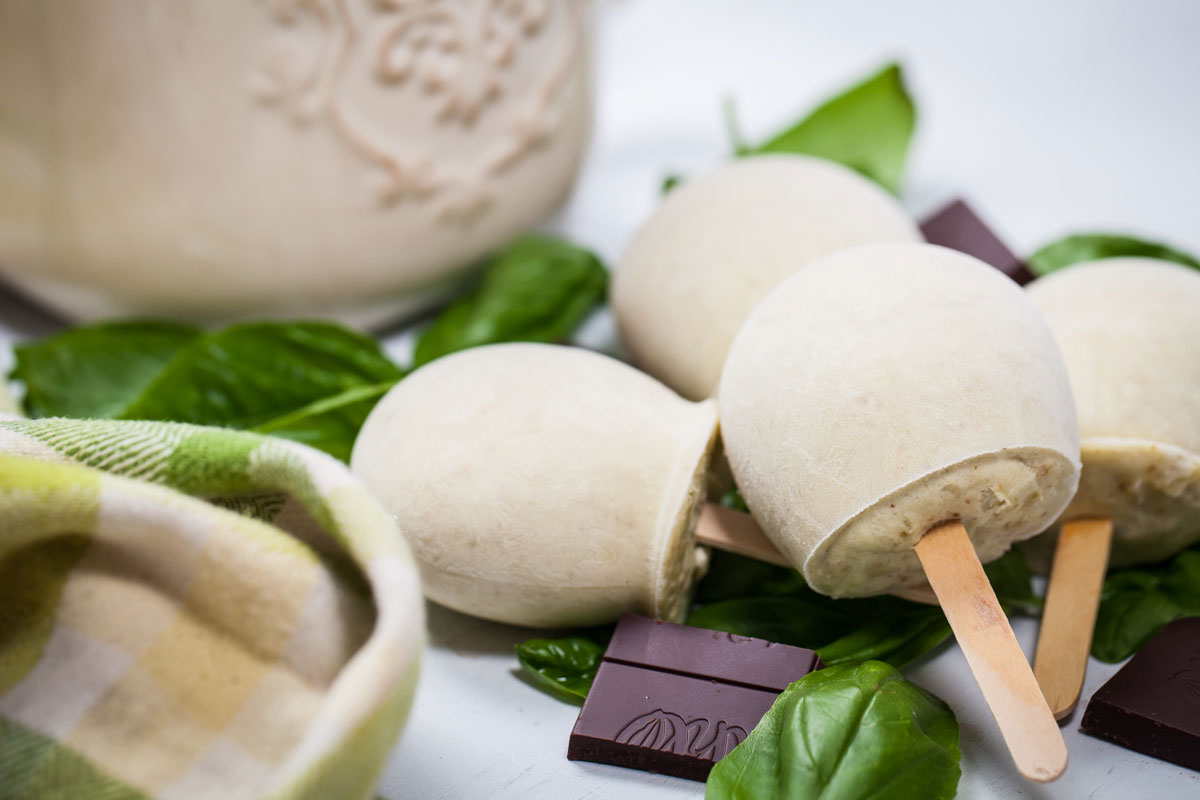 I love making healthy homemade popsicles. They are a guilt-free indulgence, fun to make, and you can experiment with endless flavor combinations. Adding a few tweaks can make them sweeter or turn them into a late-night party treat for adults only.
The recipes below use the same creamy base of coconut milk;
And dates as a natural sweetener—which you won't taste;
Yet all three popsicles have a delicious, unique flavor.
So, here is what you need!
USE EASY AND CREATIVE POPSICLE MOLDS FOR FUN
Since I make popsicles quite often, I also have, unfortunately, broken quite a few molds. So, I have come to rely on flexible silicone popsicle molds—BPA free, of course. They twist easily to remove the ice pops, and they are also super easy to clean. Below you find a few of my suggestions, and some of them have amusing shapes like monsters, penguins, or zombies for those special occasions.
DATES AS A NATURAL SWEETENER
If you have been following my blog, you know that I love using them as a natural sweetener in a lot of my healthy dessert recipes, like my Soft and Wholesome Feel Good Cookies, and my creamy date spread come to mind—it is simply divine!
A lot of people think that these stone fruits have no nutritional value. But that is not so. Besides the fact that they are a good source of various vitamins and minerals, I personally love them because they add fiber and are known to stimulate healthy bowel movements. A date in itself is very sweet, and I would refrain from consuming too many—just one or two is enough. But a few Medjool dates can be an incredible energy booster before a hard workout session or long-distance run. Adding 5 to 7 stone fruits to these fruit popsicle recipes adds natural and caramelly sweetness while letting the rest of the flavors dominate.
POPSICLE FLAVOR COMBOS AND SUGGESTIONS
THE PINEAPPLE-BASIL ICE POPS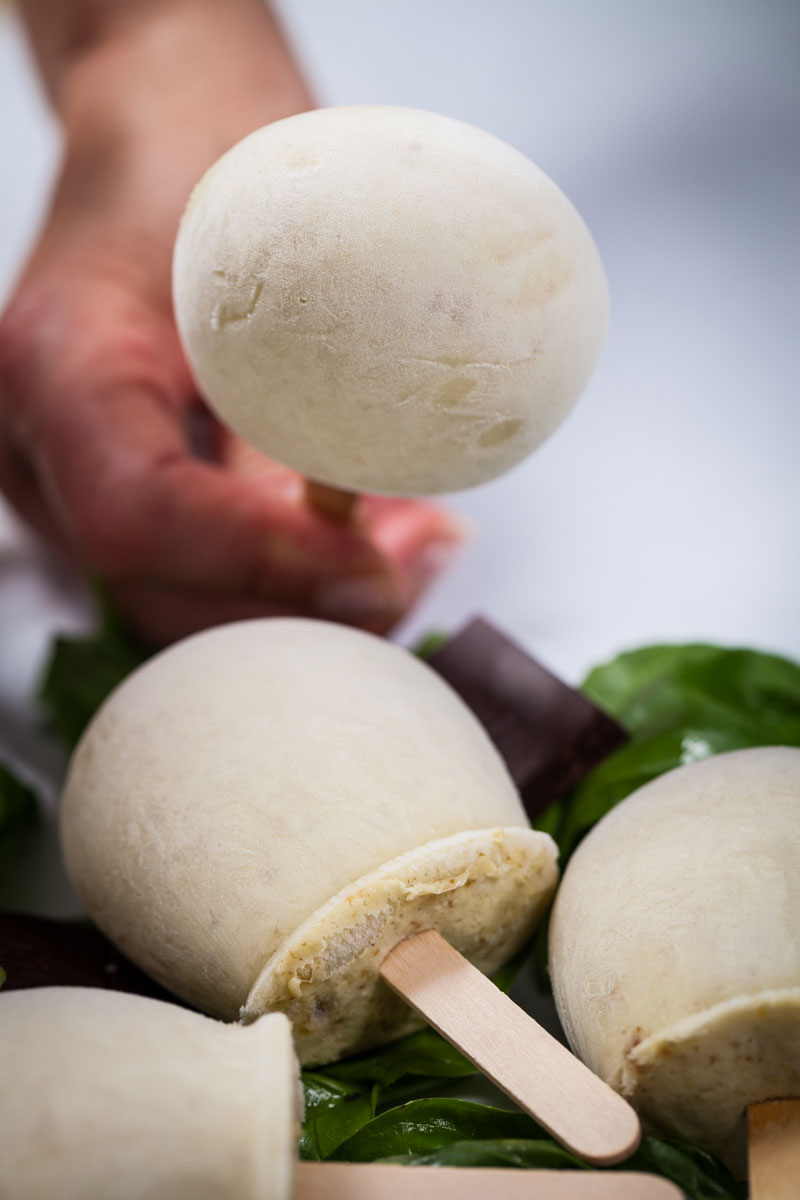 When properly ripe, pineapple has that juicy fruit flavor with an almost candy-like quality—ideal for sugar-free ice pops. You can check its ripeness by smelling the base of the fruit. It should be deliciously fragrant and sweet. I also leave out the pineapple's core in this recipe since it is hard and not juicy enough for popsicles.
Combine this juicy fruit with Sweet Basil leaves, and you get that irresistible refreshing pop with each bite—kind of like a lime or lemon but much milder. Add a little coconut or dark rum to taste—a little goes a long way—and you have a great late-night treat for an adult party you are hosting.
THE BANANA-STRAWBERRY-ALMOND ICE POPS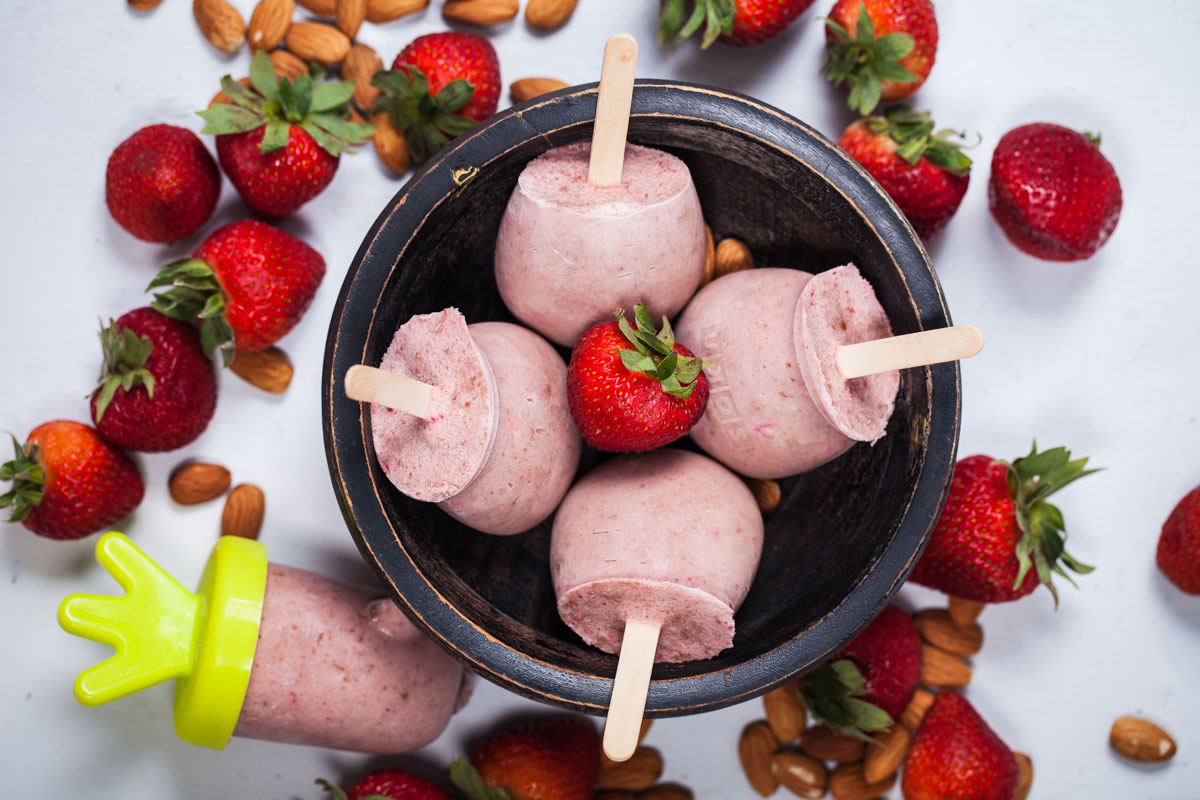 Ripe bananas are another great fruit to sweeten your ice pops and create a nice creamy consistency. I love this yellow fruit, but its unique taste can often overpower the whole recipe, especially in popsicles. So, I am adding raw almonds. Their neutral taste balances out the intense flavors of ripe bananas, allowing the sweet-tangy strawberries to peak through.
THE COCOA-CHOCOLATE MINT ICE POPS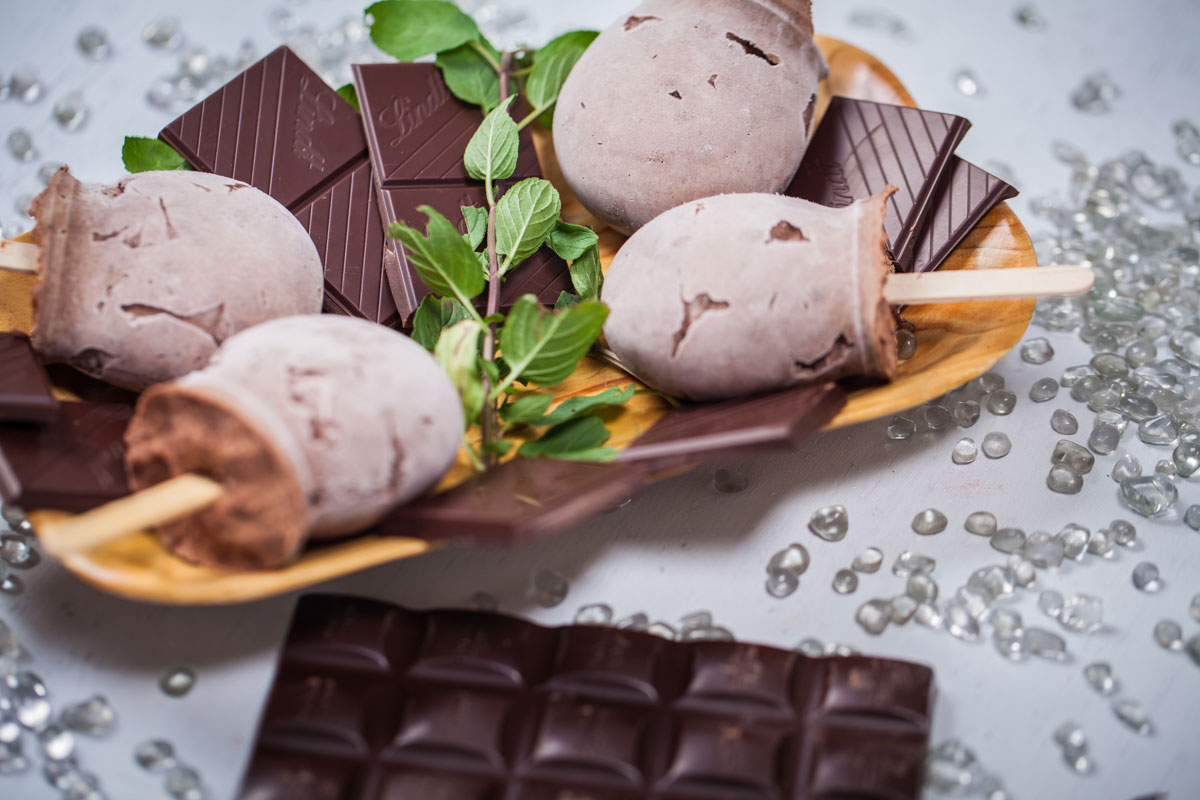 Amongst the three, these popsicles are the creamiest with a very dark, smooth chocolaty flavor—I love their rustic look. For this recipe, I use a 78% dark cocoa chocolate with no added flavor (see the note section for vegan chocolate bar suggestion.)
Instead of sweet, I use chocolate mint—it is a common enough herb to find at your store or local farmer's market. But you can also grow and harvest your own as I do in my small herb garden. They are the easiest herbs to plant, grow like crazy, and are perfect for chocolate desserts and ice creams.
Chocolate mint leaves look a bit more blueish than its green mint cousin,

smell heavenly like chocolate,

and have a delightful chocolate minty flavor.
The consistency of the blended mixture is a little thicker than the other two recipes. So you will have to spoon it into the molds. I suggest adding some coconut water if you prefer it to be a little bit runnier,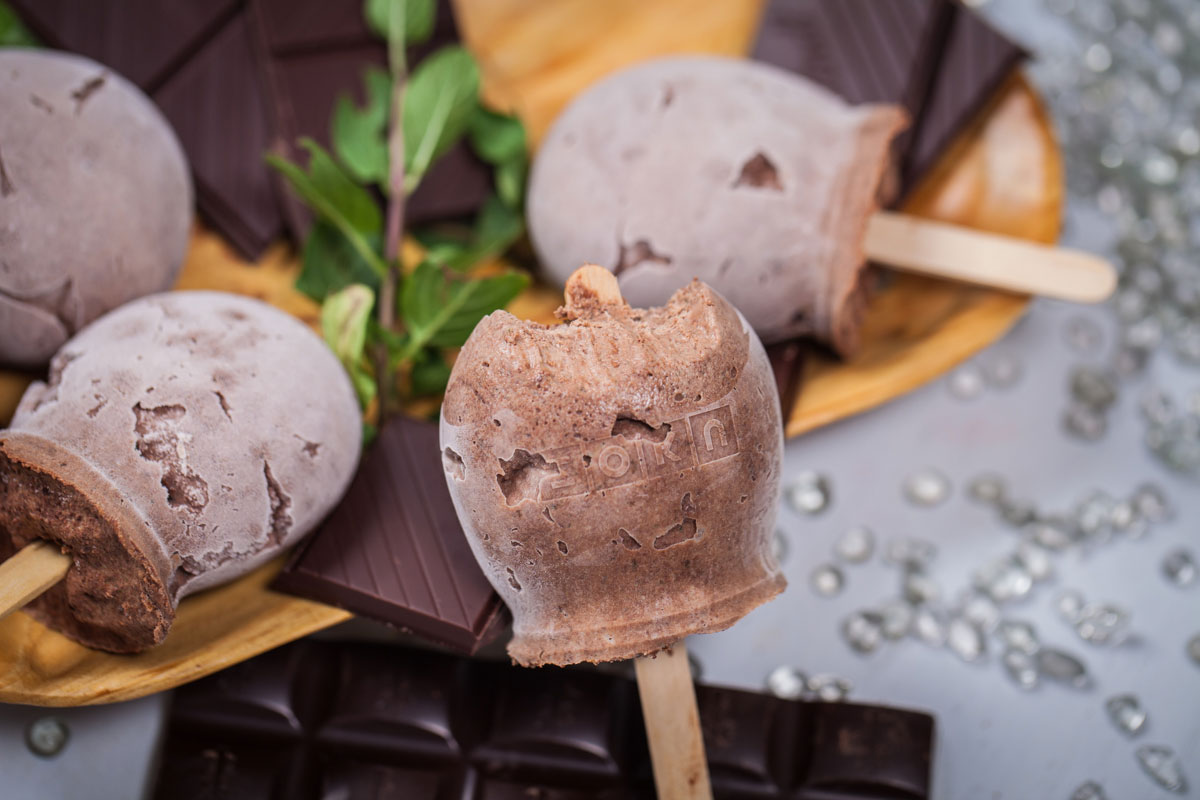 So, there you have it, three delicious gourmet popsicle recipes that you can easily adapt and make your own. Let me know in the comments below which one is your favorite! Enjoy!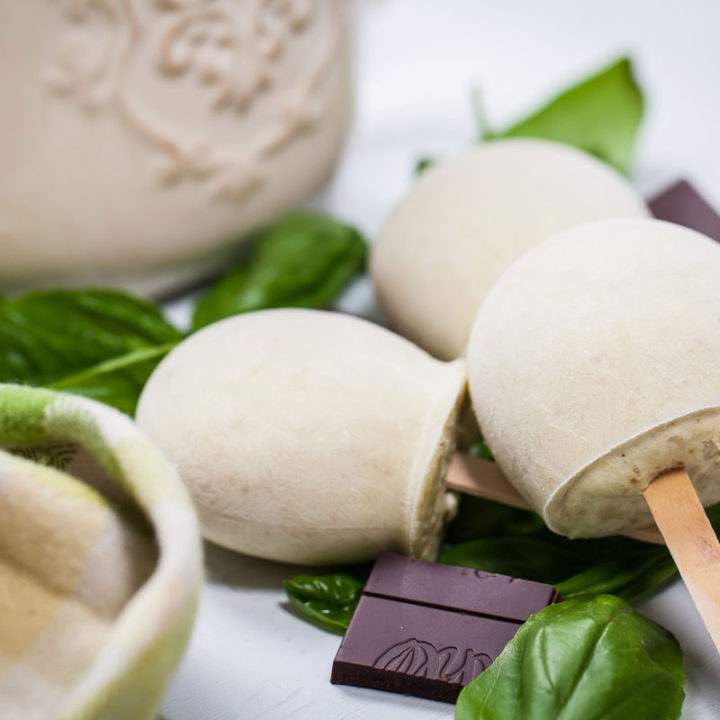 Healthy Popsicles You Want To Make—3 Flavors
Yield:
About 6 - 10 popsicles for each recipe
Creamy healthy gourmet popsicles (vegan and paleo-friendly) that you can quickly make at home and everyone will love with delicious fruit and chocolate flavors!
Ingredients
PINEAPPLE-BASIL: 6-7 MEDIUM-SIZED POPSICLES
1 (13.5 FL oz) can coconut milk
7 pitted dates
2 cups fresh cubed ripe pineapple (avoid hard middle part)
5 large fresh basil leaves
BANANA-STRAWBERRY-ALMONDS: 8-10 MEDIUM SIZED POPSICLES
1 (13.5 FL oz) can coconut milk
7 pitted dates
2 ripe bananas
7 large fresh strawberries
COCOA-CHOCOLATE MINT: ABOUT 6 MEDIUM-SIZED POPSICLES
Instructions
To Make One of the Popsicle Recipes above:
In a high-speed blender, blend all ingredients until smooth. Place in popsicle molds and put in the freezer until hard (preferably let it sit overnight)