What is not to love about Shirataki noodles (a.k.a Miracle or konjac noodles)? They are carb-free, gluten-free, high in (water-soluble) fiber, super low in calories, and incredibly versatile because they absorb any flavor you stir them in. I have come to enjoy them every so often because they are thin, gelatinous and work quite well with various types of dishes. In this Keto and Paleo-friendly recipe, I coat the noodles with my homemade creamy Avocado Pesto (YUM) and serve them with simple crispy pan-seared salmon, seasoned with sweet dried basil.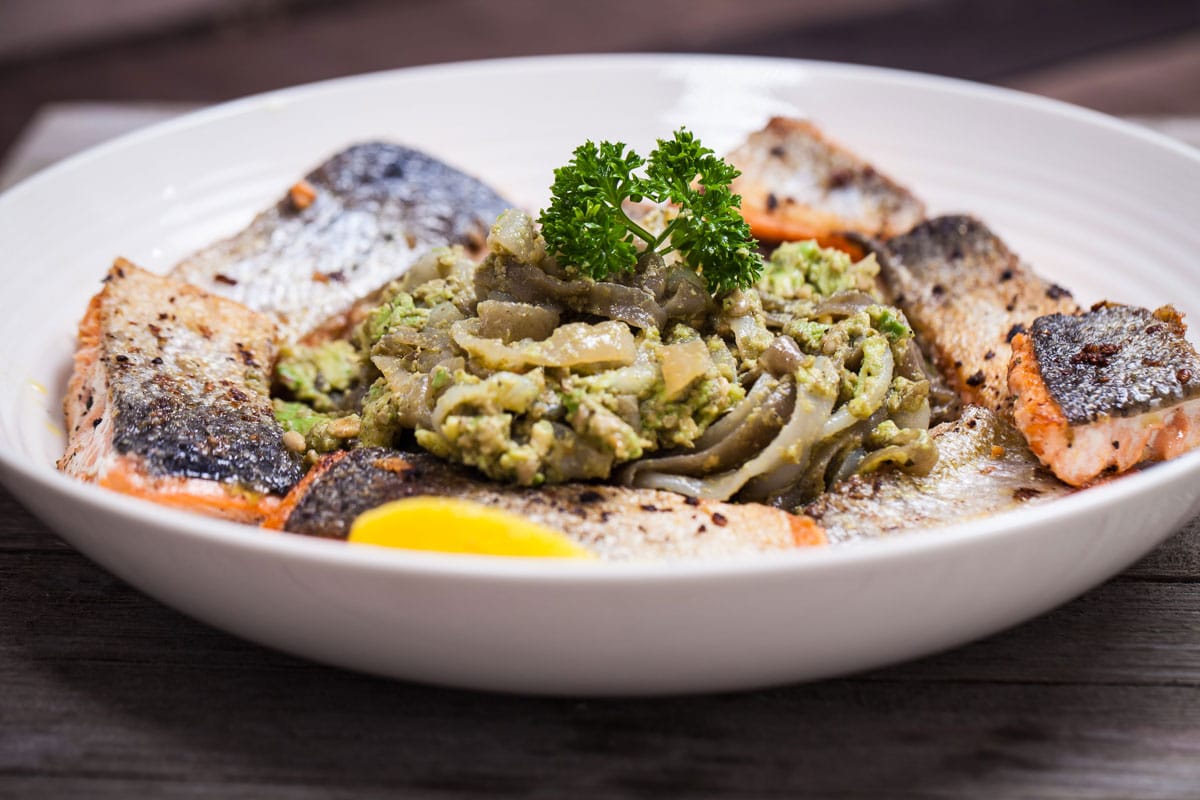 This quick and easy dish is full of flavors. The crispiness of the pan-seared salmon provides a nice contrast to the creamy texture of the coated noodles. Even the pesto sauce is put together in minutes (find the recipe here) and gives this dish the finishing touch it needs. A perfect quick dinner that is healthy and will satisfy your taste buds!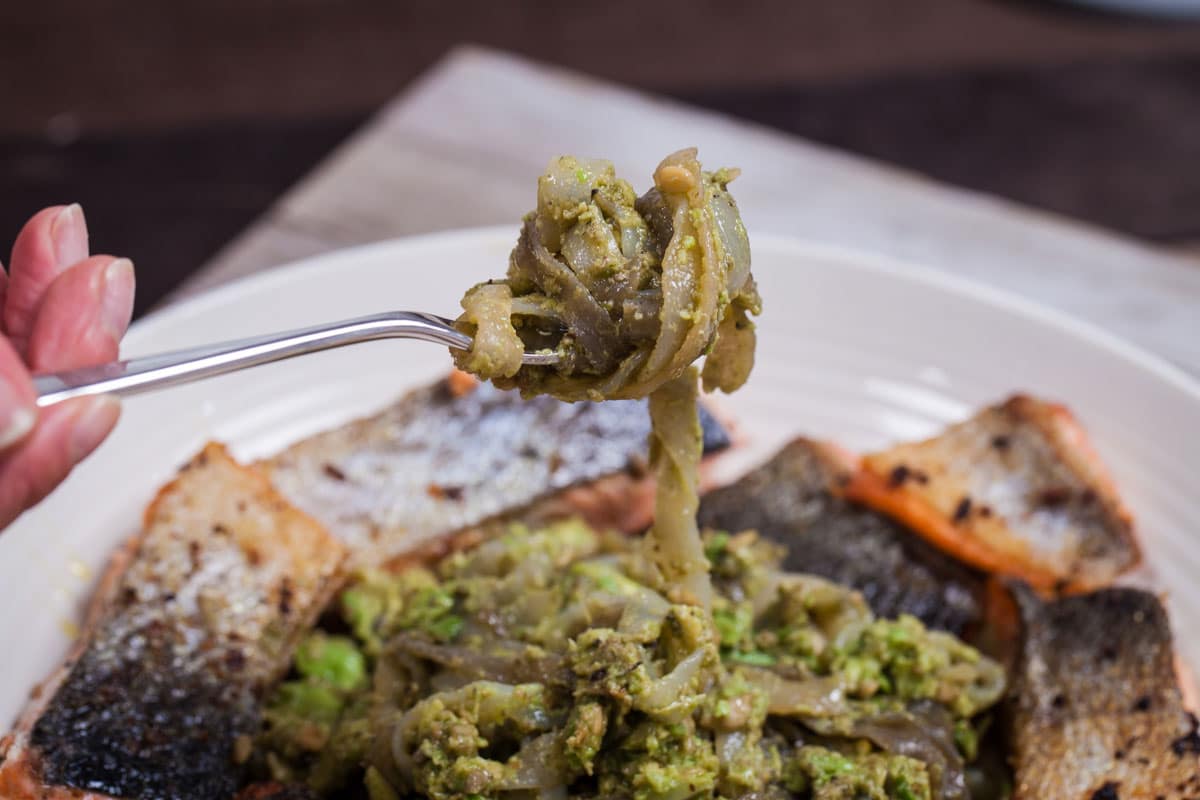 SHIRATAKI NOODLES AND WHERE TO BUY THEM
These low carb noodles originate from Japan and are made from the Konjac root (also known as White Jam or Devil's Tongue). I buy the noodles packed in liquid, and when opened, you might smell the aroma of the Konjac plant. It is not an unpleasant smell to me, but you want to wash away the aroma before preparing the noodles. Miracle noodle is one of the most popular brands that sell shirataki low carb pasta. They also offer a spinach version, and I often combine the green noodles with the white ones (as shown in picture).
The recipe instructions to prepare the noodles are according to the manufacturer's directions. But I have noticed that the key to cooking Shirataki noodles is always briefly to dry them in a non-oil pan over medium-high heat. Don't go too fast over this step (or don't skip it). It alters the texture of the noodles from soft to a more firmer one and makes them wonderfully chewy-like.
PAIR SHIRATAKI NOODLES WITH CREAMY AVOCADO PESTO
At home, I often make a delicious pesto sauce with avocado, garlic, sunflower seeds, olive oil, lemon juice, and dried Basil—one of my favorite dressing for a kale salad. But this pesto also works well when swirled into the noodles, making them super creamy and incredibly tasty. That creamy texture pairs well with the pan-seared crispy salmon and makes for one healthy and incredibly delicious dinner! Enjoy!
Have questions? Simply comment below or message me. Also, don't forget to FOLLOW ME on Instagram, Facebook, and Pinterest to see what other fun things I share.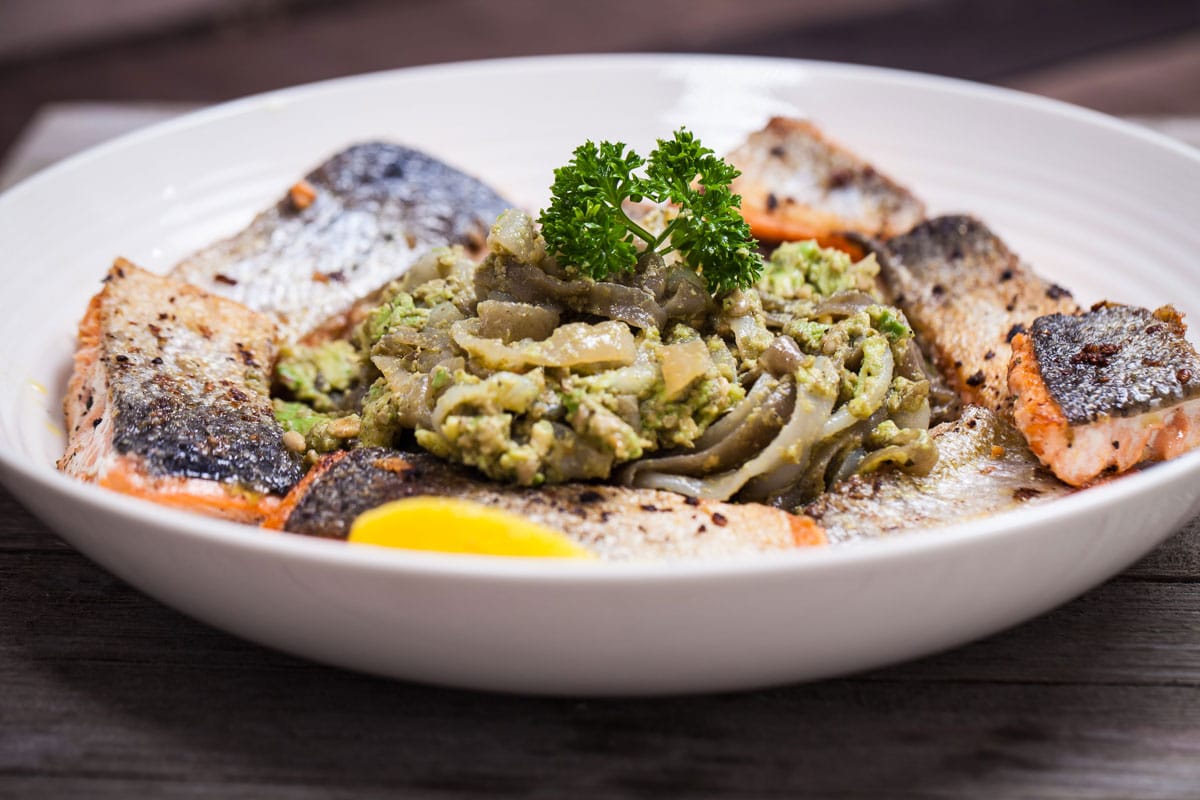 CRISPY SALMON WITH CREAMY SHIRATAKI NOODLES
Pan-seared crispy salmon is paired with low carb shirataki noodles and coated with a creamy homemade avocado pesto sauce! A simple yet delicious dinner!
Ingredients
2 (7-ounce) packages of Shirataki noodles, soaked in water
2 tablespoons olive oil
2 pounds wild salmon fillet (about) with skin, cut into equal-sized small fillets.
Salt and pepper
1 tablespoon dried Basil
fresh parsley or lemon slices for garnish
Instructions
Bring water in a 2-quart pot to a rapid boil. Meantime, drain the Shirataki noodles. Rinse the noodles in cold water for about 10 seconds. Place the noodles in the boiling water for two minutes. Drain and place the noodles in a large and dry skillet over medium-high heat. Cook and occasionally stir the noodles until they are dry. Transfer the noodles to a bowl.
Coat the bottom of the same skillet with the olive oil and heat over same heat setting. Place the fillets in the skillet, skin down. Season with salt, pepper, and dried basil. Cook for 3 minutes or until the skin side is crispy and browned. Turn the salmon fillets over, season skin side again with a little salt, pepper, and basil. Cook for 5 minutes or until browned. The salmon is ready when it flakes easily with a fork but not dried out in the center. Transfer the crispy salmon to a large serving plate, leaving space in the center for the noodles.
Coat the reserved noodles with the creamy avocado pesto. Combine well and transfer the noodles to the center of the serving plate. Garnish with fresh parsley or lemon slices. Enjoy immediately!