Hey everyone! Alexandria from The Foreign Fork here! I'm so excited to be taking over the MyChefsApron blog today because, oh boy, do I have a recipe for you.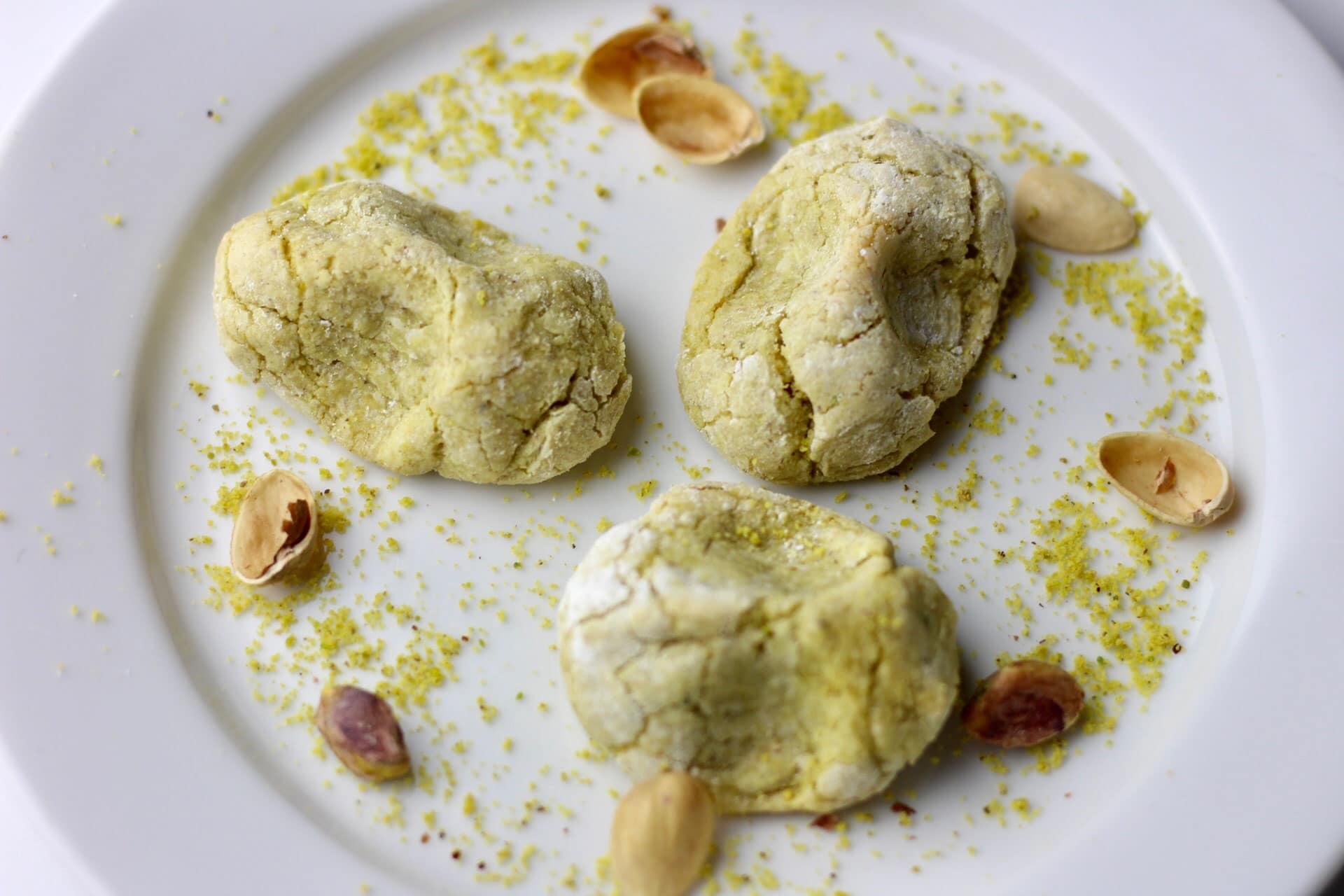 What's The Foreign Fork?
For those of you that aren't familiar with my website or my project, let me fill you in: I'm a food blogger (bet you could have guessed that)... and I'm cooking a meal from every country in the world.
This project all started because I lived in Italy for about six months at the beginning of this year. I've always loved food and loved to cook, so of course, I was excited to live in Italy. It's arguably the best place to live for food EVER, right?
Bad (But Delicious) Habits
Once I moved to Rome, I developed a pretty bad (but also amazing, depending on how you look at it) habit. If I was walking down the street and I saw a bakery, I HAD to step inside. One of my favorite bakeries was in Campo de Fiori, a popular square and marketplace on the east side of the Tiber River. It was called Il Forno, and I swear, when I walked by it, angels sang.
My favorite thing to get at Il Forno was this soft, marzipan-textured cookie. It came in almond flavor and lemon flavor, but my favorite was the pistachio. I ate those cookies so often while I was abroad, and each time, they got more and more delicious. I made sure to write down the cookie's name so that I could make them when I returned home to America.
A Near-Disaster and the Power of Instagram
Fast forward a few months, and I'm standing in my kitchen in Michigan feverishly researching Italian cookies. Somehow I've lost the name of the cookie recipe in my travels, and no matter what keywords or description I type, Google is no help.
In a last-ditch attempt to find the recipe, I take to Instagram (@theforeignfork, follow me, friends!). I record a story begging my followers for help. I describe the cookie; how it tastes, how it feels, how it looks. I press post, and I hold my breath.
Over the next 16 hours, I get many messages to my inbox. People from around the world are doing research, finding options, sending suggestions... But none of them are right. Finally, just when I've given up hope, my phone dings. One of my followers that lives in India lets me know that he's contacted a pastry chef he knows from Italy. She sent him back her best guess:
Paste di Mandorla.
I open google and there it is. The heavens open. Angels sing once more. It is my cookie.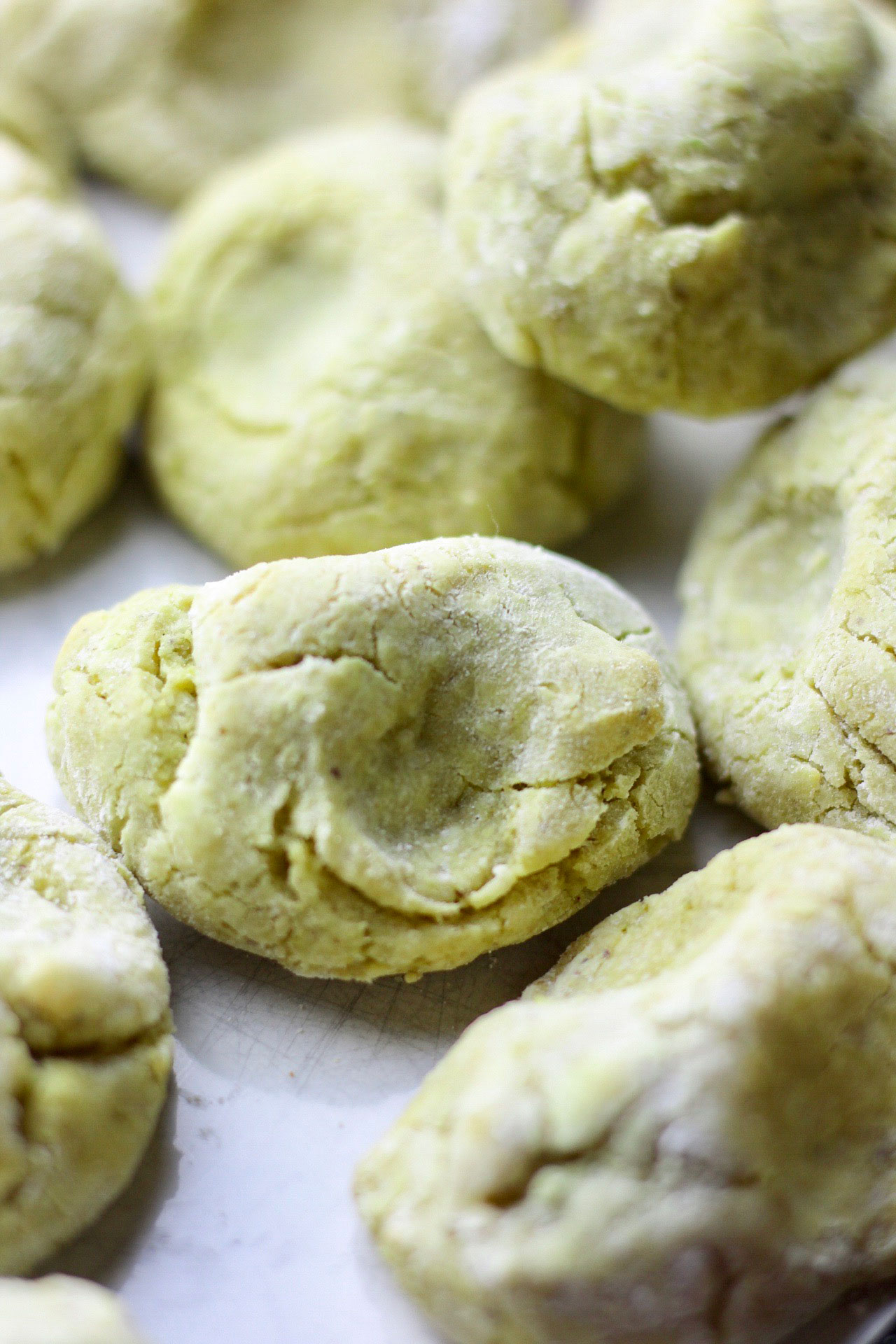 Making the Cookie
Every recipe that I can find for the Paste di Mandorla is for the basic almond cookie, and they're made with almond flour. The pistachio flavor is by far the best, though, so I decided to try something out of the ordinary.
I buy some pre-shelled pistachios and, using a spice grinder, grind them up into a fine flour. With one part pistachio flour to one part almond flour, powdered sugar, eggs, and some lemon zest, I transport myself back to Italy.
These cookies are just as good-- perhaps better-- than I remember. They're soft and chewy and the perfect amount of sweetness. You can cook them for about 15 minutes if you'd like chewy cookies (this is what I prefer), or if you want a crunchier cookie, you can leave them in the oven for about 18-22 minutes.
Substitutions
If you'd prefer these cookies to be almond-flavored instead of pistachio, you can remove the pistachio flour and use double the amount of almond flour. You can also experiment with adding different extracts for different flavor profiles-- lemon juice or anise extract are both great options.
Other Cookie Recipes Coming Right Up!
These cookies are just one of five Italian Christmas cookie recipes that I am so excited to be sharing on my blog! If you liked this, I'm confident that you'll love the other ones I'm sharing as well:
Pecan Butterball Cookies (my grandmother's recipe)
Walnut Roll-Up Cookies (so soft and chewy and delicious)
Ciambelline al Vino (Cookies made with actual white wine as an ingredient)
Biscotti (a family recipe that I've loved for years)
If you head on over to www.foreignfork.com and type your email address into the popup, I'd be more than happy to send you over my recipe book, just in time for you to make these cookies for your holiday party! And please feel free to stop by my blog any time you'd like; food from your favorite country is coming right up.
Bio
Alexandria is the crazy cook behind The Foreign Fork, a project that she started to cook a meal from every country in the world. Alexandria has been to 21 countries in her 21 years and is using her blog to explore more of the earth every single day. Check out her website for global recipes, great flavor profiles, and the wild experiences that come with cooking the world!
📖 Recipe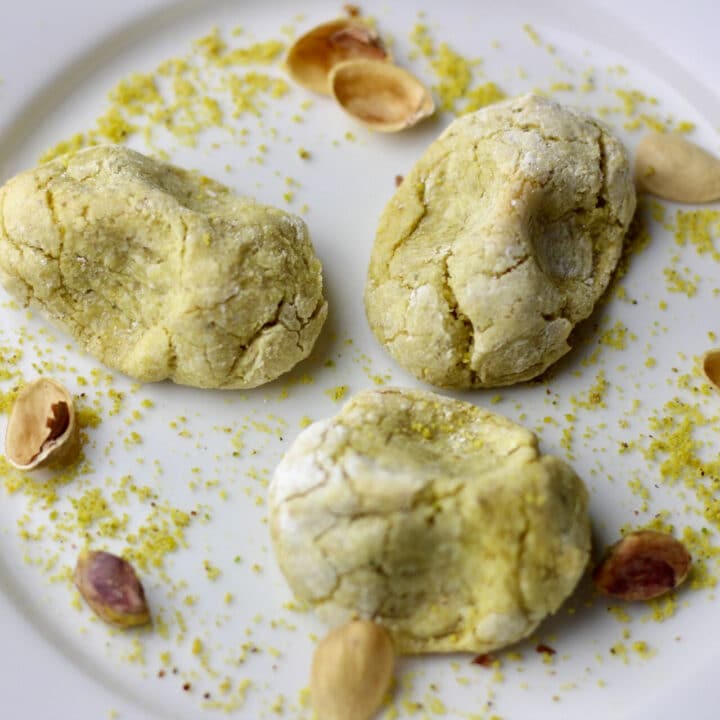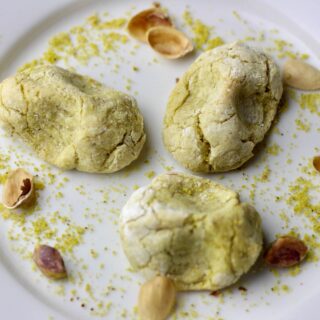 Paste di Mandorla
Mariska Ramondino
An easy recipe for Italian Pistachio Cookies, just like Nona used to make! The pistachio and lemon combo is so delicious and makes each bite taste heavenly!
Ingredients
200

grams

shelled, un-roasted, unsalted pistachios

about 7 ounces or 2 cups

175

grams

almond flour

about 6 ounces or a little less than 2 cups

175

grams

powdered sugar

about 6 ounces or 1 ⅓ cups

2

eggs

Zest of one lemon

Extra powdered sugar for coating
Instructions
Preheat oven to 350 degrees Fahrenheit.

Use a spice grinder or food processor to grind the pistachios into a fine flour.

In a bowl, combine the pistachio flour with the almond flour. Add sugar, eggs, and lemon zest, and mix to combine.

Break the cookie dough into pieces a little bigger than an un-cracked walnut. Coat hands in powdered sugar and rub on the outside of the cookie dough ball until it is completely covered with the powdered sugar.

Place on an ungreased cookie sheet, leaving indents with your fingers in the dough.

Bake for about 15 minutes. The dough should still be soft, like marzipan. Bake for 18 minutes for a crunchier cookie.
Notes
If you'd prefer these cookies to be almond-flavored instead of pistachio, you can remove the pistachio flour and use double the amount of almond flour. You can also experiment with adding different extracts for different flavor profiles-- lemon juice or anise extract are both great options.
Add your own private notes
Whenever you come back to this recipe, you'll be able to see your notes.
Nutrition (% Daily value)
Serving:
1
cookie
Calories:
94
kcal
(5%)
Carbohydrates:
11
g
(4%)
Protein:
4
g
(8%)
Fat:
8
g
(12%)
Saturated Fat:
1
g
(6%)
Polyunsaturated Fat:
1
g
Monounsaturated Fat:
2
g
Trans Fat:
0.001
g
Cholesterol:
14
mg
(5%)
Sodium:
6
mg
Potassium:
89
mg
(3%)
Fiber:
2
g
(8%)
Sugar:
1
g
(1%)
Vitamin A:
41
IU
(1%)
Vitamin C:
0.3
mg
Calcium:
26
mg
(3%)
Iron:
1
mg
(6%)
Disclaimer: This nutritional data is calculated using third party tools and is only intended as a reference.
Sharing is caring!