You are going to love these sweet gluten and dairy-free Buckwheat waffles with warm cinnamon and vanilla. Deliciously filling, they are soft inside with crispy edges and immensely gratifying with every bite.
Weekends deserve to be savored and these Belgian buckwheat waffles are going to make any leisure time so much better—I promise.
It's a recipe inspired by my childhood memories of a similar treat offered as a snack straight out of a warm and heavenly smelling kitchen.
Waffles are more known as a brunch staple, but these buckwheat waffles already contain all the sweet goodness to pass as a treat. You can easily enjoy them without any extra toppings as a satisfying sweet afternoon or school snack.
Note: buckwheat is not a grain, or grass either like wheat. It's considered a "pseudocereal," a gluten-free fruit seed related to rhubarb that you can enjoy as a cereal or ground into flour. So these waffles are naturally gluten-free and an excellent source of fiber.
Buckwheat flour or buckwheat groats
You can use regular buckwheat flour—I love the Bob's Red Mill Organic Buckwheat Flour— or use toasted buckwheat groats and grind them into powder.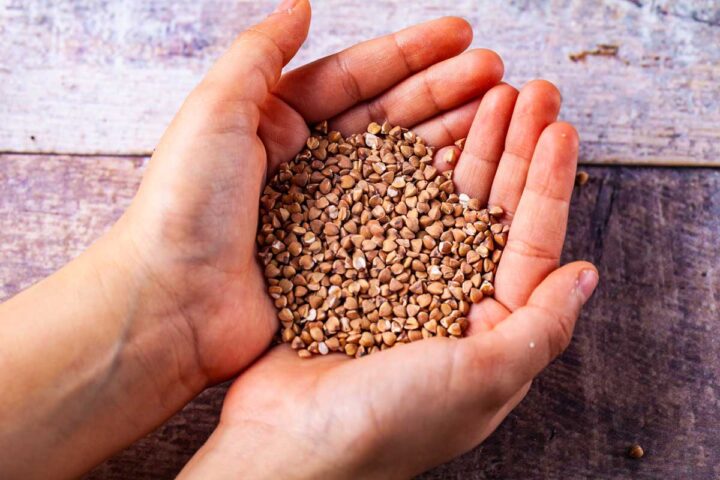 You can't go wrong with either one. It's just that the batter and the color of the waffles will be slightly different.
In both cases, you will get that nutty and aromatic flavor that makes these baked goods so unique in taste.
Note: warm cinnamon spices and vanilla extract tempers the strong taste of Buckwheat flour and makes these waffles flavorful and aromatic.
Ingredient substitutions
Coconut sugar
This buckwheat recipe has that perfect amount of sweetness and molasses notes. And it's the coconut sugar that gives these waffles more complex flavors and helps with the rustic look.
Brown sugar is very similar in appearance and flavor and can serve here as a substitute. I even have used date sugar in the past or substituted half of the recipe's recommended amount with golden monk fruit sweetener.
Note: these waffles are supposed to be a sweet treat, but you can easily omit the sugar and only add the black raisins, or add only half the amount of suggested sweetener. Then serve with just a drizzle of maple syrup and your favorite (plant-based) yogurt or fruits for a healthier version.
Coconut milk
Feel free to substitute with any other plant-based milk, but I have noticed that canned coconut milk makes the waffles a tad crispier.
Flour
Consider mixing buckwheat flour with other earthy and slightly nutty gluten-free options, such as Teff flour or ground gluten-free oats.
A great combo is one cup of Buckwheat flour, one cup of oats flour, and one-third cup of Teff flour.
Favorite Serving suggestions
At home, I sometimes offer them as an afternoon or after school snack. My daughter grabs one in her hand as she goes into the backyard to play.
And they are always a favorite at my brunch table. These cinnamon waffles go well when served with fresh fruits on the side like berries, figs, pears—it all depends on what's in season.
And if you like to pair them with something more hearty, try topping them with an egg sunnyside up and slices of your favorite hard cheese.
How to store these
Let the waffles completely cool down before storing them in an airtight container.
You can leave them on the counter for up to 2 days.
If you plan to keep them longer, then store them in the fridge for up to 5 days.
Just pop them in the toaster to warm them up!
Enjoy!
More baked goods you might like
Two iron waffle recipes that you also might like are the healthy sweet oat flour waffles (dairy and gluten-free.) Another one of my family's favorite is the dairy-free prune waffles.
If you love baking with buckwheat or teff flour then try my sweet rosemary drop biscuits or my giant apple raisin baked pancake, perfect for sharing.
And don't forget to try the healthy gluten-free baked cinnamon donuts, which are always a favorite family treat during the weekend, and they are so easy to make.
Sharing is caring, so don't forget to PIN IT to your brunch or snack board! Always love to hear if you tried out this recipe and if it worked for you. Don't forget to subscribe to my Monthly Newsletter!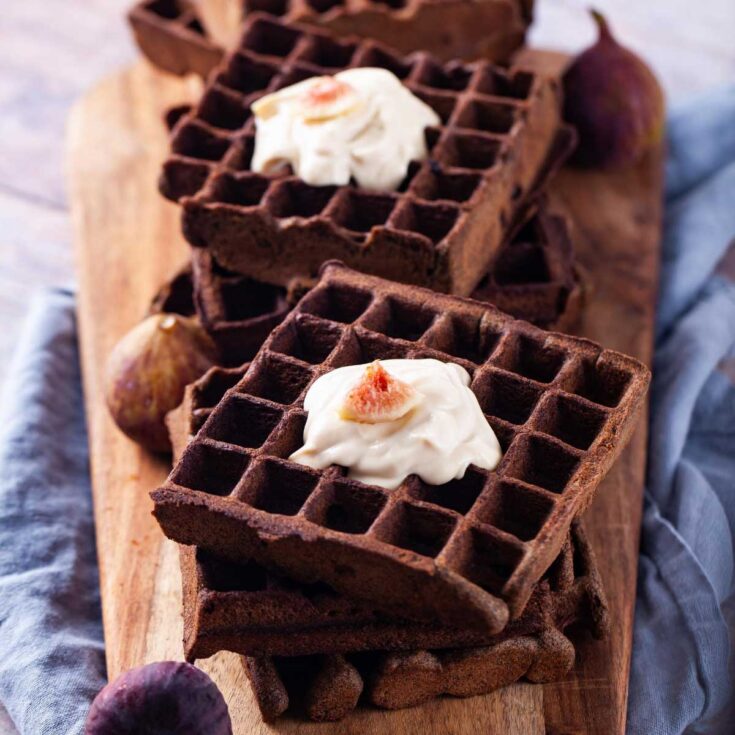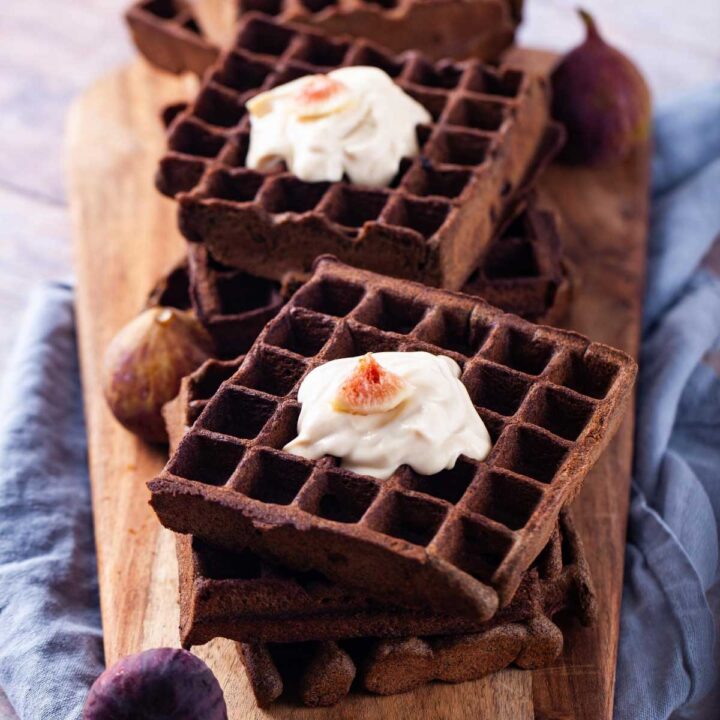 BUCKWHEAT WAFFLES
Gluten-free and dairy-free buckwheat waffles that are deliciously sweet with warm cinnamon and vanilla—perfect for breakfast, brunch, or snack!
Ingredients
2 ⅓ cups ground toasted buckwheat groats, a.s.a Kasha (see note)
1 tablespoon baking powder
1 tablespoon cinnamon powder
1 ½ cups coconut sugar or date sugar
a pinch of salt
3 eggs
2 teaspoons vanilla extract
½ cup melted coconut oil, plus more to grease the waffle iron
1 ¼ cups canned coconut milk (add ½ cup more if you want the waffles to be less firm and more fluffy)
½ cup dark raisins (optional)
Instructions
Preheat your waffle iron maker on a high heat setting (I use setting 6—7 is the highest setting on my waffle maker.)
Place all dry ingredients in a large bowl and stir to combine. Ensure that there are no sugar lumps lefts, and everything is well mixed in with the buckwheat flour.
In a separate bowl, lightly beat the eggs and stir in the vanilla extract, coconut oil, and coconut milk.
Pour the wet mixture into the bowl containing the flour mixture. Give it a few good stirs until everything is well combined.
Stir in the raisins.
Brush hot waffle iron plates with a little coconut oil and spoon about ½ cup of the batter onto each waffle iron plate. Close and cook the waffles until it has a beautiful dark golden brown color.
Use a fork to lift the waffles carefully out of the waffle iron—they are very fluffy at this point. Place them on a plate to cool slightly—they will get crispier.
Once the waffles are slightly cooled, you can stack them.
Repeat with the rest of the dough.
Notes
Instead of ground Kasha groats, you can also use regular buckwheat flour. Both flours result in delicious waffles, but Kasha will give you fluffier and crispier waffles, while regular buckwheat flour will give you darker and more filling waffles.
Nutrition Information:
Serving Size:

1
Amount Per Serving:
Calories:

350
Disclaimer: This nutritional data is calculated using third party tools and is only intended as a reference.