Easy-to-make yet so addictive, these Buckwheat Chocolate Chip Cookies are deliciously buttery, filled with dark chocolate chips, and infused with warm spices giving buckwheat flour immense depth of flavor. Crispy-edged and soft-centered, they might maybe become your favorite healthy gluten-free cookies.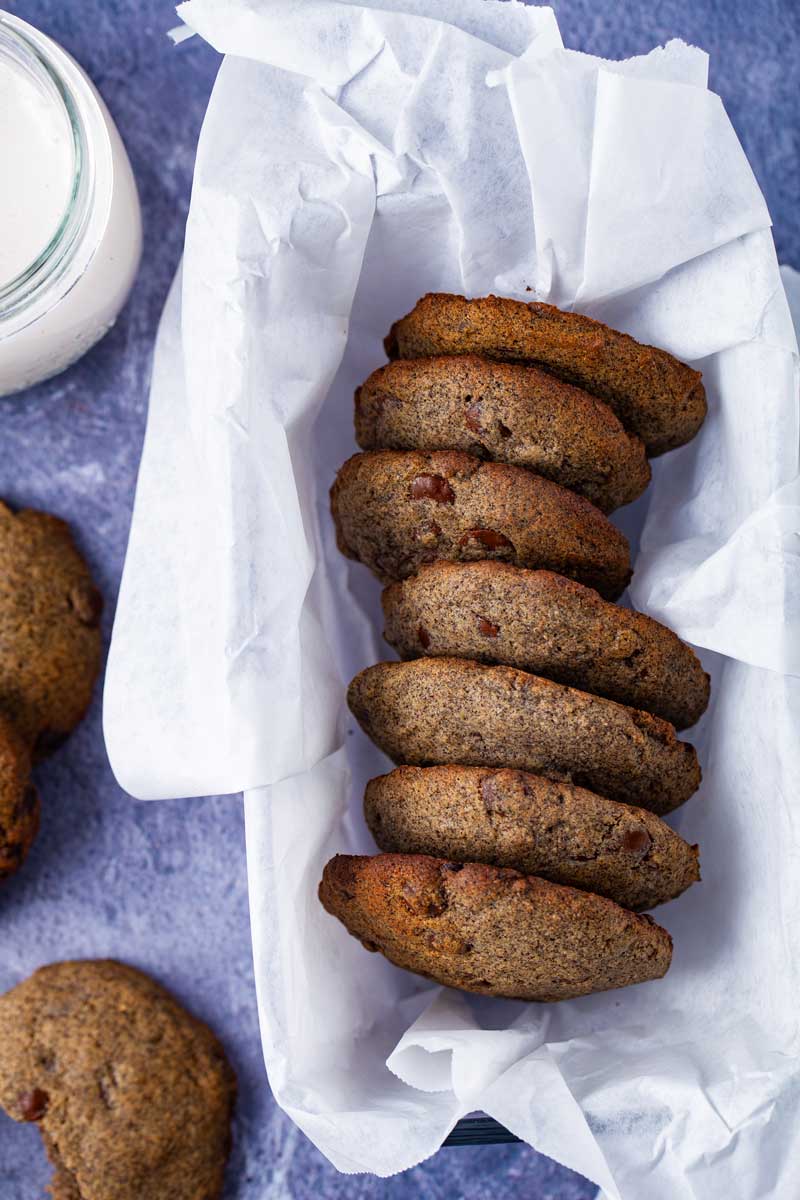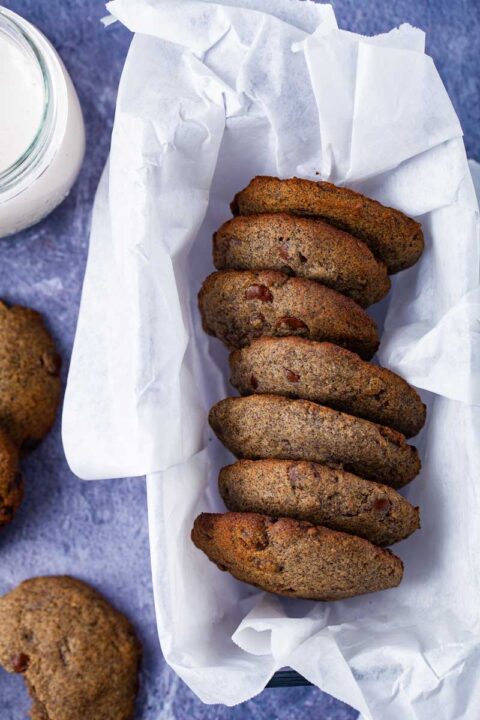 Okay, we have a new buckwheat cookie in the house, and for the moment, I'm a bit obsessed with baking these. And not just because they are wrapped in warming cardamom, cinnamon, ginger spices, and dark chocolate, but also they so easily come together. Yes, that makes me happy because now I have a chocolate-filled baked good for weekdays that doesn't turn my kitchen upside down.
They are, of course, not your traditional "chocolate chip" cookies. And, in case you were wondering, I wasn't going for that. Oh, you might think I'm deeply-flawed after reading this, but I find those classics too sweet for my taste.
Yep, that's me; I like a treat that doesn't scream sugar, just a subtle sweetness, the right flavors, texture, and easy to bake—and these buckwheat cookies match up.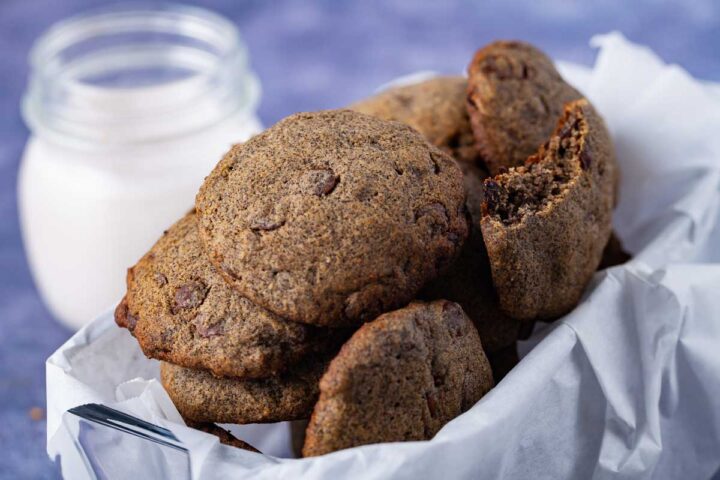 Now let me tell ya, they're BUTTERY and soft and a bit crunchy. Yes, all that, and they are still on the healthier side with a lot of flavors.
I like to tell you that I chose buckwheat flour in this recipe because it's better than regular flour, gluten, and even grain-free—and it is. However, in this case—and I've tested and played around with other flours too—I use it more so for it's unique and almost shortbread texture that it gives to these buckwheat cookies.
The more I bake with this flour, the more I enjoy the taste of it. And in this super easy recipe, the warm spices are allowed to shine deliciously pairing with chocolate bites.
If you are into a crumbly, chocolatey tea companion treat and love an easy and healthy bake with no grand instructions that guarantee it'll end up on your table when the soul calls for some small indulgence, then this recipe should be going into your recipe box. Let's bake.
Ingredients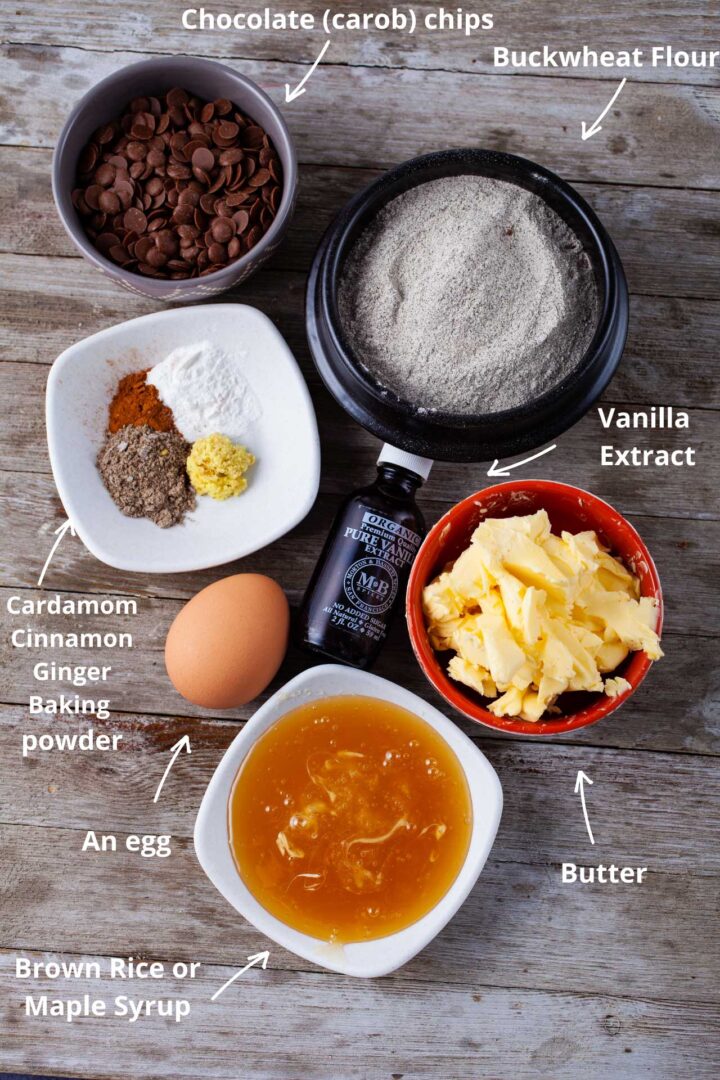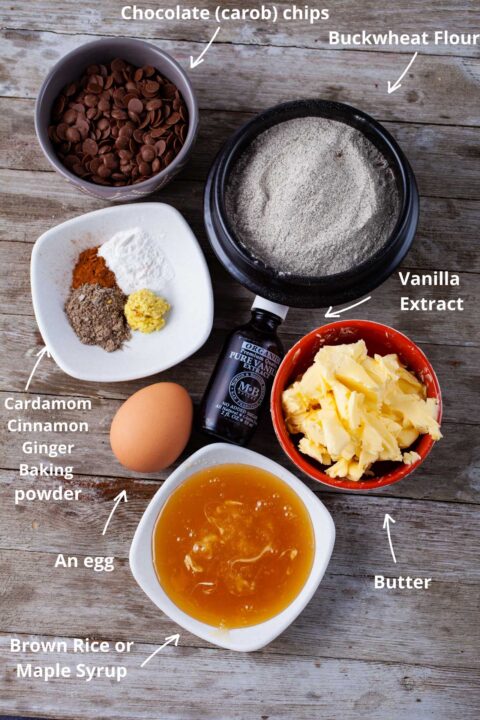 A few baking tips and notes
Chocolate: if you like yours to be puddled with chocolate then by all means go for it. I like mine scattered with little chocolate surprises as I bite through my cookie. So, I only add about three fourth of a cup. And I love Missy J's carob chips for some reason, but it doesn't require that or any special chocolate for that matter. I have even hand-chopped one of my favorite chocolate bar—Trader Joe's pound-plus comes to mind. Any brand you like will do.
Sweetener: the recipe calls for brown rice syrup to add a subtle sweetness but no need to go out of your way to buy this if you never use it for anything else. Maple syrup works just as well, only the buckwheat cookies will become a tad sweeter but the deep maple flavor has its own perks—you might even prefer it.
Spices: It's the combo of melted butter, warm spices, and chocolate all melting together in one bite that makes it a worthy bake. Cardamom comes more through but the other spices have their own balancing act to play and tame the more robust flavor of buckwheat flour.
Cookie size: Well, it's up to you. You can get 15 to 17 cookies out of a batch if you make them spoon-full sized. Or you'll get 9 if you'll make them stupendously oversized. From experience, you won't hear anyone complain just less cookies to go around.
Cool down the buckwheat cookies: yes, a very important step. You gotta cool them down because otherwise none of the warm spiced flavors come through when you bite into that irrisistable but still warm crumbly treat. It's like all the flavors still have to set in and, trust me, it's worth the extra 10 minutes of wait.
Easy bake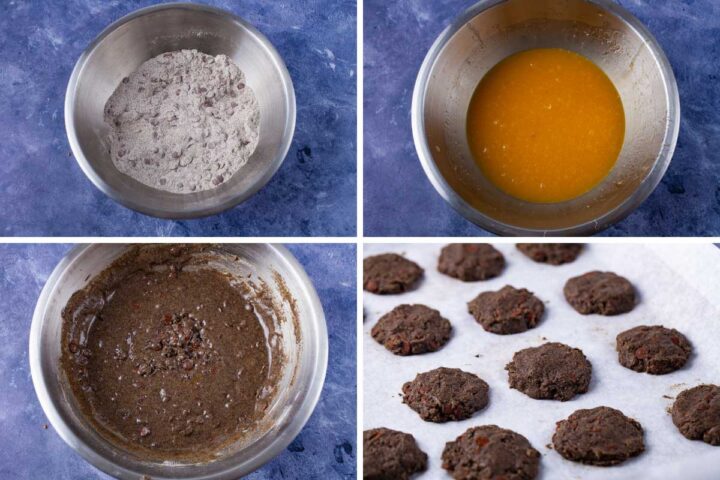 Besides softening or melting the butter, there is not much prep to it.
Mix the wet ingredients;
Combine the dry ingredients;
Pour the wet mixture into the dry spiced flour mix;
Fold in the chocolate bits of choice, if not already done;
Drop them on the baking sheet and bake.
That's it.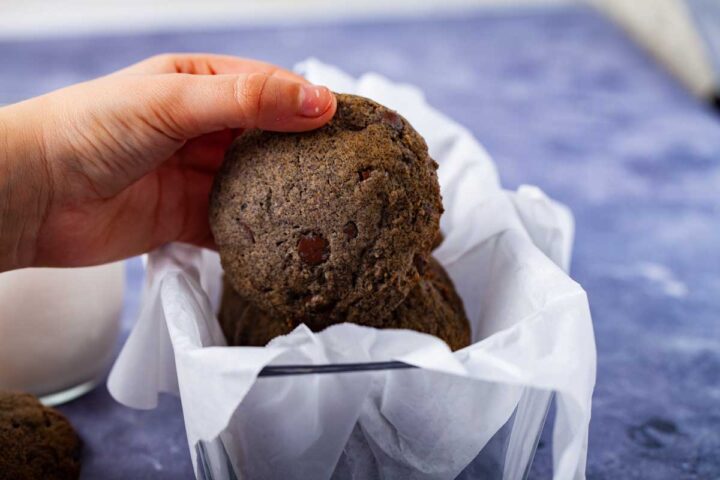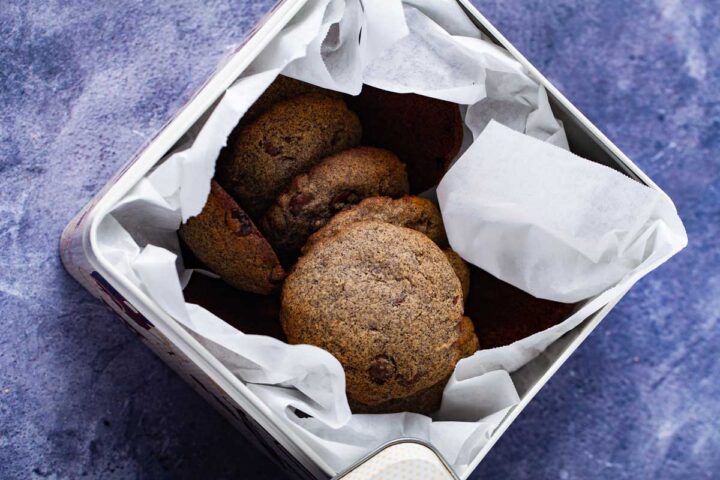 These buckwheat chocolate chip cookies are not overly sweet, but you will savor the burst of warm flavors and appreciate how easy it is to make them.
I was just thinking, if you made them a bit thinner, you could easily use these to make (n)ice cream sandwiches—worth a try.
Now go and dunk that buttery cookie into your favorite drink and enjoy that spiced and (dark) chocolate all-time favor combo. And no worries if they won't last long, you just make another batch in a jiffy.
Note: buckwheat is not a grain or grass either, like wheat. It's considered a "pseudocereal," a gluten-free fruit seed related to rhubarb that you can enjoy as a cereal or ground into flour. I have used also light buckwheat, as well as a combination of light and regular buckwheat. Just know that the latter gives a darker cookie and perhaps a slightly more earthy buckwheat taste.
More healthy treats you might like
If you buy buckwheat flour to make these beauties, I have some other recipes for you to finish up the rest of the package.
Lately, I am a bit obsessed with my waffle maker because they pop out the easiest and filling buckwheat waffles—well, my love for kitchen gadgets is fickly, it comes and goes and comes in cycles. But I do love a sturdy waffle and this one bakes in about 30 minutes and you'll have breakfast or a snack at-the-ready for the next few days.
For something more Belgian-esque during the weekends, I would certainly try the apple-bacon pancake—also with Buckwheat flour and such a fun, shareable brunch.
And if easy-bake healthy cookies are your thing, you will also love these no flour peanut butter cookies and flourless mango cookies.
Enjoy!
Want to make it later? PIN IT to your recipe board on Pinterest. Don't forget to SHARE and SUBSCRIBE and stay in touch!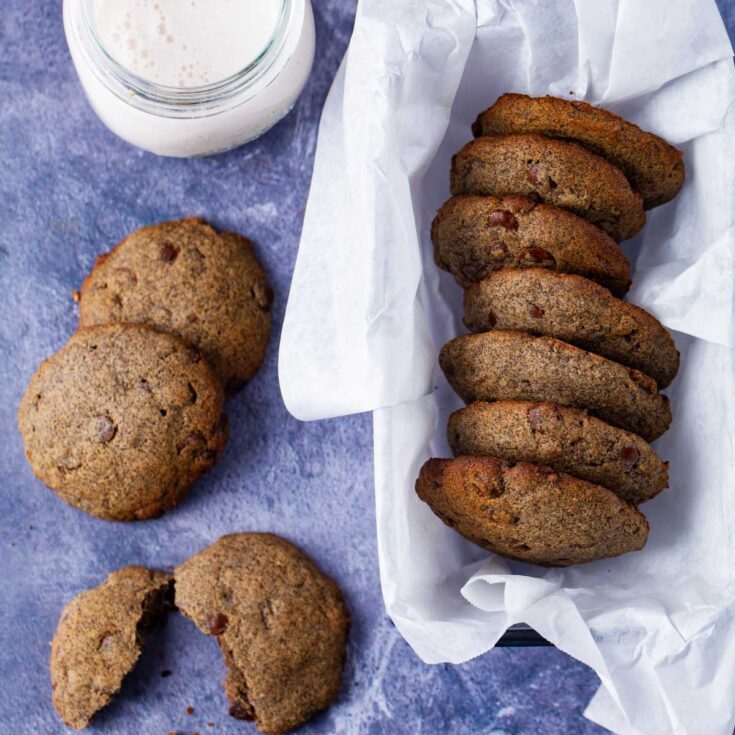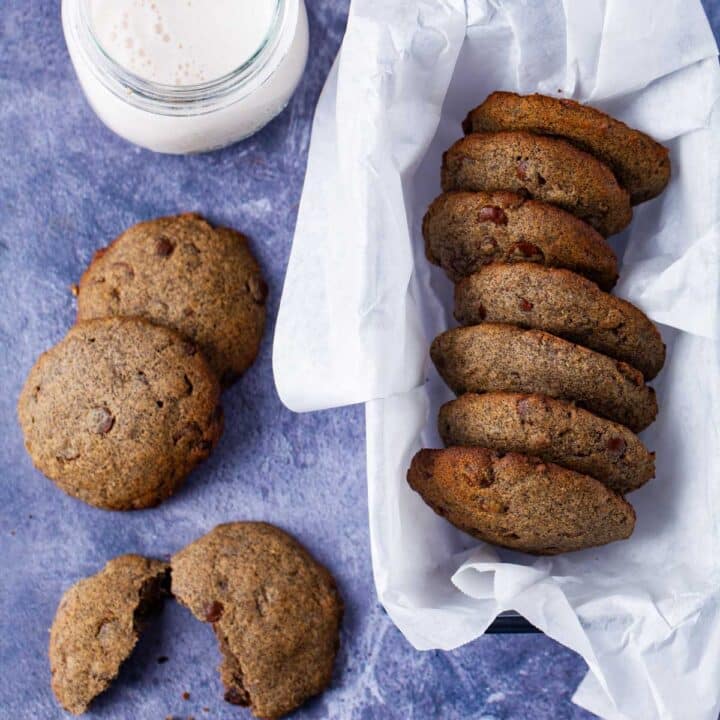 Buttery Buckwheat Chocolate Chip Cookies
Additional Time:
10 minutes
These warm spiced, and buttery buckwheat chocolate chip cookies have a deliciously chewy middle with a perfect slight crunch on the outside. Simply addictive.
Ingredients
1 egg, beaten
¾ cup (125 g) pure unsalted butter, softened or melted
1 teaspoon vanilla extract
⅓ cup (135 ml) brown rice syrup (or maple syrup)
1 ½ cups (200 grams) buckwheat flour
½ teaspoon cinnamon powder
½ teaspoon grated fresh ginger
½ teaspoon ground cardamom spice
1 teaspoon baking powder
¾ cup (100 g) chocolate carob chips or any other hand-chopped chocolate of your choice
Instructions
Preheat the oven to 375 ℉/ 190 ℃. Line a large baking sheet with parchment paper.
Place the egg, butter, vanilla extract, and syrup in a large bowl and mix everything until well combined.
In a separate bowl, combine the flour with the spices and baking powder.
Add the wet mixture to the dry mixture, then stir until everything is well combined. The batter will be wet, light, and slightly fluffy.
Fold in the chocolate.
Slightly wet your hands and take about a tablespoon of dough. Drop on the prepared baking sheet.
With your fingers, slightly round and flatten it at the top. Repeat with the rest of the cookie dough.
Ensure that the cookies are spaced well apart from one another.
Bake for 15 minutes, or until lightly colored.
Let the cookies cool for 10 minutes before serving (highly recommended).
Store in a brown bag or tin cookie box for a few days, or store them in an airtight container at room temperature for up to 5 days.
Recommended Products
As an Amazon Associate and member of other affiliate programs, I earn from qualifying purchases.
Nutrition Information:
Yield:

15
Serving Size:

1
Amount Per Serving:
Calories:

62
Total Fat:

1g
Saturated Fat:

1g
Cholesterol:

14mg
Sodium:

39mg
Carbohydrates:

11g
Fiber:

0g
Sugar:

1g
Protein:

2g
Disclaimer: This nutritional data is calculated using third party tools and is only intended as a reference.
This post was originally published in April 2017 and has been updated with an updated recipe, new pictures, and new information.