This classic Zeppole recipe, also known as Italian bite-sized doughnuts, is a simple fried (or air-fried) dessert or special morning treat that we usually make every year around Christmas and New Year or to celebrate special occasions.
They are made with a pizza or bread dough, softened with cooked russet potatoes, sweetened with black raisins and powdered sugar, and become deliciously crispy on the outside once (air) fried.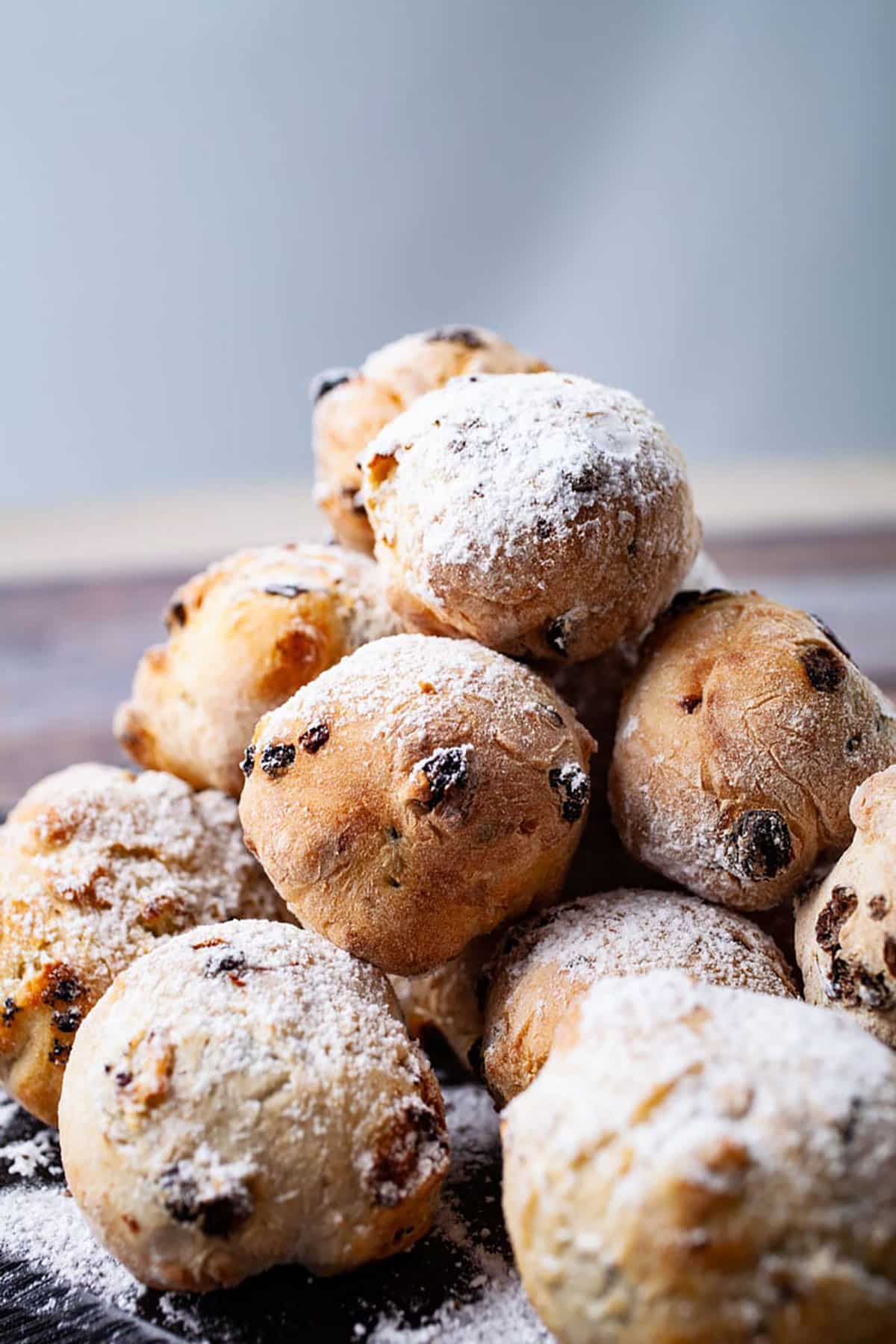 It's my homemade zeppole recipe we indulge in only a few times a year, and so worth making.
Like my grandmother, I still fill them with sweet black raisins and dust them with powdered sugar.
This recipe is close to the original, although I often air fry them these days. Let's make them!
Jump to:
What are Zeppoles
Traditionally it's yeast-risen dough, shaped into bite-sized balls and fried until golden brown.
It's a classic Italian pastry or doughnut that, depending on the region, can come with vastly different recipe variations and is served up in many different ways.
They can be made with or without eggs, water or milk, yeast or baking powder, butter or vegetable oil for frying, etc. Some even fill them with Nutella, jam, or pastry cream.
In our house, Christmas is celebrated with potato zeppole, piled up high and generously dusted with powdered sugar giving the appearance of a small winter Christmas tree.
Why you'll love this recipe
It's straightforward to make, and you only need a few simple ingredients.
They are a delightful treat for Holiday brunches, Christmas movie nights, or whenever you want to serve a festive treat at your table.
Traditionally fried, you can also air fry them for an easier and healthier version.
Everyone will love these small bite-sized doughnuts whether you serve them as a dessert or breakfast with that cup of coffee or cappuccino.
Main ingredients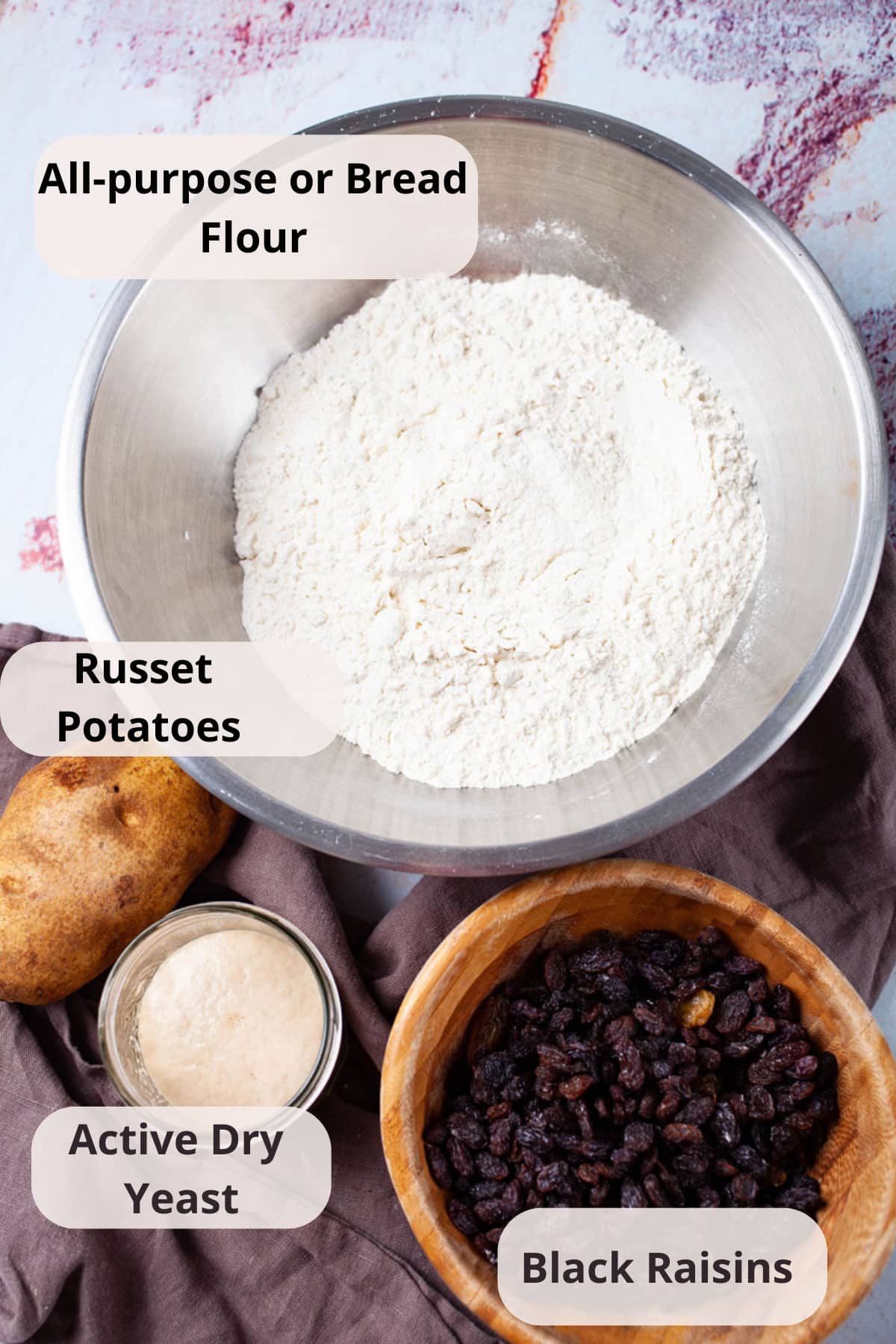 Flour: You can opt for either bread flour or all-purpose flour. But any leftover homemade pizza dough can easily be used and transferred into this yummy dessert.
Potatoes: The Russet is the best potato. Their starchy, almost floury texture will give softness to the dough.
Note: These potatoes are the key ingredient to giving these doughnuts a soft and light interior that makes for a perfect bite. Nobody will ever guess that potatoes are worked in these little fried dough balls.
Black raisins: It's our tradition to work in black raisins, thereby adding natural sweetness. I highly recommend it.
Note: If you are not a fan of raisins, opt for adding two to three tablespoons of sugar and maybe balance out that sweetness with the zest of one lemon (optional).
Yeast: It's a yeast dough, but I'm working with active dry yeast instead of fresh compressed yeast like we did growing up.
You'll have to activate the dry yeast (like in my Dried Fig Cake Recipe), which takes about 10 minutes, and then add it to the flour. Yeast adds that unique fermented bread-like taste and fluffs up the dough.
Additional ingredients (optional)
If you plan to fry them, you also need about 1.1 liters of flavorless (frying) oil.
And I highly recommend powdered sugar for sprinkling.
Equipment needed
For frying, you'll either need a small deep fryer or a deep pot if you don't have one.
If you have an air fryer, you can opt to make these doughnuts without any oil—still delicious and almost the same in taste compared to a deep-fried zeppole.
A stand mixer with a hook attachment comes in handy, but I knead and shape the dough by hand. So no worries if you don't own one.
How to make this traditional zeppole recipe
This recipe is super easy to make, and below are the step-by-step instructions.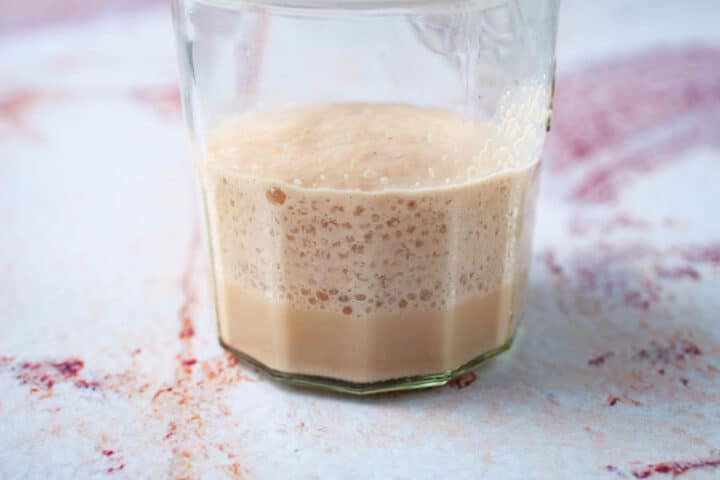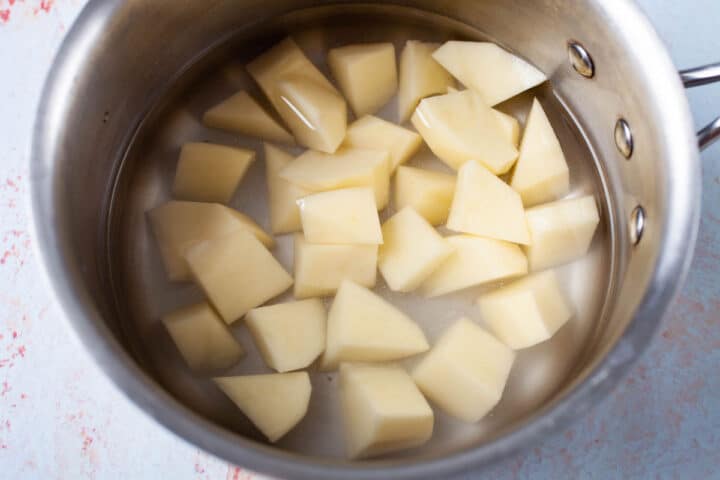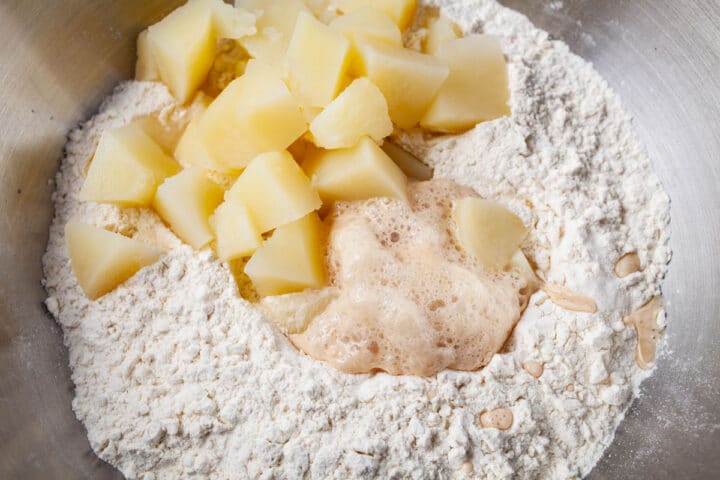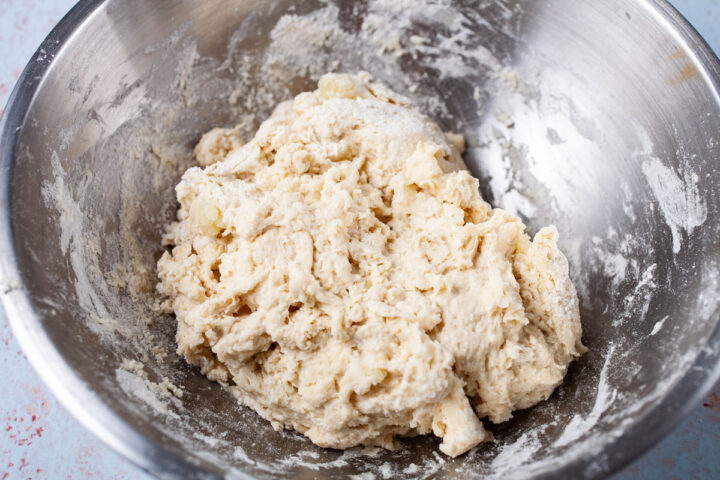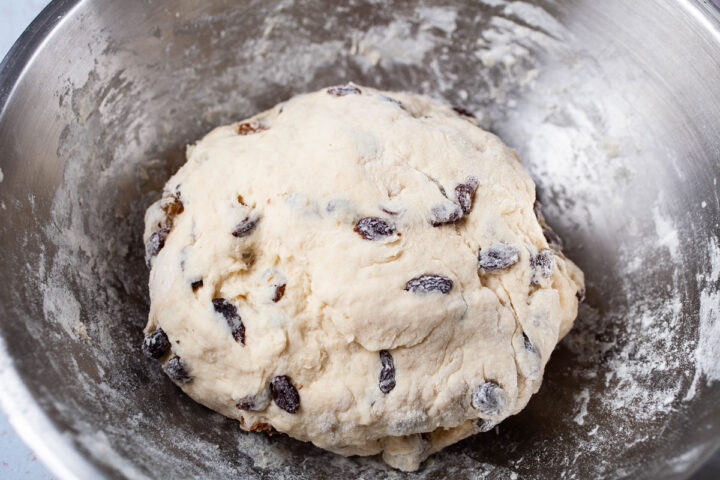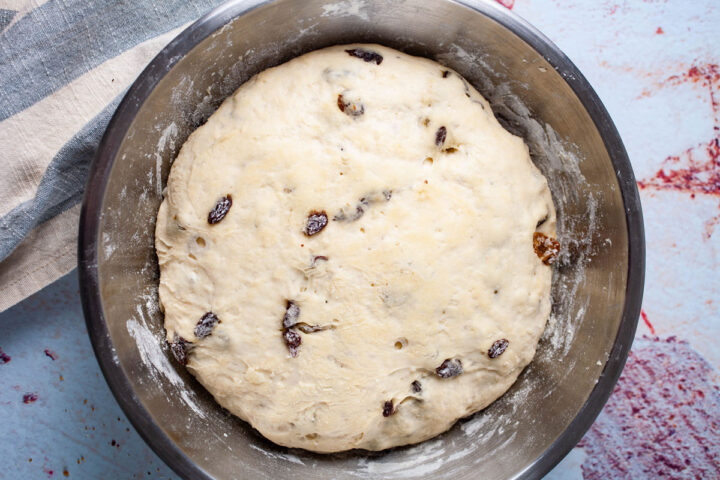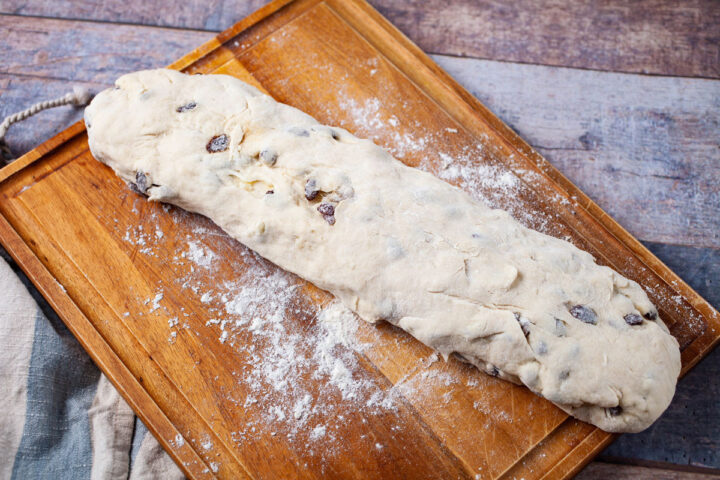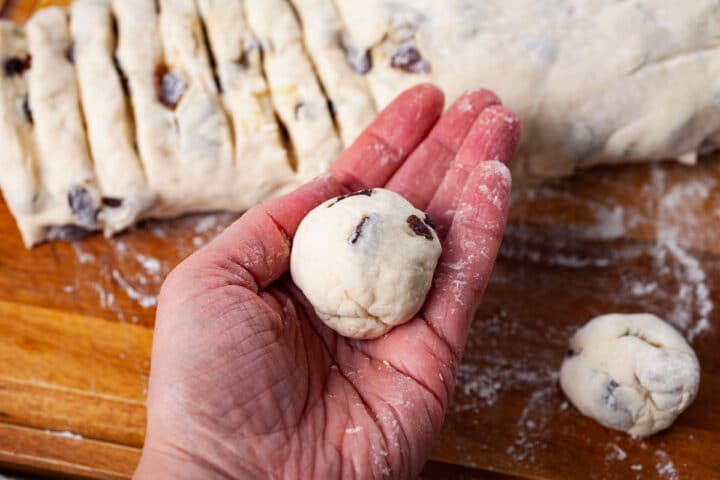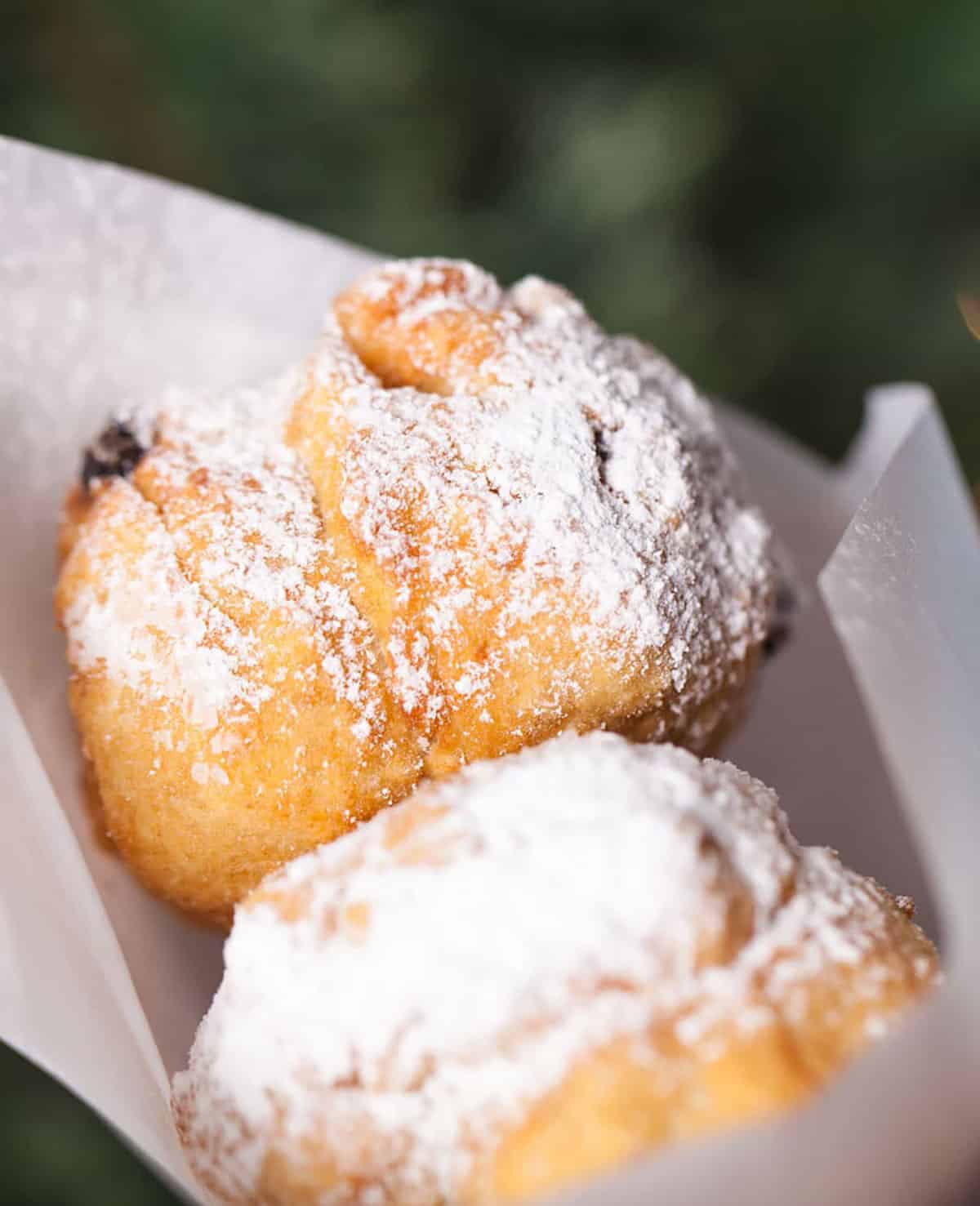 How to make the dough balls with an air fryer
It's super simple to make if you have an air fryer.
The hot air of the air fryer produces a beautiful crispy exterior without the use of oil and makes these zeppoles a tad healthier yet still delicious.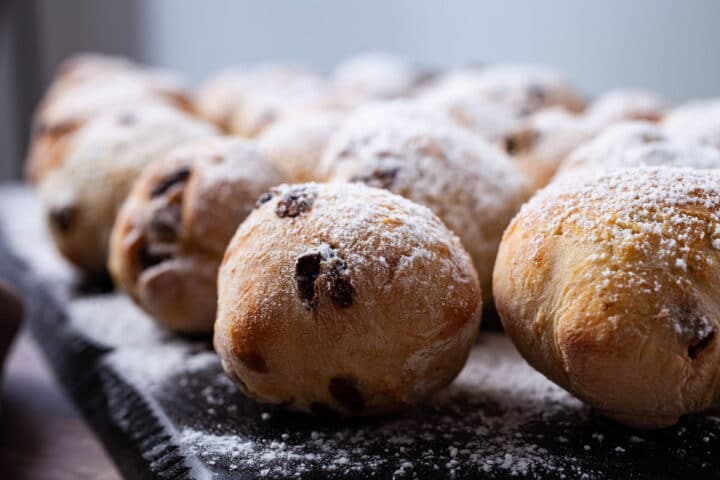 A few helpful tips:
Preheat the air fryer to 390 °F (200°C).
Fry only three to four pieces at a time (don't overcrowd them as they might end up soggy).
You'll need about 10 minutes in the air fryer but turn them around halfway through.
They should be crispy golden brown on all sides.
Immediately dust with powdered sugar while still hot.
Serving suggestions
The best way to serve my potato zeppole doughnuts is with powdered sugar dusted on top—a tasty and lightly sweet snack.
But because these fried zeppoles are a bit more on the doughy side and firmer than your regular beignet type of yeast dough, they go great with a cup of coffee for breakfast just as-is or with a jam or compote on the side.
I often enjoy them dipped in ricotta cheese sweetened with a drizzle of honey (totally optional) for breakfast or as a sweet snack.
For a more savory experience, try pairing them with a cheese table.
If you love them on the sweeter side as a full-on dessert, drizzle some chocolate sauce or maple syrup on top or dip in extra powdered sugar or cinnamon sugar.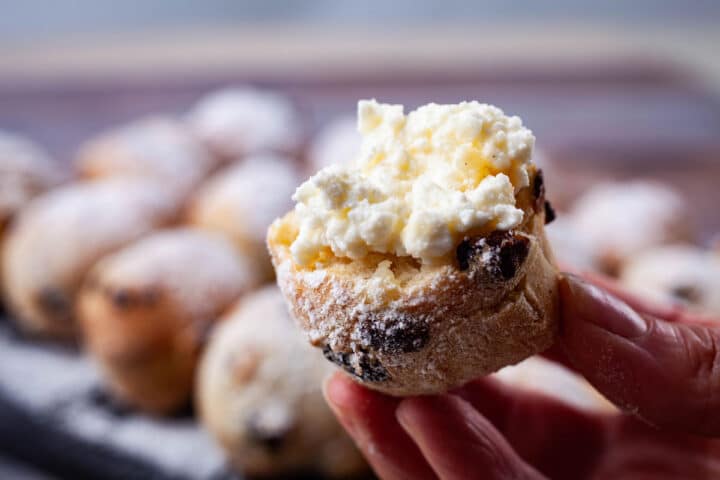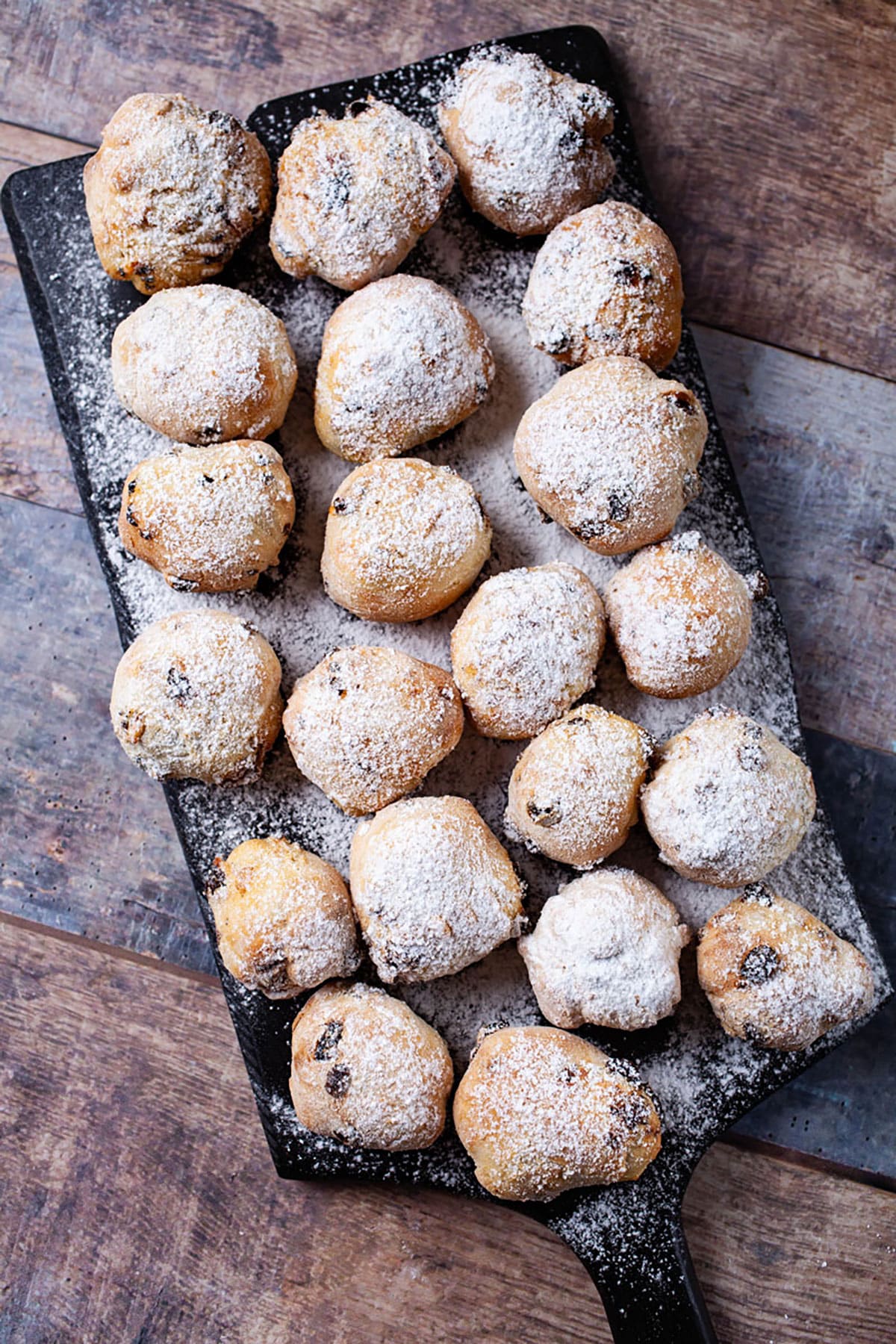 Recipe variations
There are so many versions of zeppole, sweet to savory. Some aunts make them with anchovies and cheese tucked in the middle of the doughnut balls.
Although I love anchovies, we prefer Italian fried dough on the sweet side.
My Italian fried dough balls have a more bread-like quality than what is made in some regions.
And I suspect that the raisins are an influence from the other side of my family (from Belgium and the Netherlands) that have their own fried doughnut version of "oliebollen."
If you are not a fan of the raisins, add a few tablespoons of sugar and some lemon zest to the dough to make them slightly sweet (see notes in the Recipe card).
Storage and reheating instructions
How to Store: Zeppoles are best enjoyed right away. But if you plan to eat them in the next day or so, store them in an airtight container and leave them on the kitchen counter at room temperature.
I like to add parchment paper between each layer so they don't sweat and become soggy. Or refrigerate for more extended storage.
How to Reheat: Often, I don't reheat them but let them acclimate at room temperature. They might have lost some of their crispiness, but they'll still taste so good.
You can also reheat in a low-temperature oven on a baking rack until warm through and to bring back the crispiness. Then, re-sprinkle with powdered sugar.
We love them and hope you'll love them too and give them a try this coming Holiday season or even celebrate the New Year with this Zeppole recipe!
Also Recommended
---
Don't forget to subscribe to my Monthly Newsletter!
Have questions? Simply comment below or message me. If you make this recipe, please leave a comment and a starred review below. Thank you!
---
📖 Recipe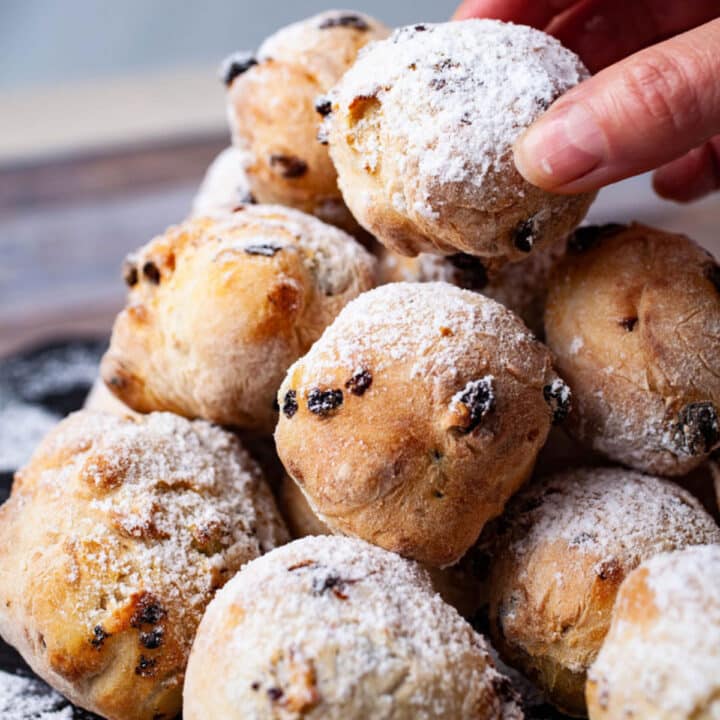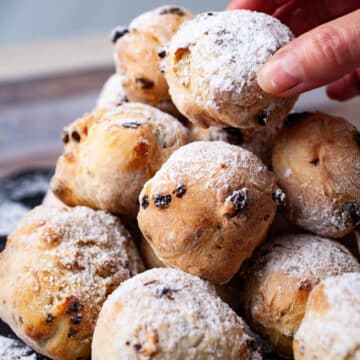 Zeppole
Mariska Ramondino
Our homemade zeppole recipe is super easy to make, deliciously sweetened with black raisins and served with powdered sugar. Fry them, or you can even brown them in an air fryer for a healthier version—a perfect celebratory treat!
Ingredients
9

ounces

russet potatoes, peeled and cut into small cube sizes—about one to two large peeled potatoes

255 grams

4

cups

all-purpose or bread flour

(17 ½ ounces or 500 grams) plus more for sprinkling the work surface

1

packet

active dry yeast, rehydrated according to package instructions

¼ ounces/7 grams

½

cup

lukewarm water, or more as needed

125 ml

2

cups

black raisins

290 grams

1

bottle

frying oil or enough for a small deep fryer (omit if using an air fryer)

33.8 fl ounces/1 liter

Powdered sugar

I like Lakanto Powdered Monk Fruit Sweetener
Instructions
Place the cubed-sized potatoes in a small pot and cover them with water.

Bring the water to a rapid boil over high heat, pot covered with a lid. Then reduce the heat to medium and cook the potatoes until they are soft or fork tender.

Drain the potatoes. Then place them back into the pot off the heat and mash them (optional), allowing all the steam to escape—reserve and allow to cool.

Place the flour in a large bowl. Add the yeast and the cooled potatoes.

Combine everything with your hands or use a stand mixer with a dough hook as an attachment. Then start vigorously kneading and add small amounts of water. The dough will be chunky and sticky at first. But keep kneading until you develop a loose ball (it'll be quick).

Then remove the dough from the bowl. Continue kneading on a well-floured flat surface and knead in the raisins, evenly distributing them. If you use a stand mixer, you simply add the raisins and let the mixer work in the dried fruits.

When you obtain a smooth and consistent dough (in about 5 minutes total), place it in a clean bowl, and cover with a clean, dry kitchen towel.

Let the dough rest and rise in a warm place or at room temperature for about 40 minutes or until the dough has increased in size by almost half.

Place the dough back on a flour-dusted work surface and shape it into a 14-inch baguette, about 2 ½ inches deep (see pics in the post).

Cut the dough crosswise into ½-inch pieces with a bread knife and shape each piece into a ball.

Preheat the deep fryer to 375°F/ 190 °C.

In batches of 3 or 4, fry the balls until golden brown (see note for air fryer).

Drain the fried doughnuts on a kitchen paper-covered plate, sufficiently spread out. Immediately sift powdered sugar over them.

Serve warm with extra powdered sugar on the side, or a ricotta cheese dip, sweetened with a drizzle of maple syrup.
Notes
Adding sugar: our homemade version usually does not include any sugar. These Italian fried dough balls are naturally sweetened with raisins and then topped with powdered sugar or dipped in sweetened ricotta cheese. But, if you like them on the sweeter side, mix in the flour 3 tablespoon of sugar before adding the yeast. If preferred, you can also add the zest of one lemon to balance out the sweetness (optional). Peel, cube, boil and cool the potatoes: count for about 15 to 20 minutes. Air fryer: for a healthier and less oily zeppole, you can also brown them in batches in an air fryer. They will still be delicious but will have a more bread-like structure. Preheat the air fryer to 390 °F (200°C). Fry only three to four pieces at a time for about 10 minutes (don't overcrowd them as they might end up soggy). Turn them around for 5 minutes to ensure that they will be crispy brown on all sides. What to do with leftovers: Although best enjoyed the same day, you can store any pieces in a brown paper bag on the counter if you tend to enjoy them in the next day or so. For more extended storage, place them in an airtight container in the fridge and enjoy them in 3 to 4 days. Then, you can reheat them in a 350°F/180°C preheated oven for about 7 to 10 minutes or in a low-temperature oven until warm through. Best when placed on an oven-safe baking rack to prevent any side from becoming mushy.
Add your own private notes
Whenever you come back to this recipe, you'll be able to see your notes.
Nutrition (% Daily value)
Serving:
1
doughnut
Calories:
145
kcal
(7%)
Carbohydrates:
33
g
(11%)
Protein:
3
g
(6%)
Fat:
0.4
g
(1%)
Saturated Fat:
0.1
g
(1%)
Polyunsaturated Fat:
0.1
g
Monounsaturated Fat:
0.04
g
Sodium:
6
mg
Potassium:
203
mg
(6%)
Fiber:
2
g
(8%)
Sugar:
0.1
g
Vitamin A:
1
IU
Vitamin C:
2
mg
(2%)
Calcium:
10
mg
(1%)
Iron:
2
mg
(11%)
Disclaimer: This nutritional data is calculated using third party tools and is only intended as a reference.
How to deep fry in a pot
If you hardly ever deep fry food, there is really no reason to own a deep-fat fryer. I did not use to own one for a very long time but eventually got one mainly to test a few recipes for the blog.
Instead, use a deep saucepan or pot with high sides and fry on the stovetop.
A few helpful tips when frying zeppole in a pot:
Prepare everything in advance.
Set up a deep dish next to the stovetop lined with paper towels to carry the zeppole once fried
Have at hand a slotted metal spoon or some sort of kitchen spider to carefully transfer the doughnuts out of the pot and into the deep dish.
Don't fill the pan with oil all the way.
Leave at least a few extra inches at the top because the oil will bubble and needs that extra room.
Leave plenty of room for the dough balls to float, and easily turn them around halfway through cooking time.
You need a fry thermometer to bring the oil to the required temperature—an extra tool to consider when frying on the stovetop.
In between batches, the heat of the oil might lower, so give it time to bring the oil back to the desired temperature before frying the next set of raw dough balls.
I suggest working with two or three pieces at a time only so the temperature does not drop too much.
Always carefully immerse the ingredients into the oil, and never leave it unattended.
Once every dough ball is fried, remove the oil from the stove and leave it to cool completely.
I usually pass it through a sieve once cooled and reuse it up to three times.