These are the most mouthwatering bunless burgers you need to complete your weeknight dinner meals or host outdoor family parties. Use these juicy hamburger patties to make a Mediterranean-style burger with your favorite toppings, or keep it super healthy and enjoy on top of a large fresh and tasty salad. A (low carb) dish that's big on flavor and light on effort.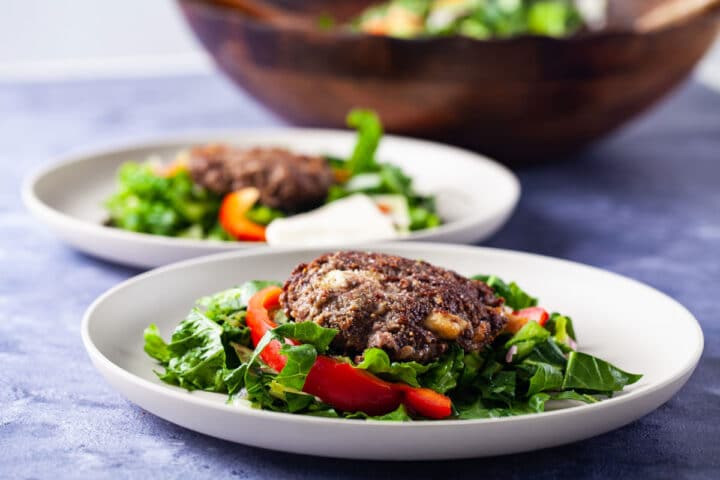 Burgers. I'll admit, they don't end up often on my dinner table. But when they do, I like them full of flavor, so they taste great on their own without the need for smothering on top all kinds of condiments—you still could, of course.
These are somewhat of gourmet-style bunless burgers. Although I am working here with few ingredients and a pretty easy recipe, I rely on a blend of quality ground beef and creamy Brie cooked in olive oil—a must—to achieve that satisfying juiciness. It all definitely has a Mediterranean and grain-free twist to it but one that you can easily adapt to please everyone.
Serve it on a large bed of homemade salad—the way I prefer it—or tuck these all-beef burgers into toasted buns piled with your favorite fixes. I would go with chopped red onions and pickles, for sure. Or maybe add some heat, as my husband likes it with some spicy green or red chopped peppers.
What you need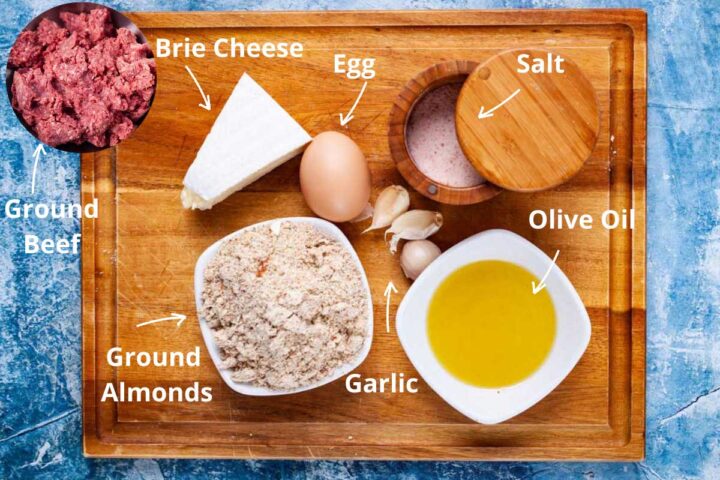 Note: you can swap the ground almonds for ground sunflower seeds. Both give a very subtle sweet flavor that pairs well with soft Brie. Place about ¾ cup of raw shelled almonds in a blender or coffee grinder to get the desired amount of almond meal in this recipe.
Keep it low carb
By ditching the bun and serving it over a hearty homemade salad—recipe included.
A refreshing and simple Mediterranean salad can give you as much satisfaction.
And if you'll make the salad as the burgers are sizzling on the stove—while keeping an eye on them—this family dinner is on the table in less than 40 minutes.
These all-beef bunless burgers pair just as well with a creamy kale-apple salad to switch it up now and then.
And in the summer months, you should definitely try this nourishing mango-avocado salad as a side—incredibly refreshing.
Or make your best healthy-ish burger ever
Nothing is to stop you from turning these non-traditional hamburger patties into delicious sumptuous burgers with your favorite toppings. In that case, sliced red onions, pickles, red beefsteak, or Roma tomatoes, and a brush of olive oil sprinkled on the inside of your favorite buns are highly recommended.
An excellent substitute for regular burger buns is my homemade gluten-free biscuits—baked either with Buckwheat or Teff flour. They are crunchy and firm on the outside yet deliciously soft inside.
Or serve the beef burgers and the salad with heavenly spiced oven-baked potatoes in case you are planning that backyard family dinner party.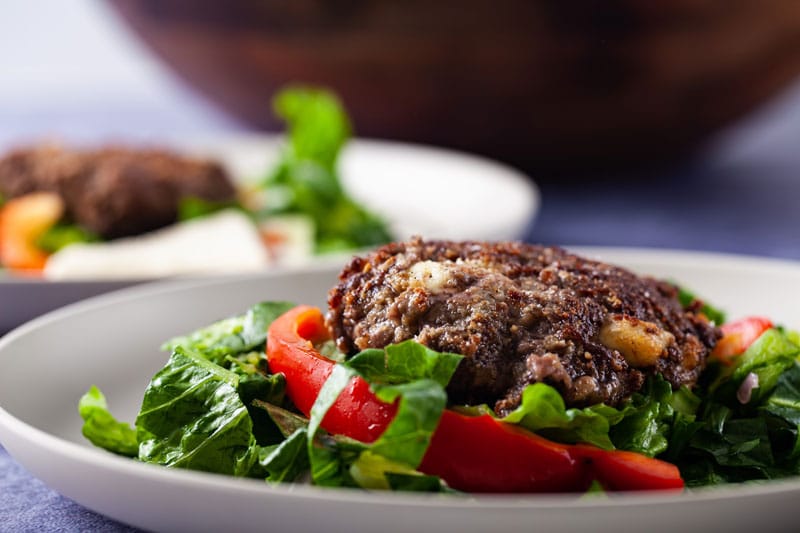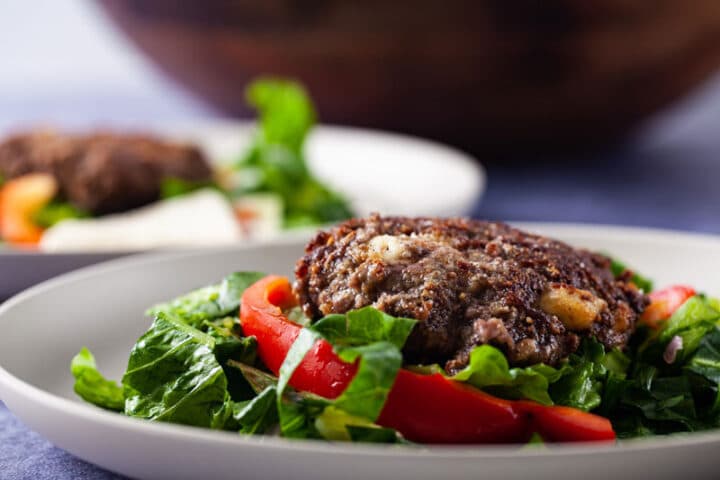 How to make better burger patties on the stove
Although the flavors and ingredients are different from your usual simple burger, it's still a straightforward recipe that easily comes together. But you'll appreciate the creamy touch from Brie cheese that makes this recipe incredibly tasty.
Let's talk about a few quick tips to keep in mind when you make these grain-free burgers. It will help with keeping the meat patties from falling apart or turning too dry.
Choose meat with at least about 15 to 20 percent fat content and is 80 to 85 percent lean. You need a bit of that natural fat for better flavors and a juicier outcome.
Keep the meat chilled in the fridge until you are ready to make the hamburger patties. If you form the burgers and are not prepared to immediately cook them on the stove, keep them refrigerated.
Chop the cheese in advance before working it into the meat mixture. You want to handle the meat as little as possible to keep everything together.
The egg and the grounded nut meal add extra taste and help as a binder.
I add only one teaspoon of salt to the mixture. The rest of the seasoning is best done when the burgers are sizzling on the stove.
Try not to flip the burgers until they are done on one side (between 4 to 5 minutes), then flip them over to cook the other side for another 4 to 5 minutes.
Cook your burgers in good olive oil. It makes all the difference, locks in the moisture, and creates incredible flavors.
For this recipe, I rely on simple ingredients that give these patties a creamy and delicious taste:
a soft and sophisticated cheese like Brie—preferably from grass-fed animals;
the pleasant aroma of garlic and olive oil;
the mild nutty flavor of roasted and ground sunflower kernels or raw almonds;
the richness of an egg;
simple seasonings of salt and pepper (optional);
And, of course, ground beef.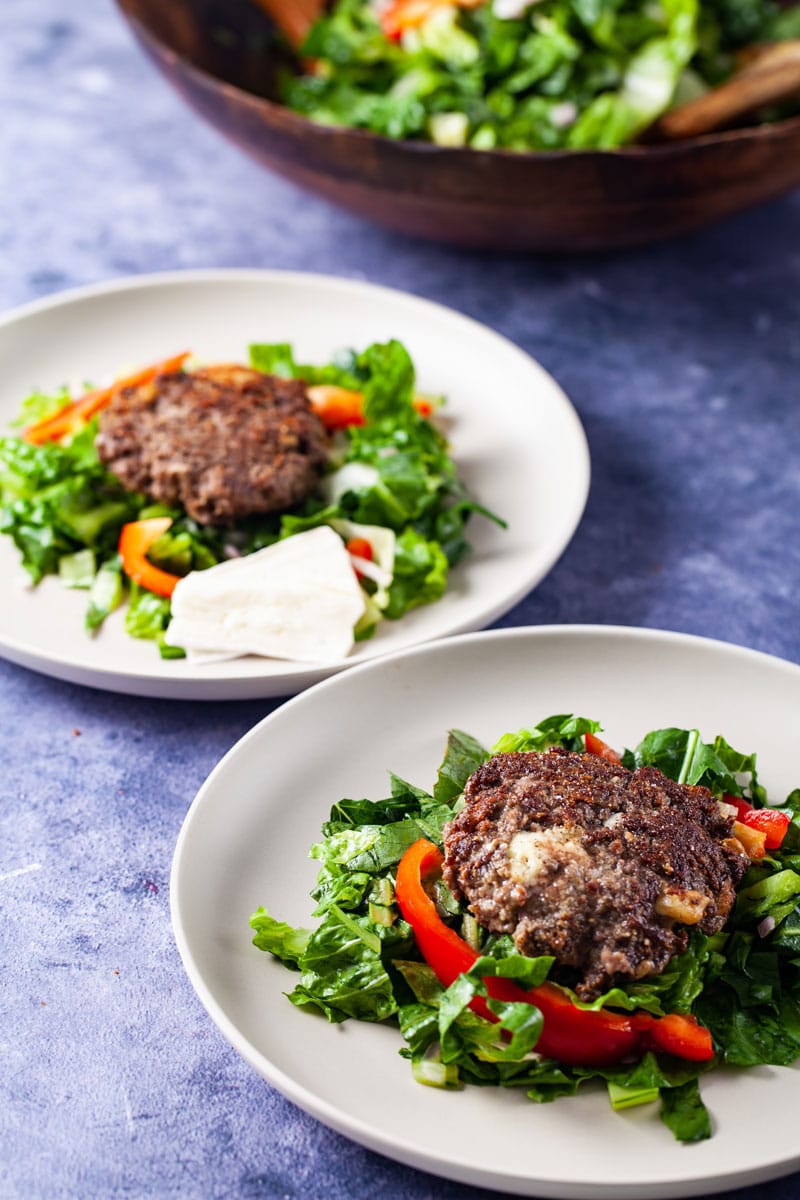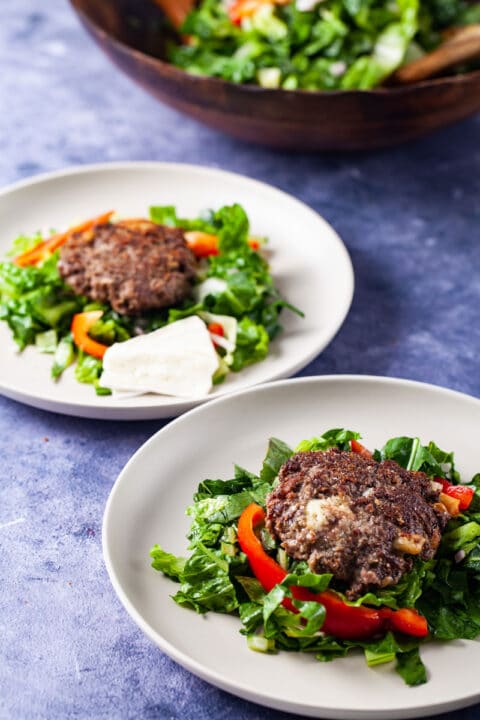 Additional Recipe Notes
I make my burgers on the thicker side and usually make about six large or ten smaller meat patties with the given amount of ingredients.
It is best to divide the mixture equally into either six to 10 pieces.
While the olive oil warms up over the stove, I roll each piece quickly into a ball.
Then use the palm of my hands to flatten them into patties before I place them directly in the skillet.
I like to sprinkle the bottom of the pan with a few pinches of salt before the olive oil warms up and then again season the other side once I flip the burger.
What to do with leftovers
You can store cooked burgers in the fridge for up to 4 days in a sealed container. Although you can reheat them quickly in a microwave, I prefer to do so directly in the skillet
Take the leftover hamburger patties out of the fridge. Place them on the kitchen counter and let them sit for a minute or two at room temperature.
Reheat a little bit of olive oil (one tablespoon) over medium-low heat in a pan with a lid;
Place the leftover patties in the warmed skillet;
Cover the top and let it cook for one to 2 minutes on one side;
Then flip and cook for another one to two minutes or until sufficiently warmed
Note: these leftover burgers also taste great when served cold, rested for a few minutes at room temperature out of the fridge, chopped, and tossed over a salad—great quick meal prep idea for lunch.
Make a quick Meditteranean Salad
A bit of a warning, I do have a profound love for fresh and simple salads that rely on very simple seasoning. In this case, I want the gourmet burgers be the heart of the dish complimented by the sweetness of romaine lettuce with a few dandelion greens—it will cancel out all its bitterness, yet, you get all the health benefits of this remarkable vegetable.
The salad recipe below adds capers, shallots, red bell peppers, extra virgin olive oil, and a tad of vinegar or lemon juice to top it off with the right amount of punchiness—voila, a filling, healthy and satisfying low carb meal!
Recipe variations
Why not add your twist to these bunless burgers?
Try a different type of meat. Turkey comes to mind. But to keep Turkey burgers juicy, mix lean ground Turkey breast with ground thighs and drumsticks that have a fat percentage closer to ground beef. You can ask your butcher to create a great mix, or most "ground Turkey" already contain both dark and white meat (just check the package content.)
Replace the Brie with Parmesan cheese for a sharper and nuttier taste.
I hope you will enjoy them as much as we do!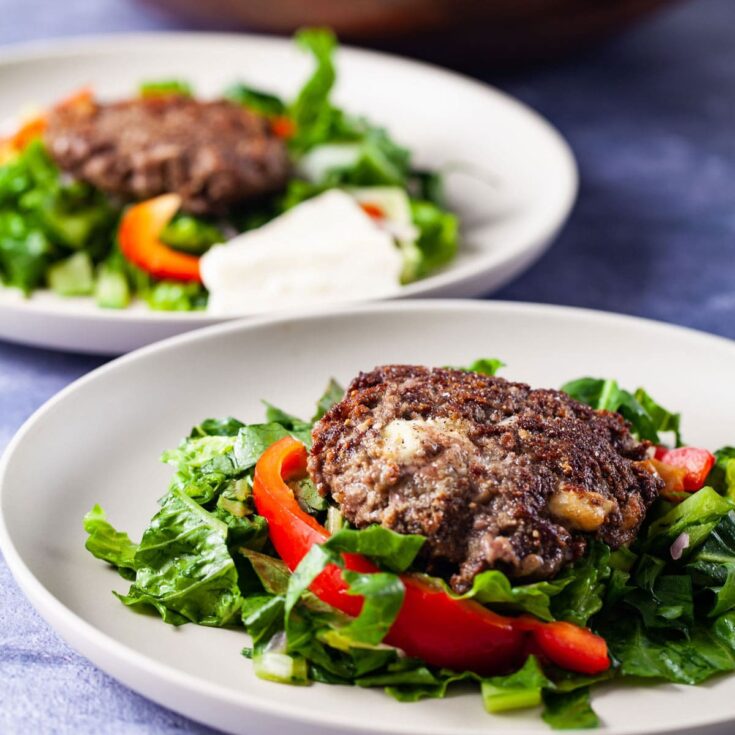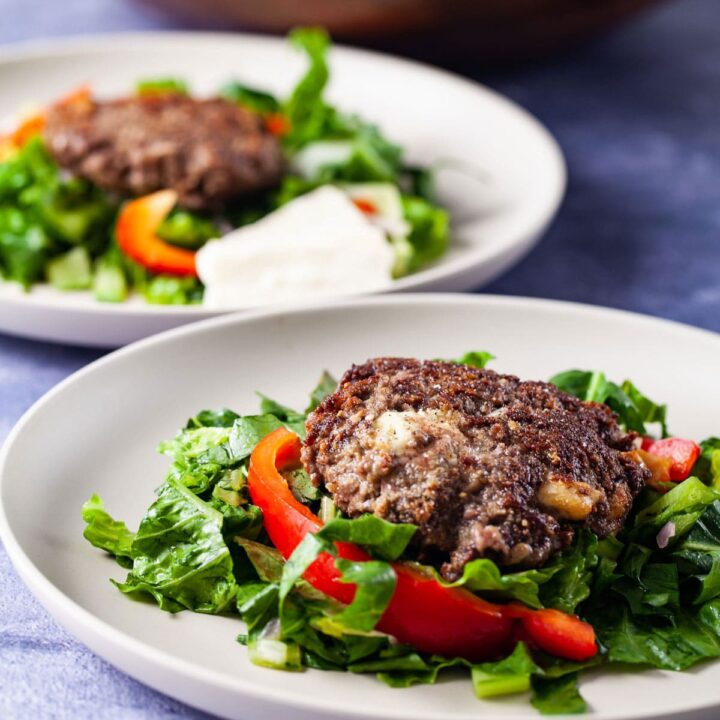 Bunless Burger with Buttery Brie
Yield:
6 TO 8 SERVINGS (about 6 to 10 hamburger all-beef patties)
These delicious bunless burgers are grain-free, gluten-free yet incredibly juicy and full of flavor—perfect for low carb dinners, or outdoor picnics.
Ingredients
HOW TO MAKE THE ALL-BEEF PATTIES:
1 ½ pounds/ 680 grams ground beef (you can go up to 2 pounds)
4 ounces (110 grams) soft Brie (rind included), cubed
2 to 3 garlic cloves, finely chopped
1 cup ground raw almonds or roasted and unsalted sunflower kernels
1 egg
1 teaspoon salt
2 tablespoon olive oil
Extra salt and pepper to taste
HOW TO MAKE THE SALAD:
1 head of romaine lettuce, washed, dried, and chopped
6 dandelion leaves, chopped
½ shallot, chopped
1 small red bell pepper, cut into long strips
2 tablespoons small capers
2 tablespoons extra virgin olive oil
2 teaspoons apple cider vinegar or lemon juice
Salt
Instructions
MAKE THE ALL-BEEF PATTIES:
Place the ground beef in a medium-sized bowl. With your fist, make a dent in the middle of the meat.
Add cheese, garlic, ground almonds, egg, and one teaspoon of salt into the bowl.
Start kneading the mixture with your hand until all ingredients are well combined. Break down any bigger pieces of cheese with your fingers and divide the cheese equally into the meat. Try to handle the meat as quickly and as little as possible; set it briefly aside.
Coat the bottom of a large skillet with 2 tablespoons of olive oil and heat over medium heat.
Divide the meat mixture into six to 10 equally-sized pieces. Roll each piece into a ball. Use the palm of your hands to flatten the balls into meat patties.
Then cook the meat patties for about 5 minutes on both sides or until well browned, and the meat is cooked through.—season with salt to taste and black pepper (optional).
MAKE THE SALAD:
Combine all greens, shallot, bell pepper strips, and capers in a salad bowl
Season with olive oil, vinegar, and salt to taste.
Toss the salad to ensure that the dressing is evenly distributed.
Notes
You can ground the almonds or sunflower kernels using a small coffee grinder or any blender. Use about ¾ cup of raw almonds to get about one cup of almond meal.
Chop the cheese into small pieces before mixing it with the meat.
Try not to overhandle the meat and work as quickly as possible to form hamburger patties.
Please don't make the burgers too large. Otherwise, they won't hold and might fall apart in the pan.
Nutrition Information:
Yield:

10
Serving Size:

1
Amount Per Serving:
Calories:

481
Disclaimer: This nutritional data is calculated using third party tools and is only intended as a reference.
Other low carb dishes you might like