Are you looking for crunchy, lightly sweet and fiber-rich waffles that you can enjoy either for breakfast, as a snack or transfer into sweet-savory sandwiches? Then I have the perfect recipe for you!
I love making waffles during the weekends and often concoct a batter with ingredients lingering in my pantry and need to empty. Most of these improvisations never make it on the blog. There is sometimes the intent to make them again and write down the recipe, but then weeks go by, and I forget to my family's dismay. So I had to promise to write down this recipe immediately, and I have made them now a couple of times. They are crunchy with that perfect amount of sweetness and super easy to make. But what I love most about them is that they easily can be stored and enjoyed as a (school) snack or sandwich during the week. These are not your typical fluffy waffles. Although their texture is light, they are a little bit more dense, filling and incredibly satisfying.
What to eat with waffles for breakfast?
I love combining sweet flavors with savory ones. You can always top them with some maple syrup, but these type of waffles are better suited with something more substantial. Here are some suggestions and how my family enjoys them on a Sunday morning:
Spread some (homemade) jelly on one side of the waffle and top it off with a sunny side up egg, letting the egg yolk run over the waffle. If you are thinking more like scrambled eggs and bacon, then I am happy to tell you that they are a perfect match for these waffles.
A healthier option is scrambled eggs paired with cucumber or avocado slices.
Enjoy with your favorite nut butter and fruits such as berries, sliced bananas or a fruit jelly
I love adding two tablespoons of my favorite probiotic (or Greek yogurt) and top it further off with hemp seeds, some cinnamon powder, chopped nuts and a drizzle of honey (optional.)
My husband loves to spread real butter or coconut butter on top when they are still hot. It is deliciously gratifying.
These waffles are versatile in every single way and we often also enjoy them as a snack:
Pair them with your favorite cup of tea or coffee as-is. Once cooled they taste like a guilt-free cookie you can enjoy any time of the day. I even brown bag them and place them as a school snack together with a piece of fruit in my daughter's backpack! It is healthy and an ideal nut-free option!
Make savory-sweet waffle sandwiches. I love a more aged hard cheese or soft mozzarella cheese and a tablespoon of jelly (optional.)
I sometimes even enjoy them paired with a large green salad for lunch, especially one that contains like creamy avocados. Be sure to also check out my Sweet-Kale Apple salad with Creamy Avocado Pesto!
How best to store waffles:
I have to admit, these waffles never last long, but I want to give you a couple of options in case you want to double the ingredients and make a big batch for the week.
If you are not going to consume them immediately, always allow them to cool down sufficiently. If you plan to enjoy the waffles either the same day or next, wrap them in parchment paper and let them sit on the counter or place them in a cookie box.
Wrap them in parchment paper or brown bag them and store them in the fridge if you want to enjoy them for the next 2 to 3 days. I always either briefly place them in the microwave (for about half to one minute) to warm them again, or you can also make them crispier by putting them in the toaster.
For more extended storage, freeze them. I never do that. It is such a simple and no-fuss recipe that I instead make a new fresh batch for the week. If you opt to freeze waffles, I suggest to first wrap them individually with parchment or wax paper and then place them in a freezer bag.
I hope you enjoy these homemade and golden prune waffles as much as my family does!
If you make this recipe, please let me know! Leave a comment, and don't forget to tag a photo #mychefsapron on Instagram. I'd love to see your creations! Also, don't forget to FOLLOW ME on Instagram, Facebook, and Pinterest to see what other fun things I share.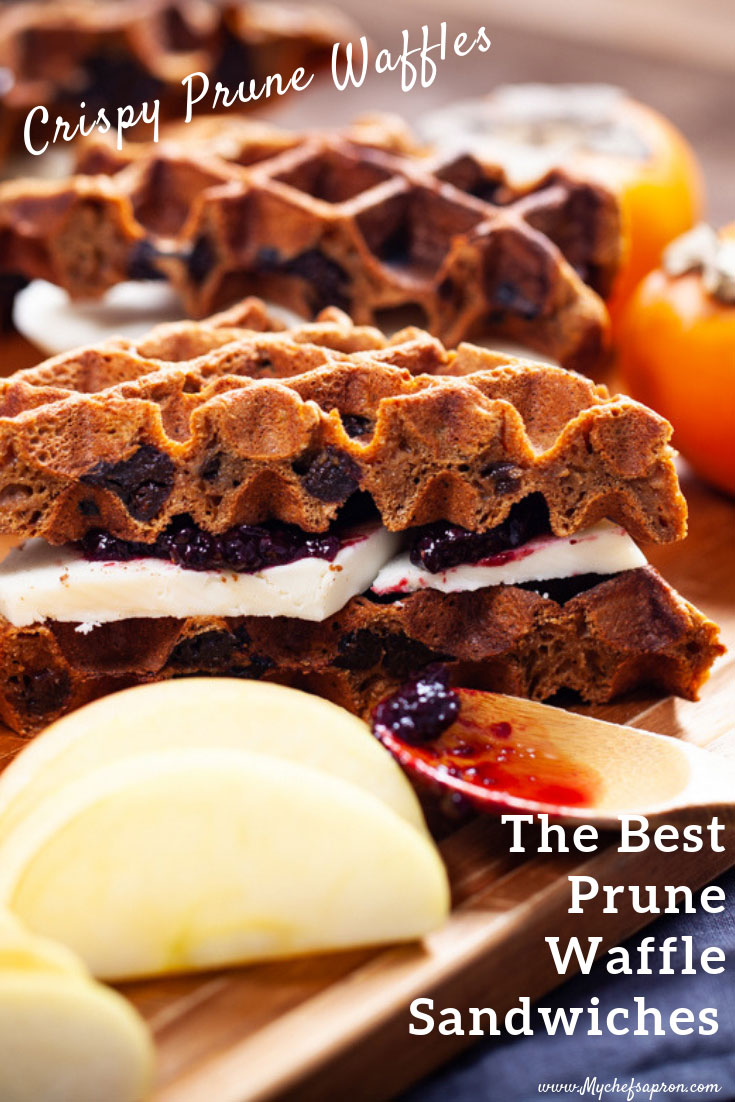 THE BEST PRUNE WAFFLES AND WAFFLE SANDWICHES
A healthy and delicious prune waffle recipe with unexpected ideas on how to enjoy them for breakfast or as a waffle sandwich!
Ingredients
2 cups red fife flour (or a sprouted grain flour)
30 pitted prunes, quartered
1 egg, beaten
2 cups pea milk (or plant milk)
4 tablespoons Unsulphured Molasses
5 pinches Stevia Powder
some butter or coconut butter, melted to coat the inside of the iron waffle maker
Instructions
Take out your waffle maker and preheat on a high setting (my waffle maker has seven settings, and I use setting 6.)
In a large bowl, combine the flour with the prunes, set aside.
In another bowl, whisk the egg into the milk. Stir in the molasses and the Stevia powder.
Slowly stir the liquid mixture into the dry mixture until you have a beautiful brownish batter.
When preheated, grease the waffle maker plates lightly with butter. Place one cup of the batter into the waffle plates. Close the lid and allow the dough to cook. When ready, remove the waffles gently with the tips of a wooden fork or spatula. Repeat until all batter is gone.