This refreshing Basil lemonade is refined sugar-free, sweetened only with delicious Honeydew melon, (Meyer) lemons, and Stevia powder (or alternative sweetener).
Fresh Basil adds beautiful aromatic qualities to this simple lemonade recipe making it the perfect summer sipper to enjoy hot days or entertain guests!
Plus, you have a fresh batch ready in 10 minutes.
This thirst-quenching lemonade drink is already delicious as-is. But you can also make it sparkling or turn it into a lemonade cocktail.
Jump to:
Lemonade tastes so much better when homemade. Don't you agree? Mainly, you get to decide how to sweeten it and make your unique blend.
This simple lemonade recipe doesn't just rely on lemons. I am also adding honeydew juice from a perfectly sweet ripe honeydew melon.
The Honeydew's sweetness is balanced with fresh basil leaves, which gives this basil lemonade that gorgeous green color and unique taste.
Plus, Basil and lemons are a match made in heaven when it comes to pairing flavors.
It's a delicious, unique aromatic homemade drink that invites you to sit back and unwind while enjoying your sips.
What's in this Basil lemonade
Fresh sweet Basil
Is there anything that does not pair well with Basil? I have yet to find it. Basil has that lovely sweet yet savory taste with a herbaceous, almost floral quality.
A couple of leaves are enough to balance out the lemonade's sweeter flavors and get that lovely green color and more sophisticated aromatic qualities that make this lemonade so unique.
Start with five to seven large basil leaves and taste test. Then add more if you want a more robust basil flavor.
Honeydew juice from Honeydew melon
Honeydew melon is about 90 % water but also contains essential electrolytes like potassium, magnesium, sodium, and calcium.
So adding fresh Honeydew juice to this lemonade drink makes it a perfect hydrating sipper and not only during warmer Spring or hot Summer days—think post-workout to replenish your body.
I usually use about half of one Honeydew melon, which translates to about 5 cups of chopped Honeydew per 1 ⅓ cups of lemon juice for balanced flavors.
Don't discard its seeds. I always just tossed them in the blender. They are highly nutritious and rich in fiber!
See the note below on how to pick Honeydew melons.
Meyer lemons or lemons
If you can, try to use Meyer lemons—readily available in stores when in season (from November until May.)
What are Meyer lemons? They have a deeper, more orange-toned color than regular lemons.
And although they still have that pleasant citrusy taste, they also have a much sweeter and floral flavor because they are a cross between regular lemons and mandarin oranges.
If you use regular lemons, adjust the amount of Stevia powder or your choice of sweetener to offset their tart taste.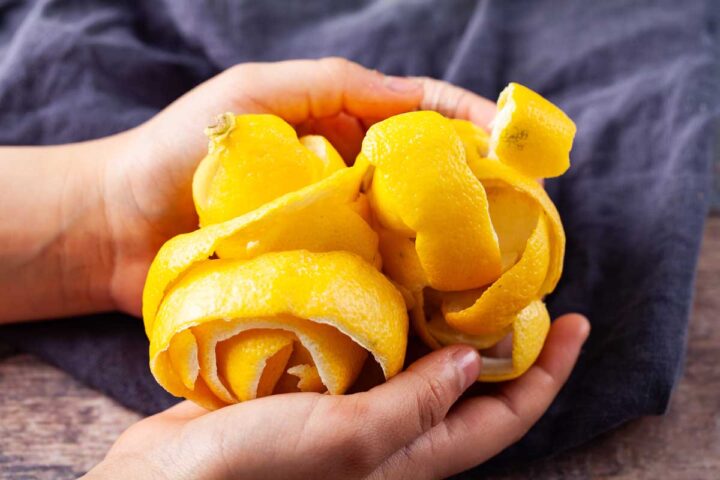 Your choice of sweetener
I prefer stevia powder or Monk fruit sweetener to make it a sugar-free lemonade.
You don't need much because the Honeydew juice already adds plenty of natural sweetness.
But you can easily adjust until you get the desired sweetness you prefer.
How to make this unique lemonade recipe
This recipe makes about 7 cups of sugar-free lemonade and comes together quickly.
If you're serving a larger crowd, double or triple the ingredients.
Equipment I use:
Steps:
Juice the fresh lemons. Bottled juice from the store won't taste the same. So I juice the lemons with a manual hand squeezer first (to remove any lemon seeds).
Add the lemon juice to a blender along with the Honeydew melon, basil leaves, sweetener, and water.
Blend everything until you get a beautiful greenish color and the basil leaves and melon are broken down.
Then pour the liquid through a strainer straight into a large enough pitcher. You will have very little pulp left.
Taste and stir in more sweetener if desired.
Enjoy immediately with or without ice cubes or store in the fridge to cool.
And voila! You have a unique and refreshing Basil lemonade!
Note: You can also use a juice extractor. In that case, throw all the peeled fruits and Basil in the juicer, then pour the juiced liquid into a pitcher and stir in the water and desired amount of sweetener.
Make it sparkling
Love sparkling lemonade recipes? Make this lemonade recipe without the recommended cups of fresh water.
Then stir in 3 cups of sparkling water to the lemon, Basil, and honeydew base juice in a pitcher.
Taste test and add more instant fizz or sweetener if preferred.
Make a Basil cocktail
There's nothing like a fun little summery lemonade cocktail. And this basil drink can quickly turn into one.
Hydrating & Entertaining
I love making this simple lemonade recipe.
How long can you keep homemade lemonade
I keep my homemade lemonade in the fridge for up to 4 or 5 days.
But you can also freeze any leftovers and use them:
I hope you'll try this refreshing, tasty basil lemonade that contains only healthy ingredients!!!
Always love to hear if you tried this recipe and if it worked for you. Don't forget to subscribe to my Monthly Newsletter!
Enjoy!
📖 Recipe
Honeydew and Basil Lemonade
Mariska Ramondino
A refreshing and beautiful Basil lemonade made with (Meyer) lemons, Honeydew melon, and fresh Basil, and only sweetened with a touch of Stevia or Monk fruit sweetener! Delicious as-is, or make it sparkly or into a lemonade cocktail.
Ingredients
1 ⅓

cups

freshly squeezed lemon juice (juice from about 5 (Meyer) lemons—see note

300 ml

5

cups

chopped Honeydew melon, (about ½ of Honeydew melon, depending on its size)

720 grams

7

large fresh basil leaves

plus more to garnish (you can start with 5 and then work your way up to 7 based on preference)

5

pinches

Stevia Powder

or 3 tablespoons Monk fruit sweetener

3

cups

of fresh water or sparkling water—see note
Instructions
Combine lemons juice, honeydew melon, basil, and water in a blender.

Add the sweetener.

Blend until you get a beautiful greenish juice and the basil and melon are completely broken down.

Use a large strainer and pour the drink mixture through

the strainer

into a large pitcher

Alternatively, you can use a nut milk bag—my preferred choice. Place the bag in a large bowl. Pour in the basil liquid. Close the bag at the top and gently start squeezing out the juice over the bowl until you only have pulp left in the bag. Discard any pulp—you will have very little. Then pour the basil lemonade into a pitcher.

Adjust the amount of sweetener to taste, if desired.

Pour into your favorite glass(es) and garnish with some extra Basil leaves.

See note on making a sparkling drink or a basil lemonade cocktail.
Notes
Equipment: You need a sifter, or you can also use a nut milk bag (I love the one from Ellie's Best), and a blender. But you can also use a juice extractor instead.
Note on lemons: I recommend Meyer lemons, a cross between regular lemons and mandarin oranges, since they have a much sweeter and floral flavor. If you use regular lemons, you might want to increase the amount of sweetener to offset their more tart taste.
Make it sparkling: If you want to make a fizzy lemonade drink, simply blend and strain all the ingredients without the 3 cups of fresh water. Pour the basil lemonade liquid into a pitcher and then add 3 cups of sparkling water. I love Mountain Valley.
Make it a lemonade cocktail: Wet the rim of your glass (see pics) by dipping it into a slice of lemon, then into some coconut sugar or monk fruit sugar. Then add about an ounce of your favorite vodka, fill up the glass with the Basil lemonade and garnish.
Colors: The drink's color might vary based on the type of basil used and the color of the honeydew melon.
Adjust flavors: always taste test before serving and make adjustments until you get the basil lemonade that is perfect for you:
Love it more on the tart side—then add more lemon juice
Want it sweeter—add more monk fruit or Stevia
Want a more herbal flavor—then add more basil
If too strong, dilute with water.
Make sure that your Honeydew melon is ripe enough with a nectarous juicy taste.
Add your own private notes
Whenever you come back to this recipe, you'll be able to see your notes.
Nutrition (% Daily value)
Serving:
1
cup
Calories:
54
kcal
(3%)
Carbohydrates:
14
g
(5%)
Protein:
1
g
(2%)
Fat:
0.3
g
Saturated Fat:
0.1
g
(1%)
Polyunsaturated Fat:
0.1
g
Monounsaturated Fat:
0.01
g
Sodium:
44
mg
(2%)
Potassium:
328
mg
(9%)
Fiber:
1
g
(4%)
Sugar:
11
g
(12%)
Vitamin A:
85
IU
(2%)
Vitamin C:
40
mg
(48%)
Calcium:
16
mg
(2%)
Iron:
0.3
mg
(2%)
Disclaimer: This nutritional data is calculated using third party tools and is only intended as a reference.
A few FAQs answered
How to pick Honeydew melons?  

I always look for a honeydew melon that has developed a somewhat yellowish outer skin color. 

Avoid the ones that are still too firm and white-ish. They also should have a waxy feeling to the touch. 

But the best way to tell is by smell. Ripe Honeydew melons that are ready to eat should be fragrant and faintly sweet.

Always allow the fruit to rest for a few days at room temperature before enjoying them instead of directly out of the fridge. 

They taste better and sweeter that way!
Can I use a cantaloupe instead?

Yes, you can. But although similar in taste, Honeydew melon is much juicier and sweeter than a cantaloupe.

It also has a much lighter flavor that won't overpower the rest of the ingredients in this basil lemonade recipe. 

Plus, its beautiful light green flesh color pairs well with green Basil.