This nut butter contains only three simple ingredients. Although we love peanut butter just by itself, the coconut oil and maple syrup give it an extra creamy texture and a subtle sweetness. It is delicious as a snack on your favorite bread or crackers and an excellent choice to top on pancakes, fruit bowls, and yogurt parfaits. I also highly suggest dipping your sweet and sour apple slices in it! A delicious and creamy treat.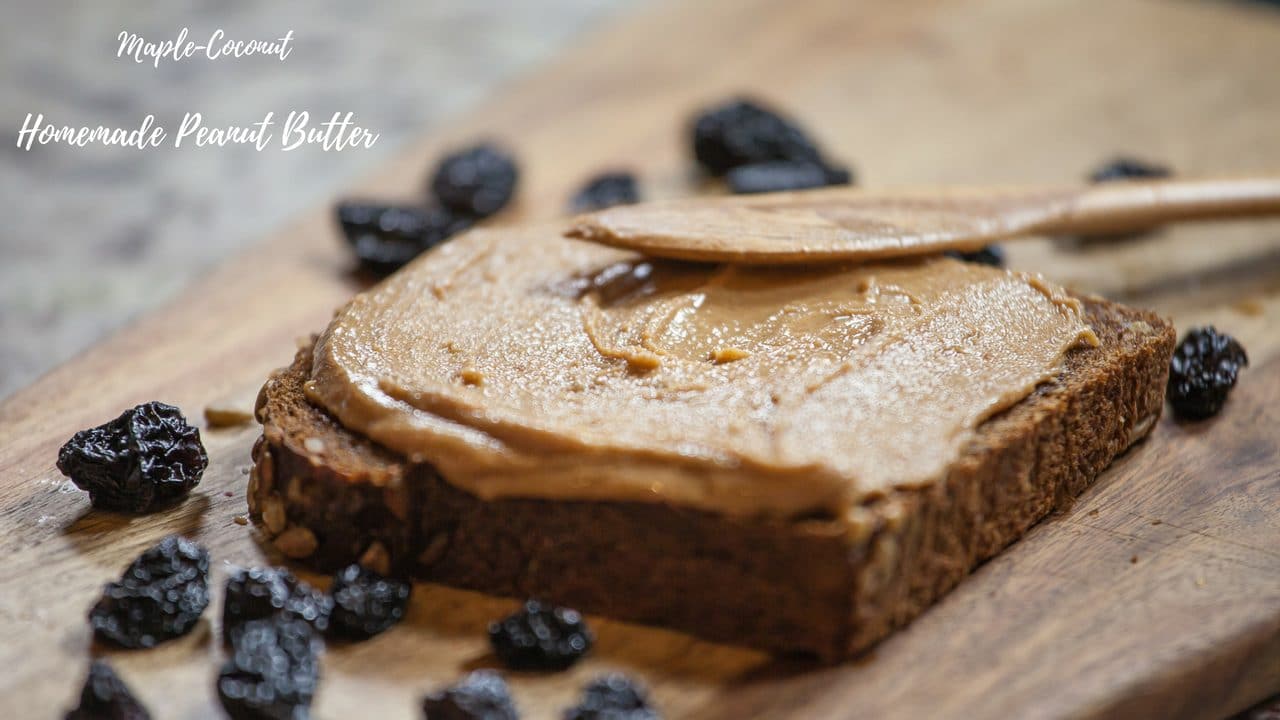 We love our peanut butter here at home. It is a healthy and quick protein choice to add to smoothies, vegetables, but I often use it to make grain-free cookies, creamy desserts, and a simple breakfast. This warm, melted creamy nut butter is irresistible and finger-licking good. It also is a great economical choice when you buy raw or already roasted peanuts in bulk. You don't need anything else but peanuts. But at home, I like to switch it up from time to time and play around with different flavors. Also, check out my Cacao-Cinnamon-Vanilla Peanut Butter Delight—another mouthwatering spread.
HOW TO MAKE HOMEMADE PEANUT BUTTER - TIPS
Make plain peanut butter. To make peanut butter without any added flavors, you only need one ingredient, the peanuts. These nuts contain enough natural oils—like cashews, Brazillian nuts, and macadamia —to swirl them into a butter. You don't need to add any extra oil. If you purchase them already roasted, it takes about a minute to make. But I often find great deals on large bags of raw peanuts, and it takes only 10 to 15 minutes to roast them in the oven.
Let the nuts cool at room temperature. Otherwise, the natural concentrated oils of hot nuts may heat up even more in the blender and might ruin your high-speed/Vitamax container. I always let them cool a bit before processing them into a spread.
Adding syrups for flavor. It is essential that you first blend the roasted nuts into butter before adding the rest of the ingredients (watch the video below), especially maple syrup. Otherwise, the nut butter becomes sticky instead of creamy and rather unspreadable. Albeit still edible, you will end up with big sticky chunks. And we are going for a smooth consistency.
Other nut options. If you are not a big fan of peanuts, replace them in this recipe with cashews, Brazilian nuts, Macadamia or pecans. Please share, if you experiment with let's say walnuts—I have yet to try that myself.
Storage. The peanut butter stays super creamy when stored in a clean airtight container or jar at room temperature. It keeps well for up to one week. Refrigerate it for longer shelf life. You'll know if the peanut butter has gone bad if it smells rancid.
A HEALTHY STORE BOUGHT OPTION FOR NUT BUTTER AND JAMS
I often switch between making homemade peanut butter and buying a good tasting nut butter from brands that use no palm oil or preservatives. I love all products from Spread The Love. You can buy them in bulk to take advantage of their free shipping (Disclosure: I am a proud Spread The Love supporter and Ambassador.) If you want to try their nut butter and jam, you can get a 20% discount when you use code MARISKA20 (affiliate link.) Their nut butter taste deliciously creamy, are all-natural and is made in small batches to ensure premium quality and freshness. Oh, and this small family-owned company pays it forward by partnering up with People Assisting The Homeless (PATH) to make a difference. What is not to love about that!!
WATCH THIS QUICK VIDEO FOR MY MAPLE-COCONUT PEANUT BUTTER RECIPE:
Enjoy!
If you make this recipe, I want to see it!! Tag @mychefsapron on Instagram. Come and say hi!!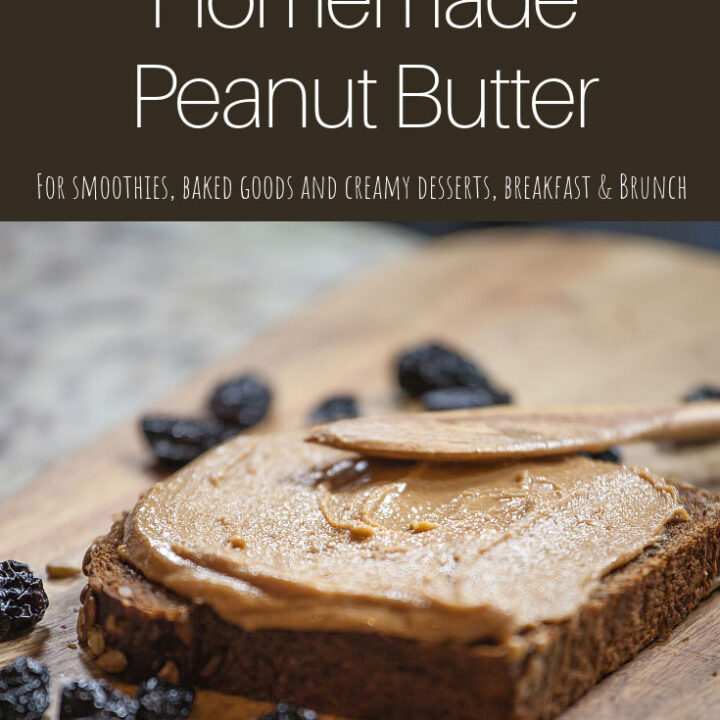 Homemade Peanut Butter
Yield:
About 2 cups or 17½ ounces
Watch the video how to make creamy homemade peanut butter. Plus infuse the nut butter with your own flavors such as this maple coconut delight!
Ingredients
3 cups raw peeled peanuts (equals to 24 ounces/680 grams in the shell)
¼ cup extra virgin coconut oil
¼ cup maple syrup, Grade B
Instructions
Pre-heat the oven to 350 ˚F. Spread the nuts on a baking sheet and roast for about 10-15 minutes. Take out of the oven and let cool for a couple of minutes ( they will further roast in their heat).
Pour the nuts into a high-speed blender—like a Vitamix—and blend on highest speed for about one minute or until creamy. Use an accelerator (tamper) tool to push the nuts down.
Transfer the nut butter to a medium-sized bowl. Add the coconut oil and stir until combined. Then add the maple syrup and stir until thoroughly combined.
Enjoy immediately or store in an airtight container in the refrigerator. When taking it out of the fridge, let it sit at room temperature for a bit before spreading.