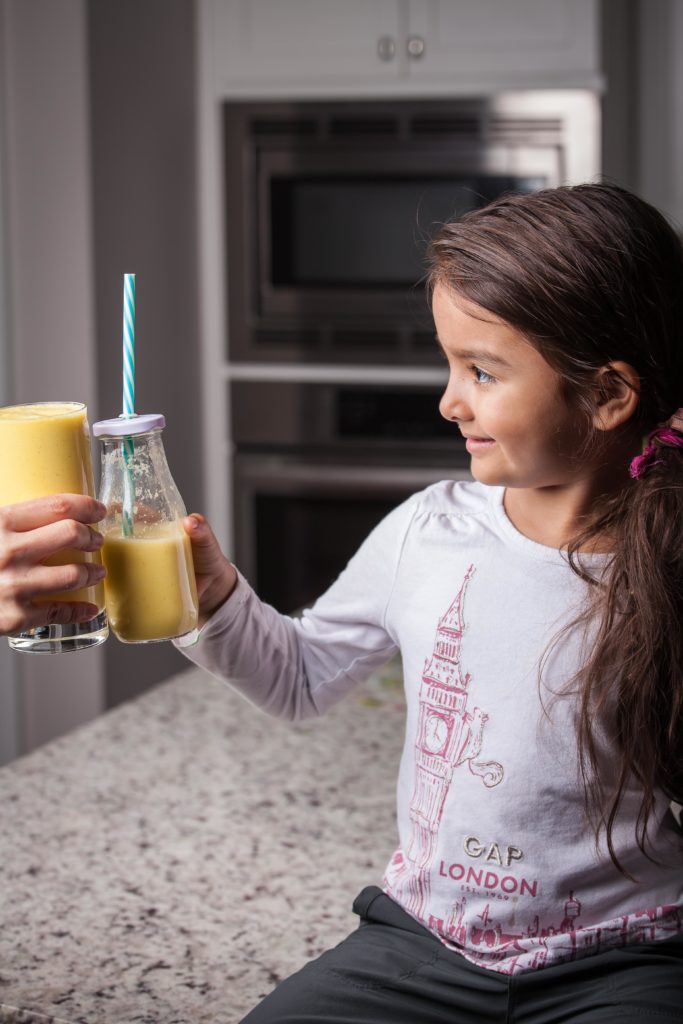 From the moment she was born, my daughter had a very sensitive digestive system. For the first six months, I solely breastfed her. Although I had taken time off to do so, I had no choice either; she was intolerant to any infant formula—which we later found out with the help of her pediatrician. On those rare occasions when we thought it was okay to substitute my milk for a bottle, our happy little daughter turned into a non-stop screaming baby due to pain and uncomfortable gas in her belly. It is one of those moments when as newly parents you feel incredibly helpless and guilty. It made me even more conscious about her first solid foods and her diet in general. We slowly started with mashed avocado and other pureed fruits or vegetables. I then added other types of healthy fats and proteins. Her first desserts were homemade beet ice cream, sweetened with fruits or frozen fruit pospiscles—we lived in Miami, so ice cream was a big favorite. We all ate extremely healthy at home to start with, but in her first years, I was extra vigilant about limiting any form of sugar, bread or packaged foods. Today, broccoli, salmon, raw green salads are some of her favorite things to eat, and I hardly have any issues with offering her a new vegetable.
Even with this good start, I still struggle sometimes to navigate between giving her healthy food choices and avoiding the many unhealthy temptations our society markets specifically to kids. Of course, she wants the box of cookies, laden with preservatives and sugars, because it has a beautiful picture from Frozen (with Ana and Elsa) when we go through the store aisles. The first time she ate a donut at a birthday party, you could see her face lighting up. She talked about that donut for weeks. Sugary foods in general and even certain carbs are highly addictive, and although she eats very healthy at home, I am acutely aware that my daughter will get exposed to unhealthy food options. So how can parents help their children make balanced nutritional choices and set them off to a healthy start for later in life?
Sometimes people tell me how incredibly lucky I am that my daughter loves a good variety of greens and other vegetables. I am grateful that she loves to eat good food and is not too picky about what I serve on the table. I know children of friends who don't care for any food at all—imagine the struggle these parents go through to ensure their kids get enough nutrition. I have also witnessed the other side of the spectrum, a 1-year-old of a friend of mine who only wanted to eat—he was always asking for more food. You might at first think how can this be a problem, but I have seen this mother struggle with her son's food tantrums and trying hard to avoid him from becoming obese. She carefully had to plan her child's food portions and meal schedule. But whether you have a picky eater, overeater, someone with a sensitive digestion or food allergies, I know that teaching your child about making healthy food choices—and particularly what is right for their bodies and individual needs—doesn't only come with luck. For most parents, including myself, great care goes into home cooking, grocery shopping, and making nutrition part of the education. Here I share tidbits of information that have worked for me and many of my friends. Hopefully, some of it can be useful to you as well and help as a guide as you deal with picky eaters or just simply want to start maintaining a healthy balanced diet for your family.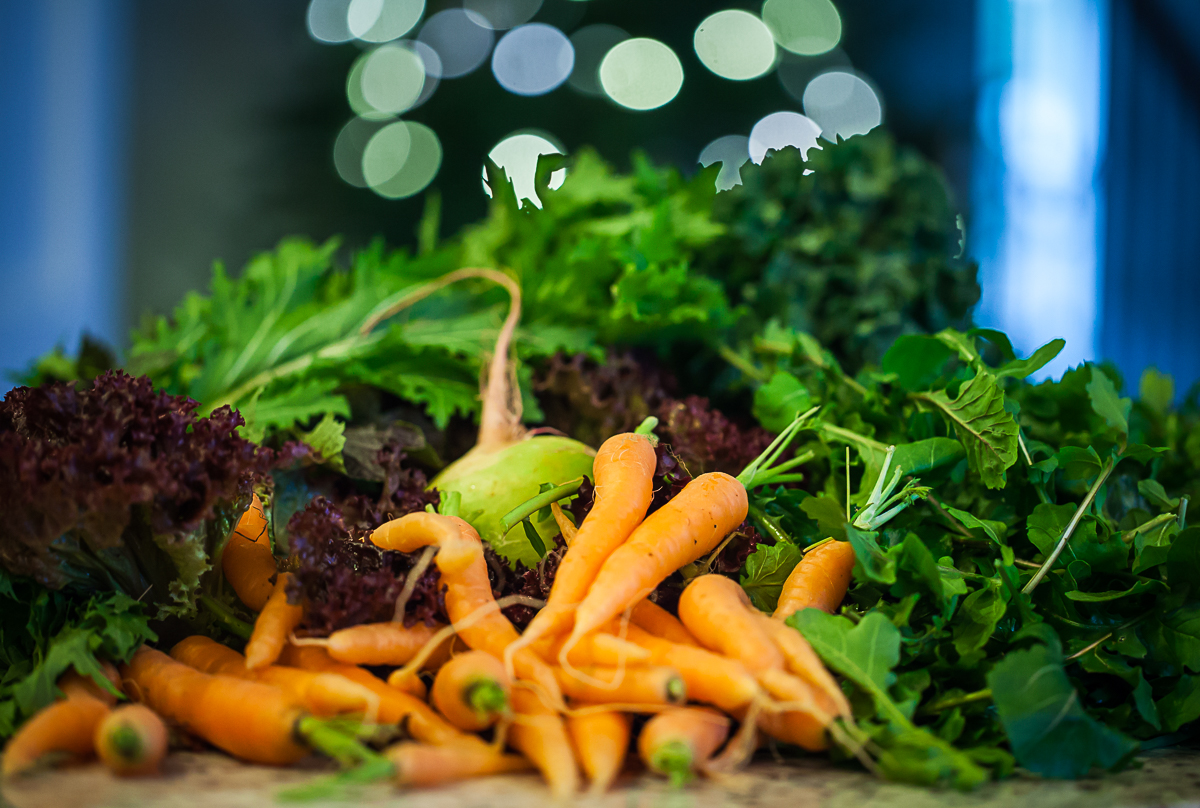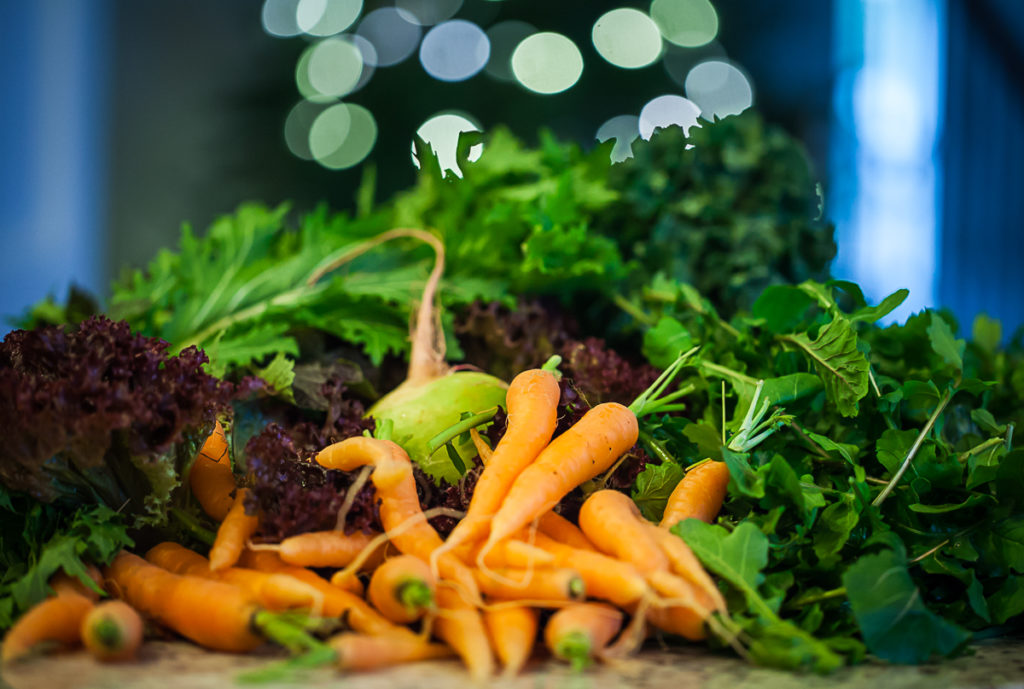 Start offering healthy food choices as early as possible. I know that my daughter loves raw salads with romaine lettuce, seaweed, kale or cooked vegetables like beets and cabbage because I introduced it to her as soon as she was able to eat it. Even if you did not start out this way, kids are extremely adaptable, and it is amazing how slowly you can change their taste buds and food habits as long as you model healthy eating. Of course, there are going to be certain foods that your kids simply never will like, and that is perfectly fine—Brussels Sprouts or mushrooms come to mind. For my daughter it was beef. But a good variety of vegetables, fruits, healthy fats and proteins need to be part of their daily diets. Let's face it; kids often want to skip those beautiful green vegetables that are so healthy for us—especially if it wasn't part of their regular diet in their first years. Pairing food they like with various greens often makes all the difference when reintroducing them to older children. For example, my daughter likes pasta, and I often combine it with a good amount of cooked greens like broccoli or spinach, beans, garlic, olive oil and fresh Parmesan cheese.
Be a role model and eat together. As soon as my daughter started eating solids, we began eating together at least once a day. For us, that was often at dinner. Although in the beginning she of course had pureed foods, she slowly started to pick on foods of the table as she grew—her little hands first reached for the raw green lettuce or the roasted salmon. Her taste buds developed by eating the same foods we enjoyed. Kids model parents' behavior and having them see you enjoy everyday healthy dishes makes them interested in the same foods you eat. It sets healthy habits early on and as a bonus allows you to more bond as a family by sharing your daily stories.
Don't immediately write off certain foods because your child didn't like it the first time. I have often reintroduced certain veggies that my daughter originally did not like. I remember the first time I made her one of my favorite Brussels Sprouts recipes—she gagged. There was no way she was going to eat it. Later, I offered it again, but this time I roasted it in the oven together with sweet apples, plantains, a little bit of olive oil and topped with vegetable seasoning and she loved it—I will post this recipe shortly. Sometimes it is not the food, but the recipe that kids don't like. Combining less liked vegetables with fruits, adding different seasoning or simply experimenting with the recipe can sometimes create new favorites dishes—it helped my husband like Brussels Sprouts now too.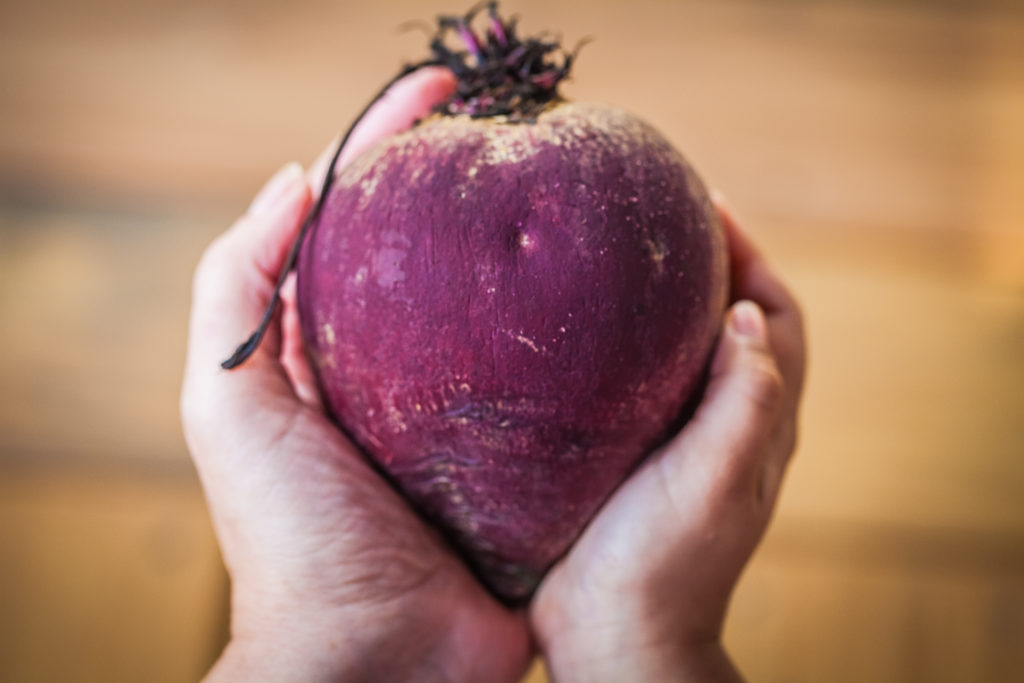 Educate your children about nutrition and allow them to bring their taste to the kitchen. At home, I used to play a little game with my daughter when she was about 2 or 3 years old. I covered her eyes and offered her a small piece of food in her hands—often vegetables, a new fruit or something I just made. She had to guess what it was by smell, touch or taste—she till loves that game. Although we often played it to keep her busy while I was cooking in the kitchen, I also took that opportunity to teach her about why we use certain ingredients in our meals. I noticed that she often wanted the very same foods we used during a guessing game as a snack like carrots, bell pepper matchsticks, pears or a boiled egg. Also, we always grocery shop together. Although it might take me a little longer or I might forget an item or two, I let her help choose what we eat that week. She helps with picking out vegetables, fruits and we discuss if there is a particular dish she wants to make together—yes, we discuss dessert options too. It is beautiful to trust your children with this task, and they often take it very seriously. It also allows them to pick out things they have never tried before and are curious about, maybe because of their shape, color or they have seen their classmates eat it. It is an excellent way to have them introduce their taste to the kitchen. Gardening together with your children is another great way to learn about vegetables. There is nothing more gratifying than growing something together, learning about it, taking care of it all while playing with dirt. My daughter is responsible for a small section in our garden. She often chooses to grow peas, and it is so cute to see her look out of the window every morning if her plants have grown. She is even more excited when the time comes to eat them. Even if your kids are not interested in any of the things I mention above, there are always other ways of educating them about nutrition—through books, mutual friends who eat very healthy or through fun camps that teach kids about farming and healthy food options.
There is no reason to add extra sugar to food or drinks. I am not referring to the off-and-on occasions when you might enjoy a delicious treat during Holidays, birthday parties, or your family travels. It is the hidden sugars we allow our kids to consume on a daily basis that worries me more. Their natural appetite slowly changes over time and leans more towards a sweet taste—something hard to alter once older. For example, I have seen parents add sugar to their kid's water bottles and fresh juices or offering delicious bowls of berries, but then coat it with a teaspoon of sugar—thinking that they otherwise won't consume it. It is vital that kids learn to drink simple, clean water to lessen their thirst and learn to like the natural sweetness of fruits. Adding sugar to drinks, smoothies, oatmeal or fresh fruits is simply unnecessary and makes them prone to obesity la
ter in life. It will also, unfortunately, throw their natural palate out of balance. Packaged cereal and chocolate milk, or individual snack bars contain a lot of hidden sugars as well—some kids consume this daily. The same goes for allowing your child to indulge in a loaf of bread or only a bowl of noodles for lunch. It is in my opinion, a missed opportunity to combine these carbs with healthier fats and vegetables. If you want to do your child a favor, don't worry about the on-and-off birthday cakes or a donut during a lovely Sunday brunch. Worry about these hidden sugars and slowly take them out of your children's diet. They don't need them and will thank you later in life!
Give options but stay in control. There is a delicate balance between letting your kids help choose with what to consume in a given day and trying to keep their diet nutritional rich. My daughter does not like beef, so I will not force her to eat it. Eating healthy should be an enjoyable experience, and sometimes kids need to develop the taste of a particular food group. Besides, there are plenty of other choices of protein-rich foods. But having her dictate what to serve on her plate is not an option either. I am still responsible that she gets all the proper nutrition to grow and stay strong. More often I see parents yield to their kid's food preferences. They feel lucky or even reward them with dessert for eating a little broccoli off their plate. I am here to tell you to take back the driver's seat. My brother was an incredibly picky eater—he also was extremely skinny. It was always a chore to make him eat proper meals. My mom gave him somewhat control over his choices at meal times by allowing him to pick from two different vegetables. Knowing that he was not a big eater, she also made his portions a lot smaller. Rather than allowing him to dictate his diet—that would have made things easier—she gave him only a little freedom, while still insisting on eating healthy and varied foods. Every child is different, but as a parent, you can test what can work for your family's dynamic while still being in control.
Don't make your child empty a large serving when they have enough. We parents often serve our kids bigger portions than their stomachs can handle. Forcing them to "empty their plates" can quickly turn into overfeeding—even with healthy food. I often forget that the size of my 5-year-old's stomach is no bigger that the size of her fist. Healthy portion control is as equally important as maintaining a balanced diet. I have learned to give her smaller amounts and make her ask for more if she is still hungry. My daughter is also an incredibly slow eater. She takes her precious time at the table. I often hear the same complaint from other parents, especially about their toddlers and kindergartners. But I feel that there is a lesson to be learned. Maybe our kids instinctively know how to enjoy food, and just maybe we are the ones that rush it. So, I have compromised. My husband and I have learned to eat much slower and socialize longer during our dinners. In turn, we asked our daughter to eat a little faster, so we have more time to enjoy a good game or have some extra play time.
Have a balanced approach to enjoying sweets. I once saw a mother fighting in a store with her daughter—I guess she was 11 years old. They were standing in front of the bakery, and the girl asked for a cookie. The mother lectured her about her sugar intake and became angry when the girl still asked, albeit politely, for a cookie, despite her best efforts. I did not have children back then, but I certainly witnessed how that approached backfired. Of course, my daughter asks for a cheesecake or the chocolate lava cake when I stand in front of a bakery or for one of the decadent cookies that just simply stare in our eyes. I believe balance is key here. Although we often make healthy treats at home, it is okay to enjoy something decadent from the bakery on occasion. Instead of a whole cheesecake or a super giant cookie, I buy a mini cake or small treats. I also make it a point to enjoy it at home with a cup of tea around late afternoon, instead of haphazardly eating it in the car. Indulging this way not only makes it an event but also gives it a time and a place. Children should be allowed to indulge sometimes, and this plays into my next point.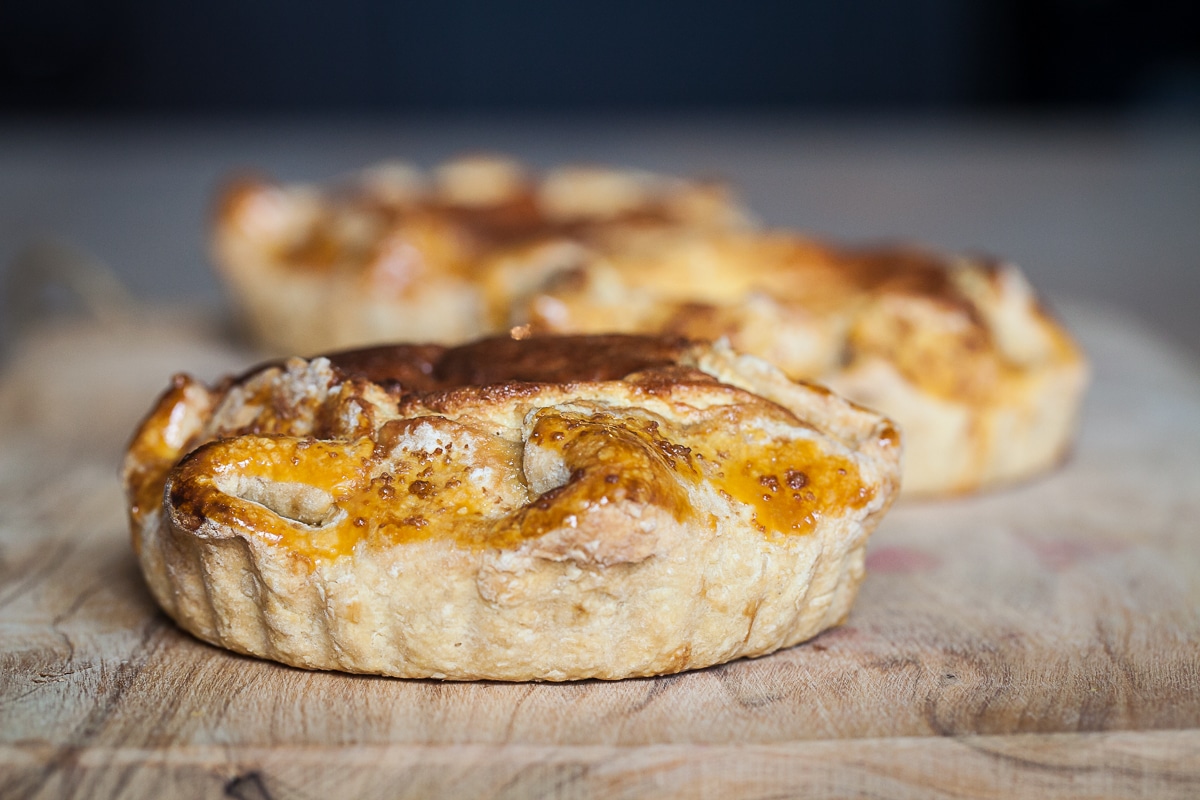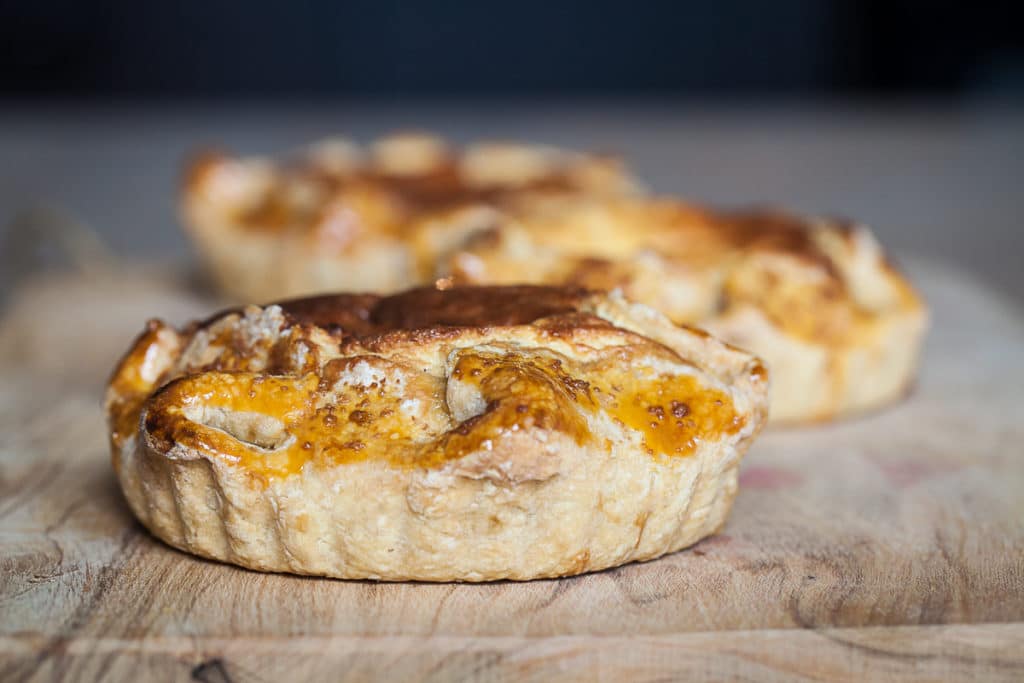 Make healthier treats at home and let your kids help. I always have homemade snacks at home, and we often make pancakes, waffles or donuts for Sunday brunch. Giving my family these home treats satisfies their sweet tooth, and it also allows me to control the ingredients. It is a win-win situation. We have plenty of healthy recipes that you should try, like our gluten-free donuts—they melt in your mouth— or our sweet energy balls that taste like caramel heaven. It is also incredibly fun to make these treats together with your kids, besides teaching them how to cook. The kitchen might turn out a little messy, but the memories are priceless.
Be mindful when you talk about your weight or your diet in general in front of your kids. This topic leads into another side of the spectrum but is equally important. When my husband and I want to lose a couple of pounds, we talk about becoming stronger, healthier, increasing our workout. We never use the words fat, losing weight, skinnier, etc. I am very much aware that these body images can easily rub off on our children—we parents can sometimes be our worst critic. Kids hear this, even when they seem to be playing and living in their fantasy world. Our youngsters unconsciously soak up our feelings, energy, and words. I once heard a 4-year-old rejecting a cookie because her mommy told her it would make her fat. The mother meant well. She was just trying to teach her that certain foods are not healthy for her. But we have to be careful how we approach that message as it can affect a child's healthy body image. There is nothing wrong with weight fluctuation. But it is a mistake to make it a negative thing and consequently can become an issue of how children see themselves. Let's face it, one day they will be in control over what they will cook, eat and buy. All we can do is give our children a guide for later in life how to balance their body and minds even for when things can get stressful. I also believe that it is healthier when parents are more kind to themselves and their bodies. That self-love rubs off on kids! So, dear parents, give yourself a break and don't use harsh words to critic your body—you are beautiful and unique just the way you are. Your body and your children will be better off!
All the points above are simply guidelines that have worked either for myself or my friends. I am aware that maybe some of these points might not function for you, but I am sure that there are a couple of takeaways that can be useful. I believe that parents today have a much harder job in teaching kids about healthy eating and especially in balancing their sugar intake. Around every corner, in stores, and across highways you'll find smart marketing tailored towards kids—let's not talk about commercials on TV. But I have noticed that in general parents are highly aware of that challenge and supporting each other with helpful tips or information that might or might not work for your family is the best support we can give each other.
Please, we love to hear from you and your experiences!!!
Much love!