Let's make a delicious yet healthy iced coffee at home. It's creamy yet completely dairy-free, lightly sweet, and super easy to make. Plus, with only 4 ingredients, including home-brewed coffee and a blender, you can enjoy this date-sweetened drink in less than 5 minutes.
Also, I'll share how to make a cold brew at home instead of making iced coffee brewed with hot water if you don't mind spending a bit more time for an even smoother and naturally sweeter taste.
Enjoy for breakfast on hot summer days or take it to work, the gym, or make it whenever you need a pick-me-up drink!
Jump to How to make this healthy flavored iced coffee | Make it an iced peanut butter coffee| How to make a cold brew concentrate at home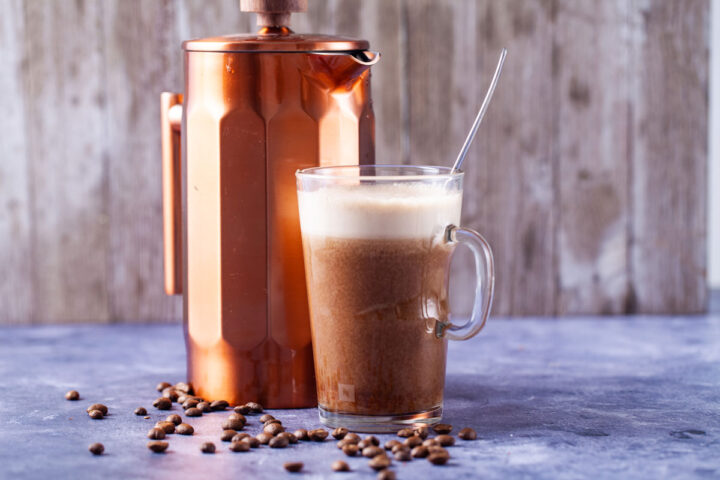 I am very much into cold coffee or lattes during the hot summer months. And if you are like me and don't like your flavored coffee drinks loaded with sugar or syrups, you will love this healthy iced coffee recipe.
The term iced coffee is very broad, with so many different recipes out there. But it's mainly pouring regular hot brewed coffee over ice cubes, which is ready in a matter of minutes.
With a few extra ingredients and simple steps, I like to make my mine with a bit more flair—creamy with caramel-like notes and slightly sweet with a foamy top that turns this black liquid into a delicious flavored cold drink or go even one step further and add peanut butter in the coffee, reminiscent of peanut butter (vegan) latte or coffee smoothie. It's all done with natural ingredients and tools that you probably already have in your kitchen.
And if you don't mind spending some extra time, try making a cold brew concentrate instead. You might like it even better due to its brighter and rich flavor and lower acidity. Plus, you can pour enough to last you a few days or up to one week.
Let's take a look.
Healthy flavored iced coffee
Coffee
Start with brewing your cup of coffee from beans that you already love and enjoy regularly. So use your home-brewed method for this recipe, whether you make use of a simple coffee maker or a specific coffee machine, a French press, pour-over and drip process, or an easy-to-use home brewing device—I've used an AeroPress for many years.
These days, I often make a cup with my now old Nespresso Machine. However, occasionally I still switch it up with other devices I still have in my pantry, such as an old-fashion percolator coffee maker that I got from my aunt, especially when I have whole roasted coffee beans in the house that I then grind right before the brew.
Either make the desired amount of coffee in advance, like the night before, and let it cool in a sealed mason jar or pitcher—perfect if your blender can't handle hot liquids.
Or make your cup of freshly brewed coffee whenever you are ready to make this healthy iced coffee drink, release some of its steam a bit before adding it to the blender with the rest of the ingredients, and then pour it right over ice cubes.
Even if your blender can handle hot liquids, work in small batches, or let the coffee cool a bit before mixing it (safety first, right?)
Tip: you might maybe want to brew your coffee a tad stronger than usual by either adding more coffee or less water because it's going to dilute somewhat with ice before serving.
Note: you can turn it into a healthy type of iced latte by using freshly made espresso—a more concentrated coffee shot—and add a bit more milk to the mix. Then go crazier with the blending to get a beautiful creamy foam on top.
Cashew milk
I love making this drink with unsweetened cashew milk because it adds a lovely creamy and nutty flavor. Almond or hazelnut milk will do as well, but cashew milk is naturally sweeter and creates a nice layer of foam once blended.
Usually, I measure about ¼ cup of milk per cup of coffee because I like it that way. But feel free to make yours lighter or stronger by adding less. Taste test and find your perfect coffee to milk ratio!
Tip: make cashew milk ice cubes in advance for an instant iced latte. Cashew milk freezes well, and they pop easily out of ice cube trays. Replace them with regular water ice cubes for a less diluted coffee flavor.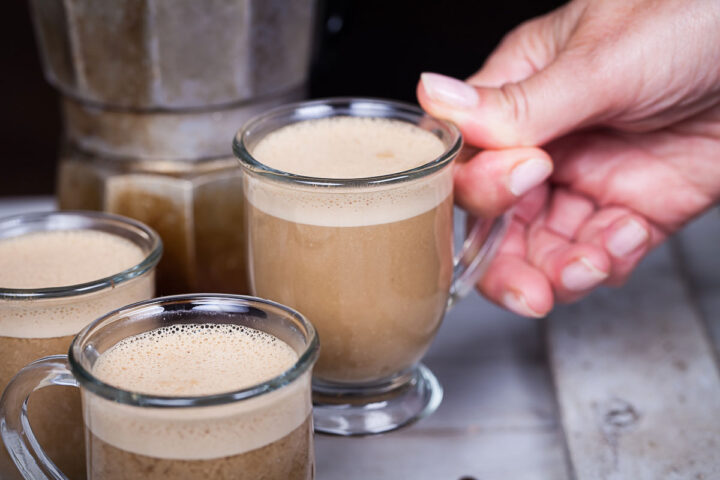 How to naturally sweeten an iced latte
Use very soft pitted Medjool dates to make a healthy caramel iced coffee, add natural sweetness and a heavenly caramel-like taste. I measure half or one whole Medjool date per cup of coffee—enough to add a tad sweetness without losing the coffee flavor. If you like it closer to an iced latte caramel from a coffee house, blend in a second one—still healthier and less sweet.
Note: have your dates hardened in the fridge? That sometimes happens to me as well. Then make them plump and juicy again by submerging them in some hot water for 10 minutes. That will do the trick. It will also help with blending them.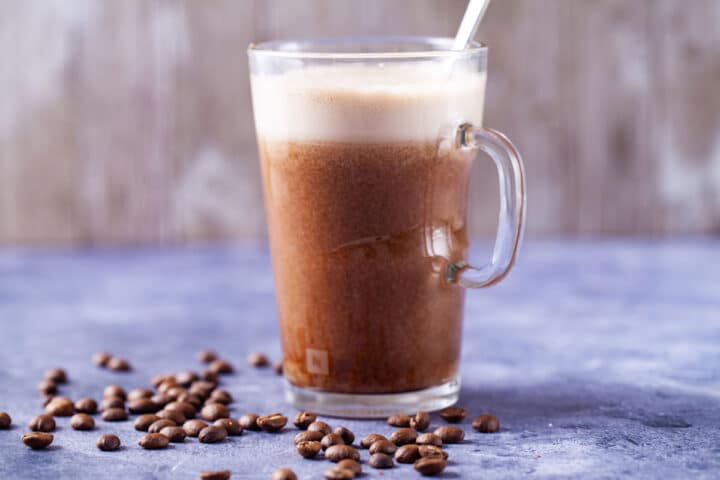 A bit of sea salt
You can, of course, totally omit this, but I highly recommend it. A pinch of salt not only takes away any bitterness in your brewed drink but also nicely balances the sweet flavors. And it goes well with the caramel tasting dates or any vanilla-flavored cashew milk. It is the same when you add a tad of salt on top of peanut butter cookies. Ever done that? Then you know what I mean.
Make it an iced peanut butter coffee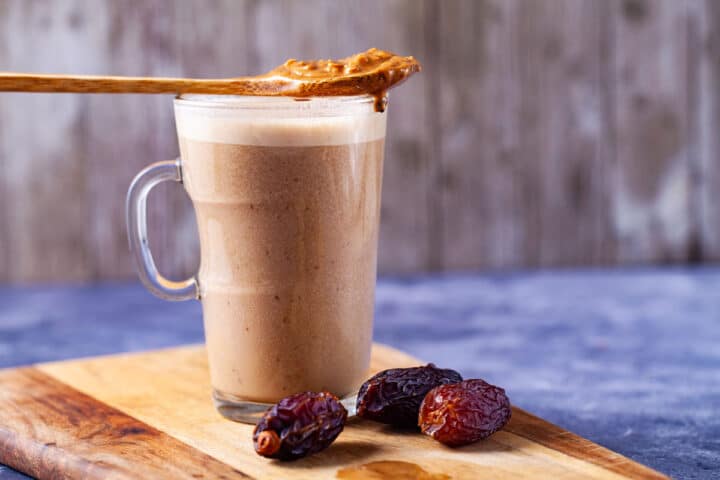 Go a bit extra fancy, add a tablespoon of salted peanut butter in the coffee combined with 2 Medjool dates and the cashew milk, and omit the pinch of sea salt here. This concoction is just DELICIOUS, like a tad thicker salted caramel version—but still healthier. Use almond butter if you are following a Paleo or whole30 diet or are allergic to peanuts!
How to make a cold brew concentrate
You can also make this healthy coffee recipe with a cold brew concentrate. You'll have to prepare this a day or two in advance, but it is so well worth it, and the result is a cold coffee with a lot of nuanced flavors and less bitter notes.
The difference
Cold brew coffee is made with iced or room-temperature water and has to soak either overnight (12 hours) or anywhere from 18 to 24 hours for a more robust coffee. But what you get is
a less acidic drink,
that is easy to make,
smoother in taste,
while its strength heavily relies on how long the coffee grounds have steeped in the water.
The grind
I took the advice of some local coffee aficionados and coarsely ground my beans for the best cold brew. I don't own a coffee grinder but used my blender instead. Just grind in quick short bursts instead of letting the blade run continuously. This technique produces a nice coarse grind and gets the job done.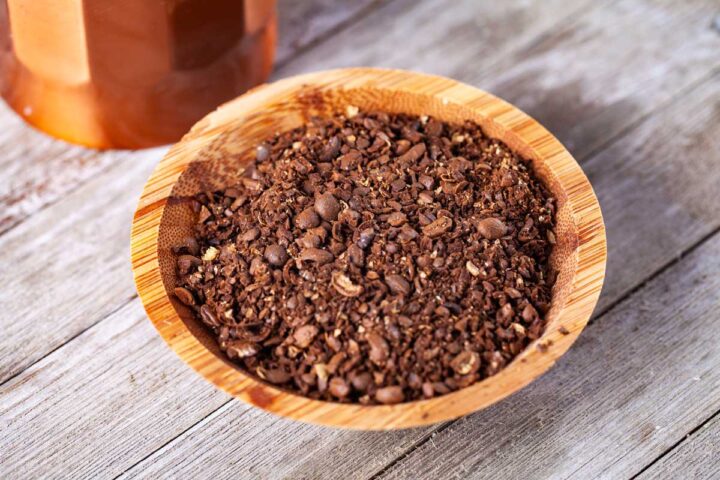 The cold brew coffee ratio
When you ask regular cold coffee brewers or do some research online, you'll see that not everyone agrees on the coffee bean to water ratio. You have some suggesting 1:3, 1:4, or 1:5 coffee to water ratio. Some even suggest carefully weighing the coarsely ground coffee in ounces—I do not do that.
Instead, I keep it simple and use ¾ cup of coffee beans, ground for 4 cups of water, and use my French press to store it (not for straining.) It produces a pleasant and balanced coffee taste, perfect for this healthy iced coffee recipe.
Note: you don't need a French press; I just use mine to store my cold brew. You can use a Mason jar or a pitcher for storage or whatever you have available in your kitchen that comes with a lid or cover.
How to make a cold brew
So, once you have coarsely ground your coffee beans, add the recommended water, and then stir for a few minutes until thoroughly mixed and you have wet all the coffee beans (a few minutes.) Cover your container and store it in the fridge for 12 to 18 hours.
What I use to strain the cold brew
I use a nut milk bag (affiliate link) over a large bowl to strain the coffee and then transfer the liquid into a pitcher—super easy.
But you can also use a fine-mesh strainer or sieve covered with a thin paper coffee filter or fine cheesecloth.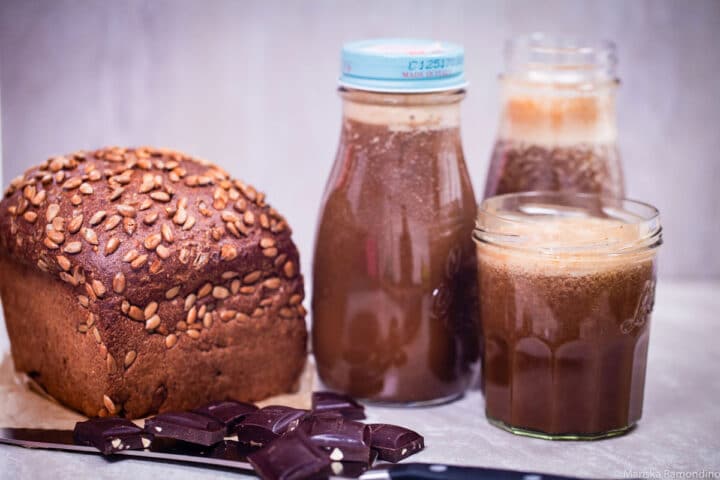 The coffee bean
Choosing a coffee brand is such a personal thing, and depending on your location, the varieties available might differ. So I want to refrain from recommending one. Use what you love and are used to drinking.
I prefer buying a brand that locally roasts the beans. If you haven't found your favorite type of coffee yet or are ready to try something new, check out the top 25 list of best coffee brands for some inspiration.
Love coffee protein smoothies or protein coffee drinks? Then check out some of my other drink recipes on the blog:
PIN IT for later! Don't forget to subscribe to my Monthly Newsletter!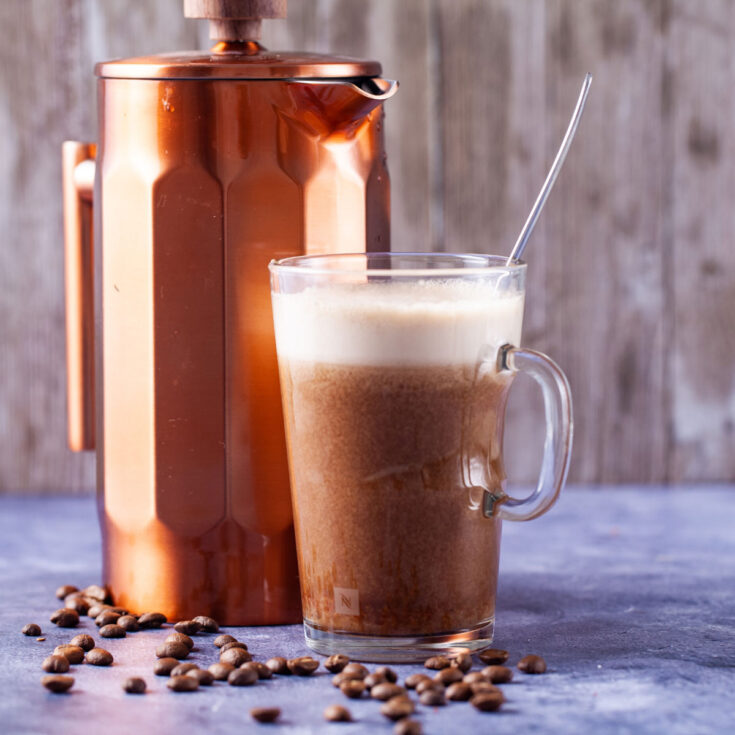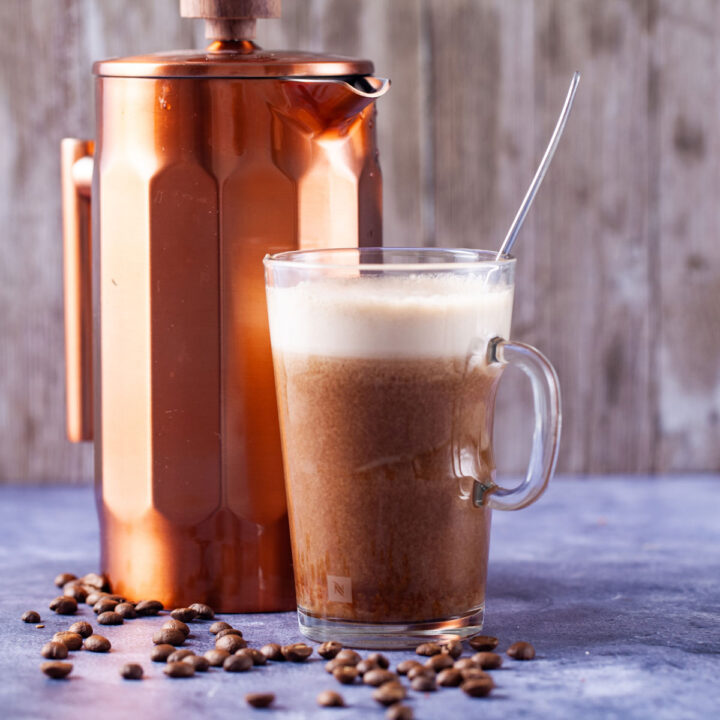 Healthy Iced Coffee
Yield:
1 serving per cup of coffee
Make this smooth and healthy caramel iced coffee that is lightly sweetened with dates and deliciously balanced with sea salt and cashew milk. Or take it up a notch by adding salted peanut butter. Great to enjoy at home or for an on-the-go refreshing drink!
Ingredients
Make healthy iced coffee
1 cup hot brewed coffee or one cup cold brew (see recipe below)
1 or 2 pitted Medjool dates
¼ cup cashew milk, cold
pinch of sea salt
ice cubes
1 tablespoon salted creamy or crunchy peanut butter (optional)
Make healthy cold brew coffee
¾ cup of whole coffee beans, coarsely ground
4 cups of water
Instructions
How to make healthy iced coffee
Allow the brewed coffee to cool a little or release its steam (one minute).
Place all the ingredients in a (high-speed) blender.
Blend until the dates are disintegrated and all chunks are gone. If you use a high-speed blender, like a Vitamix, start on the lowest setting (because the liquid is hot) and gradually work your way up to the highest when safe to do so.
Add a handful of ice cubes into your favorite coffee glass. Pour the mixture over it and stir with a large spoon.
Enjoy.
Prepare Cold brew coffee to make iced coffee (yields 2 ½ cups)
In a one-quart pitcher or jar, combine the coffee grinds with the water.
Stir to combine for a few minutes until all the coffee grinds are thoroughly wettened.
Place a lid on the jar or pitcher and refrigerate for 12 to 18 hours.
When ready to strain the coffee, place a nut milk bag over a large deep bowl. Pour the coffee concentrate into the milk bag. Close the bag, and use your hands to let the coffee steep and drip out completely into the bowl. Discard the coffee grinds or use them as a body exfoliator.
Alternatively, if you don't have a milk bag, use a thin coffee filter or fine cheesecloth and place it into a sieve or fine-mesh strainer over a deep large bowl. Pour coffee concentrate through the prepared sieve into the bowl.
Transfer the cold brew into a pitcher with a lid.
Refrigerate and store up till one week.
Or immediately use some of it to make the iced coffee recipe above.
Notes
Healthy Iced coffee
You can also brew your favorite cup or pot of coffee and let it cool in the fridge overnight (and omit using ice cubes)
Adjust the level of sweetness by adding more or fewer dates!
Double the ingredients for every extra cup of iced latte you want to make.
If you plan to add salted peanut butter, then omit the pinch of sea salt.

Cold brew
The recipe above yield 2 ½ cups of cold brew coffee
Double the ingredients to yield twice as much.
The cold brew will take an extra 12 to 18 hours of soaking time.

Nutrition Information:
Yield:

1
Serving Size:

1
Amount Per Serving:
Calories:

183
Total Fat:

8.6g
Saturated Fat:

1.7g
Sodium:

118mg
Carbohydrates:

24.4g
Fiber:

3g
Sugar:

19.5g
Protein:

5.3g
Calcium 118mg I Iron 2mg I Potassium 226mg. Note: nutrition calculation includes 1 tablespoon of peanut butter (optional). Disclaimer: This nutritional data is calculated using third-party tools and is only intended as a reference.
(Note: This post was published in May 2019 and has been updated to include new info and photos)