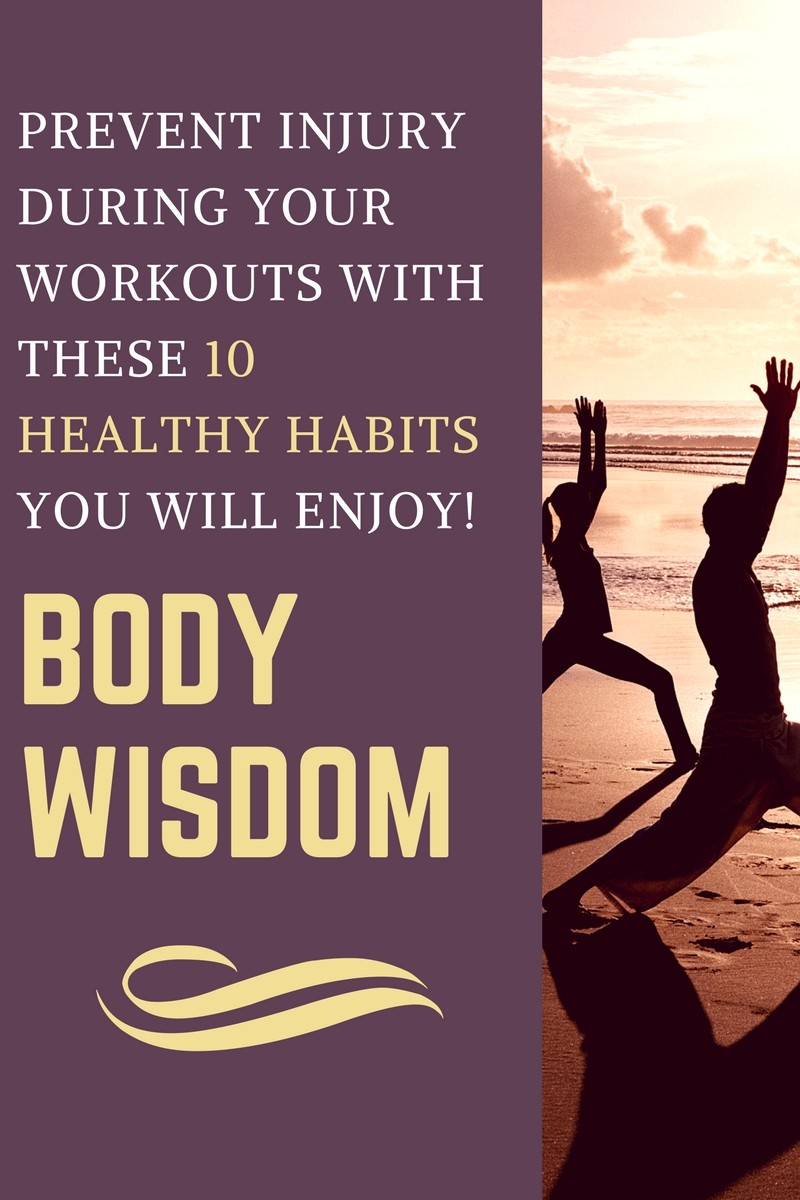 In the past ten years, I learned a lot by working out with private trainers, other fitness enthusiast and by making a few mistakes that left me out of rotation for a couple of weeks. Those experiences led me to mindfully practice some healthy habits to prevent injury especially when following a more rigorous workout schedule. The 10 habits I share are simple suggestions you can adapt to protect your body better and learn to listen to it. It will make you more mindful of "trouble spots," or weaknesses and focus on specific movements that can strengthen them.
Workout to strengthen your body, not just to lose weight: My perception of fitness completely changed when I wanted to become stronger before getting pregnant—I started a family in my late thirties. A good friend and personal trainer created a more rigorous workout for me, focusing on building muscular strength while still boosting my endurance. The whole experience shifted my mindset. As I gradually got stronger and healthier, I fell in love with testing my body's strength. I was doing challenging movements but mindfully and paid more attention to how I felt afterward. I was learning a lot about my body by genuinely listening to it during and after the workouts. I became better at recognizing when to push harder and when to back down. Surprisingly, I also responded better to feelings of hunger and satiety. Naturally, I started to gravitate more towards foods that gave me the proper nutrition to physically stay fit. When you alter your fitness focus, it can become about testing your inner strength, loving your body the way it is and the way it can change. This awareness is just exhilarating and listening to your body's natural wisdom can prevent injuries. You will intuitively feel when a move is not right when to take it easier, or when to take a day off. You become more attentive to symptoms of fatigue and learn the difference between good discomfort (working hard) and bad discomfort (something is wrong). Fitness becomes a form of meditation, connecting your body with your mind—weight loss or looking more toned is then just a by-product.
Fuel your body with the proper nutrition and enough water: I know you already know this one, but I am adding this in here anyway just to remind you. There is no doubt that to feel healthy, energetic and prevent injuries when following a fitness routine; you need to give your body the proper nutrition. I don't necessarily eat pre-workout snacks, and I don't immediately replenish post-workout either. But the first meal I consume during the day is full of healthy proteins, lots of vegetables and enough of the right fats. My point is that whether you practice intermittent fasting, consume six small meals a day or any other form of meal program, give your body the healthy nutrition it requires and deserves. Always drink enough water, especially if you drink coffee in the morning!
Work with a certified trainer or learn from a fitness guru: I love strength training, and over the years I trained with a couple of personal trainers who specialize in strength and bodybuilding. I wanted to learn the proper postures and movements when using weights at home to build muscle. I change my routine regularly by adding boxing, pilates, yoga, cross and HIIT training, spinning, aerobic classes, and more. But I always first learn the techniques and proper form before embarking on a new fitness routine. I have witnessed too often friends starting out a new workout rage haphazardly. Not only is your body more prone to injury, but you also won't get the same results. Pay for a certified trainer or a couple of online courses first, ask for help from other fitness enthusiasts. Today many free online resources can get you started. You can find some of my suggestions for free home workout channels here.
Strengthen your core first: No matter what type of exercise I do, when my core is not strong enough, I tend to overwork my back or neck muscles. My form is also often compromised. Your center is integral to any movement and determines your balance, stability, and posture during any activity. Stable and robust core muscles, as well as, putting thought into how you do your movements can protect you from injuries. I suggest incorporating Pilates and yoga into your weekly workout routine. These two physical practices have taught me a lot about flexibility, posture and core-strengthening exercises.
Baby your spine and neck: This ties in with strengthening your core, exercising correctly and improving your posture. But I would go even further than that. As you age, it is imperative to maintain your flexibility. Like most people, I often sit for hours behind a desk. I used to suffer from neck and shoulder pain or complained about pains in my lower back. Combining strength training with deep stretching or yoga has wholly removed these pains. Sometimes I also incorporate specific neck stretches, and I practice every day the natural squatting position—working my way up to 5 minutes. "Your Chair is killing you..." is a beautiful and detailed article that explains how squatting can improve your spine health. For specific neck stretches that you can enjoy before going to bed, I recommend the gentle yoga stretches from Jill Hilman.
Relieve stress from those hips: Your beautiful hips can become a storage place for muscular as well as emotional tensions. Tight hips just hurt, but it also can reduce your range of motion while exercising. If I don't stretch them, it can cause lower back pain and problems with my posture. Brian Kest is one of the first teachers who made me fall in love with yoga. I bought his yoga instruction videos (three parts) way back when you still had VCRs (it is now available for free on Youtube). Besides being a vigorous workout, his yoga classes also focus on deep stretching poses such as opening those hip flexors and releasing any emotional tensions in the body. I suggest incorporating a similar type of yoga class into your fitness routine regularly. A stress-free body is a happy body!
Pre-and post workout movements: I mostly workout in the morning, so I always spend enough time waking up my body first. I had injured my lower back once because I did not sufficiently warm up. Your pre-workout movements do not have to be extensive but warn your body for what is coming. During the warm-up, I can immediately feel where I am a little stiffer that day. It is an opportunity to listen and to recognize when to push and when to back down. Because I stretch before going to bed and do yoga during the week, I don't feel that I always need a long cooldown. However, I have noticed that it is still essential, especially when doing HIIT, to lower your heart rate, cool down and drink enough water before you go about the rest of your day.
Take your deserved rest and relax those muscles: Your body sometimes needs a well-deserved pampering. Especially if you workout 5 to 6 times per week, give those muscles rest to strengthen and grow. I don't mean merely skipping exercising for one to two days. Treat yourself to pampering at home. Take a hot bath with Epsom salt, sea salt or magnesium to recover your muscles; enjoy a sauna session (most gyms have saunas, and they are hardly ever used); use essential oils to warm up, hydrate and relax your muscles, relieve cramping or muscle aches. Try also some of the essential oils that you can use in your bath or as a home massage therapy.
Stretch every night before going to bed: Besides my morning workout and little spurs of play time with my daughter, most of my days are filled with work, sitting behind a desk, running meetings, doing school activities, cooking, etc. A lot happens, and all these emotions and movements build up in your body. Whatever your routine, release any tension from your body before taking your well-deserved rest, either by doing 10-minute yoga or gentle stretches. I notice that it improves my sleep (which is so essential to prevent injuries) and my overall flexibility. It is just one of these small habits that yield significant results.
Leave your ego out of the workout: A family member once shared her excitement about embarking a fitness journey with a friend and joining a new gym. Unfortunately, the need to prove something to her friend ended in injuries, extreme muscle soreness and eventually to quit the membership. Instead of learning the right moves and building up her strength, she started lifting too heavy weights and joined quite challenging classes. Any workout you do should only be for you. You don't need to prove anything to anyone and even very fit people had to start somewhere. It is great to push your body and test its strength but do it with awareness, kindness, and knowledge. Always start at a level you feel comfortable with instead of your friend's or partner. See your fitness journey as a personal one to becoming more intimate with your body.
*****
Do you have any specific habits you incorporate to stray away from fitness injuries? I am curious!
xxx
Disclaimer: All opinions expressed are 100% my own.