I love making this healthy, hearty shrimp dish made with just a few ingredients, and that quickly comes together—perfect for lunch or busy weeknights!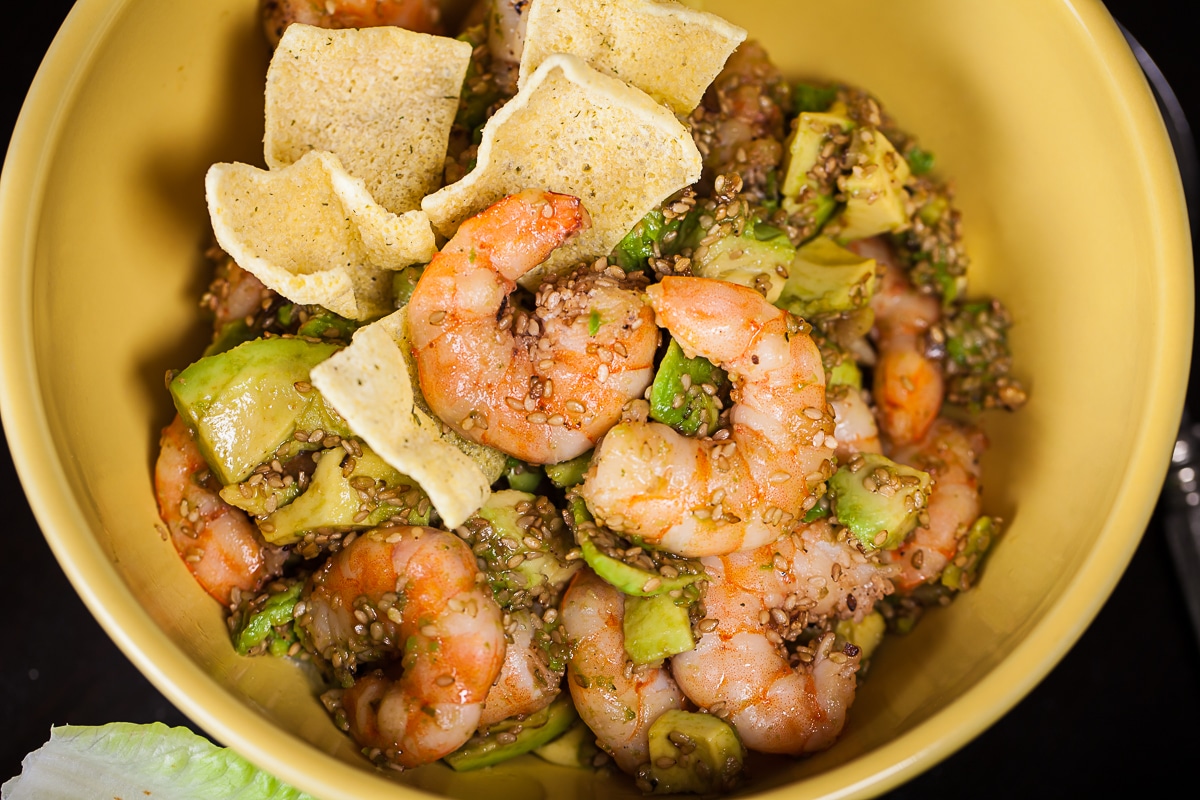 My family loves shellfish, but I usually prepare shrimp in a very traditional Mediterranean way. This simple dish deviated a bit from my usual shrimp recipes and was quickly concocted after a long and busy day. Everyone was super hungry, and since it was the end of the week, I had to work with what was left in my refrigerator. But I think you will enjoy this healthy dish. It is hearty, filling, and ready in less than 30 minutes.
You can use either fresh or frozen shrimp. If frozen, fast thaw the shrimp by placing
the fish
in a bowl and submerge in water. I let them sit for about 10 to 15 minutes during which I refresh the water one more time and loosen up the shrimp gently. Then run cold water through the shrimp, move the shrimp around with your hands and allow the last remaining pieces of ice to thaw.
I had just taken out wild shrimp from the freezer the day before, so it was time to cook them. I still had to peel and wash them thoroughly, but even that takes very little time. It is worth noting that I never devein shrimp. It takes considerably more time to prepare fresh shrimp if you deveined it as well. It is a personal preference. But for a family who loves to suck the meat out of shrimp heads or makes tasty soup stock out of them, deveining is purely an aesthetic thing.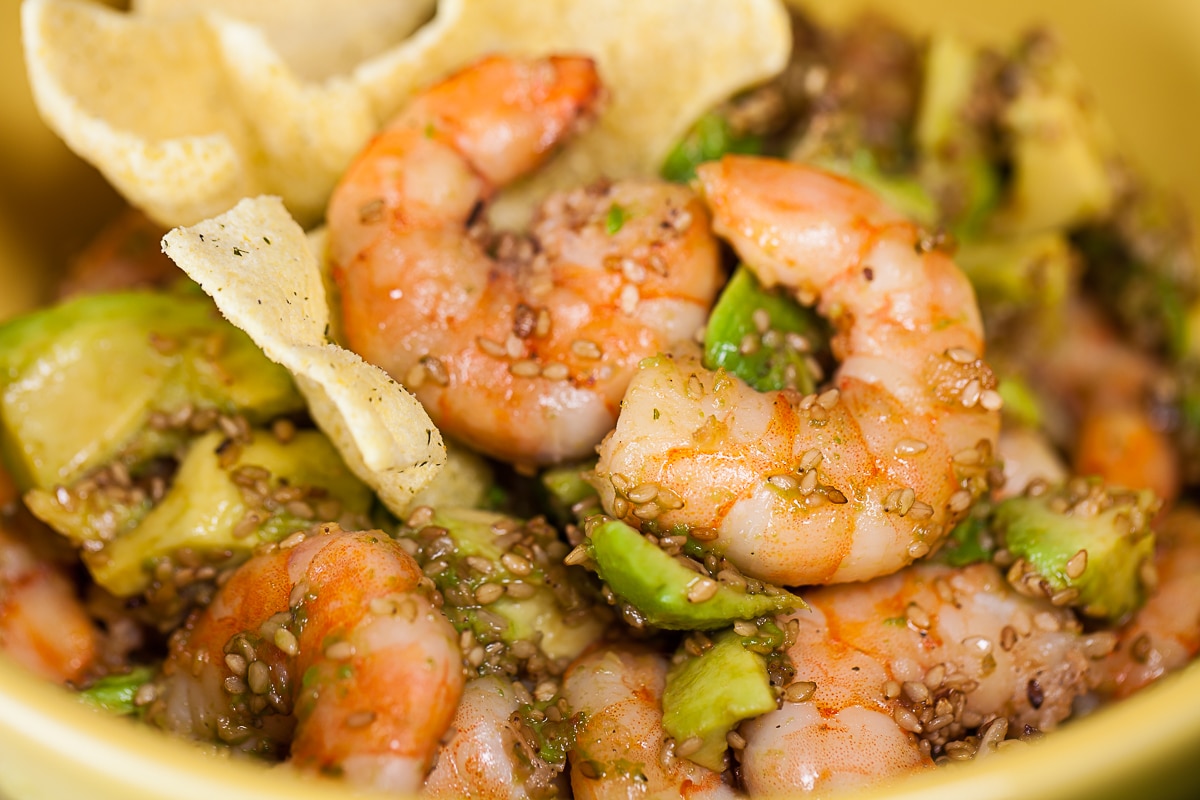 I use salt, pepper, garlic, and sesame seeds to flavor the shrimp and cook them in coconut oil to enhance the natural sweetness of the shellfish. The sesame seeds will get nicely toasted in the skillet when cooking the shrimp. Allow to cool down the dish a little before tossing them together with the fatty avocados. You can serve it with your favorite lentil or corn chips, but I suggest to complement this recipe with sweet romaine lettuce leaves. Fill the green leaves with the sesame shrimp-avocado mixture, and this becomes a satisfying and healthy recipe, perfect for a quick lunch or light dinner.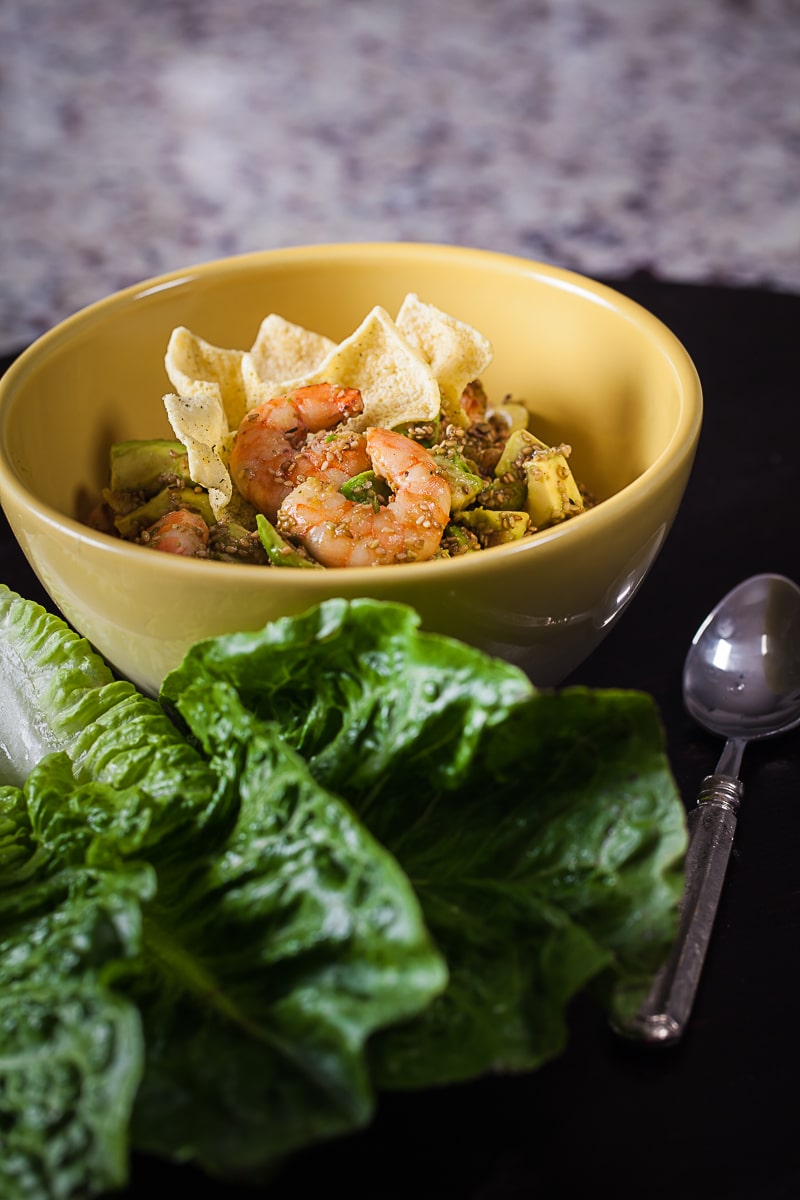 Enjoy!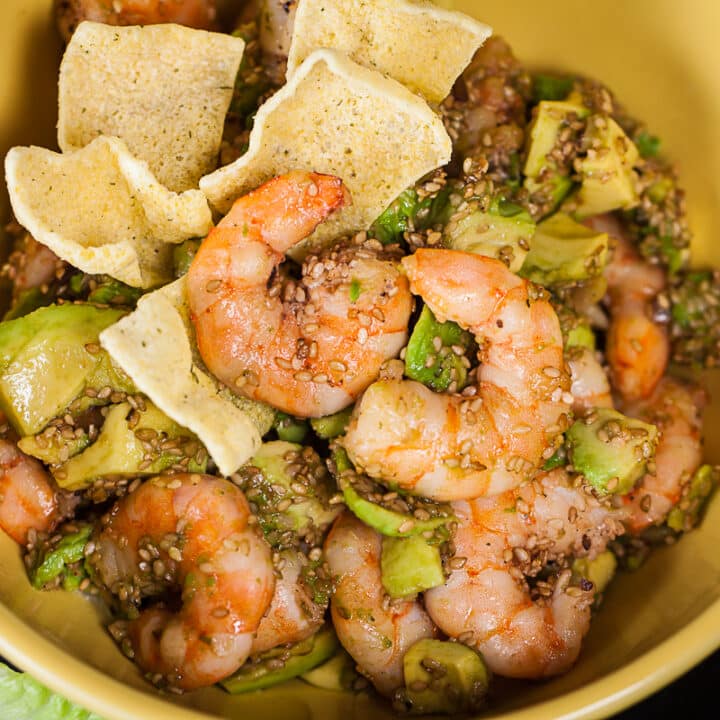 A QUICK SESAME GARLIC SHRIMP RECIPE WITH AVOCADO
A super easy and healthy shrimp meal that comes together in no time yet is incredibly hearty and filling—perfect for lunch or dinner!
Ingredients
About 25 - 30 wild-caught shrimp, peeled
Salt and pepper
6 tablespoons coconut oil, divided
3 tablespoons sesame seeds
3 cloves garlic, finely chopped
2 avocados, peeled and coarsely chopped
Romaine lettuce leaves or your favorite lentil chips
Instructions
Pat dry the shrimp and place them in a large bowl. Season to taste with some salt and pepper. Coat the shrimp with three tablespoons of coconut oil and the sesame seeds. Toss to combine.
In a large skillet, heat up three tablespoons of coconut oil over medium heat. Add the garlic. Cook and stir the garlic for about 10 seconds. Add in the shrimps and all the sesame seeds. Continue to cook and stir for about 4 to 5 minutes, or until the shrimp are pink and opaque; the sesame seeds are light brown and slightly toasted. Remove from the stove and allow it to cool down a little for about 5 minutes.
Place the avocados in a serving bowl and transfer all the content from the skillet into the bowl as well. Toss to combine the avocado with the sesame shrimp and garlic.
Serve with sweet romaine lettuce leaves or your favorite lentil or tortilla chips.