This healthy carrot soup is incredibly nourishing and filling. Carrots, garlic, sweet shallots, bell pepper, oranges, fresh parsley, and spices nicely come together, creating hearty and sweet flavors and one DELICIOUS vegetable soup!
It's a LIGHT, quick, and easy soup recipe that can be enjoyed either warm during cooler months or as a refreshingly chilled soup during warmer seasons.
It's gluten-free paleo-friendly with a vegan-friendly option. Enjoy as-is or turn it into a spicy carrot soup for those who love a little heat.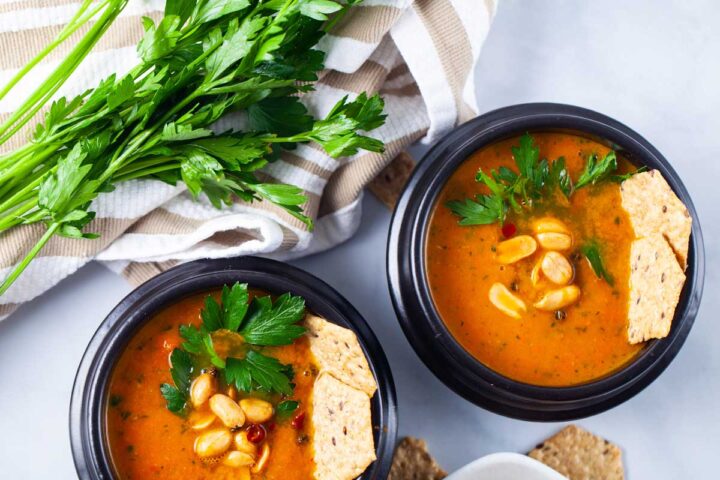 How to make the best healthiest carrot soup
This hearty and healthy carrot soup recipe is especially tasty due to the combo of simple ingredients and how you build up their flavors.
It's also a soup that's incredibly easy to make, and the blended version has a lovely velvety texture without adding any heavy creams.
Here are a few recipe notes to keep in mind when making this healthy dish.
Start with flavoring agents & spices
Butter or olive oil
You only need a little butter or olive oil to sauté the garlic, shallots, and bell pepper. It will nicely release their aroma and create a beautiful, tasty base for this soup.
Of course, opt for olive oil if you want to keep it dairy-free.
Shallots
Next to the carrots, the shallots are the star in this soup. Their mild and sweet flavors are released by sautéing them first in some oil.
Although part of the onion family, they are much softer in taste with a garlic hint. They make this soup incredibly hearty.
So, opt for shallots instead of white or yellow onions for this recipe.
Bell pepper
Choose a red or orange one. Its flavor is still sweet but much more on the softer side, and the slight citrus elements nicely mellow the taste of carrots.
Simple spices
You want to add a few pinches of salt to the base and a royal amount of black pepper (I use a pepper mill to grind whole black peppers from coarse to fine).
It's going to immediately add a nice punch and wake up the flavors of the sautéed veggies.
Stir in the chopped carrots
I'm only coarsely chopping the fresh carrots—since we are pureeing all the vegetables anyway.
Add them directly to the base and give them a good stir before pouring in the liquid.
Do I need to peel carrots
That's a personal preference. Usually, I peel them. But you can also skip this step.
Instead, simply scrub them with a brush in a bowl of water, then rinse and coarsely chop to add to the soup base.
How long do carrots take to soften in soup
When your broth comes to a steady simmer, it takes about 10 to 15 minutes for carrots to soften.
Add in the liquid
Vegetable broth: I usually go for a low sodium packaged vegetable broth to keep this recipe simple. If you want to use homemade leftover vegetable broth, you'll need about 4 cups.
Chicken broth instead of veggie broth can also work: it will give the soup a richer taste.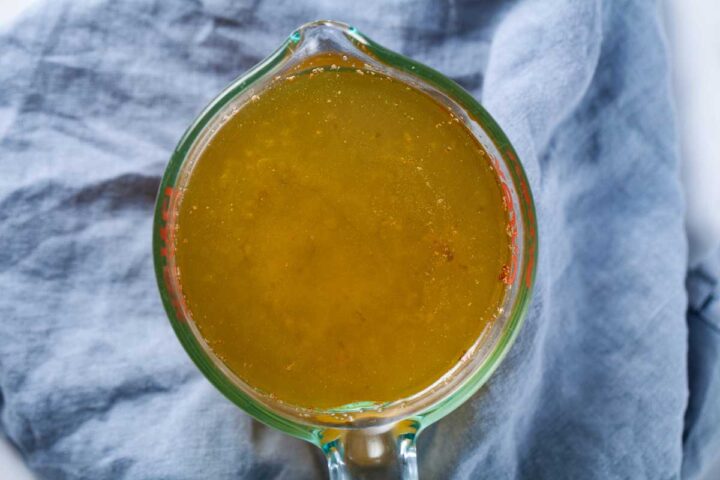 Simmer to bring it all together
Let the liquid come to a steady simmer to soften the carrots and let the flavors of the vegetables develop further into the broth.
I keep the soup pot half-covered to ensure that not too much liquid cooks off while cooking the carrots.
Don't forget the Parsley
Fresh Parsley leaves in soup
You won't notice the parsley's flavors per se in this recipe because we only use a good handful.
But this green vegetable will nicely balance the sweetness of the carrots while adding a wide range of vitamins and minerals (especially vitamin K and the immune-boosting vitamin C). 
Stir the leaves in at the end when the carrots have softened, and before you puree all the vegetables.
Which Parsley is best for soup
Although I often interchangeably use flat-leaved and curly-leaved parsley in the kitchen, the Italian flat-leaved parsley works better here in this healthy carrot soup recipe.
It usually has a more robust aroma and flavor that nicely smooths out the sweeter elements in this soup.
Puree the vegetables
Remove the pot from the stove and carefully puree the soup with the help of a hand blender.
If you are a bit patient with an immersion blender and don't rush it, you'll get a smooth, creamy, and velvety texture.
A blender, food processor, or stand mixer always works too, but I'm not too fond of the extra clean-up that comes with it.
Allow the soup to cool for a few minutes when transferring it to a blender and work in batches if you have more soup than its maximum capacity ( maximum fill line).
Always handle pureeing with extra caution because it's hot!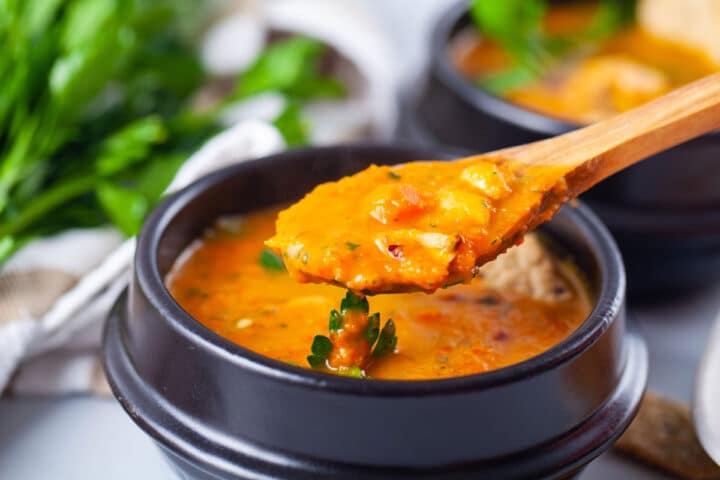 Finish with a splash of orange juice
Fresh orange juice enhances this healthy carrot soup's overall flavors, adding a tangy delight. I am stirring it in at the end when the soup is done and pureed but still hot.
Try to choose firm, full-colored, thin-skinned oranges to get the juiciest fruits. I have even made it with blood oranges, giving this carrot soup a beautiful reddish color.
Extra spices, toppings, and garnishes
Extra parsley: I love to garnish this soup with extra parsley (flat or curly)—but I am a lover of this herb packed with antioxidants. It also creates a beautiful contrasting color.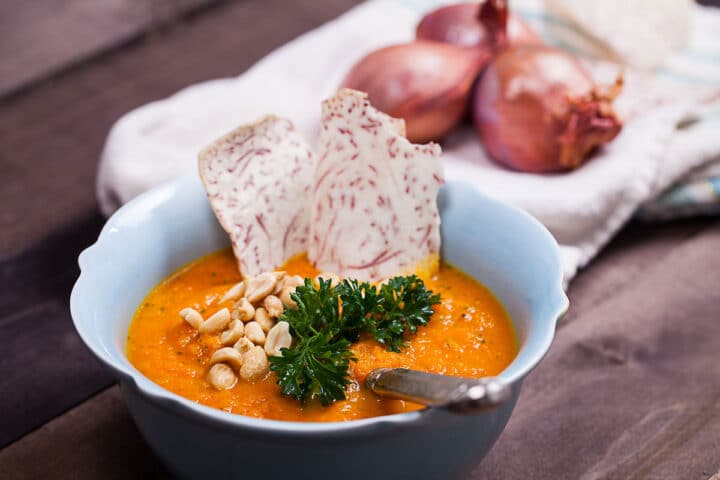 Lightly salted and (chopped) roasted peanuts: This is, of course, optional, and omit it if you have any nut allergies. They pair well with this soup, and they taste so darn good, adding a salty, sweet, and oily crunch.
Red pepper flakes: If you love a little heat in your soup, then add a few red pepper flakes. It compliments this hearty dish. Or, if you can find them, try chili roasted peanuts.
A tad of cashew cream makes this wonderful soup extra creamy if preferred. Just make sure to add it before you're pureeing the veggies.
Extra salt and pepper: always taste test and adjust seasoning according to preference.
This healthy and filling delicious soup with carrots and other good-for-you ingredients is a recipe you have to try! And everything comes together easily and in one pot.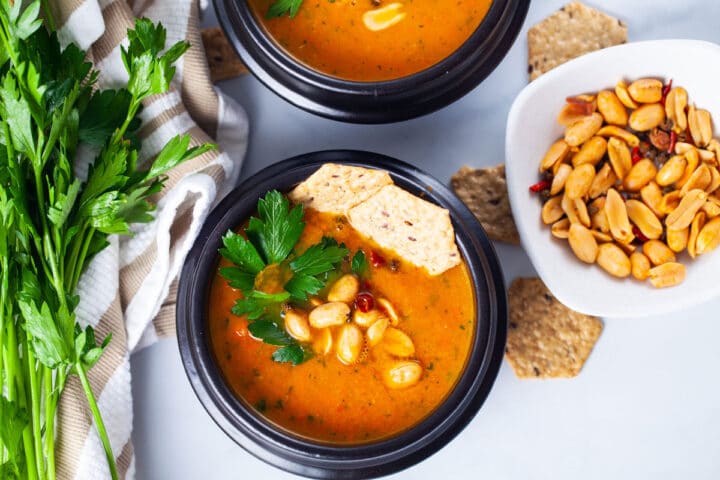 Storing tips
Make-ahead
You can store any leftovers in an airtight container in the fridge for up to 4 or 5 days.
Freezing instructions
For more extended storage, transfer the soup to freezer-safe containers. I like to freeze them in individual-sized portions and only take out what I need for a quick lunch or light dinner.
Reheating instructions
Usually, I take the soup out of the freezer the night before enjoying it, but that is unnecessary.
Instead, you can also place the frozen soup straight into the saucepan and warm it over low heat.
When reheating it, you can also add some extra (chicken) broth to thin it out just a little—always taste test and add more seasoning if desired.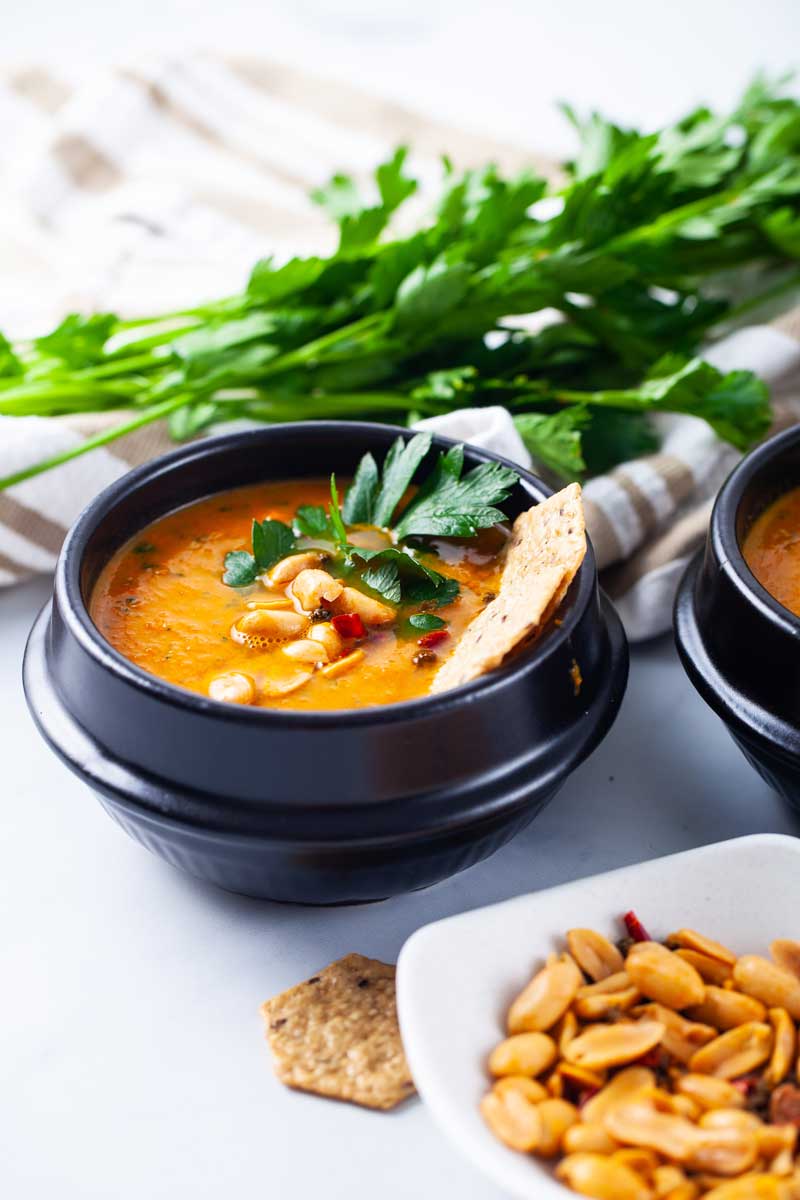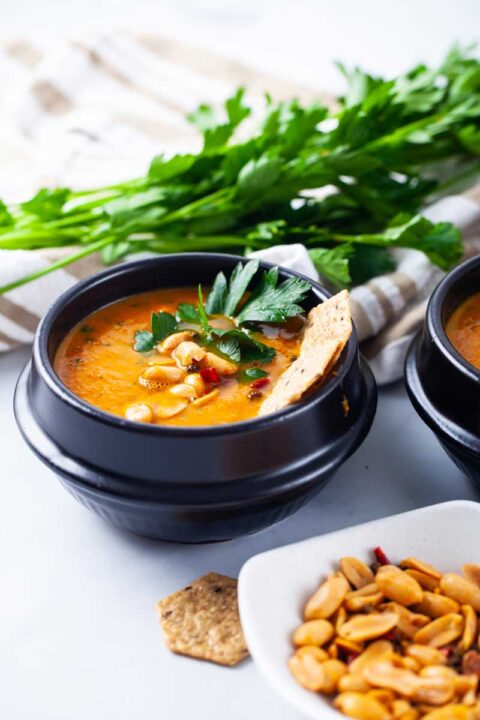 Serving suggestions
Vegetable chips or rice crackers: You can also serve it with your favorite healthy veggie crisps like TARO chips from TERRA (I'll leave a link below in my notes.) or multiseed crackers from Crunchmaster—delicious.
Try toasted bread or my homemade gluten-free biscuits with a notch of butter or extra virgin olive oil.
A beautiful and filling salad: Some of my favorites are green apple-kale salad, avocado quinoa salad, and healthy homemade chicken salad!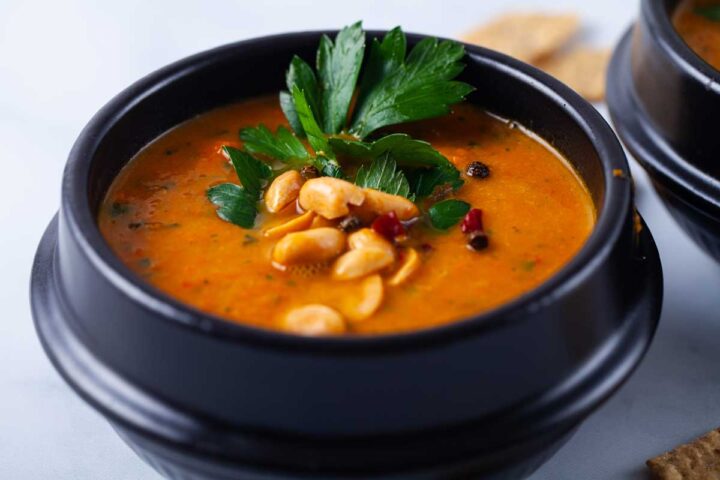 More healthy soup recipes you might like
Looking for more hearty vegetable soups? Then try my Healthy Butternut Squash-Zucchini and Rosemary Soup with beautiful Italian flavors. Another creamy orange soup is this Red Kuri Squash Soup Recipe (also dairy-free).
Another vegetarian and nut-infused soup favorite is the Protein-rich Green Pea Soup.
For potato or noodle lovers, try the Creamy Sweet Potato and Buckwheat Noodle Soup or my Homemade Vegetable Soup.
And I love making my classic bone broth, especially in the winter, and this homemade Stracciatella soup.
Give this homemade carrot soup recipe a try and have some soup tonight. Enjoy!
Sharing is caring, so don't forget to PIN IT! I always love to hear if you tried out this recipe and if it worked for you.
Don't forget to subscribe to my Monthly Newsletter!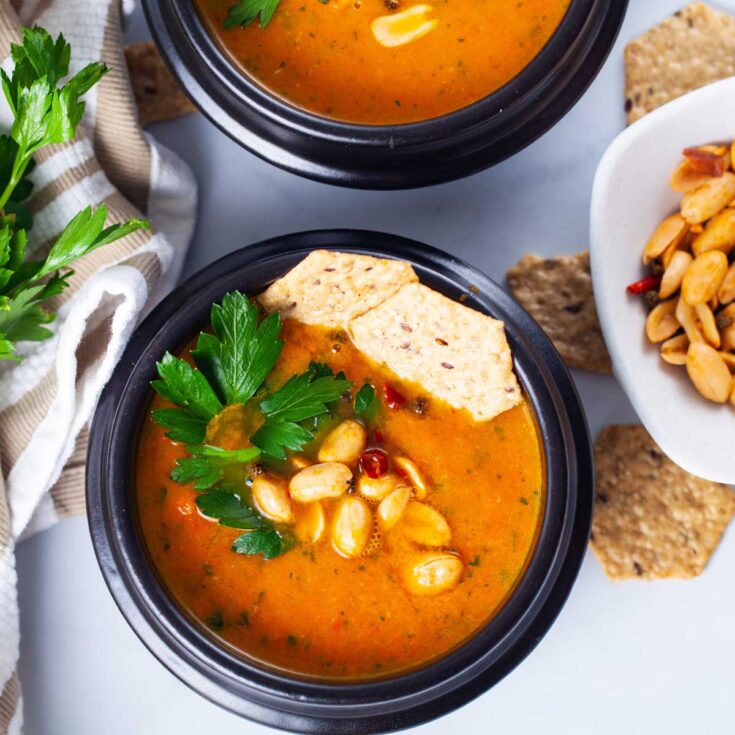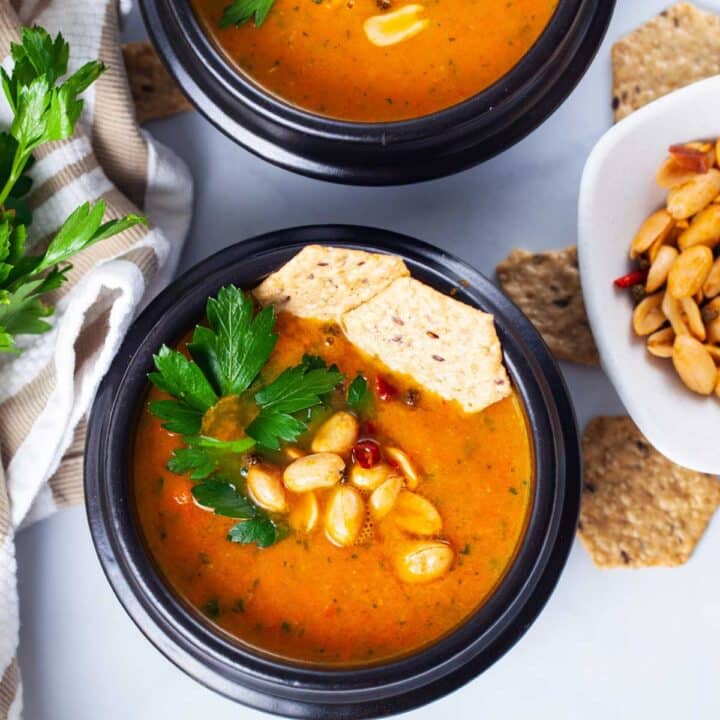 HEALTHY CARROT SOUP WITH FRESH PARSLEY
Additional Time:
5 minutes
Easy and healthy carrot soup with garlic, sweet shallots, bell pepper, oranges, and fresh parsley, topped with roasted peanuts—nourishing and incredibly filling!
Ingredients
¼ cup real butter or olive oil (to keep it vegan friendly or dairy-free)
3 large cloves garlic, chopped
5 ounces/150 grams shallots, peeled and coarsely chopped (about 4 shallots)
1 red or orange bell pepper, coarsely chopped
1 teaspoon sea salt, plus more if needed
Black pepper to taste
1 pound/500 grams carrots, peeled and coarsely chopped
1 (32 FL-ounce) pack vegetable broth, low sodium (about 4 cups)
1 cup packed (or one large handful) parsley leaves, plus extra for garnish
2 large oranges, juiced
lightly salted and roasted peanuts (optional)
Instructions
Place the butter or oil in a 5-quart pot and melt over medium heat.
Stir in the garlic, shallots, and bell pepper.
Season with sea salt and royally with black pepper.
Cook and stir for 5 minutes.
Add the carrots and stir to combine. Then add the vegetable broth.
Cover the pot and let the liquid come to a simmer.
Continue to cook, pot half-covered, for 10 to 15 minutes or until the carrots are tender. Don't let the soup come to a full boil. Instead, reduce the heat if necessary to maintain a steady simmer.
Stir in the parsley leaves.
Remove the pot from the stove, and with an immersion blender, carefully puree the soup. Of course, you can always puree the soup in batches using a blender or food processor.
Stir in the fresh orange juice while the soup is still hot—season to taste with more salt, if necessary.
Garnish with fresh parsley leaves and roasted peanuts, or a pinch of red pepper flakes to add heat to each oup bowl.
Nutrition Information:
Yield:

6
Serving Size:

1
Amount Per Serving:
Calories:

177
Total Fat:

10g
Saturated Fat:

5g
Unsaturated Fat:

4g
Cholesterol:

20mg
Sodium:

492mg
Carbohydrates:

21g
Fiber:

5g
Sugar:

11g
Protein:

2g
Disclaimer: This nutritional data is calculated using third party tools and is only intended as a reference.
This post was originally published in January 2018 and has been updated with new pictures and new information.